Looking for things to do in Niagara Falls? You're in the right place! Even with a weekend in Niagara Falls, you can do so much!
Niagara Falls is a fairly unique North American destination in that it is situated on the U.S.-Canada border. Both nations can claim it as an attraction, and certainly, both do! More specifically, the falls straddle the line between Ontario and New York State, though the actual town of Niagara is in Ontario. And you can bet there are just so many things to do in Niagara Falls!
At any rate, this is a wonderful area to visit. The Niagara Falls are among the most stunning natural wonders in North America. And naturally, the area around them has grown used to catering to tourists, which means there's plenty to do beyond simply looking at the Falls.
These are some of the things you might want to plan on seeing and doing when you visit.
[divider style="thin" title="" text_align=""]
Best Things to do in Niagara Falls
1. Maid Of The Mist
The Maid of the Mist is the name of the ferry that takes travelers right up to the waterfalls that make up Niagara. If you're visiting the area, this is the ultimate activity, and while it's definitely "touristy" it's the most intimate way to experience some of the world's most incredible waterfalls. Just beware that you'll probably be getting a little bit wet from the splash!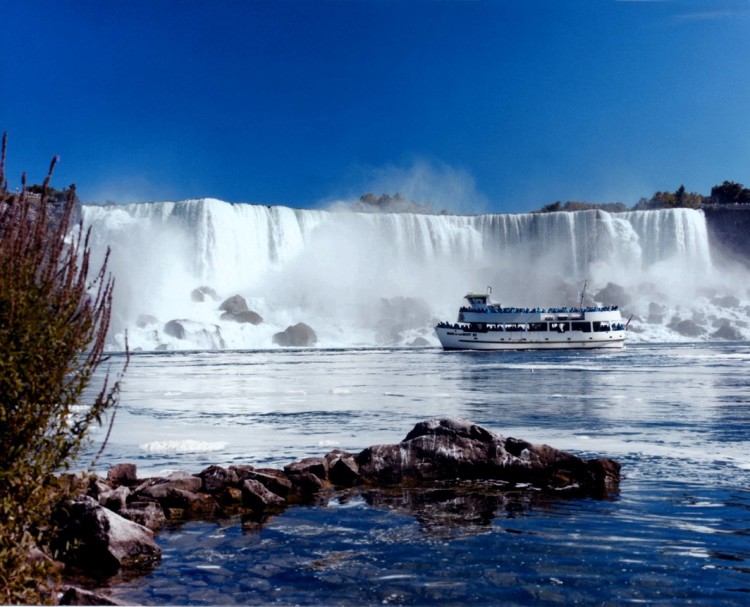 [divider style="thin" title="" text_align=""]
2. Journey Behind The Falls
I just called the Maid of the Mist the most intimate way to experience the Falls, and if there's any argument, it's in favor of Journey Behind The Falls. This is an attraction that consists of a series of tunnels near the bottom of the Horseshoe Falls, on the Canadian shore of the area. You're essentially walking in a sort of natural secret room behind the Falls themselves, which is an unusual, wonderful, and memorable experience. An absolute must-do of all the things to do in Niagara Falls!
[divider style="thin" title="" text_align=""]
3. The Butterfly Conservatory
The waterfalls may be the main attractions, but the whole Niagara area is actually known for additional natural appeal as well. The botanical gardens and Butterfly Conservatory exemplify that fact, and give you a chance to enjoy a more peaceful hour or two, where beautiful, fluttering butterflies surround you instead of cascading tons of water.
[divider style="thin" title="" text_align=""]
4. The Fallsview Casino
The idea that casino gaming is largely legal in Canada is well known. But for a lot of people, that distinction refers to internet activity. The broader reality is that legislation has made real-world casino venues readily available across the country, and The Fallsview Casino is one such venue. With a literal view of the Falls, it's a beautiful casino and a nice place to entertain yourself while you're in the area.
[divider style="thin" title="" text_align=""]
5. White Water Walk
Looking for a few adventurous things to do in Niagara Falls? Well, The White Water Walk is almost a little bit hard to believe until you see it up close. It more or less allows you to walk along the top of Niagara Falls, on walkways and viewing platforms that stretch across the Niagara River (on the Canadian side).
[divider style="thin" title="" text_align=""]
6. Skylon Tower
It's generally more impressive to view the Falls from up close. But if you want a different sort of vantage point you can ride to the top of the Skylon Tower nearby and gaze down over the entire area. The journey up only costs you about $10-12, and once there you can enjoy a meal in a dining room that revolves slowly around the top of the tower.
[divider style="thin" title="" text_align=""]
7. Spa Time
The folks in the Niagara vicinity know what they're doing when it comes to accommodating tourists. While everyone is in town to see the waterfalls, guests ultimately experience a lot of downtime and want to make the most of their vacations. So, naturally, spas have become a popular request. There are now several with very good reputations in close range, and one of the most relaxing things to do in Niagara Falls!
[divider style="thin" title="" text_align=""]
8. Winery Tours
It surprises some people to hear that there are good wineries near Niagara. That's just the case, however, and booking a few tours gives you a great way to fill your vacation calendar. The Inniskillin Winery and Jackson-Triggs Winery are perhaps the best two to check out.
[divider style="thin" title="" text_align=""]
9. Clifton Hill
This is more or less the entertainment center of Niagara. There are hotels, fun restaurants, museums, and all kinds of other attractions. It's a good place to take a look at no matter what, but particularly if you're traveling with kids it's a must-see area.
[divider style="thin" title="" text_align=""]
10. The Bird Kingdom
I mentioned with regard to the Butterfly Conservatory that there's more natural wonder than just the Falls. Case in point, the Bird Kingdom is an awesome place to visit. It's essentially a zoo just for birds (though there's also an attached reptile enclosure), with over 400 avian species to observe up close and personal.
[divider style="thin" title="" text_align=""]
Have you been to this area before? What were your favorite things to do in Niagara Falls?