Headed to Canada soon and hoping to check out all the things to do in Toronto in the winter? Grab your snow boots and get on reading – this Toronto winter guide will have you bundling up and getting ready to explore in no time!
Toronto, sometimes referred to as "The 6" (thanks, Drake), is the ultimate year-round destination, but can be particularly pretty (albeit chilly) during the winter time.
But don't fret – if your plans have you visiting Toronto in the winter, there are plenty of ways to enjoy this beautiful city, both out in the frigid temps as well as inside to stay warm.
Regardless of the season, if this is your first time visiting Toronto, plan to check out the top city spots (trust me – they're even more beautiful with a fresh coating of the powdery white stuff… we're talking about snow here).
I've visited Canada quite a few times during the warmer summer months (Montreal, Quebec City, Banff, Whistler, Jasper, Vancouver, Niagara Falls, and even Toronto), but have never dared to step foot in the winter wonderland that is Canada once the air's turned frigid. Well, besides a snowy few days in Banff, and I have to say it's my newest obsession.
But lucky us, we have Diana (a native Torontonian) from Diana's Healthy Living to share with us her favorite things to do in Toronto in winter, from exploring nearby islands (yes, even in winter) to indulging in peameal bacon sandwiches. Take it away, Diana!
Psst – looking for more Canadian wintery fun? Go check out Banff in winter, I just visited last year and it's one of my new favorite snowy spots!
And psst – you may hear Torontonians referring to our beautiful city as Toronno. If you pronounce it ToronTo, you're screaming tourist from the top of your lungs. Just FYI if you wanna blend in with the locals a bit more.
Weather in Toronto during the Winter Months
It's always a good time to travel to Toronto (although I may be biased- I'm from the city!), but a winter visit really shows off the extra magical flair you'll see showcased around the area. From Christmas markets, ice skating, and other holiday festivities, don't forget about winter in Toronto just because of the cold weather!
And while Toronto is known for its chilly temps, it's not aaaassss cold as one may think. Average January temperatures (the coldest month of the year) hover around 30 degrees F, which, while slightly below freezing, isn't allll that bad if you bundle if correctly!
However, do note that temperatures may reach 14 degrees F on occasion, with night time temps below -4 degrees F (especially in the northern suburbs). And let me tell ya, that wind chill will kill you – making it feel like -22 degrees (and no, that — is a not a typo).
Plan your indoor activities once the sun sets in order to keep your outside exploring when the sun's high in the sky.
As far as snow goes, expect the first snowfall to occur around November, but don't be alarmed if it's snowing in October (this happens more frequently than not). Snow lasts up until around March or April. With all this being said, you can expect a winter wonderful full of fluffy white snow between the months of October through April. Be sure to pack and dress appropriately! More on that below.
→ Want to expand your winter trip to Canada? Have a few more days? Read this next: Things to do in Montreal in the Winter (tons of maple everything involved)
Important things to pack for a Toronto Winter:
As you probably suspected, if you're traveling to Toronto in the winter there's a few clothing items that come highly recommended.
If you haven't heard (or read the weather report up above), Toronto gets a decent amount of snow and thus can be fairly cold; however, don't let the cold scare you away. Dress warmly in a winter coat, tuque (that's Canadian for winter hat), gloves, and winter boots, and you're all set to explore the city with hot chocolate in hand!
Thankfully with the right stuff, you can stay warm and dry even when it's wet and chilly outside! No one likes wet feet – that's the absolute worst! After going on quite a few snowy weather winter getaways, I've kinda perfected the ultimate packing list. But first, a few tips:
Piece of advice #1: Invest in warm and waterproof snow boots with a proper grip. When ordering, opt for a size slightly larger than normal, as you want to allow for thick socks and toe warmers. If your boots are too tight (and your toes are crammed together), your feet will never stay warm enough.
Piece of advice #2: HOT HANDS. Enough said. But in all honesty, hot hands saved our frosty fingers on more than one occasion. What are they, you ask? They're these magical dry packets filled with iron (among other scientific things) that intensify in heat once activated. Basically – super technological hand warmers that stay warm for up to 10 hours. And they are a godsend. You'll want at least 1 pair a day. Buy on amazon here.
Here's my winter weather recommendations for what to pack for Toronto in the winter:
Warm Winter Coat: For those frigid winter days, you'll really wanna invest in an insulated parka. I've got my eye on this North Face parka (I currently wear one from 10+ years ago – it's about time for a new jacket). Looking for one a bit less expensive? This one's crazy popular on social media, and with the length and sherpa-lined hood, I can totally see why. However note that it's only water resistant, not waterproof, so not the best choice for those crazy snowy days.
Packable Puffer Jacket: I wear this one – it's lightweight and water resistant, plus comes in a bunch of fun colors and the pockets are super deep (perfect for storing your phone). It packs down to almost nothing in the little included pouch – perfect for travel!
Fleece Zip-Up: On those absolutely frigid days when you need a little something between your sweater and warm winter coat, a fleece zip-up (like this Columbia full-zip) will come in handy. There's a reason it's got 45k positive reviews!
Base Layers: I've been wearing heat tech long sleeve tees ever since I went to Banff a few years back, and they've saved me from those frigid temps! They're super lightweight and perfect to wear under a sweater, and leave you feeling dry and warm without the bulk!
Fleece-lined leggings: I used to layer two pairs of regular leggings, but now that fleece-lined leggings are a thing, I only wear those! They're just as comfy as regular leggings, but keep your legs staying warm and toasty. I've worn these pairs a few times and they've been great, and come in a bunch of fun colors! If you're looking for something to wear under jeans or snow pants, these come highly recommended (although too thin to wear on their own; more like a base layer).
Chapstick: Cold and dry air make your lips susceptible to chapping super easily. Ugh, the worst! I'm low-key obsessed with this cocoa butter swivel stick – it makes your lips so super soft and it smells a tad like chocolate! My favorite! It also works wonders on dry, chapped skin. You'll wanna reapply multiple times throughout the day. Psst – not all chapsticks are created equal, and some will even make your chapped lips worse (true story). Avoid any containing ingredients like phenol, menthol, and/or salicylic acid; these actually make your lips drier. I always stick to Vaseline (these mini pots are small enough to throw in your purse) or a cocoa butter stick.
Power Bank: After relying on friends' spare batteries for far too long (thx friends), I finally invested in power banks of my own, haha. Batteries die out faster in the cold, so come prepared with a power bank to recharge your stuff on the go. This compact power bank gives up to 10 full charges! I always throw this tiny one in my bag also, just in case, as a backup. My phone is my life-line (especially when traveling solo), so I like to be extra prepared!
Warm Gloves: I like to take a few pairs of gloves with me – loving these wool-blend mittens and this pair that's super lightweight and waterproof (good enough to go skiing in).
High Socks: Choose wool ones that wicker moisture and keep your feet dry all day long. Synthetics are a no-go, especially in winter. These merino wool socks are super warm and so incredibly soft (and nope, not itchy at all contrary to popular belief) and perfect under snow boots. You'll never wanna take them off… just buy a few pairs! I recommend layering your socks and actually wearing 2 pairs at all times (I typically do one shorter, ankle length merino wool sock underneath, and a longer, mid-calf merino wool pair on top).
How to Get Around
If you are traveling from the airport there is the UP Express that leaves from Toronto Pearson Terminal 1 every 15 minutes and takes you directly to Union Station. You can also take an airport limousine, taxi, Uber, or Lyft.
A great way to get around the city and take in some of the famous sights is a Hop on Hop Off Bus as it will help you see the highlights quickly especially if you are on a time constraint.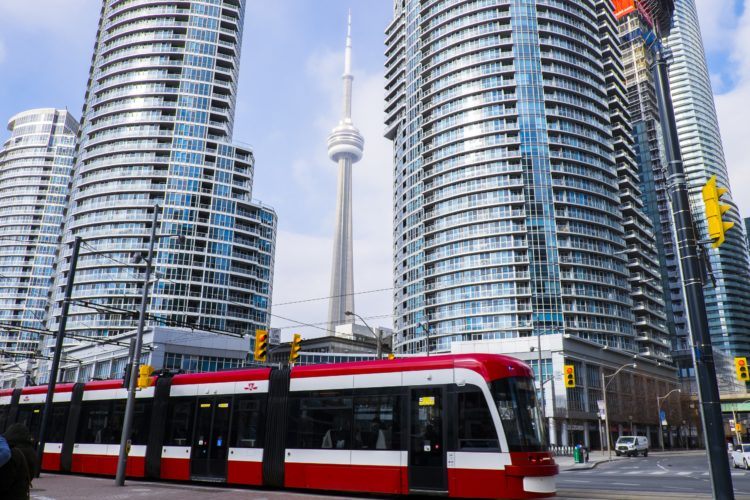 The TTC (subway- the bullet) isn't the most luxurious way to travel and you may be crammed during rush hour but it is clean (most of the time) and safe. Fares cost $3.25. You can also buy tokens for a Presto Card.
If you're driving in the city I would recommend that you pack your patience and budget for the fairly expensive city parking. Be sure to watch out for the bikers as they are pedaling on the roads year round. Yes, even in winter. The cold's got nothin' on the locals.
Where to stay:
Hotels in Toronto
There's an abundance of hotel choices in Toronto. If you are looking to stay in the heart of the city and cost is not an issue, then I would recommend the new Toronto St. Regis Hotel.  If you want a hotel with a magnificent view of Lake Ontario, then I would recommend the new Hotel X Toronto by Library Hotel Collection. Can't go wrong with either choice!
Check out prices and reviews of hotels in Toronto here.
Useful Phrases while in Toronto
Just like we pronounce Toronto "Toronno" you may hear some other odd phrases. To help you fit right in.
Eh?: this word is used to indicate that you don't understand something, can't believe something is true or if you want the person to respond or we generally say this at the end of every sentence.
A Loonie: a $1 Canadian coin.
A Toonie: a $2 Canadian coin.
Double-Double: refers to a coffee (often from Tim Hortons) with two creams and two sugars.
Timmies: it refers to the much-loved fast-food coffee chain, Tim Horton's. If you don't know or love Timmies, you're not a true Canadian.
The 6ix: Toronto's nickname.
Two-Four: commonly used to refer to a case of 24 beers.
Pop: commonly used to refer to soda
Canuck: a slang term for Canadians.
Caker: another slack term for Canadian
Extra Tips For Your Visit to Toronto:
Language: English or Canadian
Electricity: 110V (same as the USA)
Currency: The Canadian currency is the Canadian Dollar. Canadian currency is colorful – the five dollar bill is blue, ten dollar bill is purple, fifty dollar bill is red, and the one hundred dollar bill is brown. We also have Loonies (one dollar coin) and toonies (two dollar coin).
Tax: When buying anything in Toronto, including food, drink, clothes, anything really, you have tax on top. This is 13% and the price you see of items on the shelves, in menus etc, will normally be before tax.
Things to do in Toronto in Winter
CN Tower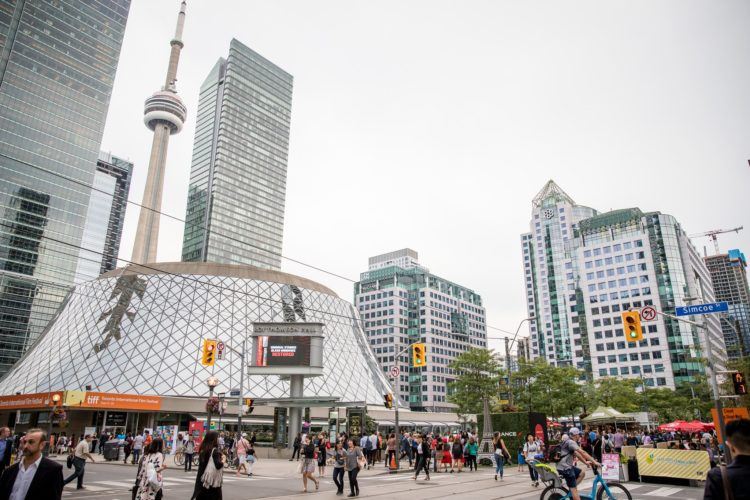 Toronto's most prominent attraction is the CN Tower, the tallest free-standing structure in the western hemisphere and it now includes EdgeWalk (seasonal), a thrilling hands-free walk around the outside ledge of the tower.
Standing at 1,815 feet tall and designated as one of the Seven Wonders of the Modern World, it is a must visit as it's a Canadian icon and a symbol of Toronto.
You can eat dinner at the revolving restaurant, walk on the glass floor, take in the 360 degree views of Toronto from inside and out, enjoy a virtual reality ride, learn about the making of the CN Tower and for a real thrill, head outside and lean over the edge of the tower on the exciting Edge Walk. If you are brave enough to dangle off the CN Tower double check the dates of operation.
Royal Ontario Museum (ROM)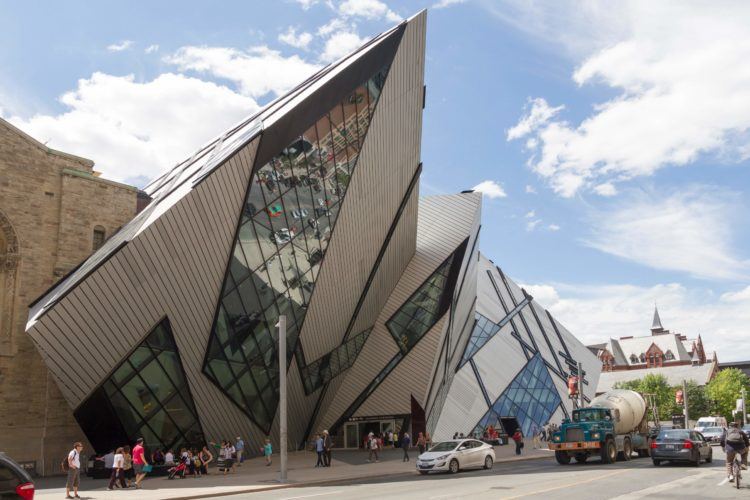 If you are a history buff then visiting the Royal Ontario Museum is a must as it is Canada's largest museum of world cultures and natural history. There are extensive galleries and interactive exhibits from dinosaurs to ancient Egypt located right in the heart of Toronto.
Art Gallery of Ontario (AGO)
The Art Gallery of Ontario is among the most distinguished art museums in North America. View the works of the Group of Seven to masterpieces of European art.
St. Lawrence Market
St. Lawrence Market has been ranked by National Geographic as the world's best food market. It is located in Old Town Toronto where you can taste your way through the food stalls, and restaurants. Make sure to try the famous peameal bacon sandwich at Carousel Bakery. I would drive into the city just to sink my teeth into this sandwich.
Hockey Hall of Fame
I'm sure when you think of Canada the first thing that comes to mind is Hockey. Hockey is more than a game to Canadians. Hockey is a symbol of Canada, and even a way of life.
The Hockey Hall of Fame features the most elaborate collection of hockey memorabilia and gear from across the globe, as well as interactive games, multimedia stations and exhibits on the game's greatest players, there's something for everyone at the Hockey Hall of Fame.
Toronto Eaton Centre
The Toronto Eaton Centre is one of the city's most popular attractions located in the heart of downtown Toronto. There are over 250 retailers so you are sure to find something to satisfy your shopping addiction.
Casa Loma
Betcha didn't think you'd have the opportunity to visit a castle while in Toronto. Casa Loma was built as a private home by Canadian financier Sir Henry Pellatt in 1914 that features elegant rooms, secret passageways, sweeping staircases, stables and lush gardens. Casa Loma is Spanish for "Hill House," and attracts guests from all over the world to view the beautiful grounds.
Ontario Science Centre
The Ontario Science Centre is home to more than 500 interactive experiences, spread across eight exhibit halls. It also boasts Ontario's only IMAX® Dome theatre, a state-of-the-art planetarium, an authentic rainforest environment and a discovery area just for kids eight and under.
Ripley's Aquarium of Canada
Located at the base of the CN Tower in the heart of the entertainment district, Ripley's Aquarium of Canada is 135,000 square feet of interactive, underwater exhibits, the country's largest indoor aquarium. This is especially a popular spot for families over the weekend and holidays.
Toronto Islands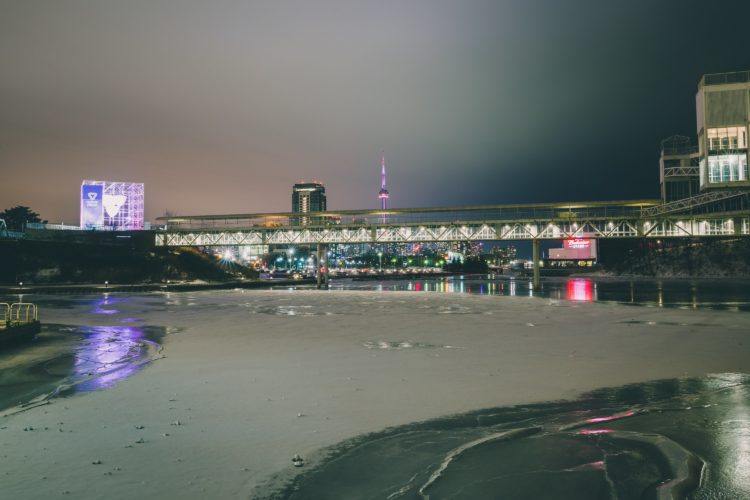 Take the scenic ferry ride over to the Toronto Islands, which provides a wonderful view and photo opportunity of the city skyline. It is only a 10-minute ferry ride from downtown Toronto. It makes for a great winter excursion if you love outdoor activities. Only the Ward's Island ferry operates during the winter season and will take you to the eastern part of the islands.
See a winter light show at Ontario Place
Part of Ontario Place's recent rejuvenation movement includes an impressive and free winter light exhibition that's coupled with skating fire pits, and food vendors. It's open all winter long.
Go for a skate
Skating seems to be Toronto's favourite winter activity, and there are plenty of magical skate trails to explore throughout the city along with a long list of public skating rinks. Some rinks are even open late into the night. Be sure to bundle up – you will find outdoor skating a lot more pleasurable if dressed warmly.
Visit the Distillery District for more lights
The Distillery District is great to visit over the Christmas holidays as it Toronto's Christmas Market. The Toronto Light Festival will start on January 19 that will transform the Distillery District back into a magical exhibit of light and art.
The Toronto Sign
The TORONTO sign, originally installed as part of the Pan American Games in 2015, was such a hit with residents and visitors that it's stayed. See it in Nathan Phillips Square in front of City Hall that is lit up at night.
Road Trips From Toronto in Winter
If you are still looking for things to do in Toronto in the winter then there are some great road tips.
Niagara Falls
Niagara Falls, Ontario, is a Canadian city at the famous waterfalls of the same name, linked with the U.S. by the Rainbow Bridge. You can make it to Niagara Falls from Toronto in under two hours making this a great destination for a day trip or stay the night to enjoy the nightly light show.
The Falls are beautiful but even more so during the winter as some sections freeze up. A great way to see the falls is through the nightly free illumination. Every year the Winter Festival of Lights takes place from early November continuing until the end of January. The festival boasts over two million lights and over 125 animated light displays along the Niagara Parkway.
It is free and great for the entire family. Make sure to bundle up as it can be fairly cold during the winter months.
Niagara-on-the-Lake
Niagara-on-the-Lake is a town in southern Ontario. It's known for its wineries and the summer Shaw Festival, a series of theatre productions. You can make it to Niagara-on-the-Lake in under two hours from Toronto. There are also helicopter packages from Toronto with Flygta. It is wonderful day trip or weekend trip from Toronto.
During the winter months you can enjoy some of the various winter events such as the Niagara Icewine Festival that runs from January 18 – 28.
Blue Mountain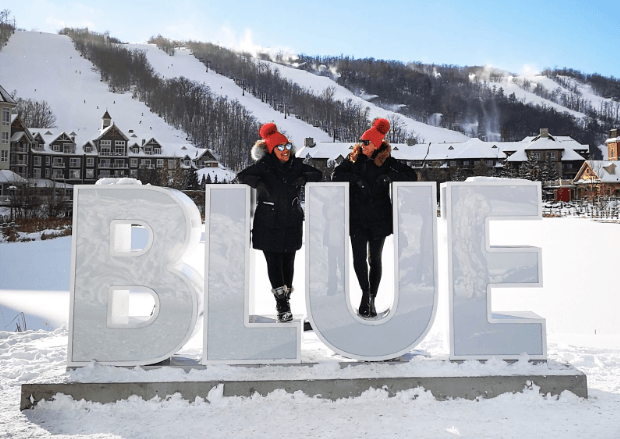 If you love the outdoors then I would recommend heading up North to the Blue Mountains region , about a two hour drive from Toronto, where you can ski, snowshoe, go caving, skating. The activities are endless and there is something for everyone.
So there ya have it, a whole slew of things to do in Toronto in winter time! What are you most excited about?!