Looking for things to do in Fernie during the summer? You're in luck, my traveling friend, this post is exactly what you're looking for.
I've done a decent amount of traveling through Canada this past summer – I explored Montreal, Quebec City, Whistler, Vancouver, Banff, Jasper, and a few other towns between and nearby. Before visiting my neighbor to the North, I had honestly never realized just how truly fascinating the country of Canada is. And with that being said, I'm vowing to explore more of this country in the years to come.
With this new found appreciation of Canadian exploration in mind, I've enlisted my friend Kara from Hitched Alan's Travels to share with us her favorite things to do in Fernie, British Columbia! Enjoy!
Fernie, in the Rocky Mountains of British Columbia, Canada, is a tourist mecca that attracts people of all nationalities, ages, and interests. The thing these tourists have in common? A passion for the outdoors and unbridled excitement for exploring the insane beauty that nature has to offer.
With five bowls to ski and record amounts of snowfall, Fernie is a world renowned winter haven for skiing, snowshoeing, ice fishing and sledding (what some might call snowmobiling.) But contrary to common belief, winter isn't all that Fernie has to offer.
In this town, people come for the winter and stay for the summer. Summer in Fernie brings gorgeous, hot days, and the perfect places to cool off – ideal for relaxation, working up a sweat, or a experiencing a memorable adventure.
Before we dive into the top 10+ things to do in Fernie next summer, here's some info about visiting this stunning mountain town:
How to Get Around
Fernie is geographically small, and it's possible to walk or bike anywhere within the city limits in under an hour. That being said, the majority of locals drive (the winters are cold!) and some of the best things to see and do are farther than walking permits.
In addition, the nearest international airport is 3 hours away, in Calgary, Alberta. Chances are, you will want to rent a car to make your trip as smooth as possible. The drive from the rolling foothills and prairie ranches, through the looming peaks of the Crowsnest Pass into Fernie's Rocky Mountains, is a gorgeous trip.
Important Things to Pack
Be sure to pack sunscreen, bug spray, hiking boots, and rain gear (just in case!) Don't forget your swimsuit, as well as clothes to hike, bike, and get active in. Sandals are a must, and it's great to have a pair of sturdy runners for all the hiking you're sure to discover.
Where to Stay
Fernie has plenty of hotels, hostels, and bed and breakfasts, as well as RV parks and provincial parks where you can pitch a tent. Hotels at the ski hill (Fernie Alpine Resort) are discounted in the summer, so be sure to check out the deals.
When to Go
Anytime between May and September are great times to enjoy summer, although July and August boast the most sunny and hot days.
And without further ado, here are 10+ unforgettable summer activities to do in Fernie!
Top Things to do in Fernie During the Summer
1. Memorable Eats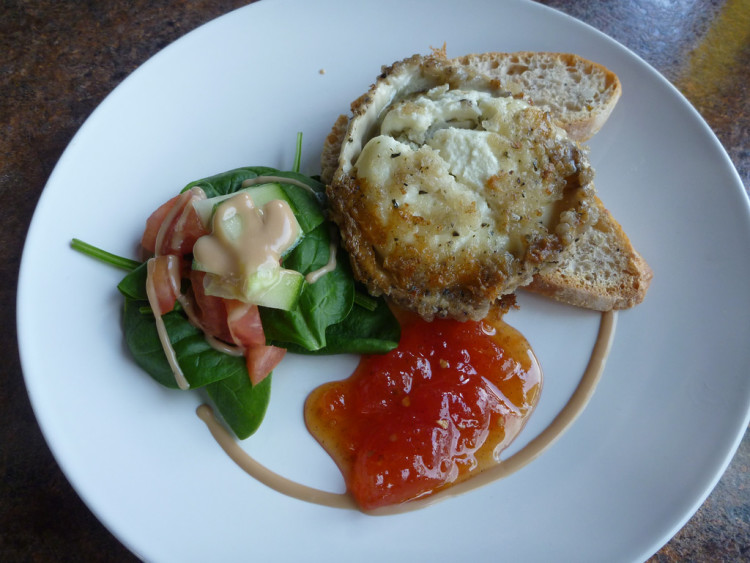 Whether you are a food critic or just love a good burger, Fernie has something for you. In the mood for a restaurant with ambiance, tranquility and incredible sushi? Check out Yamagoya. Is sitting on a deck over the river, eating deep fried pickles more your style?
Try the Bridge Bistro. For a town of 5,000 people, there is a vast array of options. The tourism in town bolsters the population by thousands, and all those extra bodies? Fortunately they increase the demand for world-class food.
Mainstreet downtown (2nd Avenue) is dotted with patios sprinkled with outdoor furniture. So if you go for a stroll downtown – which is highly recommended! – be sure to have lunch outside, in the fresh mountain air.
Downtown Fernie is a quick (2 minute!) drive from the highway. The mountains provide a gorgeous backdrop for any activity downtown. Be sure to check out the quaint gift shops, chocolate and cupcake stores, and art galleries.
2. Silver Springs Cliff Jumping
Silver Springs Lakes are a hidden oasis, perfect for spending a summer's day. Composed of three chain lakes of varying colours, the lakes are great for an easy (2 hour) hike. The first, and most spectacular lake, can be reached via a short (less than 20 minutes) hike.
To get maps and the exact route, take a stop at the Fernie Visitor's Centre.
The cliffs adjacent to the first lake are perfect for leaping, cannon-balling, and back-flipping into the crystalline water below. Pack a lunch, and some inner tubes, and spend the day relaxing with an incredible view. Just be sure to pack everything you take in, back out with you!
3. Fernie Mountain Market
The perfect way to spend a relaxed Sunday is at The Fernie Mountain Market. Held from 10am to 2pm, July and August, the market is an outdoor, open air event. From artisanal cheeses to organic veggies to hand crafted soaps and fragrances, the Market has something for everyone.
The Mountain Market is held right beside Rotary Park and playground, making it the perfect family event. There are food trucks and booths selling great lunch options. It's the perfect way to spend a laid back Sunday.
4. Summer Activities at Fernie Alpine Resort
The list of 10+ things to do in Fernie wouldn't be complete without mentioning Fernie Alpine Resort. Head up to the resort for a tree top adventure or a mountaintop lunch via chairlift ride. The hill has plenty to offer in the summer as well as the winter, from hiking to spectacular views. Make sure you visit the ski hill before leaving to have the full Fernie experience.
The aerial park is the perfect way to enjoy the ski hill sans snow. The park has multiple challenges and is built between 15 trees. It takes you up to 60 feet in the air, and has three ziplines built into the course. Three hours of fun await, with areas to accommodate beginners through to advanced.
There is also a kids aerial playground for those under the height limit (4'7" and under/minimum 70lbs). Check out the zipline for more aerial fun. Be sure to book your aerial park tour in advance.
Lost Boys Cafe is at the top of the Timber Express chairlift. Take a hike up, or take the chairlift to enjoy the cafe's excellent paninis and coffee, surrounded by spectacular views. If you're looking for a less strenuous hike, take the chairlift up, enjoy lunch, and hike down.
5. Exploring the Elk River
Twisting right through Fernie is the scenic Elk River. The river has plenty to offer – especially in the summer months. Floating down the river on inner tubes or dinghies is a classic way of beating the summer heat.
Park at the east Fernie Bridge for a quick float, or further down the highway in Hosmer, for a picnic worthy float. Tubes, and kayaks are available for rent or purchase GearHub Sports, located downtown.
The Elk River is home to plenty of trout, and fly fishing is a great way to spend a summer's day. There are incredibles guide in town – Fernie Wilderness Adventures offers tours, as does Island Lake Lodge.
6. Mountain Biking
Fernie has legendary terrain – from Island Lake Lodge and the Ski Hill, to the network of trails crisscrossing the mountains encircling the town. Whether you are total newbie, or an expert rider, there are trails to challenge you.
The runs at Fernie Alpine Resort double as mountain bike trails in the summer. Take the chairlift up, and ride down. There are a plethora of bikes shops in town, whether you are looking to rent, or purchase a bike.
7. Hiking on hundreds of trails
A favourite pastime for Fernie locals and tourist alike, is hiking. There are hundreds of trails just minutes from town. From nature walks to extreme overnight hikes, Fernie has something for everyone. The Fernie Visitor's Centre, on highway 3 on the way to Alberta, is an excellent resource for maps, directions, and recommendations.
Easy Hikes in town include Fairy Creek Falls, Matheson Falls, the Coal Discovery Trail, and the Ancient Cottonwood Trail.
More challenging hikes include The Three Sister's, Mount Proctor, and what is usually undertaken as an overnight hike, Heiko's Trail.
8. Golf with impeccable mountain views
For an 18-hole golf course with a backdrop of jaw-dropping mountain views, look no further than Fernie Golf and Country Club. The course is within the city limits, and boasts a clubhouse with a beautiful patio and great food.
If golfing is your raison d'être, and you want to check out another golf course while visiting, Willow-O-Bend Golf is a short and scenic twenty minute drive away.
9. Disc Golf
The Lizard Range Disc Golf Course is behind the Mountain View subdivision in James White Park. The cottonwoods and the Elk River winding adjacent to the park makes this 18 basket course feel remote and secluded. Discs are available at The Fernie Aquatic Centre, Gearhub Sports, and Giv'er Shirt Works.
10. Camp at Fernie Provincial Park
With the idyllic views and perfect location of Fernie Provincial Park, it's the perfect place to set up camp. Located a few minutes down the highway from Fernie, the park boasts a multitude of nature walks, hikes, and mountain bike trails. The park fills up extremely fast, so be sure to book in advance!
Fernie is also home to Fernie RV Resort, an RV park surrounded by spectacular views of the mountains. If you are looking for a place to park for the night, or a perfect location to stay while experiencing all that Fernie has to offer, look no further.
Bonus: Relax and treat yourself at the Spa
Finishing off the list of 10+ unforgettable things to do in Fernie during the summer, is the array of spas the town has to offer. Fernie boasts multiple luxurious spas offering hot stone massages, to manicures and more. While trying to decide what tops your list of things to do in Fernie, a spa visit is the perfect way to end a vacation of mountain biking or hiking.
Have you been to British Columbia before?! What were your favorite things to do in Fernie during the summer or winter?
Images via 0 | 00 | 1 | 2 | 3 | 4 | 5 | 6 | 7 | 8 | 9 | 10 | 11