Headed to Greece and looking for the best day trips from Athens?! You're in luck; keep on reading for some fantastic additions to any Athens itinerary!
After spending about 2 days in Athens or so, it'd be wise to get yourself outta the city! These day tours from Athens are the perfect way to extend any Greece trip, and will surely add to your obsession with the country (it did for me).
I can't stress this enough – if you don't have time to make it south to the popular islands (Santorini, Mykonos, Ios, and Crete ring a bell, correct?), definitely check out a sailing trip or two from Athens. And if you're looking for some ancient monasteries to explore, Meteora's calling your name. Haven't had enough history just yet? Book yourself a tour to Delphi, Corinth, or the famed Temple of Poseidon (all excellent choices).
Plus, many of these day trips from Athens will be much quieter and less touristy than the city itself, giving you a chance to escape the crowds and observe a more authentic version of local Greek life. Set out on one of the following Athens day trips and I promise you, you won't regret it. Just promise to bring me back a few pieces of spanakopita and some of that sweet, sweet Aegean sunshine. 🙂
Read Next: The Perfect 2-Day Athens Itinerary for the First Time Visitor
Best Day Trips from Athens
1. Delphi
Distance from Athens: 111 miles/184 km
Activities You Can't Miss: Tons of historical ruins and structures, like the Temple of Apollo and the Treasury of Athens
Located about two hours from Athens in the mountains of Central Greece lies Delphi, one of the most important historical areas in all of Greece (yup). If you haven't already gotten enough of the ancient Greek ruins in the capital city, head on over to Delphi, as it's by far one of the most amazing day trips from Athens for anyone who geeks out over Greek history!
It's easiest to book a day tour like this one or this one (straight from Athens), but you can also get to Delphi by bus or car if you'd rather DIY your own trip.
Psst – I like to join organized trips in order to leave the driving to someone else, especially when traveling solo. During my recent trip to Greece, I visited Delphi on a 2-day trip to Northern Greece (which included the monasteries of Meteora as well), so that's something to keep in mind as well if you've got 2 days to spare in Athens.
Here, you'll find some of Greece's most jaw-dropping archaeological sites, like the Temple of Apollo, the Treasury of Athens, and the Theater of Delphi (all pretty remarkable if you ask me). These massive sites have towering marble ruins that sparkle against the mountainous, green backdrops, perfect for a relaxing day of exploring or, you know, the 'gram.
If it's rainy or you'd simply like to learn more, there are also two history museums – the Archaeological Museum of Delphi and the Museum of Delphic Festivals – to learn even more about the history and traditions of the area.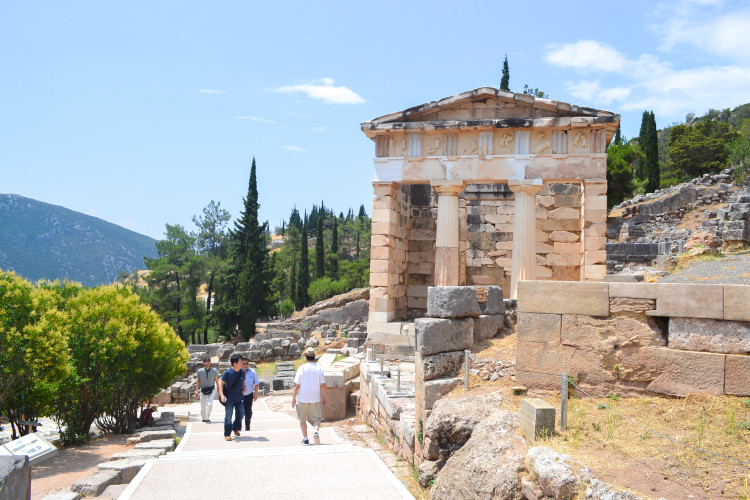 → Read Next: My (super-informative) Day Trip to Delphi
But if you're not that into history, Delphi has plenty of other things you can do → The surroundings are full of charming, adorable towns to explore! The village of Chrisso is full of super cute cobblestoned streets to wander, with shops and small cafes you can duck into for a quick bite.
Or, head to Arachova, the hilly little town with red-roofed homes that's one of the most beloved winter getaways from Athens because of its amazing ski resorts. In either place, you can stop at a locally-owned Greek taverna to sample traditional Greek dishes that will make your mouth water with joy. Book day trip to Delphi here or check out the additional options below:
2. Hydra, Aegina, and Poros (3 island cruise from Athens)
Distance from Athens: Tour begins at Marina Flisvus, 6 miles/10 km from Athens
Activities You Can't Miss: 3 gorgeous Greek islands to explore, plus a buffet lunch with Greek music on a comfortable, luxurious boat!
Special Foods to Try: Anything seafood-related! The islands are known for their amazing fish dishes. I also had cantaloupe ice cream (weird, I know) which I loved, as well as pistachios on Aegina (they have some of the best pistachios in the world)
If you're dreaming of sipping cocktails on the water with the salty sea breezing through your hair, you can take a relaxing 3 island cruise to Hydra, Aegina, and Poros from Athens! This cruise explores the nearby Saronic Islands, and is undoubtedly one of the most relaxing and adventurous day tours from Athens all in one.
Not only do you get to explore three beautiful islands off the coast of Athens for a whole day, but you'll get ample time to spend reading, relaxing, and whatever you may please on the way.
Mid trip, a hearty Greek lunch will be provided, so make sure to eat your weight in grape leaves and traditional Greek cake (I sure did). A show of traditional Greek singing and dancing is also found onboard, so be sure not to miss that!
Most day cruises to the Saronic Islands leave from Marina Flisvos, a port just outside of Athens. You'll board your ship and get sailing! Your first port will be at Hydra, where you'll have approximately 90 minutes to wander through the streets of the main town or head down to the sparkling beaches, which are perfect for sunbathing or going for a swim.
This idyllic island full of picturesque red tiled houses and narrow stone-paved streets is one I'll gladly revisit on my next trip to Greece.  
→ Read Next: Sailing to the Saronic Islands from Athens
Next, you'll head to Poros, which is a quieter island with isolated beaches and some historic buildings that are even visible from the water (!!!). Despite being the smallest of the three, Poros is a volcanic little island filled with great beauty and lush, green vegetation.
Here, you can hang out by the water or explore the town, where you'll find cobblestoned streets and adorable shops and Greek tavernas. You'll explore Poros for ~50 minutes before heading back to the boat for your final island of the day.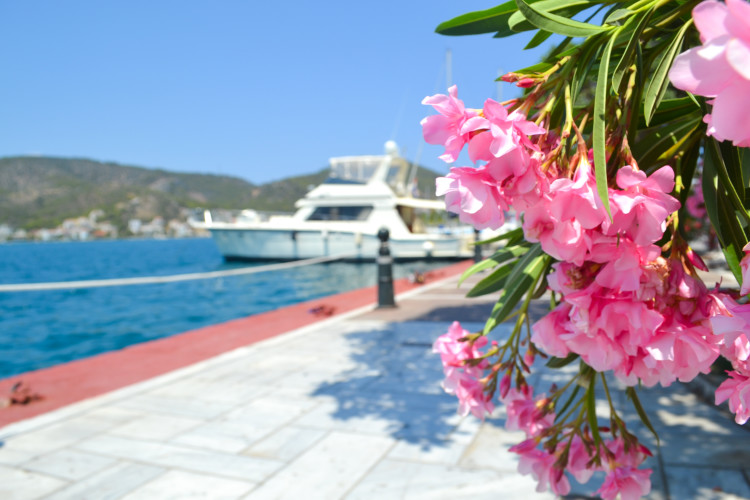 Your last and longest stop will be at Aegina, where you'll have a whole 3 hours to wander around on foot. Aegina is one of the most important and famous islands for Greek ruins and history (oh so much history everywhere in this country!). Here, you can find the famous Temple of Aphaia, which was an early rendition of the Parthenon.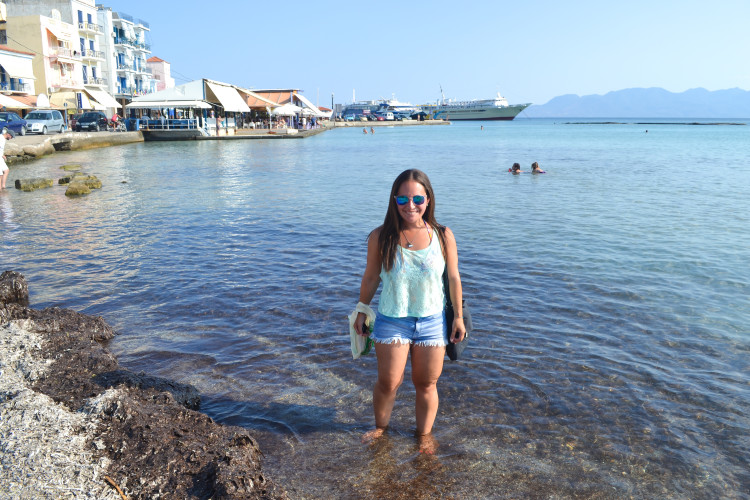 There are plenty of historic and natural gems to explore on Aegina, and since it's the longest stop, you should be able to hit the most iconic spots. Don't miss out on the pistachos → Up and down the waterfront I found plenty and plenty of pistachio stands, offering loads of samples, which you know I devoured.
Little did I know, pistachio trees have been cultivated on Aegina Island since the 1860's! To say they are quite famous here is a massive understatement! Book sailing trip to 3 islands here or check out the additional options below:
3. Nafplio, Mycenae, + Epidaurus
Distance from Athens: 83 miles/138 km
Activities You Can't Miss: Exploring the ruins at Mycenae, historic castles in Nafplio, and the theater at Epidaurus
As one of the popular Athens day trips, a visit to Nafplio, Mycenae, and Epidaurus (also known as the Argolis) offers a nice mix of history and charming villages. If you've never heard of these places, they're home to some of the most impressive temples in Greece, like the Lionesses Gate and the Ancient Treasure of Atreus.
I know, they sound like amazing, faraway lands from some kind of storybook, but these are actual places that you can visit on a day trip to the Argolis area!
Since you'll have to move around quite a bit to fit everything in one day, I recommend taking a tour like this one or this one. Both will take you to the main sites in the Argolis area, but the first tour actually comes with an actual archaeologist as your guide, who can tell you all of the cool stories and theories surrounding these ruins.
First, you'll head to Mycenae, where you'll see ruins like the Cyclopean Walls, the Lionesses Gate, and the Ancient Treasure of Atreus, which were constructed in the Bronze Age (~1350 BC). You can admire the amazing, ancient structures here, which have really withstood the test of time over thousands of years!
Then, you'll head to the former capital of Greece, Nafplio, where you'll get to see the blend of Venetian, Greek, Ottoman, and Byzantine architecture and history. Visit the Castles of Bourtzi and Palamidi in Nafplio, which are two really beautiful examples of the different, unique architecture in the area.
You can head back to Athens early or end your day at Epidaurus, which is a massive, ancient theater near Nafplio. It is still used today occasionally, and if you're lucky, you may catch a festival or event going on there! Book tour here or check out the additional options below:
4. Meteora
Distance from Athens: 215 miles/358 km
Activities You Can't Miss: Visiting cliff-top monasteries and seeing the entire area from Panorama Rock
Quite possibly one of the most famous sites in Greece (and one of the most popular day trips from Athens), Meteora is an area home to isolated, ancient monasteries that sit atop the most eerie rock formations ever – vertical columns that seem to spring out of nowhere!
Of course, the monasteries are amazing, but it's really the combination of the strange landscape and the man-made structures on top of it that make Meteora so special.
You can get to Meteora on your own by bus or train, or you can book a day trip like this one or this one. In my opinion, since Meteora is so far from Athens, it's a LOT easier to book a tour so you don't have to worry about getting yourself there and back in one day. I'm exhausted just thinking about that.
Once you're in Meteora, your tour will take you to see the amazing viewpoint from Panorama Rock, visit some of the cliff-top monasteries, and explore the nearby town of Kalambaka. If you're DIY-ing your trip, you can go hiking as well, provided you have enough time for that (hint, you probably won't with just one day from Athens).
If you're interested in visiting both Delphi and Meteora (highly, highly recommended), you can combine the two into one 2-day tour instead of going back and forth on separate day tours from Athens (now that'd just be silly). Delphi is on the way to Meteora, so you'll save time and money by doing both in one trip.
You can DIY your trip or make it easier on yourself by booking this wonderful 2-day tour, which includes accommodation, all tours, and some meals. Book 1 day tour to Meteora here. Book 2 day tour to both Delphi and Meteora here. Check out the additional options below:
5. Sailing to Agistri, Moni & Aegina
Distance from Athens: The tour starts in Piraeus, which is 9 miles/15 km from Athens
Activities You Can't Miss: Snorkeling, swimming, and sunbathing on the seaside (plus beautiful historic sites in Aegina)
I hope you're not tired of exploring the Greek islands, because this is one of the best Athens day trips for a full day of island hopping! (Who am I kidding, how could anyone get tired of island hopping in Greece?!) On this day-long sailing adventure tour, you'll travel to the islands of Agistri, Moni, and Aegina.
Your first stop is Agistri, which is best known for its beautiful beaches, and you betcha'll have time to get your tan on in the sparkling waters and golden sands of Megalochori and Skala. Up for something a bit more active? Take a bike tour around some of the beaches on the island (then relax later on).
Next, you'll head to Moni, an uninhabited nature island where you'll eat lunch (seafood, anyone?!). This forested island has a ton of wildlife and is perfect for a tranquil, midday siesta. After you eat, you can sunbathe or snorkel in the waters nearby!
Your last stop will be Aegina, that same island we talked about in the other island hopping tour. There's a reason why Aegina is on the itinerary of many sailing day trips from Athens (psst – it's gorgeous). I won't go too far in depth about Aegina, (since it's covered it in the other section), but basically, it's home to one of the most famous temples in Greece: the Temple of Aphaia. Book sailing trip here or check out the additional options below:
6. Seaside Winery Tour
Distance from Athens: You'll be picked up and dropped off at your hotel in Athens
Activities You Can't Miss: Wine tasting (duh!) and a lunch at an adorable seaside tavern
Special Foods to Try: Traditional Greek snacks at the wineries and seafood dishes at the tavern!
What's more dreamy or relaxing than sipping wine by the seaside? Umm…yeah, basically nothing. Luckily, day trips from Athens bring you to do exactly that: tasting delicious Greek wines along the Aegean Sea.
This delicious tour takes you to a few local wineries near Athens, and includes lunch in a delicious seaside tavern. Since you'll be drinking alllll the wines and enjoying your life to the fullest (it is Greece afterall!), I strongly recommend booking that tour.
Why worry about driving, transportation, or logistics when you don't have to? Instead, follow along someone else's itinerary and just drink it all up and soak in that fresh Aegean air.
Greece is home to several unique red and white wine varieties, with names I've never heard anywhere else! On the tour, you can try white wines like Assyrtiko, Malagousia, and Savatiano. Savatiano, a white variety that's native to Greece, is the most famous wine in the wine region near Athens and is produced in high numbers there.
You'll also get to try some of the local red wines, like Agiorgitiko, as well as international varieties grown in Greece, like Cabernet Sauvignon and Syrah. Please and thank you!
The tour will end at a locally-owned seafood tavern right on the water, where you can dine on delicious regional specialties and admire the sparkling seaside. Sounds like a relatively perfect day from Athens to me! Book seaside winery tour here.
7. Corinth
Distance from Athens: 50 miles/83 km
Activities You Can't Miss: Ancient Corinth, Temple of Apollo, Corinth Canal
Imagine the lavish cities of the ancient Greek civilization and you've got Corinth, one of the most rewarding Athens day trips for history and culture lovers! Located at the entrance to the Peloponnese Peninsula, you'll find ancient marvels located next to the shine and sparkle of modern-day Corinth.
While the city itself has tons of restaurants and shops, your visit will truly feel special because of the ancient history that surrounds you!
Without a visit to the ancient areas of Corinth, it's hard to understand the fascinating story of this place. Head to Ancient Corinth to catch a breathtaking glimpse of one of the most influential Classical cities, which was taken over by the Romans in 146 BC.
The ruins hold many remains of temples, homes, and government buildings, but quite possibly the most important is the Temple of Apollo, which still has a handful of standing columns.
Arcocorinth is another beautiful structure located on top of a hill in the Corinth area. It's absolutely worth a visit if you're in the area, even if you just snap a photo of this majestic fortress. Its walls climb in zig-zags up a hill and measure almost 2 kilometers in length! Quite impressive if you ask me.
While you're in Corinth, don't forget to visit the Corinth Canal! It's one of the most interesting landmarks, and located ~4 kilometers east of the city. This is the canal that separates the Peloponnese Peninsula from the Greek mainland and is an incredibly picturesque spot, where the sparkling blue seawater juts between two vertical cliffs. While there isn't much to do at the canal itself, it's definitely worth a stop to see it and take a few photos!
While you can DIY this trip, there are also many agencies that offer day tours from Athens to Corinth. We recommend booking this day tour to save the hassle of getting back and forth from Athens. It also includes a local guide who can tell you all about the history of the places you're seeing (better than any guidebook or travel blog can, I promise!) Book tour to Corinth here or check out the additional options below:
8. Cape Sounio and the Temple of Poseidon
Distance from Athens: 46 miles/76 km
Activities You Can't Miss: Ancient Corinth, Temple of Apollo, Corinth Canal
There are few things more relaxing than being by the seaside, and a day trip to Cape Sounio is no different. During a trip to Cape Sounio, you can lounge by the beach and frolic in the water, and also make a stop at the famed Temple of Poseidon, which is one of the most well-known temples in all of Greece.
Cape Sounio is also known for epic sunsets (which, not gonna lie, is what sold me on adding the cape to my never-ending bucket list!).
You can get to the Temple of Poseidon and Cape Sounio by bus fairly easily from Athens, which will give you the flexibility to travel at your own pace. However, if you'd rather have your transportation organized or go with a local driver/guide, you can book this half-day sunset tour from Athens, which is reasonably priced and organizes everything for you (and lets you have a glimpse of the gorgeous sunsets I mentioned before!).
During your visit to Cape Sounio, you can stop at the nearby Temple of Poseidon, which is still fairly intact even though it was built in 444-440 BC. Here, you'll see tons of marble columns that made up the once lavish, extravagant temple. Even though the temple is the main thing to see here, there are ruins that extend down the hill — don't miss out on the chance to explore further!
Once you get to Cape Sounio, it's all sun and sand! Lined with high-end resorts, Cape Sounio is a hotspot for vacationers looking for a break from Athens. On the tour I recommended before, the guide will take you to a dedicated swimming spot where you can watch the sunset (swoooooon x 23436234).
If you DIY this trip, you may have a harder time finding a spot to swim, but there are plenty of seaside restaurants where you can take in the sunset views! Book half day sunset tour to Cape Sounio here or check out the additional options below:
Are you headed to Greece soon? Which of these day trips from Athens are on your list to visit?