Heading to the City by the Bay and wondering where to see the best sunsets in San Francisco? You're in luck — this post will answer all your questions and then some. Lots of San Francisco sunset spots, coming right up!
The last few years, I've vowed to watch the sunset as much as possible. I've watched stunning sunsets in Greece. Phenomenal sunsets in Hawaii. The most remarkable sunsets in Bali (I kid you not)!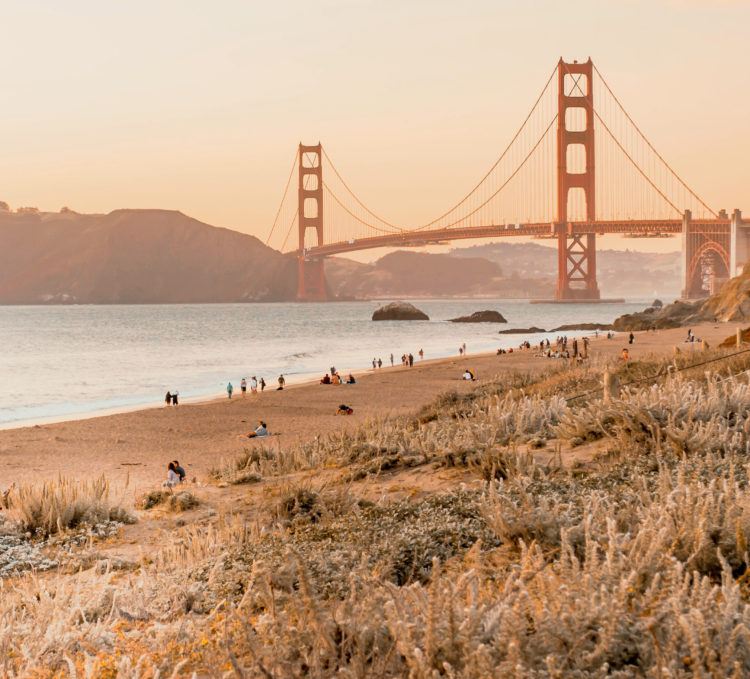 BUT until not too long ago, I totally took for granted all the amazing spots to watch the sunset in San Francisco (and what a shame — the city is basically my backyard)!
Sure, the food is delicious and the Golden Gate Bridge sure is a beauty, but is there anything better than a San Francisco sunset? Nope! And if you haven't realized by now, I love me a good sunset. On the beach. In the city. Climbing up those San Francisco hills. Anywhere and everywhere.
The way the lights manage to dramatically change the afternoon glow. The fact that no two sunsets are ever exactly the same. The deeper meaning which comes along with the thought of the current day ending and a brand new day emerging.
But enough chit-chat. You're here to find a spot to watch a San Francisco sunset! I got you, my friend. I asked fellow SFer, friend, and photographer @sf.beforesunset to share with us her favorite places to watch the sunset in San Francisco! She's been living in the city for over 7 years, so has really made it her mission to find the best spots to watch the sun go down — no, really though, take a look at her IG!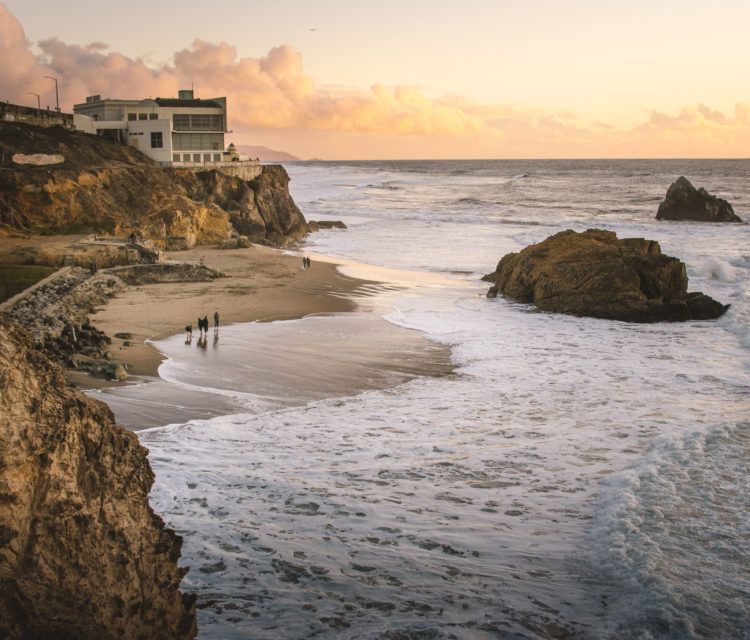 I bet some Bay Area locals don't know about all of these SF sunset spots. She's even shared her super secret spot I've never even heard of before – and I do tons of research (way more than the average person)! It's not one of the main 10 on this list — we're making you dig in the article to find it! ?
You may be wondering what time to watch the sunset in San Francisco. Well, it obviously changes depending on the time of year (later in summer and way earlier in winter). But I always recommend always getting to your sunset spot AT LEAST 30 minutes before the sun dips below the horizon. Sometimes parking can be a royal pain, while other spots you'll need to haul your bum up a short hill (always worth it, promise!).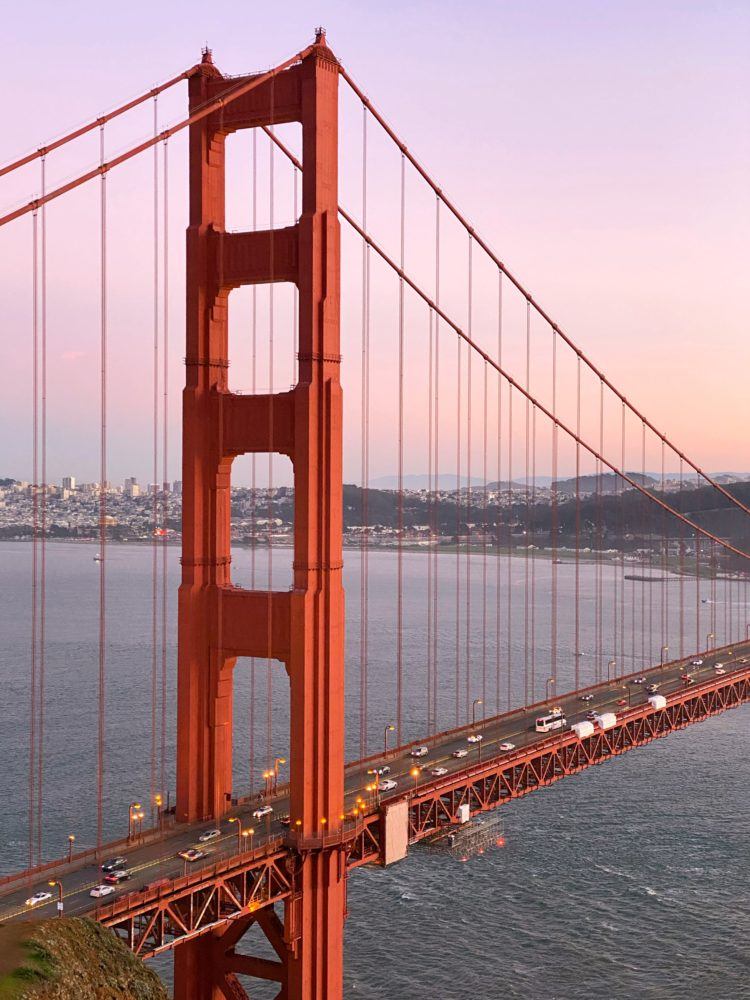 So — let's get to it! Grab your light jacket (SF gets even chillier once the sun goes down!) and possibly a picnic blanket (and some vino), it's sunset time! All the best places to watch the sunset in San Francisco — coming right up!
But first, a few more tips to ensure you have the most pleasant sunset experience:
Dress warmly: This ain't SoCal we're talking about! It gets pretty darn chilly at night here in San Francisco! Especially by the water or up in the hills. Come prepared with a sweater and/or light jacket. I say bring a beanie as well!
Go early: Parking can be tough in some areas of the city (especially if you're like me and have a hard time parking on SF's steep hills). Other spots you'll need to do a bit of walking to get there, so come early!
Go on a clear day: San Francisco is known for its fog (hey, there, Karl — yes, we even named him), meaning your SF sunset will be dramatically reduced to… well, not much. I can't promise a good sunset, but I can show you the best spots for them!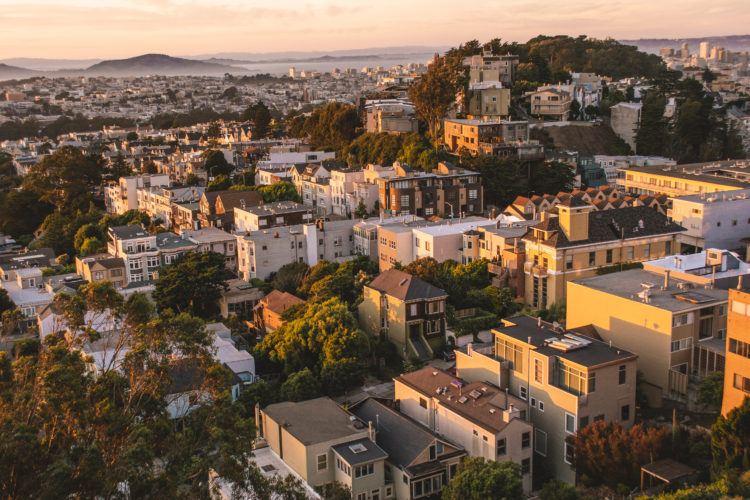 Visiting soon? Here's (lots) more San Francisco content!
Psst: most of the beautiful photos in this guide to the best sunset spots in SF are taken by my friend from @sf.beforesunsets (and of course, used with permission). Go check her out on Instagram for way more stunning photography of San Francisco!
Where to Watch the Sunset in San Francisco
TWIN PEAKS
I'm smitten with Twin Peaks. And so is everyone else. Not only will you find one of the most phenomenal sunsets in San Francisco here, but it's BY FAR one of the most popular viewpoints in the entire city → and for good reason! The 360° degree views are absolutely insane! Just watch out for fog (more on that below)!
This just means that whenever you go, there'll always be tourists (and sometimes even locals) around. Whenever we have friends/family visiting us, we always take them to Twin Peaks to watch the sunset over San Francisco. Like, every single time (no joke, haha). When the weather's right, you'll get an absolute show of colors at Twin Peaks. True sunset magic!
To guarantee yourself a spectacular sunset with actual colors, you'll wanna make sure there's no fog over the ocean. If there is, don't expect any type of sunset — all you'll see is gray, gray, and more gray! Not worth heading up there in my opinion.
BUT, on a clear day, Twin Peaks will be the most perfect vantage point to fulfill all your San Francisco sunset dreams. Make sure to look all around! To the west, there's the Pacific Ocean and the Sunset District. To the south, you'll see the San Bruno Mountains. To the north, Golden Gate Bridge, Sutro Tower, and Alcatraz. But (IMO), you'll find the most beautiful view to the east — the city itself (with clear views of the Bay, Berkely, and Oakland in the distance).
How to get to Twin Peaks: Not everyone knows this, but there's actually several routes to get up to Twin Peaks. You can easily drive up (what we typically do!), or you can park on Crestline drive and walk up the stairs if you're feeling active (or just need to work off that afternoon burrito).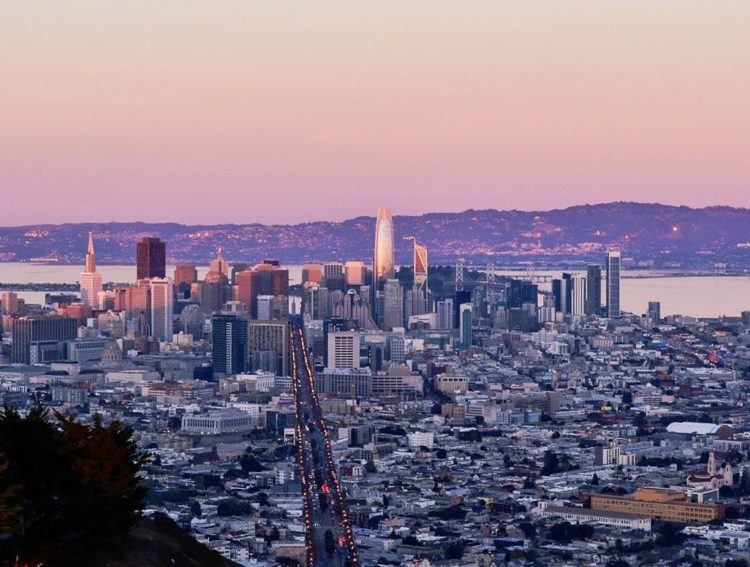 Fun (albeit, nerdy) science fact: The red rock you'll see while climbing to the top is radiolarian chert (it's super popular in the Bay Area). And why is this important/exciting? The rock is actually made of microscopic ocean organisms (WHOA!)! Yes, you're standing on an ancient ocean floor. You can see it's slightly tilted because it was lifted up while subducting under the continental plate. Told ya we can get a tad nerdy over here!
One more thing. It can be (aka usually is) super windy on the top so dress warmly! This is not the place for a picnic!
TANK HILL
If Twin Peaks sounds too touristy for you (I get it), head on over to Tank Hill instead (a 5 minute drive or 20 minute walk — to the base). Hidden behind the famous (and overly popular) Twin Peaks, Tank Hill remains a local jewel, well, until now that is! I'll never not share my secret favorites, don't you worry. And from up here — expect to find one of the best sunsets in San Francisco (without the hordes of tourists).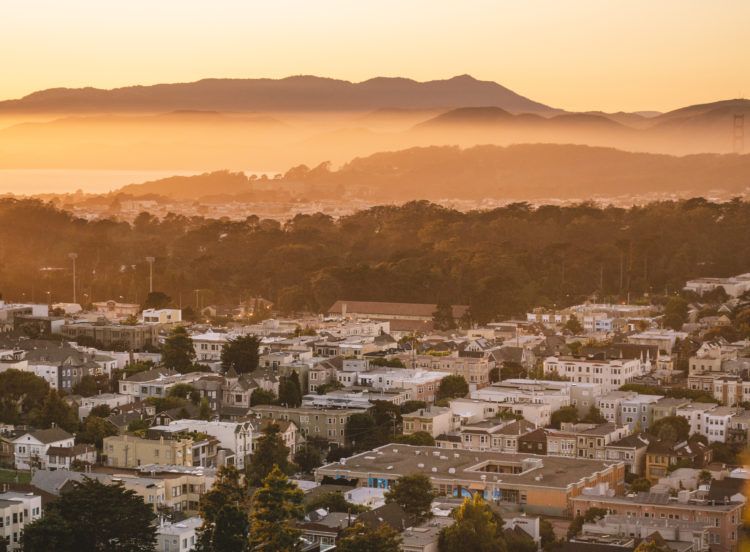 Climb to the top on the wooden stairs, either from Twin Peaks Blvd or the end of Belgrave Ave. Trust me, the higher elevation gives way for lots of beautiful panoramas of the city, especially during sunset!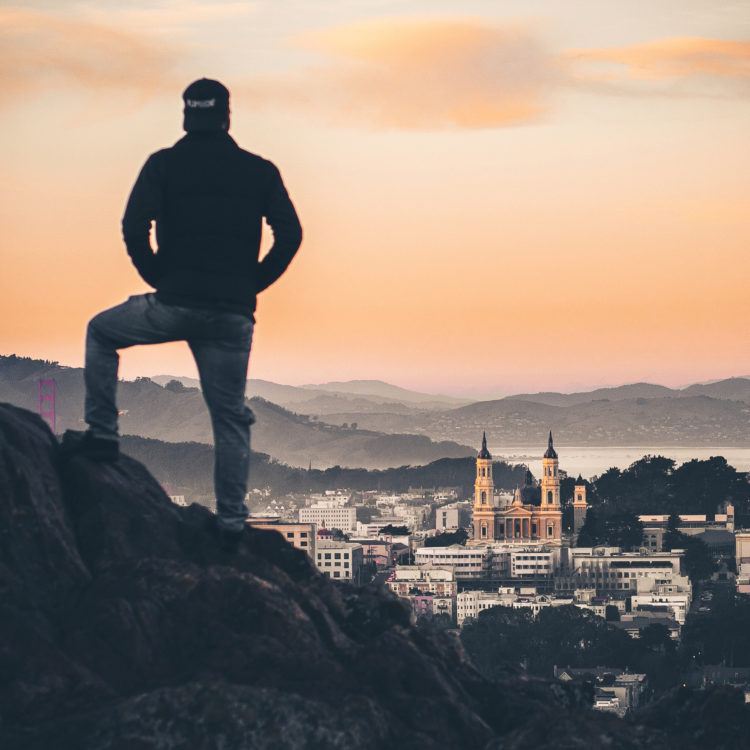 And once you make it all the way up, sit on a bench or choose a cozy spot between some rocks, and just look out. Take a few minutes to just admire your surroundings (something we seem to forget about!). You'll see the ocean and Golden Gate Park to your left, the Golden Gate Bridge staring right at you, as well as the Saint Ignatius church not too far away!
Photo Tip: Step back and include some rocks in your photo → this makes for an interesting foreground!
GRAND VIEW PARK
Next up on this list of San Francisco sunsets → Grand View Park! Surprisingly, this park is the only one with a spectacular view of one of the largest neighborhoods in San Francisco. You can see the whole Sunset District from here (kinda fitting as this post is all about sunsets in San Francisco). Colorful rows of houses that look like little boxes come into view as you climb a metal staircase. It's not too taxing, don't worry (that is if you don't climb the 16th Ave Steps first!). :p
Downtown San Francisco is kinda far away, but you'll have a great view of Golden Gate Park and the recently installed Ferris wheel (you can't miss it → its HUGE). And on a clear day, you can even spot the Farallon Islands (!!!). Lay out a picnic blanket and watch the sun dip below the horizon!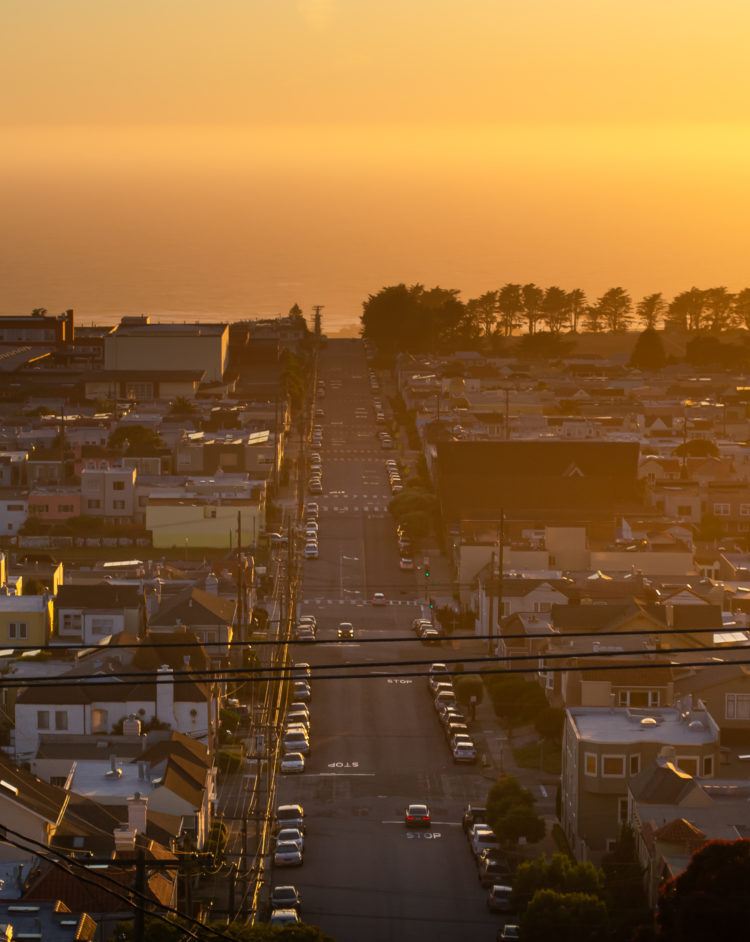 But wait! Before heading to Grand View Park for sunset in San Francisco, I recommend walking up the 16th Avenue Mosaic Steps and the Hidden Garden Steps (both which are some of my favorite mosaic staircases in SF). Do the Hidden Garden Steps first because climbing the 16th Ave Steps will take you directly to Grand View Park.
MT DAVIDSON
Looking for the highest point to watch the sunset in San Francisco? You'll find that over here at Mt. Davidson! The best views are actually during sunrise, but if you're allergic to early mornings (like I am), you'll find sunset to be just as spectacular! And from up here, be on the lookout for the fog rolling in over the city → it's honestly so remarkable to see! Okay, fine, Karl the fog, you win — just sometimes!
No matter how often you go, you can always see something different. Why? Because there's different levels of the mountain so you'll have different perspectives depending on where you look/stand.
Whatever you do, make sure you go all the way to the top to see Mt. Davidson Memorial Cross. It's one of the oldest landmarks in San Francisco and stands as a memorial to the 1.5 milion victims of the Armenian Genocide of 1915.
Also, don't miss the Eucalyptus forest that grows on the west side of the hill. Yes, a eucalyptus forest right in the middle of the city! Who knew?! This is one of the paths you can take to get here but I warn you, it's sometimes difficult to figure out which turn you're supposed to take (a map works wonders here).
Do note that coyotes have been spotted here, so I wouldn't recommend going alone unless you've been and REALLY know your way around (and of course know coyote safety).
BILLY GOAT HILL PARK
Yup, another hilly park on this list of best San Francisco sunset spots! Kinda makes sense that sunsets from a higher vantage point have great views. 😉
And among all these hills, Billy Goat Hill is kinda a hidden gem (to visitors, that is). You won't find many tourists here, but you will see locals walking their dogs (a true neighborhood green space)!
From here you'll get an amazing view of the cityscape of San Francisco. Don't miss the lookout point (step back next to the large trees) for one of the best views of the SF skyline. There's also sometimes a rope swing over here which makes for super fun photos! It's taken down all the time by the city, but neighbors keep putting it back up (although as of late it hasn't been there).
There is also a great view of a few neighborhoods, including Bernal Heights and Noe Valley. My recommendation — go early to check out the Harry Stairs, one of the longest staircases in the city, and Walter Haas Playground that offers another great view.
BERNAL HEIGHTS PARK
Wherever you're standing in the city, stop and look around. I can almost guarantee you can see Bernal Heights from there! Yes, this is a hill that you can see from almost every part of the city.
It stretches above the Mission District and gives you a unique view of downtown San Francisco and the entire Mission District. Definitely climb the stairs to get a tad higher. There's a swing on the top of the hill, but be prepared to wait in the line to get a picture on it.
But shhhh, there's another nice hill right next to Bernal Heights, which only locals really know about. I went back and forth on sharing my secret (don't want it to become too popular!), but I'll share anyways (just don't tell all your IG friends).
That, my friends, is Mullen Peralta Park. SHHHHHH. It's a small elevated park, has a sweeping view of the city, some beautiful gardens, and even benches to relax. A perfect mini park in my opinion! There's usually hardly, if any people around, and you'll get a very unique view of Twin Peaks and the downtown area.
INA COOLBRITH PARK
A park that seems like an oasis in a big city? That's Ina Coolbrith Park for ya! And trust me, you can easily overlook it (which many visitors, and even locals do!).
But don't → it gives one of the most spectacular views of downtown San Francisco (making for a wonderful sunset in SF)! The buildings are so close it almost seems as if the city is standing right in front of you! AND if you visit during spring, there'll be tons of California poppies growing here.
Unlike more popular spots like Twin Peaks and Battery Spencer (below), this park is relatively quiet, and a definite hidden gem in the Russian Hill neighborhood. Despite it's close proximity to the (ridiculously) busy Lombard street, Ina Coolbrith has maintained its peaceful character. Meaning, you'll often be the only one there! Kinda perfect for a date with your significant other if you ask me. 😉
Come a bit before sunset to watch the sky turn from blue, to orange, and finally, to pink! Does anyone else get all warm and fuzzy watching the sunset? Just me?
BEACH SUNSETS IN SAN FRANCISCO
Is there anything better than watching the sunset from the beach? Spoiler alert – nope! And surprisingly (to visitors), San Francisco has a lot of 'em! Beaches probably don't come to mind right away when thinking about the city, but it's true — we've got a whole bunch! SF is technically a peninsula afterall!
Here's a few of my favorites, all with spectacular sunset views.
Ocean Beach: Ocean Beach is by far the longest and widest beach in SF. I mean, it even spans across a few neighborhoods (like the Sunset and Richmond District). This gives you ample spots to watch the sunset in San Francisco! And once you're over here, don't miss Camera Obscura — it's pretty neat! If you wanna catch the sunset from a different vantage point (instead of on the flat sand near the water), climb up one of the dunes near Lincoln Street.
Baker Beach: I love coming here to watch the sunset. Keep on walking towards the bridge — it's an absolute stunner! Not only is it super accessible (there's a huge parking lot – a rarity in SF), but if you walk a few minutes you can reach the Coastal Trail and get different views as the sun goes down.
Crissy Field: Most people venture on over to Crissy Field during the day (it is a great picnic spot after all), but it's just as spectacular at sunset (if not even more so!). Here you'll find a recreational park, with lots of grassy fields and a bunch of small beaches. If you're lucky, the low fog will be rolling over the city! Keep walking and you'll reach Fort Point — there's great views of the bridge from below!
China Beach: If you're willing to put in a little work (and don't mind some stairs), definitely make your way to China Beach. This is the closest beach to the Golden Gate Bridge, and you'll find significantly less people over here (as well as some nudes)! Just remember you'll need to hike back up the stairs afterwards, so I don't recommend waiting too long after sunset (or bring a headlamp/flashlight).
LANDS END
One of my favorite parts of the city is Lands End in the Richmond District, and it's easily one of the best spots to watch the sunset in San Francisco.
What is it exactly? Well, it's a trail that leads directly along the Pacific Ocean to the Golden Gate Bridge. There's a secret labyrinth to check out, plenty of bridge and sunset views, and small, rocky beaches to admire. And yes, it's just as magical as it sounds.
A few different options for watching the sunset in SF from Lands End:
Sutro Baths (I recommend going down the stairs to the beach if the tide is low)
Eastern Coastal Trail Overlook (great views of the Golden Gate Bridge over here)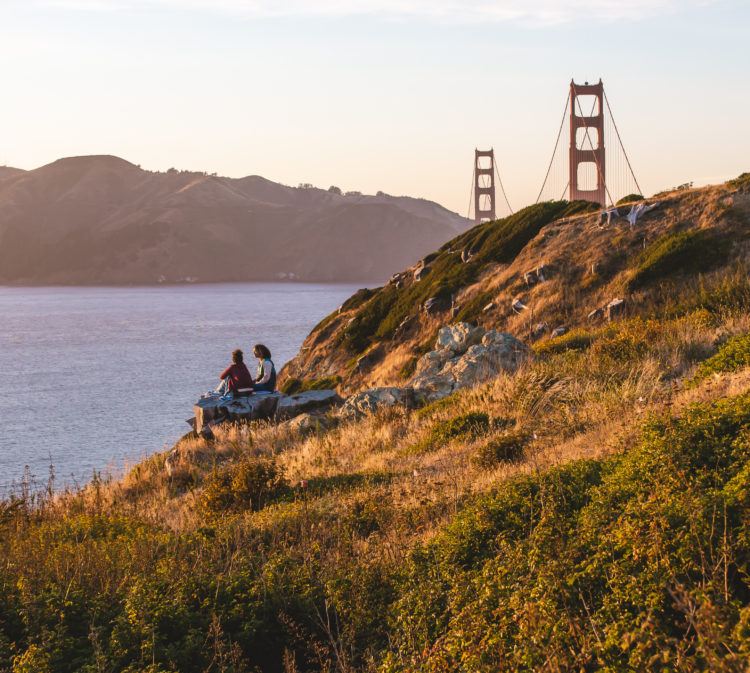 If you're willing to walk (before sunset of course), go down on the trail and start walking! You can even walk all the way to the Golden Gate Bridge from here (although it's quite far). This is a two hour walk and remember that you'll have to come back, so probably best to do it on a different day!
BATTERY SPENCER
Last but not least on this list of where to watch the sunset in San Francisco → Battery Spencer (my favorite!). This sunset viewpoint actually requires a trip to the other side of the Golden Gate Bridge, but it's well worth the short drive (I promise, or I wouldn't be sending you over there!). I could easily soak up a few sunsets in San Francisco from here!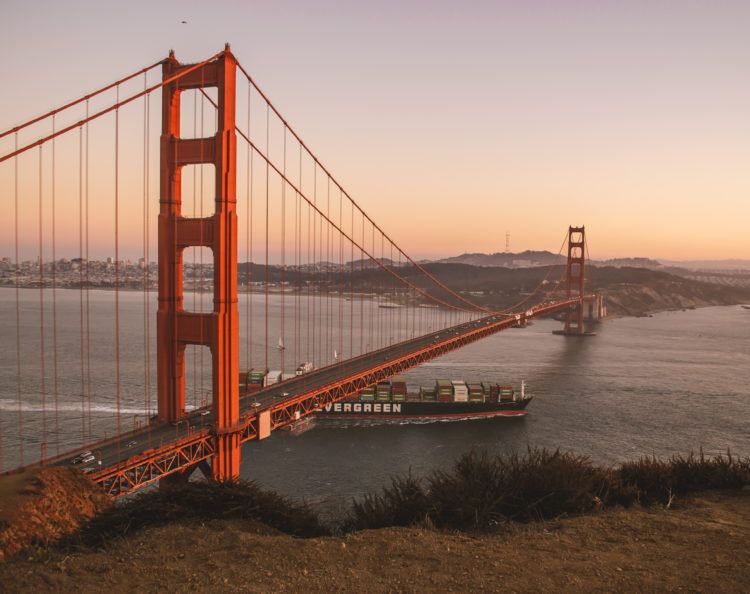 Thankfully, there's lots of parking on the side of the road, and if you can't find a spot right at Battery Spencer, try for Hawk Hill. It's a bit further from the actual bridge, but I'm obsessed with these views as well.
Make sure you dress warmly since it's ALWAYS very windy there (and I mean always). Stay after sunset and wait until the bridge and the city lights up — it's downright magical!
Psst — It can get especially crowded on the weekend at times, so if at all possible, visit during the week instead.
Are you planning to watch the sunset in San Francisco soon?! Which of these SF sunset spots are you most interested in checking out?
Looking for more California content? Explore my other California guides here!
Did you know that …
When you purchase something through our links, we earn a small fee (but you still pay the same)! Win-win! If you found this article useful, consider using the links within the article or below. Thanks for your support!