Headed to the Bay Area and looking for the most gorgeous mosaic stairs in San Francisco?! Keep on reading, I've compiled a whole list of San Francisco tiled steps for you to find! Spoiler alert — there's lots, so get moving!
Ever since I saw a photo of the 16th Avenue Mosaic Steps (probably on Pinterest), I was enamoured with its intricate tile work. So of course when the city literally became my backyard (STILL can't believe I call The Bay Area home <3), I made it my mission to visit ASAP (and snag that coveted IG photo)!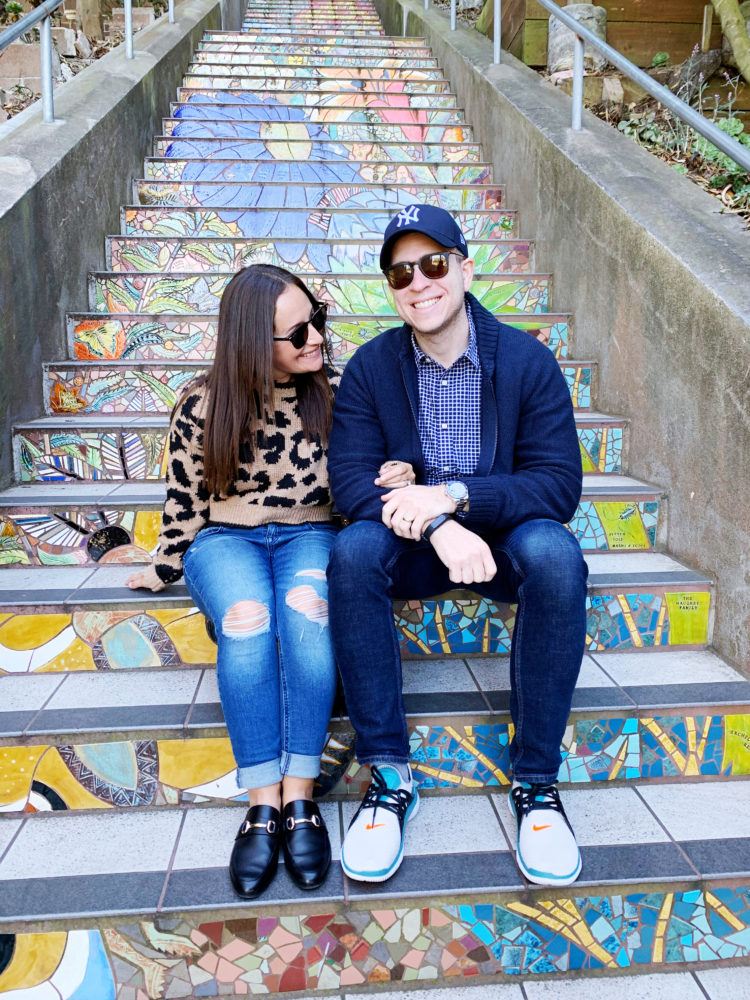 If you didn't already know, San Francisco is kinda infamous for it's steep hills — and with hills, comes lots of stairs (which I'm honestly so thankful for). Scaling the steepest slopes of the city is hard work my friend.
And on that note, walking up and down the stairs in San Francisco makes for a pretty great leg and bum workout. Meaning you can stuff yourself silly with the best desserts in SF and not feel guilty about it for a split second. Just maybe do the workout first and the eating second. :p
Many people visit San Francisco for the delicious (and authentic) food options, diverse culture, and sweeping views of the bay from the Golden Gate Bridge. And while there's a TON to do here (no joke – take a look at my SF bucket list), a visit to a few mosaic staircases in San Francisco is a MUST for anyone who appreciates art.
I'd definitely recommend adding 2 or 3 into your 3-day San Francisco itinerary (which is fairly easy to do since many are within walking distance to each other and/or not too far from touristy sites).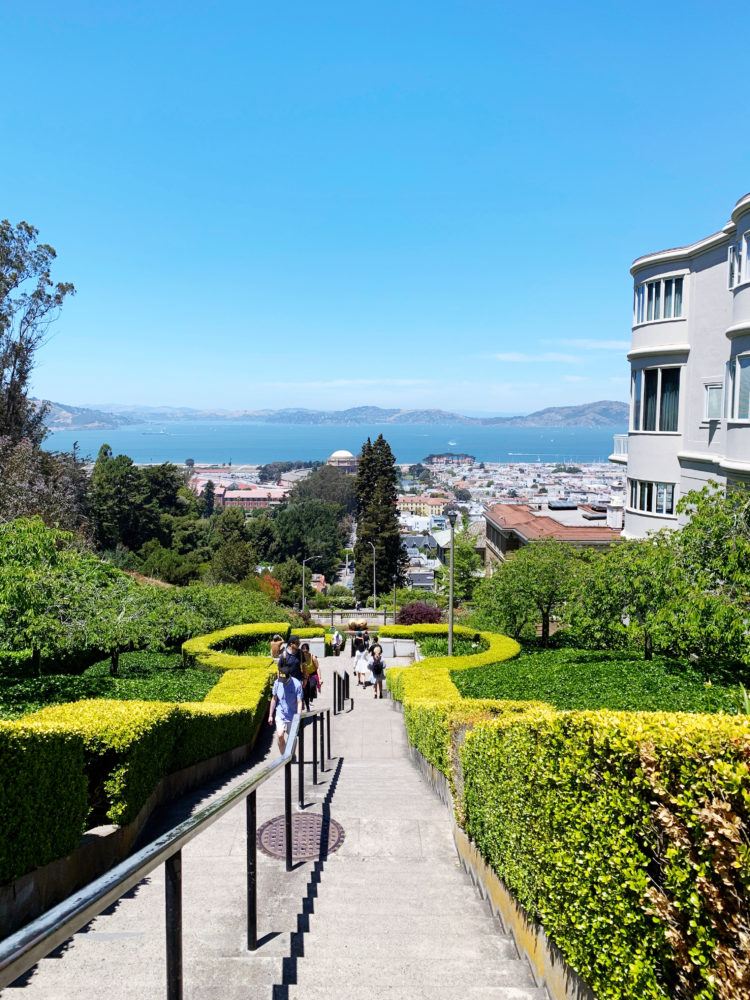 While I've visited specific neighborhoods just to see them (yes, I made it my mission to find them all!), if you're not actively seeking out the steps, they'll be an unexpected delight during your wanderings. You turn a corner, and BAM, there they are!
I've always loved finding all the San Francisco tiled steps in the city, and more seem to be popping up every year or two! They've gotten exceptionally popular due to instagram, but never seem to be crowded! 
Trust me when I say there's a whole bunch of secret staircases and hidden steps to find → that's where I come in — to help you on your search! 
I loved learning that SO many of these San Francisco tiled steps are volunteer-driven and community-based projects, meaning they primarily happened because the neighborhoods fought and worked for them! Thank you residents of San Francisco for making our city look so damn amazing! 🙂
With this being said, do your part and keep the steps clean, keep noise levels down, never leave trash around, and remember — people live here (sometimes literally right next to the staircases), so be respectful.
A few more things I'd hate to leave out:
A bunch of these mosaic stairways were designed and executed by artists Aileen Barr and Colette Crutcher, who have plenty of pieces scattered around the city. Talented doesn't even begin to describe them.
If you're just looking to visit one mosaic staircase in San Francisco, make it the 16th Avenue Mosaic Steps (the first on this list of stairs of San Francisco). They're popular for a reason and not too out of the way.
Psst → there's actually lots more mosaic steps in San Francisco, but I'm highlighting some of my favorites and ones that I think visitors (and locals) will enjoy. You'll find other ones in Cayuga Park (there's 3!) and even in Golden Gate Park (it's small but pretty — look for it at Koret Playground)!
Looking for more information on San Francisco? Check these out:
Now let's get to it — the most stunning mosaic staircases in San Francisco coming right up!
Mosaic Stairs in San Francisco
1. 16th Avenue Mosaic Steps
Neighborhood: Outer Sunset 
Address/location: Moraga Street between 15th and 16th Avenues
What else to do in the area: Hidden Garden Steps, Grand View Park, coffee at Hollow or Home Cafe, ice cream at Honey Creme, focaccia at Arizmendi Bakery (the best)
The 16th Avenue Mosaic Steps are by far the most popular of all the mosaic staircases in San Francisco. And as you'll see in this post about stairs in San Francisco, there's a whole bunch. Get ready for a workout, because there's 163 tiled stairs in all over here.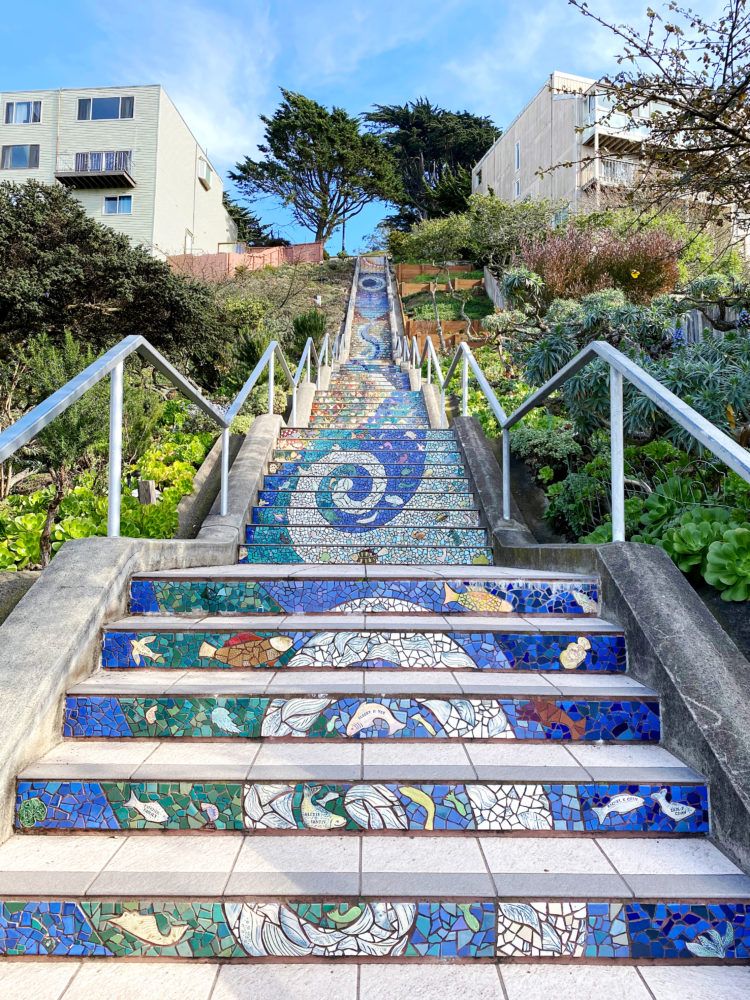 Looking up from the bottom, you'll see a whole collection of stories. And look closely — the tiles represent a landscape starting at the bottom of the ocean all the way to the sun in the sky! It's quite moving! Aileen Barr's first masterpiece in San Francisco!
Before you climb up, take note of the beautiful flowers and succulents — there's basically a garden around the 16th Ave Steps!
Local Tip: They're also known as the Moraga Steps, as they literally cascade up Moraga Street. People kinda use them interchangeably, but rest assured — they're the same exact thing.
Once you climb to the very top (work those buns!), you'll reach the final ascent to Grand View Park (known as Turtle Hill to locals — you'll easily see the round silhouette). A few more switchbacks, wooden steps, and metal railings, and you've got all of SF below you. Including the Pacific Ocean and a tiny speck of the Golden Gate Bridge. You deserve a rest and some focaccia from nearby Arizmendi Bakery!
On the way back to your car, look out for the mini fairy gardens on the neighborhood lawns. They are just the sweetest and I smile every time I see them. 🙂
Psst → You'll wanna make sure to hide any valuables in your car (or just take them with you), as this area is prone to vehicle break-ins. There's signs posted about this on the streets surrounding the steps, just in case you forget. 🙂
Hidden Garden Steps
Neighborhood: Outer Sunset 
Address/location: 15th Avenue between Kirkham and Lawton Streets
What else to do in the area: 16th Ave Mosaic Steps, Grand View Park, coffee at Hollow or Home Cafe, ice cream at Honey Creme, focaccia at Arizmendi Bakery 
If you're visiting the super popular 16th Avenue Mosaic Steps, promise me you'll walk on over to the Hidden Garden Steps (only a few minutes away). Some people even confuse the two, and think the Hidden Gardens are the 16th Avenue steps, but you won't make that mistake! I mean, they were inspired by the original staircase, but still, very different! :p
I kinda love this mosaic pattern a bit more (shh!), as there's blooming flowers, cute butterflies, and even a salamander that extends up the steps. This mosaic staircase in San Francisco looks a whole lot shorter, but it's actually 148 steps up! You'll definitely feel the burn on your way.
Tip: If it's somehow crowded (though it never is – haha), you can take the 15th Ave Steps down. They're boring concrete steps but you can't see the tiles of the Hidden Garden Steps walking down anyways, soooo say goodbye to the people.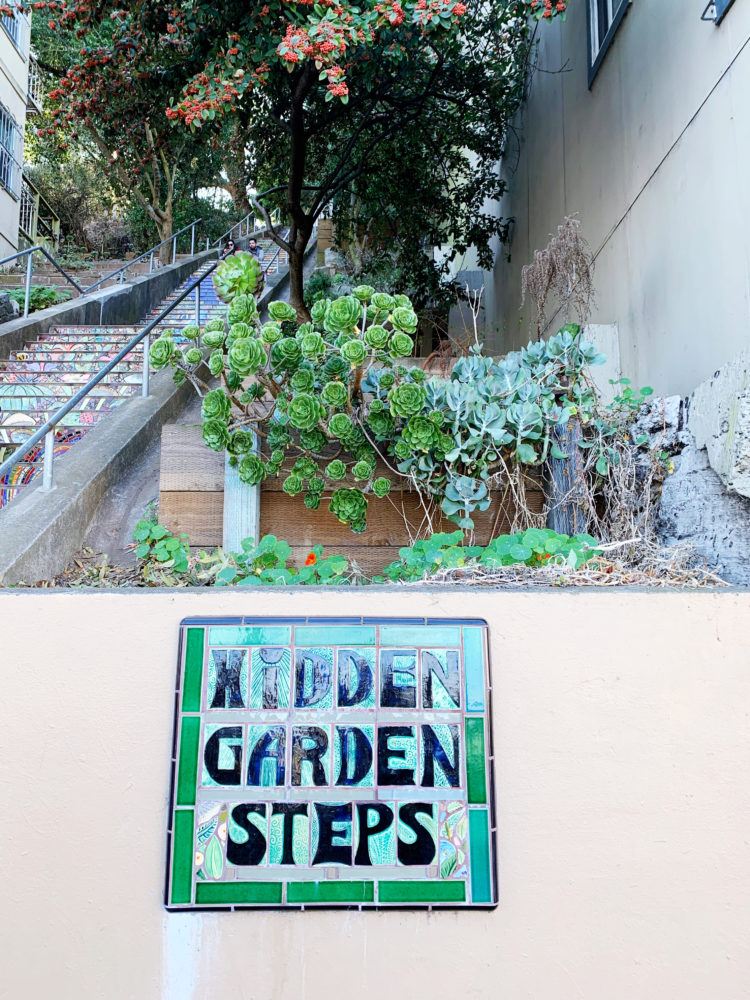 Tompkins Stairway
Neighborhood: Bernal Heights
Address/location: Tompkins Avenue between Nevada and Putnam Streets.
What else to do in area: Bernal Heights Park, Esmeralda Slide Park, Holly Park, Alemany Farmers Market (Saturdays only), ice cream at Mitchell's, and grab pupusas at Balompie Cafe #3 (another of my favorites, get the bean and cheese).
You'll know when you see them – this set of mosaic stairs in San Francisco is so vibrant and fun! It's honestly the perfect place to grab content for Instagram, haha.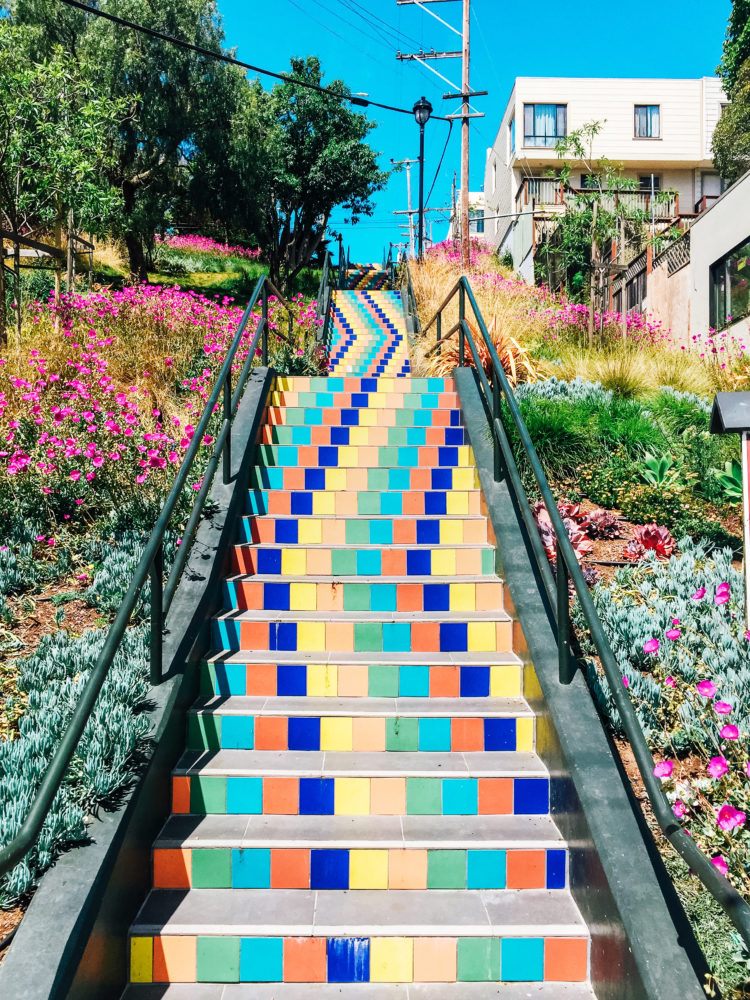 And interestingly enough, the Tompkins Stairway's multicolored zig zag design was inspired by the Steps to Peace painted by Syrian students in Syria.
You wouldn't know it, but this area used to literally be a garbage dump, with trash covering the hill. I mean, whoa, what a difference now! There's lots of great landscaping over here, with tons of California natives and other drought-tolerant plants. And it's all community led, with locals maintaining and cleaning up the garden every few weeks.
Athens-Avalon Green Space Tiled Steps
Neighborhood: Excelsior
Address/location: corner of Athens Street and Avalon Avenue
What else to do in area: Kenney Alley Stairs, John McLaren Park, pupusas at Balompie Cafe #3 or Reinas
Thank the neighbors, because these beautiful steps in San Francisco are all their doing. Like other San Francisco mosaic stairway projects, this one came about because neighbors got sick and tired of seeing garbage, old furniture, and bags of junk around. What a waste of a perfectly good space!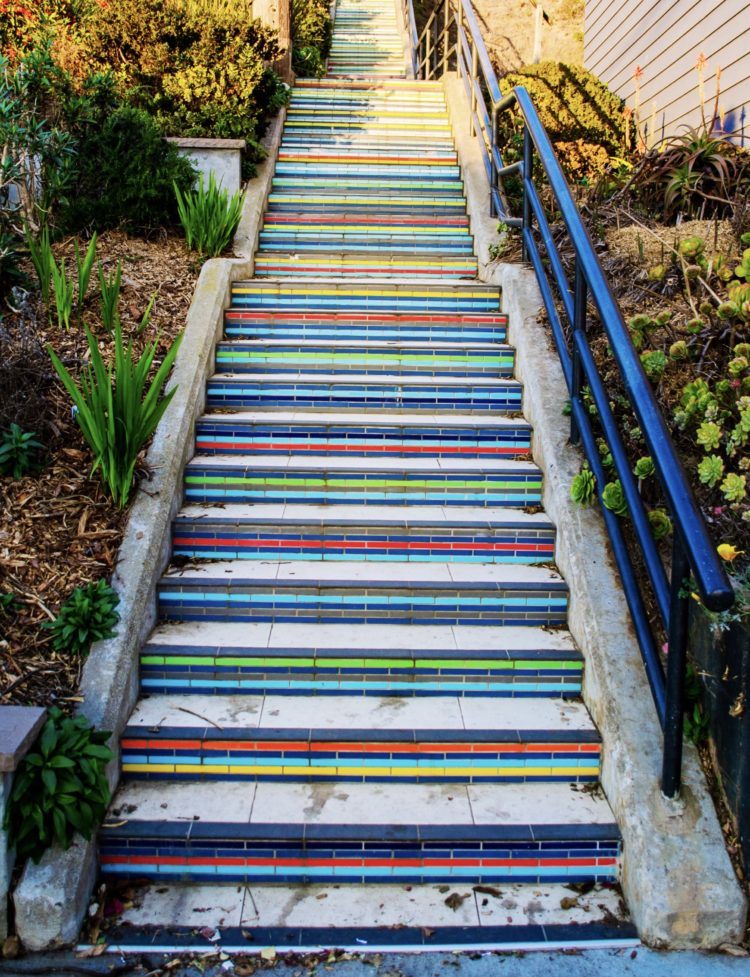 What was once a literal garbage dump is now a lovely stairway connecting Athens St. at Avalon Avenue and Athens St. at Valmar Terrace. The neighbors volunteer together to keep the space looking fresh and beautiful year round, with a gorgeous native plant garden surrounding the steps.
Walk all the way to the top → there's sweeping views of the southern border of SF from the top of the tiled steps!
Kenney Alley Stairs
Neighborhood: Excelsior
Address/location: between France and Italy Avenues
What else to do in the area: Athens-Avalon Green Space, John McLaren Park, Unity Plaza, and Pakwan Restaurant
What was once a community eyesore is now an "urban oasis". The Kenney Alley Stairs were actually assembled by an art teacher, her students, and volunteers! Kinda impressive if you ask me! The alley also has murals painted on both sides and new greenery for a fresh new look.
Although it was recently completed in 2016, it possibly already needs a quick refresh. Honestly, when I visited, the place wasn't particularly shiny and clean.
Looking for them? The stairs are literally in an alleyway and kinda hard to find! We actually walked past them a few times without realizing! Whoops! I don't know if I would make a special trip to see this mosaic staircase in San Francisco, but if you're in the area, why not?!
Flights of Fancy Stairs
Neighborhood: Bayview/Hunters Point
Address/location: Intersection of Arelious Walker Drive and Innes Avenue
What else to do in area: Albion Castle, Quesada Gardens Tiled Steps, Hunters Point, juice at Happy Moose, Hilltop Park, India Basin Shoreline Park
Another mosaic staircase in San Francisco! Told you there's lots of 'em! This one is a 4-foot wide, 87 step mosaic tile staircase, connecting Northridge Road and Innes Avenue.
This mosaic design was inspired by patterns all over the world — from India and Indonesia to Japan and the Middle East. Make sure to climb all the way up — the mosaic steps kinda wind up the hillside and each section has a different theme. Kinda fun!
Know that the Flights of Fancy Stairs are also called the Arelious Walker Stairway, in honor of Dr. Arelious Walker. She was a former pastor and advocate for the Bay View District, and more than deserves her recognition!
Like other secret steps of San Francisco on this list, don't leave any valuables in your car.
Unfortunately, unlike the more popular steps, I've heard that The Flights of Fancy tiled staircase isn't as well cared for. Do your part and don't leave it any worse than it currently is.
Lincoln Park Steps
Neighborhood: Sea Cliff
Address/location: 32nd Avenue between California Street and the Lincoln Park Golf Course (dead end of California Street)
What else to do in area: Legion of Honor, Lands End Trail, China Beach, Baker Beach, Lands End Labyrinth, Dungeness crab at PPQ Dungeness Island
Heading to Lands End and/or Sea Cliff? Don't miss The Lincoln Park steps!
They're a result of a community effort to raise $500,000 to get rid of the previous steps that had seen decades of neglect and decay (think broken steps, debris, graffiti, etc). Yuck!
Now, the steps have been completely transformed (yes!), with an intricate pattern design and lovely bench at the top. And since these mosaic steps are super wide (about 30 feet!), you don't have to worry about sharing the space with others.
The Lincoln Park Steps were designed by Aileen Barr, the same artist who designed the 16th Ave Steps and Hidden Garden Steps above, so you KNOW they're impeccable.
Photo Tip: Avoid visiting during the harsh mid-afternoon sun. It'll be difficult to capture the stunning colors with all the shadows on the designs. Better yet, go when it's overcast or foggy!
Miraloma Mosaic Steps
Neighborhood: Miraloma Park
Address/location: Bella Vista Way across from Dorcas Way
What else to do in the area: Mt. Davidson, Glen Canyon Park, Twin Peaks, walk around Noe Valley, almond croissants and cupcakes at Noe Valley Bakery
There seems to be new San Francisco mosaic stairs popping up every few years, and the steps at Miraloma are the newest addition! Artists Aileen Barr and Colette Crutcher are at it again, this time with a tiled staircase in SF at an elementary school.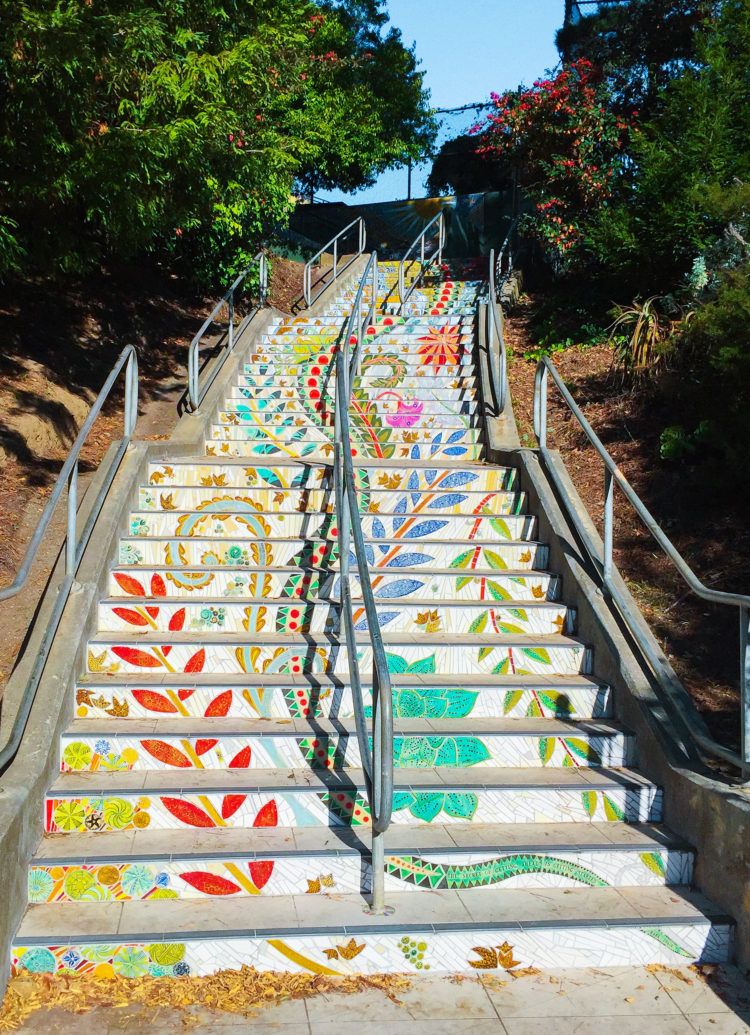 The Miraloma Mosaic Steps will be used by hundreds of families weekly going to/from school, and it's kinda exciting knowing these kids have something cheerful leading them into school.
The mosaic staircase is a permanent art installation on the steps between Miraloma Elementary School and Bella Vista Way.
The main feature is the tiled dragon, which is the mascot of Miraloma Elementary — how fitting! Go take a look; the secret steps are kinda like a floating textbook — think of a tiled curriculum of alphabets, words, numbers, math problems, and more! There's even inspirational quotes from Michelle Obama, Mark Twain, and Oscar Wilde. The entire staircase kinda gives off a whimsical feeling, and I can't get enough of it.
Quesada Gardens Tiled Steps
Neighborhood: Bayview/Silver Terrace
Address/location: Quesada Avenue between 3rd and Newhall Streets
What else to do in the area: Albion Castle, Flights of Fancy Mosaic Steps, Hunters Point, juice at Happy Moose, Hilltop Park, India Basin Shoreline Park
The Quesada Gardens Tiled Steps are easily the most hidden of all these mosaic steps in San Francisco. Plenty of locals haven't even heard of them before, and I had SUCH a hard time finding any info at all online about location. But they DO exist! You just gotta know where to look! :p
Quite possibly my favorite of them all — neighborhood kids painted the 600 colorful ceramic tiles you'll find on the staircase! How sweet is that?!
Unity Plaza Ocean Avenue History Staircase
Neighborhood: Ingleside
Address/location: within Unity Plaza at the start of the Ocean Avenue business corridor
What else to do in the area: Kenney Alley Stairs, Indian small plates at Pakwan Restaurant, Ingleside Sundial, sushi at Kaisen Don
Last on this list of the best mosaic steps in San Francisco we've got something a bit different.
The steps are part of Unity Plaza, a new public space completed in 2016. And besides the tiled stairs, you'll find benches to relax on, super-cool artistic pavement, and photography depicting the history of the area.
From far away the porcelain tiles don't look like much (they're even just black and white), but once you get closer you'll see the real meaning behind them.
Scenes of the neighborhood are represented in the steps — and yes, they're actual historic photos! Think City College students (in 1973!), the sundial at Ingleside Terrace, the Ingleside Presbyterian Church, and even historic street cars.
Honestly, I wouldn't go out of my way to see them, but if you're on a hunt for all the mosaic steps in San Francisco, don't leave this one off your list. I'm sure most people (and students) run up right past them and don't even take note of their historical significance! 
If you really wanna cross ALL of San Francisco's secret steps off your bucket list (why not?!), walk over to Balboa Park for a few tiled steps at the playground.
Other Secret Stairs in San Francisco
There's actually way more little-known secret stairways in San Francisco than most realize. I've listed out a few below, but just know there are dozens, if not hundreds of them (although not all are as magnificent as these).
Filbert Street Steps: If you're headed to Coit Tower, don't take the easy way up by driving! The Filbert Street Steps are some of the most picturesque in all of the Bay (kinda feels like you're in a fairy garden), and offer ah-maz-ing views of the Bay Bridge and Treasure Island.
On your way up the wooden steps (all 200 or so of them), don't miss Napier Lane — a sidewalk lined with pre-1900, cottage-like homes! Seriously, too cute.
If you don't know where to find the steps, the starting point can be kinda confusing. Head to the corner of Sansome and Filbert and you'll find them right away (kinda hard to miss).
And always be on the lookout for wild parrots of Telegraph Hill! Yes, parrots! Although you may hear them before you see them!
Lyon Street Steps: Besides all the mosaic staircases in San Francisco, the Lyon Street Steps are by far my favorite. With over 300 steps, this hefty climb is a strenuous workout that'll leave your legs aching and heart racing. And plenty of people use them to workout — so be courteous and let them pass you! ?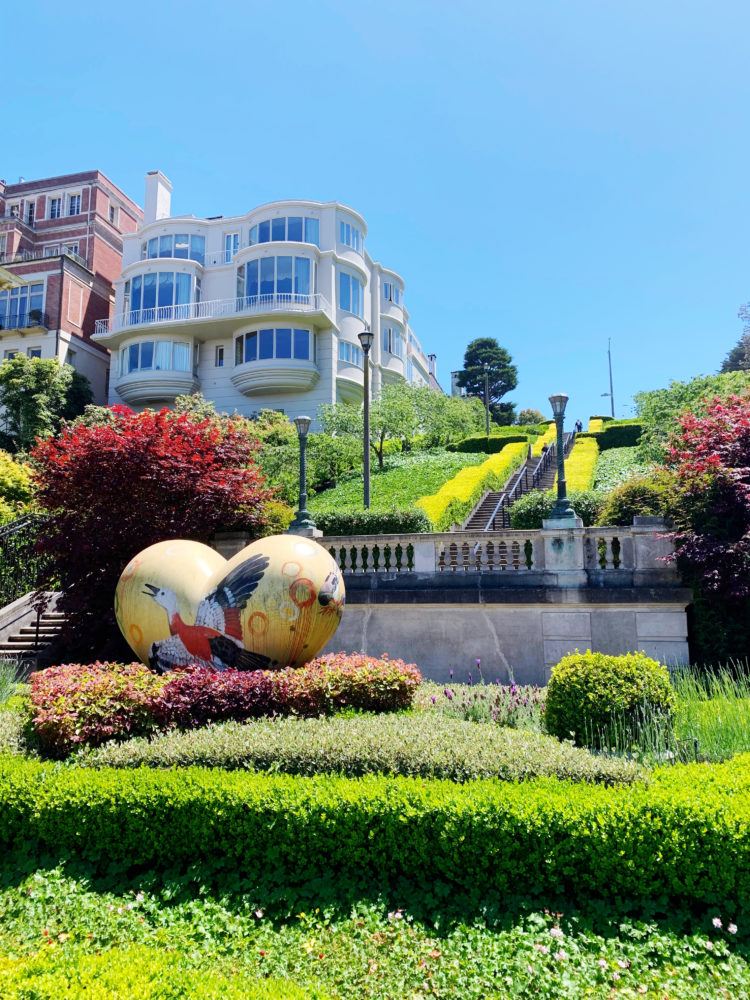 Once you've reached the top, you'll be rewarded with the most marvelous city views. And psst – it's really not toooo hard, and you'll earn your snack break! Or you can just park at the top and get the views without doing all the hard work (just start on Broadway instead). Don't say I never shared my secrets. :p 
Parking is typically easy in the neighborhood at the top (and well worth a look around; the houses are ridiculously gorgeous).
Ghirardelli Rainbow Steps: These newly painted steps add such a fun pop of color to Ghirardelli Square! The steps aren't tiled, but they're painted in a rainbow pattern, and just what the doctor ordered on a gray foggy day!
Vulcan Street Stairs: Take a beautiful short walk among the gardens of the steps, and get a great workout as well (if you're trudging up of course). Look out for hummingbirds — it's kinda like stepping foot into a secret little garden!
Vinton Court Steps: These used to be a gorgeous (hidden) pop of color in Chinatown with all my favorite Asian treats written on them, but they've sadly been painted over a boring gray color. Don't go looking for them — you won't find them in all their glory anymore!
Which of these mosaic stairs in San Francisco will you be searching for on your next visit?!