Wishing for snow in California?! You're in luck – Check out these best winter getaways in California! Surely to make anyone grab their boots (mittens, scarves, and heavy jackets) and head in the car for a road trip in search of some wintery fun!
Sure, I'd love to visit our favorite Park City time and time again, but I figured it was time to explore more of our new(ish) home state and all it's snowy offerings! I mean, California sure is a beauty, am I right?
→ Read Next: The Most Beautiful Places in California
Growing up in NYC, I had snow all around me. Literally. Every direction you went, there was snow, snow, and even more snow. So when I tell my East Coast friends that we're "going to the snow this weekend", there most common response is "where does it snow in California?"
I don't blame them – everyone always pictures The Golden State to be just that – sunny and warm year round. And while plenty of spots do fulfill the state's worthy nickname (hello San Diego and Orange County), there's plenty of fun to be had in the snow in California as well!
If you randomly stumbled upon this post and are looking for more spots to head this winter, check out this HUGE post of other winter weekend getaways in the US.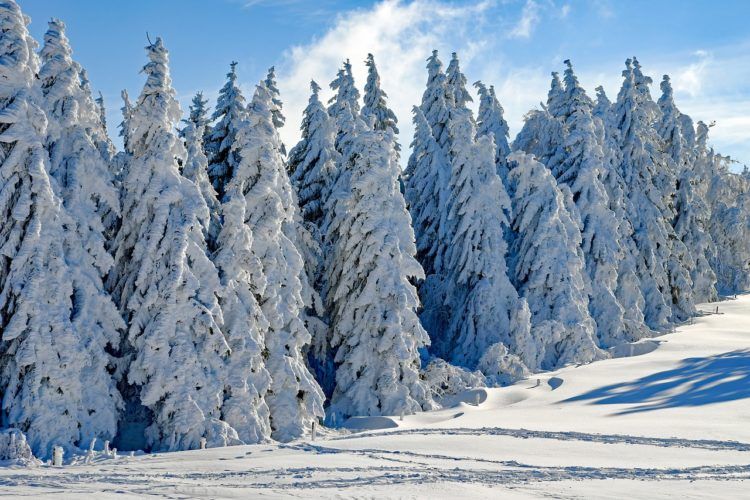 Since I've lived in California for over 6 years now (whoa, where does the time go?), I decided it was time to finally write about the snow in California! And no, California is not the land of perpetual summer as many may think it is (okay, maybe some southern parts are, but not the entire state, that's for sure).
Surprisingly to many, The Golden State actually see's quite a bit of snowfall each and every year, with many spots perfect for skiing, hiking/snowshoeing, and more.
The husband and I vow to take one trip "to the snow" every year to fill that inevitable winter-wonderland void in the Bay Area. Here's my bucket list of sorts of possible winter vacations in California for us to start ticking off! ENJOY! 🙂
So, without further ado, let's get to it: the best places in California for snow! I've broken up this list of snowy winter getaways in California into NorCal and SoCal because CA is just so damn huge!
Snow in Northern California
Mount Shasta
Where does it snow in California? Mount Shasta, that's where. A snowy volcano might sound a bit odd, but Mount Shasta is a winter wonderland between November-April.
Castle Lake is a mile away from the parking lot at the base of the mountain and you can snowshoe there to find a spot for some ice fishing – and stunning views, of course. Further up the mountain there's skiing, snowboarding, and even dog sled rides on offer at Mount Shasta Ski Park.
It's 220 miles north of Sacramento, with the car journey taking about 3.5 hours, and thankfully, SF is only marginally (in the grand scheme of things) further away at 275 miles. If you're looking for skiing near San Francisco you should definitely consider making the 4.5 hour drive; road trip, anyone?!
Some of the access roads, such as Everett Highway and Castle Lake Road, around the mountain may be closed directly after a snowfall – make sure you double check!
Where to Stay near Mount Shasta: The town of Mt. Shasta, of course! Check out recommended hotels: Mount Shasta Resort, LOGE Mt. Shasta, and Best Western Plus Tree House. There's also a few smaller towns nearby, including McCloud, Dunsmuir, and Weed.
Lassen Volcanic National Park
Located 151 miles, or 2.5 hours, from Reno, Nevada, Lassen Volcanic National Park is a wonderful spot for snow in Northern California. Out of all the national parks in California (besides Yosemite of course), Lassen is the best in winter! There's snowshoeing, sledding, and cross-country skiing on offer here. Make sure you keep a full tank of gas on the way to the park, as the closest station is 30 miles away.
The Lassen National Park Highway can close for anywhere between two days to two weeks after a significant snowfall, so bear that in mind.
→ Read Next: A Weekend in Lassen Volcanic National Park (SUMMER PHOTOS)
As well as the aforementioned snow sports, you can visit Sulphur Works hydrothermal area to see the steam vents and hot springs. This area makes for particularly lovely viewing in the winter but always maintain a safe distance from the hydrothermal features – the surrounding snow might not be as solid as it looks.
Where to Stay near Lassen National Park: You can either stay directly within the park ($$$), or in nearby Redding. Check out recommended hotels: The Best Western Anderson Inn, Fairfield Inn and Suites, and TownPlace Suites Redding.
Squaw Valley and Truckee
A mere 40 minute, 31 mile drive on the I-80 will take you from Reno, Nevada to the town of Truckee. It also happens to be some of the closest snow to the Bay Area since it's located just 180 miles away.
Truckee's maritime climate makes it one of the best places to visit in California in December because they get a ton of great snow. You can ski or snowshoe through the Donner Memorial State Park and glimpse some snowy beach views.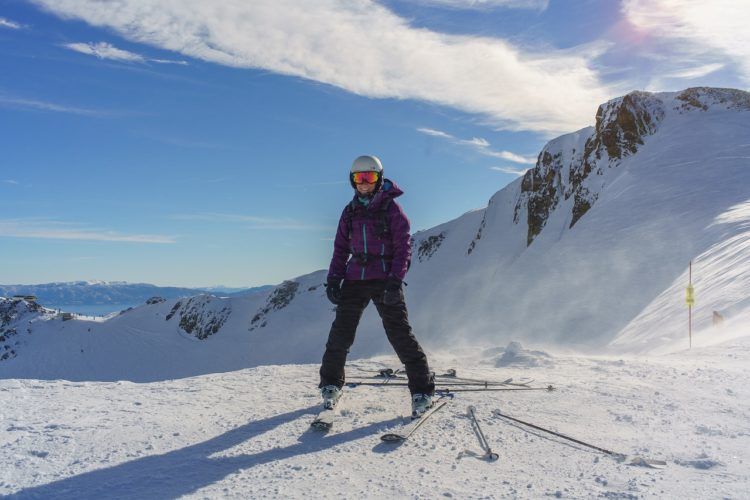 You could also trek along the Donner Ridge Snowshoe for beautiful views of the Donner Pass – it's a fairly easy journey with big rewards. Squaw Valley Ski Park, one of the largest ski areas in the USA, is just 17 minutes from Truckee.
With stunning views of nearby Lake Tahoe and abundance of luxury accommodations, this is undoubtedly one of the best winter vacations in California!
Where to Stay in Squaw Valley and Truckee: Since the two are so close to each other (about 15 minutes), pick your spot! Choose Squaw Valley if you want ski-in, ski-out access! Check out recommended hotels: Squaw Valley Ski Resort (Squaw Valley), The Village at Squaw Valley (Squaw Valley), Cedar House Sport Hotel (Truckee), and Best Western Plus (Truckee).
Lake Tahoe
Everyone and their mom has heard of Lake Tahoe, but just in case you haven't: it's a huge freshwater lake surrounded by some of the best ski resorts in America. Again, Reno is the largest city as it's located just 38 miles away, which should take you around 50 minutes in the car.
Highway 89 at Emerald Bay is often closed in the winter, so be sure to double check that before you set off for views of the glistening lake.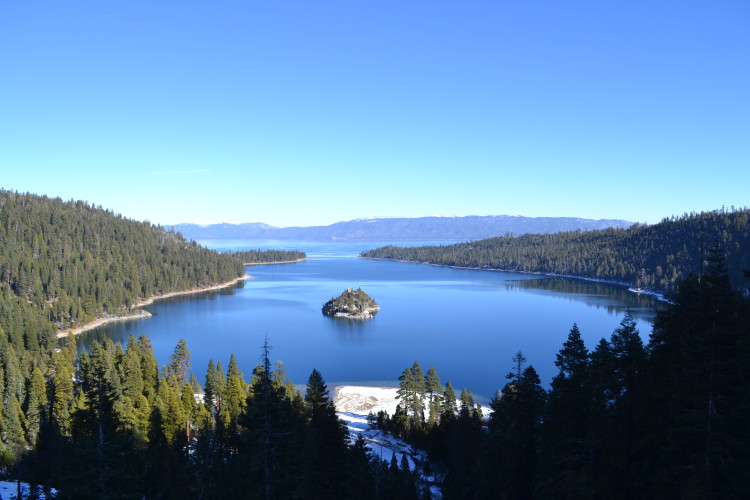 Lake Tahoe is one of the most popular winter getaways in California and it hosts some of the closest snow to the Bay Area. There's a huge range of winter sports on offer, from skiing to tubing to snowmobiling. Lake Tahoe is definitely one of the best places to visit in California in December, not least because the horse-drawn sleigh rides will definitely have you feeling Christmas-y!
It's best to plan your day before heading out each morning rather than winging it, as the area can be confusing to navigate and Google Maps isn't always your best friend out here!
Where to Stay in Lake Tahoe: You've essentially got two options in Tahoe – North Lake Tahoe or South Lake Tahoe! We love both equally! Check out recommended hotels: Hyatt Regency (North Lake Tahoe), Franciscan Lakeside Lodge (North Lake Tahoe), Basecamp Tahoe City (North Lake Tahoe), Hotel Azure (South Lake Tahoe), Basecamp Tahoe South (South Lake Tahoe), Hard Rock Hotel & Casino (South Lake Tahoe).
Yosemite National Park
Looking for skiing near San Francisco? Yosemite's your National Park. The 167 mile drive between Yosemite and SF should take just over 3 hours.
Tioga Road usually closes between November – May due to snow, meaning you can't enter the park from the east side. Don't sweat it, though, because the Hetch Hetchy, Highway 140, and Highway 41 entrances are open year-round.
→ Read Next: A Winter Weekend in Yosemite National Park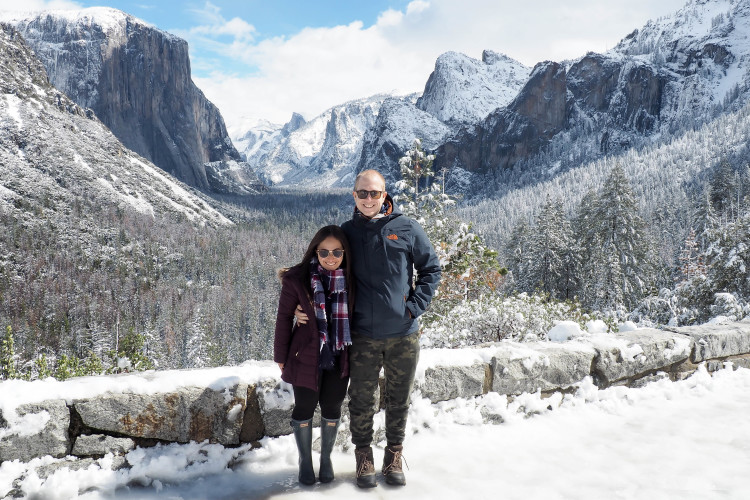 There are a bunch of winter sports on offer in Yosemite National Park, including cross-country skiing, sledding, and ice skating, but it's also a great time of year to sightsee. Yosemite's even more beautiful when there's snow on the ground in California – we're talking snow-covered peaks and frozen waterfalls. You can even zipline across the national park at any time of year – how cool is that?!
Yosemite is also a wonderful stargazing spot. You can either head out on your own to marvel at the wintery night skies or attend a stargazing event at Bass Lake. Still on my California bucket list.
Where to Stay in/near Yosemite: Inside the park there's The Ahwahnee Hotel (completely bucket-list worthy), Yosemite Valley Lodge (near Yosemite Falls!), and Curry Village (camping vibes but not actual camping).
Mammoth Lakes
Nestled in the Sierra mountains, Mammoth Lakes is 189 miles away from Fresno. The journey should take around 4.5 hours by car, so make sure you've got some snacks at the ready. It's very much worth the long-ish drive to reach some of the best snow in Northern California, just bring your winter gear! The Monitor, Tioga, and Sonora passes often close during the winter, but you can call ahead of time to check.
Mammoth Lakes is perfect for winter holidays in California, especially during the festive season when there are Christmas parades and performances set across the magical snowy landscape. It's super family-friendly here, with lessons for kids and first-timers or cross-country and nordic skiing adventurers for the seasoned pros.
If you don't fancy taking to the slopes but want those panoramic views, take a gondola ride and soak up the snowy scenery. When you're in need of a little warmth, take a luxury snowcat tour and enjoy exploring the area from the comfort of a heated cabin.
Where to Stay in Mammoth Lakes: I'd always recommend renting an AirBnb in Mammoth Lakes! SO many have hot tubs, which are just magical when it's snowing out! This one looks perfect for a group of friends or a family (plus has a great view!), while this one looks so calm and cozy (with a fireplace in the bedroom)!
Snow in Southern California
Mount Whitney
Mount Whitney is pretty easy to climb during the summer months but as you might expect, it's a little more challenging when there's snow in California. Less experienced climbers should take the Mount Whitney trail, which is a class one (aka easy peasy) route, whilst the pros can opt for the more challenging class three hike.
Whichever trail you choose, climbing Mount Whitney is a super rewarding experience. The insane views of the snow-covered Sierra mountains will be totally worth it, and you'll totally earn your hot chocolate and whatever carb-y wintery dinner you decide upon.
Mount Whitney's closest major city is Las Vegas and the drive from Sin City should take between 3.5-4 hours. The road between the mountain and the neighboring town of Lone Pine closes in the winter past the Hogback intersection, but you can park close by and walk the remaining 3.5 miles (more effort, yes, but just think of your step count!)
Where to Stay to Visit Mount Whitney: You'll 100% want to stay in the cozy little town of Lone Pine! While you're in the area don't miss Owen's Lake and the Mobius Arch Loop trail!
Sequoia National Park
This park is home to more than just snow in California – it also features the largest tree in the world! Yes, the world! This park is one of the best places for families to have fun in the snow in California. There are ski and snowshoe trails throughout the park, as well as designated snow play areas where you can participate in the snowball battle of your life!
Out of all the national parks in California, I'm really dying to get to Sequoia in the snow. It just looks oh so magical!
A winter ranger-guided snowshoe walk is a great way to safely see the best sights the park has to offer. The snowy sequoia groves alone make this national park one of the best winter vacations in California. I'm currently figuring out how to fit this in to my 2022 winter travels.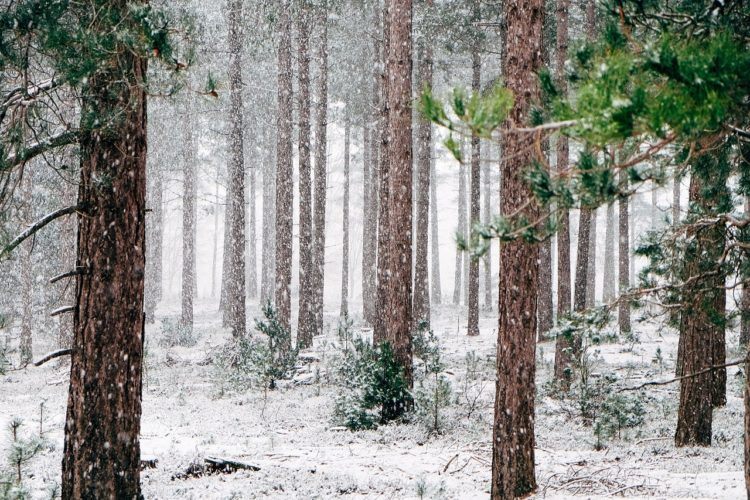 The closest major city is LA, which is a 225-mile, or 3.5-hour drive away. Crescent Meadow, Redwood Mountain, and Big Meadows roads are usually closed during the winter but other roads in the area should be fine (unless there's a spate of particularly bad weather of course).
Where to Stay Near Sequoia National Park: When visiting Sequoia, I recommend staying at an AirBnb in and around Three Rivers — it's the closest town to the park! This boutique casita looks just perfect (check out the reviews!), while I wouldn't mind cozying up with a book at this one!
Los Padres National Forest
There are plenty of wonderful hikes in the forest, the most popular being the Rattlesnake Trail (relax, it's named after the Rattlesnake Canyon, not the animal!) If you're pressed for time, or just feeling lazy, you can hike to Montecito Peak. It's only a mile long and the views are amazing.
And if you're a fan of camping, sleeping under the stars is one of the most magical winter getaways in California imaginable! There are 24 campsites in the park where you can huddle round the fire and roast marshmallows after a day of exploring. Sounds pretty nice, right?
Los Padres National Forest is just 7 miles away from Santa Barbara. It only takes 10 minutes to get there, making it a super convenient place to see snow in California. Road closures are generally weather-dependent so be sure to check before you begin your 10-minute odyssey.
Idyllwild (a San Jacinto mountain town)
Tucked away in the San Jacinto mountains, the mountain community of Idyllwild is every bit as lovely as its name suggests. It's one of the best snow places in California for those seeking a cosy winter vacation. Dolly Parton and Michael J. Fox even own homes here! With tons of one and multi-day hikes, this town is perfect for short winter getaways in California.
You can camp out or rent a cosy cabin. There's rock climbing and mountain biking on offer, but unfortunately skiing is a no-go. There are also lots of cute gift and craft stores to explore – perfect for some last minute Christmas prezzies! The town is an hour's drive from Palm Springs, or 47 miles if you wanna get technical.
Mount Baldy
One of the best snow places in California is the quirkily-named Mount Baldy – officially known as Mount San Antonio but, let's face it, that's way less fun. Mount Baldy Ski Lifts claims to be the steepest ski resort in Southern California, so you can be sure you'll have a good time shredding down these slopes! It's a very family-friendly ski resort, perfect for Christmastime breaks.
It's best to book your lift passes in advance to save yourself some dollar bills. It's not a great idea to hike to the summit of Mount Baldy during winter unless you're a mountaineering pro – save that for a summer visit.
And if you're wondering 'where is there snow in California?' but don't fancy a super-long drive, Mount Baldy is a great option. It's just 14 miles, or 25 minutes, from Ontario, California (not Canada, dontchu worry).
Wrightwood
Where does it snow in California? On a California Christmas card, of course, and that's exactly what the charming town of Wrightwood is. Tucked away in a valley in the San Antonio mountains, Wrightwood is just 77 miles away from LA, which takes about an hour and fifteen minutes in the car.
It's a hugely popular skiing town that will really get you in the holiday spirit – think hot chocolate in front of a log fire after a long day on the slopes. It's coziness to the max.
There are parades and parties aplenty during the holiday season, making it a perfect family winter vacay. Wrightwood is teeming with art galleries and cute cafes but there are also plenty of outdoorsy delights. One of the best things to do here is experience the Pacific Crest zipline and whizz across the snowy mountain landscape. Hiking the Blue Ridge trail is another memorable mountain experience – the views will knock your (snow) socks off.
Big Bear
This small, adorably-named city is 97 miles from LA, which should take you about two hours in the car, but be sure to check road closures before you go. The town is one of the best snow places in California. As well as being famed as the training site for many boxing champions and the shooting location for several movies, Big Bear is popular thanks to the neighboring Bear Mountain (how cute?)
Skiers of all ages and abilities will find slopes to suit them at this ski resort, so there's fun for everyone. The Big Bear Alpine Zoo is also a pretty awesome experience, as the centre rehabilitates animals in need and releases them back into the wild when they're fully recovered.
A wintery visit to beautiful Big Bear Lake is another icy treat – it's just beautiful at this time of year, especially when it's frozen over!
Lake Arrowhead
If you're asking 'where is there snow in California?', look no further than Lake Arrowhead. This picturesque mountain resort is well-worth the 80 mile drive from L.A. You'll go from big smoke to winter wonderland in an hour and a half.
Once you're there, no matter how old you are, you've got to pay a visit to SkyPark at Santa's Village – you don't want to risk getting coal, right?
Nestled in the forest, the Village takes Christmas spirit to the max. You can go on a snow quest, visit Santa's workshop or even eat breakfast with the man himself! Head there from 15 November – 6 January to make the most of the holiday action.
However, whenever you visit, there's plenty to do in the SkyPark. As well as festive treats, it's home to mountain bike and hiking trails, ziplines and rock climbing. There are also several ski resorts close by, such as Snow Summit and Rim Nordic Ski Area, if cross-country skiing is your thing.
Which of these winter vacations in California will you be adding to your must-visit list when it finally snows?!
Looking for more California content? Explore my other California guides here!
Did you know that …
When you purchase something through our links, we earn a small fee (but you still pay the same)! Win-win! If you found this article useful, consider using the links within the article or below. Thanks for your support!