Headed up north and looking for all the fun things to do in Calgary, Canada? This Calgary blog post is the ultimate guide – you'll not only find a whole long list of Calgary attractions, but where to stay, where to eat, and places to see as well!
Most people visit Calgary as the starting point of their trip to the Canadian Rockies. And I totally get it – the rockies are stunning and then some. BUT make sure to spend a few days exploring the busy city as well! I promise you there's tons of scenic views, delicious foodie spots, and oh so much more!
Regardless of what you're here for, I gotchu! Everything you need to know from where to stay, to where to eat, to what to see is all here in this post, so keep on scrolling to start planning your Calgary trip!
Before we get into all the fun things to do in Calgary, lemme answer a bunch of questions first! Curious about something else related to Calgary tourist attractions? Ask me down below in the comments!
Psst: Planning a trip to Banff and Jasper? Check out my ultimate Canadian Rockies Itinerary – exactly how I spent my week in Alberta! You're gonna love those glistening glacial lakes!
When Should I Come to Calgary?
The short answer: between May and September
The much longer answer: Many people don't realize this, but Calgary is actually known as the sunniest city in all of Canada! Does that surprise you? Well indeed it is! And it's not a myth – Calgary experiences the most sunlight out of every Canadian city!
Yes, we see some cold and long winters, with temperatures dropping below -20C (-4F), but our summer days are long (16+ hours of day length June to mid-July) and warm with temperatures above 20C (68F).
Calgary's coldest months are January and February, spring doesn't bloom until May, and autumn is typically short-lived, so ultimately the best time to visit Calgary is May to September. We do see some showers in May and June (I'm sure you might've heard of our flood back in June 2013), but it's rare to see this day after day.
Calgary's high season is July-August, and you'll find tons of fun things to do in Calgary during this time (as well as a whole slew of holidays and festivals).
Canada Day (which is oh so much fun) and Stampede occur during this time, which make the city extra, extra busy. Just so you're aware, Canada Day is on July 1st and Stampede is always the first Friday of July to the Sunday of the following week, lasting ten full days.
It's only a short two weeks of the year when literally everyone (Grandma, your boss, and every kid on your block) is out and about. So, yup, if you're planning a visit during these few weeks, just understand it may be crowded beyond belief (so book accommodation early)!
Stampede doesn't just occur at the Stampede grounds. It's an entire festival that gets people out of their homes and offices, and nearly every restaurant, bar, pub, and club is packed with people conglomerating for their Stampede-themed gatherings. The streets also flow with an endless number of people dressed in Stampede attire (kids included!). It's a hoot! For some, not for all.
With all this being said, if crowds and Western culture aren't your thing, avoid coming in July. Best to save your trip for the shoulder months: mid-May to June, or late August to September.
How to Get Around Calgary
Walking
Some argue that Calgary's City Center is one of the most walkable cities in the world, and it's easy to understand why. The city center is only about 4km wide, meaning you can walk from one end to the other in under an hour (and pass by a bunch of fun things to do in Calgary).
Plus – it's flat, flat, flat (unlike the strenuous hills in San Francisco), making a thankfully easy walk. And getting over the Bow River? Easy peasy with the numerous pedestrian bridges
Public Transportation
If you're exploring outside the city center for more Calgary tourist attractions (which you absolutely should!), you'll want to learn a bit about Calgary's public transportation.
Psst- it's super easy and the C-Train is your best friend. Two lines make up the C-Train routes, with the Red line running NW (Tuscany station) to SW (Somerset-Bridlewood station) and the Blue line running W (69th St SW station) to NE (Saddletowne station).
Both the Red and Blue lines come together downtown on 7th Ave SW between 8th St SW and 1st St SE. This is what's called the "Free Fare Zone" – meaning you can hop on and hop off within this zone for free!
Here's where some confusion comes in. On 7th Ave, you'll see stations on the north and south side of the avenue. City Hall is the only station that is on both the north and south and is a major spot for people getting on and off.
The stations on the north side are: 1st St, 4th St and 7th St stations. The ones on the south side are: Centre St, 3rd St, 6th St and 8th St stations. The trains going westbound (Red towards Tuscany & Blue towards 69th St) will stop at the north side stations and the trains going eastbound (Red towards Somerset-Bridlewood & Blue towards Saddletowne) will stop at the south side stations.
Make sense? It's kinda confusing I know, but you'll get the hang of it quickly!
I recommend keeping the Google Maps app handy on your phone as it's extremely helpful when it comes to planning your transit route.
A bit more info about the trains:
When you purchase transit tickets, there are ticket machines at every station. To purchase tickets, you can use cash, coins and credit card!
You'll have a number of options available but the two you'll focus on are the single-use ticket and the day pass ticket.

The single-use ticket lasts 1.5 hours from the time it's validated, which means you can ride the LRT and BRT (bus rapid transit) anywhere you want and for as many rides as you need until the time runs out.
The day pass is typically about 3x the price of a single-use and you can evaluate which is better for your circumstances.
Make sure to keep your ticket safe!! This is the only way to verify that you paid for your ride and the last thing you want is to get caught by a peace officer on the train without it.
If you're staying in Calgary for a long period of time, a monthly train pass might be something you'll want to invest in. You can get them at many locations including convenience stores, grocery stores, etc. Here's a full list of where to get your monthly pass.
Cars and RideShares
Of course, there might still be places you need to get to by car, and if you don't have one while you're here, don't worry! Calgary's got a number of rideshare apps available now, which you can check out here (and yes, Uber's on the list). I definitely recommend going with a rideshare app when you can as they're usually (not always) the cheaper alternative to taxicabs.
Where Should I Stay in Calgary?
Downtown Calgary
Calgary is a newer and growing city – it was only established in 1875 – so the core of where you want to be when you visit only stretches across the city's downtown area. Downtown is very central; in fact, Centre Street is where most significant places and landmarks are situated.
The Calgary Tower, for example, sits right on Centre Street and 9th Ave South! Staying at a hotel or Airbnb within the boundaries of 9th St SW, 1st St SE, and between 12th Ave South and Eau Claire is the most ideal location to get around the city without a vehicle.
The reason why you'd want to stay in this vicinity is because this is where the major Calgary attractions and sites are located. And you want to be near all the fun things to do in Calgary, right?!
On top of that, the C-Train runs straight to Downtown Calgary, making this area an ideal spot if you wanna explore other parts of the city.
You can't go wrong with the following hotel accommodations, and the great thing about Calgary is that hotel pricing isn't steep like countless other cities. So you can feel like a baller on a budget, woo!
All of these are top-rated hotels, each with their unique features and amenities.
You'll know the Fairmont when you see it: historical grandiose, classy, situated right by the Calgary Tower, with red carpet steps to the entrance (whoa Nelly!).
The Sheraton Suites and Marriott Residence Inn are oriented towards people who have plans for a longer stay in Calgary, as they are all-suite hotels. The Marriott in particular has floors designated for workspace areas and meeting rooms, making it great for folks traveling for business.
Though only ranked as a 3-star hotel, Hotel Arts is definitely a fun place to be, especially with their all-year-round pool parties and events. It's incredibly modern, has a fine luxurious touch and its restaurants are also high-ranking in Calgary's culinary world (see more below!). Oh! And I almost forgot to mention – Fargo was filmed here!
Le Germain is Canada's first ever boutique hotel brand and it has all the charming qualities of one. It's also perfectly situated by Calgary Tower just like the Fairmont.
But the Hyatt Regency is one of my all-time favorites in Calgary (read more about my stay at the Hyatt here). Not only does the hotel deliver on its customer satisfaction, Canadian history, food, spa, but its new room and suite renovations are top-notch! Oh, and did I mention the views?
The hotels in Calgary's downtown area are all within reasonable and similar price ranges and you can't go wrong with any of them.
Eau Claire
This rich neighborhood is home to the Sheraton Suites, one of Calgary's most upscale hotels with gorgeous views of the city and river.
Other Locations
Personally, I don't recommend staying north of Eau Claire/Riverfront. Past the Bow River (which is directly north of Eau Claire), there's not many hotels or Airbnb's to choose from. And plus, you'll be much farther away from all the things to do in downtown Calgary, which is where most of Calgary's attractions are located.
But if you don't care much about the distance, other trendy and nearby neighbourhoods, apart from Eau Claire, that I highly suggest staying in are:
East Village (east of downtown)
Victoria Park (southeast of downtown)
Beltline (southwest of downtown)
Kensington/Sunnyside (northwest of downtown, north of the river)
These are all bumping neighbourhoods for homestays and you'll understand why when you come! There's quick access to foodie hubs, public transit, parks and shopping.
If you're thinking of accommodations on the outskirts of downtown (in the neighborhoods listed above), the first hotel you should consider is Hotel Arts Kensington. Similar to its sister Hotel Arts, the one in Kensington is luxurious, contemporary and much like its name suggests, artsy. It's designed to host people who love to have a relaxing time and enjoy the trendy and hipster vibes that Kensington has to offer.
The original Hotel Arts and the Residence Inn by Marriott that I mentioned above are actually within the Beltline District, but just a few short blocks from downtown that they pretty much are in the downtown Calgary area.
East Village is very much an up-and-coming part of the city, with new hotels (3-star, relatively inexpensive, but very modern) on the rise. This is where you'll spot the Hilton Garden Inn, the Homewood Suites by Hilton and the Alt Hotel. Not too shabby, eh? A quick minute north of East Village and you're right at the riverfront pathway, or a short walk west and you're at City Hall/east edge of downtown!
And finally, what you probably came to this Calgary blog post for – all my favorite fun things to do in Calgary!
Fun Things to do in Calgary
As I mentioned before, most of Calgary's life and breath is within its core. There are three areas of the heart of Calgary that you need to check out to fully enjoy this city. Of course, if you're here for Stampede then make that four places! But for the rest of the year, you'll want to spend most of your time:
on Stephen Ave (i.e. 8th Ave South)
at Eau Claire (Eau Claire again?! Yes, seriously!)
on 17th Ave (South)
This is where a lot of the shopping, food, and all-around entertainment goes on. I've organized this list of fun things to do in Calgary by neighborhood, as it just makes sense to keep the Calgary tourist attractions in order.
Psst – Scroll down to the end of this Calgary blog post for a list of major festivals that happen in these areas too!
Stephen Ave
Stephen Avenue is one of the oldest streets in the city and is the only road that turns into a pedestrian walkway during the day (6am to 6pm). It stretches from 4th St SW to 1st St SE as a portion of 8th Ave and is a major part of Calgary's historic district.
Nearly all the low-level buildings that sit on this avenue are still standing since they were built in the late 1800's/early 1900's, during the Sandstone Era.
Fun fact: the Hyatt Regency was actually built with parts of the old sandstone foundation as well, maintaining bits of Canadian history within its walls.
Tons of restaurants and bars with outdoor patios line this avenue, with entrances to individual retail stores and to the two main malls of downtown: CORE Shopping Centre and Scotia Centre. You can really spend a whole day just walking up and down the walkway, shopping and eating away.
I just love how everything you need is right here! Banks, major restaurants, cafes, bars, clubs, theatres, retail stores, gyms and much more.
You can get a workout in at the most beautiful gym on the planet (what..? Yeah, you heard me right), the GoodLife Fitness which is located within the space of the oldest bank in the city. Then go do some shopping at the historical Hudson's Bay (right across the street from GoodLife) or at the CORE.
While you're there, check out the Devonian Gardens, the city's indoor botanical garden, on the top floor of the mall. Maybe you'll head back down to street level and grab a bite to eat at the Cactus Club Cafe (the Rocket Salad is amazing!) while sitting on the patio, enjoying some people-watching as the suits walk along the streets to and from Bankers Hall.
Then you'll go to DavidsTea for a delicious tea sample and sip on it as you sit at one of the old benches of Stephen Ave – and once again, do some more people-watching.
At night on Stephen Ave, you'll see lineups to Palace Theatre and wonder which DJ is taking the stage for there to be a line so long it curves around the block. Cars will start rolling through the one-way narrow street with loud laughter coming from every bar and restaurant.
Maybe you'll decide to hit up National On 8th's rooftop patio for some drinks, music and dancing, especially if you're here in the dead of summer when the sun doesn't fall till 10:30pm.
Or perhaps you're planning on a dinner and show? Well in that case Jack Singer Concert Hall is your oyster and hosts everything including comedy shows, theatre pieces, operas, symphonies, magic shows and concerts!
But let's not forget that the Calgary Tower is right here too! A visit to Calgary is incomplete without seeing the city from the top (it is one of Calgary's top tourist attractions afterall).
If you want to head up to the 360 degree, rotating skydeck, general admission tickets (ages 13-64) are $18 CAD. You can also test your fear of heights here by standing on the glass floor and peering through to the base of the tower.
BUT if you're planning on having a classy brunch, lunch or dinner at the Sky 360, you'll be happy to know that your ticket up, to both the restaurant and the observation deck level, is FREE for everyone in your reservation party!
Olympic Plaza is an urban park situated right in front of Jack Singer Concert Hall you'll want to check out as well. It looks much like an amphitheatre and is often used as one in the summer months for cultural festivals like Heritage Day and Fiestaval. The flat open area is also turned into a water park when it's not used as a venue (say what?!).
In the winter, Olympic Plaza is dressed in thousands of lights on the columns and trees and the park is made into an outdoor ice skating rink, so you'll definitely wanna check this place out if you're visiting during the holiday season.
Eau Claire
Eau Claire is Calgary's nature's grove! Yes, it's a place with rich riverfront condos, but aren't some of the wealthiest neighbourhoods of Manhattan also directly across from Central Park?
Eau Claire is where you'll find the iconic and architecturally intricate Peace Bridge that crosses the Bow River, Eau Claire Market – which is likened to Granville Island in Vancouver – and Prince's Island Park.
The area right outside of Eau Claire Market is oftentimes an area used for outdoor markets, street performances, and even race start lines!
Directly north of Eau Claire Market is the Bow River Pathway, a pedestrian bridge that gets you to Prince's Island Park and across to north of the river. Prince's Island separates the Bow River and is a large park where massive festivals like Folk Fest and outdoor concerts are held.
The River Cafe is the one restaurant that sits on this island if you want to enjoy a lunch here!
And there's a long riverfront bike path/walkway that stretches west of the Peace Bridge all the way past East Village and is seriously the best place to spend a sunny afternoon biking, walking or rollerblading.
You might be wondering right about now where Calgary's Chinatown is. It's actually directly east of Eau Claire and north of downtown! Centre St Bridge runs right into Chinatown from the north and for you photographers out there, Centre St Bridge makes for a gorgeous photo op.
It's a two-level bridge, with vehicles only below, and both vehicular and pedestrian paths above. This is also where the Canada Day fireworks are launched!
17th Ave
17th Ave is much like Stephen Ave, but unlike Stephen Ave which is a pedestrian street in the day, 17th Ave is a major road. It's a highly commercial avenue with retail shops, restaurants, bars, cafes, nightclubs lining each side.
Having a direct line to Stampede and Victoria Park on the east makes 17th Ave even more of a hub than it already is. The avenue has actually been designated as a Business Revitalization Zone and when you come to Calgary, you might be able to spot the strides taken to beautify the streets and buildings.
When visiting 17th Ave, you'll want to stay within the bounds of 14th St SW and 2nd St SW as you don't need to go anywhere else. A few blocks east of that will be the walkway bridge in Victoria Park that gets you across MacLeod Trail to reach the Stampede grounds. So I guess that's the one and only reason to go east of 2nd St W on 17th!
Bonus Location! 16th Ave
16th Ave N is another arterial road besides 17th Ave S that has been revitalized over the years. It's one of the oldest roads of Calgary and it's in fact a section of Highway 1, i.e. the TransCanada Highway.
So if you're going out to Banff, Jasper and Yoho National Parks, you'd take 16th Ave N to get out of the city!
You'll find the McMahon Stadium on 16th if you care to watch a Stampeders game, as well as SAIT (Southern Alberta Institute of Technology), home of the Jubilee Auditorium.
16th Ave is known for being the home of older yet extremely popular food places like Peter's Drive-In. Students from SAIT, ACAD and U of C make their way to 16th Ave for lunch and you won't see a day where there isn't a lineup for a Peter's burger & fries or triple milkshake.
Highly popular foreign cuisine eateries makeup most of 16th Ave as well, especially Asian and Middle Eastern like Bubblemania, Shibuya Izakaya and Jimmy's A&A Mediterranean Deli.
Where To Get the Best Views Of Calgary
Apart from the Calgary Tower, you have to see the city's skyline from completely free and accessible viewpoints and get a taste of what some fortunate folks get to wake up to every morning.
The best place to capture these views is within the McHugh Bluff. Situated north of the Bow River, McHugh Bluff is a widespread patch of hillside green space where you'll be able to capture the skyline and Bow in one glance.
This clifftop park has two viewpoint locations you'll want to checkout, to get gaping views in the day, orange sunsets across the city at night, or catch seasonal fireworks:
Crescent Heights Lookout Point
Mount Please View Point
But another notable lookout location is on the east side of the Stampede Grounds at Scotsman's Hill. The one thing about getting to these viewpoints is that public transit won't get you there, so Uber or a taxi will be necessary if you don't have a car!
Other Significant Landmarks in Calgary
IN DOWNTOWN AREA
You've probably seen that weird mesh head in photos before right? That's the Wonderland Sculpture and it sits right in front of The Bow. Not to be confused with the Bow River, The Bow is currently the second tallest office tower in Calgary. You'll find it at 500 Centre St S.
East Village has got two iconic buildings that were built in the last five years that you won't just want to glimpse from the outside – these are definite must-sees on the inside! Calgary's top historic site also belongs here too, connecting the neighbourhoods of East Village and Inglewood:
Studio Bell, home of the National Music Centre is not just a museum showcasing music history exhibits. It's an architectural marvel with crazy acoustics for their auditoriums and interactive areas where you can actually get hands-on with instruments. (850 4th St SE)
Central Library is also a beautiful piece of architecture and this public library is on a whole new level. It has interactive areas for kids, work rooms, meeting rooms and much more, but the thing that draws people in is the intertwining ovular shapes of the atrium. (800 3rd St SE)
Fort Calgary is a national historic site and a perfect place for history junkies. It contains historic displays and provides tours as well, for those who want to dive further into 1875. (750 9th Ave SE)
IN OTHER PARTS OF THE CITY
You'll definitely want to check out these next three locations if you have extra time in the city because they're not only prominent places in Calgary that are loved by locals, but fun family activities are hosted here.
The zoo is well known for its pandas! They were all the rave when they first arrived and still are. But if you're not much into seeing the animals, you can still check out the botanical and conservatory in-door gardens as well as the butterfly enclosure. A popular annual event here is Zoo Lights, where the zoo becomes the north pole for a month and a half (November to January) and dresses the entire grounds with thousands upon thousands of LED lights.
How to get here: by foot, you can get here from East Village via the Bow River Pathway (30-minute walk). By public transit coming from downtown, you can hop on the Blue C-Train line going NE towards Saddletowne and get off at the Zoo station. It's only two stops away from City Hall station.
An interactive science, engineering and art centre for people of all ages and abilities to dive into further discovery of creativity and technology. They host events here like Date Night, where you can come with your boo, enjoy yummy cocktails and hors-d'oeuvres and get right into the exhibits that are turned into a playground for adults. Telus Spark also has a massive Dome Theatre where you can watch live planetarium shows and movies.

How to get here: With public transit, you can take the Blue C-Train line eastbound and get off at the Zoo station, but there is a walking distance (12 minutes) heading north from the train station to Telus Spark. I would recommend not walking here as it's an unmarked, unnamed road in an industrial area. It would probably be safer to catch an Uber or taxi!
Heritage Park Historical Village
The largest living indoor/outdoor history museum in Canada, this place is notably fun for families! It's like a late 19th century village with rides and dining cars, and one thing people love to do here is ride the S.S. Moyie ferry boat, which cruises around Calgary's Glenmore Reservoir.

How to get here: From downtown, hop on the Red C-Train line going SW towards Somerset-Bridlewood and get off at Heritage station. Take the #20 or #306 bus and get off at the Heritage Park bus stop, which is a short five minute ride from the station, and walk west into the Village.
Did you know you could also go on a Fargo tour and see all the major places significant to the show? You'd be able to go see Lester's House and other on-screen locations in Inglewood, check out the Hotel Arts I was raving about earlier, The Plaza Theatre in Kensington that was meant to depict places in Kansas City and Sioux Falls… Would be a pretty awesome tour if you're a cinephile!
Hiking in and around Calgary
Calgary can offer so much to our tourists within the city, but if you're coming to Calgary to enjoy Alberta's pick of the Rockies, you might want to check out some of the best hikes near the city!
For a range of easy, moderate and hard hikes, check out my top 10 hikes near Calgary that are a must to mark your flag on some of the most awe-inspiring mountains on the planet! You can really say you've been to the Canadian Rocky Mountains if you set foot on any of these gorgeous trails.
Stay safe and always carry a can of bear spray with you!
Where to Eat in Calgary
Between all the fun things to do in Calgary, you've gotta eat, right?! Calgary's really climbed the ladder in the world of gastronomy in the last few years, meaning tons of choices! So my fellow foodies, take your pick (or two or three), and get eating!
Brunch
Calgarians are HUGE on brunch (my kinda people). Thankfully, there's quite a few glorious options out there for all of our gluttonous selves. Here are my top choices!
Fancy Schmancy Date Night
Sky 360. As I talked about before, Sky 360 is the rotating restaurant at the top of Calgary Tower and provides breathtaking 360 views throughout the day. It's a perfect place to get dressed up for a memorable date night and indulge in delicious food and drinks!
Teatro. Elevated Italian & Mediterranean cuisine in a romantic setting. Teatro pays homage to the performing arts area of Calgary, where it's located. My partner and I had an exceeding fine dining experience here for Valentine's Day and their multi-course was absolutely excellent.
The Lake House. Situated in the south of Calgary, this one is a distance away from downtown but worth the trip to get a gorgeous sunset view over the vast Lake Bonavista. The food is excellent and the service is superb! If you're celebrating something, let them know and they'll treat you to something special!
Canadian Cuisine
Find your contemporary Canadian favourites at these three restaurants! Their chefs' culinary skills are top notch and they never disappoint with their service and atmosphere in ultra chic dining rooms and lounges.
Modern Asian Cuisine
Bars & Pubs
I have to say: Calgarians love their craft beer almost as much as they love their brunch! We're big on breweries and have tons of pubs and bars that bring these crafted beers to the table.
My top favourite bars don't just have good tasting drinks though. They're also excellent for entertainment and environment.
National is definitely my preferred location to grab drinks with friends at either their 10th Ave or 8th Ave locations. Why?
A few reasons! The one on 10th has a dance floor and bowling alley PLUS rooftop patio. And the one on 8th has a VERY LARGE rooftop patio amidst all the tall, surrounding office buildings. Don't get me wrong though, the other pubs are still exquisite locations, all downtown!
Cafes
We've got a lot of coffee drinkers (and snobs, myself included) here in Calgary! True story! Thankfully, our local coffee roasters have managed to import the best premium coffee from all over the world to this very city! And of course it's all served while implementing luxurious elements to their contemporary spaces.
The top cafe brands I listed below are all Calgary-owned and loved! You'll find different locations of these four Calgary chains all over central Calgary and in upscale neighbourhoods.
Boba Tea
All of the following boba shops are unique in their own sense. You've probably already heard of or spotted them in other cities around the world. If you haven't then you should definitely try them here in Calgary!
There are a number of other bubble tea brands across the city, but these are hardcore local favorites and are most true to Taiwanese style.
Ice Cream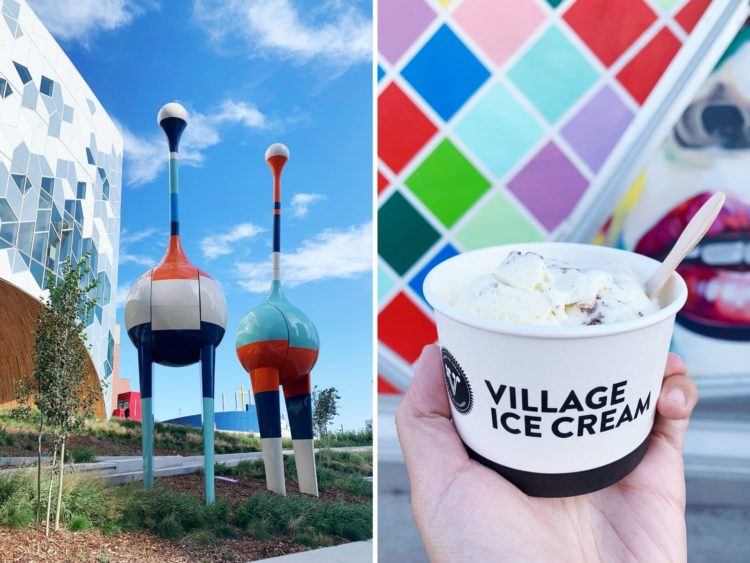 More Fun Things to do in Calgary – Annual Festivals!
YYC Hot Chocolate Fest (all of February). Local restaurants and cafes bring out their best creativity skills to curate fantastic hot chocolate (boozy or non-boozy). As a participating customer, you get to vote which hot chocolate is your fave. And one of the best parts? All proceeds go to the Meals On Wheels charity.
GLOW Fest (Family Day long weekend, mid-February). GLOW fest is a winter lights show that happens outdoors on Stephen Ave. You can vote on your favourite ice sculptures after watching the carvers create their masterpieces, enjoy live music, spend some time at ice lounges, and even take a ride down the ice slide! SO fun!
Lilac Festival (June). The Lilac Festival is a fun (late) start to Calgary's spring, encompassing 13 blocks within the Beltline and Mission districts. It's a vibrant event (hosted along 4th street) with music, talent and artisan vendors.
VegFest (June or September). VegFest is all about vegan awareness. Like many other festivals, it's got live music and entertainment, but it's highly focused on bringing exposure to food, apparel, skincare and other industries that are all vegan and cruelty-free. The food trucks here are such a big hit! Ever since my friend Janel and her team started VegFest in Calgary, the vegan food trucks and restaurants have taken the streets more and more.
Fiestaval Latin Festival (July). This one's pretty self-explanatory in that it's a celebratory event of Latin culture. It's hosted in Olympic Plaza and has amazing performances by our city's best Latin dancers, musicians, and all sorts of talent.
Folk Fest (late July). Folk Fest is a music festival centering on (you guessed it) folk music. It's held at Prince's Island Park each year which makes for a well-rounded experience for a folk festival.
Chasing Summer (Civic Day long weekend). This one's for you ravers out there. I've been 4 times so far and they've all been crazy fun shows with world renowned artists taking the stage. They've taken place at Max Bell Arena's massive parking lot since 2016. I hope Martin Garrix, Marshmello, and Steve Aoki make it back someday soon!
Taste of Calgary (August). This is the most appetizing festival in Calgary. We get a chance to sample the local eateries and try items never before seen on Calgary's menus.
Marda Gras (August). Not Mardi Gras but Marda Gras. This is because it's hosted in Marda Loop, another popular and trendy neighborhood in the city. This is where I grew up throughout my teen years! It was a lot of fun to check out the vendors, face painting, and all the indulgences of "Fat Tuesday".
GlobalFest (late August). GlobalFest is a cultural celebration lasting ten days at the end of August, with daily fireworks displays harmonizing with music. It's the perfect time for long-exposure photographers to get out towards the Peace Bridge and capture the amazing pyrotechnics.
International Film Festival (September/October). Hey you, film junkies! If you're here in the fall, why not check out a showing during the film festival?
Other outdoor concerts like Oxford Stomp and Bluesfest are held in the summer months at Shaw Millennium Park.
Well, that's it y'all! Have an awesome time when you come visit Cowtown. If there's anything you'd like to add, comment to this post, be sure to leave your feedback below!
Which of these fun things to do in Calgary will you be adding to your list?! Special thanks to Lauren from Lauren's Lighthouse for sharing this complete guide to Calgary tourist attractions!
Photos were taken by Jason Meng (@jasonmengvisuals) and Lauren Neves (@laurenmneves). Others are sourced from Pixabay.