Headed to the land of tacos and tamales and looking for the best day trips from Mexico City? From cruising down the canal and climbing 213-foot pyramids to visiting markets galore and even legit "magical towns" (yes, you read that right!), you'll never find a dull moment on these Mexico City excursions.
I get it – you want an escape from the huge, overcrowded city! It's true – the population of CDMX is in the 8.5 million range, and you know what that means!? You gotta get out of the craziness at least once (or twice, or three times) during your visit to the area. You can even squeeze some in during a 3 day trip to Mexico City like I did (just gotta plan them in advance)!
Continue reading this guide and you'll not only discover some of the best day trips from Mexico City, but also top recommendations for places to visit and food to eat while you're out getting your exploring on. We all know just how important shoving our faces are, especially in a country that's so highly regarded for their noms (bring me back a tuna tostada, please and thank you?)!
And while a few of these day trips from Mexico City are a tad far-ish, wake up early and get to it, because you'll see – the end result is soooo worth it.
→ Read Next: A Ridiculously Detailed 3 Day Mexico City Itinerary (the perfect few days in the city) + Where to Eat in Mexico City (trendy restaurants, food stalls, and taco stands included)
So without further ado (I knowww I can ramble quite a lot #sorrynotsorry?), here's that list of day trips from Mexico City you're so looking forward to reading about. And in true transparency (because who likes a liar, liar pants on fire), some are trips I took while visiting CDMX, while others are on my must-do list for next time!
But WAIT! Before you get started reading this monstrosity of a post (yeahhh, I tend to write and write and write), note that it's wise to visit a few of these Mexico City excursions as a single day trip from CDMX, so I'll be including which ones to group together down below! It wouldn't make sense to travel all the way and not see something incredible because it's just 10 minutes further away.
Also note that you can either do these day trips from Mexico City yourself, or take the easy way out and hop on a group tour (no shame, promise). When I'm traveling, I like to treat myself to a few tours (especially on international trips), since it makes the day go much smoother.
We royally messed up in Thailand and missed out on a majorrrr main attraction at one of the temples, and totally screwed up one of our days in Japan because we couldn't figure out the trains (face palm). Local guides know of all the hot-spots and can minimize any language barriers/food safety concerns. If you don't feel like messing around with public transport/getting overcharged by taxi, organized tours are the way to go. I'll be including some recommendations down below → check them out!
Best Day Trips from Mexico City
1. Xochimilco and Coyoacán
Xochimilco and Coyoacán are two of the most popular day trips from Mexico City as they are fairly close to the city itself, and an easy uber ride away! However, there are full day tours if you'd rather sit back and leave the planning and logistics up to someone else. DIY-ing it makes for a pretty hectic day, so if you don't feel like doing much planning, better to leave it for someone who's done this trip loads of time (aka a guide). This tour righttt over here includes both Xochimilco and Coyoacán, and ensures you don't miss anything important!
XOCHIMILCO
There's nothing better than taking a ride at Xochimilco, a charming little waterway area that's full of colorful boats, mariachi bands, and people drinking traditional mezcal cocktails and pulque. It's basically like a party on a boat floating in the middle of Mexico, and it's absolutely wild (in the best way possible).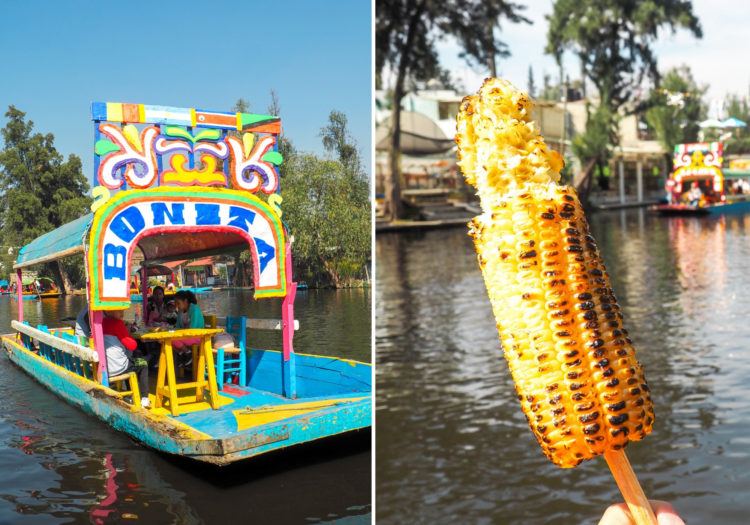 While you're on the trajinera (the specific type of vessel found over here), you'll see vendors floating by selling souvenirs (I should have gotten that flower crown), drinks (alcoholic and not), and snacks/food (tacos, corn, etc). Go for it – just be sure to take a few pesos with you (they don't use credit cards here!).
One thing to note: Xochimilco can be fairly crowded. There are usually dozens of boats competing for space with rowdy tourists or locals blasting music from their trajineras. This just adds to the whole experience, promise. It's kinda like a mix of the Venice Canals in Italy and the Floating Markets in Thailand, but with more color and Mexican pizazz.
Lover of horrifying experiences? Be sure your gondola driver takes you to Isla de las Muñecas (Island of the Dolls), about 2 hours away. This small island is home to tons of terrifying dolls, guaranteed to spook even the greatest lover of the stuff. Their severed limbs and decapitated heads hanging from the trees are pretty threatening even in the midday sun! Talk about creepy AF.
If planning all of the logistics seems overwhelming to you (or you don't wanna get ripped off which unfortunately happens quite often), it's easy to find a tour that will organize everything for you.
You can book this tour to Xochimilco that provides a guide and all of the boat ride amenities I listed above. It was just my husband and I on our trajinera gondola ride, but I think it would have been even more fun if we were with a whole bunch of other people, even if just meeting them. // BOOK XOCHIMILCO BOAT RIDE HERE
COYOACAN
If you've done any CDMX research at all, you've undoubtedly come across those beautiful blue photos of the stunning home of renowned artist Frida Kahlo (she's an absolute legend). This is one of Mexico City's most famous destinations as it gives visitors an intimate look into the life of one of the world's most beloved artists, and is easily one of the best day trips from Mexico City.
And being quite close to the city, there's no reason to miss this area – it's a quieter, more bohemian, artsy side of the city that's perfect to explore and drink lots of coffee before/after exploring the home of Frida!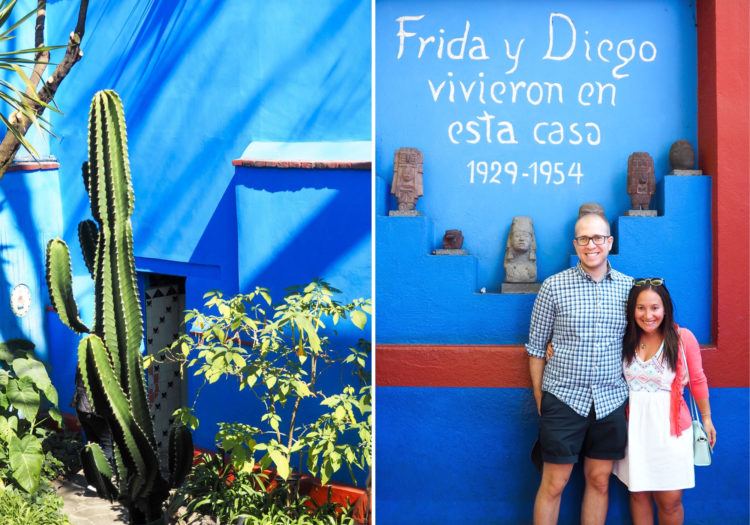 → Psst: Don't think you'll be able to casually walk up to the museum and snag a ticket – you won't. The line snakes around the building even for timed ticket holders, and those without tickets are instructed to buy a ticket online for a later date. However, if you book yourself on a tour beforehand, they'll likely take care of all the ticket buying for you (one less thing to worry about).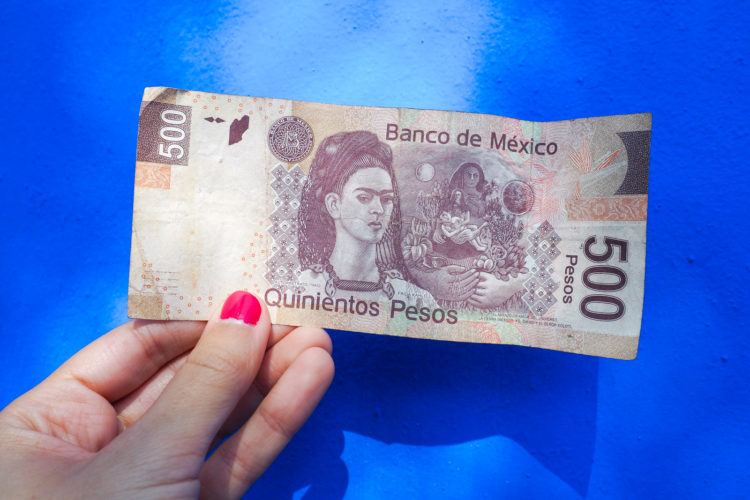 Once you're finished at Frida Kahlo's house, plan to head to the Coyoacan Market – a huge indoor market selling all kinds of produce, spices, homemade goods, and more. And get this – it's the same local market that Frida and Diego would have frequented back in the day!
As noted above, if you'd rather sit back and relax than worry about transportation and logistics during your Mexico City excursion, this is an excellent option that covers everything on this intended Mexico City day trip. This recommended group tour starts with a visit to Xochimilco, then brings you to the Frida Kahlo House and around Coyoacan. Doesn't get easier than that. // BOOK TOUR TO XOCHIMILCO, FRIDA KAHLO, and COYOACAN HERE
2. Puebla and Cholula
PUEBLA
Ohhh Puebla, it's just so darn cute and colonial. This cosmopolitan city is filled with fascinating architecture, from it's majestic cathedral and museums, to homes and other buildings decked out and decorated with painted Talavera tiles (reminds me a bit of the tiles over in Porto, Portugal).
The city is known for its culinary history (meaning you'll eat well over here – just like in CDMX), it's colonial architecture, and colorful, showy pottery. Be sure to walk around the city's beautiful streets with a camera in hand, as you'll easily find photo op after photo op, after photo op.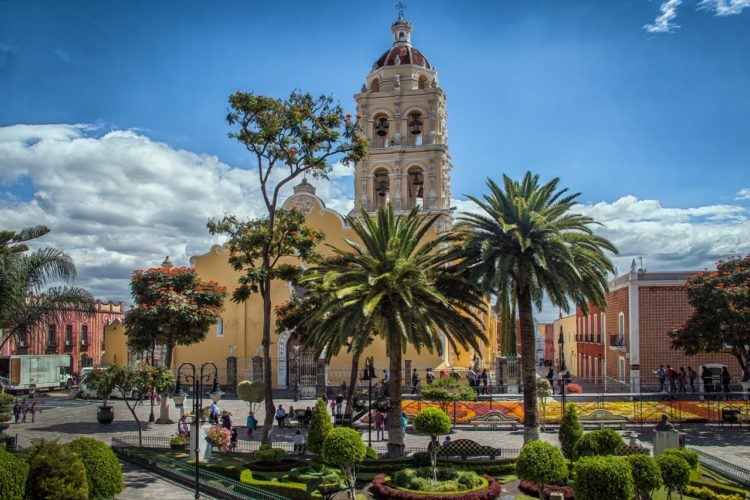 And when you're wandering around, you won't want to miss the spectacular Renaissance-era colonial Cathedral of Puebla, taking up an entire block near the zocalo. If you've been to Rome, you'll probably recognize it to a certain extent as its based on St. Peter's Basilica (!!!). This old guy is decked out with tall bell towers, and you can actually see it on Mexico's M$500 bill. Weird fact about me – I love seeing money come to like (haha).
Allow some time to visit 'Sweet Street' if you love candy and want a sugar buzz (it's literally a street of candies — what's not to love?!). On Calle de los Dulces you'll find all kinds of Mexican candies, including camotes, peanut-brittle bars, nougat, crystallized fruits, tamarind and chamoy, etc. Sample them all – you're bound to find a few you like! Don't miss out on this Mexico City excursion, the town's just too cute and the candy, oh so sweet!
Psst: If you have a few days in the area and are feeling particularly adventurous, sign up for a day hiking tour of Iztaccíhuatl – much more info below (but I wanted you to get excited about it early on in this piece of Mexico City day trips).
CHOLULA
The Cholula archaeological zone, home to the largest Mesoamerican pyramid in the world, is reason enough to visit Cholula. The Pyramid is an absolute must see, and although you unfortunately can't climb it, you are free to visit the excavation site, walk through the tunnels underneath, and spot the surreal church built on top!
Feeling creative? Make sure you head to Talavera de La Reyna, an art gallery where you can take a tour of the pottery making process or even take a pottery painting class yourself (highhh on my Mexico City day trip bucket list – yeah, I've got a bucket-list for everything, haha).
If you're visiting on a Wednesday or Sunday, don't miss the Mercado Cosme del Razo (market) → it's the perfect place to go for some local lunch and some traditional souvenirs to take back home for yourself and/or your family.
And remember, it's wise to combine this day trip from Mexico City with Puebla as they are located fairly close to each other! Check out this recommended tour here, and get your pottery-making skills on!
3. Cuernavaca and Taxco
CUERNAVACA
Acclaimed throughout Mexico as the "City of Eternal Springtime" for its year-round warmth, you won't wanna miss Cuernavaca, especially if you're visiting CDMX during it's cooler, winter months. With it's touches of fine dining, artwork by Diego Rivera, and a strollable town center, Cuernavaca makes for one of the best day trips from Mexico City, easily.
First stop on this Mexico City excursion, the 16th-century Palace of Corté – the oldest conserved colonial-era structure in the continental Americas! It used to be the home of a Spanish conqueror, but it's now a history museum filled with murals by Mexican artist Diego Rivera.
Walk five minutes and you'll reach The Robert Brady Museum, which, if you're into art, is an absolute must see, as it's regularly voted as one of the best museums in Cuernavaca.
A stroll to Jardín Borda won't take long but offers a tranquil backdrop in which to relax for a while or have a cheeky siesta in the sun (but don't sleep too long – there's lots to see and do)!
You could spend all day in Cuernavaca, but if you're short on time and want to make the most of one of the best day trips from Mexico City, it would be easy (and wise) to combine this trip with the beautiful city of Taxco (below).
TAXCO
Taxco is originally famed for producing silver jewelry, so if you like a bit of (sophisticated!) bling, you've come to the right place! You'll find plenty of spots to buy or even make jewelry (!!!), making this a great destination for you creative types.
And if you're visiting in Fall, keep in mind that The Silver Fair happens during late November (aka it's a great time to visit), perfect if you're keen on seeing tons of art on offer as well as filling up on tasty street food (when in Mexico, of course)! Iguana (yes, iguana!) is the local speciality, so, if you're feeling kinda brave, give it a go and tell me what it takes like! I've had alligator in New Orleans, but never another reptile!
History more your thang?! I gotchu; head on over to the The Museum of Religious Art. It showcases renaissance artefacts and much, much more, but I won't spoil any surprises – you can explore the rest yourself! Alternatively, visit the Church of Santa Prisca, with stone towers and a rose colored facade… sure to make anyone swoon! This elaborate churrigueresque style church was built under instruction from a rich silver mine owner back in 1751 (interesante, am I right?).
As noted above, combine trips to Cuervanaca and Taxco in one long, extended day from Mexico City. You won't regret the early wake up call. Check out reviews and trip highlights here.
4. Teotihuacan
History and archaeology enthusiasts will especially love the remnants of this ancient civilization, and I mean, who doesn't love exploring former pyramids. It's definitely one of the most amazing and unique attractions in the area, and is worth visiting to understand the origins of the Mexican civilization (which is, in my opinion, downright fascinating).
Teotihuacan is a massive complex of ruins that was originally constructed as a large Mesoamerican settlement in ~300 BC. Within the complex, there's a whole grid-like city with several towering pyramids, some which visitors can actually climb! And you betcha climb I did (hopefully any altitude sickness that is creeping up hasn't caught up with you just yet).
Since Teotihuacan is most famous for its large, towering pyramids, you don't wanna miss the two most popular pyramids: the Sun Pyramid and the Moon Pyramid. We climbed to the top of the Sun Pyramid and were rewarded with a bird's eye view of the entire complex and the surrounding villages.
As a side note, there isn't a lot of shade here, so you'll most definitely need sun protection, water, and snacks. Why the snacks? Well, why not? There's no refreshments on top of the pyramids, so you'll wanna come fully prepared so no one gets hangry!
Although the actual time walking up the two main pyramids isn't terribly long or strenuous, you'll need a basic level of physical fitness to climb all the way up (there's a whollleeee bunch of vertical steps). Don't fret – you don't need to be a super fit runner (like my beast of a husband) or anything like that to take in the fresh air and striking views from the top.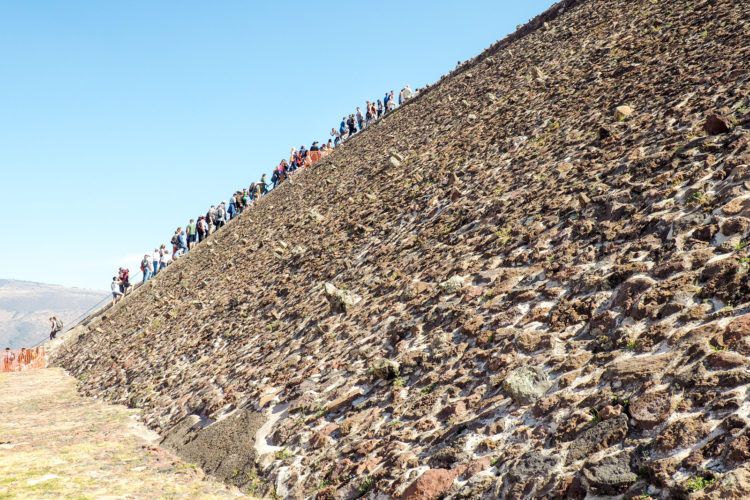 If public transit really ain't your thang (don't worry – you're not the only one who gets confused by international bus systems), or you want to ensure you'll actually learn about the pyramids, book yourself on an organized bus tour. There's quite a few options (best ones here and here), and psst – you can even take an early morning hot air balloon ride here. Sounds like my kinda morning.
5. Magical Towns in Hidalgo: Real del Monte, Huasca, & Prismas
So what's a magical town you ask? Yeah, I wasn't so sure myself before I visited this part of Mexico for the first time. Pueblos Magicos are villages which hold exceptional standards for preserving Mexican culture and legacy, and that includes history, culinary, and/or nature.
There's currently 111 of these Magical Towns all around Mexico (pretty impressive, right?); they're all a sight to be seen. And you lucky duck you – there's quite a few of them within driving distance from CDMX, including Real del Monte, Huasca, and Prismas, all which can easily be visited on a day trip from Mexico City. Let's get to it, I've got some explaining to do!
Real del Monte is famous historically for its mining of silver and also, more randomly, for being the first place that a soccer game was played in Mexico (two teams were formed by the local miners). And fun fact: many British miners lived in the area around 1824, so the town has a semi-English vibe to it still. You don't see that everyday in Mexico.
Next up, Huasca! When in Huasca, the town center tram is a great way to soak up the atmosphere before taking a wander around. Any film fans in the house? Well, Santa Maria Regla Hacienda is now a hotel, but it was the location where 'The Mask of Zorro' was previously filmed!
The town is well known for pottery so be sure to pick up something quirky for your apartment. You'll also find waterfalls here in Huasca, but save those for later, as the one's you'll soon encounter in Prismas are much more impressive.
And once you make it to Prismas, promise me you won't miss the majestic waterfalls (Basaltic Prisms of Santa María Regla). The basalt columns were created by the slow cooling of volcanic lava and form a ravine (holy wow) where water runs from the San Antonio Dam. Take a walk across the top to experience the view and get some great shots!
Oh, and PS: As far as Mexico City day trips go, this is one of the further options on this list, but truuuust me – that's no reason to miss a visit to these magical towns! I'm still so bummed I missed them on my last visit! Leave the driving and logistics up to someone else (there are quite a few stops to make), and book a small-group tour to Real del Monte, Huasca, and Prismas.
6. Hike the Iztaccihuatl Volcano
Itching for some adventure? Need to burn off some of those taco-induced calories? I got you, my gluttonous, chilaquiles-loving friend. Iztaccihuatl, one of the highest volcanoes in Central America at roughly 5000 meters high, is just waitinggg to be climbed! What's better than breathing in some fresh, fresh mountain air as you look over the Valley of Mexico? Hint: not much, unless it involves some guacamole (I must be hungry for Mexican food, or something like that…).
Since it's all kinds of difficult (and solo travelers – you should never hike alone anyways), it's highly recommended to visit in a group – and thankfully you'll find lots of tour operators online providing trips to the Volcano. This full-day volcanoes tour is juuuust what you've been looking for (and thankfully, it includes lunch in a small town to re-fuel)! I swear, what's with me and the food right now?!
If you're visiting between October and February, you're in for a real treat; the days are clearer and the weather is a bit chillier, aka perfectttt hiking weather. You'll get some awesome views out towards Mexico City, and some great photos for your insta grid so don't forget a camera, and some snacks – always remember the snacks! Chocolate, granola bars, nuts, and seeds all make for some healthy-ish/fuel-filling bites!
Thankfully, on this day trip, your fitness will determine just how far you go up this miraculous wonder of nature. There are longer and shorter hikes across Iztaccihuatl, so you can pick which will be the best suited for the day.
And of course the volcano has a backstory, they all seem to do! Iztaccihuatl is seen to be shaped as a woman lying asleep, waiting for her long lost love. In a nutshell, the story goes that warrior Popocatepetl was in love with princess Iztaccihuatl and asked for her hand in marriage, which her father agreed to once he was back from war.
Months later, news came that the warrior had died. Iztaccihuatl heard this and died of sadness. However, Popocatepetl didn't die, but came back triumphant from the war… We'll leave the rest of the story for you to find out and enjoy!!
7. San Miguel de Allende
San Miguel is any art lovers dream – with it's stunning colonial architecture, thriving arts scene, and all around fiestas (almost) everyday, I found myself falling for this picturesque little city as soon as I arrived. Don't be put off by the far distance from CDMX (yes, it's one of the farthest day trips from Mexico City on this list), but I promise you it's highly worthy of a quick visit. My top tip – go with a driver and a guide.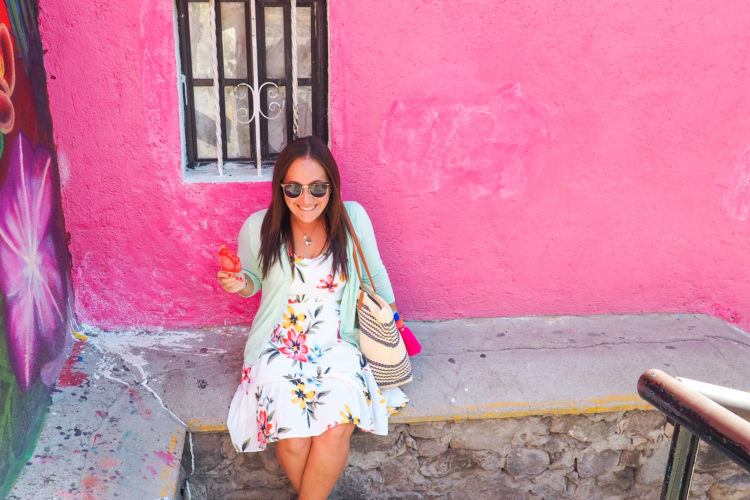 Set high in the mountains of central Mexico, San Miguel is worthy of its UNESCO World Heritage Site status, filled with quaint cobblestoned streets, artisanal craft shops, nearby hot springs, and organic and inventive restaurants popping up every month. And with all the street art and brightly painted buildings, it's practically bursting with color (just look at my photos). I mean, what's not to love?!
Don't miss the Parroquia de San Miguel Arcángel (a 17th century church with pink spires that resemble a princess birthday cake), nearby Juárez Park with its winding paths and colorful native flowers, and El Mirador for spectacular views across the city.
If you love cacti, succulents, and other plants, then you NEED to visit Charco Del Ingenio! It's a natural nature reserve that boasts a huge cactus collection as well as numerous other indenginous plants, some of which are considered endangered. You can take in the surroundings, enjoy nature, but remember to take along some water as there isn't a lot of shade (read: intense heat).
And with the drive taking a bit over 3 hours (each way, yes, I know it's long), it's best to go with a tour company to ensure you'll see all the highlights of San Miguel during your short stay there. Read reviews and book trip here.
8. Valle de Bravo and The Monarch Butterfly Reserve
VALLE DE BRAVO
One of the best day trips from Mexico City is a visit to the magical town (yes, another magical town!) of Valle de Bravo situated on Lake Avandaro. Here you'll not only find charming cobblestoned streets, but wooded mountains, well-preserved colonial buildings, and tons of water sports (for those looking for a bit of adventure).
A wander over to the 17th-century San Francisco de Asis Church is worthy of your time. You'll find the highest temple in the State of Mexico, as well as plenty of green space- just remember that you'll need to be respectful of the religious dress code and not wear shorts or revealing tops within the church. Something to keep in mind as you're packing for the day!
If you're into local artisan markets, you're in luck! The one around here in Valle de Bravo specializes in textiles, clothing, and other handmade crafts – another potential souvenir opportunity!
And once you're done with downtown Valle de Bravo, be sure to hit up Cascadas Velo de Novia, a group of peaceful, stunning, and graceful waterfalls, a relaxing 15 minute hike from the parking lot (an easy win)! I could use more adjectives but you get the picture; basically, its unmissable.
Do note if you wanna get closer to the waterfall, you should definitely consider wearing sturdy, waterproof shoes. A great way to get outta the hustle and bustle, and a popular day trip from Mexico City because of that! Just listen to that burble of the water!
MONARCH BUTTERFLY BIOSPHERE RESERVE
Between October and March, this lush, forested World Heritage Site is home to millions (or even billions) of miraculous monarch butterflies. And trust me – this an unexpected site to be seen – the sky is teeming with butterflies, crowding the air with their orangey and black wings.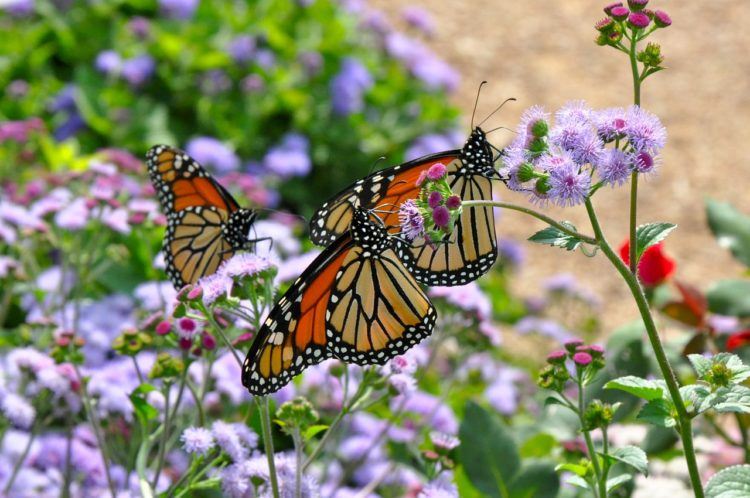 These winged beauties at the Monarch Butterfly Sanctuary tend to be rather tame, so don't be alarmed if they fly (really) close to you or even land on your shoulder (don't complain – better photo ops this way!). And plus, they're probably pretty sleepy after flying 5,000km from Canada to Mexico, which they do each year to spend the winter in the warmer climate (who can blame them)?!
In order to admire the butterflies in the sanctuary, you'll need to take a short walk through the woods, all while learning about their favorite foods, how they reproduce, their lifecycle, etc. It's a pretty educational place!
If you even so much as like butterflies the tiniest bit, I'm urging you to go. You won't find many other places in the world (especially large cities) with an experience like this one. Plan to take a tour here (which also brings you to the popular Valle de Bravo) so you receive as much information as you can about these natural beauties.
9. Tula and Tepotzotlán
TULA
This Mesoamerican archeological site was once a major city of ancient Mexican culture, and was quite important to say the least! I mean, tens of thousands of people used to live here for more than four centuries, booming in the year 1000 A.D. With that being said, I highly encourage you to check it out if learning more about the early Mexicans is of interest to you (be sure to visit the museum).
While the entire archaeological complex (Zona Arqueologica de Tula) is quite the spectacle, you won't want to miss the Atlantean warrior figures, towering over the ruins and area in general. They really are something else.
The other popular touristy spot on this day trip from Mexico City is the Tula de Allende Cathedral, which is a catholic Church – now known as a Cathedral – that was originally designed and used as one of the first Mexican convents. Buy some concha (sweet bread) near the cathedral, or test out your taste buds on some chinicuiles (maguey worms).
TEPOTZOTLAN
Once you've had your fair share of giant warrior statues and worms, head on over to Tepotzotlán, known as the best example of the conquest of Mexico (true story).
You'll undoubtedly wanna see the chapel of San Francisco Javier (impressive construction I might add), since it's completely covered in gold leaves and a great sample of Mexican Baroque style.
Head straight up to El Tepozteco Pyramid for amazing views across town, as its randomly plonked on top of a steep hill. Meaning you'll need a basic level of physical fitness to venture up (but that just means extra sweet bread, right?!). And just remember – what goes up has to come down! So when you do come down, try heading to the Mecardo for coffee and a snack to ingest all the calories you just burnt! (That's how it works, right?)
You can visit the former convent of the Nativity for free, and although it's just "another museum", you might be pleasantly surprised at what you see, especially as its recently been refurbished after an earthquake in 2017. A 30 minute tour is available if you prefer. Read reviews and book a tour to Tula and Tepotzotlan here.
So there you have it, a whole bunch of unique and exciting day trips from Mexico City to add into your next trip to the country! Which of these Mexico City excursions are you most excited about?