Headed to southern Europe and looking for the best things to do in Porto, Portugal? Read on for all the Porto sightseeing you must do during your 2 days in Porto (or 3 if you're lucky!) This Porto guide is juuuust what you need to start planning your trip.
Yes, I wanted to cross off all the things to do in Porto when I visited on a whirlwind of a trip through Spain, Portugal, and Morocco last summer, but just couldn't find a way to make it north.
Let's just say I spent my time stuffing my face with paste de nada in Lisbon and lounging by the beach in Cascais. Not horrible by any means at all, but on the morning I was scheduled to head up to Porto, I just couldn't force myself out of bed (true story).
So thankfully, I've enlisted fellow travel blogger Karolina from www.karolinapatryk.com to share with us all her favorite Porto attractions, what to do in Porto, and the best ways to spend your 2 days in Porto.
And after reading their Porto guide, I'm kind of happy I missed that bus – I'd definitely want to spend more than a few hours there (and more like 3 days in Porto). This charming little coastal city on the Iberian Peninsula is most famous for its stately bridges and port wine production, a few things which shouldn't be rushed.

But first, some information about the city in general before we get into all the best things to do in Porto.
Porto Pre-Travel Guide:
When to go
Porto is blessed with a pretty moderate (if somewhat wet) climate year-round, so you can't really go wrong here.
During the winter, nearly every day sees rainfall, but there are still plenty of things to do indoors.
The summer is the driest season, but also the time of year most jam-packed with tourists.
And the late spring (April – May) and early fall (September – October) months see warm, mildly rainy days, cool evenings, and fewer tourists clogging up the streets.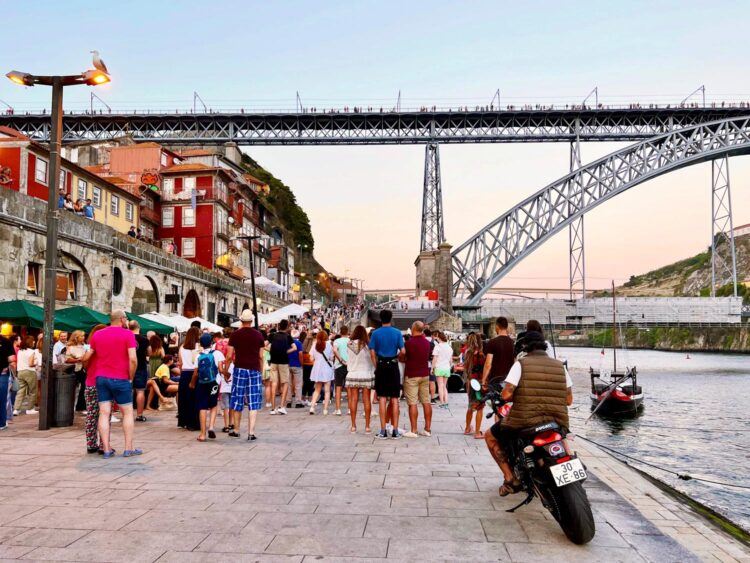 How to get around
All of the places to visit in Porto are easily explored on foot, but if you want to save your energy the public transportation system is excellent. The metro lines are comprehensive, but just be aware that they don't pass directly near most tourist attractions.
If you want to get to the Vila Nova de Gaia wine cellars, take the local buses 900, 901, or 906 from Trinidade, or the 904 from Batalha. The few remaining vintage trams are another unique way of getting around the city.
And lastly, the Funicular dos Guindais is probably the coolest way of getting the best views – it's basically a mini glass rail car that is pulled elevator-style up a steep track that overlooks the city.
Something to keep in mind: Porto offers two different tourist transport cards:
#1: the Porto card, which gives you unlimited metro/bus access, free entry to 11 museums, and a 50% discount for 8 monuments.
And #2: the Andante Tour Card, which comes in 24-hour or 72-hour options for unlimited access to the metro, buses, trams, and some urban trains. If you're spending at least 2 days in Porto, consider getting one of these transport cards as they'll save you some cash if you're doing tons of Porto sightseeing.
You can also opt for the hop-on hop-off bus if you're worried about the typical public transportation in the city. And have no shame – I use these tourist buses when I've only got a few days in a city and want to make it easy for myself.
Take a 3-hour tour of Porto when you first arrive to get your bearings and cross a few Porto attractions off your list quite easily!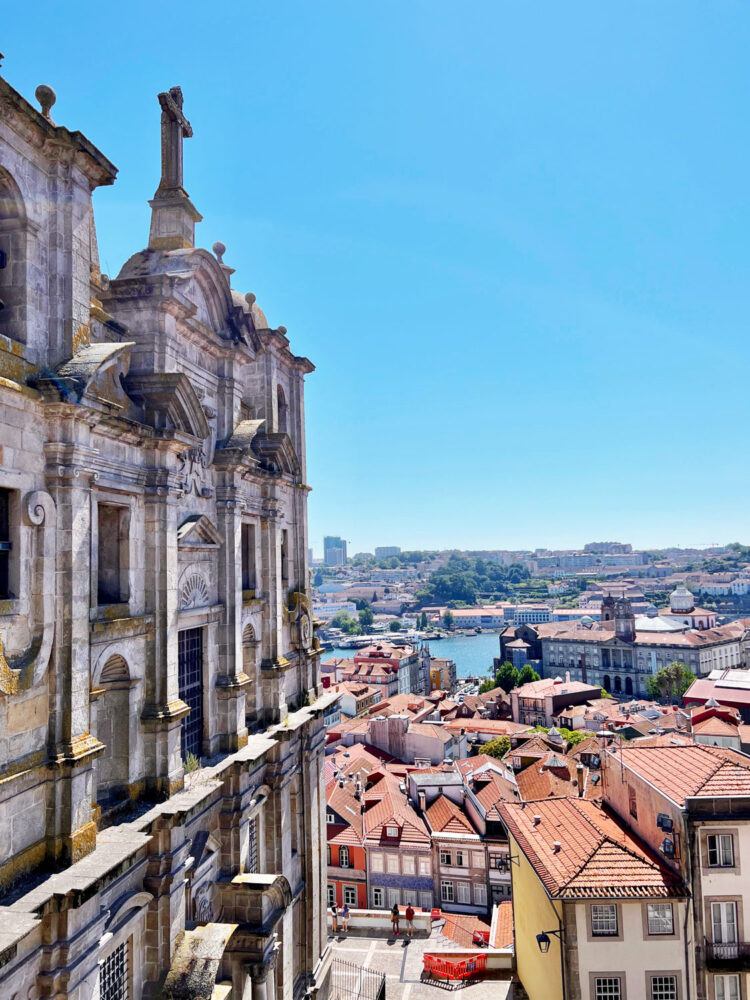 Important things to pack
Definitely bring a raincoat along with you. The weather is fickle, and you never know when a bright, sunny day is going to turn into a downpour. Locals tend to dress casual-yet-elegant, so accessorize your outfits with a cute breezy scarf for summer or a nice statement shawl for winter. It won't hurt to bring some chic walking boots either, in case of rain.
Where to stay
The downtown neighborhood, Baixa, is the liveliest district and is closest to most of Porto's attractions. If you want to stay in the heart of Porto, check out B The Guest Downtown for great quality at a reasonable price.
The Ribeira area on the Douro riverbank is nice and historic, with plenty of bars and restaurants right on the water. Stay at 1872 River House for great views and free breakfast. Other neighborhoods to consider are Vila Nova de Gaia and the hip, artsy Cedofeita.
And now finally, what to do in Porto and all those Porto attractions you just can't miss.
Best Things to do in Porto
1. Drink port wine in Vila Nova de Gaia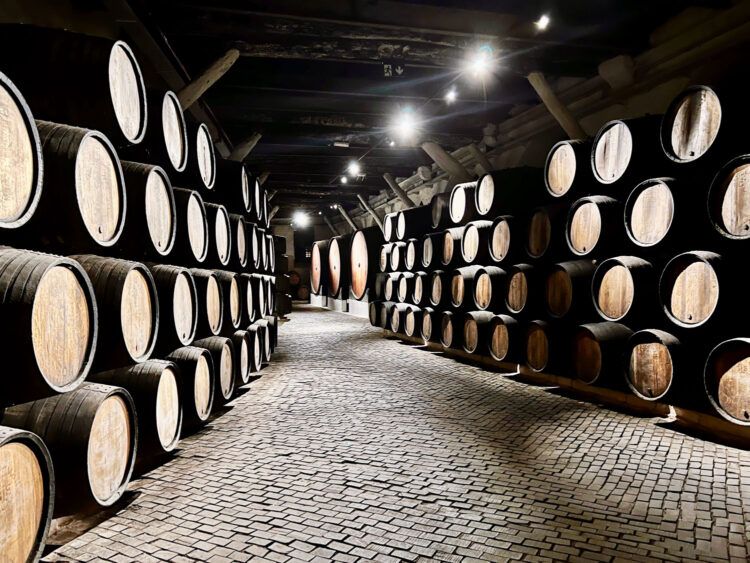 One of the best things to do in Porto is to try its famed port wine at one of the cellars across the Douro River in Vila Nova de Gaia. There are plenty of cellar tours, each with a unique angle, so you can go again and again for a different experience each time.
One of the best is the Croft Cellar right near the waterfront, which offers a very traditional tour that includes chocolate pairings. Wine and chocolate, what could you want? If you're a wine lover, don't miss this Porto attraction. And then, pick up a few and watch the sunset while sipping your wine at the river!
There's quite a few Port houses – pick one that sounds the most interesting to you (or that has availability… the tours do fill up fast in the busy summer season). Most tours are only 45 minutes to an hour or so, which is perfect if you've got lots of other must-do's on your Porto itinerary. Here's a few options to choose from:
If you'd rather head out on a walking and wine tour instead (or in addition to), these sound right up my alley:
2. Picnic in the Jardim das Virtudes
Take a break from your sightseeing in this terraced garden in the Baixa neighborhood. It has great views of the Douro River and the Gaia bank without all the clamoring of other tourists. Stretch out on a grassy patch, and enjoy a sandwich and some wine above the city.
Bonus points if you catch the magnificent sunset here.
3. Marvel at the Church of São Francisco
The exterior looks rather severe, but it's the inside that really shines. Literally. A dazzling display of extravagance greets you as soon as you pass through the huge double doors. Golden carvings coat the walls and ceiling.
Hardly an inch is left untouched. The catacombs, where you can view thousands of bones through a glass floor, contain the tombs of former monks and wealthy families.
4. Cruise along the Douro River
Next up on the Porto sightseeing tour, a cruise on the charming Douro River! This river starts in northern Spain and ultimately ends in Porto, where it spills into the Atlantic. There's a few options here.
One of the most popular is to take a day and sail on a traditional boat (a rabelo) along the river and through the beautiful Douro Valley with its vineyards and wine farms. It's one of the most unique, unforgettable things to do in Porto.
Be sure to check out this classic 50-minute "Six Bridges" cruise of Porto (at less than $20). And if you're feeling extra fancy, consider a day trip to the Douro Valley, complete with several wine tastings (yasssss) and a river cruise.
5. Climb the Ponte da Arrábida
One of the more unique things to do in Porto, the Arrábida Bridge now offers a climbing experience for an exciting way to get to your city views. When it was built in 1963, the bridge had the biggest concrete arch in the entire world.
And now it's the only arch in Europe that's open to the public. You'll have the most spectacular selfie of anyone you know. Organize your bridge climb in advance here.
6. Grab a nata (or three) at Natas D'Ouro
If you only eat 1 thing during your 2 days in Porto, make sure it's plenty of natas (all my favorite pastel de natas in Porto here!). Mmm, this custard-filled delight is an absolute must when visiting Porto. And like most pastries, its best to eat a nata (or all the natas) fresh out of the oven.
Go to Natas D'Ouro to watch them be made, popped into the oven, and then delivered piping hot into your waiting hands. They also offer natas with a chocolate or port center, among others. Yes, port as in port wine! We're drooling…
If you consider yourself a foodie (like myself!), check out this Porto food walking tour. You better wear your stretchy pants though…
7. Admire the blue tiles at São Bento train station
One of the most iconic things to do in Porto is to check out the blue azulejos – hand painted tiles – around town. And one of the best spots to see them?! The train station! Yes, out of all places, Sao Bento Station! The tile creations are absolutely marvelous, and it's nice to wonder about exactly whose hands painted each individual little piece.
After you've admired the São Bento, you'll be happy to realize that the azulejos cover the city. You'll notice them everywhere now.
Out of all the places to visit in Porto, this one is an absolute must-do! You've most likely seen these tiles allll over instagram and Pinterest – yes, they're that beautiful.
Read Next: The Best Locations to See the Famous Blue Tiles in Porto
8. Relive your childhood at the Livraria Lello
If you're a Harry Potter fan (and let's face it, who isn't?), you have to stop by the Livraria Lello, rumored to be the inspiration for Hogwarts. With its winding wooden staircase, towering bookshelves, and stained glass skylight, it's not hard to see the magical allure.
With its neo-gothic and art-noveau intricacies, Lello is one of the most beautiful bookstores in the world. Don't hesitate to buy a book as a lifetime keepsake.
There's a reason it's often called the most beautiful library in the world. And yes, this means the crowds follow. Aim to arrive before opening, and you might still even encounter a line! You decide if you wanna spend a few hours waiting to go inside … or not. 
Die-hard Harry Potter fans: If you have your heart set on marveling at the interior (hey, I get it, I really do), there's another way!!! 
Skip-the-line tickets to Livraria Lello! BOOK THIS TOUR, and you'll get access to the bookstore without waiting in line! If I knew about this ahead of time I think I would have signed up for the tour for this reason alone!
Don't believe me? Read the reviews – guests state they completely passed the massive line and went right in! No reason to waste precious time if you've only got 3 days in Porto. If you don't get skip-the-line-tickets ahead of time you'll need to stand in not one, but two different lines. First line is to purchase a ticket, then the second is to show your ticket to actually get inside.
9. Try Francesinha at Café Santiago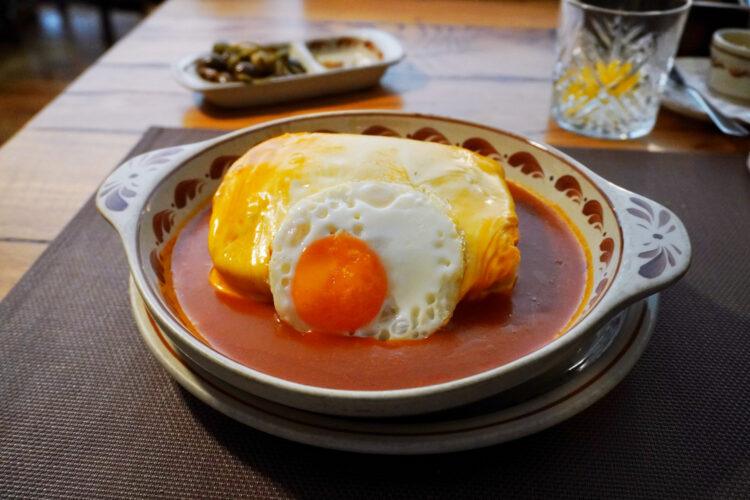 Wondering what to do in Porto when it rains? EAT! Francesinha is one of the most, well…unique foods you'll find in the city. When you boil it down, it's a layered meat sandwich covered in cheese and drowned in gravy.
With a fried egg on top, because why not?
Café Santiago is one of the more famous eateries that offers this Porto specialty. It tastes about as subtle as it sounds, but it's a good comfort food to try on a rainy sightseeing day. Keep a glass of beer nearby to wash it down, and dive right in.
10. Go Baroque at the Clérigos Church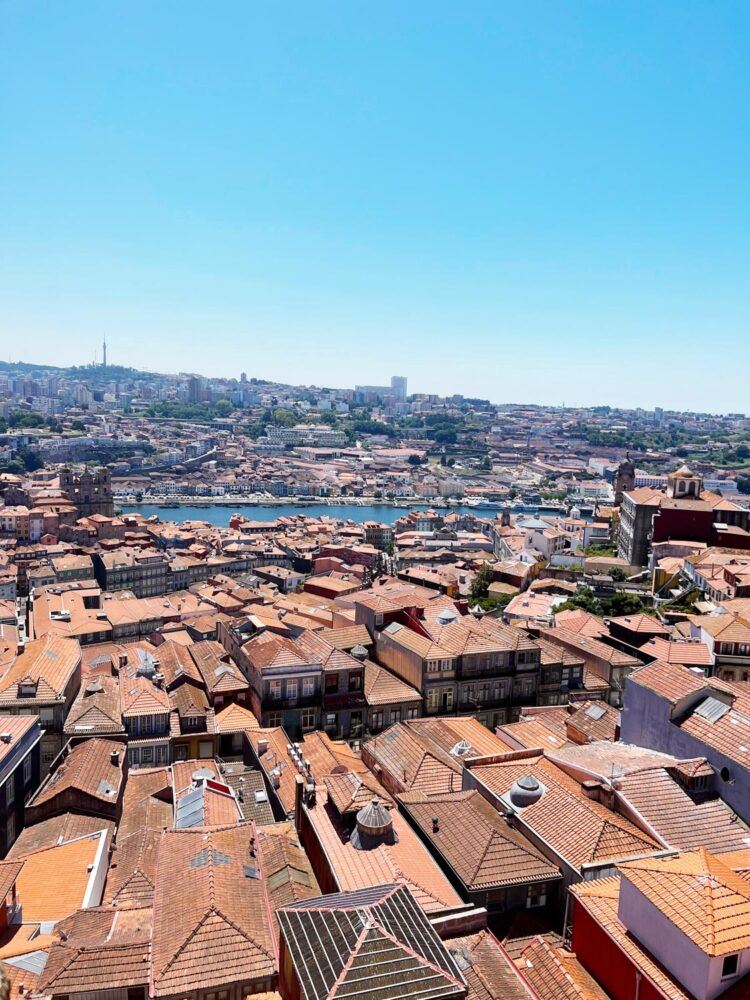 The church is ten times better than that pun, don't worry. One of the top landmarks of Porto, the Clérigos Church (plus its tower) is an 18th-century Baroque masterpiece. And you can even climb the 200 steps of the bell tower for a perfect panorama of the city. Get your ticket here (only about $5).
11. Wander the Ribeira district
This riverside neighborhood offers an amazing view of the Luis I Bridge. Plenty of bars, restaurants, and cafes line the waterfront, perfect for a picturesque lunch break.
And if you go behind the waterside spectacle, you'll find cute pastel houses and a winding maze of tiny streets to explore. Ribeira distorci is one of the most romantic places in Portugal.
12. Stroll through the Crystal gardens
If have some time between activities and are not sure what to do in Porto, head to these gardens! The Jardin do Palácio de Cristal is a peaceful oasis with a few different areas to explore, such as the section for medicinal plants or the rose garden.
The original Crystal Palace is long gone now, but the legacy remains. The garden is much loved by locals and tourists alike.
13. Get a bird's-eye-view of Porto on the funicular
Riding the Funicular dos Guindais is one of one of the most unique things to do in Porto.
Starting from either the Ribeira quayside or the steep central area of Batalha, the funicular railway – revived in modern times after decades of disuse – takes you on a three-minute journey with unparalleled views of the Douro and Luis I bridge.
It's a fun way to get around the city and definitely beats slogging your way up and down the huge hill both ways.
14. Soak up Portuguese history at the National Museum
For your daily dose of art, history, and culture, drop into the Muse Nacional Soares dos Reis. Built almost two centuries ago, the museum now houses a huge collection of Portuguese art collections and showcases historic collections of items such as ceramics, furniture, and jewelry.
15. Take a dip in Foz
Foz do Douro is one of the most beautiful areas of the city, and exploring its beaches is one of the top things to do in Porto.
Foz is right next to where the Douro spills into the Atlantic. The long stretches of sandy beach are the ideal place to catch the sunrise or refresh after hours of walking the city.
And after you've enjoyed the ocean, go grab a local snack at the Mercado da Foz, a huge farmer's market with an endless array of fresh food stands.
Hope this Porto guide was helpful! What on your Porto sightseeing list are you most excited for?!