Planning a trip and looking for the best things to add to your Bali bucket list?! From waterfall treks and cocktails at sunset to rice terrace views and dance parties on the beach, here's 125+ things to check off your Bali bucket list! Yes, I said ONE HUNDRED AND TWENTY FIVE!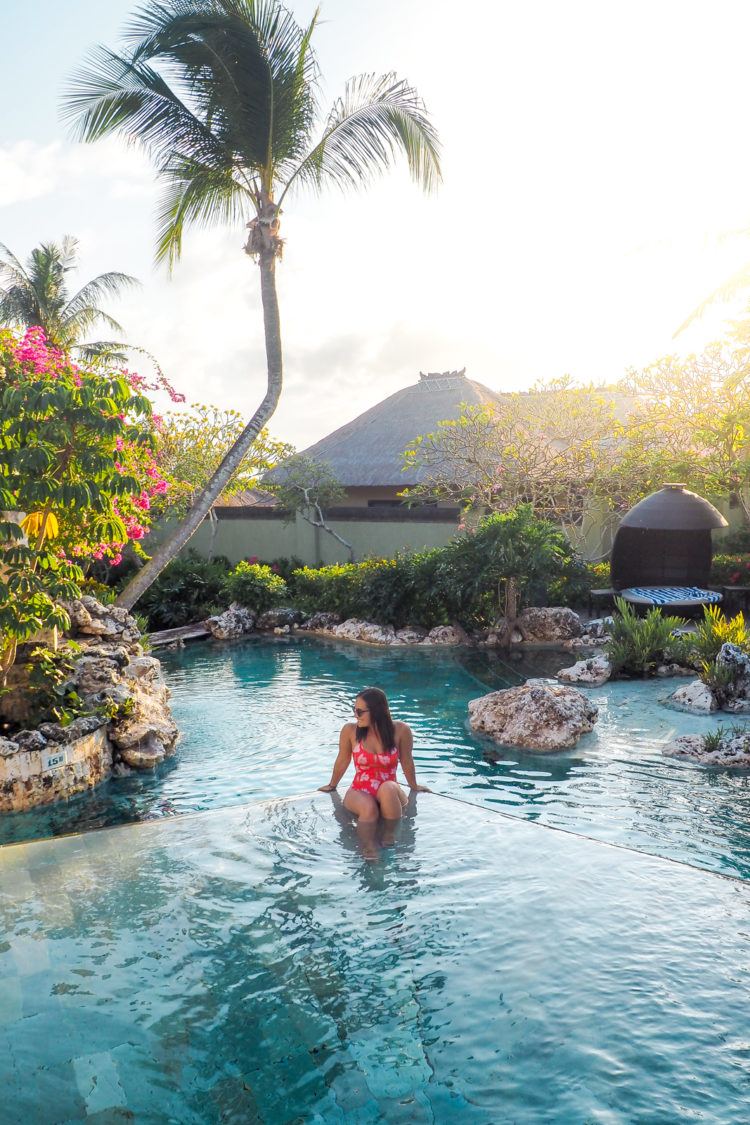 After visiting Bali last summer, we fell head over heels with the island. There's just something special about Bali – and honestly, it's hard to describe it. Maybe it's the island's lush, green jungle, impressive infinity pools, and trendy beach clubs and cafes, or possibly even the exotic fruit blended into instagrammable smoothie bowls. But one thing's for sure – we'll definitely be heading back to Indonesia sooner than later.
We might even love it more than Thailand. And Hawaii. And maybe, just maybe, Japan (if that's even possible).
I'll put up with Bali's horrendous traffic and possible minor gastro issues if that means I get to check everything off this super-comprehensive Bali bucket list.
To make planning easier, I've organized this Bali bucket list by area. But do note that just because something doesn't look too far on the map, doesn't' mean it's a 5-10 minute drive. Unfortunately, Bali only has a few main roads, meaning you'll probably have to backtrack a lot/go roundabout ways to get places. At least that was my experience!
I recommend hiring a private guide/driver to take you around in order to cross things off your Bali bucket list. Especially if you aren't experienced with riding a scooter.
I've also got other information on Indonesia which you might find helpful!
So pack up your bathing suits, start looking for flights to Indonesia, and use this massive Bali bucket list to find the ultimate paradise.
The Ultimate Bali Bucket List
Ubud and Surrounding
1. Hold on tight and feel the breeze in your hair on the iconic Bali Swing Ubud with views of the lush rice fields and Balinese jungles below, made super popular by Instagram (add this photo op to your Bali bucket list) ✓
2. Check out the ancient elephant cave (from the 9th century!) and stone carvings of Hindu Gods at Goa Gajah Temple. Walk to the waterfall here, too!
3. Catch some light rays inside a cavern at Tukad Cepung Waterfall after getting a great workout walking down the rocky steps (best around 9am to see the sun beams)
4. Sip a fresh fruit juice smoothie or an iced chai latte (and maybe some food if you're hungry) at Habitat Cafe Ubud, a modern Pan-Asian restaurant a few minutes from the Monkey Forest ✓
5. Be amazed by Kanto Lampo Waterfall, a seasonal waterfall cascading down a steep rock face (be careful if you take photos on the slippery rocks!)
6. Get your ohm on at sunrise at either the Ubud Yoga Centre, Yoga Barn, or Ubud Yoga House, two scenic studios with yoga classes and mindful meditation
7. Feed the monkeys and watch the little babies run around the grounds at the Sacred Monkey Forest Sanctuary (although don't get too close; they're still wild animals!) ✓
8. Get pampered with a full-body massage, an exfoliating body scrub, and/or a herbal aromatic facial at Zen Bali Spa for a fraction of the price you'd pay anywhere else. There's also floral, spice, and milk baths!
9. Have an eclectic dinner at Hujan Locale, known for their innovative, modern Indonesian food – all in a trendy space! (my favorite restaurant on this Bali bucket list) ✓
10. Try some Luwak coffee (made out of partially digested coffee cherries and defecated by civets) and a complimentary sampler of aromatic teas at Ceking Sari Luwak Coffee (perfect on any coffee lovers Bali bucket list) ✓
11. Take the steps down and cool off at Tegenungan Waterfall, a thunderous waterfall in a lush jungle setting
12. Soak in a flower bath filled with pink petals after getting a body scrub and Balinese massage at Karsa Spa, surrounded by stunning gardens
13. Go for a short trek along the lush rice paddies at the Tegalalang Rice Terrace, and be sure to admire the views along the way (one of the most iconic Bali bucket list items) ✓
14. Go for a meal or spend at the night in a treehouse at luxury eco-resort Bambu Indah, made entirely of bamboo
15. Get the best Indonesian BBQ of your life at Warung Pondok Madu (don't miss the BBQ ribs and some banana pineapple juice)
16. Relax in a flower bath at Maya Ubud while drinking herbal tea and mini fruits with views of the rainforest ✓
17. Dine in an abandoned 737 plane at Keramas Aero Park, one of the most unique places to eat in Ubud
18. Go for a swim and grab some drinks at the swim-up bar (Ubud's first!) at the Folk Pool & Gardens
19. Order an instagrammable smoothie bowl in a pineapple at Acai Queen (don't miss the photo ops in the cafe) ✓
20. Indulge in a coconut-based dessert (or two, or three!) at Tukies Coconut Shop (there's coconut ice cream with coconut shavings and coconut sugar – served in a coconut!)
21. Go veggie for the day and order some inventive vegetarian fare (like Puspa's pumpkin cakes) at the cash-only spot Puspa's Warung
22. Shop for the instagram-famous Bali bags, cotton sarongs, bamboo straws, and crochet tops at the Ubud Traditional Art Market ✓
23. Savor all 19 courses of the tasting menu at Restaurant Locavore and pair them with cocktails (or head to Locavore To-Go if there's no space) ✓
24. Wander along the palms on the path at the Campuhan Ridge Walk at sunset with views of the sweeping hilltops (one of the most romantic things on this Bali bucket list) ✓
25. Brunch it up with some famous lava stone pizza at Milk & Madu Ubud, an airy and bright Aussie cafe near Ubud Palace
26. End the night with relaxing foot massages for $5.50USD per HOUR at Kristina Ubud Spa (a must on ANY Bali bucket list) ✓
27. Go for a romantic Japanese/Latin fusion meal at The Sayan House, and get some pre-dinner cocktails at sunset overlooking the lush valley below ✓
28. Watch an iconic Balinese dance performance at Ubud Palace; the costumes, dancing, and music are sensational
29. Walk the pathway leading to the Saraswati Lotus Temple, and check out the ornate architectural details and scenic lotus pond ✓
30. Sit near the koi pond and order some breakfast and a Bali berry tea at Clear Cafe
31. Feast on BBQ spare ribs at super-popular Naughty Nuri's Ubud (the meat is so tender it falls off the bone!)
Canggu
32. Watch the sunset at beachfront La Laguna Bali, a beach bar with a trendy Moroccan vibe (don't miss the Sunday Gypsy Market)
33. Have a blast in the infinity pool (with swim-up bar) at Finn's Beach Club, or hang around the airy bamboo club house, on the parasol-shaded daybeds, or beanbags on the sand
34. Party at the beer garden with a few Bintangs at Old Mans, with great happy hour specials and live music (get there early to get a seat for sunset)
35. Eat smoothie bowl breakfasts with rice field views at Milu by Nook (or order an Ultimate Burger with a charcoal bun for lunch/dinner – it's the most popular dish!)
36. Share a table at Satu-Satu Coffee Company and sip some cold brew while indulging in a Lady Gaga smoothie bowl
37. Take photos with all the wall art you can find along Batu Bolong Street, Canggu's ultimate shopping street ✓
38. Walk on the black sand at remote Pasut Beach – it's covered with tons of palm trees!
39. Shop 'til you drop at The Love Anchor Weekend Bazaar, where you'll find bamboo bowls, reusable straws, local art, and much more at this market (a must-do item on any shoppers Bali bucket list) ✓
40. Watch the sunset and listen to the waves at Tanah Lot during low tide, a traditional Balinese temple located on a small, rocky island!
41. Pimp your cone with a stroopwafel at Mad Pops Bali, a funky ice cream joint with the most delicious flavors ✓
42. Rent a board and learn to surf at Batu Bolong Beach, or just enjoy a cold coconut while listening to live music on the beach
43. Check out The Organic Sunday Market, a small weekly market with local fruits and veggies, baked goods, organic coffees and chocolates, and fresh juices
44. Book a table at industrial-chic Fishbone Local for creative seafood dishes and house cocktails ✓
45. Listen to some chill music, enjoy some happy hour drinks, and watch the sunset and surfers at Echo Beach Club
46. Chow down on an insane number of satay sticks at Sate Babi Street Food – known to have the best satay in all of Bali
47. Ride the waves at Canggu Beach, or just sunbathe and then take in the sunset views
48. Grab a quick bowl of energy at Nalu Bowls, and make sure to try the peanut butter bowl if you're looking for some nutty flavors
49. Spoil yourself with a smoothie and all-day breakfast at the super airy and super Aussie The Loft Canggu
50. Start your day with a coffee from Hungry Bird Coffee Roaster, easily the best coffee shop in town
51. Enjoy something eclectic at the trendy and open-air market and eatery, Beach Garden Organic Kitchen
52. Hang out on the grass and order some creative cocktails at The Lawn, with direct views (and access) to the Canggu beaches ✓
53. Join the gym junkies at MOTION Cafe, and refuel with some heart-shaped pancakes, sweet potato waffles, and some blueberry cashew cheesecake
Seminyak
54. Go snap happy and take dozens of trick illusionist photos at the Dream Museum Zone (DMZ)
55. Order one of each at at KYND Community, a cute cafe basically made for instagram with its bubblegum walls (be sure to check out the ice cream shop next door) ✓
56. Relax under multi-colored umbrellas and bean bags in the sand with a bintang in hand at Double Six Beach
57. Spend the afternoon at KUDETA, with world-class dining, designer cocktails, and one of the best sunsets, plus international DJ's on select nights (still on my Bali bucket list)
58. Fall asleep during a relaxing Balinese massage at Spring Spa (another location in Canggu)
59. Try one of each (especially the raspberry party floss pancakes) at Sea Circus, a creative taco joint with an interesting bathroom design (a Bali bucket list item for any foodie!)
60. Order trendy Mexican eats and cocktails (like dragon fruit margaritas and coconut pina coladas) at Motel Mexicola, a super instagrammable and colorful space that turns into quite a party at night
61. Watch the sun go down amongst hundreds of colorful umbrellas and smoke some hookah La Plancha Bali
62. Buy some Bali beachwear at the Bali Boat Shed, housed in super-cute instagrammable huts
63. Choose your adventure at Seminyak Beach; there's loungers, horseback riding, bats, and a vibrant nightlife scene
64. Swim around at Potato Head Beach Club's seaside pool – a great place to spend your day and one of Bali's most popular beach clubs
65. Spend the morning devouring breakfast at Coffee Cartel, a boutique coffee house with awesome latte art and refined bites ✓
66. Sip a fresh coconut and pink cinnamon tea at Balibola and order some over-the-top plates (the presentation is super impressive)
67. Buy some beans and/or cozy up with a coffee at Expat. Roasters, a speciality coffee brew bar that's known for their amazing flat whites and single origin
68. Have some Nasi Campur for lunch in the middle of a rice field at Nook
East Bali
69. Wake up early and take that iconic photo at Pura Lempuyang Temple with Mount Agung in the background (don't forget to explore the grounds and six other temples, too) ✓
70. Climb the 6 hours to Mount Agung before sunrise for the most spectacular view from the summit, an active volcano and the island's highest peak (a must-do Bali bucket list item for advanced hikers)
71. End the day with a Bintang and watch the sunset along the cliff's edge at Sunset Point
72. Marvel at the turquoise waters of the small and tranquil Bias Tugel Beach, only reachable by short trek
73. Watch the sunrise over Mount Agung and the rice fields at Bukit Cinta, a viewpoint on the side of the road heading to Lempuyang (a Bali bucket list item for any early riser!) ✓
74. Sip a creative cocktail with sweeping views at The Monkey Bar at Bella Vista, and maybe even take a dip in the stunning infinity pool afterwards
75. Snorkel at Jemeluk Bay's underwater temple, the most popular snorkeling spot in East Bali, or head to Lipah and/or Selang Beach with hopes of spotting sea turtles and black tip reef sharks
76. Take in the sunrise from the summit of Mount Batur after a rewarding trek up, and then have some eggs cooked from the volcanic steam!
77. Say hi to the koi fish at Taman Tirta Gangga, and pick up some food before the entrance to feed them ✓
78. Sunbathe at Blue Lagoon Beach, then put on your snorkel and head under water
79. Study for your PADI license in Amed, one of the cheapest places in the world to get your certificate
80. Throw on your oxygen tank and go scuba diving and explore ancient remains of shipwrecks, an underwater pyramid, a submarine mailbox, and tons of marine life off the coast of Amed
81. Bathe in the holy water at Pura Tirta Empul, or just watch the locals do their thing ✓
82. Admire the architecture and beauty of Balai Gili, a former water palace built in 1909 with gardens and pools! Don't miss the Taman Ujung Museum nearby!
83. Wander around Besakih Temple, a large, holy site with over 23 temples, some with impressive soaring spires
84. Soak in the cool waters of the Tibumana Waterfall pool, and smell the tropical flowers on your trek down ✓
North Bali
85. Get a day pass for Munduk Moding Plantation Nature Resort & Spa and eat lunch around the famous infinity pool in the clouds (something that's been on my Bali bucket list forever but I haven't been able to just yet)
86. Watch the sunrise at Ulun Danu Beratan Temple, then take a rowboat out on Beratan Lake surrounding it
87. Make the short trek down to Leke Leke Waterfall then stand on the rocks feeling the water mist in your face ✓
88. Stand on line for that iconic photo with the Bali Handara Gate (and believe it or not, it's actually the entrance to a golf club!)
89. Head down then go swimming at Banyumala Twin Waterfall, a split waterfall plunging over rocks into a jungle pool
90. Get sprayed by the GitGit Waterfall chain and feel like Tarzan by rope jumping into the pools
91. Up your IG game at Hidden Hills Wanagiri, filled the swinging nests and swings and other (mildly cheesy) photo ops over the lush Balinese forest
92. Swim in the natural pools of Aling-Aling Waterfall, with cliff jumping and sliding (one of the most adventurous Bali bucket list items on this list!)
93. Bathe in the sulphuric waters of Air Panas Banjar, a hot springs complex surrounded by tropical gardens
94. Stand under three waterfalls at once at the Fiji Waterfall, the only triple waterfall in all of Bali
Jimbaran and Uluwatu
95. Eat under string lights at Opai Bali, one of the most romantic dinner spots on this Bali bucket list!
96. Sip some cocktails and enjoy some appetizers while watching the sunset at the Rock Bar at the AYANA Resort and Spa ✓
97. Feel the waves at Balangan Beach and then ride your scooter to the Balangan Beach View to see the white-sand beach from above
98. Whip out your camera and take photos with the unique rock formations at Bingin Beach, then watch all the surfers do their thing
99. Dance the night away and eat pizza with a view at Single Fin Bali (a Bali bucket list item for any partier!)
100. Brave the crowds and explore Uluwatu Temple at sunset (make sure you stay for the traditional kecak fire dance to listen to the men's chanting – it's wild!) ✓
101. Stand on the limestone and explore the cave at Suluban Beach; just watch out for the monkeys!
102. Spend the afternoon partying 100 meters above the Indian Ocean at OMNIA Dayclub Bali, a swanky club perched atop a cliff
103. Take the funicular down to the beach and laze the day away under an umbrella at Sundays Beach Club (+ stay for the sunset bonfires!)
104. Jump off a cliff and go paragliding over Melasti Beach (adventure lovers – add this to your Bali bucket list!)
105. Hang out at Kubu Beach, the private beach area of the swanky AYANA Resort (make sure to take a photo on the swings!) ✓
106. Check out one of the last remaining "secret beaches" before it's not a secret anymore at Nyang Nyang Beach (it's a bit of a trek down which is also why it's not so popular)
Nusa Islands
107. Crawl through a 2-meter long tunnel to get to the Giri Putri Cave Temple, a Hindu temple located inside a cave
108. Make your way down the 460 steps to reach a series of cascading spring falls, known as Peguyangan Waterfall
109. Take that iconic photo above Kelingking Beach (T-Rex!), made famous by Instagram, then make the treacherous trek down to the beach (a must-do Bali bucket list item for ANYONE visiting Nusa Penida!)
110. Float in a natural infinity pool at Angel's Billabong, with emerald green hues and turquoise crystalline waters
111. Watch the waves crash onto the rocks and soar into the air at Smoke Beach
112. Jump into the hidden natural pools at Tembeling Beach
113. Stare face to face with a giant Manta Ray at aptly named Manta Bay (forever on my Bali bucket list)
114. Admire the fuzzy green hills known as Bukit Teletubbies (if you're visiting during rainy season, add this to your Bali bucket list)
115. Be blown away by the beauty as you walk down to Atuh Beach, a rustic isolated cove right under a cliff, with interesting rock formations
116. Ride the thrilling zipline over the cliffs with Abyss Zipline at Island Cove Resort (formerly Ceningan Island Resort)
117. Get a tan at Jungutbatu Beach, Mushroom Bay, and/or Crystal Bay Beach, the most popular beaches in the trio of tropical islands
118. Throw on your fins and snorkel to meet the underwater Buddha at Temple Point in Crystal Bay
119. Check out the arched tunnel in the cliffs at Broken Beach
120. Join the crowds and watch the waves crash over the rocky coves at Devil's Tear – you might even spot a rainbow!
121. Stay in a treehouse above Atuh Beach at Rumah Pohon "Tree House", just beware of instagrammers taking "the" photo on the ladder steps
122. Ride an underwater scooter and float over sea beds without needing any SCUBA experience near Ceningan Island
123. Get your blood racing and dive off a high cliff top into the ocean at Mahana Point Cliff Jump (a must on any daredevils Bali bucket list)
124. Be amazed by Seganing Waterfall, where the water flows directly from a cliff into the sea
Bali Bucket List Hotels
This wouldn't be a complete Bali bucket list without a section on all the utterly amazing out-of-this-world resorts and unique accommodations.
From rooms in the jungle made entirely out of bamboo, infinity pools overlooking the Indian Ocean, and private plunge pools with butlers, you could really spend a whole 10 days in Bali without even leaving your resort.
Here are a bunch of absolutely unbelievable hotels I found while I was planning my trip and researching for this Bali bucket list. Now I have about 15 more spots I wanna stay in next time – hotel hop, anyone?!
125. Spend the entire day in your posh Balinese villa, but make sure to indulge in the cascading pool at the Hanging Gardens of Bali — made famous on IG (Ubud)
126. Wake up to rainforest views from your 4-poster bed, then have breakfast overlooking the insane infinity pool and splash around in your private plunge pool at the Komaneka at Tanggayuda (Ubud) ✓
127. Spend a night in a rustic treehouse completely made out of bamboo with rainforest views at Bambu Indah (Ubud)
128. Check into the Munduk Moding Plantation Nature Resort & Spa, a coffee plantation with an infinity pool in the clouds (Munduk)
129. Kiss your sweetie in the middle of a rice field in an eco-cottage or bamboo villa at Hideout Bali. Pure jungle magic — just make sure you're not afraid of the bugs! (East Bali)
130. Stay next to a black sand beach in a chic villa at luxury resort Soori Bali, complete with private pools and posh amenties (Canggu)
131. Look out your window overlooking the pool and ocean at Six Senses Uluwatu, a high-end resort with 3 restaurants and 3 pools! Don't miss the Sunday Lobster Bruch! (Uluwatu)
132. Get private beach access (with a super instagrammable swing) and guaranteed entrance to the rock bar for sunset at the super swanky AYANA Resort and Spa (Jimbaran) ✓
133. Have dinner in a bird's nest and get a spa treatment in the middle of a mango tree at Kupu Kupu Barong Villas & Tree Spa. Pure luxury in the middle of the jungle! (Ubud)
134. Climb the steps to your tree house at Rumah Pohon Tree House, just watch out for all the influencers taking that famous photo on ladder steps. I've heard one night is enough. (Nusa Penida)
135. Say hello to your sophisticated upscale villa with plush interiors and private pool at The Edge Bali Villas, then visit the spa in the shallow pool for a massage. Don't miss the 360 pool! (Uluwatu)
136. Swing on your own private swing overlooking the Balinese rain forest, and enjoy your open-air villa at Zen Hideaway (Ubud)
137. Feel like a baller at The Elysian Villas Resort, with private plunge pools, pool-side dining, and complementary massages (Seminyak) ✓
138. Swim in the beachfront infinity pool and then relax in your balcony bathtub at The Legian Bali, a cool beach resort with trendy vibes (Seminyak)
139. Laze the day away in your giant hammock with direct views of the rice fields in the Pyramid Villa or Bamboo Villa at Camaya Bali (East Bali)
Psst: If you're planning a trip to cross things off your Bali bucket list, you might like these too:
Hope this helps you plan an epic trip to the islands! What's still on your Bali bucket list and what are some of your favorite things to do in Bali?!