Visiting Sin City in the near future and thinking about making the trek to the Valley of Fire from Las Vegas?! I highly encourage this day trip, as we found the entire day extra fascinating and I'd actually like to go back to explore even more.
Imagine panoramic vistas, 3,000 year-old petroglyphs, fiery Aztec sandstone, and even pink and white rock formations. There's even a rock that's shaped like an elephant! That's Valley of Fire State Park in a nutshell. And it's even more impressive in person.
Ever since I saw photos on the internet a few months back, I knew we'd be making a day trip to the Valley of Fire from Las Vegas. That and the Grand Canyon West Rim of course. Located in the Mojave Desert, the Valley of Fire is a short hour away from Las Vegas, making it a perfect day trip away from the glitz and glam of the strip.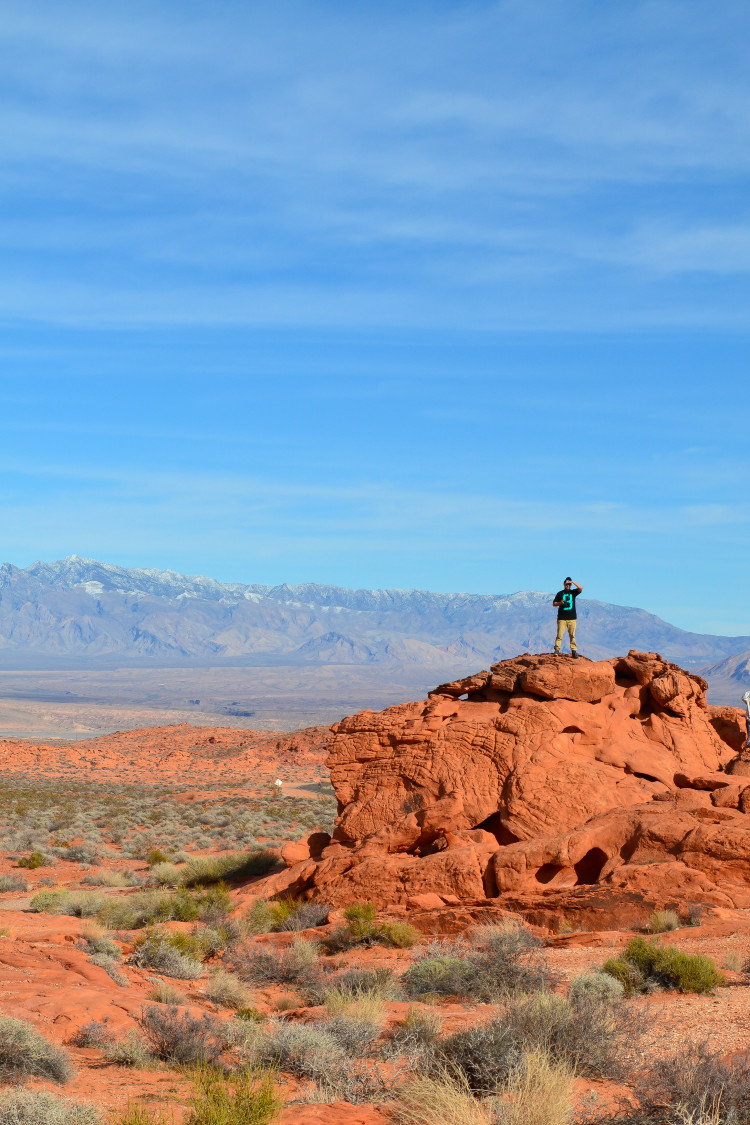 From the moment we arrived, I was enamored with the surroundings. The fiery red sandstone glistened in the sun, and actually appeared to be on fire at some points. Mother Nature surely is fascinating! With this being said, the area was dedicated as a State Park in 1935, making it Nevada's first (and largest)!
The Valley of Fire is completely overlooked by so many visitors to the area, and receives only 300,000 visits per year. Seems like a lot, but compared to the Grand Canyon (with nearly five million visits each year), it's actually quite nothing!
Because of how unknown it is, we ended up being the only ones who booked the tour with GetYourGuide! A private tour throughout Nevada's first state park?! I'll take it! Talk about convenient, since I do like to take a million (and one) photos. [I ended up taking over 500+ during the span of our 4 hours in the park.]
Our first views of the park were nothing short of spectacular….
Location and how to Get to Valley of Fire from Las Vegas
Where is the Valley of Fire? Valley of Fire State Park is located in southeast Nevada in the Mojave Desert. Being roughly an hours drive away (an easy 55 miles), it makes the perfect day trip from Las Vegas! Being only six miles from beautiful Lake Mead, it makes a great addition if you're planning to spend the day there.
How to Get to the Valley of Fire from Las Vegas: Thankfully, getting to Valley of Fire State Park is especially easy! You just stay on I-15 almost the whole way, then veer off on the Valley of Fire Highway! Plop Valley of Fire Visitor Center into your GPS and you're good to go. The entire drive is stunning, but once you turn onto the Valley of Fire Highway, you'll see those striking landscapes you came here for!
If you'd prefer to have someone else do the driving for you (and of course give loads of info on the park), there's plenty of day trips to Valley of Fire from Las Vegas.
How Long to Spend in Valley of Fire State Park
Quite honestly, you can see the majority of the park in just a few hours. If you're planning on driving through the park on Mouse's Tank Road (the main road), stopping at the overlooks, and taking a short hike or two, I'd give yourself two hours or so.
However, plan a few extra hours (or a full day!) if you really wanna explore all that the park has to offer! We spent about 5-6 hours in total (driving to the Valley of Fire from Las Vegas, exploring, and then driving back). But no matter what, you can be back in Vegas for dinner!
When to Visit
Fall and Spring are the best times to visit Valley of Fire State Park. The temps will be just right, and in spring, you may even see some wildflowers! There's desert marigolds, indigo bush, and desert mallow bloom.
Don't even think about visiting in mid summer unless you can stand intense heat (think 100-120 degrees F). Most tours don't run this time of year due to the high temperature, however, you are free to visit yourselves since the park is open all year long (although I don't recommend it). Also, there's known to be snakes out and about in the summer… so yeah, I'd stay away for that reason alone. :p
Winters are much more bearable, with mild temperatures hovering around 50-75 degrees most days. However, our guide noted freezing days are not uncommon either. And plus, if you happen to get a later start, remember that the sun sets quite early, around 4:30pm in winter.
My advice – check the temperature before making the drive yourself and decide if you want to brave the intensity of it, no matter the season.
Quick Facts Before Your Visit:
How to Get Around the Valley of Fire: The roads are paved and well-maintained, so you definitely don't need any type of special vehicle.
What to Bring: Since this is in fact the desert with a dry climate, you'll wanna bring plenty of water (especially if you're planning to hike!). You can fill up your water bottle at the Visitor Center and campsites, but no where else in the park. I'd also obviously recommend a camera, as well as a day pack, sunscreen, and some lunch/snacks!
Cost to Enter: There's currently a $10 fee (per car) to access the park for the day, or a $20 fee for camping (per night). You need to pay at the fee booth before entering.
Are Dogs Allowed? YES! And they're even allowed to be off leash! As always, please be respectful of other visitors, clean up after your dog, and never leave them in hot vehicles.
Camping in Valley of Fire State Park: Wanna see the park in the early morning or during golden hour? Definitely spend the night (anyone found in the park before sunrise or after dark without a campsite will be ticketed)! But be sure to plan ahead — Valley of Fire is Nevada's most visited state park!
Flash Floods to Happen: Yes, even in the middle of the desert. Since there's slot canyons and other areas that can flood easily, you'll wanna keep an eye on any flash flood warnings. You can always ask at the Visitors Center to be sure.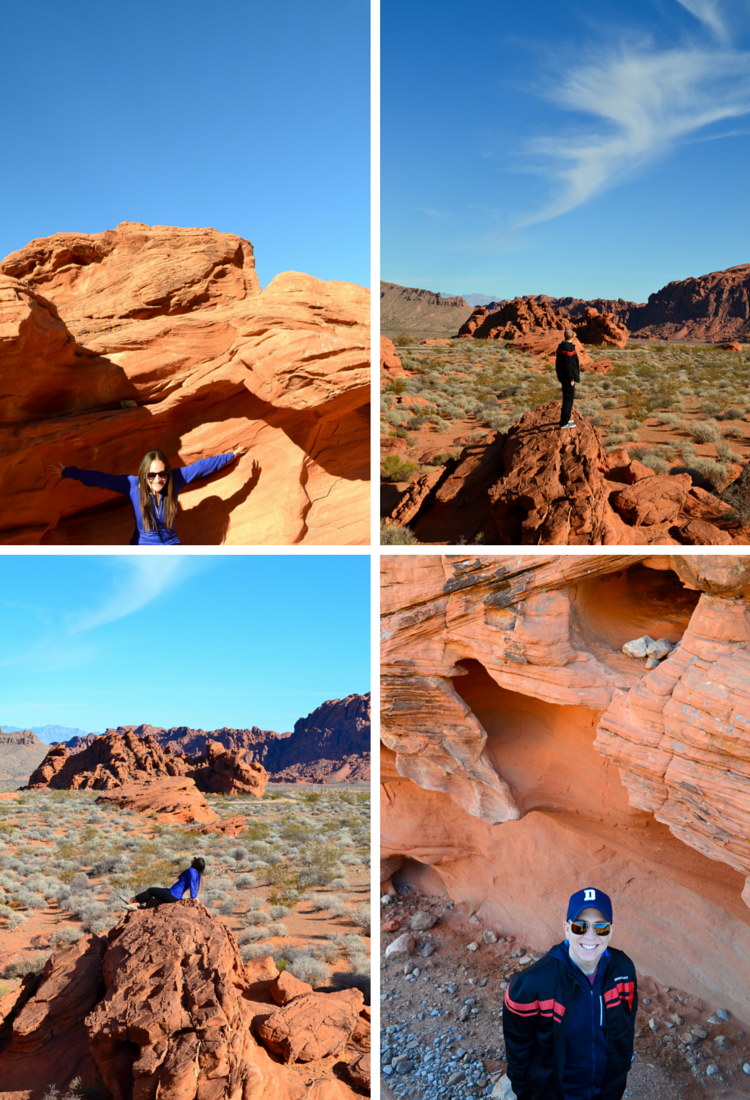 A Bit of History and Science
I don't typically talk about history too much, BUT, the park is just full of interesting info.
First of all, The Valley of Fire was named after the magnificent red sandstone formations that occurred during the age of the dinosaurs – 150 million years ago!
A while back, between approximately 300 B.C.E. to 1150 C.E., different peoples visited the land, and used the Valley of Fire for hunting, food gathering, and religious ceremonies. We saw some impressive rock art at several sites within the park – 3,000 year-old Indian petroglyphs!
Okay guys, now I'm gonna get a little science-y on ya, but just follow along. The landscape you'll see was created by complex uplifting and faulting of the region, which was then followed by extensive erosion. See all of those holes in the photos? Yea, those were formed by high-powered winds and rains. #crazypants. Nature just blows my mind sometimes.
Things to See and Do on your Day Trip to The Valley of Fire
Driving through the park was a spectacle in and of itself, but our guide made sure to stop at various viewpoints throughout the day. Valley of Fire is famous for its fun, distinct stone shapes, so let your imagine run wild! Some are noted in the park as an actual designated spot, but we saw others throughout the park.
The vistas are plentiful and breathtaking, and we saw the following on our tour:
Elephant Rock
It looks just like an elephant – don't you see it?! You'll find elephant rock right next to the east entrance; but, unfortunately, it's kinda easy to miss! Thankfully, there'll probably be other people photographing it, so look out! We walked up the road right to Elephant Rock from below, but there's also a short trail that gives you a slightly different perspective.
Have fun, but do note you're not allowed to climb on the rock formation itself.
Arch Rock
Haven't been to Utah just yet? This natural sandstone arch definitely reminded me of the views in Arches National Park in southern Utah!
Atlatl Rock
Being one of the most iconic sights in the park, promise me you won't miss Atlatl Rock. And it's kinda crazy, being a single (huge) boulder perched on top of some sandstone. Climbing up the metal stairs was definitely worth it to see those petroglyphs – and that view off in the distance, wow! And when you realize the petroglyphs were carved thousands upon thousands of years ago — whoa!
While these petroglyphs are abundant throughout the park, Atlatl Rock is by far one of the best places to see them.
Please do your part and DO NOT make your own little carvings into the rock. Let's preserve this space exactly like it was all those years ago.
Beehives
We had such a good time exploring these wacky looking sandstone formations. And they do in fact look like beehives, right?! If you climb on top of the highest dome you can even get a great view of the park (of course I didn't trust myself to do so). But regardless, definitely a fun spot for some photos!
Balanced Rock
Our guide told us it'll be years until erosion causes the rock to eventually fall down.
Seven Sisters
Typically, the Seven Sisters are a relatively quick stop, but we had a picnic lunch here. There's a few picnic tables, so I encourage you to do the same! It could it have been better, but hey, eating underneath these marvelous red rocks was all I could concentrate on anyways. And the cookies were good! 😉
Rainbow Vistas
Look at all those colors! Nature is just ridiculous sometimes!
The Cabins
Crazy that these were built so many years ago!
Hiking at the Valley of Fire
Mouse's Tank: Honestly, I'd save your time and pick another hike to do. Although it's super short at only .75 miles roundtrip, it's pretty uneventful and not very exciting. There are some petroglyphs on the rocks along the way, but there's better ones in the park at Atlatl Rock.
Rainbow Vista: If you didn't have your fair share of rainbow down below at the road, take the 1-mile (roundtrip) hike for more views! At the end of the hike, you'll be rewarded with panoramic views over the Valley of Fire.
White Domes Hike: If you're looking for something a tad more challenging, definitely check out White Domes. While the entire hike is only a 1.25 loop, there's some descent elevation gain throughout. You'll be slipping through a narrow slot canyon, climbing over boulders, exploring some caves, and even passing an old film set. Kinda reminds me of a hike we did in Death Valley National Park (another trip we did from Vegas not too long ago). The white sandstone rock stands out against the surrounding red rock formations, so appears extra special over here!
The Fire Wave: I'm guessing you've heard of The Wave in Arizona (or seen photos of it). The Fire Wave in Valley of Fire State Park is kinda like a mini version of it, except you don't need a permit to hike it! Close your eyes and imagine a white and red zebra print sandstone pattern. It's only about a 1.5 mile roundtrip hike, and is by far one of the most impressive spots in the park. I'm so upset we missed this! Guess that means we just need to make another trip to the Valley of Fire from Las Vegas!
Wildlife at the Valley of Fire
If you visit in the warmer months, beware of snakes and other critters. Coyote, kit fox, spotted skunk, and the black tailed jackrabbit can be found in the park, as well as tiny chipmunks and desert squirrels (who visited us during our lunch break). Note that most of these animals are noctural, meaning it is likely you wont come across any.
Be on the lookout for desert big horn sheep when you enter the park – we saw a few, but the speeding cars ahead of us drove right past them. Can you spot them in the photo below?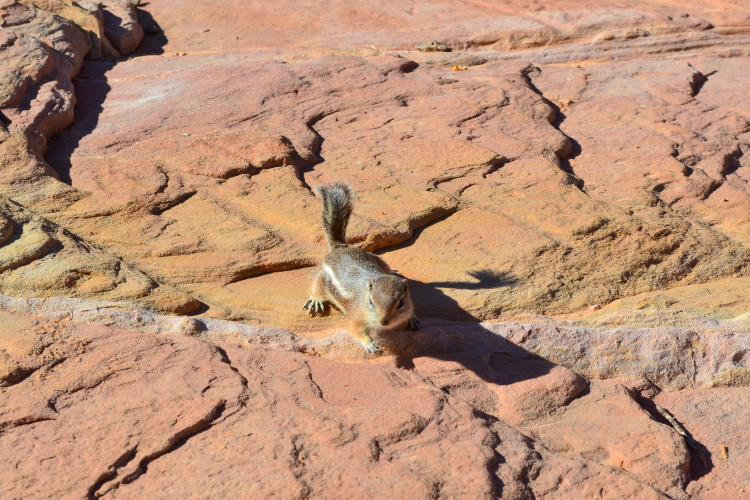 Valley of Fire Las Vegas Tours
Sure, you can head to the state park yourself, but we found it much more comfortable and actually learned something by booking ourselves on a Valley of Fire Las Vegas tour.
Tour Facts
We were picked up at our hotel in Las Vegas around 9am, got settled into the bus, and had a smooth ride to The Valley of Fire. Since we ended up having a private tour, we both claimed entire rows of seats to ourselves. Score!
I really appreciated the fact that the company runs it's tours no matter how many people book. Don't you hate waiting around until the day before to find out if your tour will indeed proceed? Talk about annoying!
We had a complete tour of the park, and were given more than enough time in each spot and location. We were the only ones on the tour for that matter. 😉
Our guide was a sweet older man who had been touring the park for years and years, and answered every single one of my (insane) questions.
Lunch was provided and it was marvelous eating outside on a picnic table underneath the Seven Sisters.
Kind of insane that we enjoyed our time at the Valley of Fire more so than the Grand Canyon. Is it just me or is the Grand Canyon a bit over rated?
The perfect escape from the craziness that is Las Vegas. Amazingly revitalizing!
Are you headed to The Valley of Fire from Las Vegas soon?! I hope this helps you plan your trip to the desert!
I was hosted as a guest by GetYourGuide, but as always, all opinions, and rock loving statements, are my own. Seriously guys, if you find yourself in Las Vegas in the near future, get your butt over to the Valley of Fire.