Heading to Sin City and looking for things to do in Vegas besides gamble?! I got you! From world-class shows and unrestrained glitz and glamour to indulging in all things culinary and sipping on over-the-top milkshakes, here's 100+ things to check off your Las Vegas bucket list! Yes, I said ONE HUNDRED!
We somehow tend to find ourselves in Vegas a few times a year. It's such a short flight from San Francisco and there's always something going on — from pool parties and concerts and Italian gondola rides, we just can't stay away!
Surprisingly (or not), Las Vegas is way more than the slot machines and tables. Sure, we do our fair share of gambling when we're feeling it, but there's sooooo much more to the city than that! There's frenetic nightlife, historic pinball machines, indoor rain forests, and instagrammable cafes. I mean, there's even a water slide that goes straight through a massive shark tank! Yes, you heard that right.
→ Read Next: The Perfect 3 Day Las Vegas Itinerary!!! You won't check off everything on this Vegas bucket list, but definitely a whole bunch!
With that being said, I've put together this guide of over 100 (!!!) things to do in Las Vegas besides gamble! Because let's face it, there's only so many penny slots you can play — unless you're my mother (haha).
I've made this list for myself as well, because let's face it — whenever we head to Vegas, we always tend to do the same things! Gotta learn to get outta my comfort zone a bit! This list is massive, with over 100 things to add to your Las Bucket list! If you know me and my writing style, you'll know I'm ridiculously thorough and wordy. ?
So next time you're looking to get out of the casino, be sure to check out this list! There's animal encounters and bulldozer driving (yes, really, haha) to hiking in National Parks and stuffing your face with more treats than you can imagine. While most of these things on this Vegas bucket list are on or near the strip, there's a few a bit further afield as well!
Recommended Items to Pack for Vegas: Chapstick for that dry desert heat | Comfortable Sandals | Cross Body Bag | Moisturizer | Sunscreen | Aloe Vera Gel for sunburns | Cardigan | Sunglasses | Sun Hat | Sneakers | Hand Sanitizer | Lint Roller | Camera | Ibuprofen for hangovers | Sarong | Bathing Suit | Kindle | Eye Mask | Reusable Water Bottle
So let's get to it — over 101 things to add to your Las Vegas bucket list!
The Ultimate Las Vegas Bucket List 
Iconic Things to do in Vegas Besides Gamble
1. Watch the Fountains at the Bellagio — you can't come to Vegas and not see the fountains, you just can't! The water shows are even choreographed with music and lights, occurring every 30 minutes, making them one of the best free things to add to your Vegas bucket list (catch them both day and night; such different experiences).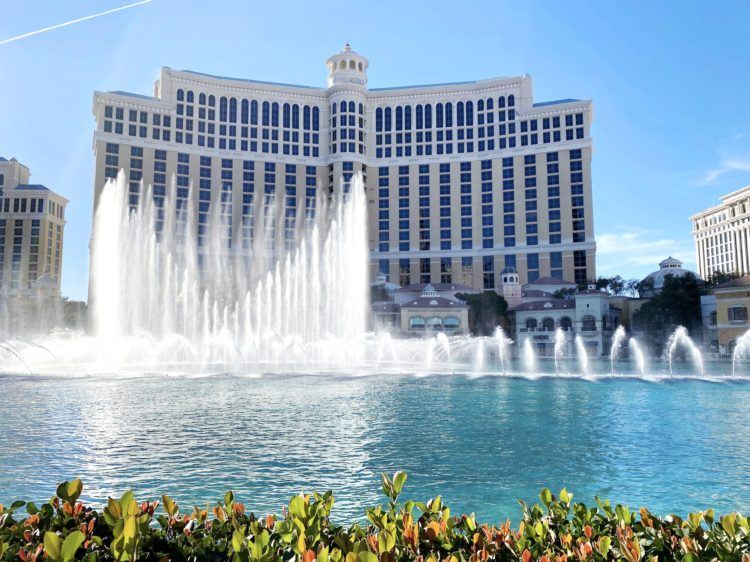 2. Admire the iconic vintage signs and bright lights at the Neon Museum, a huge boneyard full of retired signs from old casinos and other special exhibits
3. Watch the erupting Volcano in front of the The Mirage — there's live music, 150 fire shooters, and even a 54-foot waterfall into a fiery lagoon
4. Catch a glimpse of organized crime at the Mob Museum, a history museum dedicated to teaching the public about law enforcement with 4 floors of artifacts, videos, and interactive exhibits
5. Go window shopping at the Forum Shops at Caesars, a Roman-themed shopping area with more than 160 upscale shops, plus art galleries, renowned restaurants, and lots of Italian influence (don't forget to look up at the ceiling — you'll feel like you're outside!)
6. Take a picture with the iconic "Welcome to Las Vegas" sign — an absolute must for any first-time visitor to Las Vegas (just be prepared — it gets crowded over here!)
7. Go wild at a Las Vegas pool party dayclub with hundreds of your best friends from March through October (check out Encore Beach Club, DAYLIGHT, and Wet Republic)
8. Walk through the Bellagio Conservatory & Botanical Gardens, a showcase of the most beautiful floral artwork changing every season (plant lovers — be sure to add this to your Las Vegas bucket list!)
9. Take a photo of the magnificent flower glass ceiling hovering over your head in the lobby of the Bellagio with over 2,000 blooms, created by no other than Dale Chihuly himself 
10. Stuff yourself silly at a Vegas buffet, one of the most iconic things to do in Vegas besides gamble (check out The Buffet at Wynn Las Vegas, Bacchanal Buffet at Caesars Palace, and/or The Wicked Spoon at the Cosmo)
11. Party all night at some of the worlds best nightclubs with big-name DJs, crazy strobe lights, and a vibrant ambiance (check out Omnia in Caesars Palace, Hakkasan, XS, and Hyde at the Bellagio)
12. Put on your Carry Bradshaw boots and walk across the "Brooklyn Bridge" at New York, New York, a replica of the real thing (although understandably not as grand)
13. Blow all your money and live like a baller for a night (or two, or three) at the Nobu Villa penthouse in the Nobu Hotel (by far the most expensive in all of Vegas at $35,000 a night — and something I'll most definitely never cross off my Las Vegas bucket list unless I win big at the casino!)
14. Sip on supersize yardstick drinks while walking down the street (yes, it's legal here!), which can be as tall as 2-3 feet high! 
15. Pretend you're in Paris and go up the Eiffel Tower for glittering views of the Las Vegas Strip (you can even eat high-class French Classic cuisine at the restaurant on the 11th floor) — while you're over here, don't miss the replica of the Arc de Triomphe 
16. Take in the skyline of New York, NY, with a ⅓ scale Statue of Liberty, Empire State Building, Brooklyn Bridge, Chrysler Building, and lots of squeezed-together skyscrapers — which kinda looks like a souvenir pop-up postcard
17. Pretend you're in Venice for the afternoon and immerse yourself in Italian culture, listen to opera performers, and hang out at St. Mark's Square at the Grand Canal Shoppes in The Venetian
18. Check out the indoor tropical rainforest at the Mirage, filled with a sweeping waterfall, tranquil lagoons, and lots of exotic blossoms, all underneath a 100-foot high dome right near the front entrance
Fun, Kitschy Activities to Add to Your Las Vegas Bucket List
19. Say cheese next to a million dollars (yes, all real money!) at Binion's Casino with those vintage Vegas vibes, then go gamble at some cheap tables
20. Say hello to your favorite celebrities at Madame Tussaud's wax museum, known for their life-size wax replicas, like the Blue Man Group, Madonna, Frank Sinatra, the Notorious B.I.G., and Beyonce!
21. Head over to the Interactive Marvel Avengers S.T.A.T.I.O.N., an interactive exhibit with original props and equipment — they've even got Captain America's uniform and shield! (Treasure Island)
22. Be a crime scene investigator for a few hours and solve a triple murder at CSI: The Experience (MGM Grand) — a Las Vegas bucket list must for anyone who loves the TV series!
23. Spend a few hours at Meow Wolf Omega Mart at AREA15, an immersive entertainment and events complex with more than 50 visual and musical artist pieces in a whopping 52,000 square feet
24. Get your fill of video games, sports, and redemption games at the Fun Dungeon, an arcade with skee ball and even 4D movies (Excalibur)
25. Explore the old town on a Fremont Street Experience and Walking Tour; go zip lining — super man style, take your photo with the million dollars at Binions, and get some carnival food, like a chocolate covered banana with peanuts (even more delicious at 2 in the morning, but acceptable any time of day).
26. Bring Black Rock City's "Playa" to you and see some Burning Man sculptures at Art Island within Area15, a new art and entertainment complex 
27. Stroll around Container Park (an open-air shopping mall) and nosh on some snacks like award winning beef jerky and signature Hong Kong waffles
28. Throw on your stretchy pants and eat one of everything at Hershey's Chocolate World in New York, New York (you can even get personalized candy bars!)
29. Sip a boozy slushie (like a Pina Colada Freeze, Mango Brisk, and Baja Blast) at the two-story Taco Bell Cantina — perfect after a night out of partying (crazy how Taco Bell made it on this Las Vegas bucket list, haha!)
30. Pick out your favorite color of candy at the 4-story M&M'S World; they've got dozens of flavors and colors all presented nicely against the sweetest chocolate wall 
31. Play a giant over-sized game of beer pong or Jenga at Gold Spike's Backyard, with tons of interactive games, music, and a carnival-themed bar in Downtown Las Vegas
32. Sip on weird international coke flavors (like Stoney Tangawizi from Tanzania and Kist Strawberry from Panama) on a "Taste of the World" soda tasting at the Coca-Cola Store — there's even ice cream in some of them!
33. Play at the Pinball Hall of Fame Museum on some super rare machines, some even dating back from the 40s (one of the best things to do in Vegas besides gamble for anyone who loves old-school pinball!)
34. Bet on mechanical horses and play a vintage game of Sigma Derby at The D (the only spot left for it in Las Vegas!)
35. Check out the 250+ artifacts recovered from the Titanic shipwreck at Titanic: The Artifact Exhibition in the Luxor Hotel (a Las Vegas bucket list must for any Titanic lover!) 
Active Experiences in Las Vegas
36. See all the glitz and glam from above on a helicopter ride above the strip, complete with a champagne toast (best at night when all the lights are twinkling). Still on my Las Vegas bucket list!
37. Feel the wind in your hair (and cheeks!) while indoor sky diving — the winds go up to 120 mph, mimicking the real sensation. That's me in the photo below! Definitely an experience to remember.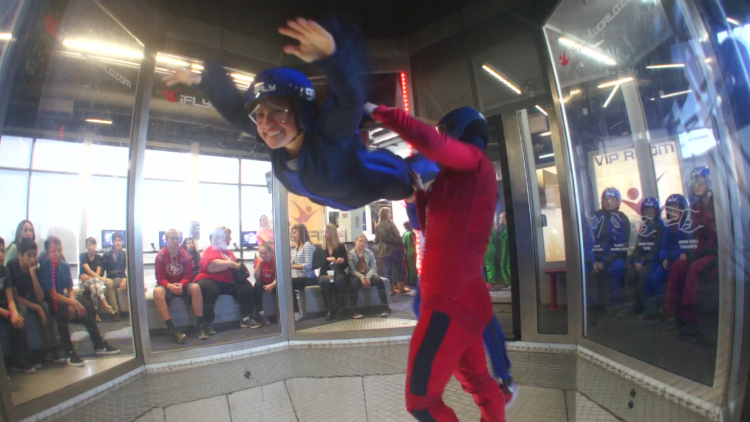 38. Drive a fancy-schmancy exotic sports car costing hundreds of thousands of dollars on a racetrack at Exotics Racing.  Ferrari, Lamborghini, Porsche, or McLaren anyone? One of the best things to do in Vegas besides gamble for those who love cars!
39. Try your hand at operating bulldozers and excavators in the only heavy equipment playground in America at Dig This, a giant sandbox for grown-ups
40. Float among the clouds on a sunrise hot air balloon ride at 10,000 feet with champagne in hand with 360° views of the Pahrump valley and mountains 
41. Test out your swing at the swanky Topgolf high-tech driving range, complete with a buzzy lounge and lots of drinks with views of the Las Vegas strip
42. Hop on the boogie boards at FlowRider, Las Vegas' first-ever surf simulator (Planet Hollywood)
Foodie Hot Spots for your Vegas Bucket List
43. Order a memorable meal at Top of the World, a rotating restaurant on the 106th floor of Stratosphere Tower at The STRAT Hotel with 360° views of the entire strip (did you catch that it spins?!)
44. Dig your fork into a slice of some super-colorful rainbow cake from Carlo's Bakery, "Cake Boss" Buddy Valastro's bakery
45. Sip some over-the-top extra-indulgent CRAZYSHAKE milkshakes (and maybe a craft burger) from Black Tap (I recommend sharing — they're huge and oh so filling)
46. Order one of each from Bouchon Bakery, a Thomas Keller eatery with the best Parisian-style sweets and sandwiches (there's another location in Napa Valley, too!)
47. Head to SkinnyFATS for a "healthy meal" or a "happy meal" → they've got both!
48. Brunch it up with posh Italian dining with a picture-perfect view of those famous Bellagio fountains at Lago (Bellagio)
49. Bite into some hot chicken tenders and/or a spicy chicken sandwich from Hattie B's Hot Chicken — don't miss out on the mac n' cheese also! (the original's in Nashville, so you know it's good)
50. Stand on line (a long line) to grab a few of the wildly popular tacos from Tacos El Gordo, a no-frills Mexican counter joint featuring Tijuana tacos, mulas, loaded fries, and more, originating in Tijuana (I ate another location in Chula Vista just 8 miles from the border and it was by far the best tacos I ate all weekend in San Diego)
51. Dine al fresco on the patio of Spago by Wolfgang Puck at the Bellagio for views of the Bellagio fountains, Eiffel Tower, and Planet Hollywood (promise me you'll order the chocolate souffle — it's bomb!) 
52. Stop by Ethel M Chocolates (at the California Hotel) for some pecan brittle, chocolates, and toffee (you can even watch them make it!)
53. Sit on the outdoor patio and indulge in some authentic French cuisine at Mon Ami Gabi while watching the fountains across the strip
54. Grab yourself a bomb-ass chocolate hazelnut brioche, a nutella brioche, and lemon meringue at Brioche by Guy Savoy
55. Transport to London for the afternoon with some flaky fish 'n' chips from Gordon Ramsay Fish & Chips, a buzzy, British-themed counter-serve in the Linq Promenade (a Las Vegas bucket list must for anyone missing the UK!)
56. Venture off the strip for an instagram-worthy (and very classy chic) brunch at Cafe Lola (complete with roses on the walls, a snowflake chandelier, and outside swing)!
57. Head east to MRS COCO, a pure pink fantasy perfect for breakfast or brunch with your besties (don't miss a Channel-branded cappuccino and a nutella crepe — great for that IG photo)
58. Skip the line and try a few vending machine cupcakes from the Sprinkles Cupcake ATM (it's super cute and pink!)
59. Bite into a slice of NY pizza at Secret Pizza, a hidden late night spot with classic video games and a pinball machine (Cosmopolitan)
60. Grab some friends for some margaritas and tacos at Mas Por Favor Taqueria y Tequila — it's a taqueria business in the front and a tequila party in the back (make a reservation in advance though!)
61. Head to Gordon Ramsay Burger, a splashy spot/Planet Hollywood hangout for fancy burgers with fluffy buns (think wacky creations), truffle parmesan fries, and drinks in a snazzy atmosphere
62. Peel stone crabs and indulge in key lime pie from Joe's Stone Crabs, an airy, upscale-casual spot with high-end surf 'n' turf — my husband's all-time favorite! (Caesars)
63. Hang out among the crystals at The Chandelier Bar, a lounge ensconced in crystals spanning 3 floors and super posh vibes — you'll feel like you're in cocktail heaven at The Cosmo! (order the off-menu "buzz verbena flower" drink for a strange tingly sensation!)
64. Reel in an insurmountable amount of oysters, clam chowder, freshly-caught fish, scallops, and more at Oyster Bar, a longtime Las Vegas seafood favorite
65. Drink for super cheap and enjoy dollar margaritas from Casino Royale, costing just $1 or 2, depending on how many you want
66. Sip on whisky and snack on steak at The Old Homestead, Vegas' spin on this historic spot in New York
Las Vegas Bucket List Rides
67. Shoot straight up 160 feet in the air on Big Shot, spin at 3 Gs while dangling from the SkyPod on Insanity, and scream on the X-Scream roller coaster, all thrill rides at The STRAT
68. Jump your highest ever at the Sky Zone Trampoline Park, a huge complex with freestyle bouncing, dodgeball, fitness programs, and more (something silly to add to your Las Vegas bucket list!) 
69. Relax on a Gondola Ride at the Venetian, gliding under the "Rialto" bridges and alongside shops and cafes (the gondoliers even dress in the traditional attire AND sing traditional songs for you)
70. Get great views of the Las Vegas strip from 51 stories high by zooming over on the Voodoo Zipline at the Rio — you'll zip for a third of a mile! 
71. Maneuver high above the Las Vegas strip on the world's first roller coaster featuring a 180° "heartline" twist on the Big Apple Coaster at New York, NY (one of the best things to do in Vegas besides gamble if you like thrill rides!)
72. See Vegas from above on the Linq High Roller, the world's tallest observation wheel soaring a whopping 550 ft above the Strip (take part in "Happy Half Hour" if you're feeling thirsty — unlimited drinks for 30 minutes).
73. Get ready for an adrenaline rush on the Fly LINQ zipline, the only zipline on the Strip soaring 12 stories above the LINQ promenade
74. Take your pick of entertainment at The Adventuredome Indoor Theme Park in Circus Circus, a dome-covered thrill park with tons of rides, arcade games, midway games, and even mini golf! It's huge — over 5 acres (don't miss El Loco and Fright Dome)!
75. Fly above Fremont Street on the SlotZilla Zipline — there's even 2 levels to choose from (go for the Zip-Zilla Zipline if you wanna stay in a seated position, and opt for the Zoomline if you wanna ride "superhero-style")!
Animal Experiences to Add to Your Las Vegas Bucket List
76. Slide through a 200,000 gallon shark tank (with real life sharks and fish) on a one-of-a-kind waterslide at The Golden Nugget in the heart of Fremont Street — it'll feel like you're actually swimming with the sharks!
77. Stand in a glass dome and see more than 2,000 animals, including sharks, giant rays, endangered green sea turtles, and even piranha at the Shark Reef Aquarium at Mandalay Bay.  Don't forget to head to the Shark Tunnel!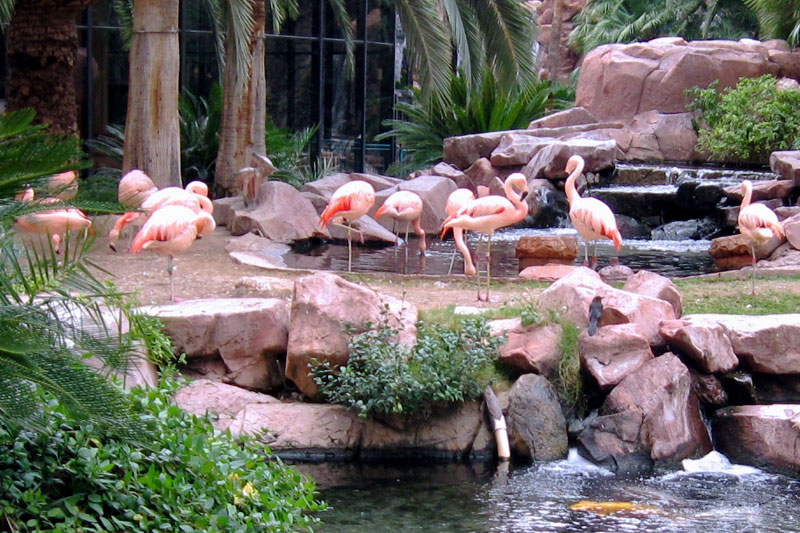 78. Wander the pretty pink lush grounds of the The Flamingo Hotel, stopping to check out the Flamingo Wildlife Habitat where you'll see tons of live flamingos! One of the first things I ever crossed off my Las Vegas bucket list (when I was about 7!).
79. See exotic jungle cats and playful bottlenose dolphins at Siegfried & Roy's Secret Garden and Dolphin Habitat, a zoolike animal sanctuary at The Mirage (the animals all look well taken care of thankfully)
Shows to Add to Your Las Vegas Bucket List
80. Go back in time at the Tournament of Kings, a medieval-themed dinner show at the Excalibur (you'll even need to eat with your hands!)
81. Watch wild acrobatics in sync with all your favorite Beatles songs at Beatles Love at The Mirage, still on my Las Vegas bucket list 
82. Gather up your girlfriends and swoon during Magic Mike Live & Chippendales, two sexy and risque modern strip shows (easily one of the best things to do in Vegas besides gamble if you're visiting for a bachelorette party!)
83. Wake up your senses while watching the Blue Man Group, a super high-energy show with lots of comical musical acts — and yes, the entire cast is painted blue (one of my favorite things to do in Vegas besides gamble!)
84. Head to Sin City to check out some concert residencies (we've seen The Backstreet Boys and will be seeing Usher soon, although I'm still furious I never made it over to Vegas for Britney!)
85. Take your pick of Cirque du Soleil shows (kinda synonymous to LV!) — there's Mystere at Treasure Island, KA at MGM, and "O" at Bellagio (just some shows you need to put on your Vegas bucket list)
86. Watch a performance you've never seen before at Zombie Burlesque, and yes, it's exactly how it sounds — a zany, zombie-themed musical burlesque show in Planet Hollywood
87. Check out Absinthe, a raunchy and rowdy mix between adult humor, cabaret, and acrobatics — it's even been named the #1 greatest show in Las Vegas history!
88. Immerse yourself in thousands of LED lights and a colorful fantasy landscape at Lake Of Dreams in the Wynn, a lakeside dinner extravaganza with a singing frog and a waterfall performance 
Day Trips to Add to your Las Vegas Bucket List
89. Marvel at the man-made wonder of the Hoover Dam taming the Colorado River, and then take a boat ride on Lake Mead to see it from a completely different angle! History buffs will love taking a tour of the depression-era engineering!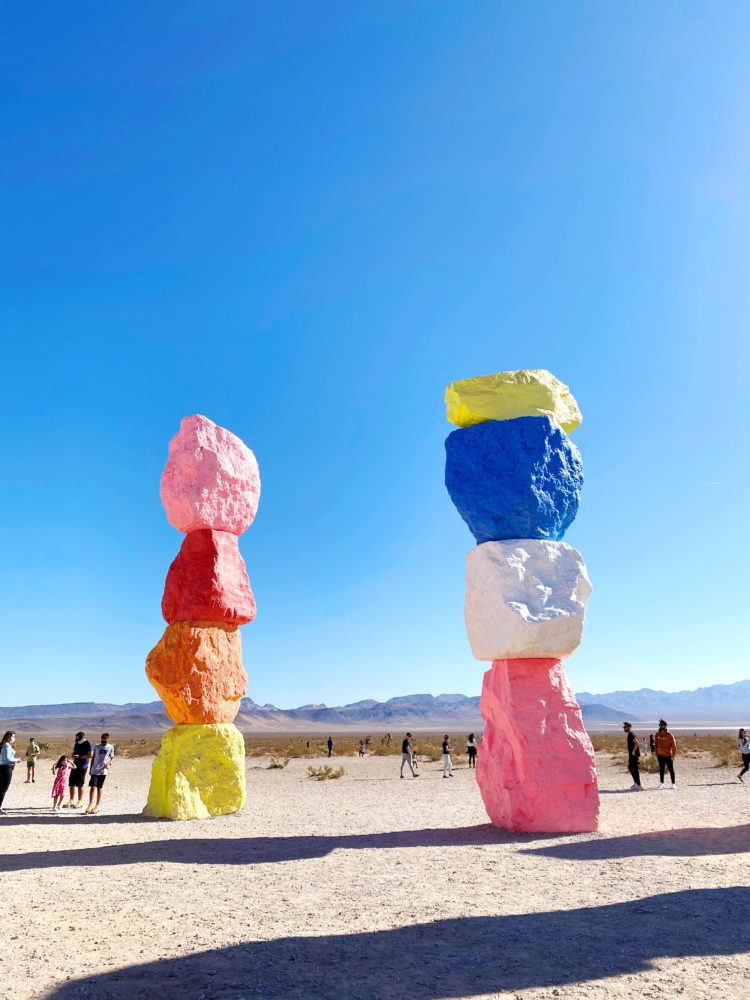 90. Drive deep into the desert to see the colorful Seven Magic Mountains, a desert art installation featuring 7 painted boulder totems up to 35 feet high (one of the best things to do in Vegas besides gamble for modern art lovers!)
91. Make your way to the Grand Canyon South Rim for an afternoon full of the spectacular Southwest Desert (don't miss Mather Point and Bright Angel Visitors Center)
92. Go bird watching and set up a picnic at Clark County Wetlands Park, a nature preserve a few miles from the Strip with a 45,000 square foot nature center!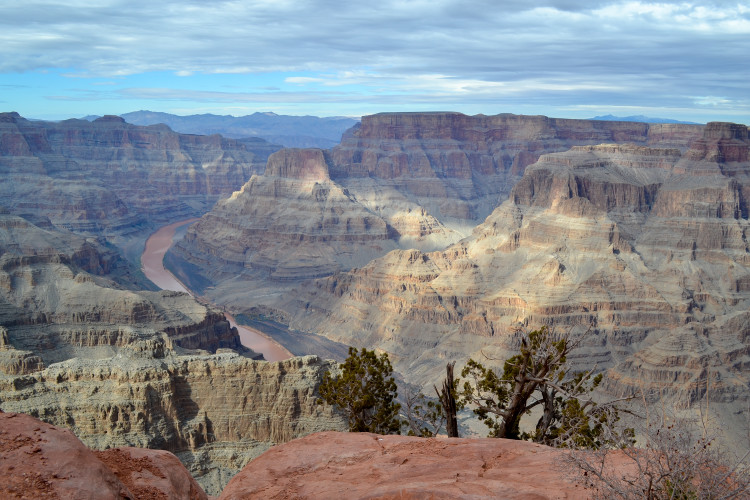 93. Gaze down below into the Grand Canyon from the West Rim, and don't miss out on the SkyWalk (a glass bridge with tons of scenic views) and Eagle Point Vista (my favorite) —  you can even take a helicopter ride over the Grand Canyon (still on my Vegas bucket list!) 
94. Soar from the top of a desert mountain while you zipline over Las Vegas, Lake Mead, and the Eldorado Valley at Bootleg Canyon (there's also mountain biking available too!)
95. Put on your hiking boots and head to Mary Jane Falls, you'll just have to climb almost 1,100 strenuous feet in 1.6 miles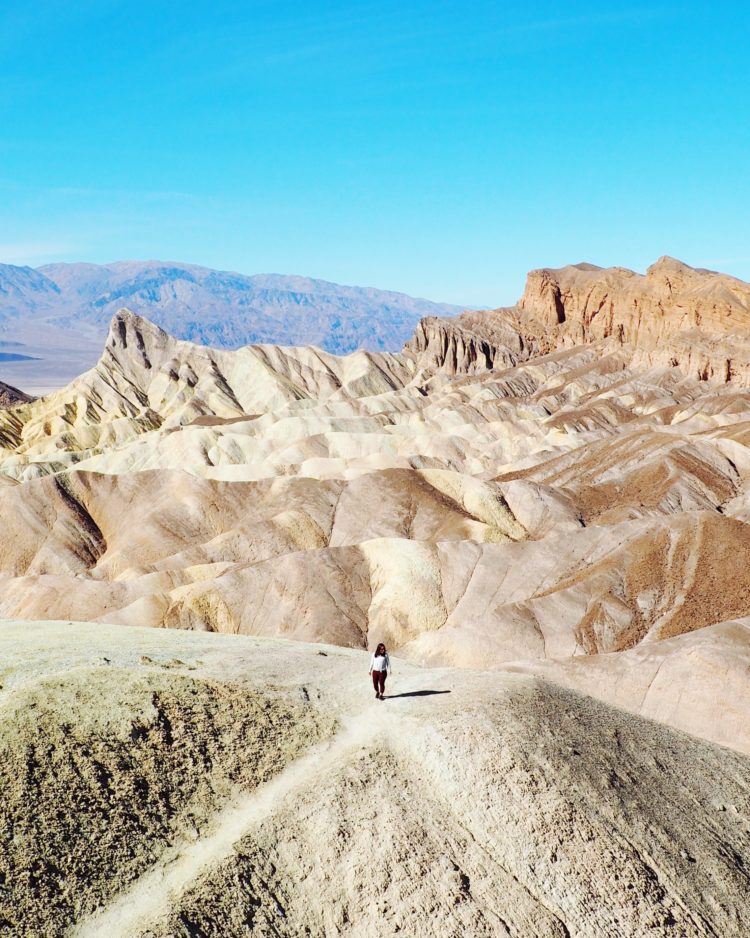 96. Drive into the desert to see Zabriskie Point, Badwater Basin Salt Flats, and Mesquite Sand Dunes on a day trip to Death Valley National Park (just avoid the sweltering summer months!)
97. See dinosaur tracks, petroglyphs, and tons of red Aztec Sandstone in the Mojave Desert at Red Rock Canyon (there's even the elusive Joshua Tree over here!)
98. Go kayaking on the Colorado River, where you can explore caves, spot wildlife, and sunbathe at a beach (you'll even see the magnificent Hoover Dam)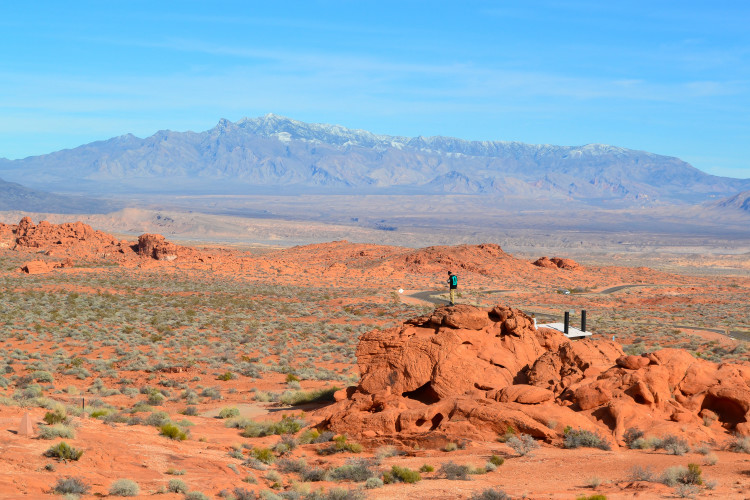 99. Gaze at fiery red sandstone rocks at Nevada's oldest and largest state park, Valley of Fire — there's a bunch of petroglyphs, a "beehive", mini fire wave, and even an elephant-shaped rock (a must for everyone's Vegas bucket list!)
100. Travel along parts of America's most famous Highway, the Historic Route 66
101. Be wowed at some natural wonders — both Antelope Canyon, the most famous and visited slot canyon in the world, and Horseshoe Bend, a famed incisor-shaped bend in the Colorado River, are absolutely spectacular
102. Kayak to the Emerald Caves, a grotto-style cave with pristine green colored waters, after a paddle on the Colorado River, then go for a scenic hike 
103. Go on a tranquil paddle at twilight on the majestic Black Canyon, and then warm up by a bonfire with classic campfire snacks (s'mores, anyone?!
104. Explore two of Utah's most spectacular national parks — attempt angels landing in Zion and hike under the hoodoos at Bryce (best done on two separate days or on a day trip with a tour company!)
105. Visit the world's most top secret military facility on a full-day tour to Area 51, complete with an airline that doesn't exist, a drive along the "Extraterrestrial Highway", and a meeting place for UFO enthusiasts
Are you headed to Sin City soon?! What's on your Las Vegas bucket list?