Looking for the best Barcelona day trips?! You're in the right place! You'll find some awesome places to visit near Barcelona, from hills and vineyards to beaches and cute towns.
Barcelona is one of the most effortlessly beautiful and relaxing cities in the world. And the day trips from Barcelona?!  TOP NOTCH.
Perched between the ocean and the mountains, you can easily explore the best of both worlds. Barcelona is in the Catalunya province of Spain. Along Catalunya's coastline you can find medieval towns, each more scenic than the last; up Catalunya's green hills, you can not only find vineyards producing delicious wine nurtured in the Mediterranean climate, but also ancient monasteries. When you visit Barcelona, be sure to set aside a couple days to explore everything else Catalunya has to offer!
I had the pleasure of visiting this Spanish city last summer during my few months in Europe, but couldn't squeeze in time for any day trips from Barcelona!  I've asked my friend Tendelle from Travel à la Tendelle, who actually moved to Barcelona from NYC (!!!), to give us a breakdown of the best day trips from Barcelona! Enjoy!
Find information on some of the best day trips from Barcelona below the pre-travel guide!
[divider style="thin" title="" text_align=""]
Barcelona Pre-Travel Guide

When to go
Barcelona is gorgeous year-round. It has very little annual rainfall, with the large majority of days being sunny. That being said, the winters do get too cold for the beach, and the summers can be extremely hot. Furthermore, the summertime is prime tourist season for Barcelona, and the city can become unbearably crowded. Therefore, I would recommend going in the spring (April or May) or early fall (September or October).
What to pack
In most of the year you can arrive with summer clothes, but in the winter you do need a solid jacket. You should bring a secure bag for money as unfortunately, pickpocketing does happen here. And most importantly, an effective bottle of sunscreen to protect yourself from those UV rays at all times of the year!
Hotels to stay
My preferred areas to stay in Barcelona are the L'Eixample or Sant Antoni districts. These are very well-connected districts, with great restaurant options that locals go to.   Some great options include: Hotel Omm (5 Star), Room Mate Anna Hotel (4 Star), and Hotel Europark (3 Star).  EDITORS NOTE: I stayed at the H10 Art Gallery Hotel last summer for a few nights and we absolutely swooned over the hotel and loved the location! I'd stay there again in a heartbeat!
I would strongly recommend against staying in the City Center, which is too packed with tourists.
Getting around
Getting around Barcelona city proper is easy and cheap. With the metro, you can get anywhere within the city (and even some towns outside of the city like Hospitalet and Badalona). For travel within the city, buy the T-10 metro card, which gets you 10 trips for around 10 euros (significantly cheaper than the single journey card). To travel outside of the city, you can use the Renfe train system. The main Renfe train stations are Passeig de Gràcia, Estació de França, Clot, and Barcelona Sants. Trains here can take you to towns all along the coastline and inland. There are also buses leaving from Estació Nord, which take you up Costa Brava.
WIFI AND STAYING CONNECTED
Although you will most likely have wifi at your accommodation, it's a good idea to bring along a pocket-sized personal WiFi hotspot, to keep you connected during your time in Spain. WiFi hotspots are a cost effective option to ensure you can use GPS apps like Google Maps, check your emails, and catch up with friends and family while away. With this portable device, you'll have WiFi wherever you go (even if your phone doesn't have service), unlimited internet (on up to five devices at a time – meaning you can share with friends/family!!!), and it's fast and reliable. At less than $9 a day, this device can't really be beat.
Note that some cell phone plans allow for international use, but many of these are costly. I once accidentally turned on my phone service for LESS THAN 2 MINUTES and got charged $150 by my phone carrier! I desperately wished I had a personal WiFi hotspot with me then!
Find more information and plan options here. HIGHLY RECOMMENDED especially when you don't speak the native language of the country you're going.
[divider style="bold" title="" text_align=""]
Day Trips from Barcelona
editors note: Although all of these day trips from Barcelona are not too far away, they feel, look, and overall smell just so different from the city!  If you're like me and don't like to waste precious time figuring out your own transportation to and from these destinations form Barcelona, I highly recommend you book yourself on a tour or two.  It makes a world of a difference, especially to transport-lacking skilled people like myself!  Lots of different options below!
Montserrat
Montserrat is a jagged mountain with a truly breathtaking landscape. To add to the mystical feeling of the setting, a monastery was built on top of the mountain (Editors Note: looks and sounds a bit like Meteora in Greece if you ask me!). It's an important stop for pilgrims all around the world. They come to the monastery to behold the black Madonna, which is also the official patron of Catalunya.
Those that like hiking can also experience the trails of Montserrat, which range from a 2 hour climb to full-day trips. At the peak of Sant Jeroni, you can get an amazing 360 degree view of the snow-capped Pyrenees mountain to the north and the Mediterranean Sea to the south.
Options:
To get to Montserrat, take a train from Espanya station. The journey takes around an hour. There are also several cable car and funicular choices on Montserrat for you to travel further up the mountain.
Book a day tour from Barcelona to take care of transport and other included activities for you.  A few I recommend include:
Sitges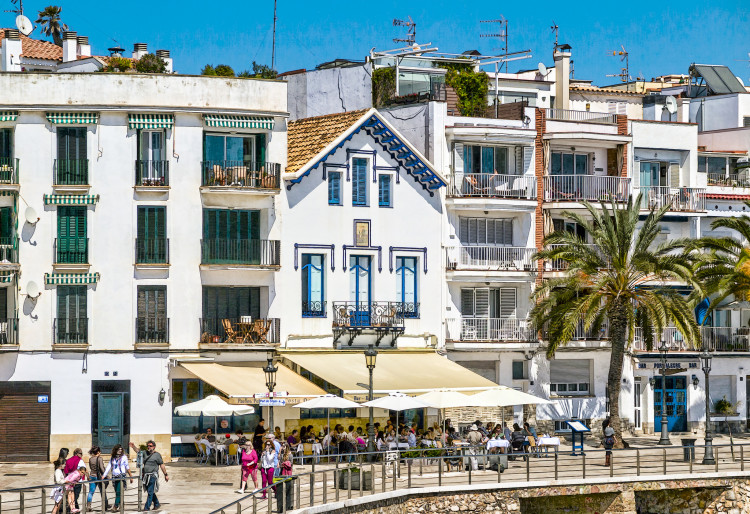 Sitges is a lively beach town south of Barcelona. Not only is it famous for its bustling beaches and quaint architecture, it is also known as the gay capital of Europe! If you're looking for a day off from Barcelona to visit the beaches, practice water sports, and enjoy some nightlife, Sitges is a great choice. Another good time to visit Sitges is during carnival around February, where residents put on elaborate carnival parades around the town.
Options:
Sitges is only a 30-minute train ride from Barcelona Sants station and a wonderful, easy day trip from Barcelona.
Recommended Tours:
Catalunya's Vineyards
Did you know that Catalunya is a prominent producer of wine as well? Besides reds and whites, Catalunya also produces Cava, which is a sparkling wine that rivals Champagne produced in France. Cava is smoother to drink and more economical, too. Some great wine countries to visit in Catalunya are Penedes, Priorat, and Alella.  Definitely one of the best day trips from Barcelona if you're looking to taste some wine!
Options:
Alella is less than an hour away from Barcelona by train and bus. From Alella, not only can you taste great wine and learn the process of wine production, you also get phenomenal views of the Mediterranean Sea. Alta Alella and Bouquet d'Alella are both wonderful wineries that offer wine tastings, tours, and even vineyard picnics at a very affordable price.
Recommended Tours:
Girona
Many people think of Girona as the place that cheap Ryanair flights fly out from. But it's so much more than that. Girona, like many other Catalan towns, is a medieval city. However, what sets it apart is that its city walls are all still intact, and you can actually walk all around the city on its medieval walls… Amazing! The view of the city from outside its moat is also picture-perfect. Besides the architecture, Girona is also one of the best gastronomic cities in the world. The Celler de Can Roca has been voted year after year as the world's best restaurant. If you wish to go, you'd have to make reservations 11-months in advance – if you're lucky. One of the best day trips from Barcelona in my opinion! Just look at that photo!
Options:
To reach Girona, take a 1.5 hour bus ride from Barcelona's Estacio de Nord.
Recommended Tours:
Cadaqués
Cadaqués is slightly further away from Barcelona, all the way up Costa Brava and close to France. However, it's well worth the day trip from Barcelona for art fanatics as well as anyone that wants to explore hidden side of Catalan's coastline. Tucked away in a bay, Cadaqués is a sleepy fishing village with all-white architecture. It was once frequented by artists like Picasso and Miró who declared it the most beautiful village in the world. The world-renowned Spanish Surrealist artist Salvador Dali had a house and studio in Cadaqués, which is now a museum dedicated to him.
Options:
The best way to visit Cadaqués is by car, although if you're like me and don't love the idea of car rentals in other countries, nows your time to get booked on a tour. 🙂
Recommended Tours:
There you have it, the top day trips from Barcelona! Be sure to spend a couple days outside of Barcelona and explore the more peaceful side of Catalan life.
What are your favorite day trips from Barcelona?
Images via: Sagrada | Montserrat | Sitges | Alella | Girona | Cadaqués
Please note that A Passion and A Passport is part of affiliate programs and may receive a small commission (at no extra cost to you).
[divider style="bold" title="" text_align=""]
TRAVELING TO SPAIN SOON?
Don't forget travel insurance! I'm a big fan of World Nomads when traveling abroad. Be sure to protect yourself from possible injury and theft before it happens. Learn more and Sign up here.