Headed across the pond and looking for the best London photo spots? I've got you covered with the most instagrammable places in London! From wacky art-filled streets and colorful, photogenic markets, to grandiose architecture and dining in the sky (yup!), the city has no shortage of impressive views to photograph.
This list of London instagram spots will have any photographer (or wanna-be photographer) swooning in delight. Trust me – there are more instagram worthy places in London than you can count (or visit for that matter).
This metropolitan city is one of those places that are just so diverse, exciting, and capturing in every single way possible – it leaves you wanting more, more, and more. And ohhhh, the food… drool.
On my last visit to London, I couldn't wait to get out and shoot – but the weather hardly cooperated and I'm a big baby about walking in the rain. This is London, afterall – I should have been better prepared.
Thankfully, I've enlisted Christin from Somewhere in the World (a true London expert), to share with us the best London instagram spots for my next visit (and yours, too!). I mean, she even leaves the u in colour, so you know she's legit. :p
View this post on Instagram
The following London photo spots are by no means an extensive list, but should give you a great little mixture of photo-worthy buildings, iconic landmarks, busy streets, delectable interiors, and green spots within the city.
It takes you from the posh West, over the alternative North West through to the buzzing Central and edgy East, all the way to the hip South of London. See, I told you this list of instagrammable places in London is pretty comprehensive. You've got Christin to thank for thank!
Have fun, and don't leave without hitting all (if not most) of these London instagram spots!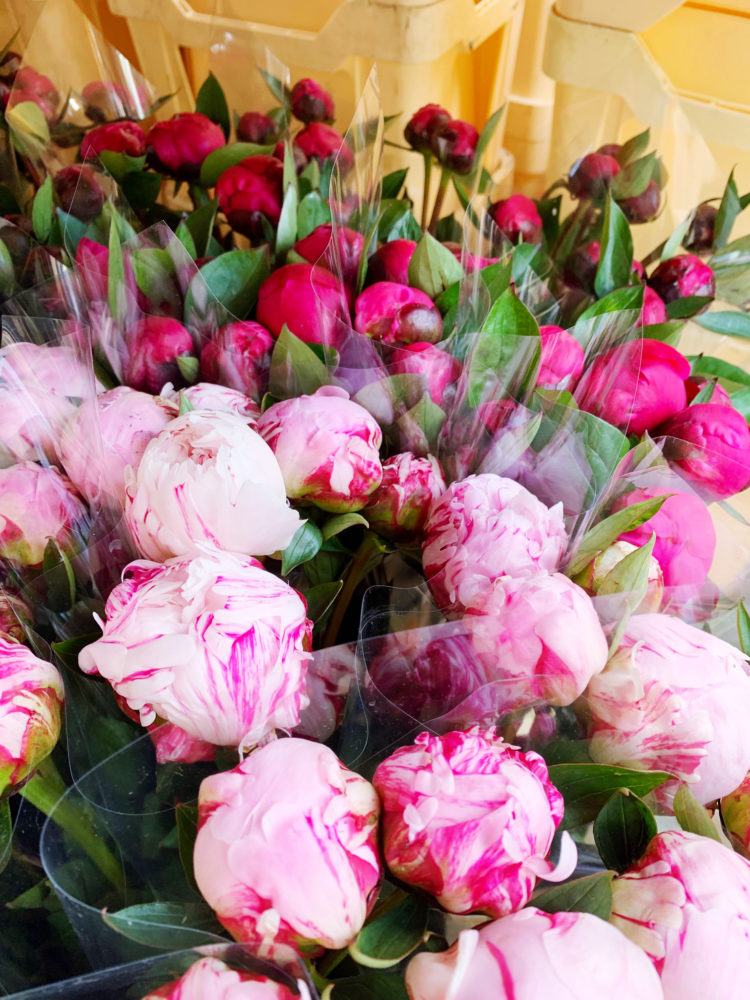 Now, let's get to it! Here are 30+ London photo spots you can't miss! I've broken down the list by geographical area, to make it easier to combine a bunch of spots and see (and shoot) just as much as you possibly can.
Most Instagrammable Places in West London
1. Notting Hill: Yes, it's a neighborhood and not a specific London instagram spot like the others on this list, but if you go for a quick wander, you'll find oh so many of the best instagrammable places in London within a few blocks. I PROMISE.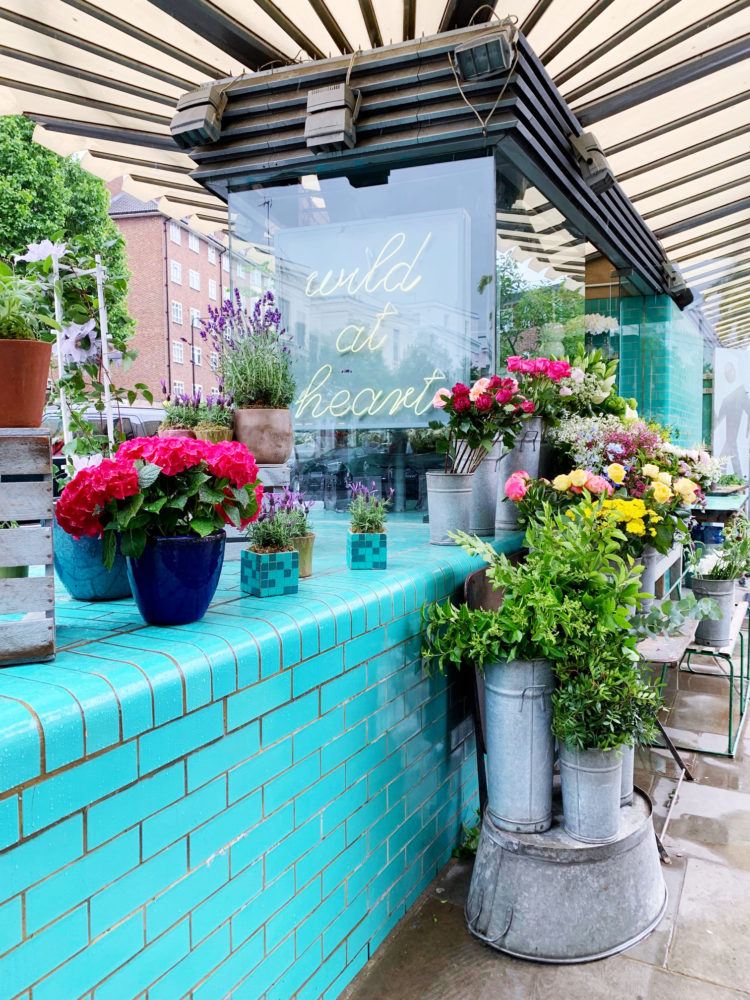 This whole area is full of coloured houses – think of Lancaster Road for an insta-famous purple facade; Denbigh Terrace & Westbourne Park Road for pastel-coloured homes, and The Laslett Hotel for a stunning black and white chromatic photo op.
Make sure to stroll the length of Portobello Road and meander down its side streets so you don't miss some of the most instagram worthy places in London. You'll thank me later.
2. Portobello Road Market: Notting Hill is not only one of the most iconic places in London, but it's also home to one of Europe's largest street markets. Although the market runs all week, you'll want to head there on a Saturday to experience the market in full swing, browse the vintage shops and watch street artists perform.
Expect to find lots of antiques, food products, and second-hand clothing. However, if you're looking to take a photo without all the crowds, consider coming another day.
View this post on Instagram
3. Sugaring London: Haha, yes, this is technically a hair removal shop, but they have the cutest wall of succulents I've ever seen. You can't miss the building – it's perfectly pastel-pink.
If you go in and ask the shop owners nicely for a photo, they'll probably say yes. Just be sure to tag them on social media, as requested. 🙂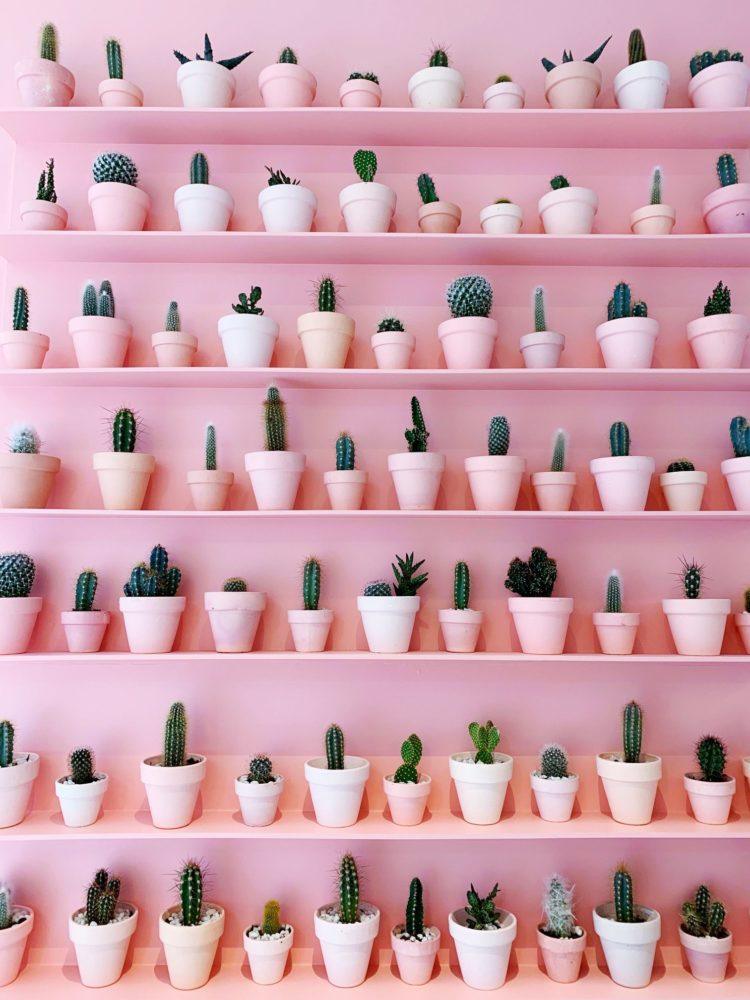 4. Farm Girl Notting Hill: You'll swoon as soon as you step into this bright and stylish Aussie cafe located right on Portobello Road. Not many restaurants make the list of most instagrammable places in London, but with it's tiled walls, photogenic smoothies, Aussie inspired backdrop, and rose infused lattes, I think it just makes sense to include it.
View this post on Instagram
Grab some brunch while you're here – I've heard the house granola bowl is superb (as are the coconut and lime loaf and raspberry croissant) and the hot drinks come with dried flowers.
5. Biscuiteers Boutique: Three words: beautifully brilliant biscuits. With it's black and white exterior, you won't miss this icing cafe while walking down Kensington Park Road.
Not only do they sell the most delectable biscuits, cupcakes, macarons, and drinks, but you can also pop in for a 2 hour class to learn how to ice your biscuit!
View this post on Instagram
6. St. Lukes Mews: Any 'Love Actually' fans in the house? Head on over to St. Lukes Mews for one of the best instagram spots in London! It's not hard to find the pink house that was featured in the movie over here.
View this post on Instagram
7. Natural History Museum: A museum that deserves a mention in this London photography spots itinerary, and general city guide for that matter, is the National History Museum. The main draw is their extraordinary 25-meter blue whale skeleton.
Try to get there on the last Friday of the month to experience one of the late-night events. Very nice to see the place in a literally different light.
View this post on Instagram
8. Kensington Palace and Gardens: To get some proper royal photos, head to Kensington Palace and Garden in Hyde Park. The residence of the Duke and Duchess of Cambridge is open to the public in certain areas.
Explore the King's State Apartment and get the iconic shot of the palace from the gardens outside. Once there, include a stroll through the surrounding Kensington gardens.
9. Kynance Mews/Cornwall Mews: Sure, there are many famous streets in London, but almost nothing beats exploring those typical, cute cobbled lanes, named 'mews'.
Kynance Mews (previously known as Cornwall Mews) in Kensington is a prime example of a gorgeous mews, dating back to the 19th century. The quietness of the place along with that special vintage feel makes it a great stop for getting some London-typical shots.
View this post on Instagram
10. Ensor Mews: In the middle of the city, yet tucked away. Ensor Mews with its characteristically coloured garage doors, cobbled street and Victorian charm is a lesser known photography spot that you should not miss!
11. Italian Gardens in Hyde Park: We all know that no visit to London would be complete without a walk through Hyde Park. The Serpentine lake is a beautiful place to see the swans and take one of the pedal boats for a ride.
However, one particularly photogenic spot everybody should visit is the Italian Gardens near Lancaster Gate. This ornamental garden was created in the 1860's and consists of four basins, marble statues and served as a film location in Bridget Jones.
View this post on Instagram
BONUS London Photo Spot – Marble Arch in Hyde Park: Located on the northeast corner of Hyde Park, there's no way you can miss this white marble landmark if you're in the area. And fun fact – it was even designed as a state entrance to Buckingham Palace, but was relocated over here instead!
View this post on Instagram
12. Little Venice: When getting off at Paddington Station, take the 'Exit Grand Union Canal' and walk along the canal towards Little Venice. You might see the Darcie & May Green, two floating pieces of art. The popping colours will make this one of the most unique & unusual London photography spots!
Continue towards the basin & take some photos from the bridge – the views are very romantic! Once there, join a river cruise or head to The Waterway, a gastropub with a lovely outdoor terrace – ideal for some drinks.
View this post on Instagram
Photo Spots in North West London
13. Camden Market: The walk along Regent's Canal towards Camden Market is one of the nicest city walks. It starts in Little Venice, ends in the Docklands and bypasses parts of Regent's Park and the ZSL Zoo. It's one of those hidden places which gives you another perspective of the city, as well as some time away from the hustle and bustle.
View this post on Instagram
If you keep following the canal till Camden Town, the whole walk would take you a leisurely 60 minutes.
The famous Camden Market is not only one of the best things you can do on a Sunday, but it's also a great photography location of a historically rich area. It's a street photography paradise, not only of the 1000 market stalls but also of interesting food creations (hello raw cookie dough!) and people.
Just before you reach Camden Market you will see the Camden Lock, another authentic place for photos and one of London's best instagram spots. You usually don't have to wait too long until one boat wants to pass through – it's quite an interesting thing to watch!
View this post on Instagram
Food Tip: Try Haché Burger Camden for their gourmet burgers. There is a table for two at the back, next to a wall. Once seated you might notice a gold plate on the table, saying that this used to be the favourite spot of Amy Winehouse to sit on.
14. Primrose Hill: On a nice summer day you will see tons of people chilling on the grass, playing with their doggies or going for a run. The walk up can be a bit steep (depending on who you ask) but is so so worth it!
It's one of those great 360-degree views of the London skyline, ranging all the way from the 'Walkie Talkie' building (or 20 Fenchurch), to The Shard and the London Eye. Also – if you want to save it for later – the views at night are just as good.
View this post on Instagram
From up there you can continue along Regent's Park Rd towards Camden Market. I'd urge you to stop by The Little One Coffee Shop. They got outstanding coffee, cabinet food and by far the best Brazilian Pão de Queijo (naturally gluten-free cheese bread). Just go, you can thank me later!
Instagram worthy places in East London
15. St. Pauls Cathedral: One of London's best-known landmarks, you can get an iconic shot of St. Paul's Cathedral from the Millennium Bridge. For something more unique, head to the entrance of "One New Change" (a nearby retail space) to create a contrast between modern (the glass wall) and baroque.
View this post on Instagram
16. Columbia Road Flower Market: A true heaven for plant lovers, and one of my favorites on this list of instagrammable places in London! Columbia Road Flower Market is a great choice for a Sunday morning.
It not only serves as a cool location to take photos with some exotic plants but also as a place to people watch, snack through Italian delis, and browse vintage shops. Be sure to bring a cute tote to store all your purchases in!
View this post on Instagram
17. Brick Lane: One of the best London photography spots can be found in Shoreditch. Full of cool warehouses, colorful street-art, lofts-turned-fitness-studio, designer boutiques, and quirky vintage stores – it has it all.
If you come on a Sunday you should head to Brick Lane to soak in all the good market vibes, try international dishes at the Truman Brewery & shop some unique clothes, jewelry or art.
There is always a new piece of street art popping up, so the best advice is to just explore, venture off into some of the side streets and you're sure to find a great photo backdrop!
Once you are there, make sure to go all the way up towards Bethnal Green Road to stop at the one and only bagel place you ever need to know in town – Beigel Bake. It's by far the best place to get a traditional Jewish-style bagel at any time of the day. Get the salt-beef bagel; you won't regret it. Psst – they only take cash.
For all food photography lovers – this is a must and well worth queuing for. For the best coffee head over to Nude Espresso for some house-roasted coffee.
18. Bōkan: Canary Wharf is very much centred on business people (a sort of 2nd CBD) but there is an array of very nice restaurants and walkways around the rivers. One place, in particular, is worthwhile checking out – it's the award-winning sky-level restaurant & bar Bōkan.
It stretches over 3 levels with the rooftop being on the 40th floor, revealing some of London's best views. An ideal place for some after-work drinks & nibbles, and most definitely one of the most instagrammable places in London, that's for sure!
View this post on Instagram
19. Sky Garden: London's highest public garden, the towering Sky Garden on the 43rd floor of the Walkie Talkie building, makes a unique photo location.
For once, it lets you caption superb panoramic views of the city and secondly, the lush greenery in conjunction with the all-embracing sheets of glass make quite a special photo background.
View this post on Instagram
20. Leadenhall Market: What used to be a meat game market, is now one of the most instagrammable places in London. Dating back to the 14th century, the ornate Leadenhall Market served as the setting for the Leaky Cauldron and the Diagon Alley in the Harry Potter films.
Make sure to visit for fabulous photos, a browse through its boutique retailers and a stop at one of their award-winning traditional pubs. 
Central London Photo Spots
21. Heron Tower: One of the best places to visit is SUSHISAMBA. Situated on the 38th & 39th floor of the Heron Tower, it rewards you with one of the best 360-degree views of the city - especially by night. It features Europe's highest outdoor dining terrace as well as a prime view of the famous Gherkin.
View this post on Instagram
On the 40th floor, you can find Duck & Waffle, a top-notch restaurant that opens 24/7, mesmerizes you with more stunning views and serves its eponymous signature dish.
22. Neal's Yard: Have your eye on a few quirky London photo spots? Once you are in the CBD the photography possibilities are endless. One super insta-famous and must-photograph place is Neal's Yard.
A truly hidden gem amidst Covent Garden's little alleys, it's easy to miss. Once you find the small entrance you're rewarded by a colourful courtyard (+ an awesome porridge focused cafe named 26 Grains).
View this post on Instagram
Beware, it's always busy over here. If you want a shot without many people, plan to go early in the morning and/or during the week as it'll likely be a bit quieter then.
23. Peggy Porschen: If you ever wanted to eat sweets from an award-winning cake designer, at Peggy Poschen you got the chance. Fancy cakes, creative confections paired with carefully selected teas and champagne, this boutique bakery guarantees those sweet insta-worthy shots!
View this post on Instagram
24. London Eye: The mighty London Eye should also not be missing on a real London photography spots itinerary. For an awesome shot that shows the whole wheel with you in front of it - head to the opposite side of the Thames!
View this post on Instagram
25. The House of Parliament & Big Ben: Beloved Big Ben might be still under construction, but the adjacent Houses of Parliament are no less photogenic. You can get quite a unique shot of them both from a little park on the opposite (London Eye) side.
26. sketch: If you are feeling fancy - don't miss out on this London instagram spot. A Michelin-starred restaurant and absolute dream in pink, sketch is one of those must-visit Instagram places.
It's featuring a magical garden, chairs wearing ballet shoes and there seems to be no end of hot pink sofas.
View this post on Instagram
27. British Museum: Being the largest covered square in Europe, this one is a photography hotspot! The Great Court within the British Museum has some seriously outstanding design going on. Have you ever seen a glass-and-steel roof like this?
View this post on Instagram
The museum is free to visit (London you're awesome!) and is a short walking distance from Holborn station. Once in the area, I'd suggest having lunch or dinner at Kimchee, a go-to place for Korean food, especially their Bibimbap.
BONUS: British Library + Kings Cross
If you're taking the train to London (from Paris, let's say), you'll most likely be arriving in St. Pancreas/Kings Cross. Look up and admire the ceiling - it's really something else.
View this post on Instagram
And a few minutes walk away is the astonishing British Library (with an impressive amount of books), so you might as well go and have a quick look. It may just be the easiest London photo spot you find yourself at!
Most Instagrammable Places in South London
28. Tower Bridge: As every city tour will probably take you to the Tower of London, you have the first great photo opportunity of Tower Bridge from there. Nevertheless, better go over the bridge and capture the iconic landmark up close!
29. Coppa Club: An instagrammable spot that's not to be missed. The famous Coppa Club offers private-dining experiences in stylish Igloos in Winter and in flowery tropical pods in Summer - all overlooking Tower Bridge. Make sure you book well in advance!
View this post on Instagram
30. Pop Brixton & Brixton Village market: If you are ready to venture off the beaten bath, board a subway with final destination Brixton. It feels like stepping into a slightly different world.
Just next to the station you can find Pop Brixton, a community project that features exciting new start-ups in design, food, clothes and is entirely made out of shipping containers!
View this post on Instagram
Adjacent to this is the Brixton Village market, where you can find any sort of Asian, South American, Carribean or African restaurants, exotic food and cool shops.
31. Frank's Cafe: What better way to end a sightseeing day than sipping on some Pimms and watching the sunset over the London skyline from a 7-story car park. Head down south to Frank's Cafe, the trendy rooftop bar that is just a must-visit.
Peckham Levels, the newest addition on the lower levels, is a multistory art space that features some eye-catching staircases that make the perfect photo background.
 

 

 

View this post on Instagram

 

 
A city that is so rapidly changing will always have some new, trendy things popping up that are worth exploring and taking pictures of. The photo opportunities in London are seemingly endless. It's up to you now to discover the city with your eyes & lense!
How To Get Around London
London can be an overwhelming place to visit and let's be honest, to live in too. To make your time even easier and enjoyable make sure to download the following free apps to your phone.
TSL Oyster app for pay-as-you-go or travel cards (or get yourself a physical Oyster card) - it saves you heaps of money!
Get the lifesaving CityMapper app! The best app to find how to get around London. It shows you up-to-the-minute information as well as alternative options on how to get from A to B.
For an active way to get around town download the Santander Cycle's app to check on bike availability & routes to the nearest docking station.
Best Time To Visit London
To London's defence, the weather is not as grey and rainy as some might say it is. Sometimes the ideal weather situation is just hard to come by. In those moments, just remember that every season can add a different touch and feel to your photos.
Either way, London's mild climate makes it ideal to visit all-year-round.
Spring runs from March to May with temperatures averaging 11° to 15°C (52 to 59°F). Bring an umbrella, as it still gets wet.
Summer is from June to August, with temperatures from 18° (64°F) up to sometimes 30°C (86°F)! It's therefore also the busiest time of year.
Autumn is from September to November, with mild temperatures around 11° to 15°C (52 to 59°F). The season is great to capture the start of the Christmas lights & decorations.
Winter is from December to February, with temperatures averaging 2° to 6°C (36 to 43°F)
Christin is a travel blogger, photographer and yogini – currently chasing kiwis in New Zealand. She has travelled to 73 countries, lived in 6 of them and enjoys sharing her extensive destination knowledge with friends & readers alike. She recently documented the NZ Spirit Resolution NYE Festival, a conscious yoga festival in Auckland, New Zealand.
When she is not planning her next adventures she is available for travel photography, writing, content creation & itinerary design services. For enquiries or questions, feel free to get in touch on her website www.christintheilig.com and follow her @christintheilig for more travel tips & inspiration.