Headed to Mexico and looking for the best things to do in Playa del Carmen? Not sure how to spend your days in this coastal Mexican resort town? Keep on reading, as there's tons of info packed into this Playa del Carmen blog!
I've LOVED all my trips to Mexico. Oaxaca. La Paz. San Miguel de Allende. CDMX. Todos Santos. The Yucatan Peninsula. Tulum. Bacalar. Izamal. This list goes on, haha. I've even made it a 101 in 1001 goal to visit more of Mexico.
The country is just so tantalisingly interesting to me. With its abundance of sparkling cenotes, traditional crafts, and messy chilaquiles, it's hard not to head down south each and every time I get a few days off.
But here's the thing: when I visited Playa del Carmen (a few years ago), I didn't do much research and/or take decent notes (well, enough info to muster together a blog post). And I LOVED my trip. Thankfully, Allison from Viva La Travelista is here to fill us in on all things to do in Playa del Carmen, including when to go, where to stay, what to eat, and even day trips from the area!
I promise you, you'll be putting Playa del Carmen on your bucket list asap. The al pastor pineapple tacos are waiting for you, you'll see.
Take it away, Allison!
Located on Mexico's Yucatan peninsula in the state of Quintana Roo, Playa del Carmen is one of the most visited beach destinations in the world. Its beautiful beaches, tropical climate, and vibrant culture attract international visitors from across the globe, no matter the time of year.
As an American expat living in Playa del Carmen for almost two years, I've fallen in love with Playa del Carmen's unpretentious charm and beachy carefree vibe. In this Playa del Carmen blog post, I'm sharing an insider's guide to Playa del Carmen including when to visit, how to get there, where to stay, things to do, and the best places to eat and drink. Read on for expert travel tips and insider recommendations. I did say I've been living here for quite some time, right?!
When to Visit Playa del Carmen
Considering that Playa del Carmen experiences a tropical and hot climate year round, there's never really a horrible time to visit. Do note that the dry, "cool" season occurs from November to February, while the hot, muggy rainy season takes place from June to October (with September seeing the most rain). Thankfully, the good news is that when it does rain, it only rains for a day or two, and then typically stays dry for a bit.
High season in Playa del Carmen is considered to be during the months of December – February, when the weather is still very warm and sunny but much less humid. This is a great time to visit but is also the most expensive and crowded time of the year.
I've found that the months on the border of high season ‒March/April and October/November‒ are still great weather-wise but will be less expensive and have much less people. You can also find some great deals on hotels during this time.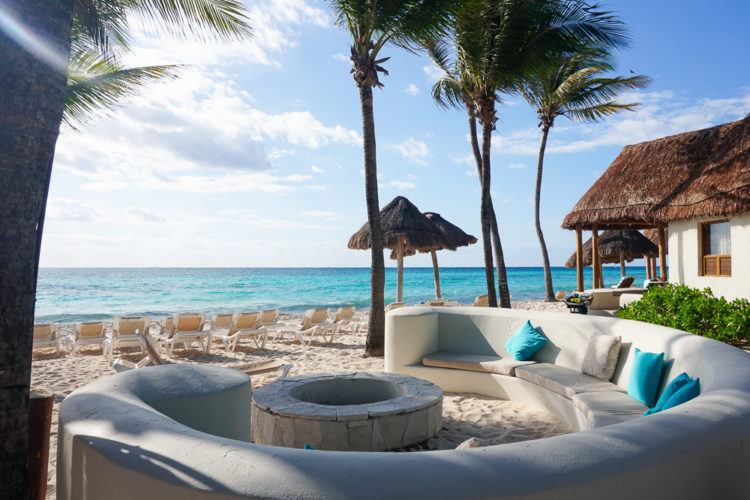 How to Get to Playa del Carmen
Getting to Playa del Carmen couldn't be easier. Just a quick flight and bus ride away.
Flights to Cancun International
The closest major international airport to Playa del Carmen is Cancun International, located about an hour north of Playa (do note that there's no airport in Playa del Carmen itself). There are tons of daily non-stop flights to Cancun from most major cities in the United States, as well as Canada and even Europe, too! For reference, the flight to Cancun International is roughly 4 hours away from JFK (New York). Most flights from the West Coast make a stop, but even these flights aren't crazy long, at roughly 8 hours including connection.
Psst: I always use Skyscanner or Google Flights when searching for airfare (sign up for email notifications for price drops).
Getting from the airport to Playa del Carmen
Thankfully, from Cancun International Airport, Playa del Carmen can be reached easily by car, taxi, shuttle, or charter bus. The most economical way to get from the airport to Playa del Carmen is to take the ADO Airport bus, which is a comfortable charter bus that runs continuously throughout the day and late into the night. Tickets can be purchased at the ADO counter at the airport after exiting baggage claim and cost around $12 USD each way.
If you prefer to grab a taxi, the journey to Playa del Carmen will take around an hour, but will cost significantly more – at around $50USD (~1,000pesos). Be sure to barter! If you're traveling with a party of 4 it may make sense, but think about the amount of luggage you have and if it'll all fit in the trunk of a taxi.
ALSO → Some hotels in Playa del Carmen do include airport transportation so it's best to check with your hotel before arrival.
How to Get Around Playa del Carmen
Walking: The great thing about downtown Playa del Carmen is that it is almost completely walkable. The city is relatively small so you can easily walk to the beach, shopping, restaurants, and other areas you'll probably wanna explore. Another great option within the city is to rent bikes or use Biciplaya, which is a newer bike rental app that has many stations for shorter trips around town.
Taxis: Taxis are also abundant, relatively inexpensive, and can be hailed easily on the street. It's best to negotiate the price with the driver before you get in, as some drivers may try to overcharge. Fares within the downtown area are typically less than $100 pesos ($5 USD), while fares to hotels and resorts further away from town may cost $500-$600 pesos ($25-$30 USD).
NOTE: Unfortunately, Uber does not yet exist in Playa del Carmen and is highly opposed by taxi drivers so I wouldn't recommend trying the app.
Rental Cars: A rental car is not necessary for staying within the town, but can be a good option for day trips outside of Playa del Carmen. If you plan to explore areas outside of Playa, a rental car would be easier than trying to navigate public transportation.
We LOVE using this site to check for low-cost rental cars, and rented a car from the site on our recent road trip around Todos Santos.
Where to Stay in PDC
There are hundreds of accommodation options in Playa del Carmen, but it's best to stay in the downtown area (known as Centro). This area is almost completely walkable and located just blocks from Fifth Avenue (with tons of restaurants and bars) and the beach. While there are several international hotel chains with properties in Playa del Carmen, the hotels that I've recommended below are more authentically Mexican, which I think gives you a better sense of place in the destination.
Mahekal Beach Resort
Mahekal Beach Resort is an oceanfront resort in downtown Playa del Carmen. It's located on 38th Street which is one of the best beachfront areas in downtown Playa del Carmen, but still close enough to the lively center of town. With bungalow style accommodations, private terraces, and personal hammocks, the resort exudes a bohemian vibe and offers an authentically Mexican experience. Offering multiple pools and restaurants, boutiques, and a full-service spa, it's a true beach retreat.
Hotel HM Playa del Carmen
Hotel HM Playa del Carmen is not located directly on the beach, but is more centrally located right in the middle of downtown Playa del Carmen, just blocks from Fifth Avenue (and the beach). It's a more budget friendly hotel but has lovely Mexican design elements and an enticing courtyard pool.
Important Playa del Carmen Travel Tips
Safety Concerns
While crime does exist in Playa del Carmen, I haven't found it to be any more dangerous than living in a big city in the United States. As in any city, it's important to always be vigilant of your surroundings and keep a close eye on your personal belongings.
It's best not to travel with large amounts of cash, and I would recommend wearing a crossbody purse or backpack while out and about. The downtown area is usually full of people which makes walking around generally safe for female travelers. Always use your gut instinct and if you don't feel safe, simply excuse yourself from the situation.
Foreign Currency
US dollars are accepted almost everywhere in Playa del Carmen, but I would recommend paying in pesos to get a better exchange rate. Upon checkout, many stores and restaurants may ask you if you'd like to pay in pesos or USD. SAVINGS ALERT: With the current exchange rate, you'll end up paying less if you pay in pesos (true story). For credit card transactions, be sure to use a credit card with no foreign transaction fees, because who likes those pesky fees? Not me!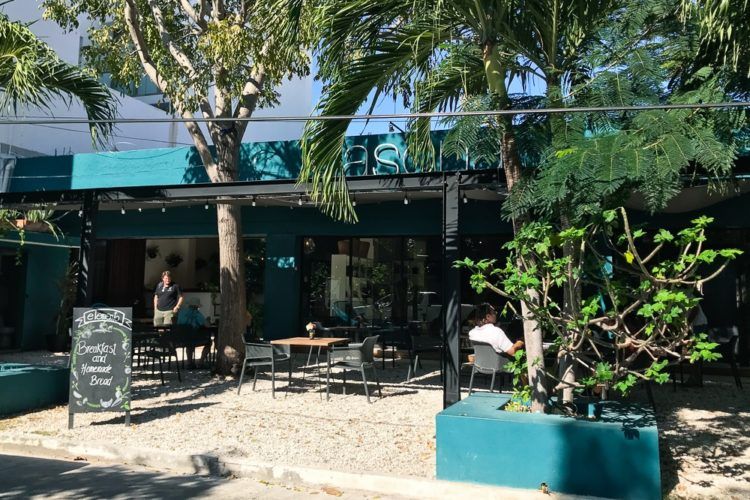 Spanish Language
I would recommend learning some Spanish before you go. While Playa del Carmen is one destination in Mexico where there's many English speakers, there are still plenty of locals that don't speak English. It's best to learn a few useful phrases, especially if you venture outside of the touristy areas. Here's a few basic Spanish phrases that I've found to be most helpful:
Hola = Hello
Adios = Goodbye
Buenos dias = Good morning
Buenas tardes = Good morning
Buenas noches = Good night
Cuanto cuesta? = How much does it cost?
Cómo te llamas? = What is your name?
Me llamo… = My name is…
Soy de… = I am from…
Cerveza = Beer
Margarita = Margarita
La cuenta, por favor? = The check, please?
Gracias = Thank you
Important Things to Pack
For any beach trip, you don't want to forget the necessities like your swimsuit, sandals, sunglasses, and camera (obviously!). But one thing I would definitely recommend purchasing before your trip is biodegradable sunscreen. Regular sunscreen is strictly prohibited while swimming in coral reefs and protected areas, as well as cenotes. In order to help preserve the reefs and natural wildlife, pack some reef-safe sunscreen for use during your trip.
In addition, if you're planning some more adventurous activities like visiting a cenote, I would also recommend bringing some inexpensive water shoes. The natural landscape of cenotes can be very rocky and slippery so they're definitely needed to protect your feet → and trust me, you'll have a much more pleasant experience without cutting your feet up.
Tourist Visa Information
One thing that is unique to Mexican immigration is that you'll receive an immigration entry form to be filled out on the plane upon arrival. When you go through Customs, you'll then hand this paper to the Immigration agent, who will then stamp it and return the bottom portion of the form to you, which serves as your tourist visa.
SUPER IMPORTANT TIP: Do not lose your tourist visa (as it's required to board your return flight home). If you do lose the form, thankfully, not all hope is lost. BUT you'll have to pay about $35 USD (cash only) to replace it once you arrive to the airport. Just keep it in a safe place during your trip (within the pages of your passport possibly), to avoid any unnecessary stress and delays on your flight home.
Things to Do in Playa del Carmen
Finally, the good stuff! Let's get down to it – all the best things to do in Playa del Carmen, whether you wanna be a complete beach bum (because hey, that's what vacations are for!) or want to try something more adventurous. This little Mexican beach town is just screaming with activities, with enough options to suit your vacation style.
GO SHOPPING ON THE FAMOUS FIFTH AVENUE
Fifth Avenue ("La Quinta Avenida" in Spanish) is the most popular pedestrian-only street in Playa del Carmen. Spanning for more than 20 blocks, you will find countless restaurants, souvenir stands, shops, and nightlife. It's full of energy (!!!) and you can spend hours strolling down the colorful avenue perusing Mexican souvenirs, boutique clothing stores, and authentic handicrafts. Although the shopkeepers can admittedly be quite pesky sometimes, I'll never get tired of walking down this vibrant street. Be sure to wear comfy shoes (and don't forget the sunscreen!) if you plan to walk the entire avenue!
However, this long colorful street doesn't come without its drawbacks.
You will probably come across guys in the middle of the street asking if you wanna party or smoke up. Don't be alarmed; just ignore them. There's a police presence so no need to be worried that things will get outta control. And if shopkeepers get too aggressive, just ignore, don't return greetings, and look straight ahead.
Don't fall for this popular tourist scam: men pretending to be "waiters from your hotel" wanting to show you their grandpa's silver shops. Again, just ignore them. Even better – flip your hotel wristband inside out (before heading down the avenue), and if they claim to be your waiter, ask them which hotel, and they'll have no clue. Haha…
It is kiiiiinda a tourist trap (to some), so decide for yourself if you wanna hang out on 5th Avenue for a bit.
BE A BEACH BUM
This is Mexico after all – you've gotta spend at least a little bit of time hanging out at the beach! And yes, while being a beach bum is definitely one of the laziest things to do in Playa del Carmen, there's absolutely no shame in grabbing a chaise lounge and sipping margs for a day.
Thankfully, Playa del Carmen's got a whole slew of beach clubs where you can spend the day enjoying the white sand beaches and bright turquoise water of the Caribbean Sea. Most offer lounge chairs or daybed rentals along with food and beverage, → just note you're usually required to meet a minimum consumption fee (aka food and drinks) depending on the season. The most popular beach clubs in downtown PDC are Mamitas Beach Club, Kool Beach Club, and Encanto Beach Club.
If you venture a little further away from downtown Playa del Carmen, you'll find my absolute favorite beach in the area known as Playa Xpu Ha. It's an absolutely stunning beach that is less well known but still has the right amount of beach clubs, water sports (book a parasailing tour here!), and amenities. Less than 30 minutes south of Playa del Carmen, it is definitely worth a visit if you're looking for less crowds.
VISIT ANCIENT MAYAN RUINS
Visiting the Mayan ruins in Playa del Carmen is a great way to experience the culture and history of the destination. There are several ruins in the area, with the most popular being Chichen Itza, the Tulum Ruins, and Cobá.
Chichen Itza
For me, the most impressive Mayan ruins in the area have been Chichen Itza. This area was a large pre-Columbian city built by the Maya people, and is still visited by approximately 1.2-2 MILLION people every year. And get this → Chichen Itza is considered one of the 7 Wonders of the Modern World (no wonder it's oh so popular).
Located about 2 hours away from Playa del Carmen, it's a really simple and easy day trip from Playa del Carmen. You can conveniently book a reasonably priced Chichen Itza tour from Playa del Carmen with all transportation and entrance fees included.
Do note that you're no longer able to climb the ruins at Chichen Itza (and haven't been able to since 2006).
[Editor's Note: We LOVED visiting Chichen Itza too! We took a tour from PDC (
extremely similar to this one
) which not only visited the impressive Mayan ruins, but a cenote as well as the city of Valladolid. Highly recommended!]
Tulum
Imagine Mayan ruins set against the bright blue Caribbean Sea. Sounds utterly amazing, right? Think of a better background – I double dare you. Don't miss the clifftop Castillo, the Templo de las Pinturas, and swimming out from the beach to see the ruins from the water (a definite site to see). Yup, the archeological ruins of Tulum are one of the best-preserved coastal Mayan sites in not only the Yucatan, but all of Mexico.
Because of this, Tulum is also one of the most popular, meaning you'll want to get there super early and plan to explore on your own or with a private guide. Don't join a group tour – you'll get stuck in a group of 20 some odd sweaty and sticky people (it gets pretty humid over here depending on the time of year).
[Editor's Note: We visited Tulum a few years back and had such a great day! The only thing we would have changed – getting a
private
guide, as we had NO clue what we were looking at!]
→ If you only have one day and can't decide between Tulum and Coba, don't fret. This combo tour goes to both, and even makes a quick stop at a cenote for some freshwater swimming! Definitely a long day, but well worth it if you've got limited time! Book tour and read reviews here.
If you wanna combine your visit to the Tulum ruins with a cenote and some snorkeling, book this tour! I can't really think of a better day.
Coba
And finally, there's Coba, with it's pyramid shaped temples with views over the surrounding jungle. Being only 1.5 hours away from PDC, it's well worth a day's visit, especially since it's completely different from other archeological sites. First of all, Coba is located in the middle of the jungle (helloooo jungle vibes), and most importantly, you can still climb the main pyramid (Nohoch Mul), which just so happens to be the highest in all of the Yucatan Peninsula.
SWIM IN A FRESHWATER CENOTE
Everyone always talks about the mesmerizing waters of cenotes, but what exactly are they? Psst: I'm sure you've seen your fair share of cenote photos plastered all over IG and Pinterest. Cenotes are natural freshwater swimming holes; essentially, sinkholes filled with groundwater (connected to much larger bodies of water deep under the surface). Some are even part of massive cave systems, full of stalagmites and stalactites (like this one). Pretty fascinating, right?
They're an iconic feature of the Yucatan peninsula, and because of this, you've got to experience at least one on your trip to Playa!
Thankfully, you've got your pick, as there are hundreds of different cenotes near Playa del Carmen (over 7,000 on the peninsula!), where you can spend the day swimming, snorkeling, cave diving, and cliff jumping. My favorite cenotes near Playa del Carmen are Cenote Eden, Cenote Cristalino, and Cenote Zapote. [Editor's Note: most definitely one of my favorite things to do in Playa del Carmen when I visited a few years ago].
GO ON A SNORKELING TOUR
As a beach destination, Playa del Carmen offers many different tour options for snorkeling, catamaran sails, and scuba diving. You'll find many tour operators on Fifth Avenue or in your hotel lobby offering excursion and tour packages. BUT, to be completely honest, the coral reefs in Playa del Carmen are not as outstanding as others nearby, so it's much better to go on a snorkeling tour in nearby Puerto Morelos or Cozumel.
→ Read Next: How to Take Better Underwater Photos When Snorkeling
There are also day trips to Sian Kaan (a biosphere reserve renowned for its natural beauty and diverse wildlife- book tour here) and the option to swim with whale sharks if that's on your animal bucket list.
TAKE A DAY TRIP TO COZUMEL
Located 30 minutes away from Playa del Carmen by ferry, the island of Cozumel is a great option for a day trip. Cozumel is a small island known for its beautiful beaches and incredible coral reefs, so it's a great place to spend the day relaxing at a beach club, partaking in a snorkeling tour, or simply strolling through the colorful downtown area.
My favorite beach on Cozumel is Playa Palancar, which is on the island's southwestern tip. It's a stunningly calm beach and offers some great beach clubs and amenities. Plus, it rarely gets hit with seaweed that can sometimes be present on other beaches in Riviera Maya.
VISIT AN ADVENTURE PARK
If you're looking for more adventurous things to do in Playa del Carmen, I would definitely recommend visiting one of the adventure parks by Xcaret. Xcaret operates several eco-parks in Riviera Maya where you can go ziplining, snorkeling, observe wildlife, and participate in a variety of adrenaline pumping activities.
While there are parks to suit every visitor, the top ones I would recommend would be Xplor (for some pretty rad ziplining), Xel Ha (there's just about everything here, from a beach, snorkeling, and water slides), and Xavage (with it's ropes course, monster trucks, and white water rafting). Be ready for a full day of adventure and thrill.
→ Book your tickets for Xcaret here, Xplor here, and Xel Ha here.
If you don't wanna spend an entire day at one of the adventure parks, you can easily find adventure elsewhere. This jungle buggy tour (with included cenote swim) looks like a great time, and it's only half-day, meaning you can spend the other part of the day lounging it up at the beach and/or pool. Book buggy tour and read reviews here.
TAKE A DAY TRIP TO ISLA MUJERES
Visiting Isla Mujeres is another great option for a day trip from Playa del Carmen. Meaning "Island of Women", Isla Mujeres is a tiny island off the coast of Cancun so it is further away from Playa del Carmen but definitely worth the visit for its picturesque beaches.
The most popular beach on Isla Mujeres is Playa Norte, which is one of the most stunning beaches in Riviera Maya. With powder white sand and unbelievable turquoise water, it's a picture perfect place to spend the day relaxing at a beach club. While on Isla Mujeres, don't miss the southern tip of the island – Punta Sur; there's a lighthouse, a sea turtle sanctuary, and the remains of a Mayan temple.
You can either visit the island on your own (via 1 hour drive and ferry to Isla Mujeres), or book a snorkeling tour or catamaran sail that visits the island. Once on the island, you can rent a golf cart to get around – the majority of what little traffic there is, is from golf carts! Love it!
A few recommended tours below:
Where to Eat in Playa del Carmen
Yes, I know there are lots of all-inclusive resorts in Playa del Carmen. But here's the thing: even if you've got all your meals taken care of, it'd be an absolute shame not to venture out of the hotel! The food in Playa del Carmen is bursting with flavor, from colorful acai bowls and spicy chilaquiles to chicken pibil pomegranate tacos and al pastor pineapple tacos. I could spend a week hitting up my favorite spots and still not finding enough time to EAT IT ALL.
And if you really wanna make sure you don't miss out on the area's favorites, book yourself on a food tour and eat like a local! Not only will you get a thorough introduction to Mexican cuisine, but you'll get to taste a lot of authentic Yucatan dishes in the process as well!
Peace & Bowl: Peace & Bowl is the cutest healthy restaurant in Playa del Carmen perfect for breakfast or lunch. The menu includes exquisite smoothie and acai bowls, and a variety of vegan and vegetarian food. It's cozy, colorful, and most definitely insta-worthy.
Elemento Cocina Creativa: Elemento Cocina Creativa is an incredible lunch restaurant located in the middle of Playa del Carmen in a neighborhood known as Colonia Hollywood. It's located in an interior design store which makes the atmosphere especially unique. They offer a reasonably priced lunch special with an appetizer and entrée – and the sophisticated menu and food presentation is absolutely superb. I especially love the chicken pibil tacos garnished with fresh guacamole and pomegranate. Mmmmm… now I'm getting hungry.
Plank: Plank is an upscale restaurant open for dinner and brunch. With an open-air design, it provides a great atmosphere for a fancier dinner out during your trip. The menu has a variety of steak, seafood, and pasta options, along with specialty vegetarian and kosher menus. In addition, the cocktail menu is creatively crafted and pairs perfectly with entrees. Note that reservations are recommended, as this place gets pretty busy.
El Ñero Taqueria: No trip to Mexico would be complete without trying some traditional tacos. And yes, don't worry, I'm sharing my favorite taco restaurant in Playa del Carmen — El Ñero! Located on the edge of downtown Playa del Carmen, it doesn't open until 5:00pm so it's more of a late-night spot. My favorite menu item is the al pastor tacos, which are savory pork style tacos garnished with pineapple. El Ñero is not upscale by any means but definitely worth the trip for some mouthwatering tacos.
Where to Drink in Playa del Carmen
Zenzi: Zenzi is a beachfront restaurant and bar known for its live music and free salsa lessons. It's a great place for a beachfront happy hour or to come later in the evening for free salsa lessons on Thursday and Saturday nights.
Fusion: Fusion is another beachfront restaurant and bar but with a much more relaxed vibe. Its low wooden chairs and lantern-lit tables make it the perfect place to have a drink and unwind after a day in the sun. Fusion offers live music daily, as well as an impressive fire show every night. Be sure to get a table at the front to have the best view of the fire show.
Be Roof: Be Roof is a rooftop bar on top of the Be Playa hotel. It's a boho style rooftop with a pool, daybeds, tables, and chairs. It has a relaxed vibe and most nights you can listen to beats from a live DJ. Don't miss Ladies Night every Thursday where they offer free cocktails for ladies.
La Perla Pixan: La Perla Pixan is an authentic Mexican restaurant offering a huge selection of regional Mexican dishes. While the food is delicious, I've been most impressed with their cocktail selection. They offer a lengthy menu of craft cocktails which are high in quality and beautifully presented. There is also a live band in the evenings which makes it the perfect place to enjoy drinks and appetizers.
Playa del Carmen is a vibrant and laid back beach town with so many unique things to do and see. It's a great place for a beach vacation or an adventurous getaway. I hope you get to experience some of these hotels, activities, restaurants, and bars that I have found to be the best in the place that I now call home.
Which of these things to do in Playa del Carmen are you putting on your must-do list when visiting the Yucatan Peninsula? Planning a visit to this colorful and carefree town soon?!

---
Allison Sicking is a travel blogger and digital marketer currently living in Playa del Carmen, Mexico. With a passion for traveling and a love of the Spanish language, she created the travel blog Viva La Travelista to share her travel experiences in Mexico and other Spanish speaking countries. Follow her blog to find out more about life in Playa del Carmen, her adventures and explorations, and local travel tips. Find her on Social Media: Facebook | Instagram | Pinterest