Thinking of taking a trip down to Baja California Sur and looking for the best things to do in Todos Santos? Keep on reading, my taco-loving, mezcal-dreaming amigos, as I'm not only sharing what to do in Todos Santos in this guide, but also how to get there, where to stay, what to eat, and so much more.
Imagine cobblestone streets lined with tiny artisan shops, nearby surf breaks on golden sand beaches, mezcal margaritas, and probably the chicest hotel imaginable. That was our time in Todos Santos. Oh, and releasing baby sea turtles into the ocean while watching an idyllic sunset. Told you our few days were pretty incredible.
We've been to Mexico City, Cabo San Lucas, Cancun and Riviera Maya, Sayulita and Puerto Vallarta, and Playa del Carmen, and I recently traveled solo to both San Miguel and Oaxaca.
Before this trip, we have never really explored Baja California, despite being a quick 3 1/2 hour flight away from San Francisco. Ever since I saw photos of Hotel San Cristobal, I just knew I had to get myself to Todos Santos sooner than later, and finally made that happen on my birthday this year!
Todos Santos has been designated as a "Pueblo Magico" (aka a Magical Town) by the Mexican government (one of about 120 special communities or so, just like Sayulita, San Pancho, Izamal, and San Miguel de Allende!) dotted around Mexico.
It's been given this accolade for it's authentic historic and artistic charm. The village of Todos Santos is in the foothills of the Sierra de la Laguna mountain range, between the dry heat of the desert and the cool ocean breeze.
Todos Santos is located on the Pacific Coast of Mexico's Baja California Sur, the long peninsula due south of California. Being only an hour north of Cabo, a day trip is pretty easy, but I highly suggest you stay a night or two to really get a feeling for the area.
It's is a haven for bohemians, surfers, travelers, and artists looking for calmness away from the hustle and bustle of Cabo San Lucas. Kinda like those flocking to San Pancho to get away from the city of Puerto Vallarta. Even with the small population of no more than 6,000, you'll still find tons of art galleries around town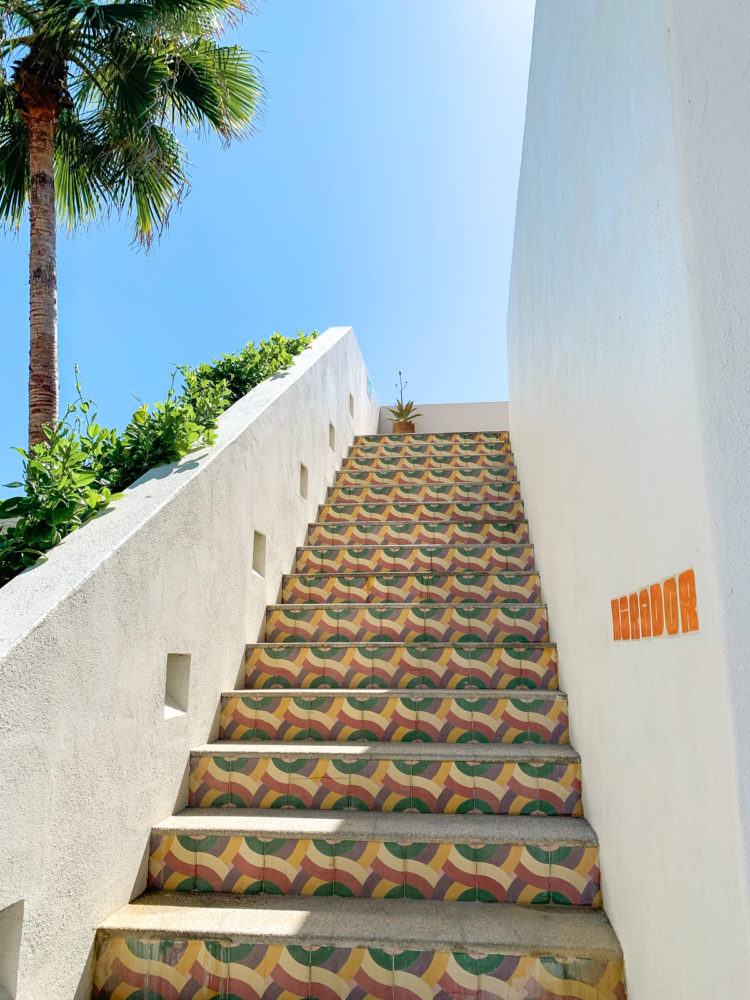 This once-sleepy colonial beach town has been an artist mecca for years, but has recently become more popular due to the opening of the desert-chic Hotel San Cristobal. It's far from Mexico's best kept secret anymore, but still relatively quiet and a great respite from the big city.
Despite only spending two nights in Todos Santos, I got a good feeling for this tiny Mexican town on the tip of the Baja Peninsula. And being so incredibly easy to get to (we were shocked), I bet we'll be back for another round or two in the near future.
How to Get to Todos Santos
Rental Car
Getting to Todos Santos couldn't be easier. You can either fly into Los Cabos International Airport (SJD) or La Paz Airport and make the quick drive to Todos Santos.The town is roughly a 1.5 hour drive north from San Jose del Cabo (Los Cabos), or a 1 hour drive south from La Paz (both on well-maintained Highway 19).
We found renting a car in Cabo to be pretty straight-forward and highly economical. A car for 6 days was about $60 (we booked here), and the process was just like renting a car in the states. We actually saw rentals as cheap as $23 for our entire 6-day stay, but we preferred paying a tad more for a well-known, national rental company. There are lots of local rental companies as well, but we heard some have limited opening hours and/or don't provide what they promise.
And psst – If you're from the USA, you don't need an international drivers license to rent a car in Mexico.
You'll be driving on a well maintained highway until you get to town, which will then turn into a mixture of dirt and paved roads. I highly suggest you opt for an SUV with 4-wheel drive, as the roads in town aren't as well maintained (lots of potholes and dirt roads). We did okay with our small sedan, but would have definitely felt safer and more secure in a larger car in a few instances.
General Driving Safety: I recommend making the drive during the day, as "highway bandits" occur more frequently at night.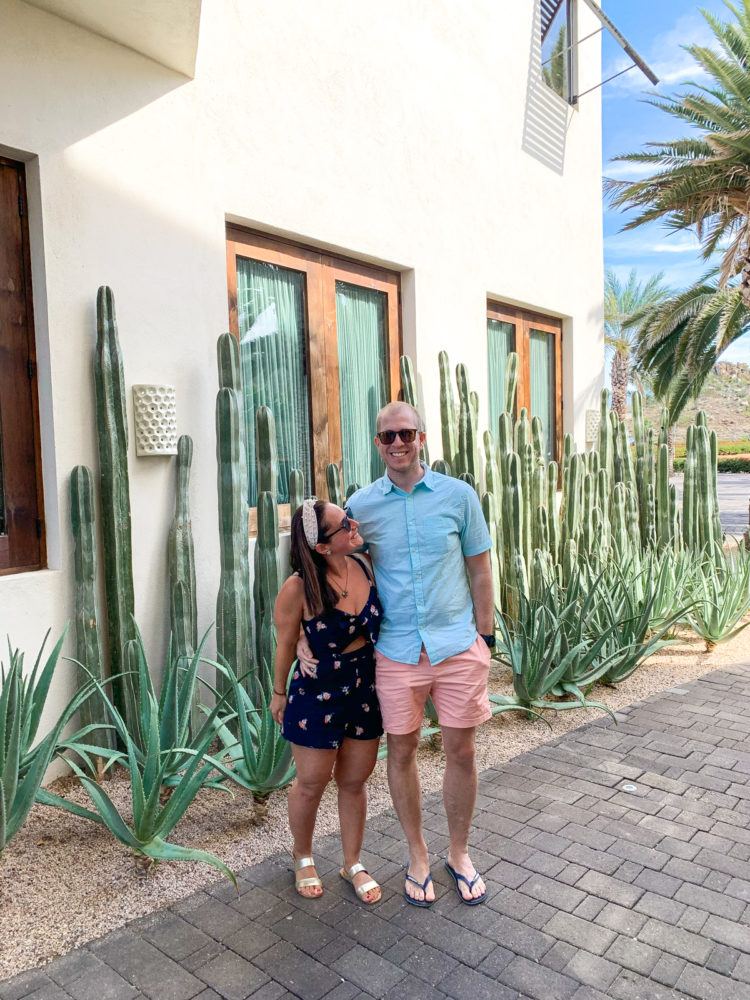 Honestly, the drive is pretty boring and uneventful. You'll see more cacti than you ever thought possible, which is downright fascinating at first, but then becomes monotonous after about 15 minutes. But thankfully, the drive isn't too long!
Keep in mind you'll need to pay 97 pesos (~$5) on the toll road (a few km from the airport), so have some cash on hand. We only had USD on our way to Todos Santos, but thankfully our money was accepted. Make sure you have enough gas, some cash, and a few snacks if you'd like (this is a mini road trip after all!), as there's hardly anything between Cabo and Todos Santos.
Public Transport
There are three major bus companies on the Baja Peninsula – Autotransportes de Baja California (ABC), Transportes Aguila, and Tres Estrellas de Oro. While all are fast, modern, and clean, Transportes Aquila has the most routes to Todos Santos.
Thankfully, the Todos Santos bus station is located right in town, just a couple blocks away from Old Town (where you'll find the art galleries, Hotel California, and bars/restaurants).
FROM CABO:
If you fly into Cabo, you can take a public bus to Todos Santos for about $10 (one-way), which takes about an hour or so. You'll first need to get yourself to the El Aguila Bus Terminal (about 15 minutes away), by either shuttle service or taxi.
Buses from Cabo leave for Todos Santos about every hour, starting around 6am and running well into the evening.
There is also a premium bus that runs a few times a day from SJD airport to downtown Todos Santos, run by EcoBaja Tours for $355 pesos each way (~$17USD).
FROM LA PAZ:
From the La Paz airport, you'll first need to take a taxi to the bus station, about 20 minutes away. And just like the bus schedule in Cabo, buses leave La Paz every hour from 6am until night. The transfer should take about an hour and a half.
Day Trip from Cabo
Todos Santos makes for the perfect day trip from Cabo. You can either rent a car for the day and drive yourself, or take an organized tour if you prefer not to drive. On this full-day tour of Todos Santos, you'll visit factories, galleries, and artisan shops, as well as savor a buffet lunch at the infamous Hotel California.
Book a day trip from Cabo to Todos Santos here.
How to Get Around Todos Santos
Downtown Todos Santos is primarily a walkable town, although you'll need a vehicle to get some certain off-the-beaten track spots. This includes the beach for turtle releases, a few restaurants (such as Jazamango which we lovedddd), and Hotel San Cristobal.
We rented a car which we greatly appreciated. Do note that taxis are available, but like in most of Mexico's beachside towns and cities, they're not typically metered. Make sure to negotiate and agree on a price before getting in. And psst – hailing a cab on a street will always be significantly cheaper than having a hotel call a taxi for you.
Driving in Todos Santos
As noted above, the roads in town had some pretty terrible potholes, so watch out (and really consider renting a car with four-wheel drive – we didn't and 100% wish we did).
We had to drive down questionable dirt roads to get to both of our hotels (Villa Bugambilias and Hotel San Cristobal), a popular restaurant (Jazamango), as well as to get to the beach to release the baby sea turtles (don't worry, I'll go into this experience in more depth later on). But as they say, there's always something special at the end of a sandy dirt road.
Psst – the locals don't really stop at stop signs (we were utterly amazed), and there are minimal traffic lights, so just be extra, extra careful at intersections. I recommend giving locals the right of way and obviously stopping at stop signs regardless of what others are doing. Safety first, always. 🙂
In addition, a couple we met on our whale watching tour in La Paz got a parking infringement in Todos Santos when they visited. Apparently their license plate was removed by the cops, and they had to pay them at the police station to get the place back. With that being said, be careful where you park (although we had no difficulties parking in town and didn't see many parking signs).
Where to stay in Todos Santos
There are a whole slew of accommodation options in Todos Santos, at all different price points. We opted to stay in two different hotels during our time in the area, since we wanted to be near town one night and the other at the beach (for one night each). We stayed at the following two properties:
Villa Bugambilias: We chose to stay here in order to be walking distance to the town center (5 minute drive or 15-20 minute walk). I wasn't fully sure what to expect since I couldn't find a ton of reviews, but I absolutely loved the Tuscan inspiration surrounded by nature!
And plus, it's oh so close to where we went to release the sea turtles (lots more info below on that magical experience). We unfortunately didn't get to take full advantage of the hotel since it was raining part of the day, but the pool and interior garden still looked beautiful. In hindsight, I think I may have booked a hotel even closer to town considering we chose to drive since it was raining, but on a typical, sunny day, we would have welcomed the walk.
We saw hotels much closer to town, including: Hotel Casa Tota, La Bohemia Baja Hotel Pequeno (book fast because there's only 6 rooms!), Todos Santos Inn, Guaycura Boutique Hotel Beach Club & Spa (I really wanted to stay here one night but they were only accepting reservations for 2-night stays at the time), and obviously Hotel California Todos Santos.
Hotel San Cristobal: If you're looking for a high-design boutique hotel located on the beach, look no further than Hotel San Cristobal. This property was designed by famous Texas hotelier Liz Lambert (Bunkhouse Group), and after learning about Liz, I now want to stay at every single one of her other properties..
The hotel is decked out in brightly woven blankets and robes, carefully laid out 1970s-style ceramic tiles, and sophisticated and funky local paintings. It's desert chic at its absolute finest. Every detail was carefully thought out, and I had a blast photographing the place (from the white minimalist buildings to the pom-pom pillow decorations to the line of perfectly-placed cacti).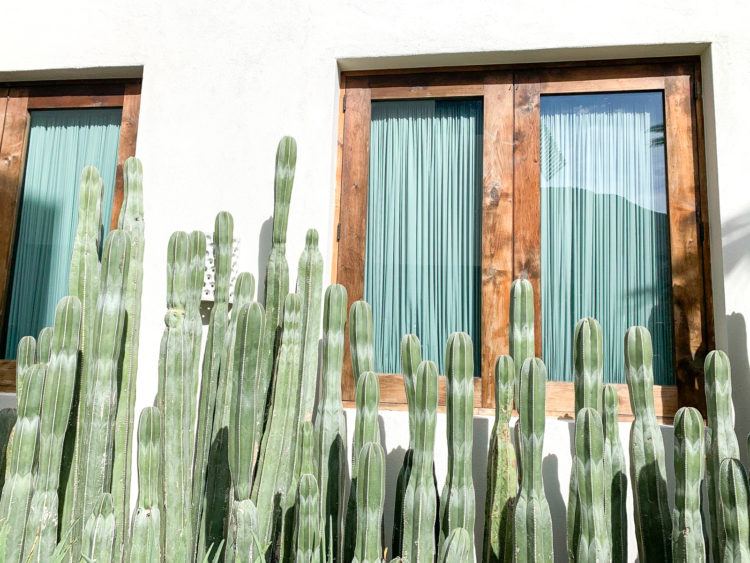 This beachside property only has 32 rooms, which makes it just the right size and never once felt crowded. Definitely more of a splurge, but well worth the price tag if you ask me (as long as you spend time at the hotel).
As noted above, we stayed a night at each and are glad we split our time between the two. While Hotel San Cristobal is absolutely gorgeous, there's no real reason to stay for longer (or shell out more dough) unless you plan on taking full advantage of the pool the entire time you're there.
How long to stay in Todos Santos
You really only need a day to wander around town (it's pretty tiny), and another day or two for lounging at the hotel pool (if that's your thing) and hitting up the beach for some swimming or surfing. We spent just two nights in Todos Santos, and it was the perfect amount of time. If you plan to make a few day trips (popular ones being Cabo and La Paz), I recommend spending a few additional nights (that is if you don't wanna stay in either Cabo or La Paz).
Health and Safety in Baja California Sur
Safety: First of all, is Todos Santos safe? Everyone hears Mexico and instantly freaks out. I honestly don't know why, considering it's got the same level of safety precautions as France does (according to The US Department of State). Yes, there are parts of Mexico which I would not travel to, but Baja California is considered to be fairly safe. We felt welcomed everywhere we went in Todos Santos (as well as during our time in La Paz). However, petty theft is unfortunately pretty common in Baja California (think purse snatching/pick pocketing).
Before traveling anywhere, I always check safety warnings on travel.state.gov. A few tips to help ensure safety, which make sense no matter where you're traveling:
Let friends/family back home know where you're traveling
If you're taking a taxi alone, send the taxi # and/or license plate to a friend/family member.
Use toll roads when possible and avoid driving alone or at night.
Be extra cautious when visiting local bars, nightclubs, and/or casinos. Know your alcohol limit.
Keep expensive jewelry/watches at home, and keep those electronics hidden.
Be extra careful and observant at banks and ATMs.
In addition, police corruption is unfortunately a problem in Baja California (although thankfully decreasing). Police are known to pull tourists over on the road and demand payment as a bribe to let them go. Just pay up and get on with the show.
With all this being said, we felt safe for the duration of our time in Todos Santos. Don't let any of this information deter you from visiting, it's just smart to understand what could happen.
Health: You'll need to stick to bottled water as you cannot drink the water in Todos Santos (you can brush your teeth with it, but that's about it). When ordering food from street vendors, ensure it's fully cooked and hasn't been sitting out for too long (if foods not selling this is a good indication it's been there a while). We had no problems with any drinks or food in Todos Santos, and felt everything was of great quality.
When to Visit:
Best time to visit in my opinion: between January and March. You'll have the chance to spot gray whales in the distance (or super up close on a day trip of whale watching in Magdalena Bay), a high chance of perfect weather, and you won't find holiday crowds.
The town gets very crowded over the holidays in winter, as well as the week leading up to Easter (Semana Santa), since Mexicans tend to go on beach trips this time of year.
January – May sees sunshine almost every day (although we actually got a day of rain in early February). Temps average in the 70s and low 80s, although it starts to get super super hot (think 90+ degrees F) in April.
Note that July – October is the hurricane season; although August and September are the wettest months.
Language and Currency:
Language: This is Mexico, and you'll undoubtedly hear lots of Spanish, although most hotel staff know at least a basic level of English. However, in town, we found many locals speaking little to no English, so our high-school Spanish came in handy. In addition, there's lots of expats here (meaning English is widely spoken), so you can almost always find someone to help translate if need be. The town is in growth mode, and I can see more and more expats moving to the area in years to come, as soon as Todos Santos becomes more discovered.
Currency: At the time of writing (February 2020), the peso is equivalent to 5 cents USD (or 1 USD ~ $18 Mexican pesos). I found it easy-ish to convert in my head by thinking of 100 pesos = roughly $5 (or 200 pesos equaling ~$10USD). Although I heard USD is accepted by many businesses, we chose to take out pesos (you'll typically less paying in local currency).
We took out pesos at the airport in Los Cabos, and within town at the multiple ATMs (cajero automatico). I highly advise using ATMs during daylight hours and in secure indoor locations (such as banks or convenience stores.
Where to Eat:
A few recommended spots: Jazamango, Hierbabuena (we unfortunately didn't plan right and it was closed when I had wanted to go), Benno, Caffe Todos Santos, Restaurant Bar Bahia (get the fish tacos and ceviche), CAFELIX, and Baja Beans.
And finally, what you probably clicked on this Todos Santos blog post for – what to do in Todos Santos!
Things to do in Todos Santos:
1. Grab a paleta: There are numerous spots around town selling these tasty Mexican popsicles – just walk around and you're bound to run into these frozen treats. I chose a fresa y crema paleta from Rocco's Nieves Artesanales, but they all looked extra tasty (and there's tons of flavors to choose from, some with fresh fruit within). Paleteria La Paloma on the edge of town is especially popular as well, with paletas for about ~$1 each and your typical ice cream if that's what you want.
2. Wander and take photos in town: One wander around town and your camera roll will be filled up, you'll quickly see why. Every street is super photogenic, with bougainvillea, colorful street art, and pastel colored buildings all around. It's literal IG heaven and any photographer's dream.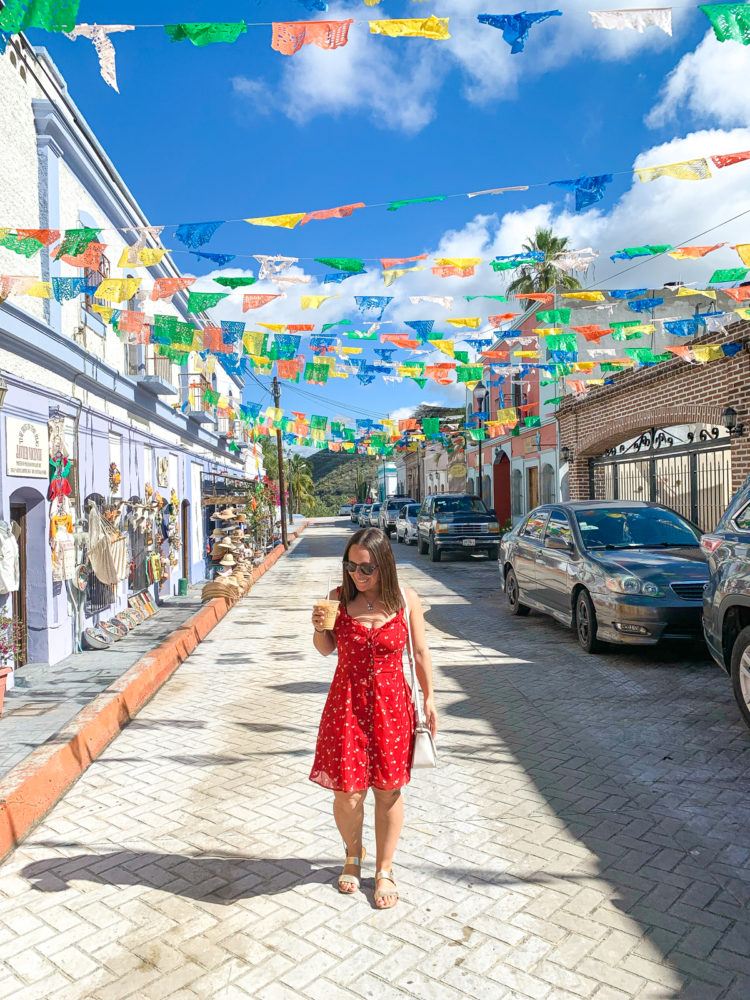 Don't miss Calle Benito Juarez, the main street with colorful flags fluttering in the wind, the old church and courtyard of Iglesia de Nuestra Señora del Pilar, and Hotel California. Peek into the galleries and admire the work of the local artists. The town is so small you can walk across it in 15 minutes, so you're bound to run into everything a few times! And to make it all even easier, it's laid out in a neat grid that makes it virtually impossible to get lost (thank goodness for me!).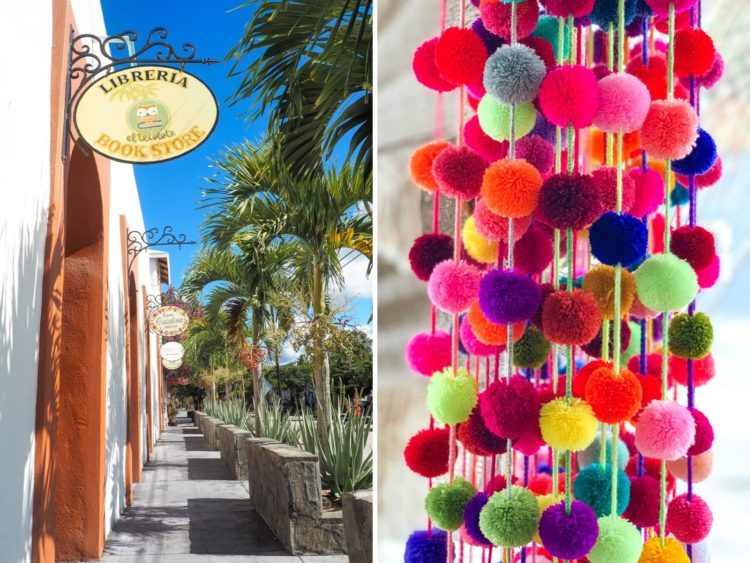 3. Have a meal at Jazamango: Don't leave Todos Santos without at least one meal at Mexican chef Javier Plascencia's farm-to-table, open-concept restaurant, Jazamango. Here you'll find his signature Baja Med cuisine, with almost all ingredients being sustainably and locally produced. We enjoyed grilled octopus, basil pesto pizza, and fancy mezcal cocktails, but the menu changes frequently depending on what's available. Order a Tetema, you won't be sorry.
Psst – If you've already eaten, there's also a new bakery on site that's perfect for a cup of coffee and some freshly baked bread in the morning.
Do note that this hotspot is right outside of town up a tiny hill, and depending on which way your GPS takes you, you may need to venture down a windy, dirt road (just FYI).
4. Release baby sea turtles into the ocean: Before visiting, I randomly stumbled upon information about releasing turtle hatchlings in Todos Santos, and OMG boy am I glad I did. What an experience!
Almost every night at sunset, the folks at Tortugueros Las Playitas A.C. invite you to cheer on baby sea turtles making their way down to the surf, and it's absolutely incredible to watch. Tortugueros Las Playitas A.C. is a non-profit environmental conservation organization with a focus on helping the endangered sea turtle population (Leatherback, Black Turtle, and Olive Ridley), run primarily by volunteer families.
Come a bit early to observe the hatchlings taking their first steps, before bringing them down to the sand. You won't be able to handle the baby turtles, but we loved watching them in the buckets for a bit.
Do note that turtle releases take place December – May, with December – February being the busiest hatching time. Aka if you want to partake in this activity, you'll need to visit during this time.
The beach (Tortugueros Las Playitas) is only about a 15 minute drive from the Centro, just watch out for some potholes and wild horses on the road. And since you'll be driving back in the dark, use extra precaution and go slow.
Psst – if it rains beforehand (like it did for us), your feet will most likely get extra dirty walking to the huts from the parking lot. The sand/dirt turned into slimy mud and to say we got dirty is a wild understatement. No matter the day, I suggest just keeping your shoes in the car (you'll need to take them off before entering the hut with the baby sea turtles anyways).
After considering all the things to do in Todos Santos, if you're an animal lover, this may just be your favorite activity – it was mine!
How to help out: donate to the org, adopt a nest, volunteer for a day, or even a week+! Find more information and double check the turtles will be released that night at Todos Tortugueros.
5. Shop for handicrafts: Wherever you look, you'll find artisan shops filled with colorful tree bark paintings, silver jewelry, classical instruments, and high-quality leather products. And ohhh the textiles – tablecloths, blankets, backpacks, napkins, etc. There's also common Mexican trinkets such as bright pom poms, woven hammocks in a variety of colors and patterns, hand-crafted masks, alebrijes (figurines depicting animals or mythical creatures), and ceramics.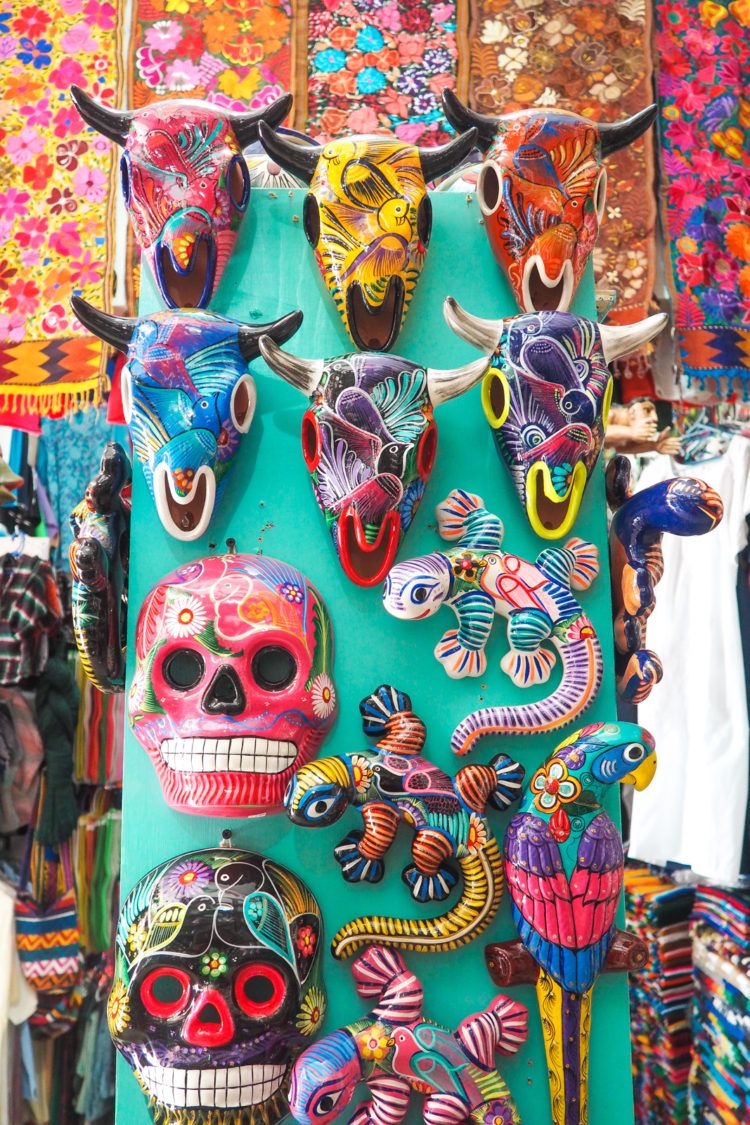 They're fun to look at and admire, but since many of the Mexican crafts aren't actually local (they're brought in from elsewhere in Mexico), it's hard to get a good deal. However, decide for yourself if the cost is worth it. I've found plenty of souvenirs in San Jose del Cabo and Sayulita that are better prices.
If you'd rather get your own creative juices flowing, why not design your own pottery and learn how blankets are made? Sign up for this tour, and you'll get to do both!
6. Go gallery hopping: Todos Santos is filled with galleries around town, and spending a few hours admiring all the artwork is definitely not a bad way to spend some time. There seems to be more and more galleries popping up each season, with over a dozen present today. Galeria Logan, Galeria de Todos Santos, and La Sonrisa de la Muerte are popular spots, and all easily walkable.
Some offer reasonable pieces of art, but there's also some that will induce sticker-shock. It's true artist culture over in these parts.
Do note that many galleries are closed on Sundays, so make sure if gallery hopping is on your list of things to do in Todos Santos, you visit any other day of the week. If you just so happen to be here on a Sunday, don't fret – there's artwork all over town – in restaurants, hotels, on colonial buildings, and at the town's cultural center museum. No shortage of paintings in Todos Santos!
7. Go fishing at Punta Lobos: Fishing has been a way of life in Todos Santos for years, and until doing some research for this blog post, I had no clue just how big of a deal the sport was! The biodiverse waters are rich with yellowtail, snapper, grouper, tuna, mahi-mahi, among others.
And there's no better place to do some fishing than at Punta Lobos. The spot's well known for its deep sea, old-school style of fishing, and is where the local fishermen launch their panga boats. If waking up at the crack of dawn doesn't scare you, you can even watch the fishermen cast nets and haul them onto their small boats. In the afternoon they return loaded with tons of fresh fish. Psst – many restaurants buy their fish here!
We saw tons of fishing boats and panga fishermen along the shore directly next to Hotel San Cristobal, as well as lots of pelicans and gulls on the beach.
You'll need to hire a panga/sign up for a fishing tour ahead of time, as there is no dock, no office, and no place to book a tour here, which makes it difficult especially if your Spanish skills are lacking.
Psst – you can also snorkel here at Punta Lobos, although the waves can be pretty powerful so be extra cautious and look out for boats of course.
8. Spend the night at Hotel San Cristobal: We LOVED our stay at Hotel San Cristobal, and feel this wouldn't be a complete Todos Santos travel blog without mentioning it. Read our gushing review above (ohhh the hot tub and tilework and small-batch mezcal cocktails, how could I forget).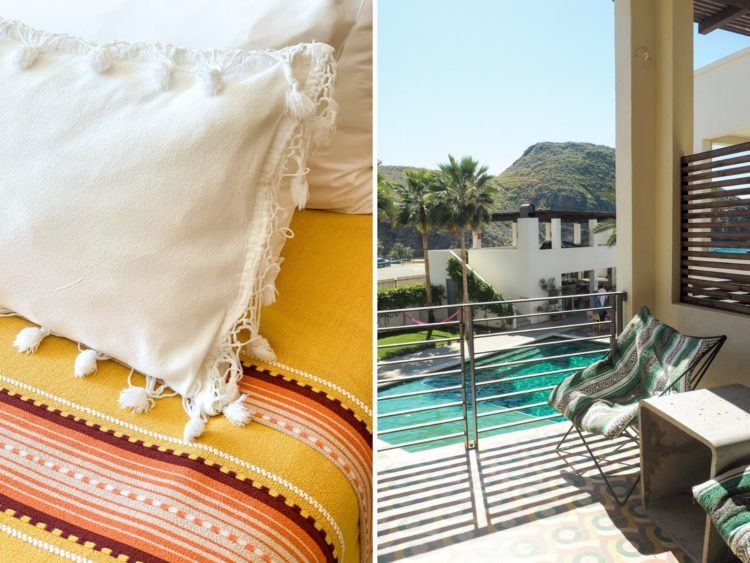 However, if you'd prefer not to spend the night (it's definitely a splurge), the hotel offers day passes for use of the grounds and pools for a day of pure relaxation. While you're there, make sure to have dinner at Benno; it was the perfect dinner on our last night in Mexico. The Pollo en Pipian and Short Rib were absolutely delish.
9. Visit the legendary Hotel California: Welcome to the Hotel California… such a lovely place (such a lovely place…) Hey, you know the song! However, despite everyone thinking it's connected to the famous 1976 Eagles hit – it's actually not (sorry to burst your bubble)! The hotel is famously controversial → and it was actually sued by the Eagles for false association with their famous song.
I later learned that the song is actually not about a hotel at all (who knew?!), but acts as a metaphor about how easy it is to get trapped in the high life of LA (and not deal with the dark side of the music industry). Pretty deep stuff.
Hotel California is located in the middle of town right next to the church; don't miss the hotel restaurant and bar. It's unique to say the least, and usually pretty busy.
10. Go swimming and/or surfing in Pescadero, San Pedrito, and/or Los Cerritos: I'm sure you came to Todos Santos to go to the beach, but surprisingly, not all the beaches in the area are safe for swimming (the waves are just too rough for a pleasant swim). Thankfully, the beaches in Pescadero and Playa Cerritos are much safer, and are actually some of the only ones safe for swimming on this part of the Baja California coast.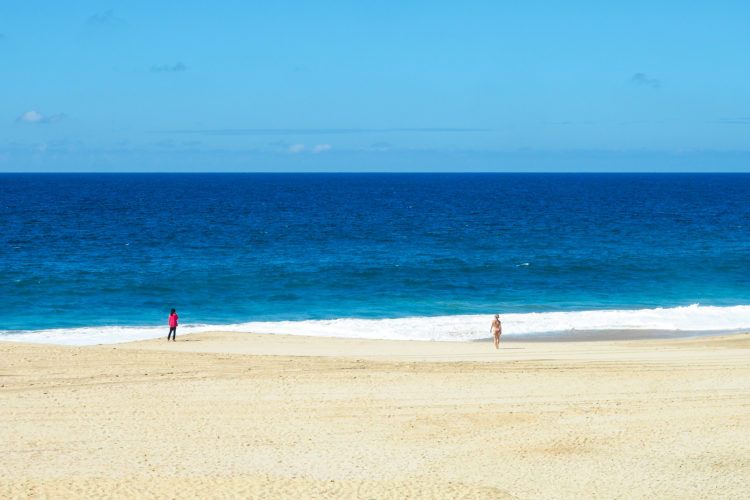 If you're looking to do some surfing, head to Playa Los Cerritos and/or Cerritos Beach. These beaches a few km south of Todos Santos are known for their strong surf. However, they're great surfing spots for both beginners and more advanced surfers, as there are smaller waves closer to shore, as well as larger waves found further out after the break. And plus, the smooth sandy bottom (no coral or rocks over here!) won't scrape you up if you fall off the board.
Never surfed before?! Don't fret- you can take a lesson! You can rent a surfboard and sign up for a lesson right on the beach, with both being pretty inexpensive.
11. Have brunch at Caffe Todos Santos: While looking for a breakfast spot one morning we stumbled upon Caffe Todos Santos, and boy am I glad we did. The menu consists of your traditional Sonoran Mexican food, which is nothing super innovative, but exactly what we were looking for. You'll find fresh juices, strong coffee, and an assortment of Mexican specialities (we shared the chilaquiles and huevos rancheros). There's also homemade bread, pastries, jam, and tortilla soup.
The space is traditionally decorated, and don't miss the lush outdoor space out back! Life moves at a slow pace here in Todos Santos- hang with a coffee here for a while. Bring some cash (pesos or US dollars) because they don't take cards.
12. Go for a hike: If you wanna give your bum and thighs a little workout (or you just wanna work off some of those margs), Todos Santos has got you covered. Miles and miles of trails, complete with scenic views, crashing surf, and whale sightings (in the winter months).
There's a bunch of trails in the area, with the Pacific Bluffs Hike, Todos Santos Sugar Port Trail (sea lions and coastal views), Sierra de la Laguna Biosphere Reserve hike (recommended for advanced hikers – not super experienced? book a guided hike here), and plenty of additional self-guided cliff hikes. We chose to relax during our full day in the area, so no hikes for us! Maybe next time!
13. Watch a sunset on the beach: Out of all the things to do in Todos Santos, watching a sunset on the beach is an absolute must. Whether you're watching the sun from Punta Lobos/Hotel San Cristobal, during the release of baby sea turtles, or from the nearby beach areas of Pescadero or Cerritos, you'll be wowed. The sky lit up on fire!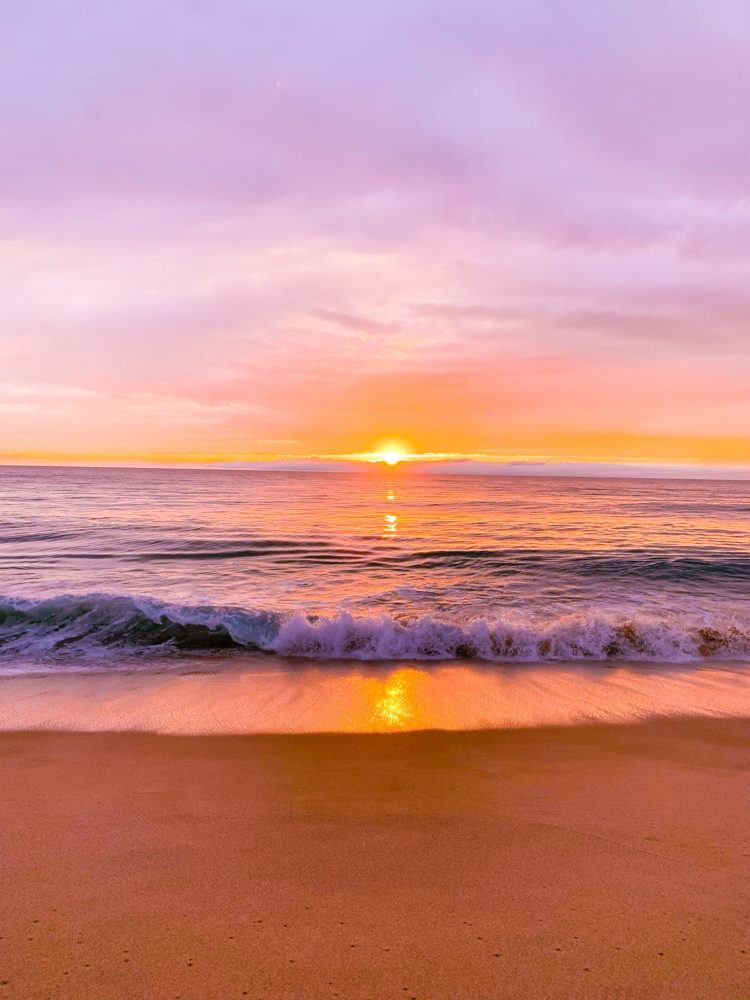 Since Todos Santos is on the Pacific side of the Baja Peninsula, you'll get to see the sun set directly into the ocean, and it's an absolutely mesmerizing site (but aren't all sunsets just the best?).
14. Go boutique shopping: Besides common Mexican trinkets and handicrafts, you'll find a few boutique stores in Todos Santos. My favorites include Etnica and Nomad Chic, located right in town. Both shops sport colorful caftans, textiles, and global jewelry, as well as super sweet shop owners. I so wished I picked up a few treasures here, but I was too excited about getting back to my paleta (sounds like me…). The shop at Hotel San Cristobal also was decked out with so much good stuff – I wanted to buy it all!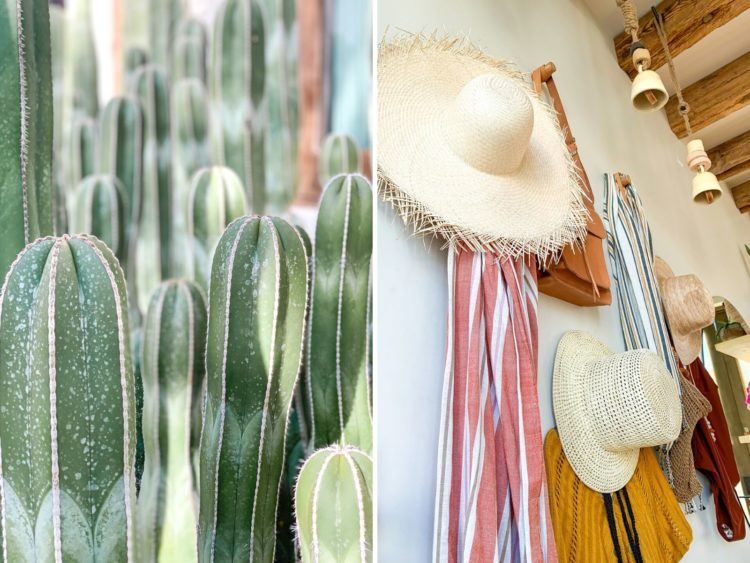 Have more time in Mexico? Spend a few days in La Paz (just an hour drive away from Todos Santos). We swam with whale sharks, went gray whale watching in Magdalena Bay, relaxed on Balandra Beach, and walked the malecon at sunset each night. I'll have a full guide to La Paz soon, so keep an eye out for that.
Which of these things to do in Todos Santos will you be adding to your Baja California Sur bucket list?!
Pin it for later!