Headed to the desert? You need to add a Palm Springs door tour to your itinerary! I've included all my favorites here — including the famous Palm Springs pink door!
I have a thing for doors. Architecturally, modern doors. Intricate cut-out doors. Lovely, European doors. But most of all, bright, colorful doors. I even painted my front door a deep teal color (it's all kinds of amazing and every time I walk in I swoon). So when we visited the area on our week-long road trip of the SoCal desert, I just had to include a DIY Palm Springs door tour on our Palm Springs itinerary! And in between DesertX and Joshua Tree National Park, we did just that!
Palm Springs is kinda a mecca for their mid-century architecture and design. Get ready for palm tree-lined streets, spectacular mountain views, sculptural breeze blocks, and the most gorgeous mid-century modern homes with their eye-catching colored doors. The city is the mid-century modern capital of the U.S. after all! Talk about architectural excellence and individuality. I wouldn't mind moving in to any of them!
Read Next — the perfect weekend getaway to Palm Springs! Everything we did, where we ate, and the best places to stay, all right here in this massive Palm Springs travel guide!
In terms of doors, of course I knew I needed to find That Pink Door (a true Palm Springs IG hot spot). But I just couldn't believe how many more colorful doors there were! A true explosion of color in the desert.
Seeing all the colorful doors in Palm Springs just made me so happy! I mean, why wouldn't someone want a bright, happy door to walk into everyday?! Keep on reading for everything you need to know to plan your own Palm Springs front doors tour — addresses included!
Style of Homes and Doors in Palm Springs
Palm Springs is known for their iconic mid-century modern homes and bright, cheery doors. And they're all super unique; some with floor to ceiling windows, some with mini convertibles, others with impeccable landscaping — and even one with revolving pool inflatables! How wacky (but so Palm Springs).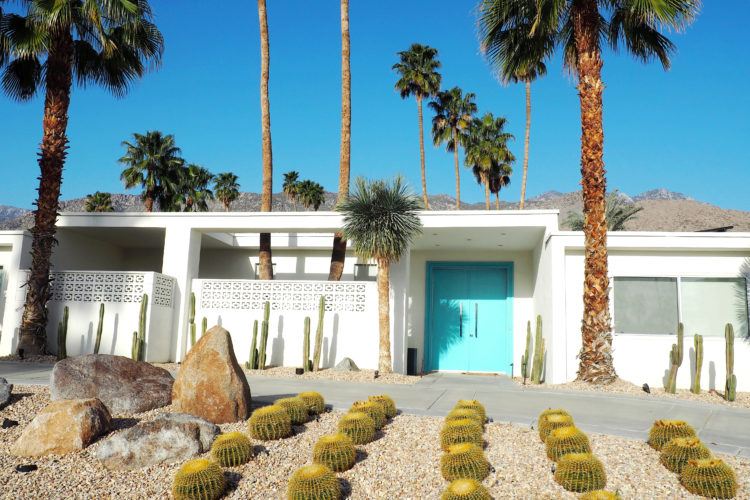 I kinda wish I was able to look inside — can you imagine just how spectacular they'd be?! The doors are all kinds of wonderful, but those houses are really something special! I was absolutely smitten with the sleek lines of the retro architectural style!
But one thing they all have in common — the chicest, most colorful doors! Yellow doors, bright turquoise doors, orange doors, lime green doors, pink doors, you name it! Every color of the rainbow! Including a flowery fern door (included below).
How to create your own DIY Palm Springs Door Tour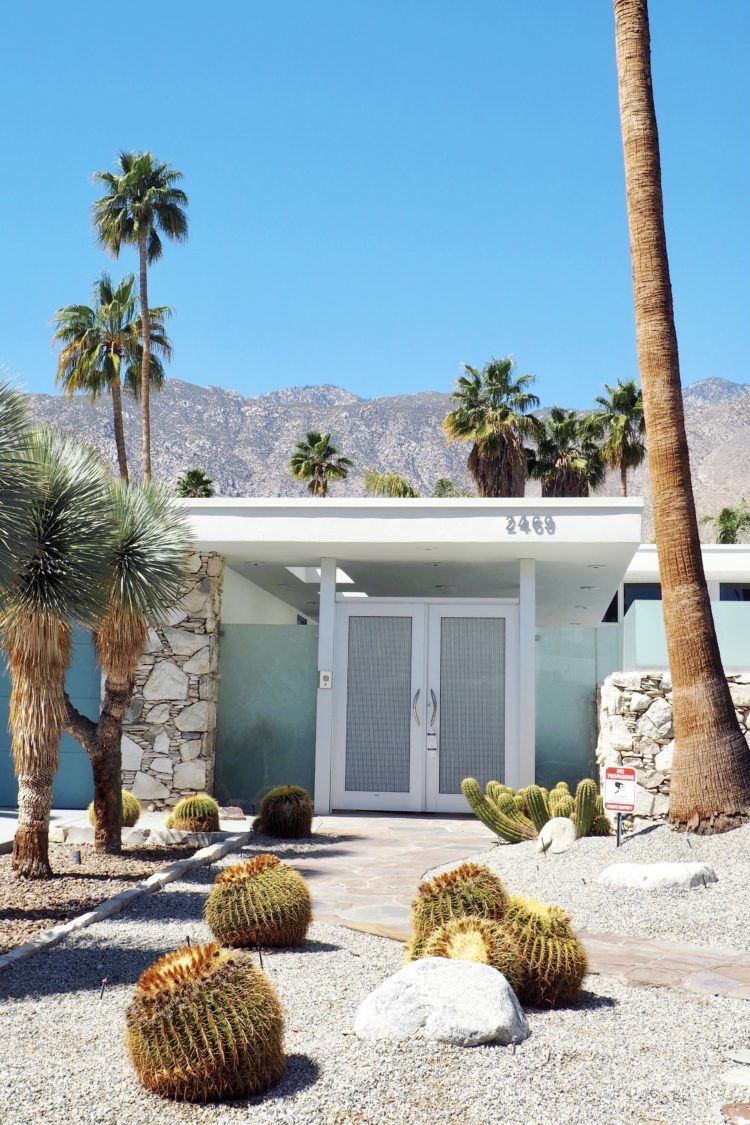 You can go one of two ways — just show up in the neighborhood and look around, OR you can go all-out and find specific houses you wanna see! Totally up to you! This is a self-guided tour of those colorful Palm Springs front doors, so you get to choose how it works.
My Secret Trick to Finding Exact Addresses
I had a hard time finding specific addresses online, which kinda makes sense as these are people's private homes. So….. I did a little investigating by typing the house number into Google Maps, seeing what roads populated in the app, picked the closest one to That Pink Door, and used street view to get actual visuals of the homes and front doors! Worked like a charm! I spent way too long doing this one night in our hotel room, and then again the next afternoon at the pool. ?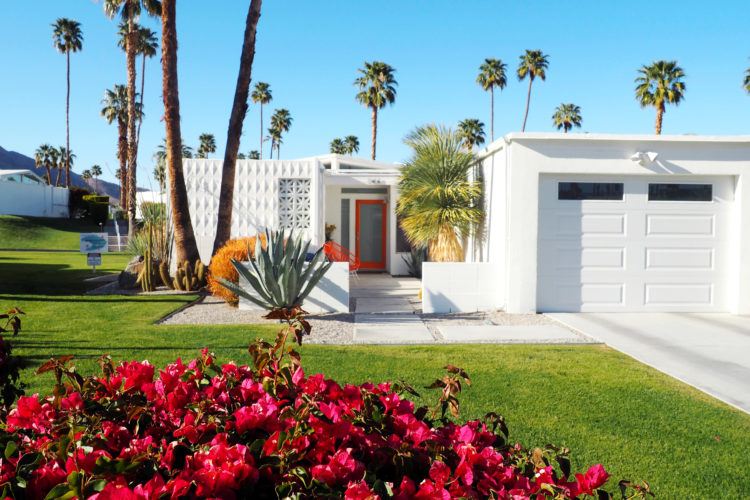 I'm disclosing some specific addresses in this post (the most popular ones), but I'm gonna keep the others secret (use my trick to find them if you'd like, though!). While I added a whole bunch to my Google Map (one way I plan and organize trips), there were oh so many other absolutely beautiful doors I found on the way. And I didn't save the addresses — there's just way too many!
You can be all-out crazy like me, or — you could simply show up and be surprised! We did a combo of both since there were a few specific ones I wanted to make sure I saw!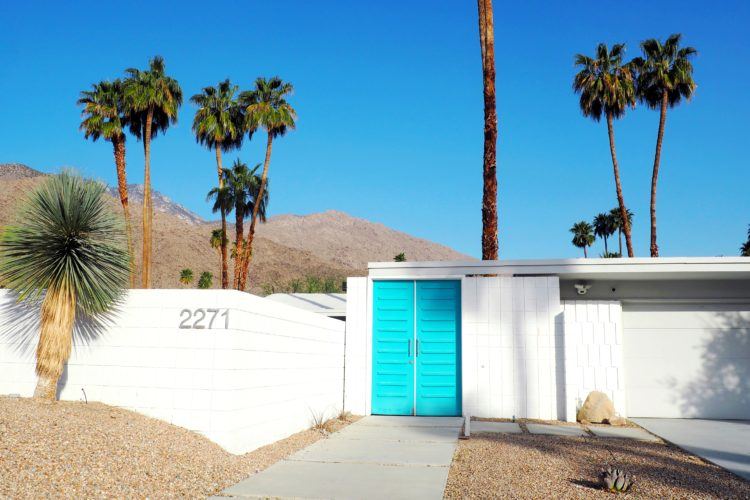 Honestly, the first time we went to the neighborhood I had a hard time finding other doors (besides That Pink Door) I wanted to photograph. I then realized we drove 2 minutes in the wrong direction! Whoops! This is why I recommend having at least a few plotted on your map.
Where to See the Most Colorful Doors in Palm Springs
The entire city is filled with mid-century modern houses, but for the most photogenic and most popular doors in Palm Springs, you'll wanna head over to the Indian Canyon neighborhood. And yes, that's where you'll find the wildly popular "That Pink Door".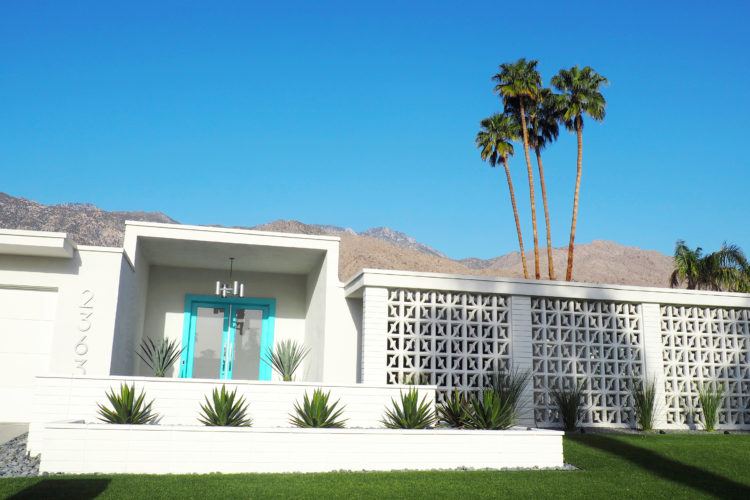 The Indian Canyon neighborhood is located in the southernmost part of the city, a few blocks south of The Ace Hotel & Pool Club. It's one of the most affluent neighborhoods in all of Palm Springs, so you bet the houses are well kept — think immaculate landscaping with tall palm trees, perfectly laid out cacti, and beautiful flower arrangements. There's spectacular views of the San Jacinto and Santa Rosa Mountains, which are actually a trademark of Indian Canyons!
Psst — don't get confused with the Indian Canyons nature preserve. That's where we hiked Andreas Canyon — and not where the famous Palm Springs doors are (haha). If you plop in the address to That Pink Door (1100 East Sierra Way), you'll easily find the correct neighborhood.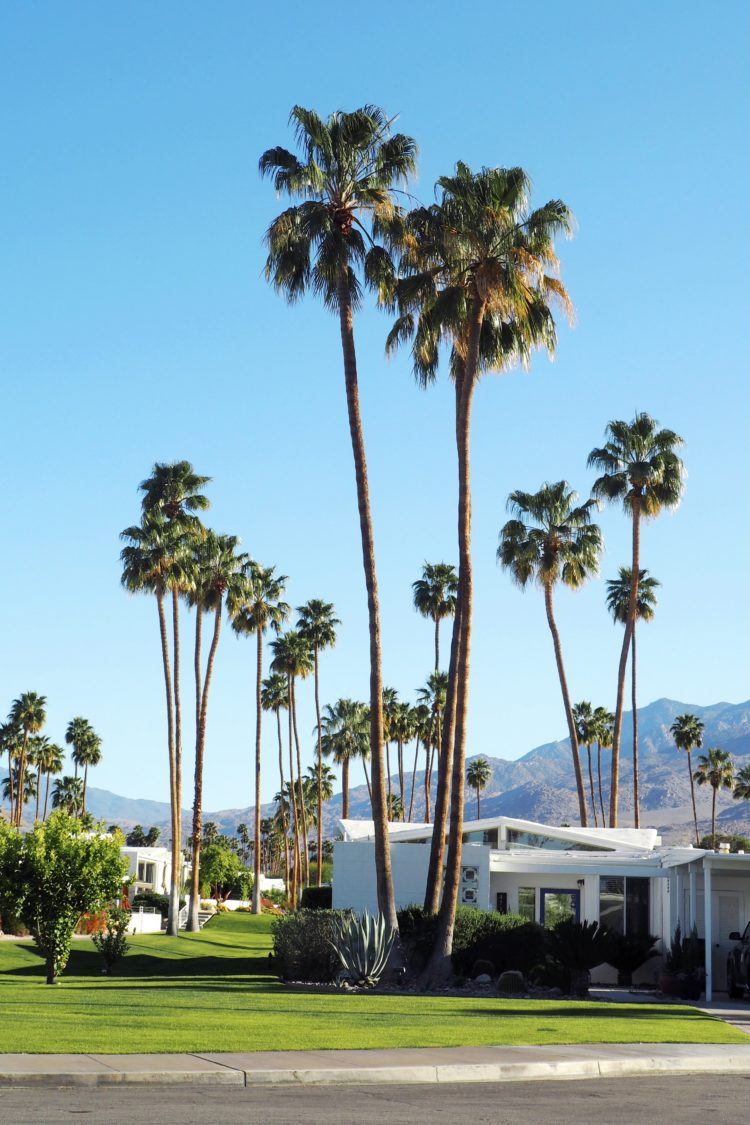 How to Get Around
And once you've plotted out your Palm Springs doors, head on over to the Indian Canyon neighborhood! You've basically got three options: rent bikes, drive around, or walk (not recommended unless you have lots of time). Many hotels have bikes for guests to borrow for FREE, so why not take advantage! I bet you can just imagine yourself riding around town on a classic bike with some sweet handlebars.
We chose to do the driving route (although if we had more time I think biking around would've been more fun). I had my husband drive around the neighborhood and I squealed in excitement every time there was a colorful door I wanted to photograph. Let's just say he's such a trooper, thanks love (haha).
It was relatively quiet when we were driving around — we saw a few people riding around on bikes and a few (probable) locals walking their dogs. Just remember to be respectful; this is not the place for loud sing-a-longs or elaborate photo shoots. People live here!
Best Time to Visit the Doors
To be honest, it's kinda hard to say the best time to visit the Palm Springs doors.
I thought going in the morning when the sun was low in the sky would be best for shadows and such, but honestly, not really. I found that when I took pictures, one side of the block had great lighting while the other side didn't. When the sun was behind a home it created difficult backlighting, so I preferred to shoot into the cloudless blue sky.
If you're staying at The Ace Hotel & Swim Club or The Saguaro, you can easily visit the Indian Canyon neighborhood a few times. We did! I could've walked on over from the Ace — the colorful doors are that close!
Guided Tours of Palm Springs Doors
If truly self-guided isn't for you, or you just wanna ensure you aren't driving around aimlessly, there are actually architectural tours you can purchase! Modern Tours Palm Springs has a 60-page e-book filled with tons of the colorful and stylish doors of Palm Springs. And yes, they provide all the specific addresses.
But honestly, where's the fun in that?! I preferred to do the investigative work myself, with a cocktail in hand laying poolside by The Ace, of course.
And yes — there are also official in-person Palm Springs door tours! I honestly couldn't believe it! Although they're pricey and hard to get tickets for. Andddd they're only available during Modernism Week, so they don't happen too frequently.
What to Wear on your DIY Palm Springs Door Tour
Leave the black and whites at home! Palm Springs calls for your most colorful clothing! If you're planning on taking some selfies in front of the doors, plan to dress the part.
So without further ado, the ultimate Palm Springs mid-century modern door tour, coming right up!
That Pink Door
Address: 1100 East Sierra Way
Yes, we're talking about that That Pink Poor — the one you've seen plastered all over IG and social media. It's arguably one of the most photographed doors in all of Palm Springs, and it's easy to see why. The door is long and lovely, with a bright, baby pink shade popping against the white stucco of the home. I just love the square carvings — it adds so much interest!
BUT, the owners have had it with all the instagrammers showing up on their doorstep. There's now No Photography and Private Property signs on their property, meaning they don't wanna see you anymore.
If you absolutely feel the need to take a photo (I feel you — it's kinda iconic to Palm Springs), please do so as respectfully as possible. This means, taking a photo from the curb, resisting the urge to walk to their front door, and of course staying off their manicured grass. Take the quick photo, but please don't plan on a full-on photo shoot over here. I've seen people do it and it's honestly kinda cringy. THIS IS SOMEONE'S HOME, remember that!
Other Palm Springs Doors I LOVED
The Party Lions: If you're paying a visit to That Pink Door (above), don't miss out on the Party Lions — they're only two doors down! The owners swap out the pool accessories every so often so you never know what you'll find! Kinda like a limited edition photo.

Address: 1076 East Sierra Way
Turquoise Chevron Door: Down the block from That Pink Door, so you really can't miss it. And it's turquoise AND chevron, so honestly, what could be better?!

Address: 1221 East Sierra Way
Yellow Tetris Door: Just look at it! Totally looks like you could play a game of tetris! And the mellow yellow? Swoon! The blue gate just adds to the overall look — I love it!

Address: 1499 E Via Estrella
Mod Circles + Blue Door: By far one of the most architecturally interesting fronts! Not only is there the glass sky blue double door, but those circles (in the same exact color!) are really something else!

Address: 2222 S Caliente Dr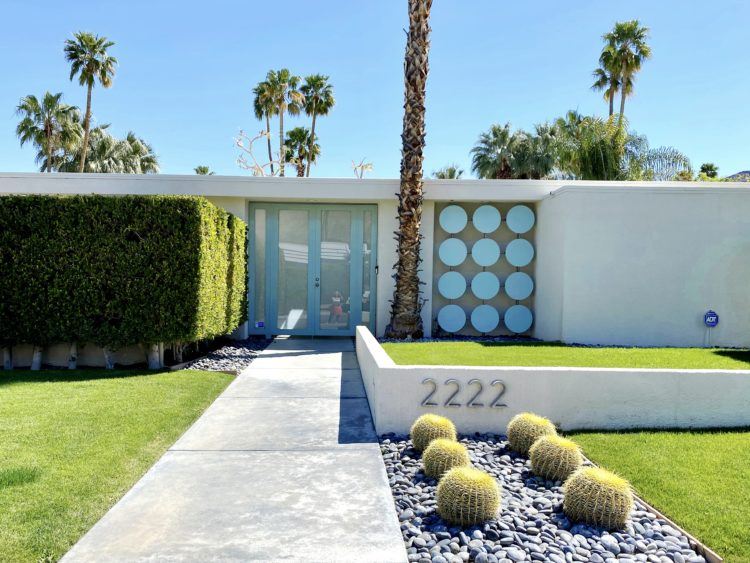 Tall Turquoise Door: I saw a photo of this door and KNEW I needed to see it in person. After a whole lot of Google Maps scouring, I found it! And what a beauty she is!
Palm Leaf Door: Most of the doors on this DIY Palm Springs door tour are colored, so this one stands out a lot! So intricate and fun! And plus, those flowers are oh so gorgeous!

Address: 2063 Madrona Drive
Red Coiled Hose: Besides it's bright reddish door, there's a perfectly matched coiled hose that's apparently always outside the house!

Address: 2690 Kings Road W.
Textured House: This house just screams mid-century modern with it's mod architectural design out front. And that door is the perfect shade of teal.

Address: 566 E Flor Circle
Tall Yellow Door: Directly across the street from That Pink Door, you turn around and you've found it! It's kinda like two doors in one, with the giant yellow door behind a set of transparent blue doors. And I loved the set up! What a grand entrance!

Address: 1131 E Sierra Way
Everything in King's Point: This little area of Indian Canyons is private (or at least it seems that way), so be extra courteous. We just did a quick drive through, and I snapped a few photos from the window. Plop Kings Road into your GPS and you'll find it.
The Parker Palm Springs: One look at this giant beauty with it's HUGE wall of breeze blocks sure is knockout. The iconic orangey-red entrance to the Parker Hotel shouldn't be missed on any tour of the Palm Springs doors. The shadows are something fierce though — come early or late. Do note that when we visited, you were only allowed into the hotel with either an overnight reservation or brunch reservation. We had made plans for brunch at Norma's (their restaurant), so were happily greeted in. I'm not sure if you'll be allowed onto the grounds without a reservation going forward.

Address: 4200 E Palm Canyon Dr
Rainbow Doors at The Saguaro: Absolute rainbow overload! We unfortunately missed this one despite passing it about 37 times. I'll have to get there next time, or even stay here (I heard their happy hour tacos are top notch).
Bright Yellow Chandelier Door: How many front doors have a swinging chandelier at its entrance? This happy yellow door does!
PLEASE — Be Respectful.
Remember, all these colorful doors in Palm Springs are part of someone's home. Yes, people do live here! No trespassing and stick to the side walk. Be respectful and stay off their private property. Never go onto their lawn or do anything to harm their landscaping in any way. I admit I walked on a driveway every now and then to get a better shot, but I stayed on the sidewalk (or in the car!) 95% of the time.
Some of the houses even have gates and block walls for privacy, so respect their wishes and stay away. How would you like it if strangers were continuously crowding your front door/property? Exactly. Just be a good human being and be courteous.
I hope this helps you plan out your own DIY Palm Springs Door Tour! I think the teal doors are my personal favorite, but I do love them all — especially those party lions!
Looking for more California content? Explore my other California guides here!
Did you know that …
When you purchase something through our links, we earn a small fee (but you still pay the same)! Win-win! If you found this article useful, consider using the links within the article or below. Thanks for your support!