We spent a little over a week touring the Southwest. Full Utah Road Trip Post >> See other stops on our road trip here: Zion National Park // Bryce Canyon National Park // Capitol Reef National Park // Arches National Park // Canyonlands National Park // Horseshoe Bend // Antelope Canyon
Visiting Monument Valley
As I was researching stops for our Southwestern road trip, I instantly knew Monument Valley had to be added to the agenda. At only 2 hours south of Moab (where we based ourselves to see Arches NP and Canyonlands NP), it was the perfect pitstop en route back to Vegas.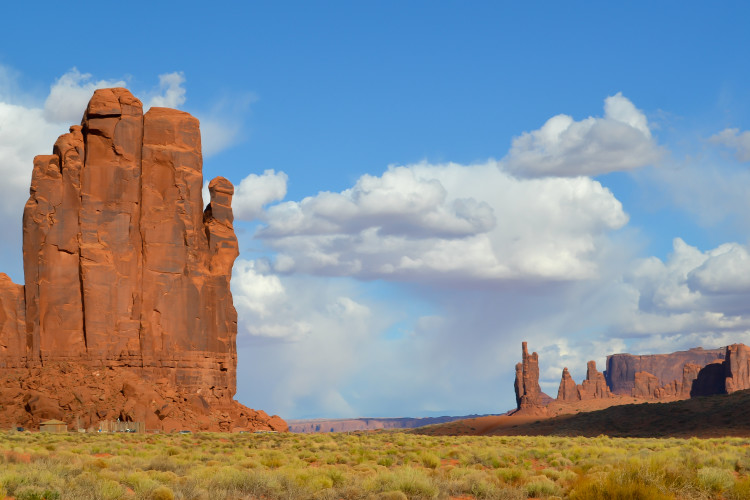 You may recognize Monument Valley as the location where Forrest Gump eventually stopped running. "I'm pretty tired… I think I'll go home now." – remember that scene? It's epic. (There's even a hidden sign that monuments the occasion, but we couldn't find it!)
However, Monument Valley is better known for it's red sandstone buttes that tower at heights of 400 to 1,000 feet. Stand beneath one and you'll instantly feel a whole lot smaller.
Located on the border of Arizona and Utah, and rather remote at that, this red-sanded desert is frequently used as a filming location for a whole slew of famous Western movies. Have you ever seen (or better yet, heard of) My Darling Clementine, The Searchers, or How the West was Won? [If you haven't don't fret – neither have I 😉 ) Maybe you've heard of some more recent ones: Lampoons Vacation, Back to the Future Part III, or The Lone Ranger? Believe it or not, those were all filmed on the Navajo land of Monument Valley.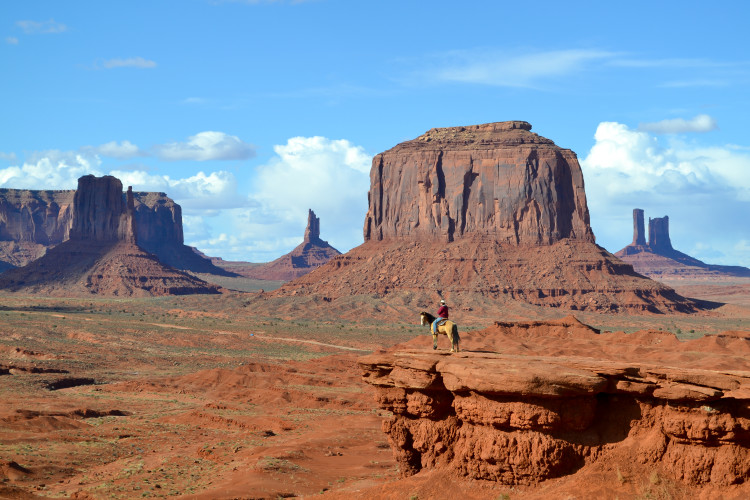 As utah.com states, "Monument Valley isn't a National Park. It's not even a National Monument. But it's as American as it gets." Couldn't be any truer.
Our Monument Valley Tour
Our guide David swept us around the valley floor, explaining the different monuments and their significance/history. We got a glimpse into the Navajo lifestyle and culture, and even witnessed a Navajo rug weaving inside an actual hogan. No photo of the hogan – wasn't sure on their take of photography and didn't want to be disrespectful.
A few of the formations we encountered included:
The Mittens: The East and West Mitten Buttes look like hands, yet it signifies spiritual beings watching over.
John Ford's Point, an epic panorama featuring many of those buttes and other sandstone formations. Here you'll find locals selling handmade jewelry and other small gifts. It's also the location where you can take that momentous shot on the horse (for a small fee, of course).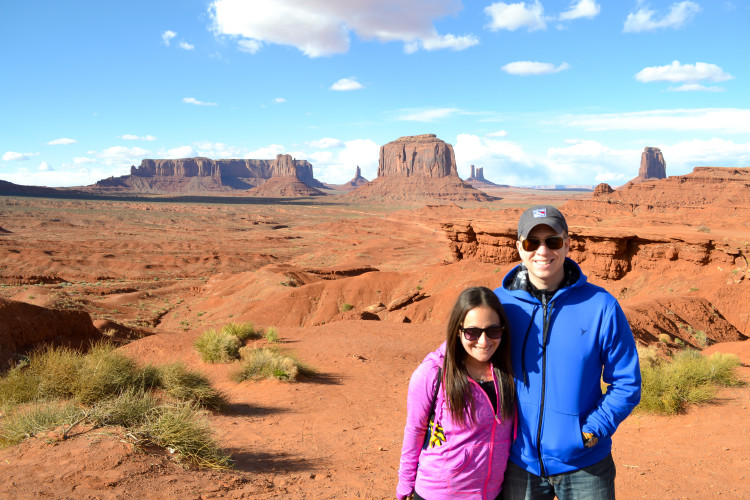 Elephant Butte, imagine a gigantic elephant in the southwest desert. Of course we were immature and called it Elephant Butt.
The Three Sisters is a formation of Catholic nun facing her two pupils.
Camel Butte, this mid-­eastern animal faces the west. Camel butt?
Totem Poles: Erosion at it's finest! These spire monuments are examples of what erosion does to a butte.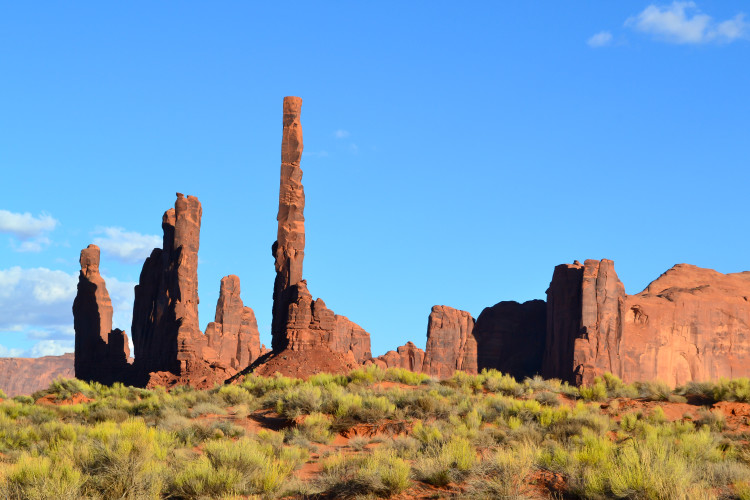 The Yei Bi Chei-­ Navajo spiritual gods located east of the Totem Pole, is a formation of dancers emerging from a Hogan.
Artist's Point, the place where artists can create landscape and bring them to life on their canvas. Just look at that photo below!
The restricted area is home to Anasazi Petroglyphs and to some magnificent rock formations, such as: "Ear of the Wind", "Sun's Eye" (pictured below), "Moccasin Arch" and "Big Hogan Arch". You'll only see these on a guided tour.
Towards the end of the tour, the sun was beaming down on the unique sandstone formations, casting a red glow on the entire landscape. Absolutely stunning. Mother nature never ceases to amaze me.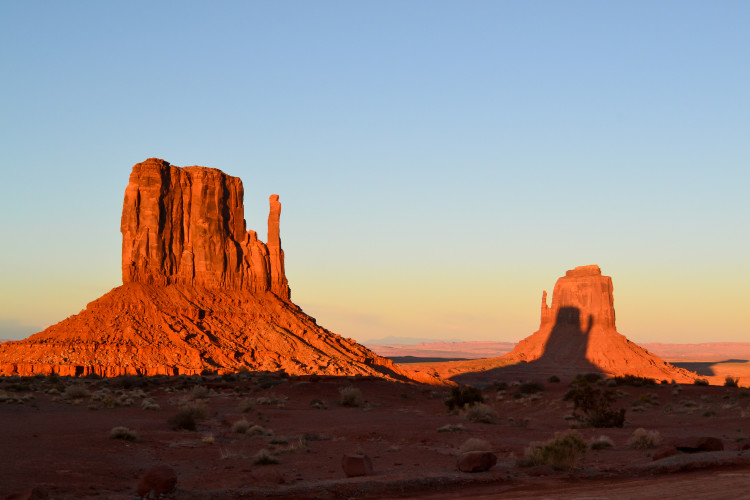 My only gripe? The fact that we were literally shivering for 2/3 of the tour. Besides the fact that we weren't dressed appropriately, the moving open truck made the winds feel even colder than they were. That just meant we had to snuggle, right? To keep warm, of course.
In the companies defense, our guide, David, had specifically told me that I'd need warmer clothes at the start of our tour. When I explained to him that I hadn't packed for unexpected cold temps, he offered to put me up in the front of his toasty truck. Thankfully, a sweet lady overheard our conversation, and lent me her extra jacket. I swear, travelers are always looking out for each other.
Tips for Visiting Monument Valley
Book a tour (like the one we went on with Goulding's Tours) in order to see much of the park. While it is possible to visit alone via the 17-mile Valley loop, many of the areas are restricted to tour vehicles.
If you are brave enough to visit sans tour operator, make sure you are driving an appropriate vehicle. We saw a few which were definitely not 4 wheel drive (and even one convertible), which is not feasible considering the sand/dirt and irregularly maintained roads.
Wear layers and bring water. You never know what the weather will be as it seems to change drastically from day to day, and even more so from day to night.
Bring a camera with a decent zoom. Being one of the most photographed points on Earth, you won't want to miss any perfect shots due to camera gear.
Use the restroom before entering the park, as there are no facilities located within (not even water).
Avoid the summer months if you can. The park gets sweltering hot and is therefore not as comfortable in the desert. Spring and fall are best bets in my opinion.
The Lodge
I really appreciated the fact that our hotel was super close to Monument Valley, at just under 5 miles. After a long day, all I wanted was to fall face first onto our bed (and that I did before dinner). The room at Goulding's Lodge was much more modern than I expected, with a flat screen tv, keurig, and other amenities.
The best part? Waking up to a spectacular sunrise over the buttes on our porch. That's right – every room sports a first-class view of Monument Valley, day and night.
We had a traditional Navajo meal of fry bread and chicken soup, which was the perfect ending to our chilly afternoon.
And a few Forrest Gump quotes for some good fun:
"My mama always said, 'Life was like a box of chocolates. You never know what you're gonna get.'"-Forrest
"Me and Jenny goes together like peas and carrots." -Forrest
"That day, for no particular reason, I decided to go for a little run. So I ran to the end of the road. And when I got there, I thought maybe I'd run to the end of town. And when I got there, I thought maybe I'd just run across Greenbow County. And I figured, since I run this far, maybe I'd just run across the great state of Alabama. And that's what I did. I ran clear across Alabama. For no particular reason I just kept on going. I ran clear to the ocean. And when I got there, I figured, since I'd gone this far, I might as well turn around, just keep on going. When I got to another ocean, I figured, since I'd gone this far, I might as well just turn back, keep right on going." – Forrest
"Lieutenant Dan got me invested in some kind of fruit company [Apple computer]. So then I got a call from him, saying we don't have to worry about money no more. And I said, that's good! One less thing." -Forrest
"Listen, you promise me something, OK? Just if you're ever in trouble, don't be brave. You just run, OK? Just run away." -Jenny
I was a guest of Goulding's, but I would have booked both the hotel room and tour either way! As always, all opinions and horrible jokes are my own. 🙂