Okay guys, if you ever find yourself in Page, Arizona, promise me that you'll venture over to Horseshoe Bend. It's a horseshoe shaped bend in the Colorado River, and it's one of the most marvelous spots I've ever laid eyes on.
The hike isn't really so much a "hike", but a short 10-15 minute walk from the parking lot. It's not strenuous by any means (unlike our hike to Angels Landing in Zion National Park a few days prior), but I suggest you wear proper shoes (sneakers, trainers, hiking boots, etc), and leave your high heels at home. It's a sandy trail, so flip flops aren't advised as well!
You're walking (and following the crowd), without much besides mountains in the distance, and then BAM! You approach Horseshoe Bend and instantly understand what all the fuss is about.
The sight really is breathtaking. The water is an especially beautiful color, with streaks of green interspersed among the natural blue color of the water. If you're lucky, you'll even see a tiny boat meandering around the bend thousands of feet below you.
The entire experience could take less than an hour, as it took us about 15 minutes to walk in and out, and we hung around the bend for about 20-30 minutes.
But stay a while and soak it all in.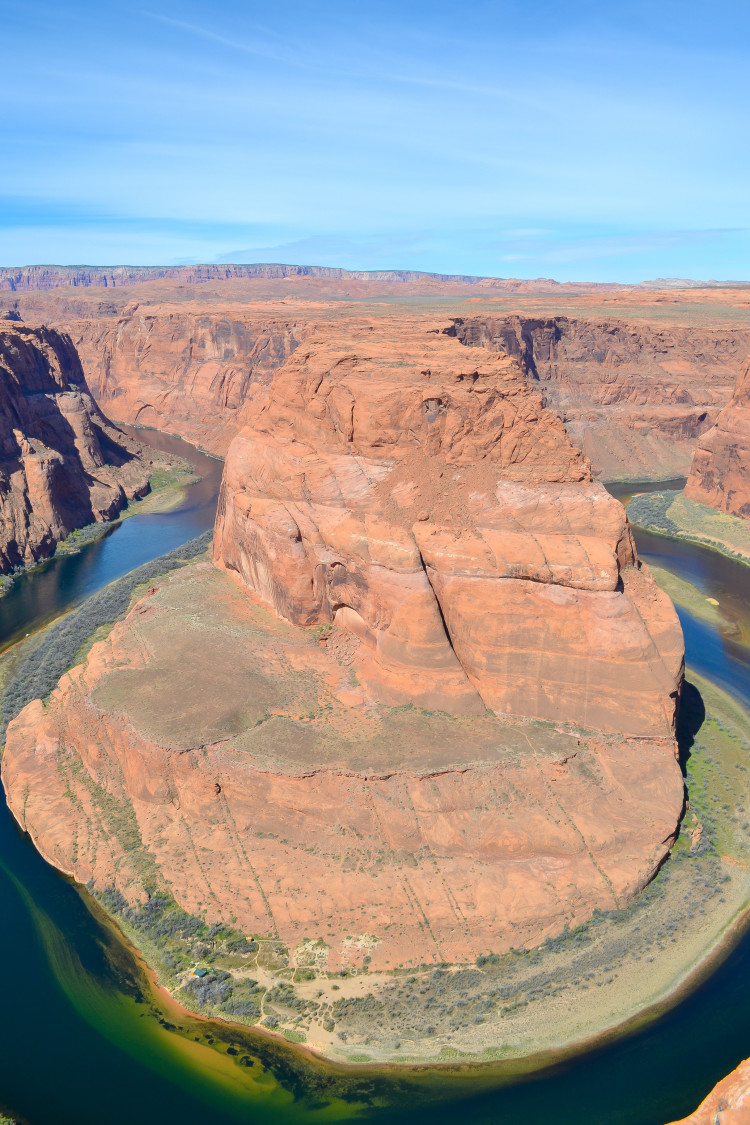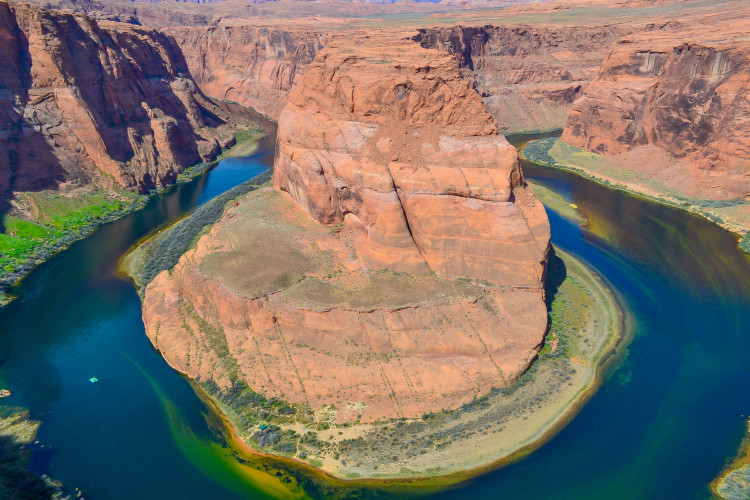 Horseshoe Bend is located only 10 minutes away by car from Antelope Canyon, so I highly suggest you visit before or after a tour of the canyon.
Safety First:
There are NO guardrails or handrails located anywhere around the bend, so be careful! I can't stress enough how important it is to hold hands of any young kids. There are no restrictions as to how close you can get to the edge, but remember – that thousand+ feet drop will only take about 10 seconds.
Noah got a little too close to the edge for my liking at some points, and I'm sure I did the same. Just be careful – this is not the place to come after some wine.
Photography Tips:
Being one of the most photographed areas in the United States, you'll want to make sure you bring proper equipment with you. See all of my photography gear here.
In order to photograph the bend, you'll need a super wide angle lens. These photos were taken with a 18mm lens on my Nikon D3100 (new model here), and I still wish I could have gotten more in the frame. You'll literally need to stand on the edge in order to capture the entire bend. If your footings a little unsteady and you're feeling a little unsure, try sitting on the edge or even lying down – you'll feel much more secure that way.
To get more in the frame without a wide angle lens, get higher up and the camera will be able to see a bit more. There are a few noticeable spots within easy climbing reach to situate yourself on to get some good shots.
If you don't have a wide angle lens, take a few pictures and stitch them together in a photo editing program. A GoPro would have been awesome here, but of course we didn't realize beforehand and had left it in the hotel.
Are you brave enough to hang out here?