Headed to Croatia and looking for the best day trips from Split? Keep on reading and you'll find a bunch of activities to add onto your itinerary, including Split excursions on land and by boat! Trust me, there's something for everyone!
With its historic landmarks and beautiful views, the waterfront city of Split, Croatia is a perfect place to spend a few blissful days on the Dalmatian Coast. Sea-lovers and history buffs flock to this picturesque seaside destination to experience the Adriatic Sea. Between its fascinating museums, bustling markets, and photogenic views, Split offers a variety of activities that any kind of traveler will enjoy.
However, while there's plenty to do inside the city, there are also several awesome day trips from Split that will give you a glimpse of some of the best Croatia has to offer. Many of these day tours from Split are perfect for adventurous people who want to see more of Croatia's surrounding landscape, but there are activities any traveler will enjoy as well. In this post, I've compiled a list of some of the best Split day trips, including how to get there and what to expect.
Read Next: A Complete 2-Week Croatia Itinerary
Best Day Trips from Split
1. Krka National Park
Distance from Split: 54.1 miles/87.1 km
Activities You Can't Miss: Hiking through the waterfalls, swimming in Skradinski Buk, and taking the ferry to Visovac and Roski Slap
Hidden in the lush greenery of the Croatian countryside is Krka National Park. Here you'll find a series of turquoise and emerald-colored pools and waterfalls that stem from you guessed it, the Krka River, which carves through the nearby hills and mountains.
It's one of the best Split day trips because it's only a 1 hour, 20 minute ride from the city center. Although the park is ridiculously popular with tourists, it's not quite as crowded as its cousin, Plitvice Lakes, and it's way easier to get to, especially if you join a group tour like I did.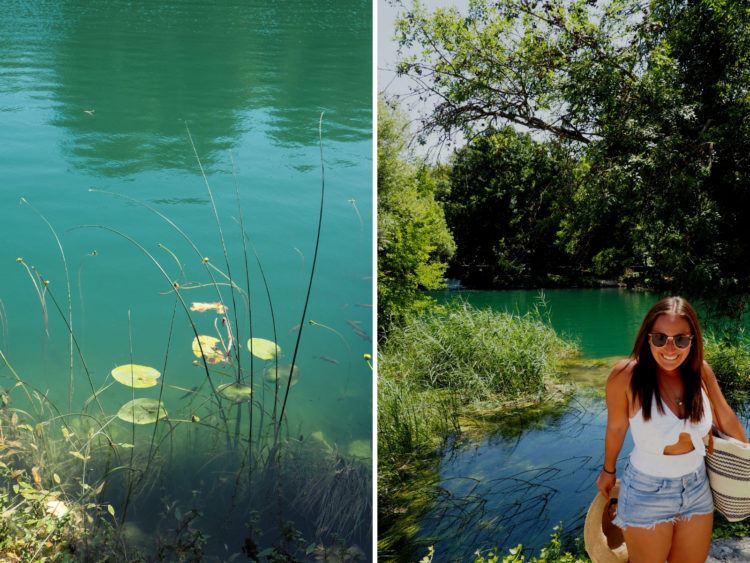 Once you've arrived at Krka National Park, you'll need to pay an entrance fee. Then, you can take a walk on the trail that weaves through the many pools and waterfalls in the park. Along the way, you'll find small waterfalls and babbling brooks which guide the way to the bigger, more powerful falls along the trails.
There's even one waterfall, called Skradinski Buk, that you can swim in during the warmer months. The water here is crystal clear and cool, perfect for taking a dip after you've been walking around and admiring the park for a few hours.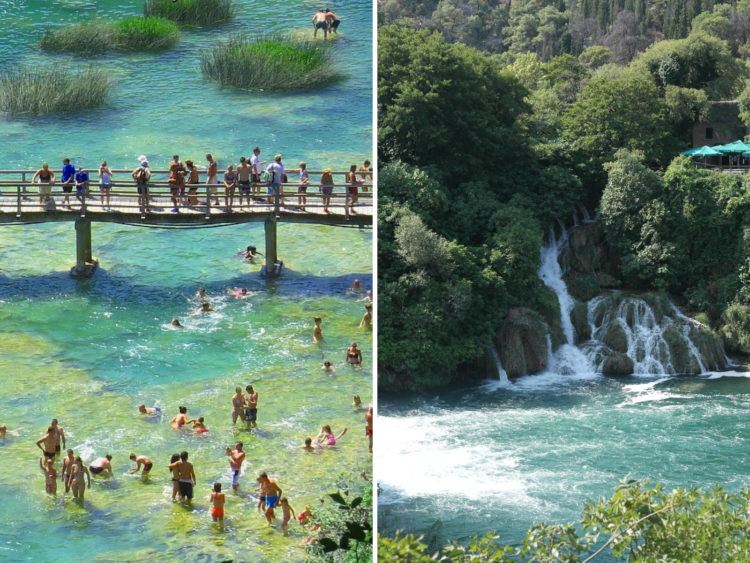 Within Krka National Park, there's a ferry system that will take you around to different areas of the park. If you have extra time, take the ferry to Visovac, a small island with a historic monastery and church. Alternatively, you can take a ferry to Roski Slap, a quieter area of the park that has a few places to enjoy, like a waterfall trail, a hike up to a small cave, and a restaurant, Kristijan, where you can eat while dipping your feet in the cool spring water from the falls. // BOOK TOUR HERE or through links/photos below
2. Plitvice National Park
Distance from Split: 150.8 miles/242.7 km
Activities You Can't Miss: Walking through the wooden paths, taking the ferry across the park, and hiking up to the small viewpoint above Veliki Slap
As one of the most famous landmarks in Croatia, Plitvice Lakes National Park is another stunning nature area full of colorful pools and powerful waterfalls. If you're willing to make the 2.5-hour trek, it's one of the most worthwhile day trips from Split.
And trust me, I'm glad I went with an organized tour (tour extremely similar to mine here), as driving 5 hours in one day (half after exploring/hiking in the park) doesn't sound like fun to me. I'd much rather have someone else take the duty of driving me and my friends around. :p
You could spend several days here simply wandering the trails and admiring the falls and the color of the springs, listening to the sounds of running water flowing underneath the wooden paths. However, if you've got less time, you can definitely hit the highlights of Plitvice Lakes in just a few hours.
Once you arrive at the park, I recommend starting at Entrance 2. From here, you can purchase your entrance ticket and look at a map of the park, which lists out different trails and where they connect. Then, take the bus and proceed to the ferry station, where you can take the ferry toward entrance 3.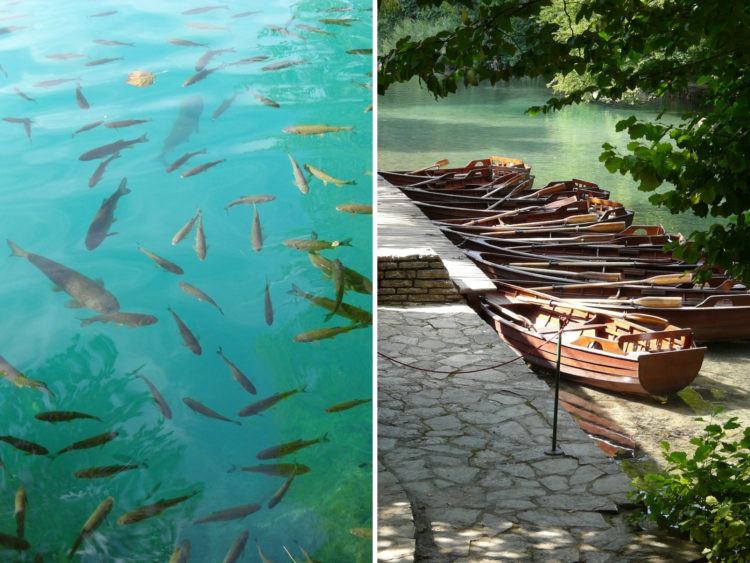 Here, you can start your walk on the wooden paths that run through both small and large waterfall areas. In some parts of the park, the tiny waterfalls look like steps! Take a loop through some of the waterfalls and emerald pools, then board the ferry towards entrance 1.
As you make your way to entrance 1, you'll eventually find the largest waterfall, Veliki Slap. Because it's the park's most famous attraction, you also may find that this area is inundated with tourists. To escape the crowds, take the stairs to the left of Veliki Slap up to a small viewpoint, where you can take in stunning views of the park down below. // BOOK TOUR HERE or through links/photos below
3. Omis for Cetina River
Distance from Split: 15.8 miles/25.5 km
Activities You Can't Miss: Visiting Mirabella fortress, rafting, canyoning, kayaking, zip lining, visit the beaches in Omis
Special Foods to Try: Fresh seafood dishes with Croatian wine!
A short, 40-minute trip from the city center, Omis is one of the best Split day trips that offers tons of fun for a variety of travelers. As a beautiful, historic city located where the Adriatic Sea meets the Cetina River, there's a lot to do here in the way of both cultural and adventure activities.
Intrepid travelers can enjoy several different adrenaline-inducing activities on the Cetina River. Rafting is one of the most popular activities, as the river is a protected area with a few rapids (grade 2-3 out of a maximum of 6) and views of the surrounding areas. You can organize a tour directly from Split or after you've had a chance to explore Omis.
Some other popular adventure activities in the Cetina River area include canyoning, hiking, and zip lining. Depending on how much time you have in the area, you can do 2 or more of these activities in a single day! In the high season, it's recommended to book your tours in advance to ensure your space, as they can fill up quickly.
I chose to do a ziplining tour in Omis from Split, and it was by far the best ziplining I've ever done (after experiencing the "sport" in Belize and Whistler as well). Book zipline tour here (exact one I did).
Those of you looking for more laid-back options can enjoy beautiful views and beaches in Omis, as well as delicious seafood restaurants. Hike up to Mirabella Fortress for the best views of Omis' orange rooftops, or just sit back and relax on the sandy shores of the Riviera.
4. Trogir and Blue Lagoon
Distance from Split: 18.1 miles/29.1 km
Activities You Can't Miss: Exploring Trogir, snorkeling and swimming in the Blue Lagoon
Special Foods to Try: Prsut (smoked Dalmatian ham), homemade pasta, and seafood
One of the most spectacular and fun day trips from Split hits two fantastic landmarks: the town of Trogir and the Blue Lagoon, a large, clear-water lagoon with plenty of opportunities to swim and snorkel.
Trogir is a historic seaside town that was an important part of Croatia's history. In fact, Trogir is such a beautiful display of Romanesque, Renaissance, and Baroque styles that it was named a UNESCO World Heritage Site in 1997. Here, you can visit the Cathedral of St. Lawrence and Kamerlango Castle, as well as wandering through the waterfront and the beaches.
After Trogir, you'll head to the Blue Lagoon, a nearby saltwater lagoon that has amazingly clear blue water. You can go the lagoon on one of the boat trips from Split or head there from Trogir. Once there, you can take a few hours to hike around to viewpoints in the area, go for a swim, or snorkel and see some of the marine life. It's a good idea to bring a pair of water shoes, in case you spot some spiky sea urchins!
You can definitely DIY this trip if you have a rental car, but it's a lot easier and less hassle to go with a local tour operator, many of which have multiple day tours from Split for both Trogir and the Blue Lagoon. Depending on how much time you spend in each location, you can do this as a half-day tour or a full-day excursion. BOOK TOUR HERE
5. Mostar
Distance from Split: 104.7 miles/168.5 km
Activities You Can't Miss: Stari Most, Koski Mehmed Pasa Mosque, Blagaj Monastery
Special Foods to Try: Sogan Dolma, Cevapi, Burek
For a day trip to Mostar, you'll be leaving Croatia and entering the fascinating country of Bosnia and Herzegovina. Mostar is a perplexing city most famous for the iconic Stari Most bridge that looks like a half-circle over a glass river. However, if you take a day to explore the city, you'll find many more historic highlights and hidden gems.
Once you arrive in Mostar, you'll want to head to the Stari Most bridge to see this world-famous sight. If you prefer a quieter experience at the bridge, I'd recommend going early in the morning to avoid the tourist crowds. For the best views of Stari Most, be sure to take a walk into the surrounding areas, underneath, and of course, up in the minaret of the mosque.
Read Next: One Day in Mostar (What to Expect)
Yup, you heard that right – one of the most interesting things about Mostar is that one of its most popular landmarks is a mosque. After coming from Croatia, which primarily has churches, it's a welcome change. Climb up to the minaret of the Koski Mehmed Pasa Mosque for some of the best views of Mostar before heading down and exploring some of the other bridges that cross the Neretva River.
Before leaving Bosnia and Herzegovina, be sure to taste some of the local foods, like burek (phyllo stuffed with various vegetables and/or meat), cevapi (a type of Bosnian minced meat kebab with flat bread), and sogan dolma (local grape leaf specialty made with onion). // BOOK TOUR HERE
6. Dubrovnik
Distance from Split: 142.3 miles/229 km
Activities You Can't Miss: Old City, beaches, Srd Hill, Game of Thrones tour
Special Foods to Try: Black risotto, bakalar na bijelo, Dubrovacka zelena menestra
Despite being made famous as the iconic shooting location of Game of Thrones, Dubrovnik has so much more to offer visitors than drama, heartbreak, and suspense. With a stunning Old Town, a sparkling blue seaside dotted with islands, and breathtaking bird's eye views from the hills, Dubrovnik is definitely worth exploring.
At 3 hours from Split, it's not an easy or short day trip, but it's definitely doable if you've got a full day. I definitely recommend more than one measly day exploring Dubrovnik, but if it's all you've got, it's better than nothing. Consider taking an organized bus tour to ensure you'll see as much as humanly possible during your short visit to Dubrovnik from a local guide who knows the ins and outs of the city.
Okay, okay. I'll admit that the reason why a LOT of people go to Dubrovnik is because of Game of Thrones. If you're a self-proclaimed GOT addict, why not take a tour specifically dedicated to Game of Thrones? There are several tours you can choose from that will take you to all of your favorite spots from King's Landing.
Read Next: 15+ Things to do in Dubrovnik
However, if you'd rather see Dubrovnik for its own history and culture, consider taking a self-guided walking tour or a guided city tour to learn more about it. You can explore some of the historic structures, like the City Walls or the buildings inside of the Old Town. Or, if you'd rather see Dubrovnik from above, take a cable car up to Srd Hill to catch a magnificent bird's eye view. // BOOK ORGANIZED TOUR HERE 
7. Hvar
Distance from Split: 38.6 miles/62.1 km
Activities You Can't Miss: Island hopping boat tours, smell local lavender, hiking
Special Foods to Try: Gregada
A 1.5 hour ferry from Split's port, Hvar is one of the most exciting boat trips from Split. With beautiful old houses and farms, amazing food, and lots of beach areas to explore, Hvar truly is a paradise in the Adriatic Sea. Ferries leave regularly from Split during the day and they're a wonderful adventure through the island areas in themselves!
Once you arrive in Hvar, you can head to some of the local eateries to try fresh seafood and the local specialty, gregada, which is a local fish and potato stew. You can also visit historic buildings like the Franciscan Monastery and the St. Stephen's Cathedral. One of the best (and most simple) things to do in Hvar, however, is to simply wander through the charming cobblestone alleyways and take in the sights and sounds of this small seaside town.
While in Hvar, there are also tons of boat tours you can do to some of the nearby islands. These range in price and activity, depending on if you'd like to snorkel, explore caves, or lounge around by the water. In the next section, I'll be talking about some of the best boat tours from Split and what you can expect to see there. However, just note that if you're planning on being in Hvar already, you can take many similar tours starting there as well.
Towards the end of the day, head to Fortica Spanjola for dazzling sunset views of Hvar and the sea. On sunny days it's a burst of beautiful warm colors to wrap up your day in Hvar. // BOOK TOUR HERE
8. Blue Cave
Distance from Split: 37.3 miles/60 km
Activities You Can't Miss: Exploring the blue cave, snorkeling, island hopping
Arguably the most spectacular natural phenomenon on the Dalmatian Coast is the Blue Cave, a tiny cave that glows with blue light for periods throughout the day. Originally, the Blue Cave was only accessible by diving, but now there's an entrance large enough to fit one small boat at a time. Words hardly do this place justice – you'll have to visit for yourself to see this incredible natural attraction.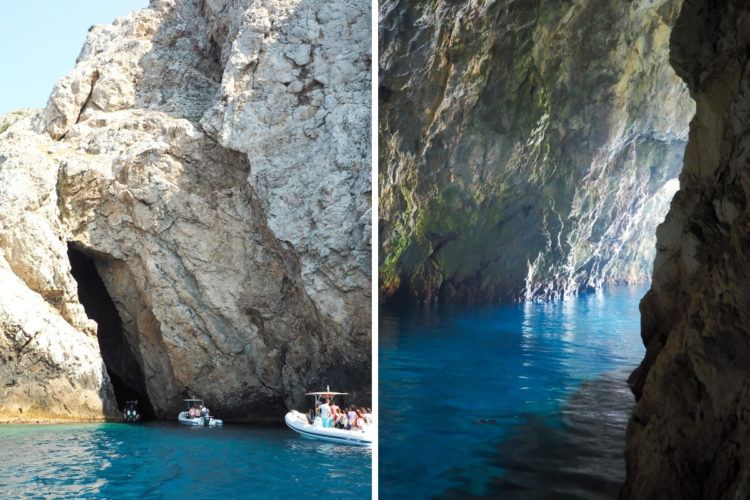 However, as boats are only allowed to enter the Blue Cave for a few minutes at a time, you'll most likely pair this trip with a tour to other islands in the area. You can visit the Blue Cave as part of many larger day tours from Split, including this one and this one. Like I mentioned before, these island hopping tours give visitors the chance to explore many of the small and beautiful islands off the coast of Split through the course of one day.
On these full-day tours, you'll have the opportunity to swim, snorkel, sunbathe, and more in the beautiful blue waters of the Adriatic Sea. Many tours include snorkeling equipment as part of the tour, but not lunch, so be sure to inquire what you need to bring before boarding the boat! BOOK BLUE CAVE AND HAVR  – or – 5 ISLAND TOUR HERE
9. Brac Island
Distance from Split: 20.9 miles/33.7 km
Activities You Can't Miss: Winery tours, olive oil museum, hermitage sites, hiking, kayaking, and rock climbing
Special Foods to Try: Lamb dishes (lamb is their local specialty meat and it's often cooked in many different ways!)
Brac Island is one of the most popular boat trips from Split, and it's one of the largest islands off the coast. While you could explore Brac Island over the course of a few days, you can hit a lot of the highlights on a day trip to the island. Depending on what kinds of activities you'd like to do (adventure, food, cultural, etc.), you'll likely need to pick and choose carefully because there's just SO much to do here!
For the foodies out there, you can't leave Brac Island without doing two things: sampling the local lamb dishes and tasting wine. These are two mouth watering treats that Brac Island is known for, and they're definitely a delicious way to spend the greater part of a day.
For history and culture buffs, head to Skrip, an inland historic settlement with many original buildings to learn about and explore. Peruse the Museum of Brac to learn more about the island's history, or sample local olive oil blends at the Museum of Olive Oil. Afterward, head to some of the historic hermitage sites that dot the island. These old, rustic retreats for priests were places of spirituality and meditation, many of which are built into cliffs or caves. Brac Island is home to 6 hermitage sites, but the two most popular to visit are Zmajeva Spilja and Pustinja Blaca.
Adventure travelers can also find a lot of fun, adrenaline-inducing activities on Brac Island, like hiking up into the hills, kayaking off the coast, or rock climbing at Lozisca. // BOOK TOUR HERE
10. Pakleni Islands
Distance from Split: 41.1 mi/66.1 km
Activities You Can't Miss: Island hopping, swimming, and boating
Special Foods to Try: Seafood and gregada
A direct translation of "Pakleni Islands" is "Hell Islands," but don't be deceived by the name; these islands are actually pretty heavenly. The name actually comes from the word for pine resin used to coat ships – paklina. With sparkling blue waters, amazing beaches, and some of the best seafood in the area, you can find your paradise in this set of small, quaint islands.
At under 2 hours from Split, the Pakleni Islands are one of the most relaxing and beautiful day trips from Split that you can take. They're considerably less crowded than Hvar and other island hopping day tours, so it's perfect for those who want to unwind in a stunning natural setting.
There are four islands in the Pakleni Islands area, which sits off the coast of Hvar: Palmizana, Marinkovac, Jerolim, and Galesnik. Palmizana is the largest of them and has pine forests that border the ocean. With a variety of restaurants and historic sites like the Villa Meneghello, it's a wonderful island to wander around or kick back and relax.
Alternatively, Marinkovac and Jerolim boasts beautiful beaches like Stipanska Bay and Zdrilca (on Marinkovac) and Amo Beach (on Jerolim). Galesnik is home to a restaurant bearing the island's name that serves local specialties in a historic fortress. You can easily visit just one of the Pakleni Islands or all four of them on a day trip from Split. // BOOK TOUR HERE
So which of these Split excursions will you be adding to your itinerary? Let me know in the comments below! And be sure to sign up beforehand (like today!), so there's guaranteed space for you on the boat!
Photos via Omis //