Visiting Croatia and looking for the best day trips from Dubrovnik?! Get away from the crowds and add a few days to your itinerary to include these top Dubrovnik excursions! They happened to be some of my best days in Croatia overall!
Dubrovnik has got to be one of the most fascinating cities I've visited recently. From its distinctive Old Town and pedestrianized Stradun (placa) to the freshest of the fresh seafood and it's sparkling Adriatic sea, this Croatian city is hard to beat.
HOWEVER, come during its prime tourist season (May-September), and you'll be sharing all this wonderful-ness with thousands of other people. Thankfully, there are quite a few day trips from Dubrovnik that will get you away from the masses and entertain you with some much needed peace and quiet.
Please, oh please, go explore beyond the Old Town walls and common tourist sights and beaches of Dubrovnik. I'm literally begging you. From the seductive islands dotting the coast, complex history of nearby countries, and cobblestone streets just waiting to be explored, there's enough day trips from Dubrovnik to keep you busy for days and days.
Don't miss these 10 Dubrovnik excursions on your next trip to Croatia, or at least pick and choose a few if you haven't got time for all of them!
Best Day Trips from Dubrovnik
1. The Island of Lokrum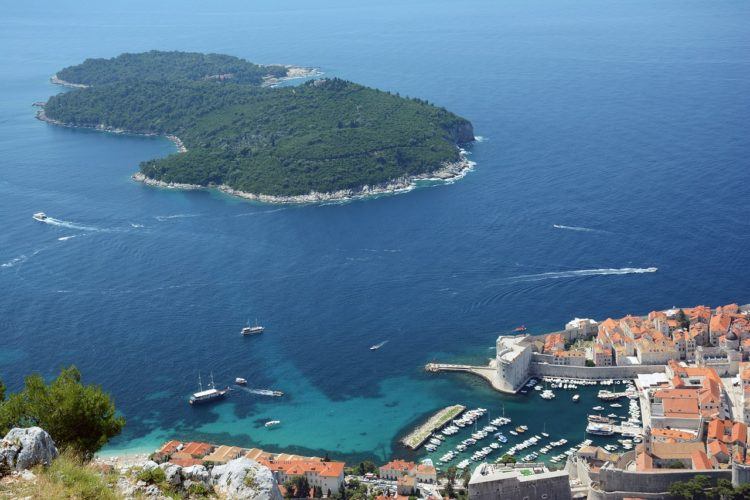 How to get there: Looking for an easy day trip from Dubrovnik? The Island of Lokrum may be just your answer. And with a short ferry ride away from Dubrovnik's Old Town port, you'll instantly find yourself a world away (minus the crowds!)
The ferry makes its way to Lokrum two to four times an hour, depending on the season, and is quite the quick journey at about 15 minutes or so. The price couldn't be better either, costing roughly 5 euro (40 kuna) — and because of this, a day trip to Lokrum from Dubrovnik is by far one of the most popular Dubrovnik day trips you'll find.
In addition, if you're up for it and feeling a bit extra and adventurous, you can also kayak from Dubrovnik to Lokrum island – you'll definitely get views no one else will! | Book kayaking tour
What to do: After the super short ferry ride, prepare to spend the day exploring, as Lokrum Island is full of all things Games of Thrones, an absolutely gorgeous botanical garden, and boasts tons of natural swimming spots.
If you're cool wandering the island yourself, there's no need to book a tour, but if you want to guarantee you'll see the iron throne and all things Game of Throne, learn a bit about the monastery, and guarantee your spot on a boat, you'll want to book a guided tour of Lokrum.
I kind of wish I signed up for a tour because although the buildings were gorgeous, I had no clue what I was looking at nor their significance. Don't miss the peacocks and bunnies roaming around the island (usually in/near the botanical garden) and go for a swim in the super salty "Dead Sea".
You can also just casually jump in that glistening Adriatic Sea basically anywhere on the coast of Lokrum – a dip is the ultimate way to refresh yourself in the super sweaty Croatian heat. Bring (or wear) your bathing suit!
2. Cavtat
How to get there: Since this old city is relatively close to Dubrovnik (at only 20km away), getting there is quite easy. You can either take a car or taxi cab (only a 30 minute drive), hop on a public bus (fares are 25 kn/~$4 US), or take a ferry if you'd rather spend a bit of time on the gorgeous Croatian waters (40kn/~$7 US).
In addition, Cavtat is pretty close to the airport, so wandering around the city is always an option if you've got ample time before your flight.
What to do: Cavtat is kind of like a mini Dubrovnik, being an old city and all, but thankfully, without all the crowds! Be sure not to miss Cavtat's Old Town (which is fulllll of small town charm and tons of shops, restaurants, and swimming spots), hike the 5-mile (8 km) Ronald Brown Pathway (complete with incredible Croatian views – after you finish the rocky climb), and visit the Vlaho Bukovac House and Church of St. Nicholas.
There's lots of options to get active in Cavtat, including biking, swimming, kayaking, so be sure to bring your bathing suit! A perfect day in Cavtat includes walking along the scenic paved trail, stopping at a few bars and restaurants along the way, then jumping right into the cool water from the rocky shore – my kinda day trip from Dubrovnik, that's for sure.
3. Korcula
How to get there: Another day trip from Dubrovnik that's best reached by boat – especially if you're planning to visit during the summer season. But be warned – the ride is rather long, lasting about two and a half hours, meaning those who aren't up for a long ferry ride may want to have other day trip ideas up their sleeve.
And if you'd rather not figure out the ferries on your own (they can be semi-confusing if island hopping isn't your typical activity), an organized tour may be your best bet. Why not leave the stresses to someone else (my top choice).
What to do: Besides being the stunning medieval town that it is, Korcula also boasts some of the most impressive scenery you'll find on any day trip from Dubrovnik.
Be sure to check out some Renaissance-era palaces and lounge at an outdoor cafe, sipping coffee or local wine. Psst – if you're a wine lover you've got to drive through the wine region in the peninsula of Peljesac and explore a local wine cellar, included on many organized tours to Korcula from Dubrovnik.
A few different options for your day trip to Korcula, some even including local wine tasting:
4. Mljet National Park
How to get there: In my opinion, the best way to reach Mljet National Park is by booking yourself on an organized tour (especially if you've only got one day to experience all that the park has to offer). While a full independent round trip from Dubrovnik to Mljet is possible in just one day, things can get a bit complicated (with ferries, bus rides, bikes, etc), so I highly suggest an organized tour.
Note that if you are in fact attempting the ferries yourself, there is only one ferry to Mljet and one ferry back, only giving you about 3 hours on the island once you reach the lakes. Seems like a lot of hassle for such a short period of time. My advice – Book a tour. Vacation shouldn't be stressful.
What to do: Get back to nature and experience the true Croatia without all the thousands of people. Being Croatia's greenest island, you can't take this day trip from Dubrovnik and not visit the lakes. And while you're here in Mljet, you have to make it to aptly named Big Lake and Small Lake – both are downright spectacular and not to be missed! You'll even find a tiny island with an old Benedictine monastery on one of them.
Book a boat tour to get the best views of this! I missed out on this day trip from Dubrovnik on my last trip to Croatia, but I'm definitely making sure I plan a visit to Mljet National Park, one of the most beautiful and forested pearls of the Mediterranean.
Learn More and Book Tour to Mljet Here.
5. Elafiti Islands
How to get there: If you want to spend some time on the Elafiti Islands (which I'm dubbing as one of my favorite day trips from Dubrovnik – they were downright STUNNING), I recommend booking yourself on an organized tour (which I did!)
Note that you can go to just one island if you're traveling sans tour, but you'll need to first get yourself to Port Gruz (on the other side of town) which can be a hefty cab ride.
What to do: Sailing trips to the Elafiti Islands will visit 3 of the 13 islands of this extraordinary archipelago. And if you choose to take a full day trip from Dubrovnik to these islands, you'll be able to visit all three – Kolocep, Lopud, and Sipan, drinks included!
Feast on grilled fish, visit some of the most stunning islands in the archipelago, and say goodbye to the crowds! Come for the beaches, stay for the picturesque villages, citrus gardens, old churches, and pine and olive forests. Basically, the Elafiti Islands are an absolute dream.
Don't miss this as a visit to these islands were one of the best day trips from Dubrovnik by far – it was one of my favorite days in my 2 weeks in Croatia.
Sooo many options, all slightly different (check out each one to see what fits your taste before booking):
6. Babin Kuk
How to get there: Babin Kuk couldn't be easier to reach! Located just a bit away from Dubrovnik's Old Town (4km), at the northern end of the Lapad peninsula, you can take a short and super-cheap bus ride over here.
Because of it's short distance from Old Town, this trip isn't really a trueeee Dubrovnik excursion, but hanging out in Babin Kuk was one of my favorite afternoons so I couldn't bare to leave it off this list. So many tourists don't even think of venturing past Old Town, so a little nudge won't hurt anyone. 😉
What to do: The entirely of Babin Kuk reminded me more of a chic Santa Barbara resort, as opposed to the old stone buildings in your typical Dubrovnik.  Make sure to walk along the paved coastal trail with it's fine, fine seaside views, and stop at a cafe on the way for a macchiato and a margarita overlooking the ocean.
Time to hit up a beach club! Copacabana Beach and/or Coral Beach Club are both great options, with chairs for rent and food to order. And whatever you do, don't miss out on the Cave Bar at Hotel More.
7. Split
How to get there: Yes, Split is rather far from Dubrovnik (at around 230km away), which is kind of a ways away, but I just couldn't bare to leave it off this list of Dubrovnik day trips. You can easily get there by driving yourself or taking a public bus (roughly 3 hours each way), but you'll encounter border crossings at the Bosnia-Herzegovina border which sometimes take longer than expected.
Because of this, if you've only got a day alloted to exploring Split, it may be best to travel from Dubrovnik on an organized group that will take care of all the details and get you through the border crossings quite easily.
What to do: Understand that with only one day in Split, you won't be able to see all that this city has to offer. With that being said, I still think it's worth it to go, being one of Croatia's most famous cities with tons and tons of unique architecture (including a UNESCO World Heritage site.
Don't miss Diocletian's Palace, a stroll along the city's promenade – Riva, people watch in the lively Narodni (People's') Square, and make a visit to the fish market and green (veggie) market. I highly recommend spending more than just one day in Split, but if that's all you got, a day trip from Dubrovnik is better than nothing.
Learn More and Book Tour to Split here
8. Kotor, Budva, and Perast, Montenegro
How to get there: Again, unless you've rented a car or want to spend all day on the public bus, an organized tour would be my honest recommendation on how to spend the bulk of your day in these small towns in Montenegro.
And since Kotor, Budva, and Perast are all located in yes, another country, expect border crossings again. And plus, the organized tours aren't really not that pricey anyways).
What to do: You didn't think you'd be day tripping from Dubrovnik to another country, now did you?! I spent an absolutely fantastic day in Montegreno, and didn't expect to fall for the country as hard as I did, as fast as I did. What's better than spending a day out on the water?!
While in Kotor, make sure you make the climb up to the St. John's Fortress (Sveti Ivan) to get unparalleled views of the entire town below (you'll be swooning over the Bay of Kotor – a UNESCO World Heritage site – in no time), and then go on a short boat ride to Perast!
Read Next: One Stunning Day in Kotor, Montenegro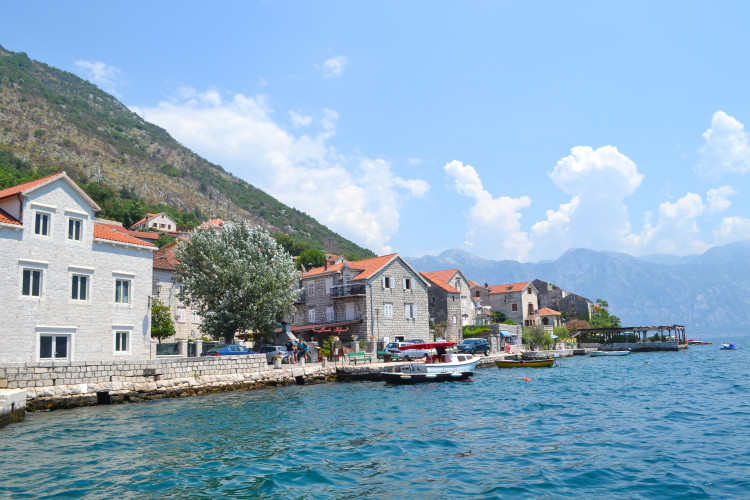 Plenty of organized tours also make a stop at the walled seaside town of Budva, where you can lounge on the beautiful beach, wander the streets, and sit down for a seafood lunch. Doesn't get much better than this! Kotor and Budva are definitely some of the best day trips from Dubrovnik!
Plenty of day trip options to Kotor:
9. Mostar, Bosnia
How to get there: If you're staying overnight (which I highly recommend), feel free to take the bus from Dubrovnik as it's a smooth and simple ride, taking about 4 hours or so (plus border crossings).
However, if you've only got one day allotted for Mostar, a group tour is the way to go, especially because they'll be invaluable for the necessary border crossings as well which can sometimes take an awfully long time. A day trip to Mostar can also take you to Kravice Falls and Pocitelj quite easily as well (both well worth it in my opinion).
What to do: As one of the most unique day trips from Dubrovnik, Mostar is not to be missed! Don't miss walking across the Stari Most, one of the country's most recognizable landmarks. You may even get lucky and see a diver jumping off the bridge – an old tradition over here!
Get some cevapi in town (small meat sausages served in flat bread) for lunch – you definitely won't regret it!
And before you get too wrapped up in the cities beauty, be sure not to forget the countries perilous past, which won't be hard to miss after seeing bullet ridden buildings and still-decrepit walls. I highly recommend reading up on the war and turbulent history before making your visit to Mostar.
Mostar was by far one of my favorite cities on my entire trip to Croatia and Bosnia, and you can bet I'd recommend at last a day trip from Dubrovnik. If you have time, be sure to stay at least one night (if you can squeeze it in of course).
There's lots of tour options for Mostar, all extremely similar (you can't go wrong with any of these):
10. Sarajevo, Bosnia
How to Get There: Just putting it out there, but Sarajevo is one of the longest possible day trips from Dubrovnik. It can be done in just one day (if you are absolutely smitten with the idea of heading there), but I'd prefer to have more time there.
Located even further from Dubrovnik than Mostar in Bosnia, Sarajevo will take you roughly 4 hours to reach. The good news – you can take a private tour to reach Sarajevo if you don't want to drive it yourself, but the bad news – it's kinda pricey if you don't have multiple friends/family members to join you (but downright awesome if you do).
What to Do: Once you reach the city of Sarajevo via your own private vehicle (woo woo!), you'll do a 2-hour sightseeing tour via luxury vehicle while discovering the most important landmarks and memorials the city has to offer. Admire the Latin Bridge, Bascarsija Bazaar and many other sites including the Sarajevo Roses.
After the sightseeing tour, take some free time to enjoy the town at your own leisure. Ask your guide for sightseeing advice or just wander, enjoying a coffee at a cafe or just stroll the streets before departing again for Dubrovnik.
Learn More and Book Sarajevo Tour Here
Which day trips from Dubrovnik are you most excited about? Will you be adding any Dubrovnik excursions to your itinerary?!