First time to New York City?
Don't fret – yes the city is large, intense, and intimidating at times, but it's also exhilarating, surprising, and generous all at once. You'll leave both wanting to return and thrilled to be escaping from the madness.
A few common questions you may be asking yourself after booking that ticket:
How will I get around?
Is this an express or local subway?!?
What should I do?!
Why are there people dressed up as characters in Times Square?
First things first, how do you get around?!
You've just landed for the first time in New York City and don't know what to do next.
Did you land at JFK? Great! That airport has awesome public transportation options. Don't let the cab drivers or uber drivers take your money for no reason. From JFK, you can take the air train to the subway which will take you straight to anywhere you are staying. Unfortunately, if you flew into LaGuardia airport, you are limited to either the bus or a cab in which case I would recommend a cab.
Now back to the subway.  Are you staying in New York for a bit?  If so, the MTA offers a day 7 day unlimited pass which might be a great deal for you.  I recommend checking out MTA Fares at A Glance before your visit to help you plan. PS: The subway system will take you anywhere in the 5 boroughs for the same price of $2.75 – there are maps at each station which you can use to find your desired destination. 
Confused?  Ask the help of a local NYer (they'll be the ones reading the paper and listening to music on their phones).  Residents get a bad rep – before I fully understood public transportation I used to ask people all the time if this train would take me to x, and 95% of the time I got a friendly response.
Now onto the fun stuff. What to see and where to eat!
Empire State Building
This is the most iconic building in all of New York City, and a visit to NYC wouldn't be complete without witnessing this famous landmark. You can take a tour and go to the top, but personally, I would save that experience for Top of the Rock. It's beauty at night (all lit up) and shouldn't be missed!
Top Of The Rock
If you're a fan of Saturday Night Live, 30 Rock, The Office etc., this is where it all starts. You can visit the Top Of The Rock and I highly recommend it. From there you can get a ridiculously amazing 360 degree view of the city. I'm hoping to get back up there this summer!
Just make sure you view NYC from up above, from one of these three options below: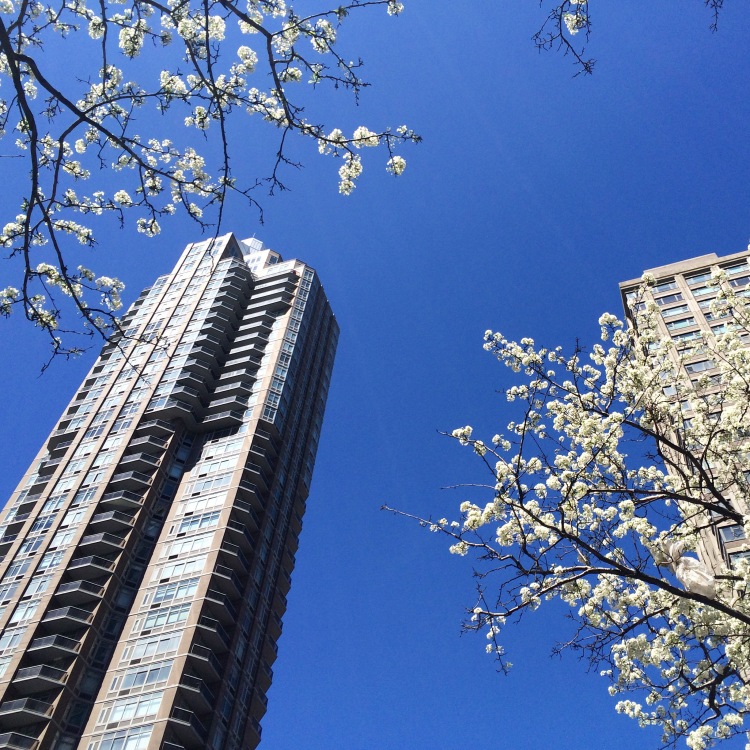 High Line Park
This park is a few miles long and runs along the West Side of the city. My husband and I actually took some of our engagement photos here and they came out great! It is an excellent spot for people watching and photography, especially during the spring and summer months. Don't miss all the quirky finds and murals hidden on nearby buildings! Most definitely one of my favorite of the many cheap things to do in NYC!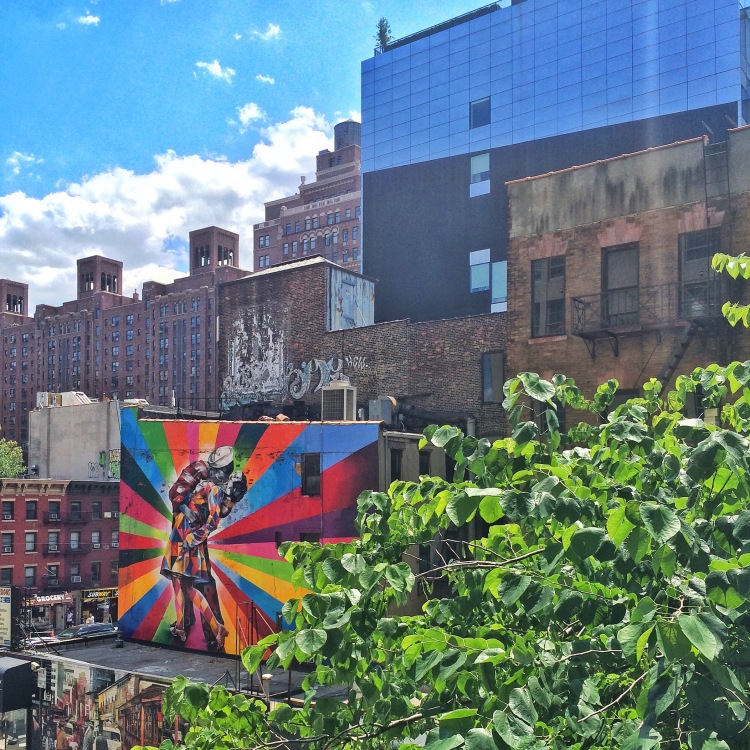 Chelsea Piers Driving Range
If you are looking for a break that involves swinging a golf club, then the Chelsea Piers driving range is the perfect spot. You can see the Statue of Liberty from this location – double bonus! Recommended by my husband as I've never been, but he claims it's a great way to spend an afternoon!
Yankee or Met game
While both teams have moved into new stadiums, the games are still fun. I would argue that Citi Field offers better food but the Yankees are a much better team. :p A must for your first time to New York City! On a hot New York night, it is the best – get some ice cream afterwards!
Times Square
The epicenter of NYC, and what you've probably seen on postcards when you think of New York's bright city lights and skyscrapers.  Times Square changes everyday – but expect to see some characters dressed up (be prepared to pay for photos) and an immense amount of crowds. 
And if you're traveling with children- hold their hand.  A fun place to wander for a bit – but I don't suggest booking a hotel here or planning to eat anywhere around this area (super expensive for no apparent reason).
Broadway Show
Want to see a Broadway show at a discounted price?  Of course you do!  Take advantage of the TKTS booths in Times Square and pick any of them.  You can't choose wrong. A must in NYC! Or plan ahead and learn how to find cheap Broadway tickets before your trip!
Little Italy
Mangia bene!  "Eat well" in Italian which is exactly what you can do here in Little Italy.  This area is filled with amazing sauce, delicious food (pizza or pasta, anyone?!) and even better cannoli's (I've tested a bunch of them – so trust me on this). 😉  While were talking about food, make sure to get a cookie from Levain Bakery (pictured below), and eat as much pizza as you can handle (a few favorite pizza spots here).
Chinatown
One my favorite places to go in New York is in Chinatown! Make sure you pay a visit to WoHop for a fun time. Celebrities have been visiting this eatery for decades and continue to do so. It never closes (truly the city that never sleeps!) and is always awesome. Be prepared to wait on line for a table but it's always worth the wait.
Central Park
What can I say about Central Park? It's perfect for visiting year round, and tons of activities are going on in every season. Ice skate in the winter, wander during the summer, and visit the zoo and enjoy a stroll any time of year. No visit (especially your first time to New York City!) is complete without a waffle from the Waffles & Dinges truck at the entrance on 59th street. Best waffles ever. Just go – trust me.
Katz's Deli
Vegetarians beware, this New York icon servers up sandwiches bigger than your head and is simply amazing.
Statue of Liberty
If you're not into the history of it all and just want to snap some good photos, I recommend taking a cruise around the Statue of Liberty. Another NYC icon you just cannot miss! And if you want a semi-thrilling experience (depending on where you sit), you can even take a NYC helicopter ride to see the Statue of Liberty and more!
Art Museums
New York is full of great art and fun museums.  Take your pick!  There's the Metropolitan Museum of Art (MET), Museum of Modern Art (MOMA), Guggenheim, Museum of Natural History, and a bunch of others. For your first time to New York City, I highly recommend picking just one (or two if you're a true art lover), and spend your remaining time outdoors!  However, if you're visiting New York City in the winter, consider visiting more to stay out of the bitter cold!
Other Recommended New York City Attractions:
Are you planning your first time to New York City soon?!