Looking for the best things to do in Maui?! You've come to the right place! Read on for some restaurant recommendations, how to spend your nights, and other Maui must-do's to put on your list of Maui activities for your trip.
Any trip to Hawaii deserves some snorkeling with sea turtles, lazy mornings lounging by the beach, super epic volcanic sunrises, and unforgettable drives complete with waterfalls, delectable banana bread, and black sand beaches. Thankfully, I've compiled some of the best things to do in Maui right here for you, which include all the above and then some! Don't miss all of these Maui must-do's! This
And I seriously love the islands. Every single thing about them. Since moving to the West Coast from NYC, I'm constantly looking up flights to the islands (they're like my new Caribbean). We visited Maui and Kauai a few years back, Oahu a few months ago for my 30th birthday (30 wasn't so dreaded spending it in paradise), and now that we're that much closer to the islands, I'm secretly planning a second trip to Hawaii this year.
Since I haven't been to Maui in a few years (EDIT: buuuut we've just booked a trip and we'll be going in October 2018 🙂 ), I've asked Paroma from yrofthemonkey.com to share her favorite things to do in Maui with us since she's been there quite recently! Enjoy her take on the best things to do in Maui, including a few of my Maui must-do's as well towards the end! If you've got any to share, let us know in the comments!
Where to Stay in Maui
First time to Maui?
Consider staying in West Maui (Kaanapali or Lahaina), which is the more populated, tourist-friendly area of the island. You'll be close to restaurants, some of the best beaches on the island, shopping, nightlife, and grocery stores.
$ – The Tiki Beach Hostel is a wonderful choice to stay for those on a strict budget, and boasts free wifi, free parking, and air-con and a kitchen in all rooms. The location is walking distance to everything and the backyard area is beautiful and relaxing.
$$ – We chose to stay at the Kaanapali Beach Hotel, which was directly on Black Rock Beach with wonderful snorkeling and a nightly cliff jumping ceremony. We were able to walk to tons of shopping and restaurants, and the hotel has lots of free activities all day!
$$$ – Looking to spoil yourself? The Ritz-Carlton in Kapalua has 6 restaurants, a full service spa, and the most beautiful outdoor pool you've ever seen.
Back again?
I recommend staying on another part of the island in order to have a different experience. The southern part of the island has some beautiful accommodation options, and will be a huge hit for nature lovers and those who want some privacy.
$ – On a budget? It doesn't get much better than this. The Days Inn Maui Oceanfront Hotel has beach access, free parking and wifi, plus ocean-view dining.
$$ – Two wonderful options in the moderate price range: Grand Wailea or Andaz Maui at Wailea. Both are beachfront resorts sporting high-end rooms, numerous pools, and fine dining. Bonus – the Andaz has 4 infinity pools (swoon!)
$$$ – Looking for a little luxury on your trip to Maui? The Four Seasons Resort at Wailea will surely not disappoint. With it's tropical island resort-style hotel, you're only a few minutes walk to the beach and the spa – absolutely top notch.
Maui, one of the prettiest islands in the Hawaiian archipelago, was our last vacation destination. Although tiny, there are attractions abound on this island as well as lots of delicious places to sample some local fare. Some of those must do/visit/chow down items that you need to get on your Maui checklist are listed below. 🙂 Enjoy this Maui travel blog!
Best Things to do in Maui
1. Watch the Sunrise atop Haleakala
One of the most beautiful sunrises from the summit of a dormant volcano is something that you should not miss. It is by far one of the best things to do in Maui, and you simply cannot leave the island before experiencing a sunrise above the clouds. The Haleakala mountain, a now dormant volcano, lies in the center of the island and provides a spectacular sunrise venue which can be enjoyed from four locations at elevations ranging from 7000-10000 feet in it's National Park.
Note that you now need to make reservations beforehand (do so here) since park rangers now regulate the crowd that arrives for sunrise. Start early to get a parking spot at the summit, wear very warm clothes (since the temperature drops considerably at such a high altitude), and do not forget that telephoto camera! An absolute must-d0 thing in Maui!
Read Next: Everything You Need to Know about Sunrise at Haleakala
Don't feel like navigating the 37 mile curvy road to Haleakala so early in the morning while half sleeping? Consider a tour to Haleakala to watch the sunrise – you'll have all your transportation taken care of, as well as forgo the need to book a reservation (the tour company arranges all of that for the group beforehand).
2. Black Rock Beach Cliff Dive Ceremony
Black Rock Beach at Kaanapali is not only famous for its soft sand and beautiful sunset, but also the diving ceremony that occurs off the cliff every evening by a Hawaiian diver to pay homage to his ancestors! This event, organized by the Sheraton hotel, is free to the public and can be viewed from the beach at sunset. Psst- the snorkeling here is rather spectacular as well.
3. Nakalele Blow Hole and Heart Rock
The Nakalele blow hole and heart rock are two other must visit spots in Maui. The blow hole is created by sea water being trapped in an underground lava tube and in an effort to be released, it gushes out with tremendous force! The heart rock, essentially a rock with a heart shaped opening in it, is close by. The path to the blow hole and rock is steep and stony, therefore wearing sturdy footwear is highly recommended.
4. Stroll down Lahaina
Lahaina is a bustling town in west Maui and as is typical of a port town. You can wander down Front street, bustling with shops and restaurants. Unlike other beach towns, Lahaina does have remnants of its past with several historic buildings such as the Chinese Wo Hing Museum or the sprawling banyan tree in the Old Lahaina courthouse. You can download a map of the Historic Lahaina walking tour to peek into this town's colorful history.
5. Eat Fish Tacos
While in Lahaina, do not forget to grab some fish tacos (the best I've ever had) at Lahaina Luna cafe. Fresh and tasty all the way!
Read Next: Where to Eat in Maui Part 1 | Where to Eat in Maui Part 2
6. Breakfast at Kihei Caffe
Arrive early, for this place is super tiny and even more popular. One of the best breakfast spots in Hawaii, their loco moco is to die for! If you are not a big meat eater, then go for their chocolate chip pancakes like me and you will not be disappointed. Get a side of fresh papaya to perk up your breakfast and give it that Hawaiian touch.
7. Shave Ice
Shave ice is a simple Hawaiian pleasure consisting of a big bowl of what else but thinly shaved ice drenched in real fruit syrup of your choice (you can choose up to three flavors). Whalers Village in Kaanapali or shops in Lahaina have yummy shave ice which is not to be missed. Make sure not to call it shaved ice – avoid sounding like a tourist – it's called shave ice without the d.
8. Juice Stands
Hawaiian juice stands are perfect for quenching your thirst from a fresh coconut or a smoothie or simply munching away on those famous Maui gold pineapples (#yum). Some of them may also sell banana or guava breads on the side. Perfect for snacks and pick me ups. You'll also find a bunch of fruit and juice stands on the Road to Hana.
Read Next: 10 Foods to Taste in Hawaii
9. Hula Dance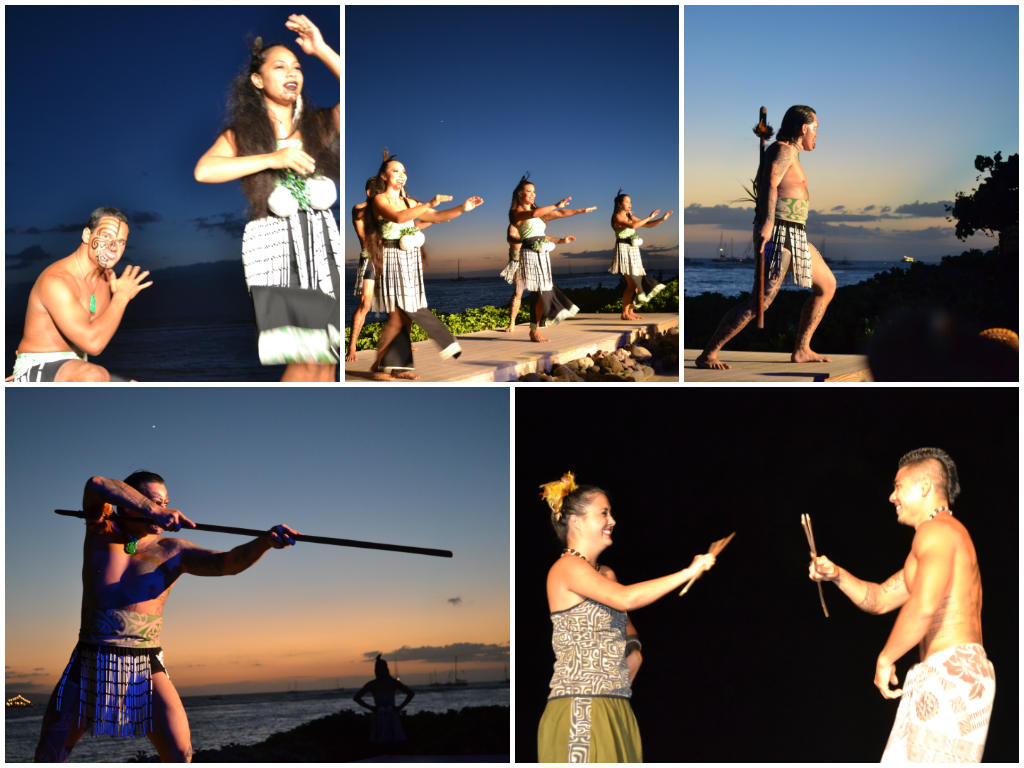 When in Hawaii, catching a traditional hula dance or a Luau is a cultural experience one needs to have. Whalers village in Kaanapali has free Hula shows and if you are a guest of the Kaanapali Beach Hotel (as we were), the staff arranges for a fantastic cultural show for its guests in the evening which includes beautiful Hula dances. [Editors note: we stayed at the Kaanapali Beach Hotel as well, and they offered free hula dance classes – check them out!]
10. Sunsets in South Maui
Don't feel like waking up at the crack of dawn to head to Haleakala? I don't blame you; although trust me, it's worth it (coming from a gal who just doesn't agree with the morning). If super early mornings just ain't your thing (no judgements), make it a point to watch a few sunsets while in Maui.
And there's no better place to watch the sun go down than in South Maui, where all the grand resorts and secluded beaches are. Yes, I said secluded beaches (some still exist). Although you can never go wrong with beach sunsets in Hawaii, Maluaka Beach in Wailea is a tiny beach minus the crowds where we witnessed an out of the world sunset. Do give it a try, and add it to your Maui must-do's!
11. Mama's Fish House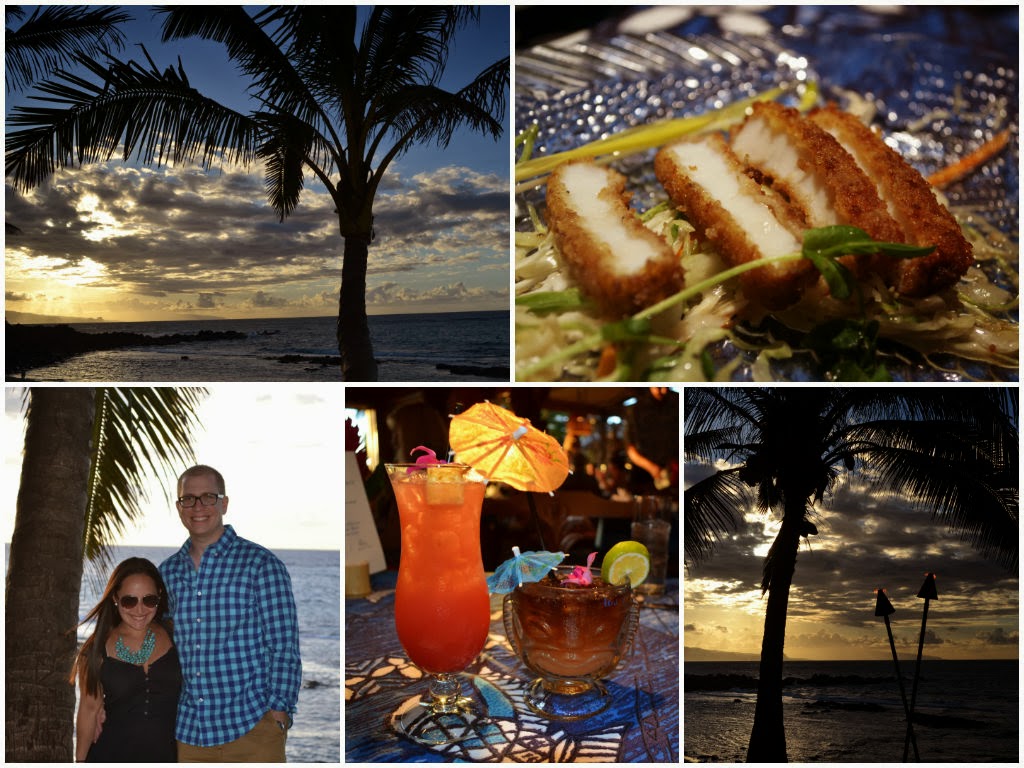 The tiny town of Paia is where one of Maui's most popular restaurant is, i.e. Mama's Fish House. Extremely pricy but worth every morsel if you are a seafood lover!  Hawaii is where you get the catch as fresh as they come (any fresher and you will have to do the fishing yourself)! Reservations are highly recommended at this extremely popular spot. Mama's is on everyone's list of things to do in Maui for a good reason – the food is the absolutely to die for! And don't forget a man tai or two!  🙂 
12. Ho'okipa Beach
Hookipa beach is a stone's throw from Mama's and the one beach where you can easily access to catch crazy surfing action as well as snoozing Hawaiian turtles (but please – do not disturb them in any way). This is also the first stop on the Hana Highway that takes you to the eastern and southern part of the island around the Haleakala volcano.
13. Road to Hana
No visit to Maui is complete without this epic road trip where the fun lies in the unfolding of the journey and not in the destination itself (Hana is a blink-and-you'll-miss-it town with zero attractions). The road has over 600 (yes you read it right) bends and over 58 one lane bridges, so driving can be an ordeal, but I promise you that once you get behind that steering wheel, the beauty of this journey will melt away those driving blues.
This part of Maui gets more than 300 inches of rain every year and is resplendent with natural attractions and greenery. There are several sights and stops worth exploring and so the drive can be a long one. Make it easier by downloading the Maui Gypsy guide app that will guide you turn by turn for every stop (it runs on GPS) or make it even easier on yourself by joining a tour on the Road to Hana. I highly recommend staying for the night in Hana and making the return trip in daylight.
Read Next: 14 Best Stops on the Road to Hana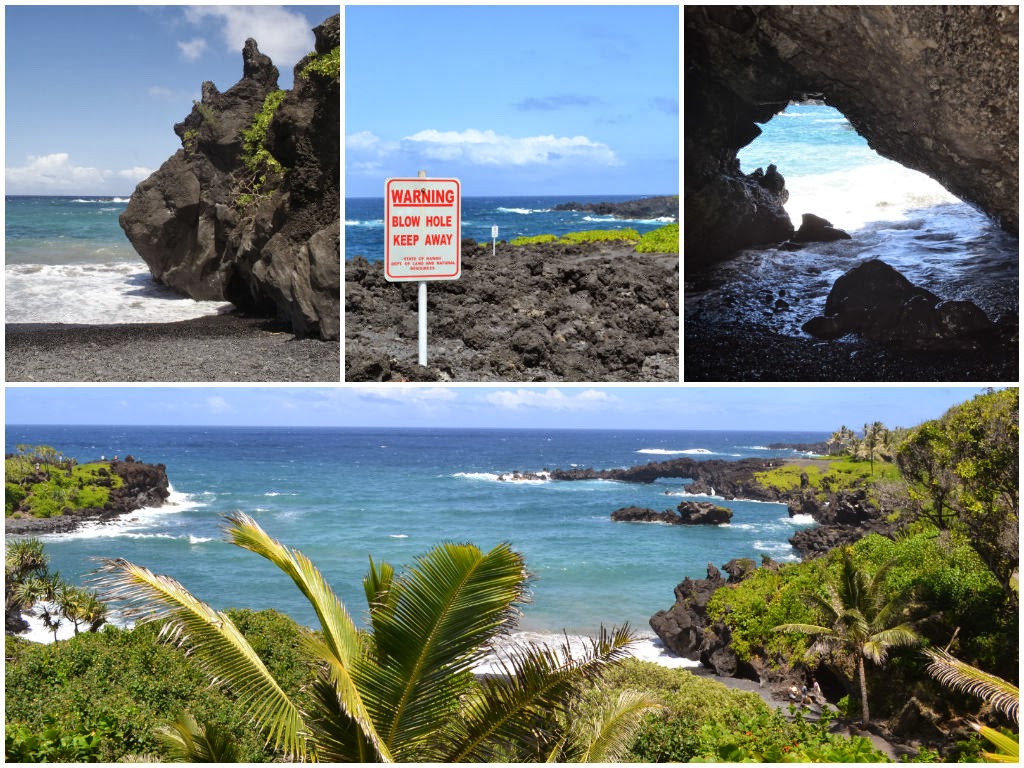 A bit more about the Road to Hana because it's just that spectacular:
A sampling of the Road to Hana attractions: The Maui Gypsy Guide makes it very easy for you to pick and choose the spots on the drive that you'd like to visit. A few favorites include:
Twin falls
Kaumahina State Wayside (for restroom break and wonderful view of the Maui coastline)
Ke'anae arboretum (free for the public and home to giant Eucalyptus trees with painted barks)
Ke'anae peninsula and lookout point (a must visit detour for its tiny beach)
Bear claw falls
Waianapanapa State Park (excellent black sand beach)
Koki and Hamoa beaches (past Hana)
Wailua Falls (best viewed in the monsoon season when it is in full force)
Oheo Gulch and sacred pools in the Haleakala National Park in Kipahulu
Sacred Pools: Note that the pools are closed indefinitely due to rock slides but you can take the short trail and see the waterfall that feeds them or the longer two mile Pipiwai trail that leads to the majestic Waimoku falls. Handy tip here for newbie travelers- retain your Haleakala park receipt (you have to pay for your vehicle when you enter the park and it is good for three days) to be used when you reenter the park at Kipahulu to see the pools.
Huleo juice stand and Nahiku marketplace: These are two good spots on the Hana highway to get a bite to eat. You can fuel up at Huleo juice stand since there are literally no options for a long time till you hit Nahiku, where there are quite a few food trucks. Do not forget to sample some fish tacos as well as dried coconut candy here.
Hana: Nothing much going on in Hana but if you do stay overnight (I highly recommend that you do), please do me a favor and have breakfast at Barefoot cafe, right next to the shimmering waters of Hana bay. You cannot get a better view for your breakfast than this.
14. Snorkeling with Sea Turtles
One of the biggest things that keeps drawing me back to Hawaii, and Maui in general, is the absolutely wonderful snorkeling in the area. Two of the best places to snorkel in Maui are at Molokini, a huge sunken volcanic crater, and what is commonly known as Turtle Town, where you guessed it, the turtles hang out on a regular basis!  Be sure to bring a gopro or other waterproof camera to capture all the underwater sea life you're bound to encounter!
If you don't have a boat, the only way to take advantage of this wonderful snorkeling is by joining a tour to Molokini and Turtle Town.  We took a very similar tour a few years ago and loved it so!
Read Next: Snorkeling at Molokini and Turtle Town

Read Next: 5 Easy Underwater Photography Tips
15. See a Luau!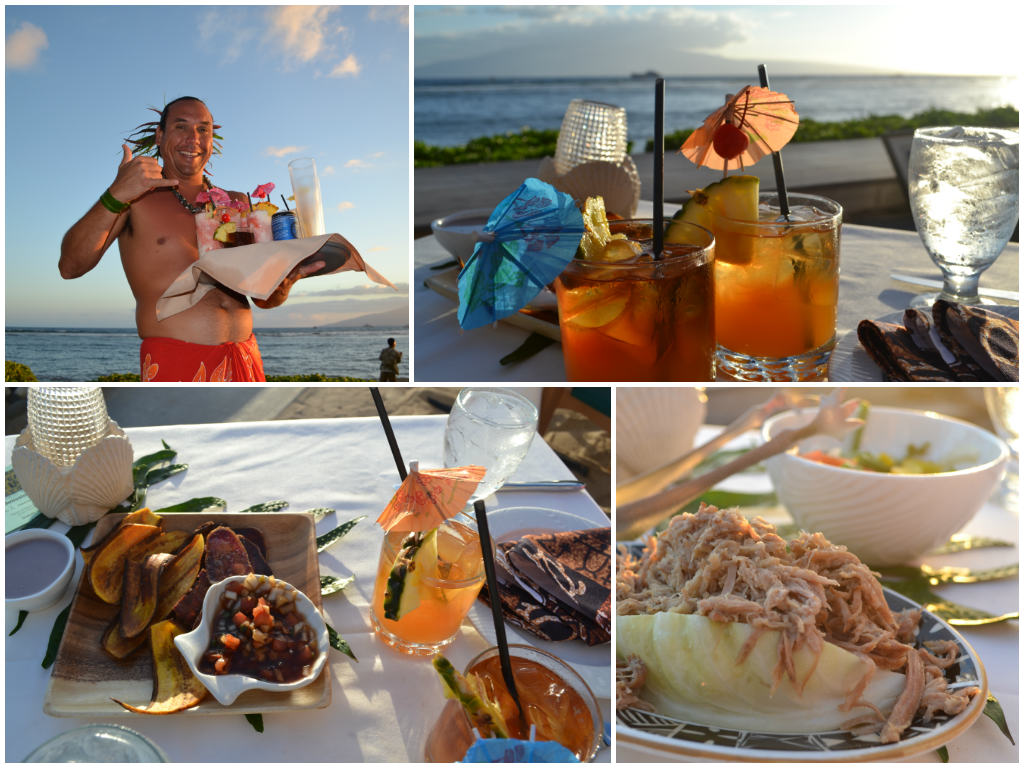 Your trip to Maui really isn't complete without attending a luau – the ultimate hawaiian experience! There are two main shows on the island – The Old Lahaina Luau or Feast at Lele, and I highly recommend either one! While I've personally only seen the show at the Feast at Lele, I can vouch for The Old Lahaina Luau as well as I've had countless friends gush at this experience as well. Both offer remarkable Hawaiian food, super hot Hawaiian dancers with out-of-this-world belly shaking moves, and drinks to your hearts content.
Read Next: The Feast at Lele: An Upscale Hawaiian Luau
16. Wai'anapanapa State Park
Black sand beach, anyone? Because that's what Wai'anapanapa State Park is most famous for. Most visitors will visit this beach on their way to Hana, since it's off right off the Hana Highway at mile marker 32. Want to see the beach in all it's glory before the crowds arrive? Plan an early stop, and you'll find the area much more tranquil without all the hoards of tourists.
Beautiful scenery complete with unique geological features, a black sand beach filled with shiny pebbles, and lava rock soaring across the ocean – what could be better? Note that the waves are quite strong and the water can be rather cold, so it may not be the best place to swim. Be sure not to miss the caves, natural sea arch, and nearby blow hole.
17. Honolua Bay
No matter the season, Hololua Bay is worth at least a quick visit. In summer time, Honolua Bay is an absolute heaven for avid snorkelers, as there is some of the clearest and cleanest waters on all of the island right here! Like everywhere in Hawaii (including those snorkel spots in Maui), the weather conditions will play a huge part in the clarity of the water, the quality of your snorkeling experience, and the choppiness of the water. However, when you've got a perfect weather day (not too windy, no rain, sun high in the sky), Honolua Bay is your answer!
Since the bay is a marine conservation area, no fishing is allowed. And guess what this means – tons and tons of fish available for our viewing pleasure! With that being said, please do your part and never chase any sea creatures, as that can cause unnecessary distress to the animals. Many even say the snorkeling here at Honolua Bay is as great as at Molokini Crater, which is usually much more crowded and full of tourist boats anyways.
In winter time, the waves will get a bit too rough for snorkeling, but that's when the surfers come out to play! Plan to spend a bit of time watching them do their thang – they're rather entertaining to watch!
18. Take a helicopter ride
If you've never been soaring above the island coastlines, then a helicopter ride is the way to do it! On your aerial tour of Maui, you'll see majestic mountains, valleys complete with stunning waterfalls, turquoise waters (be on the look out for whales!), Haleakala volcanic crater, Molokini, Molokai, and beyond!
When considering a helicopter ride in Maui, most companies offer a few options: you can fly over Haleakala and Hana, Maui's west side and Molokai, or a full-island tour. Yes, this activity is rather pricey, but if you're splurging on a helicopter ride once in your life, Hawaii is the place to do it.
Worried about motion sickness? Don't fret – most passengers don't feel any nausea at all because the ride is just so smooth! It's not at all bumpy like a smaller plane might be. And your pilot will be narrating the whole trip with interesting history and facts, so you won't even have time to think about anything else!
Heading to Hawaii soon?! What are you most excited to put on your list of things to do in Maui?!