Headed to Japan soon and looking for the best day trips from Kyoto? You're in luck, my Japan-obsessed friend, as there are a whole bunch of cultural and historical experiences to be had right outside of the city.
Kyoto is a buzzing metropolis with a ton of great things to do and plenty of worthwhile experiences nearby (tons of day trips from Kyoto as you'll learn more about in this post, of course).
Known as the historical heart of Japan and teeming with shrines, temples, and ancient buildings, it's one of the best places to gain an insight into the country's rich cultural background. At the same time, it's considered a very modern city, seamlessly blending the old with the new.
The best times of year to visit are spring and fall, but Kyoto enjoys year-round temperate weather, so there's really no bad time to go.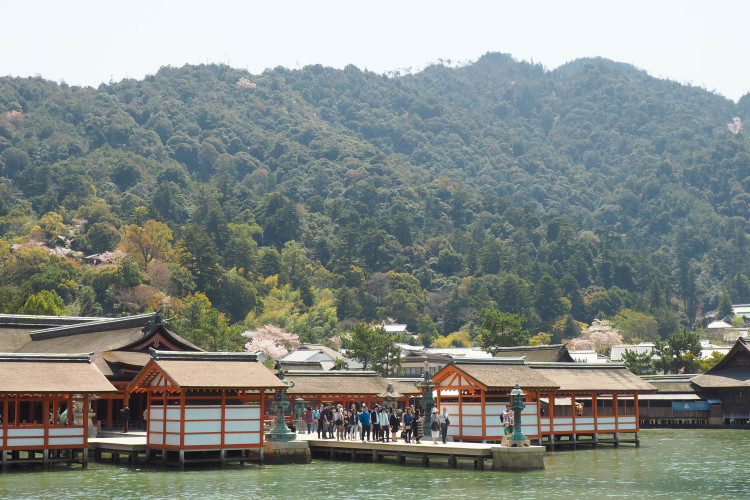 And that's not the only reason Kyoto is a great place to stay – it also serves as a fantastic base for exploring neighboring towns and cities. Staying in Kyoto and taking day trips to nearby locations is a great way to make the most of your time in Japan. From small historical towns to tea fields or thriving metropolises, there are so many fun day trips from Kyoto to enjoy. So, without further ado, here's a handpicked list of the best Kyoto day trips – happy exploring!
Read Next: 25+ Things to do in Kyoto
Best Day Trips from Kyoto
Nara
How to get there: Nara is one of the closest day trips from Kyoto since it lies just 35km south of the city. There are plenty of organized tours that will pick you up and drop you off outside your hotel, so getting there really couldn't be easier!
If you'd rather make your own way, the best way to travel to Nara is by train. You can opt for the standard JR line or the fancier, high-speed Kintetsu train – both will have you there in under 45 minutes.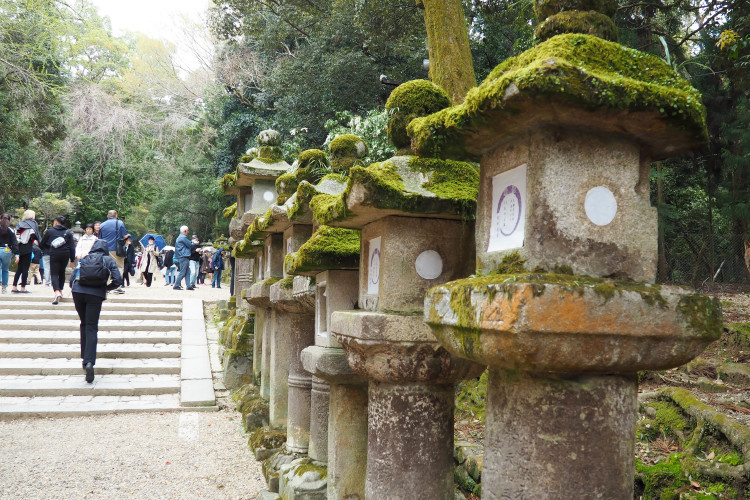 What to do: There are so many things to enjoy in Japan's ancient capital. Buddhism was established as Japan's state religion while Nara was its capital city, so it's home to a plethora of wonderful temples.
The Todai-ji Temple, which houses a 15m tall bronze buddha statue, is an absolute must. The Isui-en Garden makes for a picturesque stroll at all times of year, but especially during April and October when it's flushed cherry blossom pink or deep autumnal red.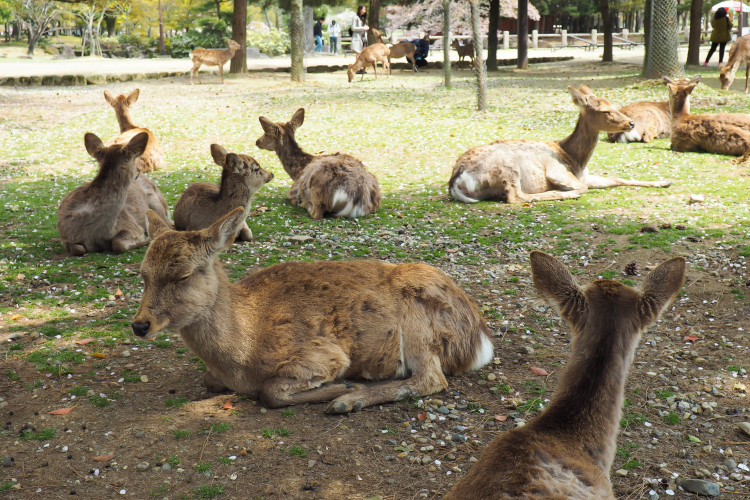 Both of these attractions are located inside Nara-koen park, where you can see live, semi-wild deer roaming around. You can even buy a packet of shika sembei (deer crackers) to feed to them – although be careful, they can get a little boisterous in their pursuit of snacks!
A visit to the Nara National Museum is a great opportunity to find out even more about Buddhism, since it has an entire wing dedicated to Buddhist art and imagery. One of the many organized tours on offer will show you all this – and more – in the space of a single day, and save the hassle of planning and navigation.
Osaka
How to get there: Kyoto and Osaka are just 45km apart, and the shinkansen bullet train can get you from one to the other in just 15 minutes. If you'd prefer to take things at a slightly slower (and cheaper) pace, the Japan Rail pass covers the Special Rapid Service on the JR Kyoto line, which will get you from one city to the other in 29 minutes.
For the ultimate convenience, book onto an organised tour and relax on a plush bus whilst all the details are handled for you!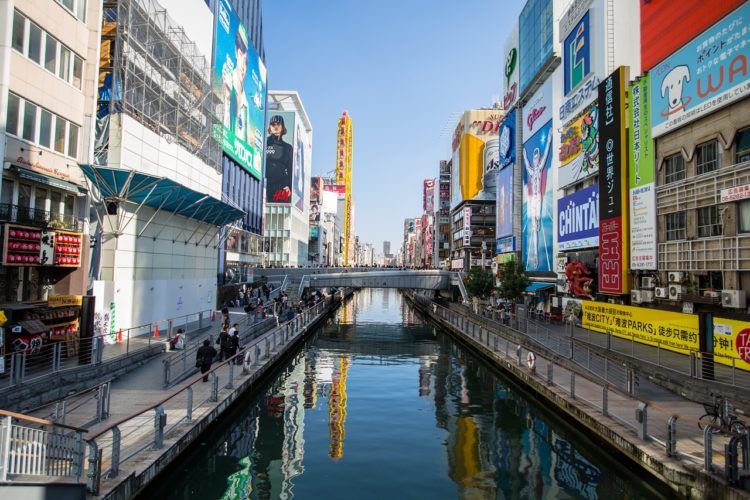 What to do: Osaka is the third-largest city in Japan, so this Kyoto day trip is an absolute must. Like most places in Japan, the best times to visit are spring and fall, but Osaka enjoys year-round clement weather so don't stress too much about timing.
It's super easy to get around this city thanks to its excellent train and subway network, but here's a top tip to make things even more convenient: get yourself a prepaid travel card. Icoca, Suica and Pasmo are all great choices and will save you both time and money – yay!
Osaka Castle is steeped in history and is a testament to traditional Japanese architecture, so it's a great place to soak up the culture. Plus, it's pretty – like, so pretty. Definitely head to the National Bankuru Theatre to see a traditional Japanese puppet show – it's a truly spectacular cultural experience.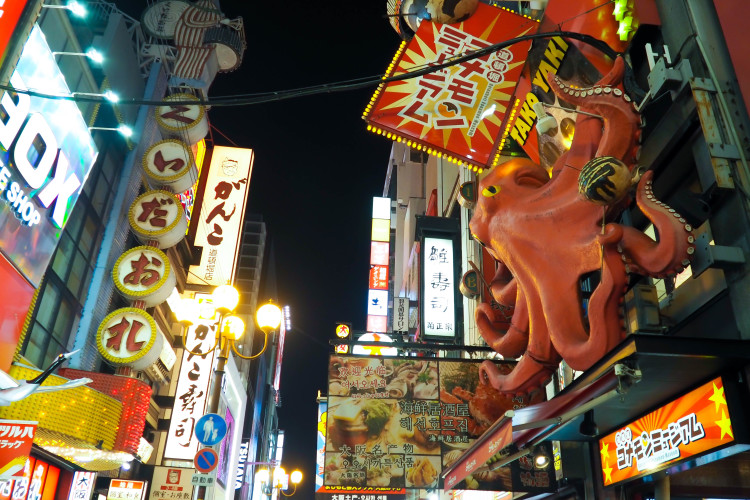 Finally, no trip to Osaka is complete without a visit to Dotonburi, the city's buzzing entertainment district that puts NYC's Times Square to shame. Its neon-lit signage is nothing short of awesome, and you simply must get a snap of the iconic Glico running man, who beams down from above the Ebisubashi bridge.
As well as overwhelmingly cool visuals, there's a ton of awesome bars and restaurants in the area, so this is a great place to practice kuidaore (eating yourself into financial ruin). Joking – but not really.
Hiroshima
How to get there: Hiroshima is a whopping 360km from Kyoto – but fear not, this Kyoto day trip is still do-able! Thanks to the Tokaido and Sanyoshinkansen train lines, you can get there in an hour and forty minutes – hurrah for Japan's superior train technology!
If you book onto a tour you'll be escorted smoothly along the journey and all reservations will be handled for you.
What to do: Since Hiroshima is famed for its tragic history, it comes as no surprise that the city is home to a number of memorial sites. Hiroshima Peace Memorial Park contains preserved remains of the 1945 atomic blast, including the haunting A-bomb dome.
There's also a museum on site where visitors can learn more about the bombing. These sites are sobering reminders of war, but it's not all doom and gloom in Hiroshima.
The city is known locally as 'Sake Town' and produces some of the best rice wine in Japan, so it would be rude not to head on down to a brewery, wouldn't it? The downtown Koishi Sakebar is a great place for everyone from first-timers to seasoned connoisseurs to sample some fresh flavors- champagne sake, anyone?
If you're lucky enough to be in Hiroshima in the spring, make sure to pay a visit to Kamu no Sato Flower Village, a 50,000 square metre hill covered in over 800,000 pink, white and purple flowers arranged into stunning designs.
Finish your day with a trip to the observation deck atop the Hiroshima Orizuru tower and enjoy stunning sunset views of the city before you head back to Kyoto.
Miyajima Island
How to get there: Miyajima Island is undoubtedly one of the most beautiful day trips from Kyoto. It's 390km away from the city, but you can get there in under two hours by bullet train and ferry.
The island is just 27km away from Hiroshima, so tours often combine trips – there's no point continually going back and forth, right? A tour is definitely a good option if you'd like to get both done in a day, as all trains, buses and ferries will be handled, which definitely takes some stress out of the equation.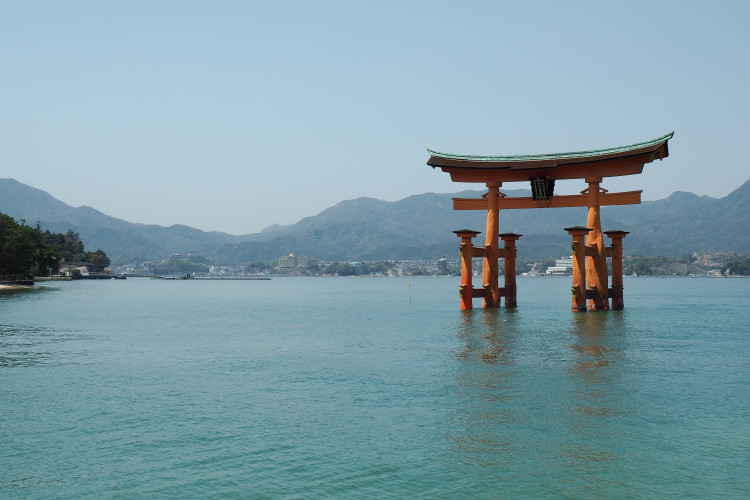 What to do: A couple of hours on Miyajima Island will probably suffice, but this super-scenic spot is definitely worth visiting.
This 'island of the gods' is home to the Iksukushima Shrine, which is famous for its freestanding Torii gate. At high tide, the gate appears to be floating in the middle of the sea – eerie, but pretty cool. Miyajima's bright red, five-story pagoda is another eye-catching site of worship, particularly when it's surrounding by cherry blossom during the spring.
Head to Miyajima's history museum to learn more about the island's past; many photos, poems and traditional artifacts are preserved there.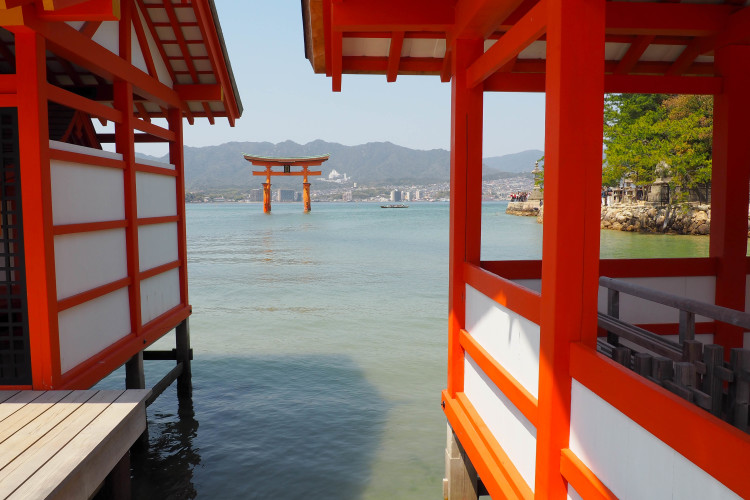 If you're feeling energetic, you can undertake the two-hour hike to the top of Mount Misen, the island's tallest mountain and enjoy stunning views from the top.
If you're pressed for time (or just not up for that much exercise) you can always take the 20-minute ropeway ride instead. And definitely don't forget to eat some Momiji Manjyu while you're on the island. This sweet bean paste candy is a local specialty that's is made fresh every day across Miyajima, and it's seriously yummy.
Read Next: The Ultimate Japan Bucket List: Top Places to Visit in Japan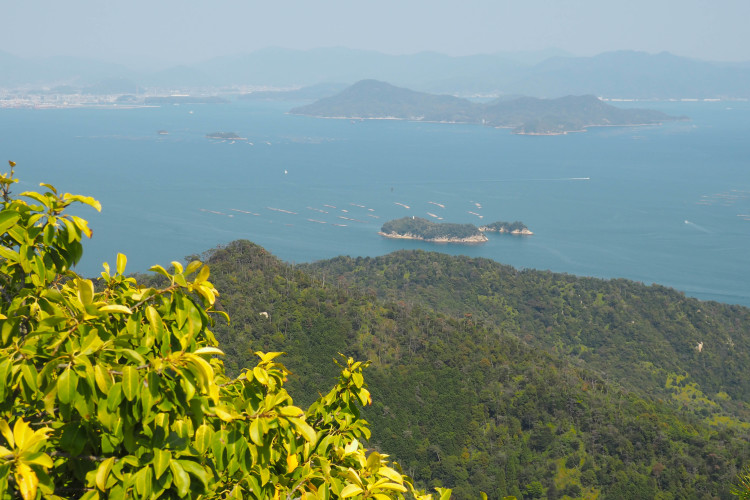 Himeji Castle
How to get there: This stunning medieval castle is one of the most gorgeous Kyoto day trips on offer. It's situated 124km from Kyoto and one of the easiest ways to get there is – you guessed it – by train.
The shinkansen bullet train takes between 45-60 minutes and is covered by the JR Rail pass – yay! If you'd prefer to travel by car, you can book a tour and get picked up right outside your accommodation for ultimate ease and comfort.
What to do: Also known as the White Heron Castle, Himeji Castle is considered to be one of Japan's finest architectural wonders. You enter the castle through the Otemon Gate to see a cherry-tree lined lawn, which is especially marvelous during blossom season.
As you explore, you'll go through a complex system of gates and baileys which were designed to slow down any potential attackers – a design that's clearly worked, since the castle is one of Japan's twelve original castles that have never been destroyed. It can be hot work getting to the top floor but it's worth it for the incredible aerial views of the grounds.
After you leave the castle keep, there's the option to explore the west bailey, which once housed a princess. The best time to visit the castle is during April when the cherry blossom trees will be in full bloom and the grounds turn into a flowery pink wonderland. During the first week of April, hanami (cherry blossom viewing) parties are held and entry is free from 6-9pm.
Uji and Fushimi
How to get there: Uji and Fushimi are both located in the Kyoto prefecture, so they're super convenient Kyoto day trips! You can, of course, take the JR train – it takes around five minutes to get from Kyoto Station to Fushimi, and then another twenty minutes onto Uji.
Things are even faster if you're in a car, plus you don't have to put up with overcrowded trains – another win for those private tours!
What to do: There's plenty to do in Uji and Fushima but they both make for pretty relaxed day trips from Kyoto. The former is a picturesque district famed for its sake breweries, so it'd be rude not to check them out, wouldn't it?
One of the best spots to learn about – and of course, taste – sake is the Gekkeikan Okura Kinenkan, a brewery-turned-museum. It's a beautiful museum and a point of historical interest – one of the world's oldest companies, Gekkeikan, was founded here in 1637.
Once you're all sake-d out, it's time to move onto Uji. This small city is a well-known centre for green tea production, so it's the perfect antidote to all that rice wine. The best time to visit is during May, since it's picking season.
During this time, you can take field and factory tours to learn more about how this Japanese staple gets from ground to cup. The fields are absolutely gorgeous, with miles of greenery stretching as far as the eye can see.
You know that building on the back of the 10-yen coin? Well, that's right here in Uji. It's Byodo-in Temple, one of Uji's two World Heritage sites and a fine example of late-Heian architecture. Its Phoenix Hall has been described as 'Buddhist heaven' and features stunning artwork and statues.
Kobe
How to get there: Kobe is 74km from Kyoto and the high-speed shinkansen can get you there in a mere 32 minutes.
If you're more about saving money than time, taking the private Hankyu Kyoto line to Sannomiya Station is roughly half the price at 620 yen and takes around 70 minutes, but bear in mind it's not covered by the JR pass.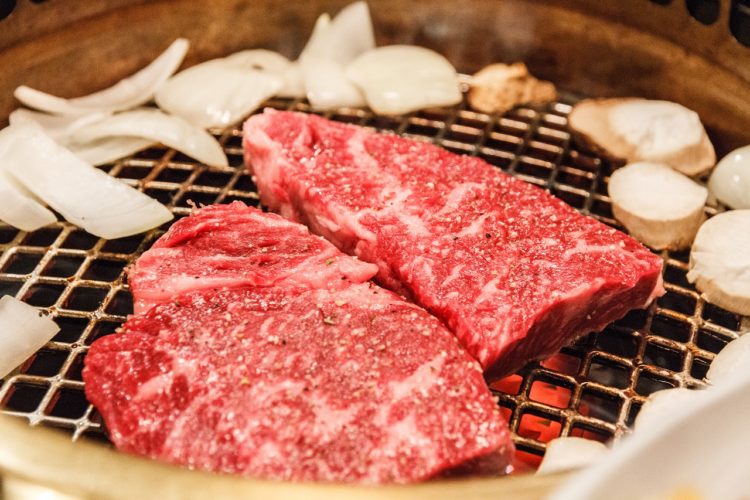 What to do: Unless you're veggie, you simply can't go to Kobe without trying the world-famous Kobe beef. Head to one of the city's many teppanyaki restaurants to try this tender, marbled meat – Tor Road Steak Ayoama and Wakkoqu are two of the best known spots to chow down.
All that food will line your stomach for a visit to the many breweries of the Nada district, which is Japan's primary sake production centre. The architecture is a charming blend of antiquity and modernity, allowing you to glimpse both the past and present of sake production.
For amazing panoramic views of both Kobe and the neighboring city of Osaka, take the bus and cable car to the top of Mount Rokko.
Read Next: The Best Month to Visit Japan
The best time to visit Kobe is during October when the fall foliage turns the city gorgeous shades of burnt orange and deep red. If you need a little RnR after all of these day trips, pay a relaxing visit to Arima Onsen, Japan's most famous hot spring town.
It's tucked away in the side of Mount Rokko and is a web of narrow alleyways and quaint wooden buildings. There are many ryokans (Japanese-style inns) and two public bath houses to choose from. Sit back, relax and feel the toxins leaving your body.
Nagoya
How to get there: Nagoya is located 135km from Kyoto, but both cities are stops on the shinkansen line, which means you can get from one to the other in as little as 35 minutes.
Tour packages often include bullet train tickets, as well as bus tours around the city with an English-speaking guide. This is definitely a great way to save some time and get the most out of your day in this super cool city.
What to do: Nagoya is an industrial hub, so if you're a bit of a motorhead, this is definitely the place for you. It's the capital of the Aichi prefecture where Toyota HQ is located.
You can learn everything there is to know about this car giant at the Toyota Techno museum in central Nagoya or take a tour of the Toyota Automobile Museum to see hundreds of cars dating back to the late 1800s.
If traveling all over Japan by train has sparked your curiosity, head to the SCMAGLEV and Railway Park. This is a railway museum dedicated to the history of Japan Rail and it's pretty interesting stuff. You can even ride a train simulator if you really can't get enough of your time on the tracks.
If you're more into shopping than engineering, head downtown to the Sakae district where trendy department stores and restaurants abound. Go to Oasis 21 mall for a spaceship-inspired shopping experience or ride the ferris wheel attached to the side of the Sunshine Sakae complex. The best time to visit Nagoya is spring or fall when the weather is mild and rainfall levels are low.
Nagahama
How to get there: Nagahama lies 93km from Kyoto, which takes between 40-60 minutes on the Japan Rail train service. Take the Biwako line from Kyoto to Maibara and then travel another nine minutes on to Nagahama.
This will cost between $11-16 each way depending on the time of day you choose to travel.
What to do: Small, nostalgic Nagahama will take you back in time with its traditional buildings and ancient merchant houses. It's a beautiful old town with a friendly vibe that instantly makes you feel welcome.
Enjoy wandering round the many glass art galleries and souvenir shops of Kurokabe Square, or chow down on sōmen and mackerel, a local specialty. Nagahama Castle is located close to the train station and exhibits samurai swords, armor and firearms, which is fitting since it was built on the orders of a warlord.
There's also an observation deck where you can gaze down at lovely Lake Biwa.
If the weather's good and you've got time, take a boat out to Chikubushima, an island floating in the middle of said lake. It's a lush, green oasis with historical landmarks, such as Hogonji Temple and Tsukubususuma Jinja Shrine, dotted about.
The best time to do this is during summer when boats from Nagahama Port leave fives times per day. The service also runs during winter but you've only got two chances to get to the island, and it might get a little chilly!
Okayama
How to get there: Kyoto and Okayama are 213km apart. The Nozomi shinkansen is the most convenient way to get to Okayama – there are multiple trains every hour from Kyoto station and the journey takes just 60 minutes.
There's also the Hikari train, which will have you there in an hour and a half, and one train leaves per hour. Both of these options are direct journeys, so getting to Okamaya should be nice and easy.
What to do: You should definitely go for a wander through the picturesque Koraku-en, a stunning Edo period landscape garden situated next to Okayama Castle.
As well as the ponds, walking paths and streams that are typical of a Japanese landscape garden, Koraku-en also features vast fruit tree groves, an archery range and rice fields – it's pretty cool!
The next door castle, known as 'Crow Castle' due to its black exterior, is also worthy of a visit. It looks like a gothic fairytale dream!
On a sunny day, you should definitely cycle across the Kibi Plain, a bucolic flatland with a great cycling trail. It's best to do this during the balmy spring and fall seasons so you don't overheat – or freeze!
The trail is around 15km long but if your legs are seizing up at the very thought, relax – the path is almost entirely flat, so it should be a very easy journey. The easiest thing to do is start off at Bizen-Ichinomiya Station and rent your bike from there, then drop it off at the other end near the Bitchu-Kokubunji Temple.
Are you headed to the region soon?! What Kyoto day trips are you adding to your itinerary?!
Photos via Nagahama 1 | Nagahama 2