Planning a March getaway soon and not sure where to visit? Don't fret – I've rounded up the best places to visit in March!
March is one of my favorite months to travel, as the temps in the states are beginning to warm up and wildflowers are in abundance in California.
The states see wildly different temperatures, as the mountains will likely be covered in that glistening white stuff while in other parts of the country, it's completely appropriate to spend a day at the beach! Schools are still in session, meaning you won't find tons of families or spring breakers traveling around in March.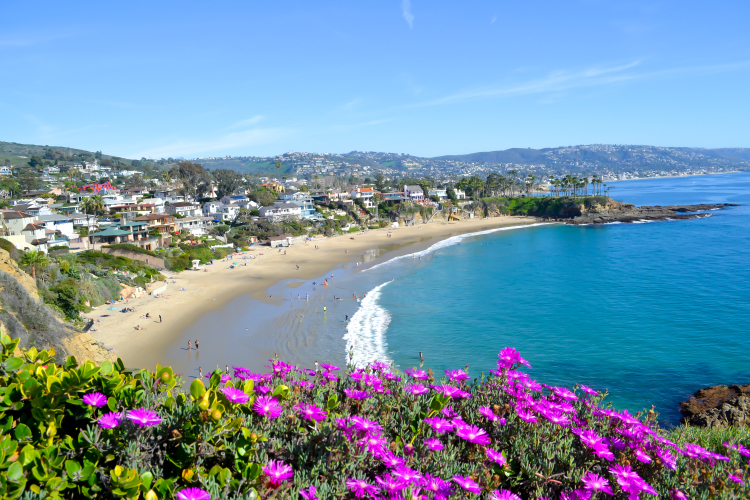 Parts of Northern Europe still see snow (making it the perfect winter getaway without the crowds), and there's reduced hotel rates all around the globe. In addition, March is off-season time for lots of spots in Asia, as the dry season is on it's way out and monsoon/rainy season is approaching.
I've divided this list of best places to travel in March by location: the USA vs international. This way, you can easily find your next travel location, depending on how much time you have and what type of getaway you were thinking of. Some of the destinations listed below can be explored in a long weekend, while others you'll probably want a week or two!
If you're wondering where to travel in March, keep on reading, my travel-obsessed friends. Happy exploring.
Best Places to Travel in March: USA
1. Carlsbad Flower Fields, California
Each year the Carlsbad Flower Fields open their doors between March 1st and May 10th, giving guests the unique opportunity to explore over 50 acres of spectacular flora. While a large array of different plants are grown, the flower fields are famous for their vivid Tecolote Giant Ranunculus', a unique plant that makes the fields come alive with color.
Guests also have the chance to explore a greenhouse filled to the brim with captivating cymbidium orchids, hop aboard an open-air wagon tour, and pose in front of a large American flag crafted out of red, white and blue petunias.
2. Anza-Borrego Desert State Park
Looking for more Flower power? Head on over to Colorado! Found in the depths of the Colorado Desert, the Anza-Borrego Desert State Park stretches over 650,000 acres of land and is classed as California's largest state park. If you ever get the chance to visit during February or March you'll find yourself awestruck by the rugged bloom, a time where the previously dull desert comes alive with vivid yellow, orange, purple, and white flowers.
Aside from the positively gorgeous flowers, the desert is also home to a spectacular array of scenic nature for you to discover, including waterfalls, narrow sandstone canyons, and teddy bear cholla.
3. Yosemite
Not ready to say goodbye to winter just yet? Visit Yosemite in early March (when we did!) and you'll likely still be greeted with that winter wonderland you've been dreaming about for oh so long. Except, without the crowds. The crowds vanish, icicles dangle from tree branches, snowflakes coast the Valley, and the entire park is so calm and bright.
While you probably won't be doing any long treks, you can still visit the stunning Tunnel View, Valley View (one of my favorites), the Sentinel Bridge, and Yosemite Valley Chapel.
Although the park is open 24/7 (yes, even when it snows), some of the roads leading to popular photo spots (Glacier Point) will be closed. Just something to keep in mind.
4. San Diego
If you are looking for warm places to visit in March, look no further than California's own sunny San Diego. While a large portion of America still clings onto the winter cold, San Diego offers sandy beaches, sunny weather, and highs of 66°F.
There's plenty to do in the busy city, including jiving to street performers at the Spring Busker Festival (March 7th-8th), sipping on local brews at the Best Coast Beer Fest (March 21st), and witnessing the truly unique Grunion Run. Being a low season, March is also one of the cheapest times to visit San Diego – if you're on the lookout for a good deal, visit between March-May or September-November.
5. Bermuda
Bermuda may not be the first place that pops into your head when wondering where to travel in March, though it is one of the best. With highs of 68°F (and ocean temperatures of 66°F), March doesn't offer the sweltering 'beach weather' that Bermuda is notorious for during summer, though it opens the door for an array of other unique activities.
Saddle up and go horse-back riding on the beach, hit the waters and kite surf, or celebrate lobster season by indulging in local seafood. If you're content with not dipping into the sea, March or April are the cheapest and least busy months to visit Bermuda.
6. Big Bend National Park
Found beside the Rio Grande River in South West Texas, Big Bend National Park and its countless hiking trails are a nature-lovers dream.
The spring and fall months provide the best conditions for taking on the park, where the weather is warm enough to camp and hike, though not unbearably hot as it would be in summer. Be sure to set some time aside to trek the Dagger Flat Trail, a 7-mile long road that comes to an end in the center of a dense collection of giant dagger yucca, which – conveniently – reach peak bloom in March.
7. Laguna Beach, California
If you're on the lookout for a charming, quiet spot that's not too busy, then Laguna Beach is easily one of the best places to travel to in March. The coastal city faces its warmest weather from March to November, though it doesn't get too incredibly busy until June, making March ideal; sunny weather (averaging 58ºF, with plenty of warmer days), quiet beaches, AND reduced off-season hotel rates (sounds absolutely perfect to me!).
Sunscreen up and enjoy the sandy beaches – though be warned, you'll probably need a wet suit if you plan on going swimming or partaking in any water sports, as the ocean temperature will still be quite chilly.
8. Destin, Florida
West coasters – I bet you never heard of Destin before! Destin, Florida, is a prime location for tourists and spring breakers during March, marking the beginning of the high tourist season for the coastal city. While the weather may not be as scorching hot as it is during the Summer, the climate is perfect for a touch of golfing on some of Florida's finest golf courses, and is warm enough that the water sports companies begin to open up after the quieter winter season.
There's plenty going on during March to keep tourists entertained and busy, including the popular Tequila and Taco Fest at Haborwalk Village, Mardi Gras, St. Patrick's Day celebrations, and plenty of late-night concerts.
9. Texas Hill Country
Located in central and southern Texas, Texas Hill Country boasts unbeatable warm weather and provides countless perfect places to travel to in March. If you're in the mood to party, March is one of Austin's busiest months for festivals and concerts, hosting cultural film events, music awards, and rodeos. Don't miss my favorite donuts at Gordoughs!
For a more relaxing and serene trip, Fredericksburg is the quaint haven you've you've always dreamed of, with colorful blooming flowers, wine tours, and mouth-watering local food. Perhaps get in touch with your rugged side at a traditional ranch in Bandera, or connect to nature and camp out in the Dripping Springs (perfect for stargazing!) – whatever you want, Texas Hill Country has.
10. Spring Training Towns, Florida
Spring Training is a Florida sporting phenomenon that sees 15 major league baseball teams competing in practice and exhibition games, starting in late February and continuing throughout March. With events held almost every day that are spread across 13 different beautiful cities, Florida's Spring Training Towns are some of the best places to travel in March for anyone who has a passion for sports, baseball, and warm weather.
Other than hollering at your favorite teams and pointing out your favorite players, Florida also offers tourists the added extras of sandy beaches and mouth-watering local food. Be sure to hit up my new favorites – St. Pete, Clearwater, Crystal water (for swimming with manatees), Sanibel Island, and Miami!
Best Places to Travel in March: International
11. Baja California, Mexico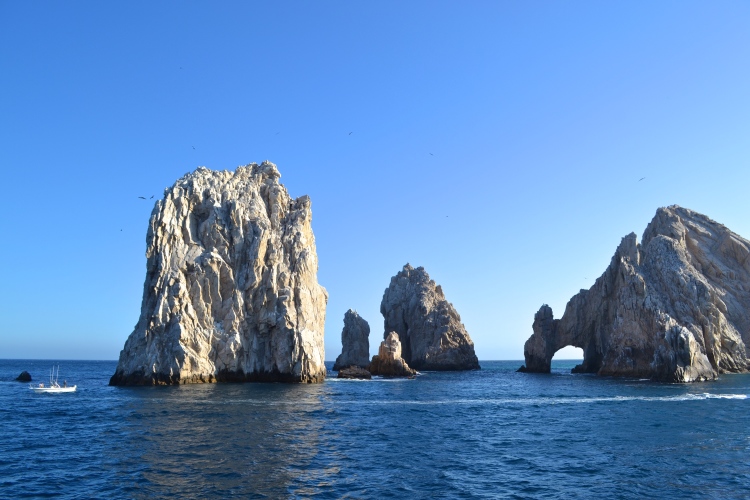 Baja California is without a doubt one of the best places to visit in March – if not just for the highly impressive wildlife, then for the prime and dazzling weather. Visiting this Mexican area during the early months of the year (January-March) provides the unique opportunity to whale watch, as this is the time where gray whales mate and breed along the Pacific Coast.
To top it all off, you have the chance to catch sight of a whale shark or humpback whale, as this is when these magnificent creatures are at peak numbers. If you manage to rip your eyes away from the ocean, the season is also perfect for making use of Baja's scenic bike routes, as you can even ride past the desert to see the wildflowers begin to bloom.
Don't miss the laid back surf town of Todos Santos and the gateway to Balandra Beach, La Paz.
12. Northern India
While other months in Northern India can be unbearable hot, March is the perfect middle point where the weather is pleasantly warm, dry and sunny – depending on where exactly you end up, temperatures can range from 68°F to 91°F.
Aside from the weather, there is one huge event that makes March stand out, that being the notorious Holi Festival. Otherwise known as the festival of colors, Holi Festival celebrates the end of winter and beginning of spring, commemorating the rise of good over evil. Be prepared to get all kinds of "dirty", as the festive day is spent smearing colored powder all over each other's faces, performing Holi rituals, dancing under sprinklers, and a whole lot of general partying.
13. Singapore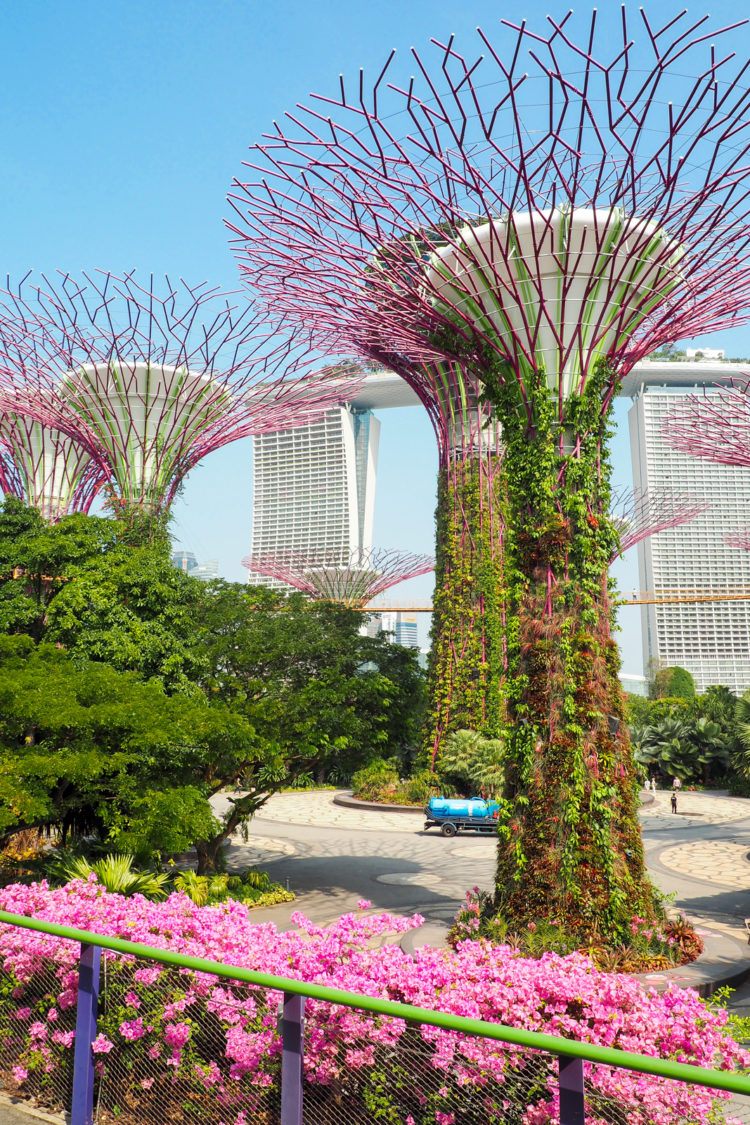 March is thankfully an off-peak time to visit the country, and when I decided to visit Singapore for 3 days. This means the streets are much quieter, providing the chance for a more peaceful getaway in a usually very hectic city (and let's face it, shorter lines for street food and other noms).
As it isn't as busy, you can also bag some pretty good hotel and travel deals! During this time, the city also experiences one of its warmest and driest months, with an average temperature of 88°F and clear blue skies overhead. The climate grants perfect conditions to enjoy some of Singapore's most popular outdoor attractions, such as the Singapore Zoo, Gardens by the Bay, and the Adventure Cove Waterpark.
Atop all of this, March also marks the month the Festival of Fun rolls to town, a 9-day long spectacle that brings live music, comedy, and kid-catered shows to the thriving city.
14. Dublin
If you love a good celebration and are wondering where to travel in March, then spending St. Patrick's Day in Dublin is a no brainer. The Irish know how to party, and can handle their alcohol better than most, so be sure to wear something green and grab yourself a pint of Guinness before heading down to the high-energy street parade.
If there's one piece of advice you should take to heart if spending St. Patrick's Day in Dublin, it's this: never get into a drinking competition with an Irish person, they'll drink you under the table, and be sure to always drink responsibly.
Other than St. Patrick's Day, Dublin has so much to do in March, such as hiking the Beara Peninsula, exploring the Kilkenny countryside, and attending the international film festival at the start of the month. Though be warned, Irish weather is unpredictable (especially during the Spring months), so be sure to bring an umbrella just in case.
15. Belize Barrier Reef
Situated along the equator, Belize relishes in warm weather all year long, and with highs of 85°F it one of the warmest places to visit in March. Falling directly in the middle of the dry season, visiting this Central American country during March opens the door for an abundance of outdoor activities, such as diving and snorkeling near the unforgettably beautiful Belize Barrier Reef (one of the best in the world), exploring ancient Maya ruins, and biking through lush jungles.
If you can visit Belize during the start of the month, you can even join in on the festivities surrounding the popular La Ruta Maya Belize River Challenge, a 180-mile race that stretches across four days.
16. Finnish Lapland
Visiting Lapland in March provides the wonderful benefits of Finnish winter while being slightly warmer than the previous chilly months, where the snow is at its finest after 6 months of consistent snowfall and the sky clings onto daylight until 9pm.
As the days become longer, March becomes the perfect time for snow-related activities, such as skiing, snowboarding, hopping aboard a snowmobile, riding a dog-led sleigh, ice fishing, and snow-shoe hiking. Unlike the previous winter months, cloud cover is limited, providing a much clearer view of the infamous and captivating Northern lights.
17. Cuba
Havana oh-Na-Na. If your heart is set on a warm holiday where you can work on your tan, then Cuba is the perfect fit for you. With average temperatures of 82°F (much cooler than the sometimes unbearable Cuban summers), March is the perfect time for outdoor adventures – with the option to kayak, horseback ride, hike, and scuba dive, tourists are really spoilt for choice on this Caribbean coastline.
During March, Cuba also hosts an array of local music and film festivals, including the Festival Internacional del Cine Pobre and Havana World Music Festival.
18. Chile
Chile may be one of the most picturesque and best places to visit in March, as it marks the month where Chile transitions from its summer to autumn period. If you're looking to visit the stunning Patagonia region, you'll find that the crowds thin out and the weather remains pleasant at an average of 64°F, making it a more serene and peaceful time to visit the South American country. Plan your trip in the beginning of the autumn shoulder season for better prices and fewer tourists! And plus, the strong winds of summer won't be fun.
When visiting, the leaves are beginning to change, and it is the season of grape harvests in the plentiful wine valleys, making it the perfect spot for a tranquil getaway. For those who crave a little more adrenaline, Chile also hosts Lollapalooza and Fiesta de la Vendimia in March.
Where are you planning to visit in March?