Wine.  It's something that we all love. Even my grandma sips it on occasion.
Now think of a hotel that bases it's whole concept around it.
Whenever I'm looking for a place to stay, whether it be a mere half hour away or half-way around the world, I choose places that are memorable.  Places with funky touches, ambiance lighting, or farm to table food.  Just something that's a bit different than all the rest. The Hotel Vintage Seattle was just that- colorful, romantic, and full of character. Oh, and the wine factor.  😉 But more on that later.
The Rooms at Hotel Vintage Seattle
As soon as I walked in, I felt as if I was dropped into a glossy magazine spread.  Flat-screen TVs, colorful lighting, and geometric wallpaper in the bathroom nonetheless!
Oh, and the free wifi while laying in bed didn't hurt either.
Speaking of the bed, it was an absolute dream, and I slept better that night than any other night in Seattle.  It may have been because I had just come back from a full day exploring Mt. Rainier, but boy, did I sleep like a baby that night. (And all the other nights, too – so it must not have been my pure exhaustion that caused my perfect sleep.)
The newly redesigned boutique accommodations were just what this girl longed for after sleeping at a hostel the past few nights.  It's fun to mix it up sometimes! But boy was I happy to take a shower without flip flops and not lock up my belongings each night.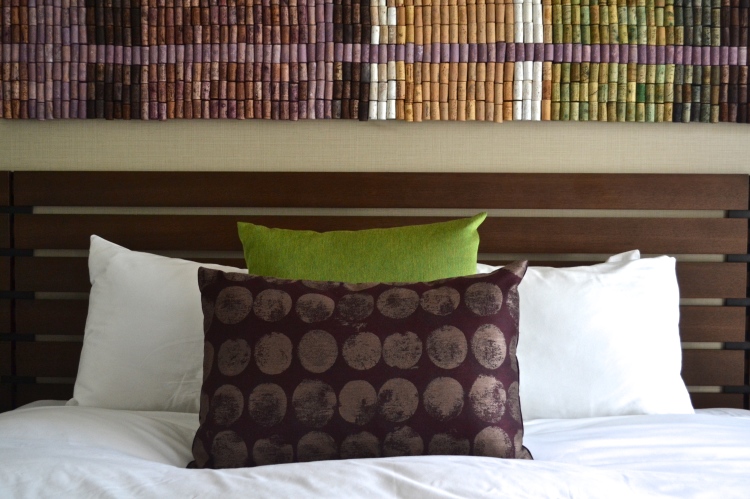 Inspiration
As noted earlier, the inspiration throughout the hotel comes from the blooming Washington Wine Country.
Bottles from local wineries are showcased throughout the hotel, and the contemporary rooms feature artwork from local winemakers.  Notice the piece of art above my bed?  Yeah, that's a few hundred corks fastened together.  The bed even resembled those hues of a vineyard, with greens and purples (get it, grapes?), with touches of sleek furnishings (just like wine bottles).
My door, as all the others do, featured the name of a local Washington winery, who I was told sponsored the hotel room.  How innovative and fun!

Hotel Bars and Restaurants
Tulio, a contemporary Italian restaurant, was hands down one of the best meals I had in all of Seattle.  And I ate at an alarming amount of places- shocking.
You just NEED to try their sweet potato gnocchi- it's been over a week since I've eaten it and I'm still obsessing over it.  Thinking about calling the chef and bribing him to share the recipe.  I also indulged in the arugula salad (with crispy prosciutto) and the Kurobuta Pork Shank (those ricotta whipped potatoes were to die for).
All the desserts (especially the warm chocolate pudding cake) sounded so deliciously amazing, but I just couldn't fit any more crumbs into my stomach.  You know when your pants get too tight and you feel like you're about to explode?  Yea, I was at that status by this time into the meal.
With an extensive wine list (which puts so many out there to shame), and some of the best flavors I've eaten in a very long time, I can honestly say Tulio is an absolute must when visiting the Seattle area. No wonder it's recognized by Travel + Leisure as one of the "best Italian restaurants in the U.S.".
Location
Hotel Vintage Seattle is in the heart of Downtown Seattle and centrally located to all those must-see attractions.  It's only a short walk away from Pike Place Market and the waterfront.
Walk outside and you'll see the famous Seattle Public Library- I even had a view of the architectural beast from my hotel room window.
But my absolute favorite?  The fact that Hotel Vintage Seattle is a few steps from Sweet Iron Waffles (seriously, if you like Belgian waffles and bacon, this is your place) and Top Pot Doughnuts (an absolute must for any first-time visitor to Seattle).  Food- it always gets me, every time!
Favorite Features
Dog friendly! Any hotel that caters to precious little pups has my vote.  I loved seeing this sign change every day as dogs checked in and out.
Nightly Wine Hour, with complimentary wine hand-selected by their Master Sommelier, is offered every day from 5-6 p.m.  It would almost be a crime if the "wine hotel" didn't supply it's guests with a few glasses!
Complimentary coffee and a daily paper each morning.  We all need a little help waking up in the morning. Especially after all that wine.
A night cap every evening- apparently I missed the memo about the shortbread cookies.
C.O. Bigelow bath amenities.  With smells so luxurious, I didn't want to get out of the shower.
And who could forget a Kimpton staple – animal print bathrobes, because life is just more fun in leopard.
I should note that Hotel Vintage Seattle also offers it's guests a 24 hour fitness center, but I was too busy drooling at Top Pot to show my face in the gym. Yeah, about that…
More Information
Hotel: Hotel Vintage Seattle
Location: 1100 Fifth Avenue, Seattle, WA 98101
Accommodation: Chic Boutique
Price Range: $$
Disclaimer: I was a guest of Hotel Vintage Seattle, but as always, all opinions remain my own.  I'll be back for sure, the wine and the sweet potato gnocchi are waiting for me.