My favorite thing about visiting a new city? Indulging in all of it's food, of course! So naturally, I signed up my husband and I for Walks of Italy's Rome Food Tour with Pasta Making, Local Market, and Tastings. Did you read that correctly – yes, pizza making (and therefore, pizza eating…)!!! It was bound to be a successful day.
Rome Food Tour and Pizza Making
Over the course of the morning, we savored a few of Rome's most mouthwatering delights after meeting at one of the cities most liveliest plazas, Campo de' Fiori. Good thing I didn't have a big breakfast that morning! Our guide told us tidbits of information about the different stands in the market before leading us to our first stop.
Pizza Bianco
To get the party started, our local guide led us to Forno for a "healthy breakfast" of pizza bianco. The dough had just come out of the oven – definitely couldn't have gotten fresher than that!
The pizza dough was drizzled with olive oil and salt, and tasted like heaven this early in the morning. Something I can definitely stand behind! We also learned that true Italians never drink cappuccinos past 11am, doing so screams "tourist"!
Olive Oils and Balsamic Vinegars
We then wandered over to the market, and were instantly flooded with delicious smells and mouthwatering sights. Can you believe that there are over 140 types of green olives, and each produce different tasting oil?! That's a wide variety of oils!
The tour members tasted numerous olive oils and balsamic vinegars, including white truffle oil, a balsamic glaze, and chile infused olive oil, which had a definite spicy kick to it!
Limoncello and Other Liqueurs
We first tasted limoncello on the Amalfi Coast (another region you should visit), and boy, was it tasty! After sipping on this sour stuff for the second time, I fully understand why it's deemed Italy's second most popular liqueur.
We also had the opportunity to taste a few other liqueurs, my favorite including Pistachio Cream and Chocolate Cream!
Pestos
What a treat! Pesto is by far my favorite pasta sauce, and we tasted a whole bunch of variations! Who knew pesto had the ability to taste so different by changing a few ingredients?! Authentic green pesto, sundried tomato pesto (absolutely unexpectedly delicious!), truffle pesto (mmmmm), and balsamic creme with meat were just a few of the varieties we taste tested.
I unexpectedly devoured my samples too quickly, as evidence of the missing photo!
Salamis and Other Cured Meats
I have a thing for cured meats, so this stop at a local meat shop was perfect! We sampled so many meats I lost track, and learned the difference between prosciutto, crudo, and coppa.
Note: In Italian, pepperoni translates to bell peppers, and therefore, if you order a pepperoni pizza, guess what you'll get? A pizza with bell peppers on top. If you truly want pepperoni, order "spicy salami" instead.
Hard and Soft Cheeses
One word: Burrata!
We sampled a variety of hard and soft cheeses, including parmesan, pecorino romano, mozzarella di bufala, smoked mozzarella, a new favorite, and burrata, my all time favorite. I can never have enough cheese, especially in Italy, so this was by far a celebratory stop for me. It seems as if the tour guide read my mind as he poured us each a glass of wine to accompany our cheeses.
PIZZA TIME!
Finally! By this time, I was stuffed with Italian goodies, but couldn't turn down the opportunity to make my own pizza from scratch! The group learned the proper way to roll out pizza dough and after doing so, we topped our freshly made pizzas with tomato sauce and fresh mozzarella cheese.
After the pizza was baked in the oven, we indulged in a huge feast while learning about the different types of Italian pizza and where to buy the best tomatoes.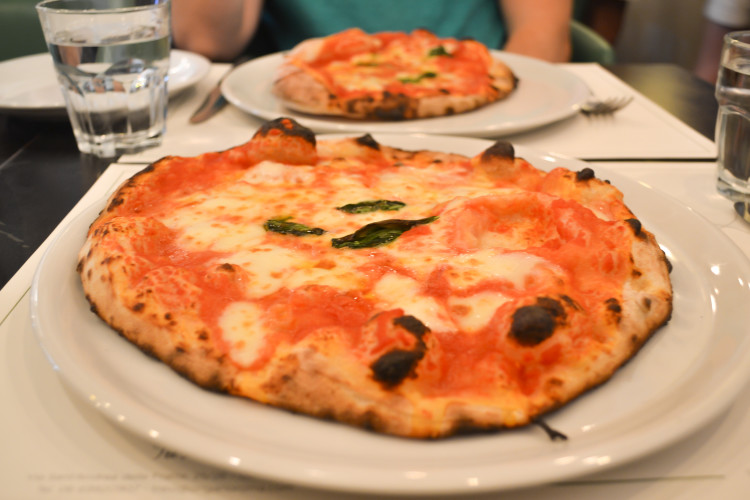 All in all, Walks of Italy's Food Tour was the perfect way to spend a morning gallivanting throughout Rome and indulging in it's specialities. Our guide provided us with local information at each stop, and it's safe to say I'll be feasting in Italy again in the near future!