Everyone tells you a day trip driving the Golden Circle in Iceland is necessary, and they are 100% correct.
As soon as I booked my flight to Iceland, I signed up for a Premium Golden Circle Tour. Sure, it's a tad touristy, but yes, this route is popular for a reason!
What is the Golden Circle anyways?
No, it's not some shiny Icelandic treasure, but if you're a nature lover like myself, it's even better than any glistening object a troll in Iceland will give you. Bubbling geysers, majestic waterfalls, long-haired sweet-natured horses who crave attention…. Oh and there's top-notch ice cream too. That should get anyone's heart beating pretty fast. Ice cream lover over here, if you haven't noticed. 😉
The Golden Circle in Iceland is a popular tourist sightseeing route that covers roughly 300 km (185 miles) in a big loop from Reykjavik. There are many beautiful landmarks along the route which can be seen in a short period of time. Depending on how many of the stops you make and how long you spend at each stop – the loop can easily be completed in a day. I highly advise signing up for a tour to ensure you'll see everything the route has to offer without any worry of getting back to Reykjavik for dinner time. Plus, who wants to deal with the hassle of a car rental and drive anyways?
Stops on the Golden Circle Route
1) Þingvellir National Park
No matter what tour you decide to take, you'll definitely be making a pit stop at Þingvellir National Park, known for its geological wonders and unique Icelandic history. It's here at Þingvellir that connects all the major events in the founding of the Icelandic commonwealth, with the oldest existing parliament in the world first assembling here in 930 AD. It's recently been accepted on the UNESCO World Heritage list because of this!
Plus, it's evidently considered the best place on earth (yes, Earth!) to view the North Atlantic divergent ridge (where the North Atlantic and Eurasian tectonic plates collide), so yeah, you kinda gotta go. The plates are slowing moving apart at around 3cm per year, ultimately meaning the continents are being brought closer together. Future Pangea party, anyone?!
Many people choose to snorkel between the tectonic plates at Silfra, which is something I definitely want to do next time. The girls in my hostel said the colors beneath the surface were absolutely unbelieveable. Learn more about snorkeling in Silfra here.
And yes, of course there's a waterfall here, because it is in fact Iceland we're talking about! Waterfalls everywhere! But don't get all your marbles up in a jar over this stop – there's plenty more to see.
2) Efstidalur Farm
Hungry? You better be! If you sign up for a similar tour as I was on, you'll be rewarded with two large scoops of homemade cow-milk ice cream. And from one ice cream obsessor to another – the ice cream was honestly some of the best I've ever had. Yes, it was that good. Makes sense that Efstidalur is known for the best ice cream in all of Iceland.
We also tried homemade skyr, cheeses, and other tasty farm-to-table food products in the sweetest rustic chic farmhouse with views of the cows below! The farm has been owned by the same family since 1850 (!!!) with a heavy focus on cattle farming and horse breeding. They have recently expanded with a full service restaurant and bed and breakfast on property. Definitely worth the stop in my opinion.
3) Geysir and Strokkur
Lots of bubbling pools to check out here, along with the two famous geysers Geysir and Strokkur. Strokkur is the only one still active today, which erupts every 5-8 minutes or so, sometimes even more (meaning you'll see it shoot out it's steaming hot water multiple times)! I got an absolute rush standing right alongside the geyser waiting for the enormous boiling blue bubble to erupt! If you can imagine, it's quite a site!
There are numerous others to check out in the geothermal area, although they remain dormant these days – still impressive nonetheless.
And get this – the English word "geyser" is actually derived from this exact geysir here in Iceland!
The area is quite smelly, so be prepared!! When standing close to the geysers, you'll get random whiffs of rotten egg smells – that's the sulphur! What's cooler than watching a hot spring spout steaming water up to 60 feet in the air without any mechanical support? That's science for ya! Don't miss this unique geological phenomenon.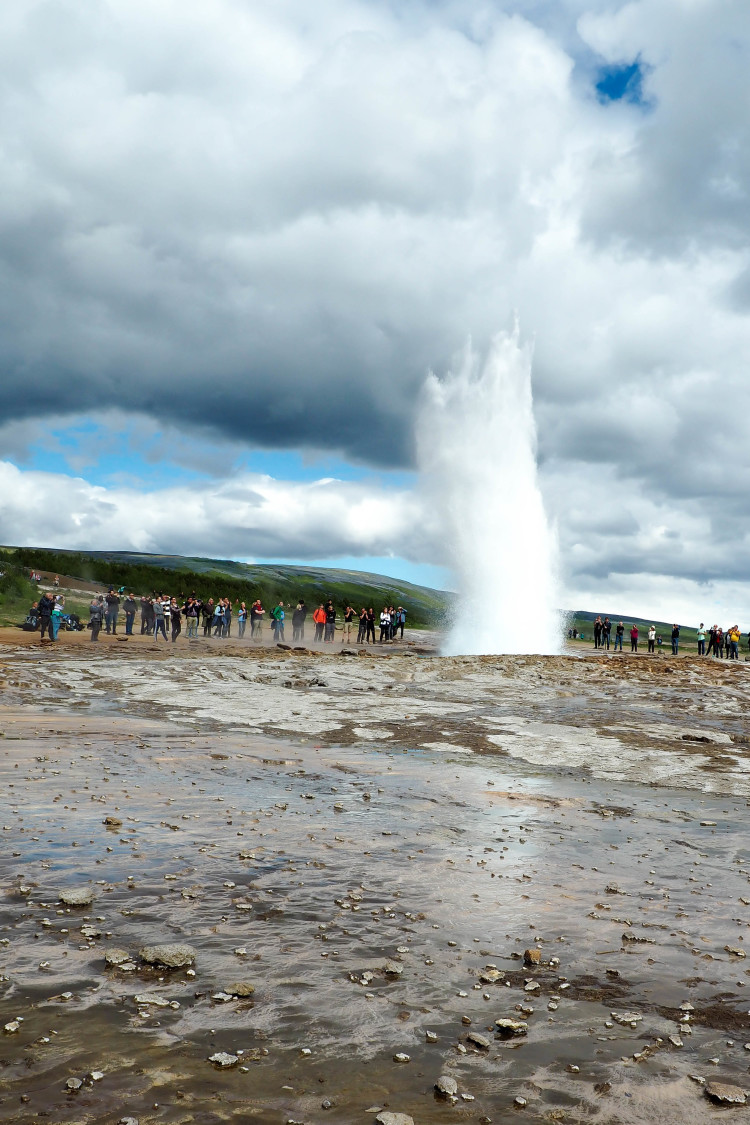 4) Gullfoss Waterfall
Deemed the most beautiful of all 30,000 waterfalls in Iceland (yes, that's a fact – told you the waterfalls are plentiful around here), it's a definite must-stop on any Golden Circle tour.
Absolutely iconic with it's elegant and majestic form, with mounds of mist everywhere around it. Don't miss the narrow path which provides close-up views of the massive, two-tiered waterfall below. Just remember to put your hood up – it gets rather wet up close!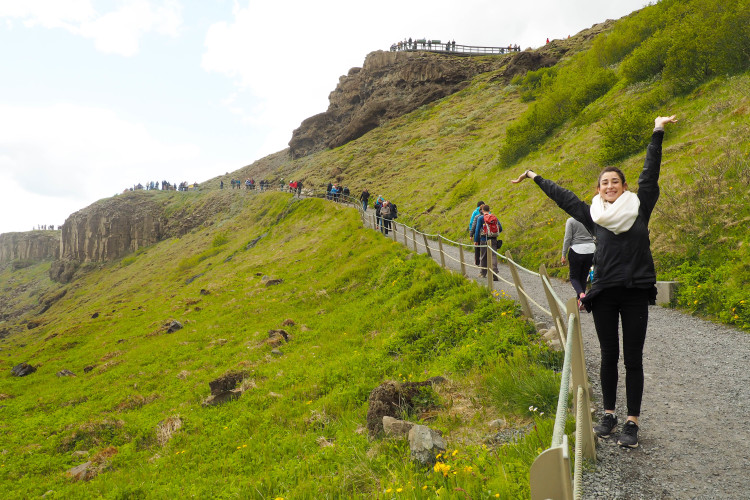 We dubbed this waterfall the pizza pie of all falls – just look at it, totally looks just like a pizza to me! Or maybe I was just craving some NYC pizza… you be the judge! It looks like a pizza, amiright?!
5) Feeding Icelandic Horses
Another highlight of the tour for me, and our guide was super sweet to find us a safe spot to interact and feed these guys!
Icelandic horses are everywhere, and their small petite size makes them just so super cute! Just don't call them ponies – they are full-grown adult horses. And their manes – my gosh! They've got more beautiful hair than I do!
6) Faxi Waterfall
A short and sweet spot, but I'll never say no to a stunning waterfall. If you couldn't tell by now, Iceland is just full of them. No complaints from this girl! Kind of like a mini Gulfoss, but with lots less mist since you're farther away from the actual falls. And way less tourists, too!
7) Kerið Crater Lake
The final stop on our Premium Golden Circle Tour with BusTravel, and a striking one at best! Kerið is a crater lake filled with milky blue-green water against a black and deep red sloped terrain.
It's actually believed to be a collapsed magma chamber resulting from a volcanic eruption occurring more than 6,000 years ago! Walk around the rim of the crater above for the best views!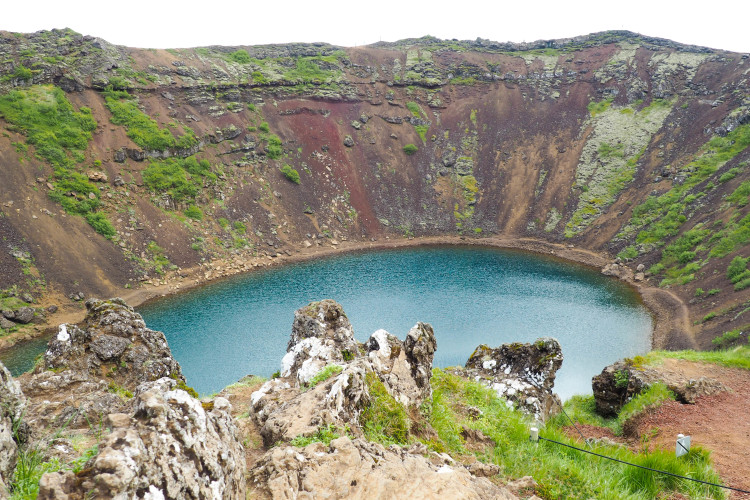 Reasons to Take an Organized Tour
Gas is expensive in Iceland at about $2 USD per liter ($7.50 per gallon). With the cost of a rental car and the high gas prices, you might be surprised that you won't really be saving much money by driving the route yourself. Plus, if you can't drive a manual car, you may be forced to take a tour anyways – as there is a shortage of automatic cars in Iceland.
You'll see it all in a day, guaranteed. Yes, you'll have a specific amount of time at each stop, but if you're like me, this may be a good thing. If I was given an indefinite amount of time, I'd spend hours perfecting photographs and exploring every nook and cranny. With limited time in Iceland, this just wasn't possible for me.
You'll learn an awful lot of information about Iceland from your guide. I learned all about the Icelandic language, history, discovery of Iceland (it's actually pretty interesting… Vikings and all!), wildlife, farming, etc.
You won't need to drive! This means you can stare out the window at the otherworldly Icelandic landscapes without fear of any car incidents. If you're visiting Iceland in winter, I highly advise you to book a tour as road conditions will be highly unpredictable.
Traveling To Iceland Soon? Don't forget travel insurance! I'm a big fan of SafetyWing when traveling abroad. Be sure to protect yourself from possible injury and theft before it happens. Learn more and Sign up here.
Disclaimer: I was a guest of BusTravel Iceland, but all opinions and starry googly eyes while on the tour are mine! Plus, mini horses and ice cream – what could go wrong?!