Heading to Iceland soon and looking for information on a day trip to the Snaefellsnes Peninsula? You've come to the right place!
While most people come to Iceland with the Blue Lagoon and Golden Circle in mind, I urge you to look beyond the typical attractions and venture a bit further than the norm. Sure, a day trip to the Snaefellsnes Peninsula is not unheard of, but it's not anyone's first choice when time is limited – although it should be.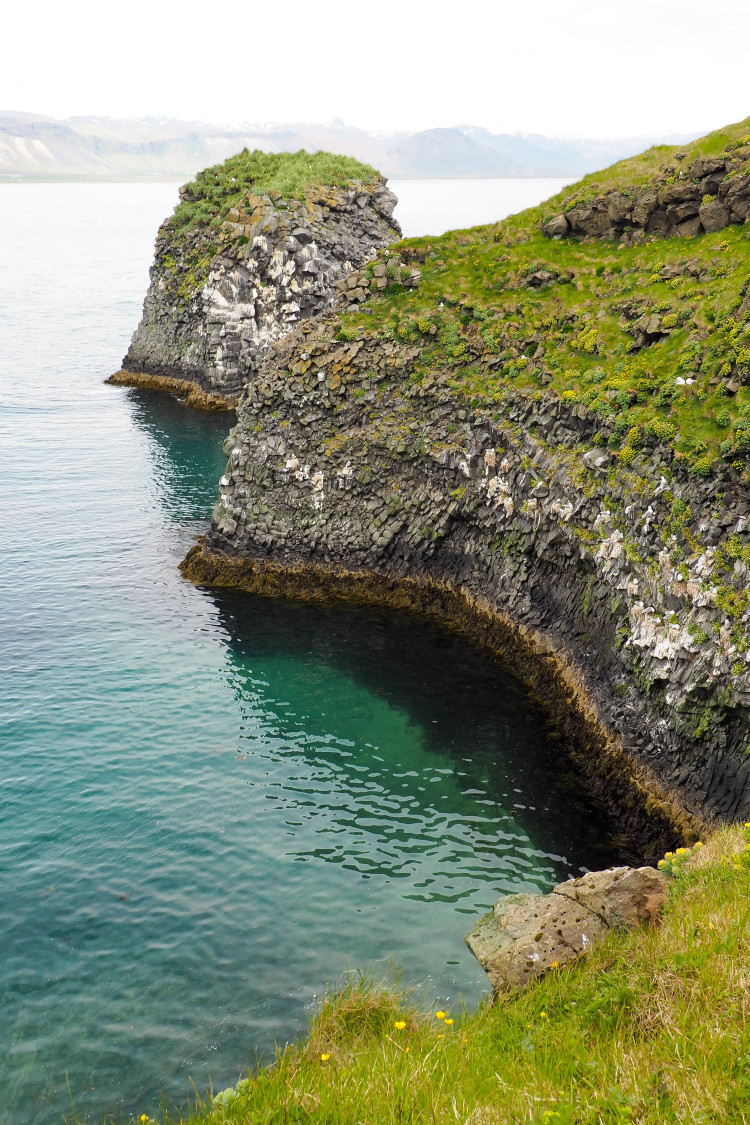 Completely underrated in my book.
I was more in awe during my day trip to the Snaefellsnes Peninsula than during any other part of the country I visited – and that's saying a lot considering how much I fell in love with the Glacier Lagoon and Southern Iceland's waterfalls!
Considering I had never even heard of this peninsula before, and couldn't (and still can't) properly say it's name, I'll give you a bit of information about this stunning area on the western side of Iceland.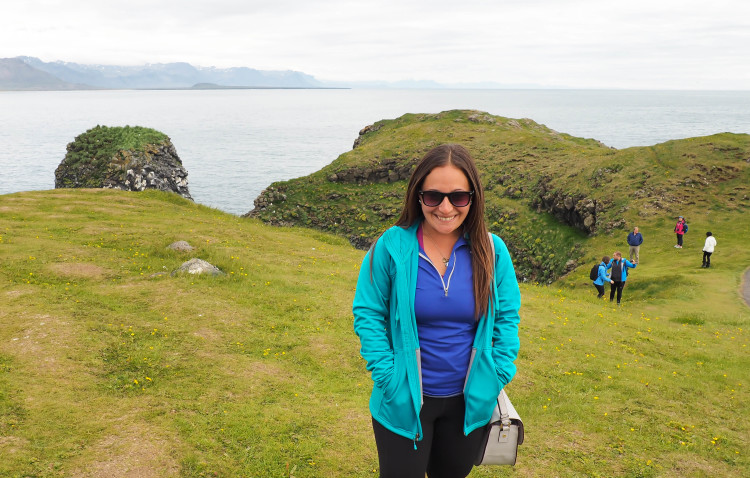 Commonly referred to as "Iceland in a Nutshell", it really comprises a whole world of diversity, from its wildlife, beautiful yet very unique landscapes, and charming seaside towns. It's almost a miniature version of the island – with black sand beaches, bird cliffs, waterfalls, spectacular mountains, and volcanic craters.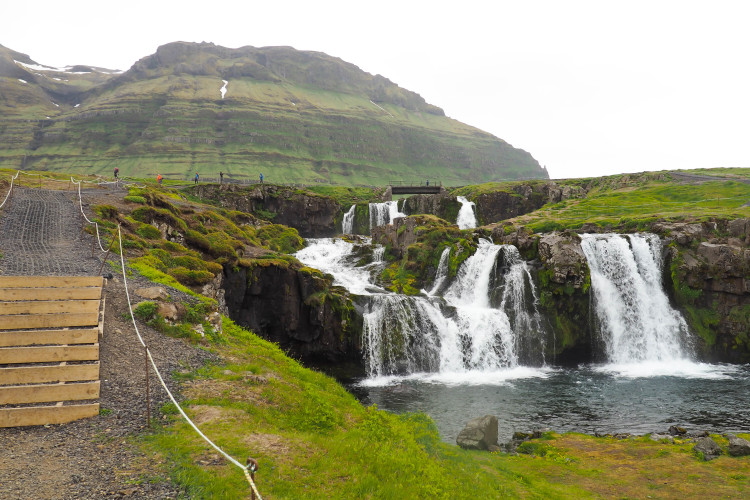 Although it's quite large at 90km long, you'll really be able to see so much on just a day trip to the Snaefellsnes Peninsula. Highly recommended, and then some. Wild beauty at it's core.
While it's possible to go at this day trip alone, I prefer to join a tour when traveling solo, so hopping on this tour was my best bet!
Similar tours below:

Stops on A Day Trip to the Snæfellsnes Peninsula
1. Seal Colony at Black Sand Beach near Ytri-Tunga Farm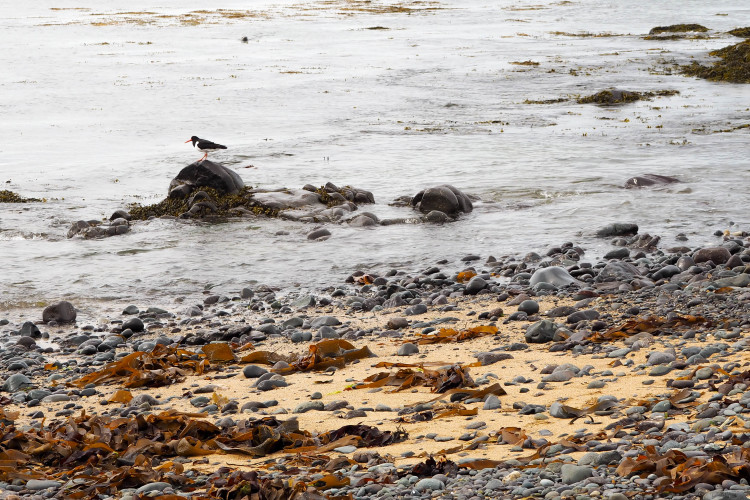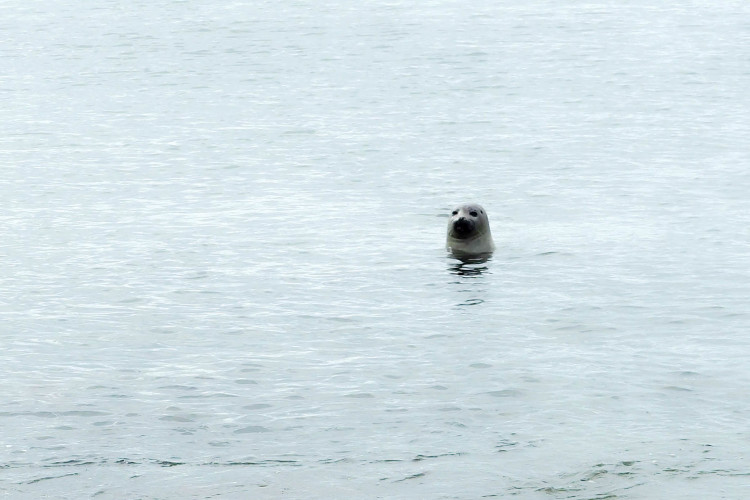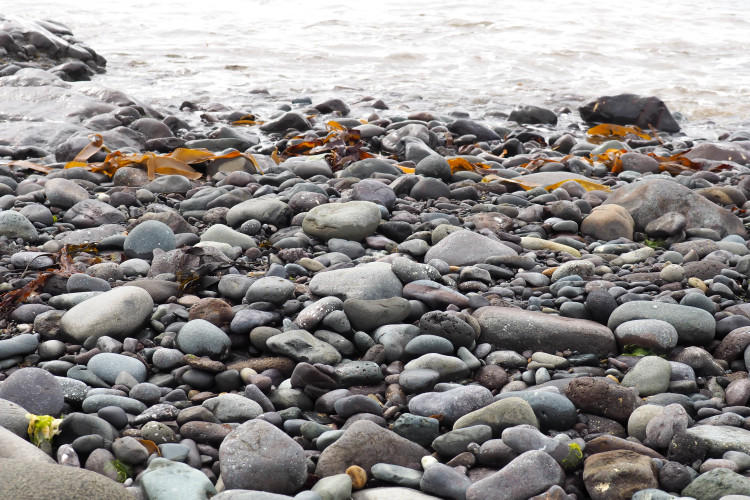 Being the first stop of the day, I was admittedly still a bit tired after the long journey to this side of Iceland, but instantly perked up when we saw our first seal popping its little head up out of the water. We walked along the shores, binoculars in hand by some, keeping an eye out for the infamous seal colony of the area.
And little did we know, we were visiting during prime seal-spotting time (June-July), which was evident by how many seals we saw playing in the water! At first I wished we had a bit longer to wander here, but as you'll see by the remarkable stops coming ahead, this was just the beginning of excitement.
2. Arnarstapi Fishing Village
The next stop brought us to the small fishing village of Arnarstapi, which was more picturesque than I could ever have imagined. Sorry in advance for all the photos – I had an exceptionally hard time picking my favorites! With columnar basalt and cliff formations, one of Iceland's most beautiful natural harbors, and lush greenery growing everywhere in sight, Arnarstapi was breathtaking from every possible angle.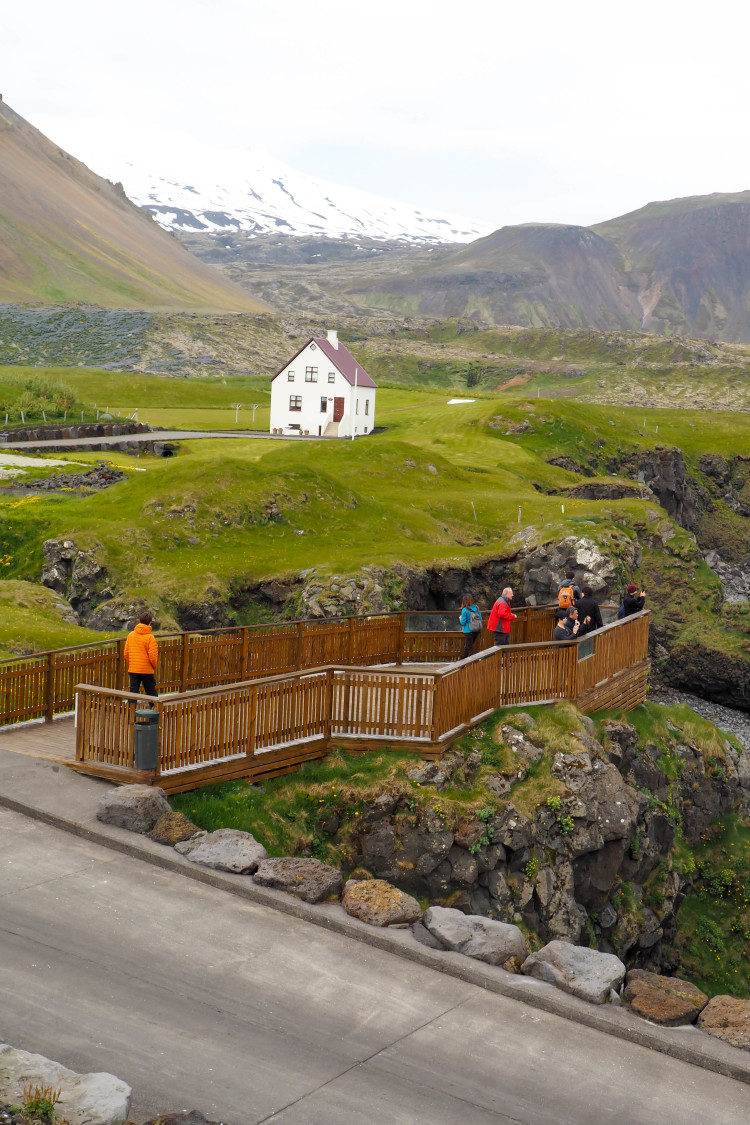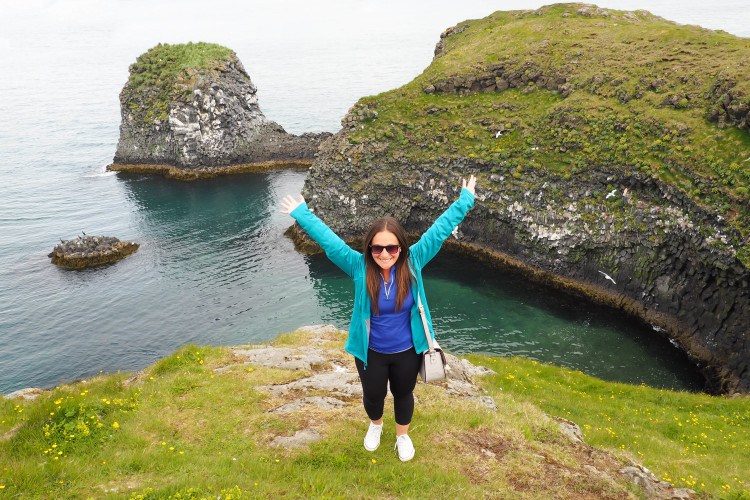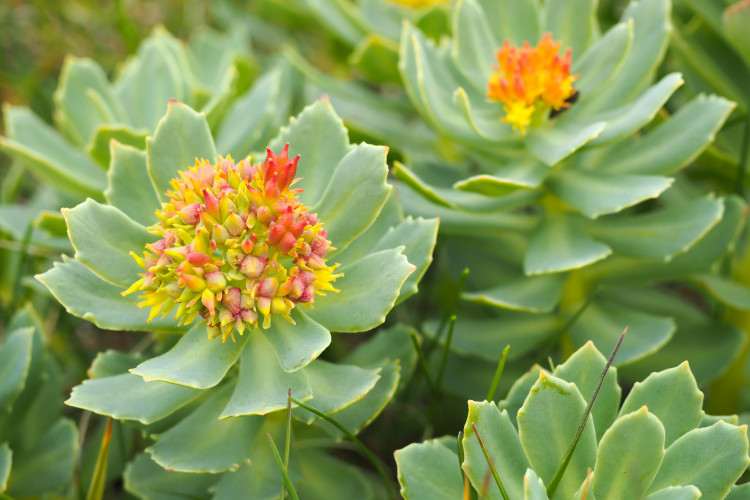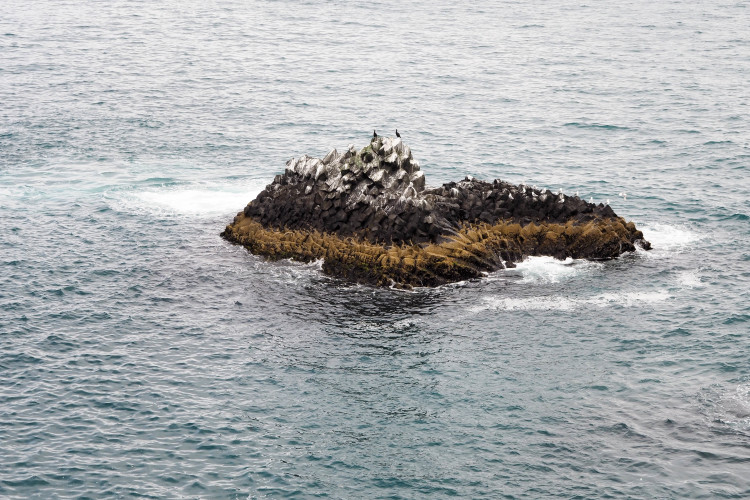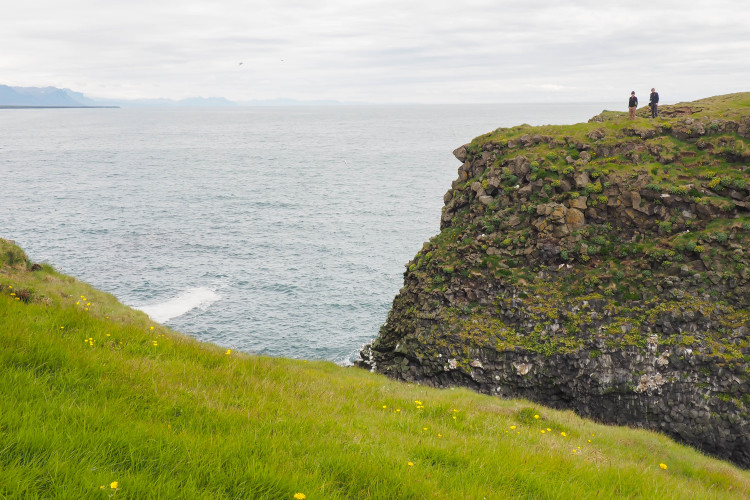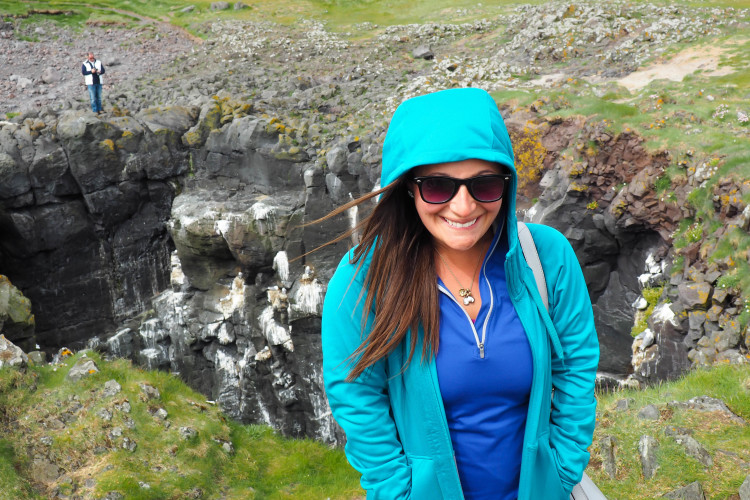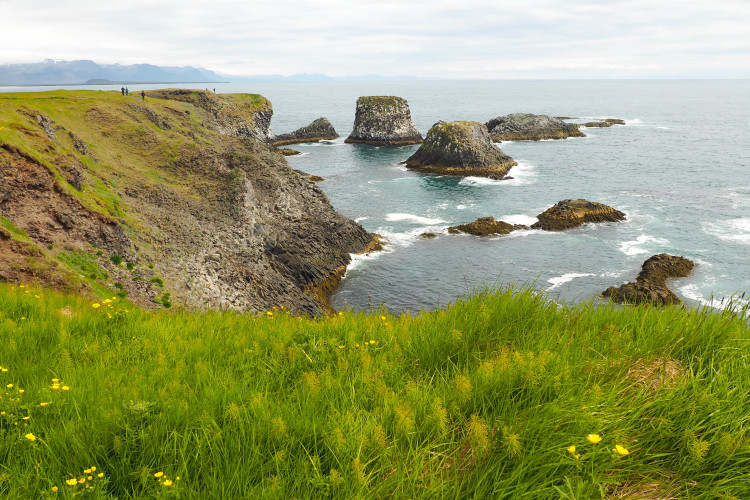 I was amazed at the green moss growing on the rock formations, the white Snæfellsjökull glacier peeking out in the background, and the small houses nearby, which undoubtedly painted the perfect picture. I spent about an hour walking through the extraordinary landscape, stopping every minute or so to photograph some other beauty. And I honestly could have taken 1,000+ photos of the area – it was just that stunning (confession – I took over 200 in just under an hour….).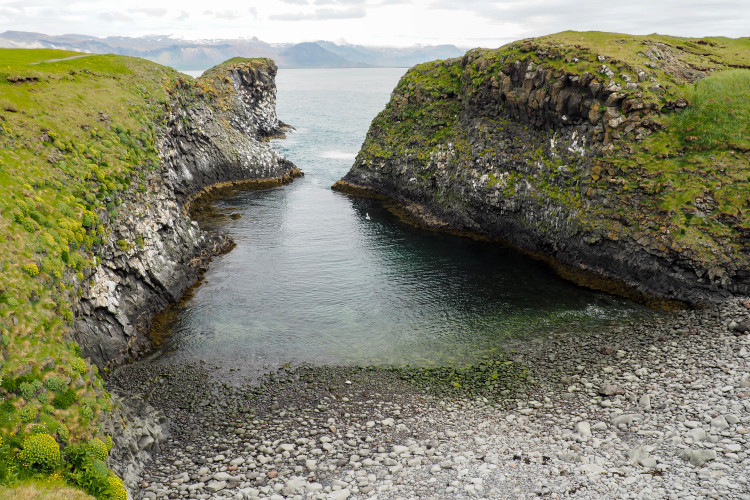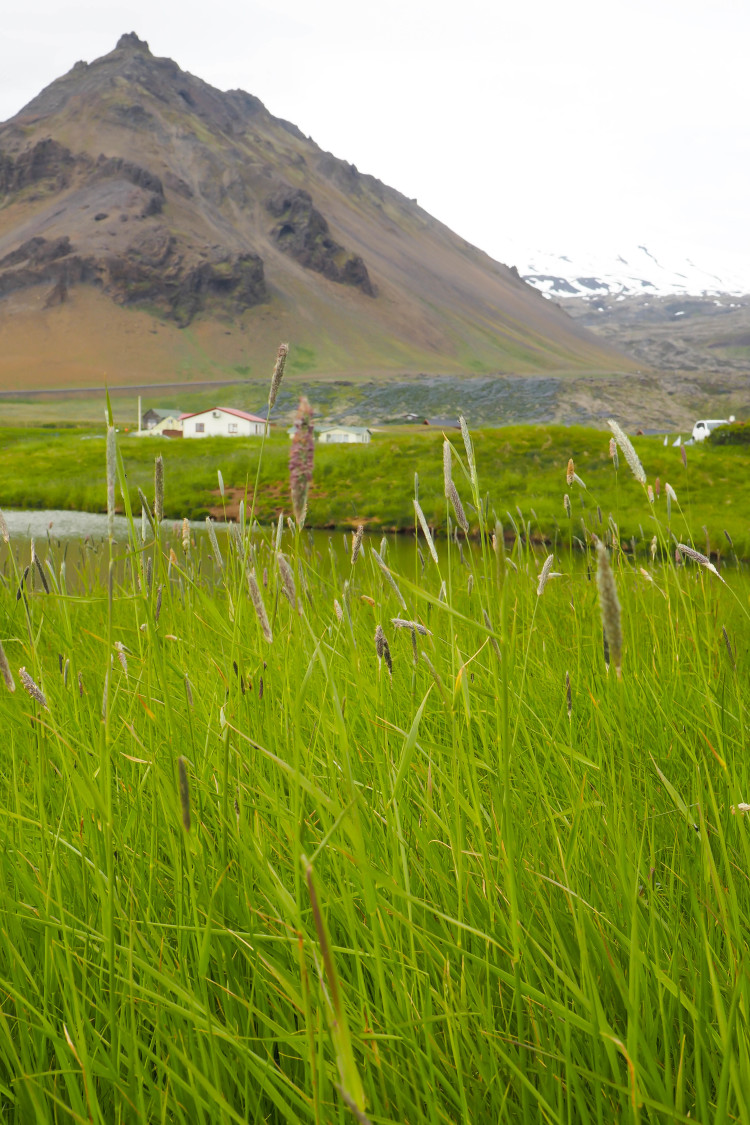 We saw dozens and dozens of birds hanging out on the cliffs, staining the columns white (with poop I imagine, although I definitely could be wrong…)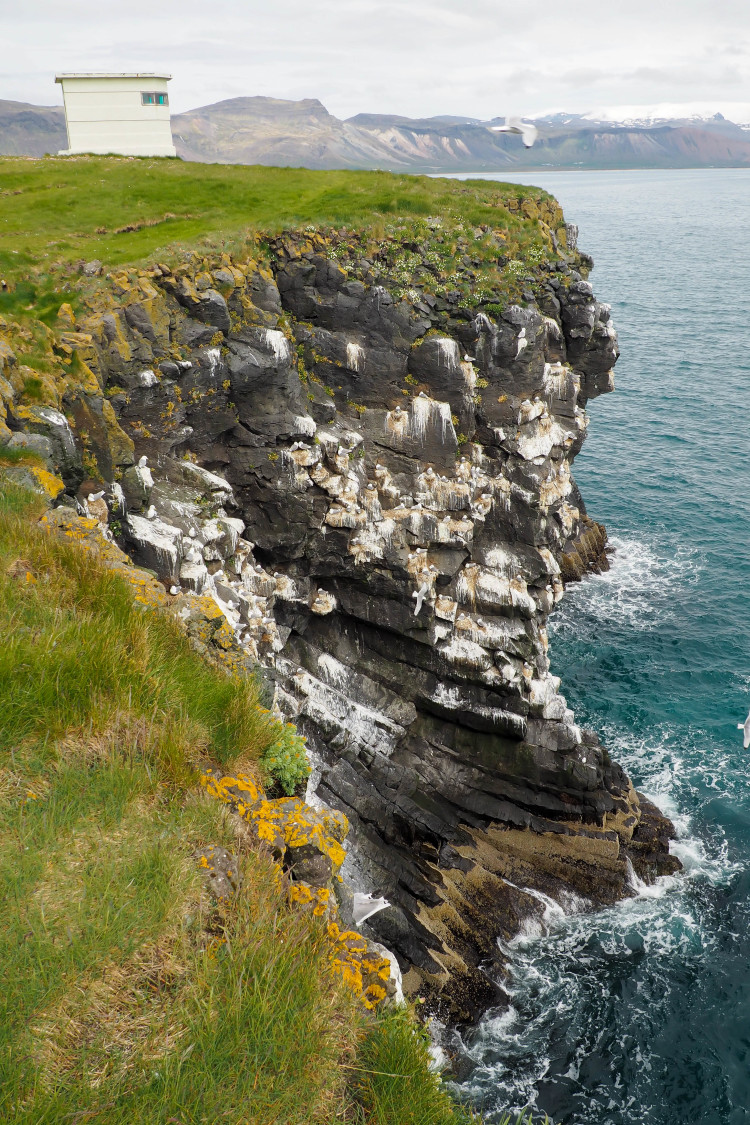 Although Arnarstapi used to be a vibrant fishing village, it's nowadays one of the most popular sights to visit on the peninsula. Don't miss Gatklettur "Arch Rock", Bárður Snæfellsás statue, and the precipitous shoreline towards the small village of Hellnar.
3. Ancient fishing village of Hellnar
After overloading my camera with photos at Arnarstapi, we drove a few moments to the lovely ancient fishing village of Hellnar. The option of eating in a nearby restaurant was on the table, but I decided to eat the sandwich I managed to throw together that morning overlooking Hellnar's waters and high sea cliffs instead. Why waste time in a stuffy restaurant full of tourists when I had the option to eat outside in the cool breeze?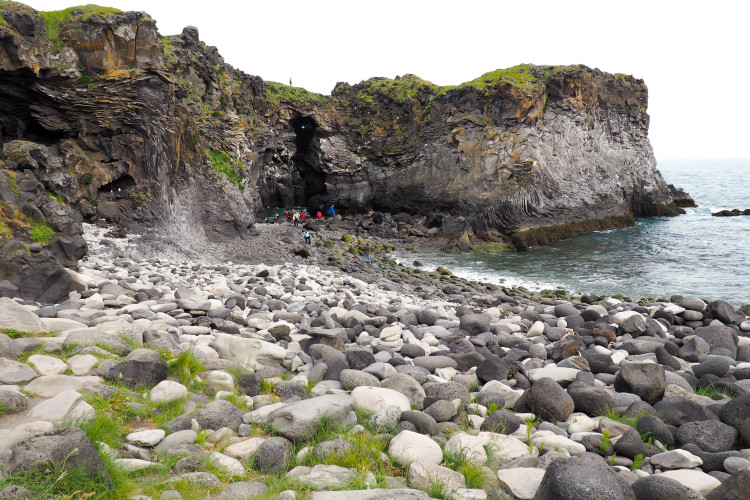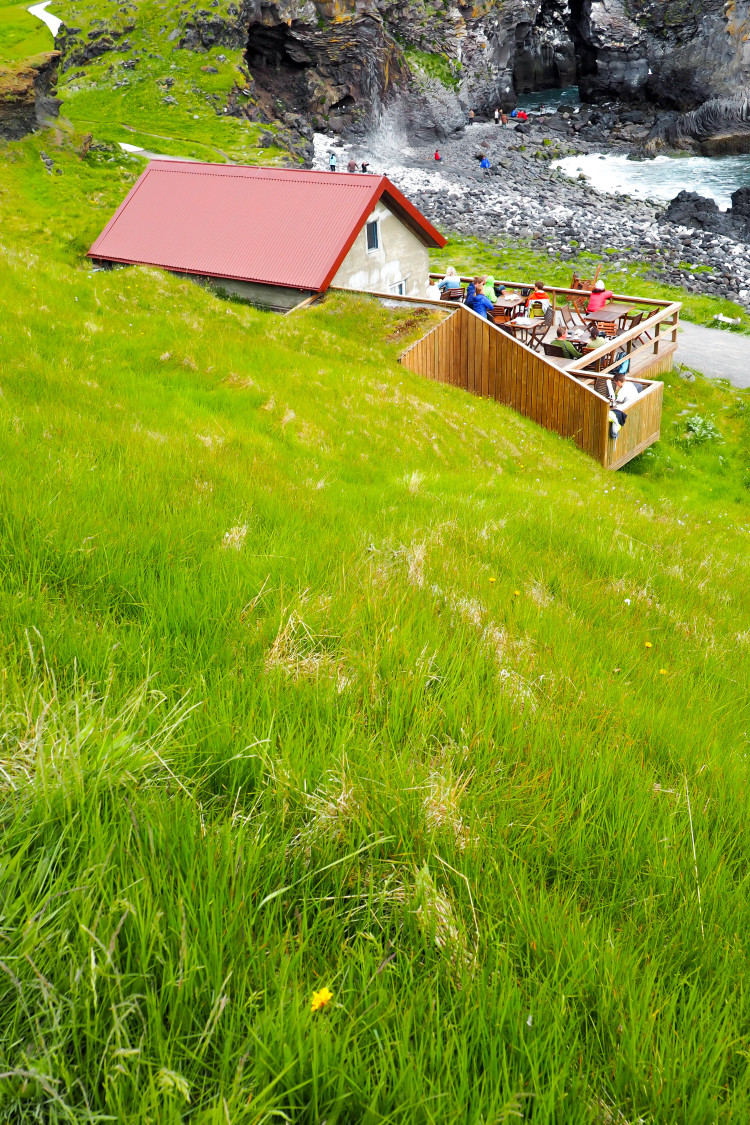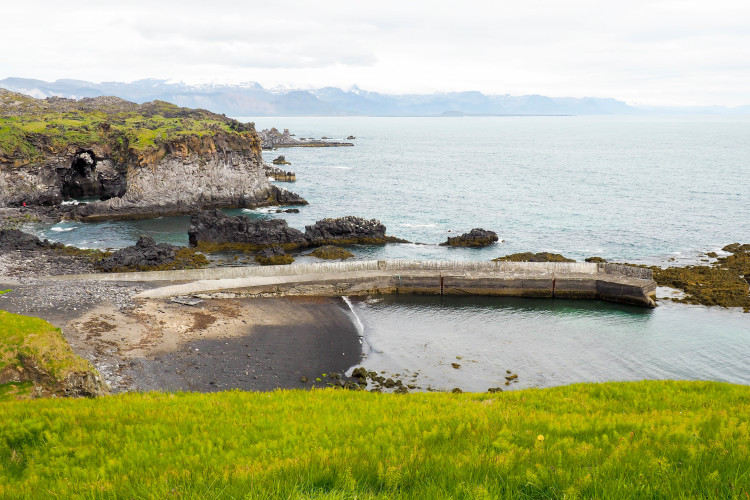 This cute little village blew me away as well, and I meandered around for about an hour or so, walking on a path to some sweet compact cottages and a church after walking down to the water.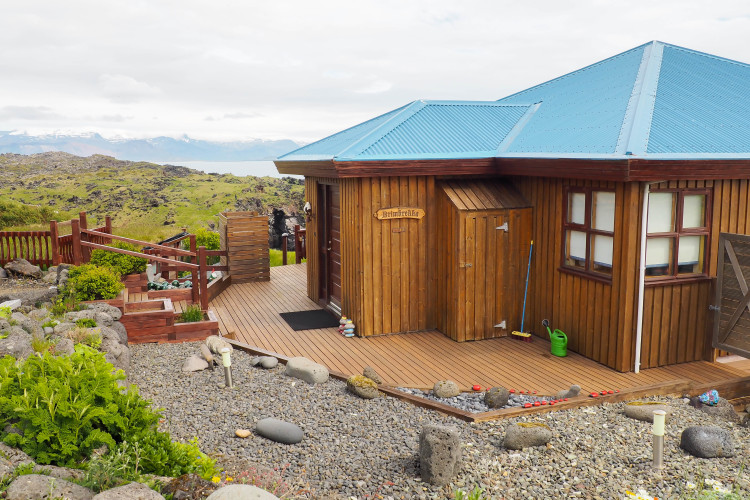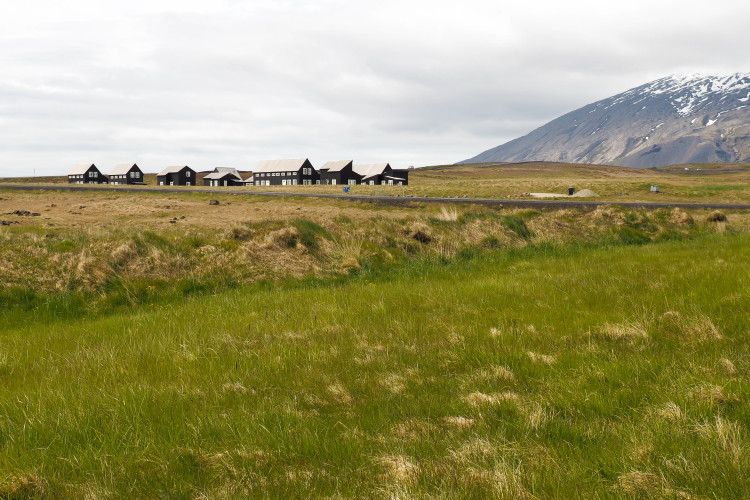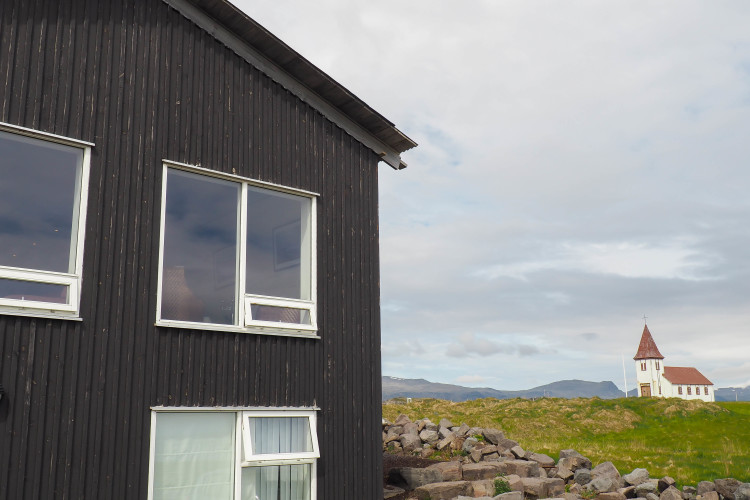 Times have drastically changed at Hellnar – which used to be a fishing village dating back to 1560, with farms, lodgings for the seasonal workers, and fish-related structures. Nowadays you'll find a hotel, a restaurant and a very popular café, Fjöruhúsið café, down by the sea.
Read Next: A Week in Iceland: Full Itinerary (No Car Necessary)
4. Vatnshellir Lava Cave
To my surprise, the day trip to Snæfellsnes also included a tour of Vatnshellir, an extraordinary subterranean lava cave. We geared up, helmets and all, and started our descent.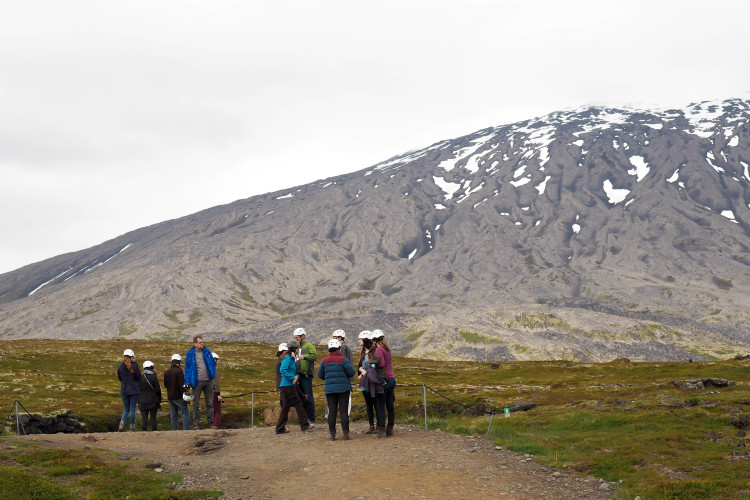 After (carefully) climbing down the winding staircase, we entered into a world of stalactites, stalagmites, and strange lava formations. And thankfully we were give flashlights because this place was dark! Our guide even had us shut our flashlights off at one instance, close our eyes, and open them up again – only to find the purest darkness around, absolutely nothing in sight!
While descending down into the cave was in fact a bit eerie, the rest of the caving was very easy, and particularly short lasting what felt around 20 minutes or so. I can safely say that exploring the lava cave is suitable for everyone, no matter your age or fitness level (you just gotta be able to walk up and down a few flights of stairs). However, it's not hard to disappear into the darkness so make sure you stay with the group!
It did get quite chilly down in the cave – we were 35 meters (115 feet) below surface after all – so make sure you bundle up since the temperature hovers right around the freezing point!
5) Djúpalónssandur Black Pebbled Beach
After returning back to the surface, we were off to yet another black beach – this time with black pebbles in lieu of sand! But first – we had to get there, which was an adventure in and of itself! We passed an area of huge lava formations, many more than double my height!
You'll notice a particular rock here with a hole in it, called Gatklettur, and if you look through it, you can see the Snæfellsjökull glacier.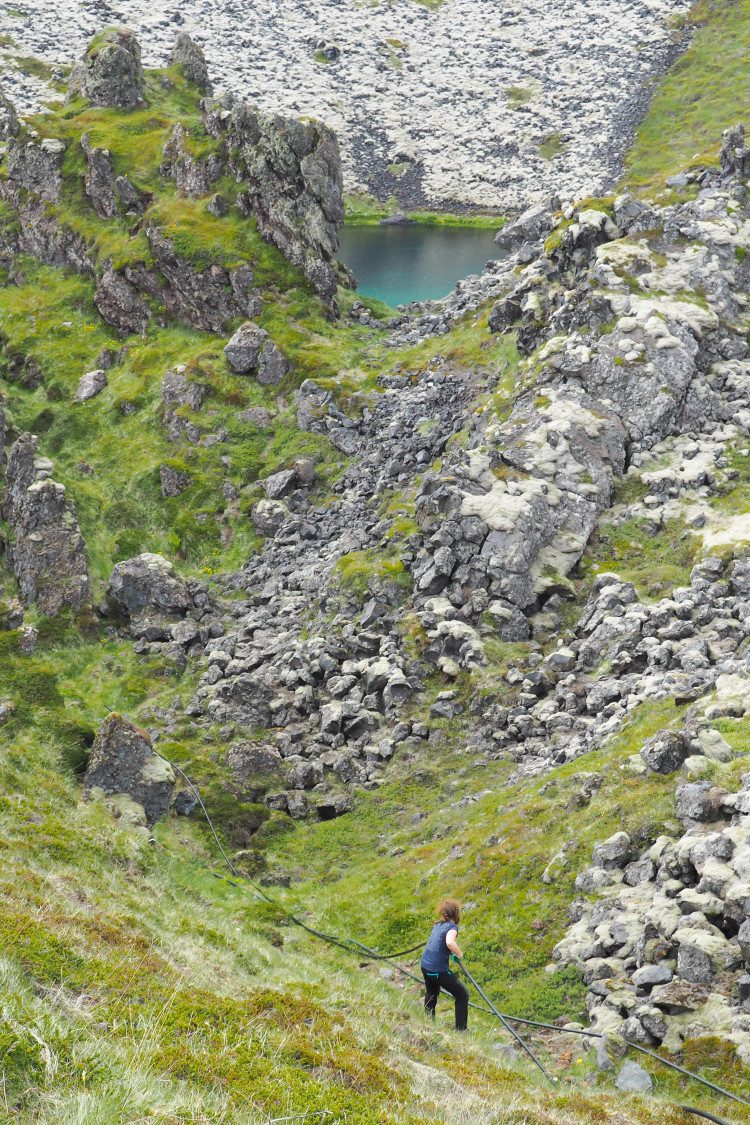 We passed a few turquoise and green colored lakes, a portion of beach with iron pieces from a British shipwreck in 1948 (which are kept here in memory of the brave fishermen who lost their lives), and then finally reached those beautiful black pebbles.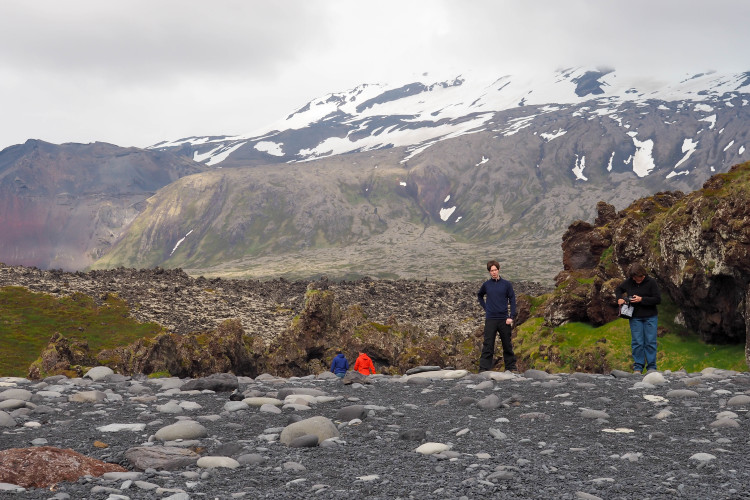 It's quite clear why it's also known as Black Lava Pearl Beach, as the beach was entirely made up of small and smooth black pebbles (called Djúpalónsperlur or "Pearls of Djúpalón). With huge monolithic rocks in the water and smooth pebbles beneath our feet, I could have stared at this scene for hours.
Look out for the lifting stones in order to test your success as a sailor (which they did way back when) – I didn't even bother trying as there were full grown men having difficulty!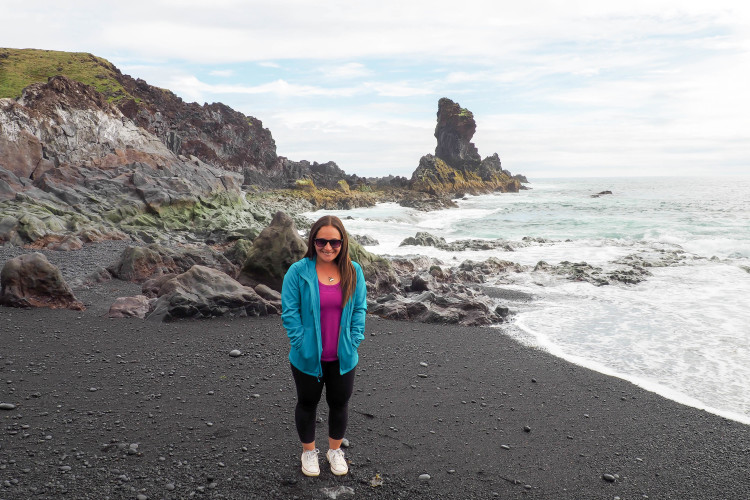 6) Kirkjufell and Kirkjufellsfoss
We finally reached Kirkjufell, our last official stop of the day (minus bathroom breaks and all…), and boy, did this mountain exceed it's high expectations. Kirkjufell, towering the landscape at 1519 feet (463 meters), has been used as backdrops in both Game of Thrones and Secret Life of Walter Mitty – so if it looks familiar, that may be why!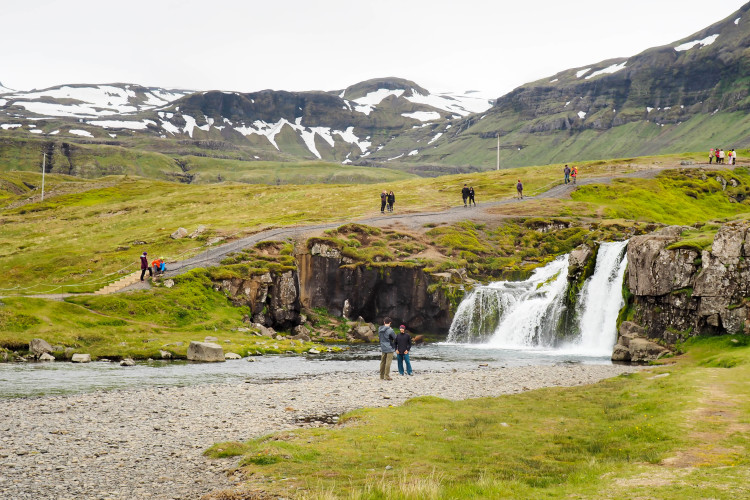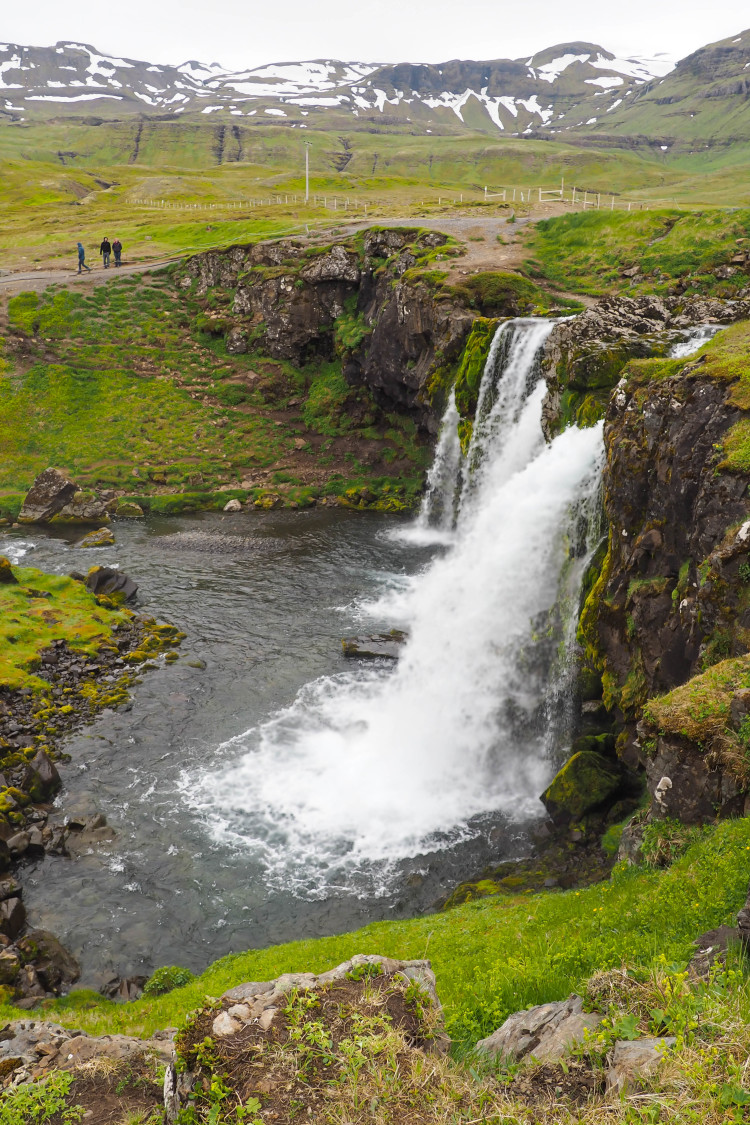 Being very symmetrical and shaped much like a pyramid, the mountain is very photogenic, especially with the waterfalls showcased in the foreground! The combination of the multiple waterfalls against the towering mountain is nothing short of spectacular. It's even referred to as the most beautiful mountain in all of Iceland by some! No wonder it's one of the most photographed locations in the country!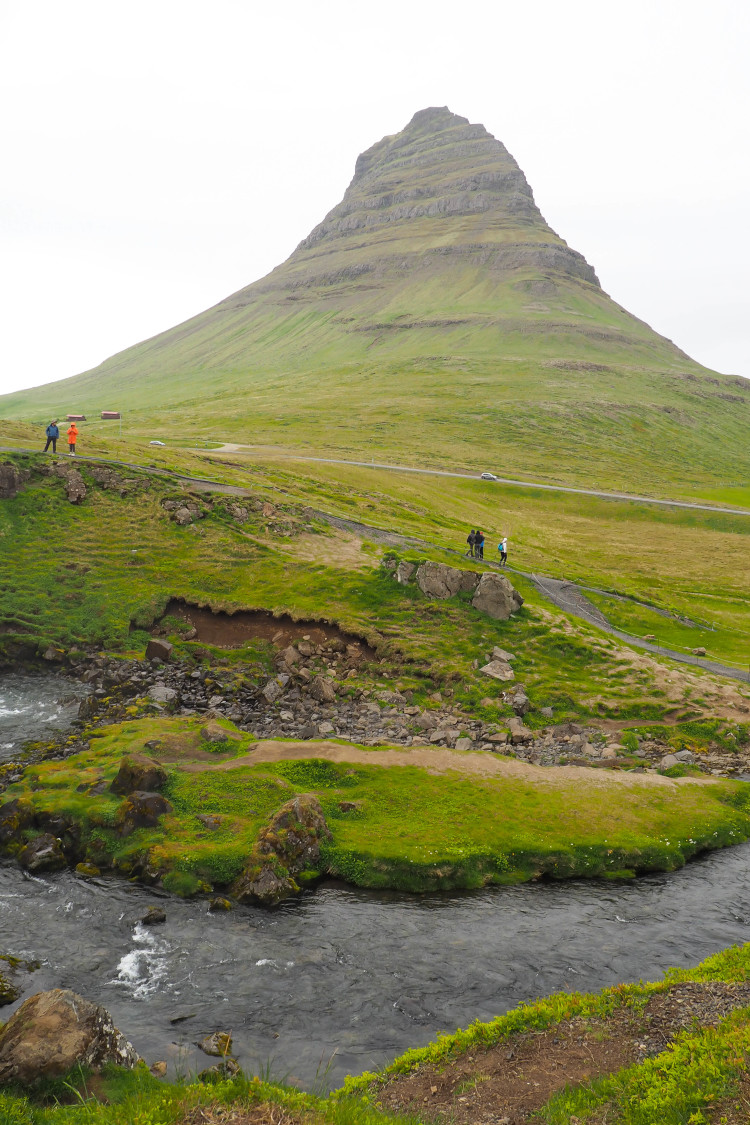 I wish we could have visited Grundarfjörður fishing village for a bit, as it looked quite cute and overly colorful as seen from the top of Kirkjufellsfoss. I'll add that to my list of must-see's in Iceland for my next visit! 😉
Book your Snæfellsnes Peninsula below!
Heading to Iceland soon? You'll want to read these other posts:
Visiting the Blue Lagoon in Iceland: Top Tips Before You Go
7 Days in Iceland: A Full Iceland Itinerary (No Car Necessary!)
Day Trips from Reykjavik: Get Into Nature and Outta the City
Stops on the Golden Circle: A Must-Do Day Trip from Reykjavik
Disclaimer: I was a (very enthusiastic) guest of Extreme Iceland, but all gasps and overloading of memory cards was all on me, as are my (obvious) very high opinions of the tour and area of Iceland!