Visiting the Blue Lagoon is on everyone's bucket list when planning a trip to Iceland – and with good reason! Soaking in the milky blue waters is a wonderful way to destress and say goodbye to any worries you may have- all while keeping you warm in the weird weird Iceland weather and doing wonders for your skin!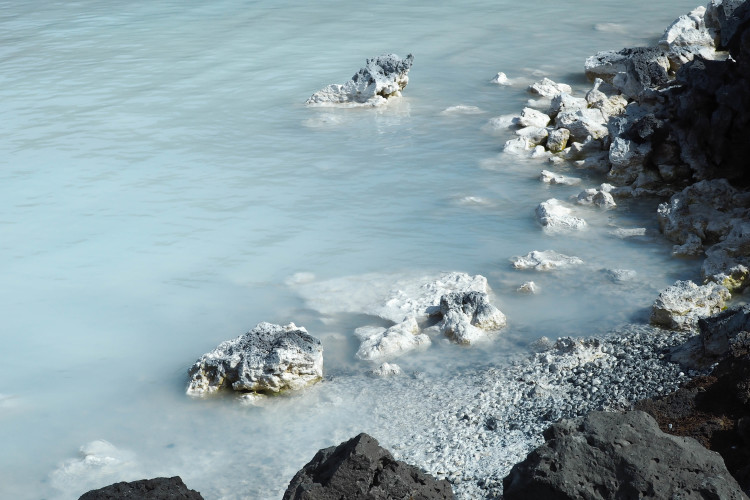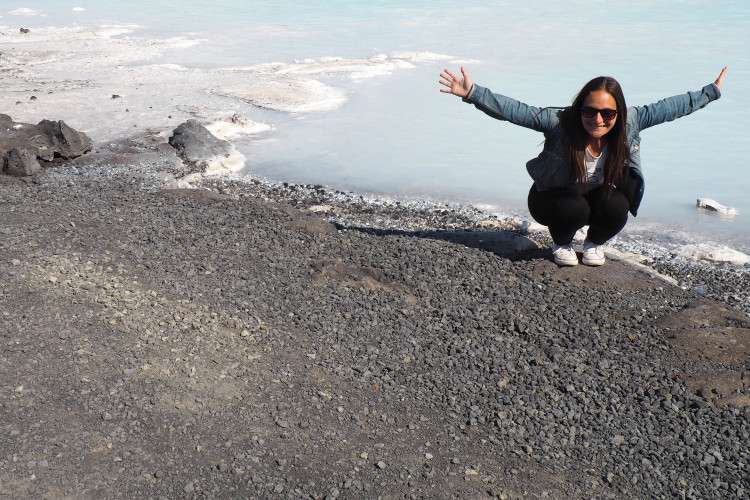 This geothermal spa is one of the most visited attractions in Iceland, and I finally had the chance to visit on my trip to Iceland a few weeks ago. Plus, once you see photos of the spa on either Pinterest or Instagram, you'll be adding it to your Iceland bucket list as well. I can promise you that!
And even better, in the dead of winter (or on a particularly chilly Iceland spring/summer day), no one will say no to escaping the freezing elements by soaking in some warm geothermal waters – bathwater temps at that. Fine by me!
What to Expect at the Blue Lagoon
To start with, I found the whole process unexplainably easy and had zero problems whatsoever. Just book in advance. 🙂
You'll hopefully have either rented a car or booked transportation and entry in advance (do that here), and will be dropped off at the main entrance of the lagoon. If you've come directly from the airport (or are in route to the airport) with luggage, you'll need to store those in lockers before entering the Blue Lagoon for a nominal fee of about $5 (500 krona) or so.
Once showing your confirmation/ticket at the counter (which you need to book in advance – again do so here), you'll receive a wristband that allows access to the lagoon, your locker, and will be used for any purchases you make during your stay. Sidenote: I highly recommend you try a Skyr smoothie – absolutely delicious!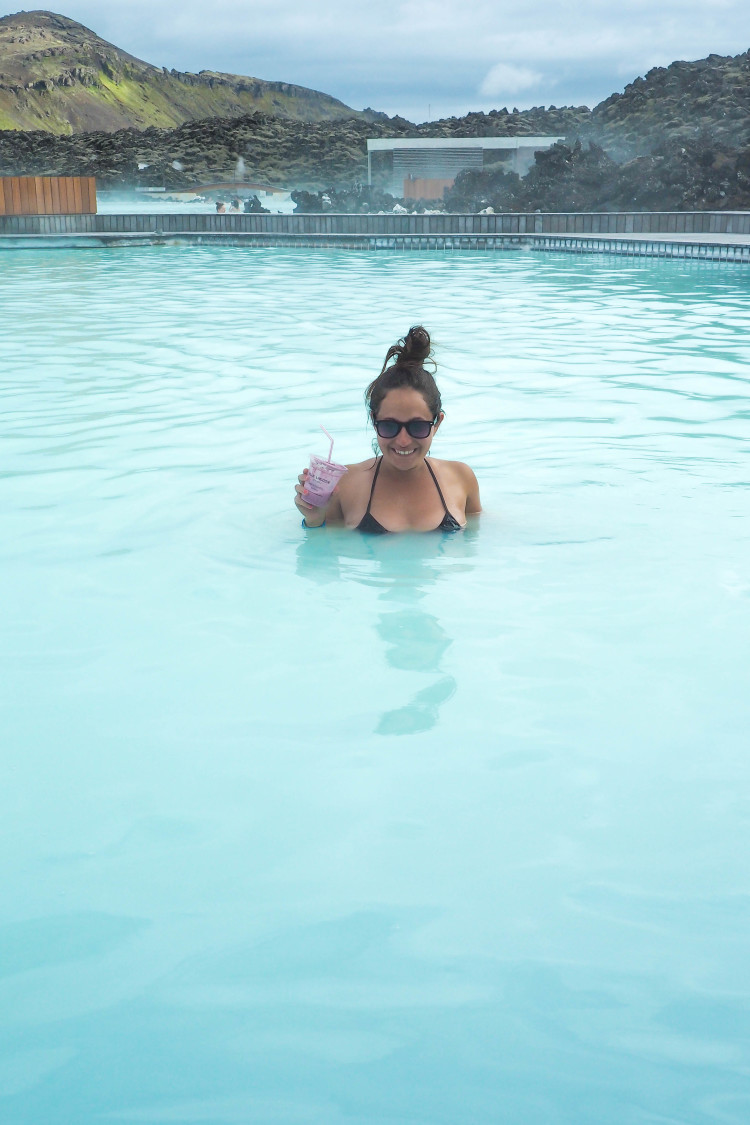 Before you enter the lagoon you'll need to shower sans bathing suit – aka naked – (but they now have private showers for any of you self-conscious ones out there – myself included). Once you've got your suit back on, you're all ready for the warm waters of the lagoon.
The lagoon is spread out with enough room for everyone (especially now that they began limiting the number of people using it at once), and be sure to explore the different parts. Swim up bar included! You'll find pots of silica mud to slather on your face and body in numerous parts of the lagoon – I slathered up twice! Makes for super fun photo opps 😉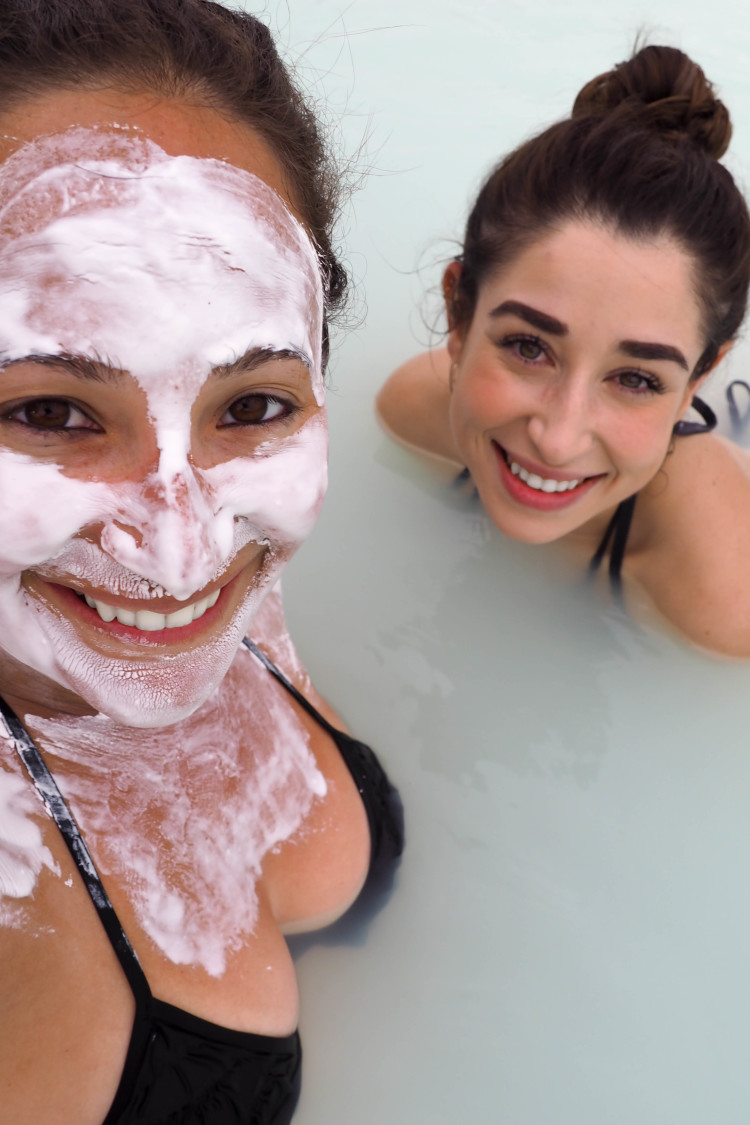 I was honestly so amazed at how efficient and streamlined the entire process was! America has definitely got to catch up with the times. 😉
Top Tips for the Blue Lagoon
Pre-book: It's actually mandatory to book in advance now. I booked about a week and a half prior to visiting the Blue Lagoon, but I highly suggest you book as soon as you know your intended dates. I met a bunch of people at Loft Hostel (where I stayed and HIGHLY recommend) and during tours who had waited too long and were stuck with undesired times or were unable to go at all. Others had to adjust their plans (move a pre-scheduled tour around) in order to make the slots available at the Blue Lagoon work.
My advice: book ASAP, even if it's a few weeks/months out. You don't want a stress-reducing activity to suddenly turn stressful for no reason!
Book a combo ticket with return transportation to and from the Blue Lagoon– like this one here. The spa is located in a lava field in Grindavík near Keflavik International Airport in southwestern Iceland, which is about 45 minutes away from Reykjavik. And unless you are renting a car, you'll need a way to get there. Many companies offer special deals when you book transportation and your entry fee to the Blue Lagoon together, so you might as well use this to your advantage.
Timing is everything: Visit the lagoon later in the day if you can. Most think that visiting the lagoon will result in less crowds- but if everyone thinks this way – the opposite will actually be the reality! We visited around 5pm and found the Blue Lagoon to be surprisingly emptier than we initially thought!
Don't get your hair wet. While some say that the lagoon water doesn't alter the condition of your hair, others strongly advise you to not let a drop of water touch your hair. I used caution and plopped my hair up in a high bun and didn't have to worry one bit. If you do end up getting your hair wet, make sure to use the conditioner in the showers as they are known to be extra hydrating and revitalizing.
Bring your own towel, bathing suit, and flip flops. Unless you opt for the Comfort Package or higher, you won't be provided a towel free of charge. Plan ahead and bring your own to avoid paying $5 (500 krona) to rent a towel.
Get a skyr smoothie! Skyr is basically the unofficial food of Iceland, and a blueberry or strawberry smoothie is the perfect way to decompress and enjoy a yummy treat at the lagoon!
I highly recommend visiting the Blue Lagoon after a flight, but I honestly wouldn't suggest visiting the spa right before taking a long flight. While the lagoon was absolutely refreshing and I loved soaking in the warm silky water, it left my skin feeling a bit sticky (even after washing in the shower right after), and I definitely couldn't bare to feel all icky on a long flight.
Take advantage of the free silica mud masks. So much fun! And as I noted above, such fun photos! Slimey, gooey, drippy fun. Just make sure to protect whatever camera you do decide to take in with you. We opted to bring our GoPros in, and I saw others sporting their iPhones in protective waterpoof cases. I was super brave and brought my new mirrorless camera in the lagoon – you have to bet I held that thing well above the water and was extra protective of it. Selfies are way more fun when your face is covered in gooey silica.
Have you been to the Blue Lagoon before? Is it on your bucket list?
Disclaimer: I am part of Tinggly's ambassador program, and was gifted this experience. All opinions and silly silica selfies are my own. It's an absolute must-do in Iceland, and I wouldn't miss it!