Wishing you could hop on a plane and grab some of your favorite desserts around the world? I'm rounding up over 30 dessert recipes inspired by over 25 countries, all sweet treats any of us would love to indulge in. Talk about an international cookie/pastry/cake/candy feast! Just bring the stretchy pants!
There's no denying I travel for food. And dessert? You bet I'm there. When I'm not traveling, I crave malasadas from Honolulu, sticky toffee pudding from London, daifuku from Japan… you get the picture.
Now, I'm not the greatest chef nor baker, so I've asked a bunch of those who are for some recipes for me to attempt at home! This way, I don't need to miss my favorite travel desserts around the world (although, nothings ever as good as the original, especially if I'm making it).
Wanna save this post for later? Pin it!
Grab your baking mitt and buckle in, we're headed to South Africa, Australia, Idaho, Poland, Indonesia, and everywhere in between! And lemme know down in the comments below if you make any of these travel dessert recipes!
READ NEXT: 30 Delicious Dishes From Around the World to Make in Your Kitchen!
Desserts of the world, coming right up!
Polish Blueberry Buns | RECIPE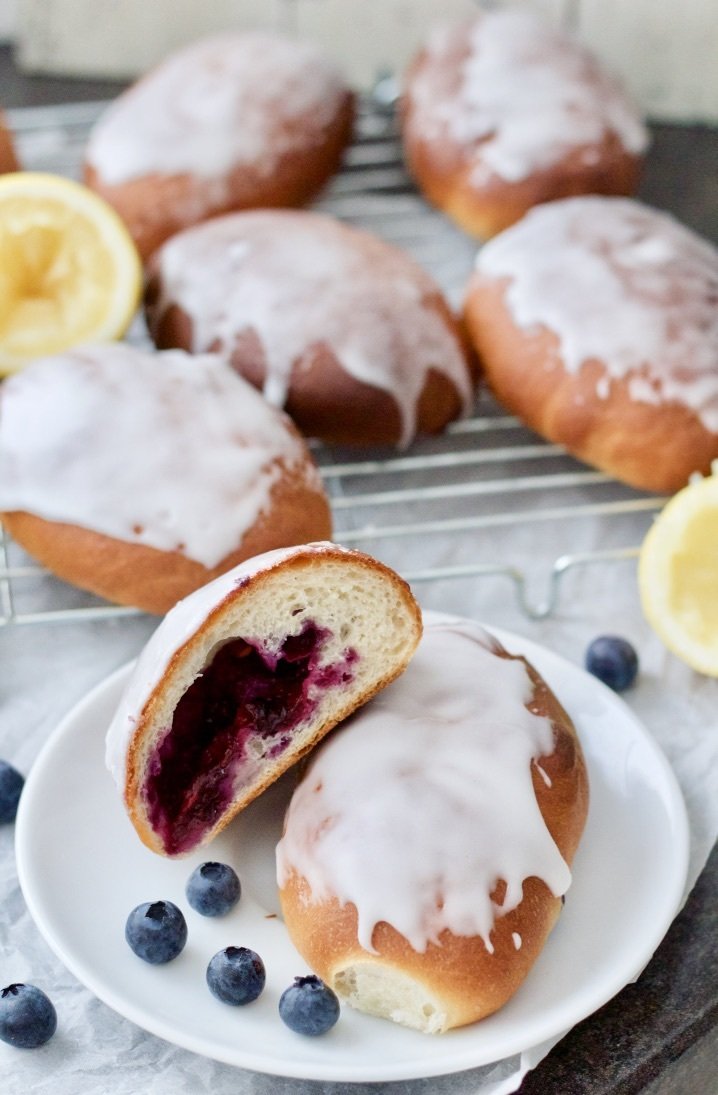 Contributed by: Jo from Jo's Kitchen Larder
These delicious Polish Blueberry Buns (Jagodzianki) are made with sweet, enriched dough and filled with fresh blueberries.
Traditionally, they would have been filled with bilberries which are smaller and sweeter than regular blueberries and you can still find that original filling in many Polish bakeries.
The blueberries get really soft and jammy during baking and make the most delicious filling you just want to sink your teeth into.
Yeasted buns are very popular in Poland as far as baked goods are concerned with Jagodzianki definitely on top of the list. You can find them simply dusted with some icing sugar, with sweet crumble topping or just like this recipe with lemon glaze (lemon and blueberry combination is just the best).
If you wanted to give them a go yourself they really aren't difficult to make at all and make perfect weekend bake to enjoy with friends and family.
South African Milk Tart | RECIPE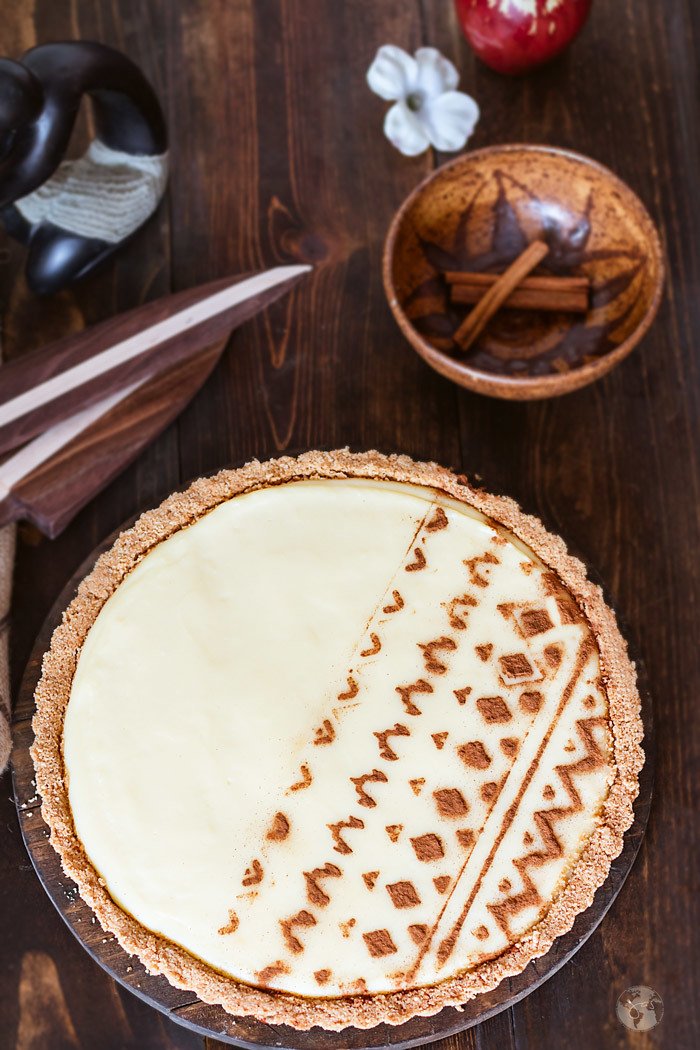 Contributed by: Jas from All That's Jas
Easy to make, Milk Tart aka Melktert is a classic South African dessert recipe with a custard-like filling dusted with cinnamon enveloped by a delicious crust made from tennis biscuits.
Tennis biscuits are a square, crispy tea biscuit made with a little maple syrup and coconut, but graham crackers or digestive biscuits are a good substitute.
This dessert is believed to have originated among settlers at the Dutch Cape Colony in the 17th century.
Some recipes require that the custard be baked in the crust or without the crust, but here, we cook the filling on the stovetop, so no need to turn on the oven. The perfect dessert for hot summer days!
Tarts are fancy treats, especially when you dust a little sugar over the top to give you a little boldness and a nice, photo-worthy aesthetic. Everyone loves a rich vanilla custard-like filling paired with cinnamon inside of a beautiful, homemade crust.
A little bit of smooth and rich with a texture contrast really gets the taste buds going, and this confection really does the trick. Most definitely one of the most beautiful international desserts from around the world on this list!
Romanian Semolina Cake | RECIPE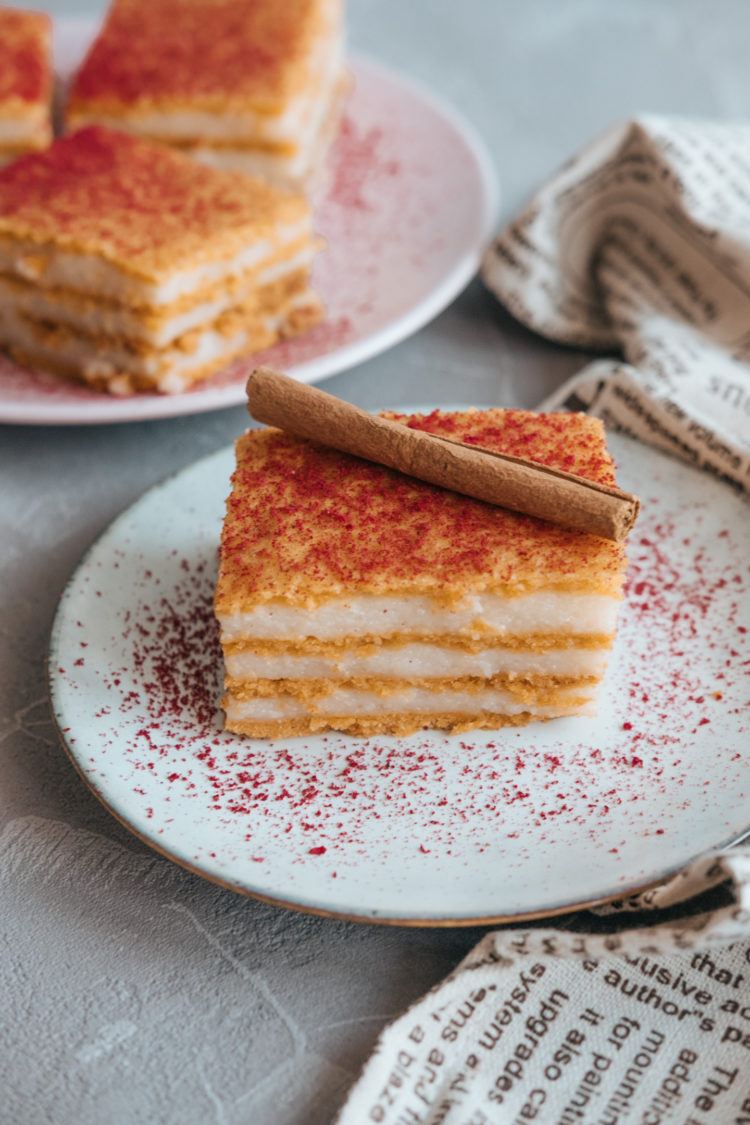 Contributed by: Cory from Yuzu Bakes
Semolina cake is an authentic Romanian layered cake. It's baked, cooked and chilled. The cake sheet is unusual as it is made with tomato paste. This ingredient gives it a beautiful orange hue and helps the sheet bind together. They then need a few minutes in the oven. The sweet and tangy semolina filling needs to be cooked on the stove for a few minutes. I use oat milk for it and rum essence. After the assembly, the cake is chilled in the fridge for a few hours.
Semolina is one of the staple Romanian ingredients and used for many dessert dishes. Ask any Romanian and they will say that semolina pudding or semolina in cakes is part of their childhood memories one way or another. There are still remote areas which serve semolina cake in a hope to preserve a sweet, Romanian tradition.
Semolina cake is mostly vegan as it is usually considered a sweet cake eaten in preparation for important holidays. Going vegan for a few days or even weeks ahead of major holidays is a standard religious practice in Romania and this cake usually helps keep things "sweet" for when you have a sweet tooth.

English Eton Mess | RECIPE
Contributed by: Cynthia from What A Girl Eats
Eton Mess is a classic English "pudding" with crunchy meringues, fresh strawberries, and whipped cream. Eton Mess originated in Windsor, (residence of the Queen of England), home of Eton College. This delicious and light dessert is traditionally served at cricket matches.
This twist on a classic is perfect for spring with delicate strawberry meringues, rose scented whipped cream, and rose petal garnish. When you make this dish, you'll be transported back to Victorian England. All you need is a cup of tea!
German Spice Cookies | RECIPE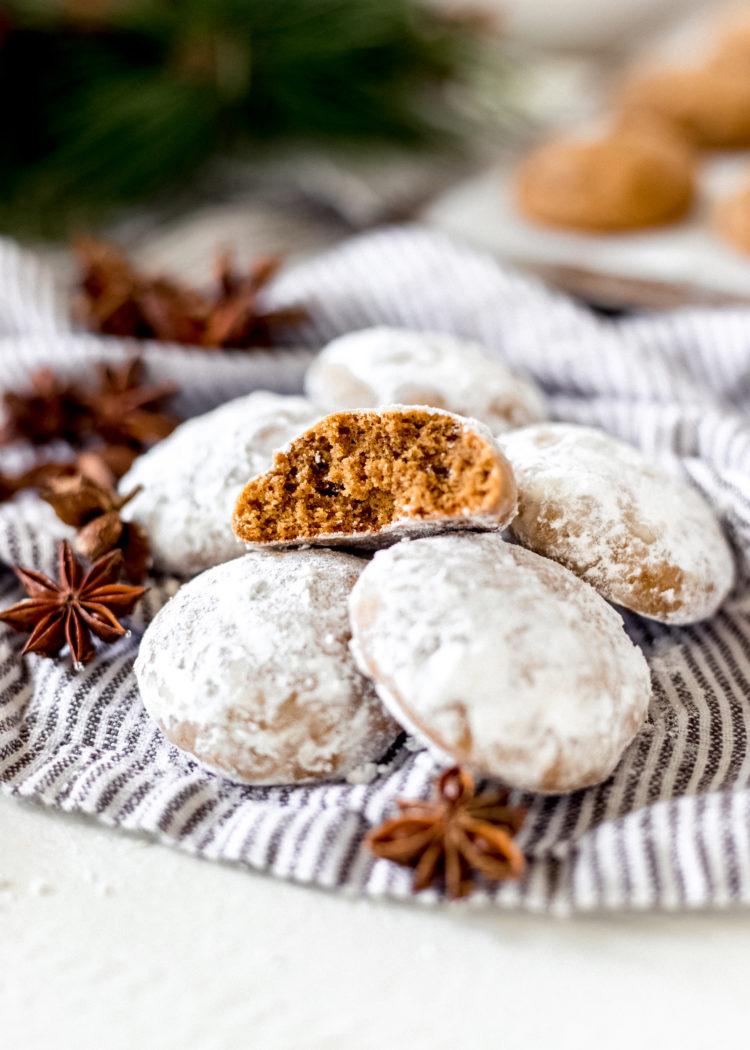 Contributed by: Haley from If You Give a Blonde a Kitchen
Pfeffernusse are small German spice cookies, although they are also popular in Denmark and The Netherlands. The most distinctive ingredient being black pepper (German Pfeffernüsse translates to peppernuts in English). The anise extract is another prominent taste in these cookies. Other spices include cinnamon, all spice, nutmeg and cloves. The molasses and brown sugar adds a little sweetness and creates a chewy cookie.
Pfeffernüsse cookies are pretty simple to make. Whisk together the dry ingredients in one bowl and set aside. In the bowl of a stand mixer, beat together the butter, brown sugar and molasses until well combined. Add the egg and anise extract. Slowly add the dry ingredients to the wet ingredients and mix just until combined. Chill the dough in the refrigerator for three hours. Scoop dough into balls and bake at 350° F for 15 minutes. Cool slightly and coat in confectioners' sugar while still warm.
Enjoy this authentic German cookie during the holidays or year round!
Hawaiian Guava Cheesecake | RECIPE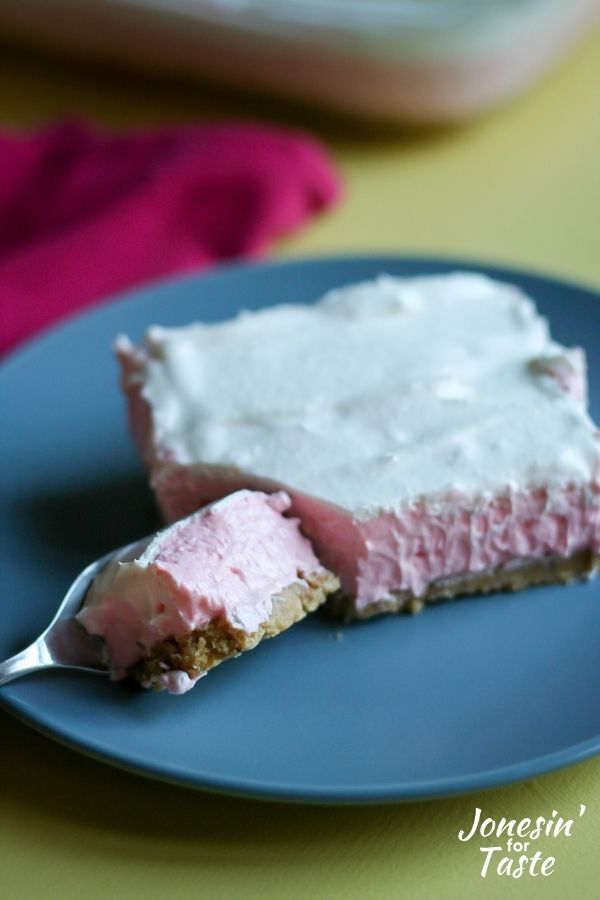 Contributed by: Jade from Jonesin' for Taste
These no bake guava cheesecake bars are such an easy dessert recipe for when you are craving a little bit of the tropics at home. They have a nutty macadamia nut graham cracker crust with creamy guava filling topped with a little bit of whipped cream.
You can make them along with a whole Hawaiian plate lunch like Kalua Pork and rice and some macaroni salad. Then turn on a themed playlist on Spotify and Pandora and transport yourself to those lovely beaches and warm water.
To make the macadamia graham cracker crust you will need graham crackers, macadamia nuts, and melted butter. The guava cheesecake is made with just a few ingredients: cream cheese, sweetened condensed milk, guava concentrate, cool whip (or whipped cream).
A super tasty treat from the tropics!
French Almond Tuile | RECIPE
Contributed by: Sophie from Delightful Plate
Almond tuile is an elegant French cookie. With just six simple pantry
ingredients, you can easily make these crisp, buttery and nutty cookies. These cookies are great for all year round as well as holidays.
Tuiles are named for their curved shape like the tuiles (tiles in French) on the rooftops. These thin, light and delicate cookies are crisp and smell so good. The best thing is they don't require any special baking equipment or extensive baking experience. Basic tuiles don't need to have almonds, but almonds add a nutty aroma which makes tuiles more delicious.
Making tuiles is a great way to use up extra egg whites in your kitchen and the process is pretty fun. To create the curved shape tuiles are known for, we will need to place them on something like a rolling pin or bottle immediately after taking them out of the oven. Once cool, they will be crisp and tasty with the right amount of sweetness and nuttiness.
Australian Peach Melba | RECIPE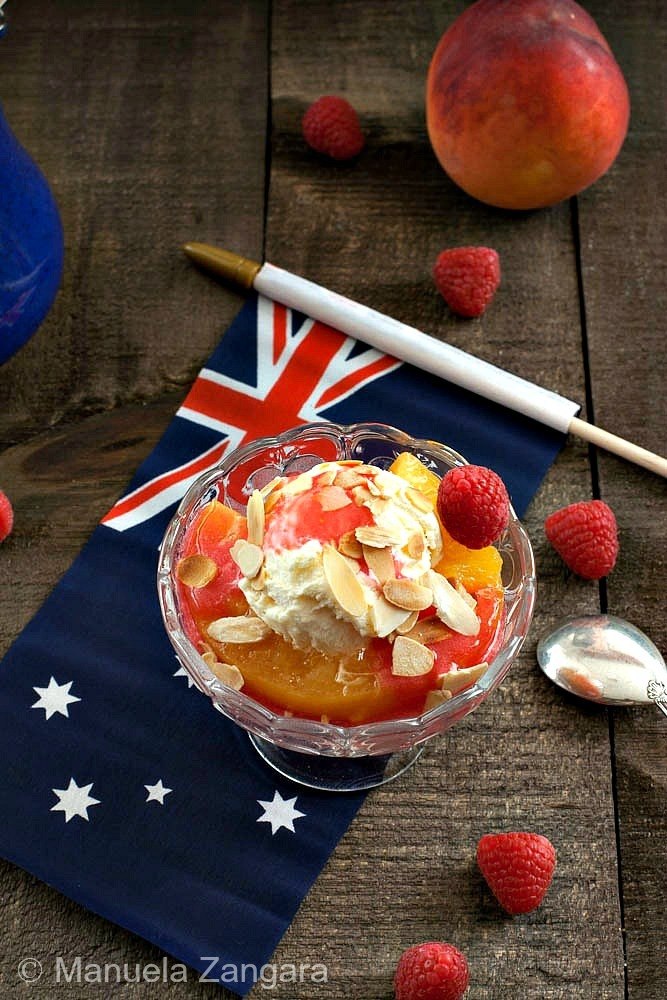 Contributed by: Manu from Manu's Menu
Peach Melba is an Australian classic dessert made of peaches and raspberry sauce, and served with vanilla ice cream and toasted almonds. It was invented in the 1890's by the French chef Auguste Escoffier at the Savoy Hotel in London, in honour of the Australian soprano Nellie Melba (thus the name Peach Melba).
You can use store-bought peaches if you are in a pinch or it's not peach season, or you can poach your own peaches. You can serve this dessert in a big bowl or in individual cups.
Peach Melba is a very refreshing dessert and it is a family favourite.
It is perfect for a barbecue or pool party, a tradition in all Australian homes, but it is also a great idea for a more sophisticated dinner party.
Brazilian Brigadeiro | RECIPE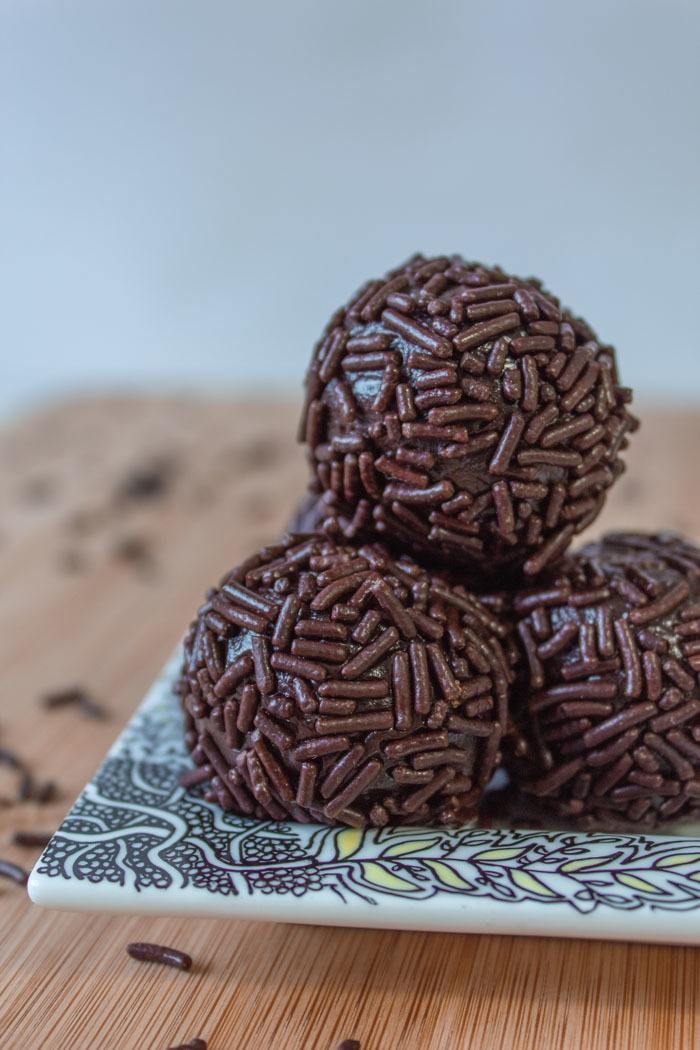 Contributed by: Bruna from I Heart Brazil
We're headed to Brazil on this edition of desserts around the world! I can safely say Brazilian's favorite dessert is brigadeiro – not a single local festivity goes by without this delicious treat!
Put simply, brigadeiro is a chocolate fudge truffle that melts in your mouth and brings lots of joy to your day – speaking from personal experience.
To give you a little background, a female confectioner from Rio de Janeiro created this sweet to support a presidential campaign in the period after World War II. The candidate, who was a brigadier, was said to be a rather young (and beautiful) man – for the record, brigadeiro is Portuguese for brigadier.
So to help her (beautiful) candidate, this and many other ladies began the confection of brigadeiro truffles.
Beyond that, the country was rationing milk back then, so this Brazilian dessert was created with condensed milk instead of the traditional milk.
That's how Brazil won its most famous sweet, and to this day, it is one of – if not the most – consumed desserts in the country.
Still, despite the support of his female voters, the candidate didn't win the election. Such a shame because the world surely did win a delicious recipe!
Middle Eastern Cheese Kunafa | RECIPE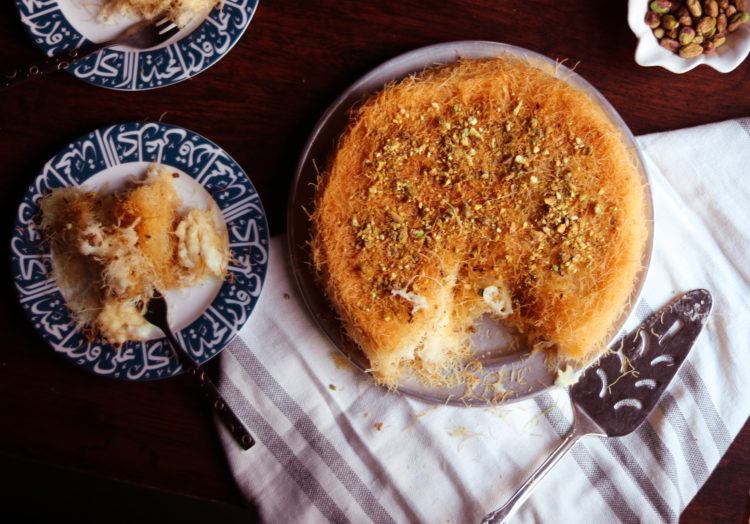 Contributed by: Sarah from Hungry Young Woman
Cheese Kunafa or Konafa is a Middle Eastern dessert made with vermicelli/ katayef and cheese. It is a cheesy and drool-worthy dish that is mostly prepared during Ramadan, a yearly observance by Muslims.
Coming from Middle Eastern countries like Turkey and Lebanon, Kunafa has different variations depending on the country it originates from. Say, for example, Turkish kunafa is quite sweet and drenched with sugar syrup. Whereas, Lebanese kunafa is usually topped with semolina which gives it a softer texture. The insides also get swapped sometimes.
There are cheese Kunafa and cream Kunafa. Trendy restaurants now also have chocolate Kunafa, Lotus Kunafa, and Pistachio Kunafa. But, if it is your first time, I say give the original one a try!
The dessert is prepared for get-togethers and gatherings since a large batch can be baked at once. Authentically, akkawi cheese is used in the recipe but to make things easier, I've compiled a recipe using only 3 ingredients! Katayef, mozzarella cheese, and sugar syrup.
Austrian Kaiserschmarrn | RECIPE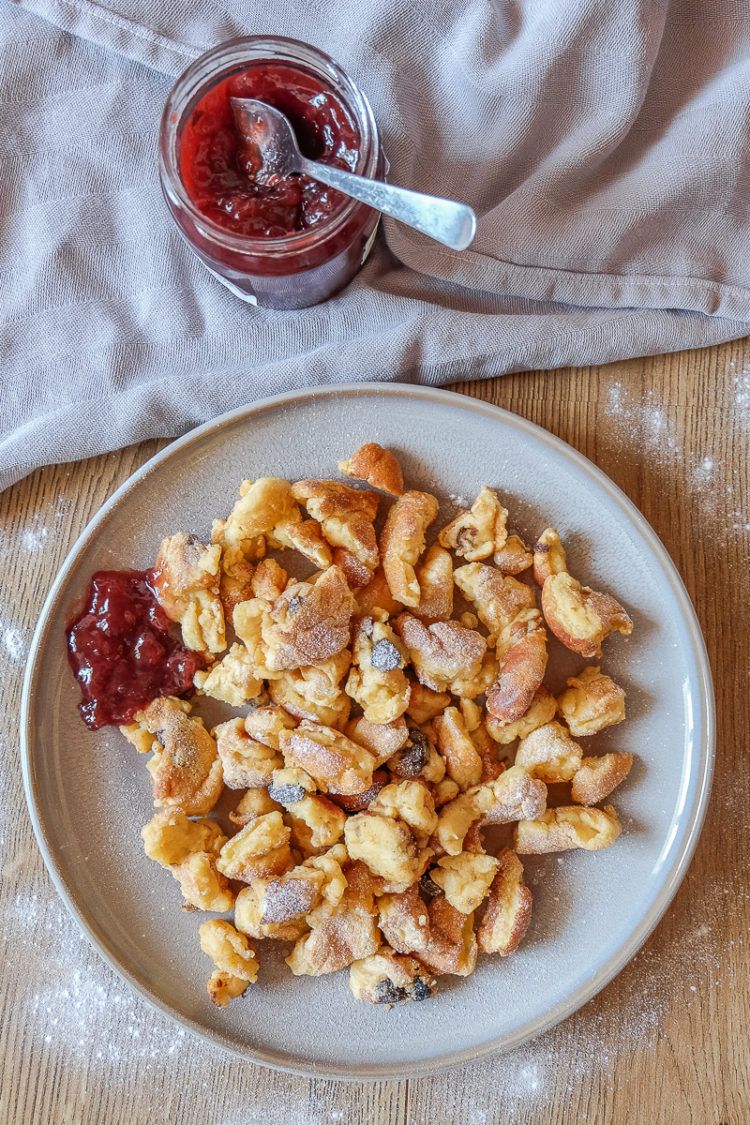 Contributed by: Lisa from Recipes from Europe
If you are looking to try a dessert that looks like a "mess" but tastes delicious, Kaiserschmarrn is for you! Originally created in Austria for Emperor Francis Joseph I, this torn-up sweet pancake dish translates from German to mean "Emperor's Mess". There are actually a few stories as to how the pancake became shredded up and served to the Emperor back in the day – but in all versions of the tale he ended up loving it!
These days, Kaiserschmarrn – originally filled with rum-soaked raisins – is enjoyed in Austria and even the south of Germany. We have made authentic Kaiserschmarrn many times at home and also tasted some delicious versions during our time spent in Austria.
Despite being a pancake, which for many North Americans is considered a breakfast food, it is regarded and eaten as a dessert in Europe! The sweet pancake is doughy yet light, served with a sprinkle of powdered sugar, and can be paired with different fruit-based sides like plum compote (similar to jam) or apple sauce.
Norwegian Kringla Cookies | RECIPE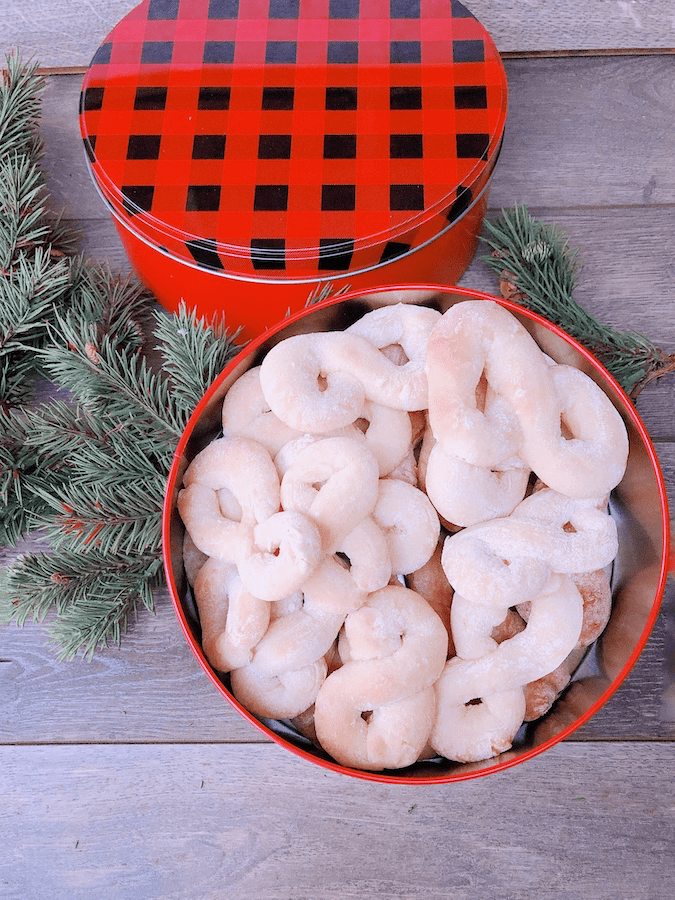 Contributed by: Nicky from Little Family Adventure
Traditional Norwegian recipe for soft, pillowy cookies that everyone enjoys. If you like soft sugar cookies, you'll love these! These shaped cookies are fun to gather the family and create together. Typically considered a Christmas cookie, no one says you can't enjoy these year around. They freeze well which is a nice bonus.
Idahoan Huckleberry Crisp | RECIPE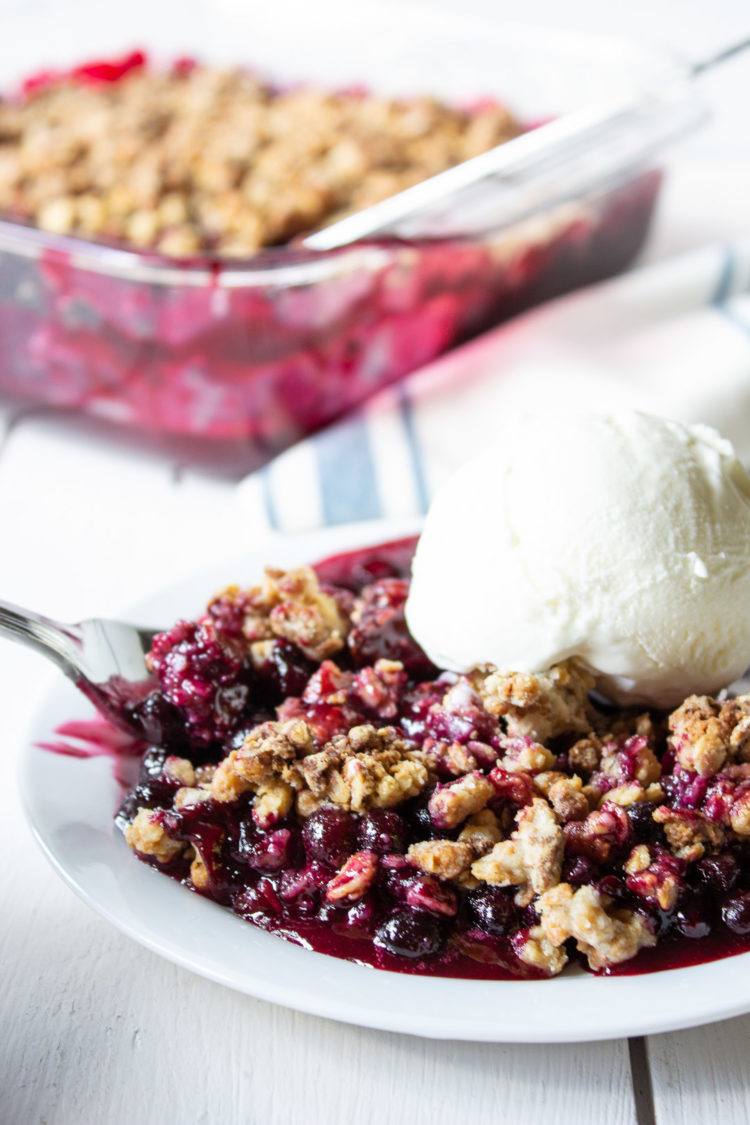 Contributed by: Kathy from Beyond the Chicken Coop
Huckleberries are a berry that grow wild in the mountains of the inland northwest of the United States. They are primarily located in northern Idaho, Western Montana and Eastern Washington. These tasty berries can also be found in Canada in areas bordering the inland northwestern states.
The huckleberry is Idaho's state fruit. They are a coveted berry that are a local treat. All the restaurants sell something on their menus highlighting the huckleberry. Souvenirs all have something to do with the huckleberry.
Every summer, we set out huckleberrying. Everyone here does, but no one ever shares where they found their prized possessions. It's top secret.
This huckleberry crisp is a perfect way to use huckleberries in a tasty travel dessert. You can use either fresh or frozen huckleberries so you can enjoy this treat year round. It is super simple to make.  I've used this homemade granola that I already had on hand.  You can make your own, or just use your favorite granola.  
Of this whole list featuring desserts of the world, I think the huckleberry takes the cake for the deepest stains – so be careful!
French Apple Tarte Tatin | RECIPE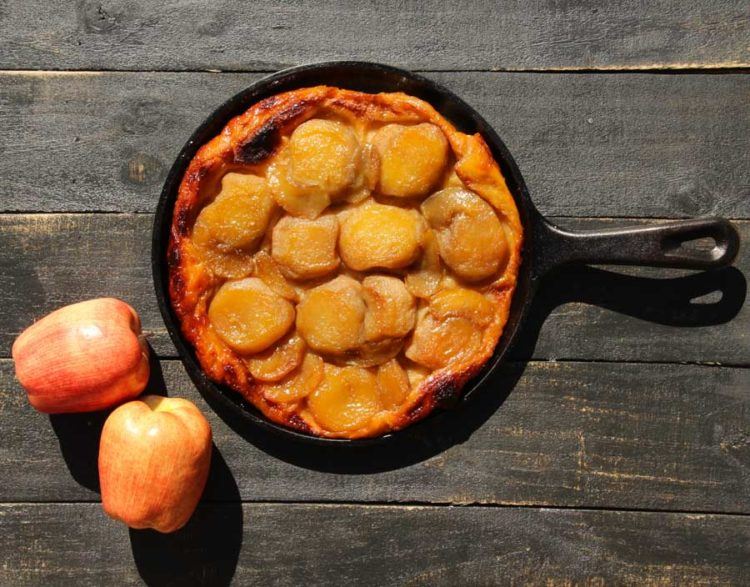 Contributed by: Kelly from Food, Fun, and Faraway Places
This Apple Tarte Tatin is one of my favorite recipes from the Viking Cruises cookbook I bought while sailing with them down the Rhône River a few years ago. Think of it as step up from an apple pie, with extra buttery caramelization and a light crispy puff pastry.
Need to save time? No worries! This recipe features store-bought pastry, but you can certainly feel free to make it from scratch. This is an easy, elegant dessert to make for your family or serve at your next dinner party.
Serve it with a scoop of vanilla bean ice cream to take it up a notch!
Scottish Tablet | RECIPE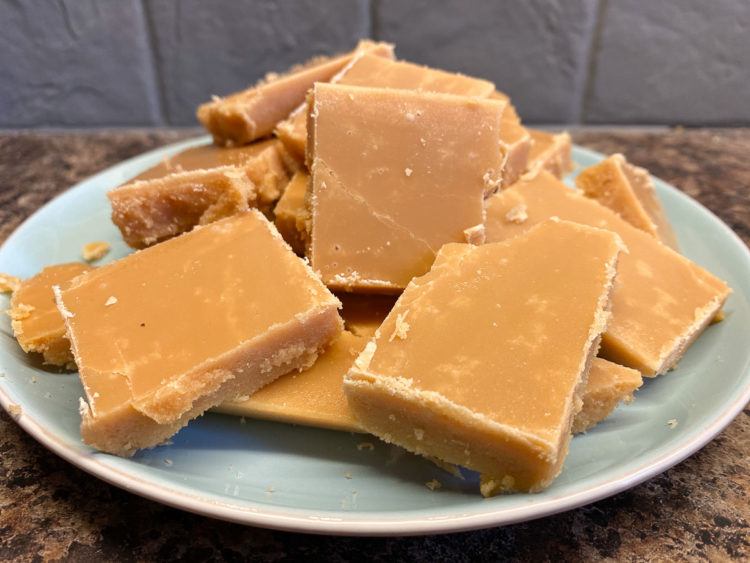 Contributed by: Sonja from Scottish Scran
Scottish tablet is a delicious, sugary sweet that melts in your mouth. The texture is a little harder than fudge and the traditional flavour comes from the butter, sugar, and condensed milk used to make it, although you can add a bit of whisky to make it extra Scottish too!
You'll find this treat available all over Scotland, in shops, cafes, and maybe even on the tea tray at your accommodation. However, it was traditionally something reserved for special occasions like weddings, due to the large amount of butter and milk used, which was a premium product.
Making Scottish tablet yourself isn't too difficult, but it requires lots of attention and lots of stirring, so you'll want to get those arm muscles ready and not have anything else to do for 45 minutes or so. The hardest part if waiting for it to set so that you can dig in and have a piece. Or two… or three… tablet is seriously addictive!
Canadian Nanaimo Cheesecake | RECIPE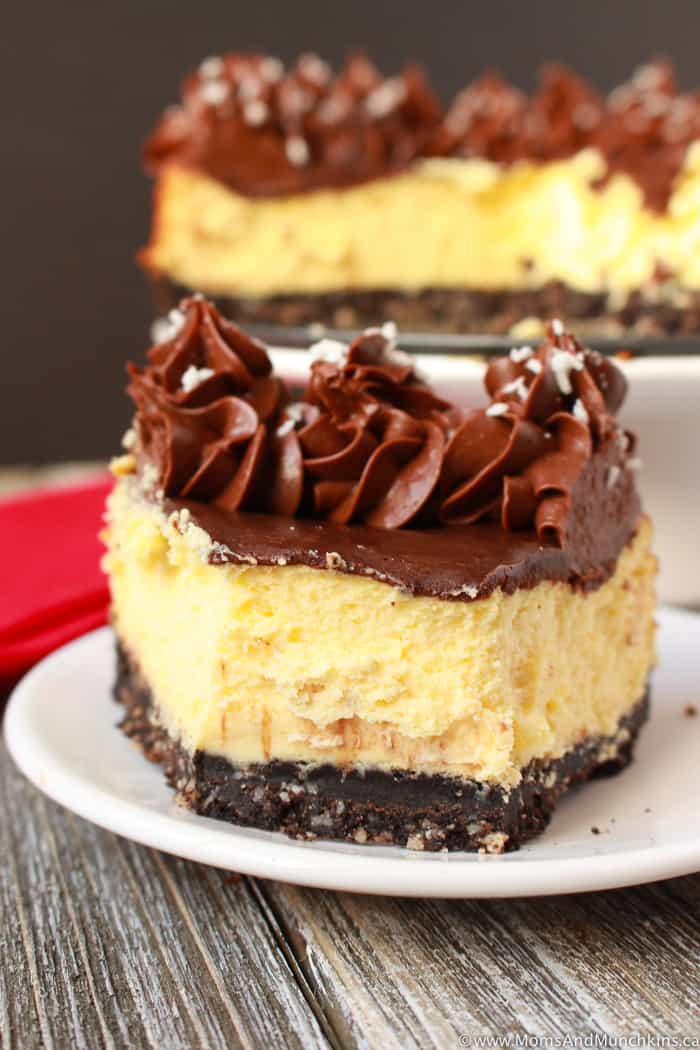 Contributed by: Cheryl from Moms and Munchkins
Off to Canada on this edition of international desserts of the world! If you're outside of Canada, you may not know what a Nanaimo bar is and boy are you missing out. It is an amazing combination of chocolate, coconut, and custard that is sure to please any dessert lover.
I wondered how I could make this delicious dessert even better? I took the Nanaimo bar and turned it into a Cheesecake. I took all the deliciousness of a Nanaimo bar and modified it to make a Nanaimo Bar Cheesecake that will have everyone wanting seconds.
Like any cheesecake recipe, this one takes some time but trust me it is worth the effort and wait. Start making the Nanaimo Bar Cheesecake filled with chocolate and coconut today. After you have just one bite of this dessert, you will see why Canadians love it!
Cuban Flan | RECIPE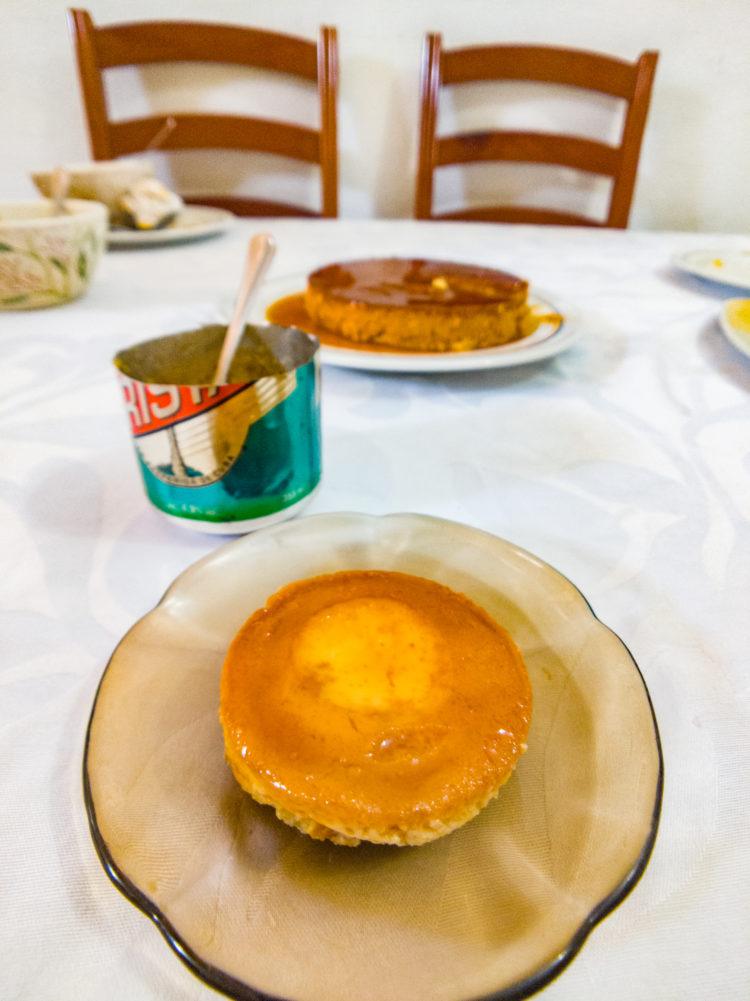 Contributed by: Ayngelina from Bacon is Magic
Flan is a dessert that exists all over the world. While much of it was brought by the Spaniards to Latin America, like in Mexico, Cuba, Brazil and Costa Rica, it is also exists under different names in countries like Vietnam, France, India and Japan.
Every recipe is a bit different, and while Cuba and Mexico are so close people claim you can see Havana Cuba from Isla de Mujeres in Mexico, even these two flan recipes are different.
Cuban flan (or Flan Cubano) is a traditional flan topped with a creme caramel, a deliciously sweet topping or caramelized sugar. But it's the base flan ingredients that make it the best – it is thick, smooth and creamy because it only uses canned ingredients. While Mexican flan and other flan recipes use fresh milk or sometimes cream cheese these ingredients are not readily available in Cuba.
While Cuba struggles with a steady supply of ingredients, Cuban flan uses canned condensed milk and evaporated milk along with egg, sugar and vanilla. It's only five ingredients but really that is all you need.
You can find flan at every restaurant in Havana and if they don't have it they'll often run out to the restaurant next door to find some for you. My favorite is cooked cut off beer cans or soda cans, Cubans always try to find a second use for items, reusing anything they can and this is a great example.
Korean Sweet Pancakes | RECIPE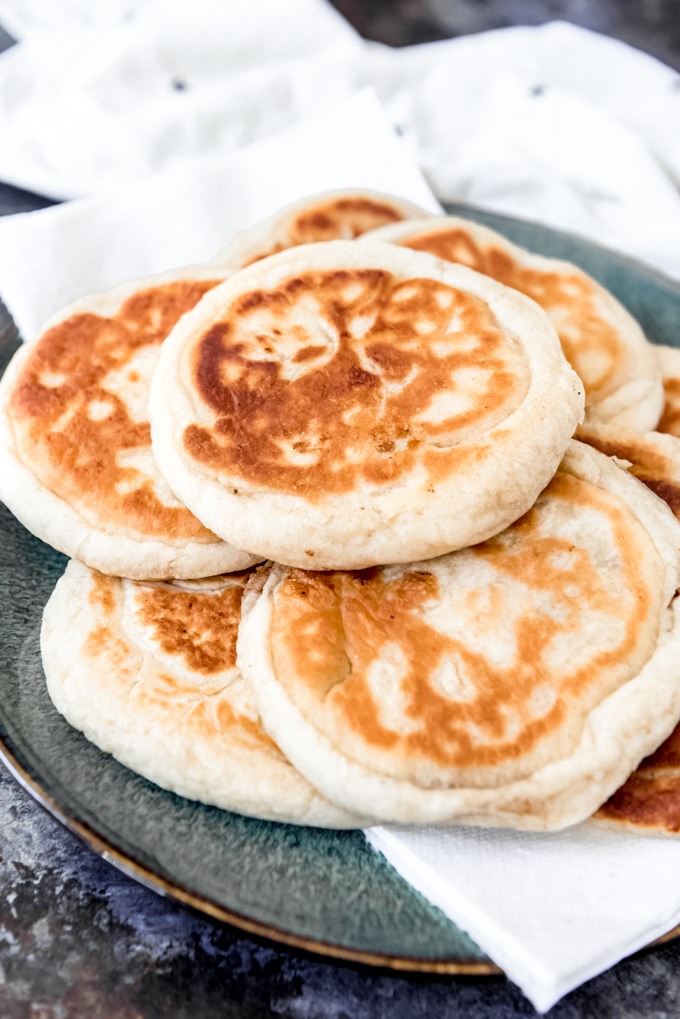 Contributed by: Amy from House of Nash Eats
Hotteok are sweet Korean pancakes that are a popular street food made from a simple yeast dough. They are filled with a sweet syrupy filling made with brown sugar, cinnamon and walnuts, then fried on a griddle for a warm, delicious treat. It makes a tasty snack or dessert, and could even be enjoyed at breakfast! Talk about one of the most versatile desserts of the world!
English Lemon Posset | RECIPE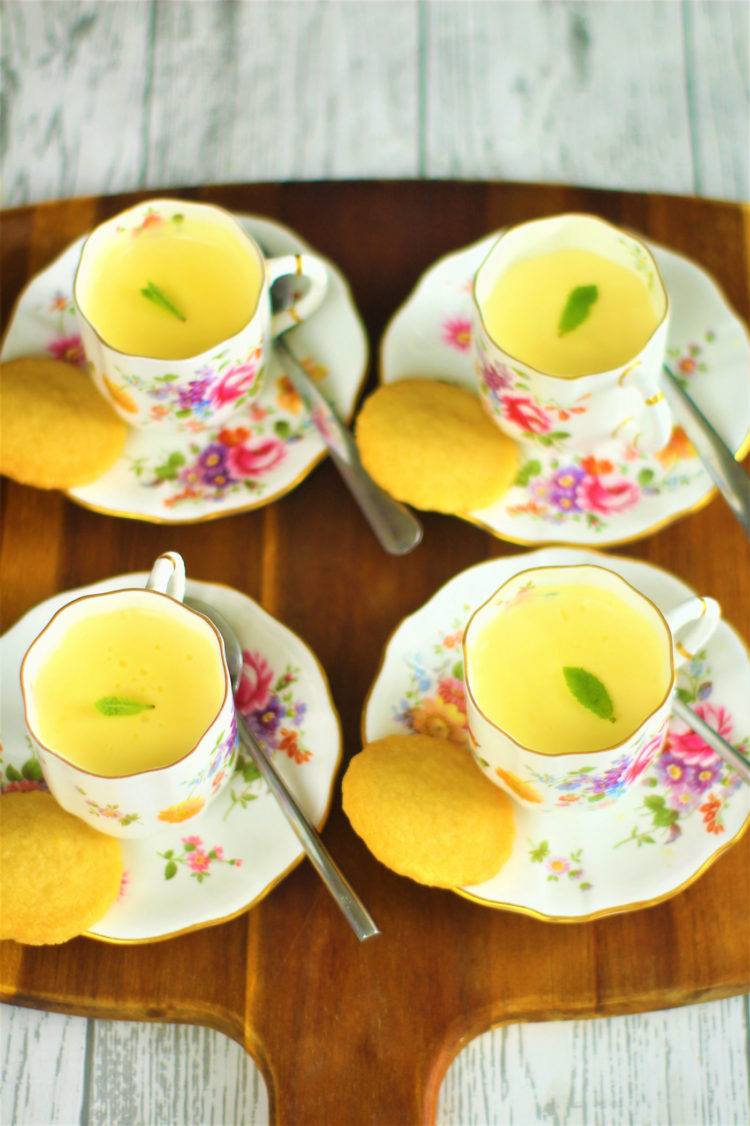 Contributed by: Jenny from Apply to Face
A posset originated in England in the 15th century. It is initially recorded as a medicinal drink made with milk, spices and wine. It is thought to have aided sleep and helped with minor illnesses, such as colds. In the 16th century it evolved into a cream, sugar and citrusy set confection, similar to today.
Possets were popular for a very long time and posset sets were often given as expensive gifts passed down through families as heirlooms.
However their popularity waned and they have only recently found themselves back in vogue.
It is more than worthy of it's comeback status.
This is a dessert of such velvety sweetness that you find yourself swooning at the first spoonful. Creamy but light and packed full of lemon citrusy flavour, it's as uplifting as a sunrise. What's more it comprises of only three ingredients that come together in an instant before chilling out in the fridge to set. It couldn't be easier.
South African Koeksisters | RECIPE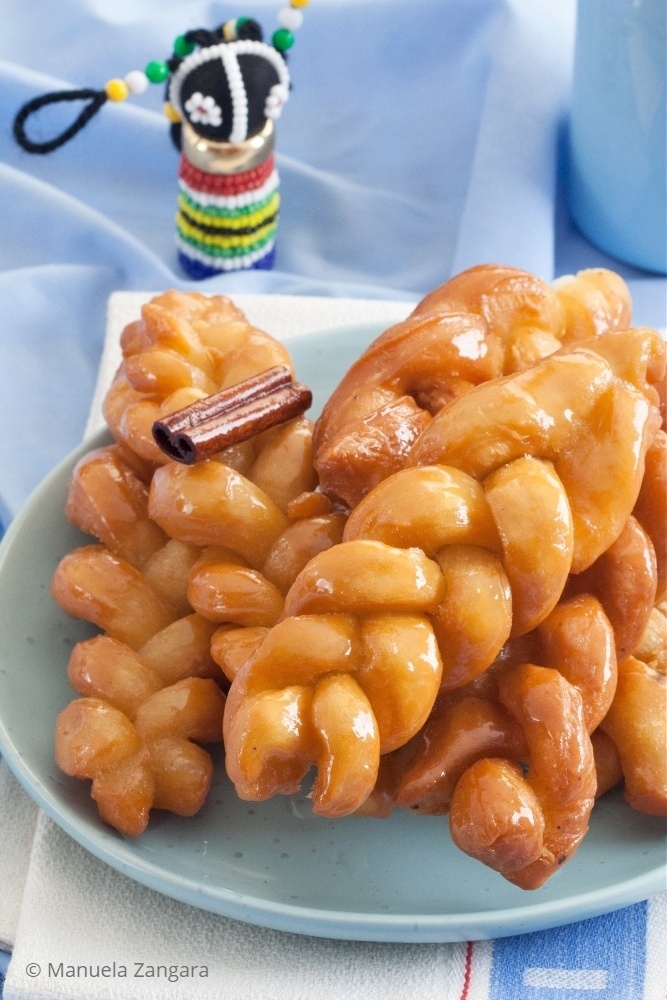 Contributed by: Manu from Manu's Menu
Koeksisters is a traditional Afrikaner confectionery made of fried dough dipped in sugar syrup, typical of South Africa (one of those international desserts around the world you can't miss). Koeksisters are prepared by deep frying plaited dough strips in hot oil and then dipping the hot fried dough into ice-cold sugar syrup. They have a golden crunchy crust and liquid syrup centre. They are very sticky and sweet and taste a bit like honey.
The term koeksisters, literally translated as "cake sizzler" and pronounced "cook-sister", comes from the Dutch koek (cake) and sissen (sizzle). This is a clear reference to the sizzling sound they make when being deep-fried.
They are very easy to make and you do not require any hard-to-find ingredients. In fact, I am ready to bet you already have all the ingredients you need at home.
Puerto Rican Coquito Tres Leches Cake | RECIPE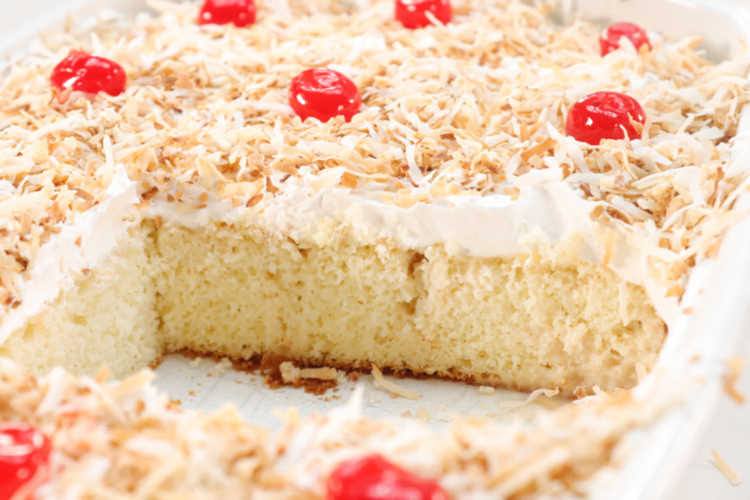 Contributed by: Kirsten from Kids Are a Trip
This recipe is a mix of two Puerto Rican favorites, coquito (Puerto Rican eggnog) and tres leches cake. It is one of our family's favorite recipes to make during the holidays, but it really can be made any time of year.
Tres leches cake traditionally consists of three different milks: sweet condensed, evaporated, and heavy cream, but this recipe also includes coconut milk, to give it an extra sweetness. We use boxed cake mix to make things easier, and finish it with a whipped cream, coconut, and cherry topping that makes your mouth happy.
Refrigerate it overnight, to let the flavors soak into the cake. We guarantee it will be worth the wait!
Hawaiian Malasadas | RECIPE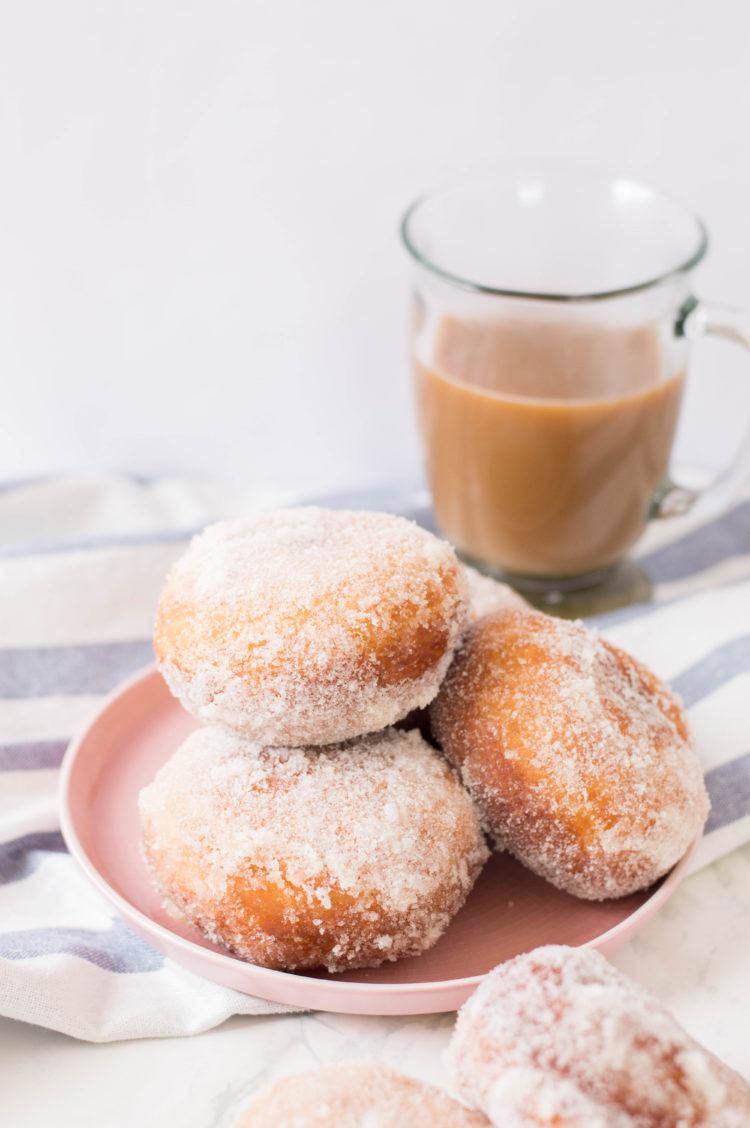 Contributed by: Marcie from Hawaii Travel with Kids
One of the most popular breakfast pastries in Hawaii are malasadas. They are originally a fluffy and sugary Portuguese doughnut, but in the past few decades, Hawaii has made them their own.
The most famous place to get them in Hawaii is Leonard's Bakery on Oahu. Most mornings, the line goes out the door for people trying to taste authentic Hawaiian malasadas. They have traditional versions as well as ones filled with tropical flavors like guava, coconut, and passion fruit.
Thai Coconut Mango Sticky Rice | RECIPE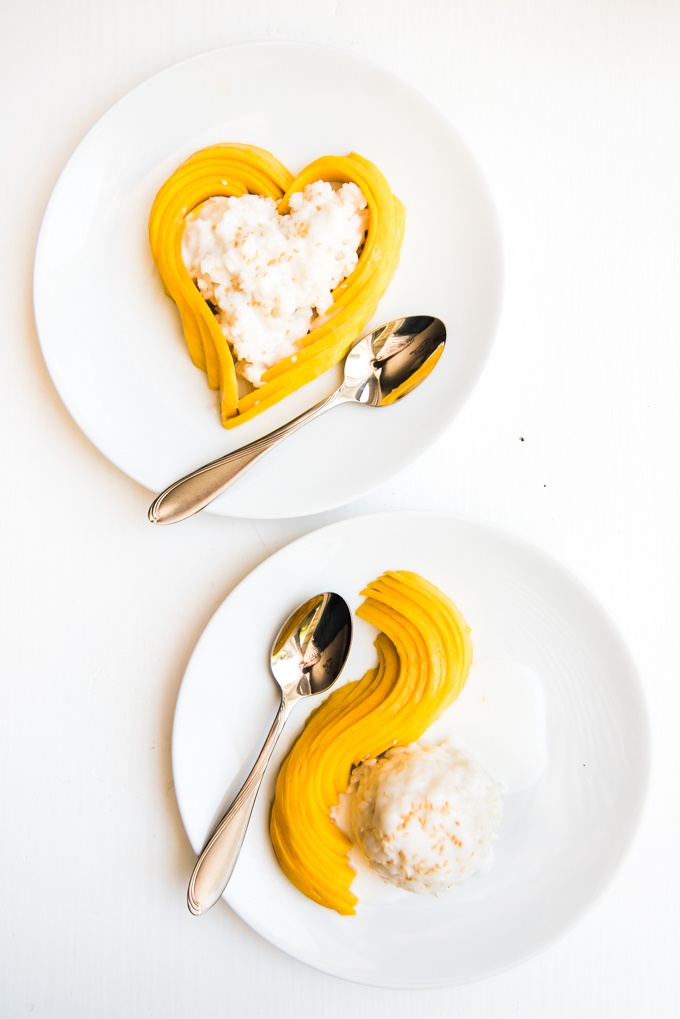 Contributed by: Amy from House of Nash Eats
Thai Coconut Mango Sticky Rice is made with sweet, fresh yellow mango, glutinous sticky rice, and an amazing coconut sauce that will transport you right to the tropics!
The best mango sticky rice uses Ataúlfo mangoes, also simply known as yellow mangoes. They are sweeter, more flavorful, and softer than their red or green-skinned cousins. It's a little taste of Thailand that we brought home from our trip!
Australian ANZAC Biscuit | RECIPE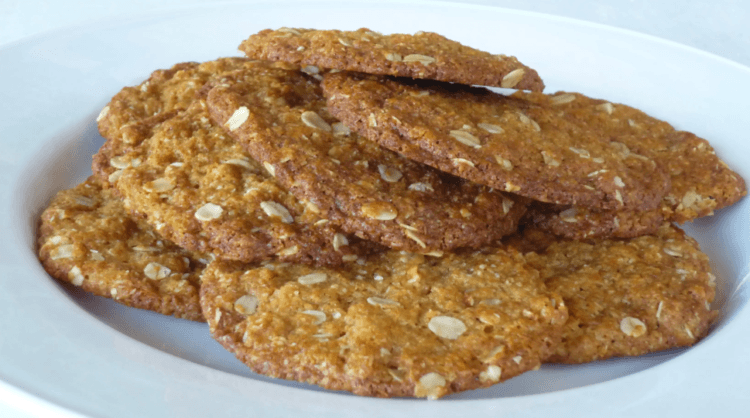 Contributed by: Ngaire from Brisbane Kids
If there was ever a biscuit that symbolized Australia, it would be the humble ANZAC biscuit. Humble because it is made with simple ingredients, and symbolic because of its meaning to all Australians.
ANZAC stands for 'Australian and New Zealand Army Corps' and the ANZAC biscuit was a treat sent overseas to soldiers who fought in the great battle of Gallipoli. Since its initial creation, the ANZAC biscuit has evolved from what was often a hard, almost tooth-cracking treat, into a tasty chewy and sugary symbol of mateship and pride of country.
Its main ingredients include rolled oats, sugar, golden syrup and coconut, with ingredient ratios changing slightly depending on whether one prefers a chewy or harder ANZAC biscuit.
Variations abound and it is not unusual for the recipe to be fashioned into slices or supplemented with sultanas and other dried fruit.
While ANZAC biscuits are a popular treat that can be purchased year-round in Australian supermarkets, they are traditionally eaten on ANZAC Day (April 25th).
Romanian Cheese Doughnuts | RECIPE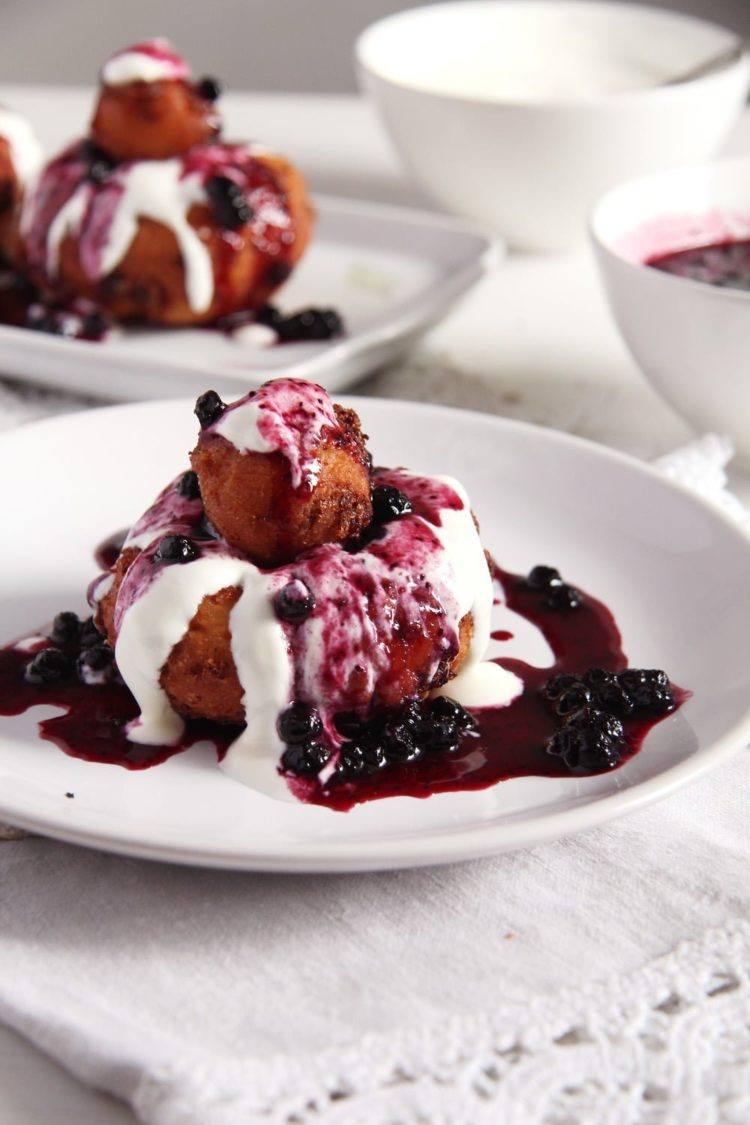 Contributed by: Adina from From Where is My Spoon
These Romanian Cheese Doughnuts (known as papanasi in Romania) are one of the best known desserts in Romania, something you will probably find on the menu of every Romanian restaurant out there.
No wonder, they are quick and easy to make and utterly delicious, something that both children and grown-ups will love. If you tried papanasi once, you will remember them for the rest of your life, and you will probably look for a recipe and try to make them yourself at home. They are that good!
The papanasi are best served still warm and they would not be papanasi if they would not be topped with smetana and a runny, sweet blueberry jam. Smetana is a typical Romanian and Eastern European dairy product, similar to crème fraiche.
They are topped with blueberry jam, but of course you can have them with any jam you like. Sour cherry, blackberry, black currants would all be great.
Just pay attention to the consistency of the jam, it should be rather runny jam with pieces of fruit in it, as the jam has to be runny in order to slide down the sides of the papanasi to make little pools of jam on the plate… 🙂 Yummm!
Cornish Hevva Cake | RECIPE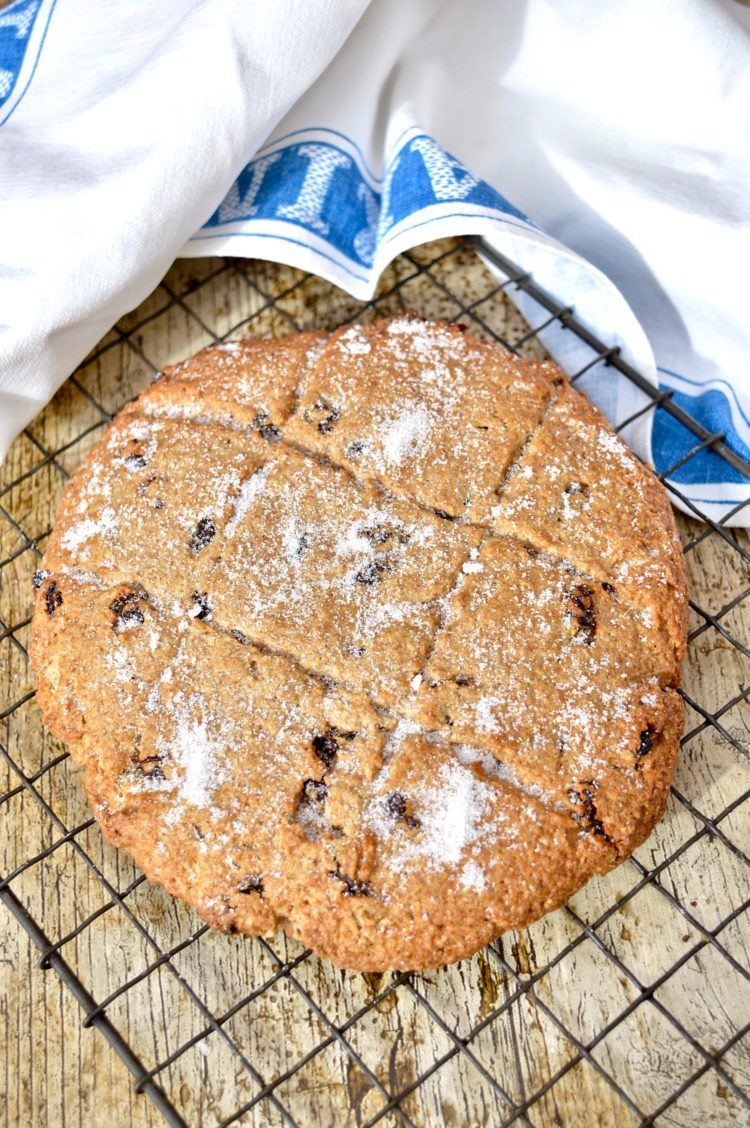 Contributed by: Choclette from Tin and Thyme
Despite the unprepossessing name that Cornish Hevva Cake is sometimes given (heavy cake), this lightly fruited bake is not particularly 'heavy'. It is, however, absolutely delicious. The bake falls somewhere between a sweet scone and a light egg-free fruit cake. As with many traditional bakes, Tesen Hevva (its Cornish name) is very easy to make.
Cornish hevva cake is an old Cornish recipe. It was traditionally made by fisherman's wives to welcome their husband's home from a successful fishing trip. A cliff top 'huer' looked out for shoals of pilchards (silver sardines). When he or she spotted a shoal, they'd alert the fishermen by shouting 'heva, heva' and guide them to it using gorse branches.
Heva is a derivation of the Cornish 'hes va', which means something like 'there's a shoal here'. As soon as the womenfolk heard the cry, they'd start baking their tesan hevva to serve hot with a 'dish of tay' when their men arrived home.
Hevva cake has a criss cross pattern marked on the top to represent a fishing net.
Canadian Butter Tarts | RECIPE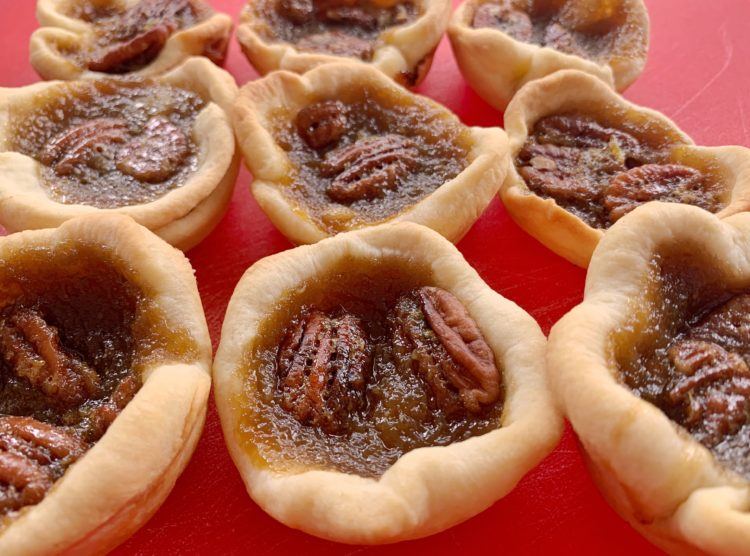 Contributed by: Hannah from Eat Sleep Breathe Travel
Butter tarts are a classic Canadian dessert. They were actually created in what is now the province of Quebec before Canada even became a country. While you can find these treats across Canada, they are most popular in the province of Ontario which even hosts an annual butter tart festival.
Butter tarts are very sweet. With a thin crust and generous filling, they should be a little gooey in the middle and ooze out when you take a bite. Sure, they might be a bit messy to eat, but the taste is worth it! You can also add extra fillings to your butter tarts including nuts, chocolate chips or… the topic for much debate among Canadians: raisins.
South African Malva Pudding | RECIPE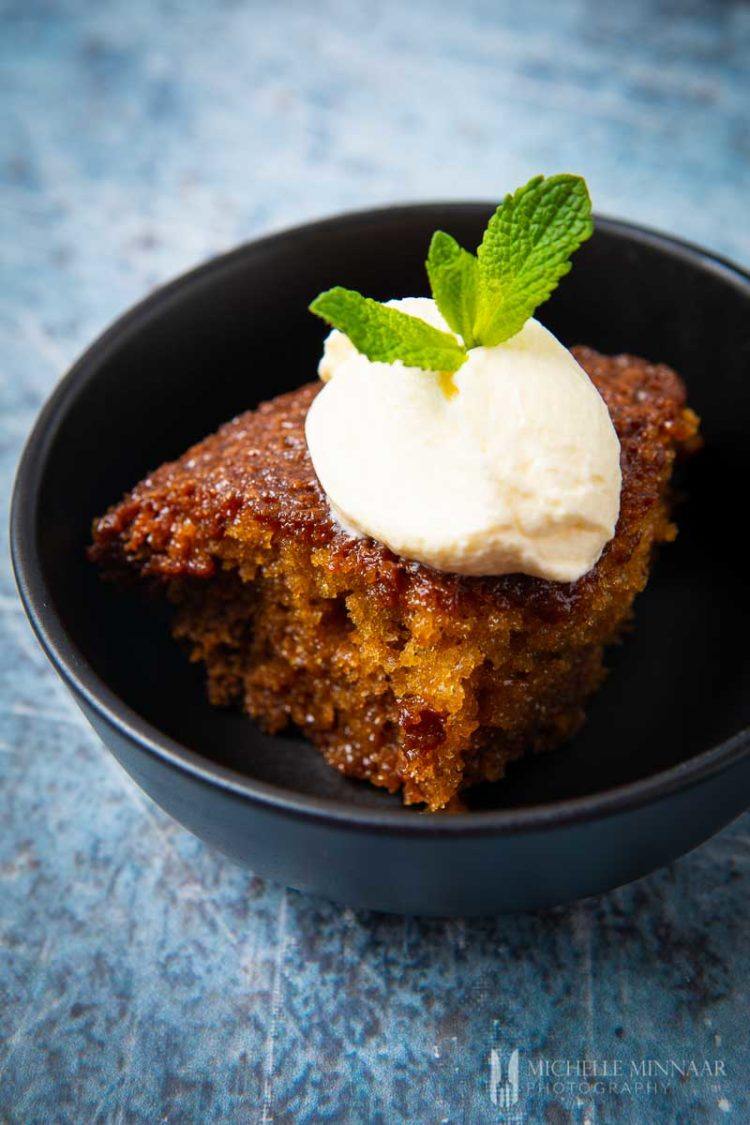 Contributed by: Michelle from Greedy Gourmet
Malva Pudding, known in Afrikaans as Malvapoeding, is a warm sponge recipe drenched with a creamy boozy sauce. Its roots lie in British cuisine, thanks to South Africa's colonization during the 1800's.
The actual sponge uses basic ingredients but the secret to making this dessert truly great is its sauce. If children are going to be eating it, you can easily omit the alcohol element. That said, for a truly authentic taste, opt for Amarula, which is a South African cream-based liqueur made from the fruit of the Marula tree. Sherry is a great alternative.
Once you've drenched the sponge, you're left with a warm, gooey pudding that is best served with custard or ice cream. There is a reason Oprah freaked out about it. Give it a try!
Middle Eastern Zalabia | RECIPE
Contributed by: Hilda from Hilda's Kitchen
Zalabia are described in a variety of ways, including fritters, dumplings, and pancakes. However, a more fitting description would be mini funnel cakes with a Middle Eastern flair!
Just as there are many ways to describe Zalabia, there are also various names and spellings. This includes: Zlabia, Zalabya, Lebanese Sweet Fritters, Yemenite Fried Dough, Hanukkah Fritters, and Jalebi (which is an Indian version of this popular Middle Eastern dessert).
Needless to say, this recipe is not only popular throughout the Middle East, but is also enjoyed by many other cultures.
The batter is made with ingredients that aren't necessarily good on their own: corn starch, flour, yeast, salt, and baking powder. However, the irresistible flavor comes from the fried, crispy batter, and the rosewater-flavored syrup that the Zalabia are soaked in once fried.
The result is a sticky, gooey, and irresistible treat that magically transforms me back to Iraq, where I enjoyed Zalabia as a child.
Hungarian Walnut Crescent Cookies | RECIPE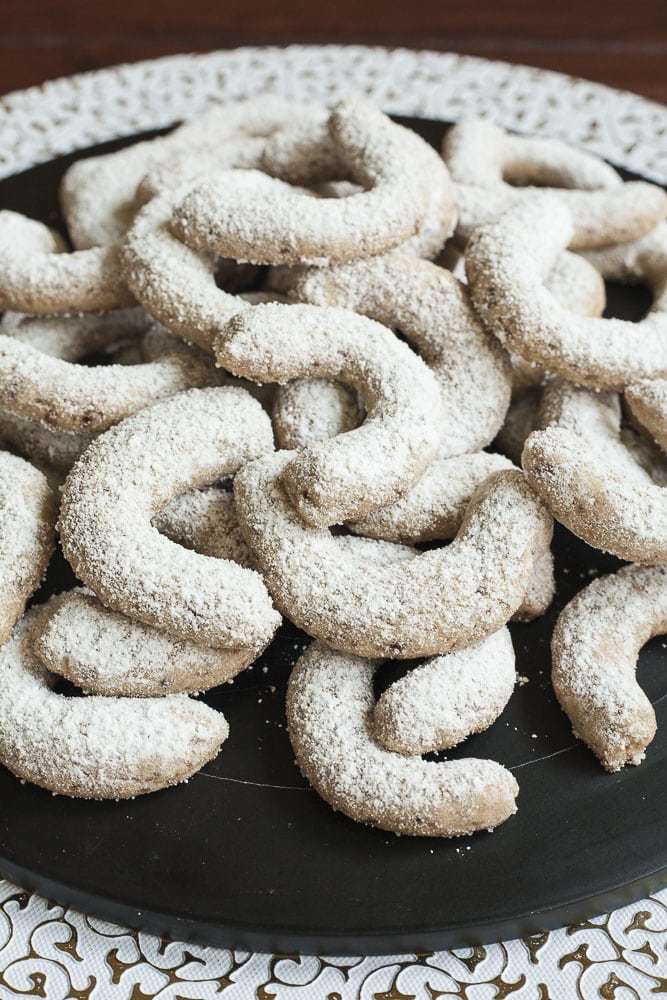 Contributed by: Emese from My Pure Plants
Walnut Crescent Cookies are traditional Hungarian Christmas Cookies. Some people may know it by the name Vanilin Kiflice or Vanillekipferl as they are quite popular all around Eastern Europe, Germany and Austria.
These crumbly, walnutty, little crescent-shaped cookies are generously powdered with vanilla-flavored sugar. They are served as sweet treats after the Christmas Eve dinner. These cookies are definitely an unquestionable part of the holidays. The original recipe is handed down by generations to generations.
Indian Burfi | RECIPE
Contributed by: Marissa from Tonic and Teal
You haven't really fully experienced Indian cuisine until you've tasted Indian desserts! And burfi is one of the most common but diverse flavors out there.
Not only is this badam burfi ( almond fudge) super easy to make, and but it's also one of those flavors from India that will stay with you, and you'll find yourself craving it all the time. The good news is the you only need 15 mins, and some pantry staples, and you, too, can be transported back to the vibrant and wonderful land that is India.
English Scones | RECIPE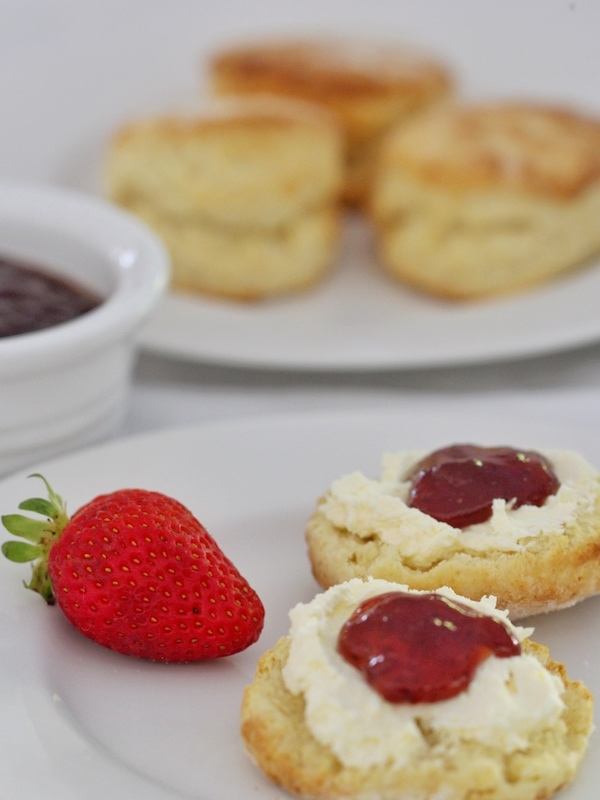 Contributed by: Marianne from Mama Loves to Cook
An afternoon cream tea with scones served with jam and cream is a quintessentially British experience. If you can't get to England to experience this for yourself, you can easily make traditional English scones at home, with just a few store cupboard ingredients – butter, flour, sugar and milk.
They are simple to make and you can have a fresh batch of scones on the table within just 30 minutes. For the absolute best flavour, try to get hold of some clotted cream to serve them with. Failing that, whip up some double cream, or even settle for butter if you can't get hold of cream. Strawberry jam is a must though!
There is something of an ongoing debate in England as to how you should serve scones. This all depends where in England you are from. Ask someone from Cornwall and they will tell you that you absolutely have to serve them with jam first and then cream. But ask someone from Devon, and they will insist that the cream goes on first, then the jam!
Whatever you choose, it is sure to be delicious. Just be sure to wash it down with copious amounts of tea (with milk, of course!)
Indonesian Sweet Potato Pie | RECIPE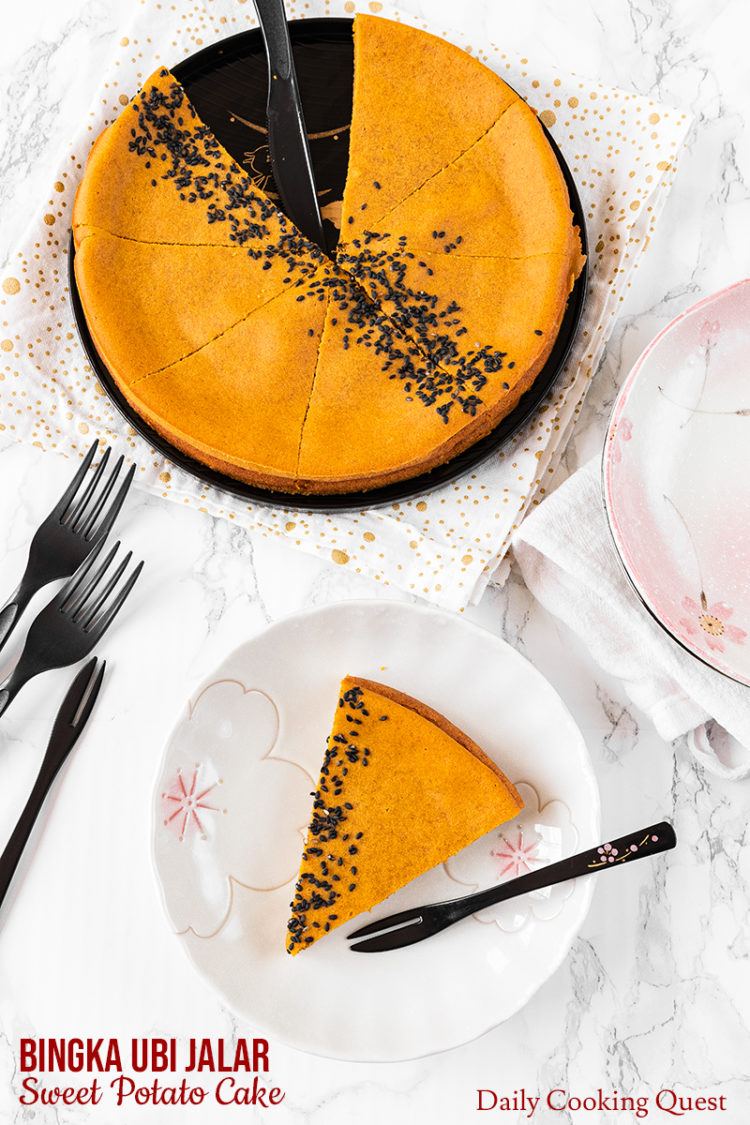 Contributed by: Anita from Daily Cooking Quest
Are you in the mood for a sweet potato pie but cannot muster the will to prepare a separate recipe for a pie crust followed with another recipe for the sweet potato filling? Then I got just the solution for you, try baking a bingka ubi jalar (Indonesian sweet potato cake) instead.
Bingka (read: bing + car) is the traditional dessert of Banjar people, an ethnic group native to the South Kalimantan province of Indonesia. This dessert is made with flour, egg, coconut milk, and a main ingredient of choice.
You can think of a bingka as a hassle-free, super easy, cheat version of a pie. A bingka cake batter is extremely easy to prepare, it's almost hard to fail at making this cake.
And at the end of the baking time, you will be greeted with a cake that has a magical outer crust encasing a soft custardy sweet potato filling. An instant pie and easy-to-make dessert from around the world, especially if you're craving something a bit on the savory side!
British Sticky Toffee Pudding | RECIPE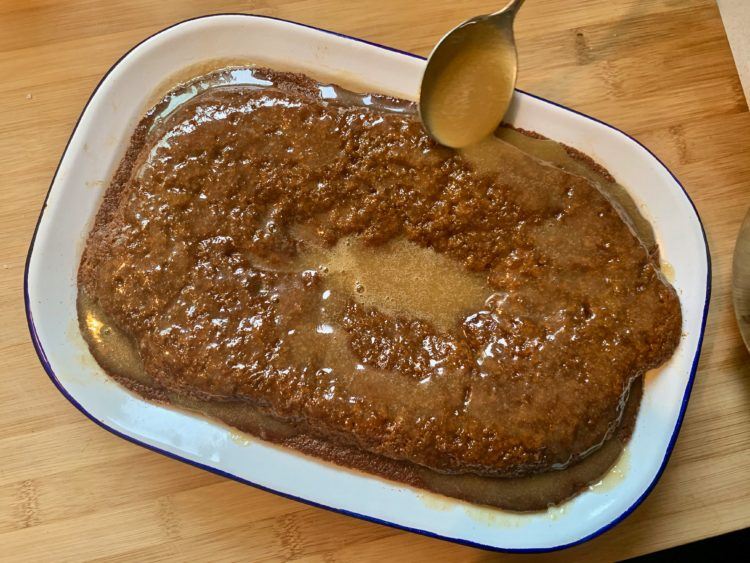 Contributed by: Chelsea from Euro Travel Coach
Sticky Toffee Pudding is every bit as delicious as the name implies! Traditionally, this decadent dessert was steamed, but my favorite recipe for it is baked, which makes it a little more accessible to the average home cook. The base recipe is similar to a typical yellow cake with a few key additions – molasses and dates that have been soaked in boiling water and then mashed with a fork.
If you're not a big date fan, don't let them scare you off from making Sticky Toffee Pudding, they melt right into the cake and you can't even tell that they are there (don't even think about skipping them, they make the cake super moist).
While the cake is baking, you make a super simple, booze spiked caramel sauce. Once the cake comes out of the oven, pour half the sauce on the cake and save the rest for serving. Sticky toffee pudding is best served warm with a scoop of vanilla ice cream or a dollop of whipped cream. One of the best desserts around the world.
Spanish Torrijas | RECIPE
Contributed by: Tim from Universal Traveller
Torrijas are Spanish-styled toasts. People traditionally ate them on specific religious celebrations like Semana Santa. Nowadays, these sweet delights have found their way into breakfast tables and regular menus.
Torrijas are made of a slice of stale bread soaked in milk that is flavored with vanilla, cinnamon and the likes. It is then re-soaked in a bowl of beaten egg before being fried in olive oil. The longer you soak the bread in milk the juicier your Torrijas will be!
Middle Eastern Baklava | RECIPE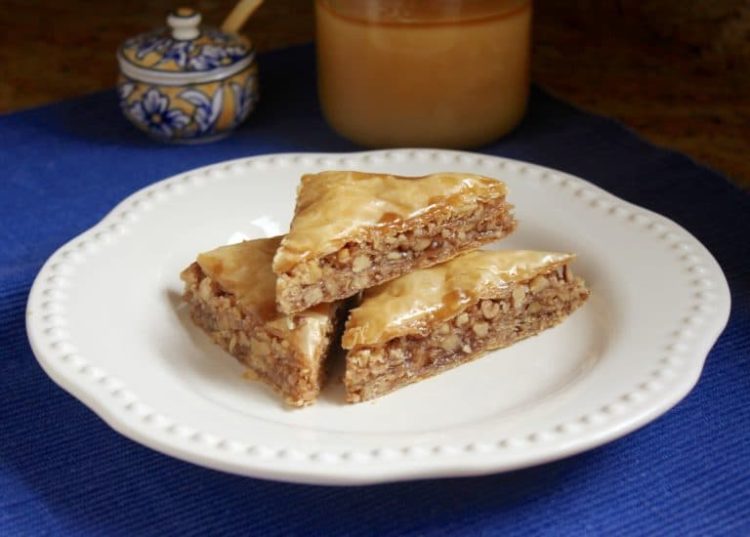 Contributed by: Christina from Christina's Cucina
This Greek/Middle Eastern dessert comprised of multiple layers of phyllo dough and butter along with sugared cinnamon chopped walnuts is a perfect honey sweetened treat for any time of day.
There are two manners of coating this pastry: with a sugar syrup or with honey. I prefer honey as it keeps the layers of phyllo dough so incredibly crispy, there's a crunch with every bite.
The step by step instructions and photos make it easy for even a beginning baker to look like a baklava pro!
Mexican Conchas | RECIPE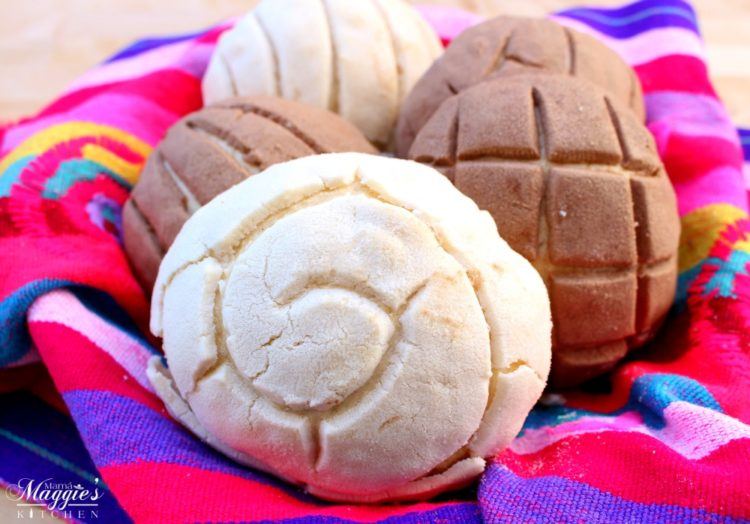 Contributed by: Maggie from Mama Maggie's Kitchen
Fluffy, soft Mexican Conchas make the most amazing dessert. It's often hard to choose a Mexican sweet bread when entering a panaderia (or bakery), but Conchas are simply hard to resist.
Visiting a Mexican bakery is an experience in itself. Visitors are greeted by the smell of freshly baked bread and an assortment of yummy treats. You'll undoubtedly find conchas at any and all bakeries in Mexico. They are considered the best of the best and one of Mexico's most beloved desserts.
Chocolate. Vanilla. Strawberry. You'll even find them turned into muffins or used to make pudding and other sweet breads. Whatever flavor you choose, they are very easy to identify. They all have their signature pattern on the top that resembles a seashell from the ocean. Hence their name, "conchas" which literally translated means "seashells." Incredibly delicious in every bite. Serve with hot chocolate or coffee and enjoy any time of the day.