When the temperature starts getting warmer, Boston bursts with life and excitement. Fenway Park first opens its doors, restaurants on Newbury Street set up their outdoor seating, and the flowers in Boston Common and the Public Garden begin to bloom. National Geographic even deemed this New England city one of the best Spring Trips of 2014, which definitely proves its greatness.
So when I had a few days off from work, we jumped at the opportunity to witness this city in the sunshine. Of course, we decided to stay at the Hyatt Regency Boston.
I'm a firm believer in brand loyalty (I've stayed at other Hyatt's in the country, from New Orleans to Kauai), so you can bet I had rather high expectations of the Boston location. To say I was elated is an understatement.
ROOM
From the moment the door to our room opened, we were greeted with shiny chandeliers and luxurious furnishings. Beautiful textured wallpaper and contemporary works of art draped the walls, while the floors were covered with plush carpet and smooth marble. My jaw literally dropped when I realized we'd be spending three nights in this beautiful oasis.
It wasn't long before a complimentary cheese and fruit platter was delivered to our room, which we thoroughly enjoyed before exploring the city.
The room was overly spacious, with a bedroom, separate living area (with full couch and kitchen amenities – we made sure to use the Keurig coffee and tea each morning) and two sleek bathrooms.
The floor-to-ceiling windows not only provided enormous amounts of natural light, but also breathtaking views of the city. What a great skyline to wake up to, as well as a perfect spot for a little romance at sunset with some wine.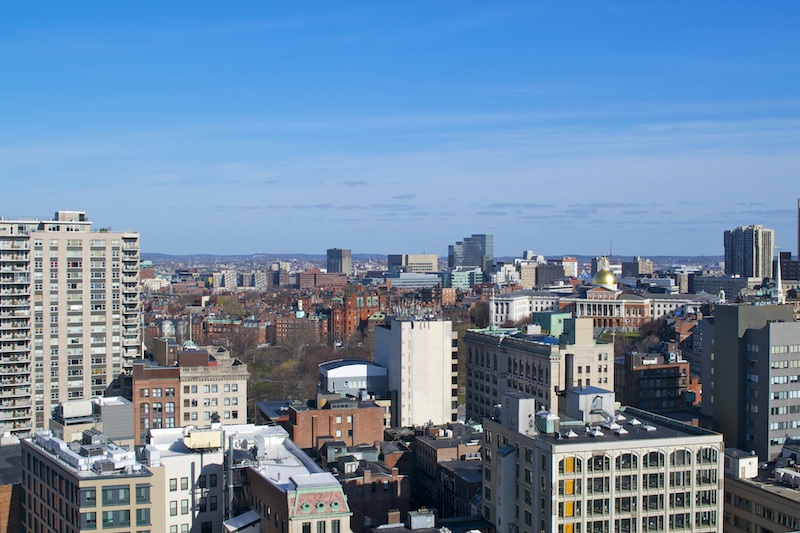 Soft, fluffy pillows lined the bed, atop white cotton sheets and a down comforter. The king-sized bed with a pillow-top mattress provided us with a tranquil night's sleep each and every night. The only problem – I never wanted to wake up!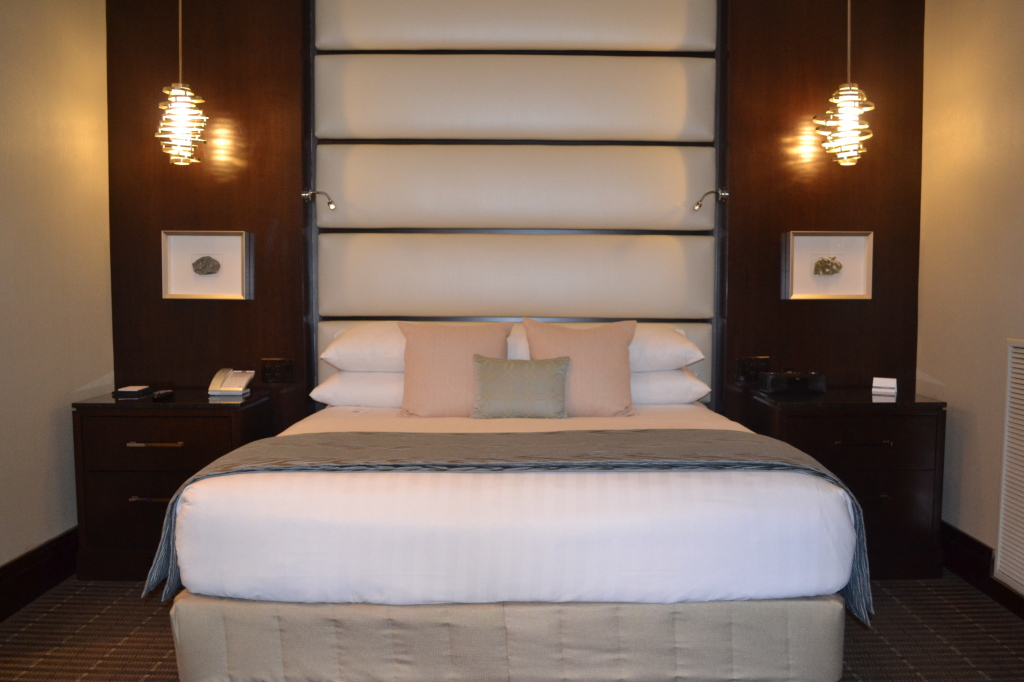 The couch was so comfortable I even perused the idea of sleeping on it one night. Crazy? I'll let you be the judge. 🙂 I'm sure the husband would have loved that King sized bed all to himself!
Within minutes of arriving, I noticed I left my hairbrush at home – of course I forgot something, I always do! Within minutes, it was delivered to our room. That's one of my favorite things about the brand- the newly introduced "Hyatt Has It" program. If you forget or need anything, from shaving cream and deodorant to curling irons and chargers, you can either borrow or buy it from the hotel. Tons of complimentary items!
(Hyatt Regency Boston offers hypoallergenic rooms for those who could benefit.)
FOOD
The Hyatt offers it's guests' dinner at Avenue One, a swanky upscale restaurant with comfy seating, which we decided to check out on our first night. We were seated in a semi-private dining area with more than enough space for the two of us.
Soon after, Executive Chef Kelly Armetta came out of the kitchen and greeted us himself – you don't see that everyday! We had a few questions about the menu, and he gladly suggested a few signature dishes for us to try.
The food came out remarkably fast, and I was impressed with not only it's taste, but with the presentation as well. Just thinking about the spread of food makes me hungry all over again!
All dishes were cooked to absolute perfection and seasoned exactly to my liking. From the crab cakes and Mediterranean dips to the bison chili and short ribs (among others), our hunger was more than satisfied. It was really evident just how fresh all the ingredients were, and I absolutely love that the menu changes on a seasonal basis.
The chef convinced me to try the clam chowder (I'm not a huge seafood fan), and now I cannot stop raving about the creamy deliciousness. Is it weird to dream about food in your sleep? >> Guilty! I will forever hold this man accountable for my chowda cravings (not that it's a bad thing).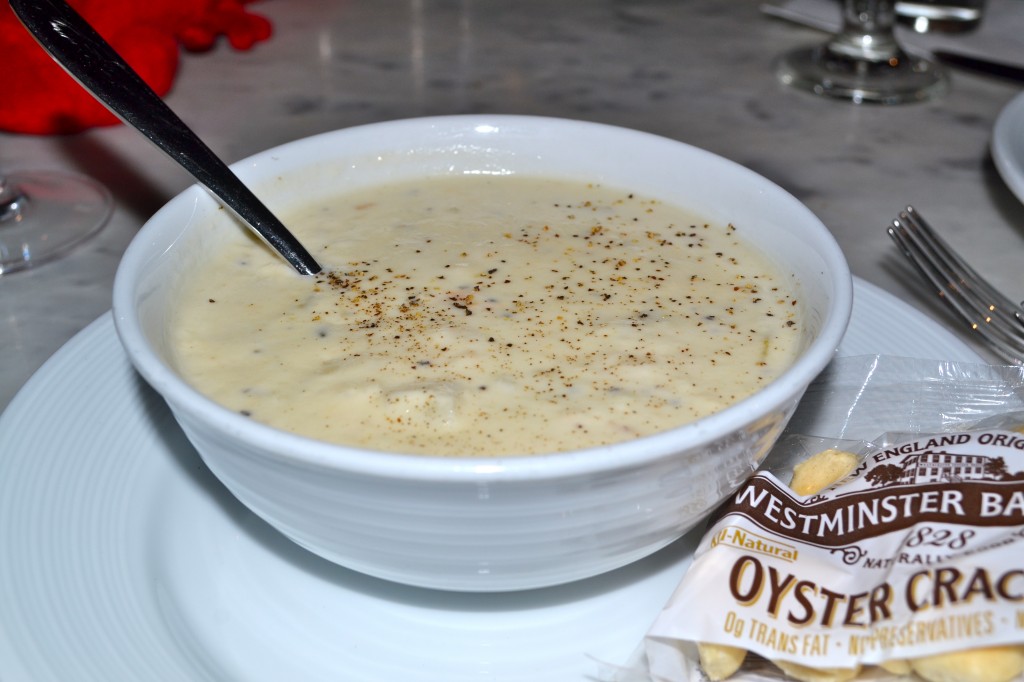 Dessert was a perfect blend of raspberry cheesecake and warm molten lava chocolate cake, both downright delectable, which we shared. Make sure to try some of Chef Armetta's award-winning creations; I promise you won't be sorry you did!
Hyatt Regency Boston also provides other dining options throughout the day, including a breakfast buffet, lounge, pre-theatre bites, and a lobby bar.
AMENITIES
Hyatt's are known for their long list of valuable amenities, and Hyatt Regency Boston surely did not disappoint.
From the indoor, heated 52-foot swimming pool (awesome for splashing around, separate section for laps) to the complimentary 24-hour fitness facilities, complete with Eucalyptus steam room (!!!), the possibilities to shed those extra pounds from dinner are endless. Now there's no excuse not to have that second bowl of clam chowder 😉
A spa is also conveniently located within the StayFit Fitness Center. Unfortunately, time didn't allow us to experience a soothing massage or facial >> this just means I'll have to schedule one during my next visit!
Make sure to take advantage of the E-Concierge, featured on large screens throughout the hotel, which can help make your stay even more special. I saw some guests use these, and I have to admit, it looked super easy and highly beneficial – definitely cuts down time waiting in line!
A valet is also available for guests of Hyatt Regency Boston, which we graciously utilized each day.
LOCATION
Hyatt Regency Boston is located in the heart of the city, more specifically in the Financial District, within walking distance to Boston Common and the Public Garden, Newbury Street, the Theatre District, Faneuil Hall, The New England Aquarium, and the Charles River.
We enjoyed the spring weather in Boston on foot, walking to each destination and discovering tempting restaurants all within reach from the hotel. Thankfully we strolled quite a bit – the food really got our mouths watering!
Arriving and departing from the hotel was easy; being just steps away from three T-stops we were able to get anywhere within the city in minutes! South Station Bus Terminal and the airport are fairly close as well, so you'll find your way over to the Hyatt in no time.
OVERALL CONCLUSION
It's the personal touches that really make this hotel stand out among the others. From the selection of complimentary beverages in the room to the innovative menu items at Avenue One, you'll surely remember your stay at the Hyatt Regency Boston. We encountered impeccable service, and staff really went out of their way to make our stay as comfortable as it could possibly be.
An added benefit: Hyatt Regency Boston is pet friendly, so feel free to bring along your furry friend! We highly enjoyed seeing some cute pups in the hotel, and wish we had our own to accompany us!
All in all, every moment we spent at the hotel was outstanding. You can't go wrong with this smoke free, green, family and pet friendly hotel. Plus, #LarrytheLobster, the Hyatt Regency Boston's unofficial mascot, is pretty cute too.
I loved the continuous smiling faces and friendly hello's of the staff, and will definitely be back in the future!
Disclaimer: I was a guest of Hyatt Regency Boston on this trip, who provided us with a lovely bed, valet services, and quite possibly one of the most delicious meals I've ever had (clam chowder included). Follow them on Facebook and Twitter.