Planning a trip to Oahu and looking for the best Airbnbs in Honolulu? You're in luck — I've compiled the ultimate list of Honolulu Airbnb vacation rentals! Whether you're looking for a chic Waikiki studio with Hawaiian touches or the most spectacular oceanfront view from your one bedroom beach house, my list of the best Airbnbs in Honolulu has got you covered!
While we love checking out the glitzy resorts and designer boutique hotels in Oahu, sometimes an AirBnB is the way to go! AirBnBs in Honolulu are great when you want a more local feel, are traveling with a large family, and/or are staying for an extended length of time. You can usually get way more bang for your buck.
And with all the things to do in Oahu (my perfect 5-day Oahu itinerary here!), you'll wanna save your pennies for a few extra malasadas and shave ices!
I've scoured the internet for the best airbnbs in Honolulu. They're all so different and unique — make sure to check them out!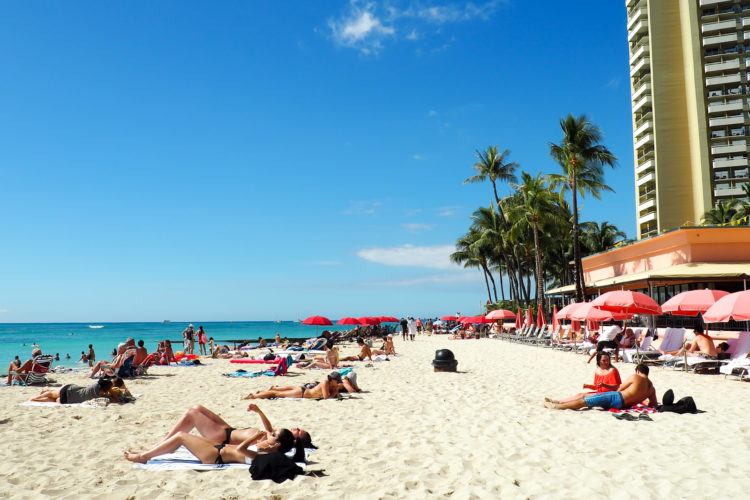 Just to note — We typically tend to stay in spots where we get the whole place to ourselves (whether it be a bungalow, apartment, condo, etc). If you're looking for a private room, you may need to look elsewhere (or just check out your options here!).
Get ready to listen to some Hawaiian music on your own private lanai — we're heading to Oahu. So let's get to it — the best Honolulu AirBnbs coming right up!
*All photos in this list of airbnbs in Honolulu are property of AirBnB.
Fun and punchy, I honestly wanna stay in this newly remodeled condo in the heart of famous Waikiki next time we visit Oahu. I mean, there's a pink couch and banana leaf wallpaper. The key to my heart. It's been recently renovated and is only 2 blocks from the ocean, meaning, you can probably hear the waves from your own private lanai (balcony)! Great local food trucks, restaurants, entertainment, nightlife and island activities all nearby!
Guest Review: "Thoroughly enjoyed the stay at Mariel and Mike's place. The location is excellent (only a couple of blocks from the beach) and the hosts were nice enough to equip the room with some equipment that we could use to enjoy a day out at the beach. The place also allows for easy access to a ton of chic restaurants, and has public parking in the basement that is priceless if you rent a car for your trip. Would definitely recommend the place to anyone looking for a place in the Waikiki area." – Praveen
A chic, sun-filled studio that overlooks Diamond Head, Honolulu Zoo Park, and is one block from the world famous Waikiki Beach. What more could you want?! This is one of the best Honolulu Airbnbs by far — and even comes with sundeck access on the tenth floor with million dollar views and table and chairs. And double bonus — it's run by a Superhost AND there's a wall-mounted flat screen TV.
Quest Review: "Great location! You are at the heart of it all. The views from the 10th floor are breathtaking. The place was very nice and stylish. Definitely recommend it!" – Thomas
A sophisticated and chic condo with a pool and with it's own private lanai, within walking distance to the beach. Bonus — there's free parking! It's spacious, recently renovated, fully furnished and centrally located just steps away from famous Waikiki Beach. There's also FREE parking, which is clutch if you're renting a car. Don't miss a walk to the beach and the free Hula shows and lively nightlife on Kalakaua Ave.
Guest Review: "Perfect and comfortable for my fiancé and I! We enjoyed everything here! Started to feel like home. Check in and check out was very easy. I recommend anyone traveling to Oahu to stay here! Very convenient!" – Serieyna
This airbnb in Honolulu is completely re-renovated, has an upgraded kitchen, a pool (!!!) and lots of colorful accents to really make you feel like you're in the tropics.
It's the LARGEST space with DOUBLE OCEAN VIEWS in the building!!! What more do you need? Feel that hawaiian fresh air on the two lanais, both with fabulous views. AND the place is extremely close to the beach. Psst — they book out fast (for good reason), so run don't walk!
Guest Review: "I read a ton of reviews because Airbnb's can be very tricky, especially on an island! I wanted to make sure the area was very close to the beach, safe, and affordable. If you are in between choosing different Airbnb's on Oahu, I would definitely recommend this place." – Monica
The space is nestled in the heart of Nu'uanu (a neighborhood in Honolulu), and feels a world away from the hustle and bustle of the busy Waikiki. But not too far! This Honolulu airbnb is centrally located ten minutes away from the beautiful Lanikai and Waikiki Beach, and close to Ala Moana, Kakaako and Downtown Honolulu. Basically, everything isn't too far!
Guests can't believe the unbelievable value. With brand new everything (seriously), a bright and chic space, great backyard for sitting, and lush mountain views, what more could you dream of?! OH — and free parking!
Guest Review: "Great stay! Adorable, updated studio tucked away from the main road. Very private with a beautiful patio to enjoy the views of the valley. Would recommend renting a car for this location to take advantage of nearby amenities." – Jessica
Some of the pros: Sleek and upscale. FREE parking, steps from Waikiki Beach, a well-equipped kitchen (although don't miss out on all my favorite restaurants in Oahu!), and close to lots of shopping and bars! There's also two lanais (balcones) — feel that sweet, sweet Hawaiian breeze!
It's one of the closest Honolulu airbnbs to the beach! And located right near the Royal Hawaiian and across the street from the new Hyatt Centric.
And I have a feeling you'll be getting some of their homemade granola to try. 😉 Now this is an Airbnb in Honolulu I'm dying to stay at.
Some of the cons: not many! You won't wanna leave.
Guest Review: "We highly recommend this place for your next Hawaii vacation! It's in a great location, is impeccably clean, and has all of the best finishing touches and amenities! Lia is super sweet, and takes care of her visitors! We will definitely come again!" – Paige
Looking for a great Honolulu airbnb that won't break the bank? This one's your answer! Not only is it modern and sparkling clean, but it's centrally located yet still AWAY from all the noise of the city (just off the beautiful Ala Wai Canal). There's world class shopping, a multitude of delicious restaurants, and surfing/stand up paddle board lessons nearby. This airbnb in Honolulu even comes equipped with it's own surfboard and boogie board available for use!
Guest Review: "Tracy's place made us feel like a local! Quick walk to a coffee shop, ABC store, and the canal with beautiful views. They had everything we needed like cooking tools, filtered water pitcher, laundry supplies, and even snorkeling gears and surf/boogie board. Perfect place for a first timer to enjoy everything in Honolulu, and I would love to stay here again!" – Aki
Mid-century modern furniture. Concrete floors. High ceilings. Designer rugs. SIGN ME UP. Oh, and it's also got sliding glass doors opening up to magnificent mountain views and the back of Diamond Head and the ocean. Dwell luxury and style meet in this modern 1 bed/1bath guest home in Manoa Valley.
Manoa is a quaint family neighborhood, close to Waikiki and the airport. Definitely make the short hike to Manoa Falls (it's literally down the street from this airbnb in Honolulu). There's also a ridge hike that ends with a fabulous view out the valley towards the ocean.
Unfortunately this property is only available to rent out for stays of at least a month (at the time of this writing January 2021), but be sure to check it out to see if anything's changed!
Guest Review: "You're in the middle of a beautiful area on Oahu, super underrated. It's close to Waikiki, but far enough to be away from the touristy feel. Keep in mind, you're in a back house up on the mountain side, so you'll be climbing up steps to get up. WORTH. EVERY. STEP. If you have difficulty with stairs, keep this in mind. Beautiful view. Amenities – There's towels, some snacks, juice, beer, wine, cleaning supplies, shower amenities…more than I was even expecting."
Ever dreamed of sleeping on a boat? In the middle of the Pacific Ocean? Okay — well, this isn't quite the middle of the ocean, but it'll do! Feel the tradewind breezes in your hair, sip cocktails on the deck, and just marvel in that luxurious Hawaiian life. And don't worry – the host greets you upon arrival and shows you around the boat (and answers any #boatlife questions you may have).
If you're looking for one of the most unique Honolulu airbnbs, book a few nights on this 38-foot catamaran boat named Lotus! She's got lots of room (inside and out on the deck), 3 main cabins, a main salon and galley area, and even a large trampoline net to relax on. Plus the views of the ocean (obviously) and Diamond Head are divine! She's parked right next door to one of Hawaii's most popular beaches, Ala Moana Beach Park.
Guest Review: "We loved staying on this boat! It's so cute and such a fun, different experience. A beach is close by as well as a great part of the city with lots of shopping and restaurants in walking distance. Ami is an amazing host as well and was very helpful! Thank you!" – Jadie
Classy, cozy, and clean. That's what guests say about this stunning airbnb in Honolulu! The space has a high-end contemporary modern feel — just take a look at the photos in the listing. There's everything you need and more in this luxury 2-bedroom apartment – a pool, jacuzzi, sauna, fitness room, and rooftop sundeck with views of Diamond Head! Imagine those sunsets on the lanai!
And plus, it's under a 5 minute walk to Waikiki Beach! The hosts filled the apartment with all the essentials for an easy and restful vacation.
Guest Review: "Ashlee and Keli'i went totally above and beyond in giving us an incredible experience. They are the most responsive and responsible hosts I've known and it'd be an absolute pleasure to stay with them again." – Noah
Fun and vibrant, this spot is actually a boutique hotel only a block away from the beach. Say what?! Yes — you might not have known, but AirBnb does have select hotels on their platform (typically boutique style and bed and breakfasts). Just be sure to read all the fine print (which you would have to do when booking a hotel elsewhere anyways).
Hotel La Croix is a seamless reflection of Hawaii's urban energy and natural beauty. It's stylish, recently updated, and is walking distance to lots of shops and restaurants.
There's real Kona coffee in the lobby & filtered water, so bring your reusable water bottle and fill 'er up! Take a dip in the pool with a fringed palm tree view, and then relax in the sauna! All this, and it's a great value for the money (just be aware of the resort fee; very common in all of Honolulu).
Guest Reviews: "AMAZING location and array of rentals (beach towels, chairs, boogie boards, etc.). Great style and very clean. I enjoyed my stay — it is well situated near all the highlights of Waikiki!! The hotel is a fun, vibrant and stylish space to enjoy a good time in Honolulu. The pool and sauna are lovely and have wonderful views."
Another sweet boutique hotel here! And this one's all about health and wellness! Imagine being greeted with a cool, lemongrass-scented towel and glass of iced mamaki (Hawaiian herbal tea). Yes, please! The space is thoroughly modern, but with a hint of retro-chic style. The rooms all have views, luxe linens, and calming fabrics.
The Wellness Concierge can help you book yoga classes on the beach to astrology readings, and everything in between.
Guest Reviews: "Great place to stay! Friendly customer service. Big rooms, and a stylish look! Amazing overall!"
Hope this list of Honolulu airbnbs helps you narrow down your search! When are you visiting Oahu and the islands?