Headed to Vietnam and looking for the best way to spend an adventurous and cultural 3 days in Sapa?! Read on for not only the best things to do in Sapa, but where to stay, how to get around, when to visit, and what to eat! It's a spot not to be missed on any Vietnam itinerary! You won't wanna miss any of these Sapa attractions!
Sapa is filled with rice field after rice field, spectacular waterfalls, small authentic villages dotting the area, local markets, and all the pho you could ever want.
It's a popular destination for those spending 2 weeks in Vietnam, loved for its fresh air, cool climate, range after range of mountains, and outstanding scenery.
It's also one of the best places in Vietnam for all your trekking lovers, and home to the country's largest mountain – Mt. Fansipan. Here in Sapa you'll find rugged scenery and rich, cultural diversity, making the area an absolute must for any nature lover.
To be honest, refining all of the area into a 3 day guide is a bit challenging, since there are just so many Sapa attractions to check off. However, many visitors opt to spend 2-3 days in Sapa after visiting Hanoi, making this quick Sapa itinerary very doable.
By following this guide, your 3 days in Sapa will be fully action-packed, so it's best to get some rest beforehand (possibly on the night train – read below).
Before we get into the full list of things to do in Sapa organized into a complete 3-day Sapa itinerary, here's a pre-travel guide to the area.
How to Get to Sapa
Sapa is nestled near the northern border of Vietnam, with its closest large city being Hanoi.
And psst – you'll probably be flying into Hanoi during your visit, as it's the most frequented airport. Hanoi is a large and bustling city, and lucky for you, there's a bunch of different options (as well as tour companies) that offer transportation to Sapa.
To cover all our bases, we'll be highlighting the 3 main ways to get from Hanoi to Sapa: train, bus, and car.
Via Train
Since there's no railway station in Sapa, the train will drop you off at the Lao Cai Railway Station, which is located a short 50 minute drive from Sapa. And thankfully, there's a ton of busses and taxis constantly running taking passengers from Lao Cai (the province which Sapa belongs to) to Sapa and back.
Most travelers prefer to take the overnight train from Hanoi to Lao Cai, taking roughly 8 hours and arriving in Lao Cai in the early morning (5:30am-6:30am). This is a great option as you'll essentially have the full day in Sapa once you make your way there.
Book your overnight train to Lao Cai here, the gateway to Sapa.
Via Bus
There are buses running throughout the day, driving the 6-7 hours (depending on traffic and weather) between the bustling city and the Sapa wonderland of rice terraces and waterfalls.
One neat option we've found is the night bus (book here), which leaves Sapa late in the evening, between 10pm and midnight, and drives throughout the night. This bus has sleeper seats where you can lay down and sleep for the journey, however the seats aren't exactly a king-size feather bed.
They are, however, inexpensive and get the job done! This is the route we chose on our Sapa adventure, since we were cutting costs as much as possible, and the night bus killed two birds with one stone: a trip to Sapa without having to pay for an additional night in a hotel!
Via Car
The final, and most convenient option, is to travel from Hanoi to Sapa via car. The journey takes about 4.5 hours. There are a few tour companies that will drive you directly from your hotel in Hanoi to your hotel in Sapa, however, this is the most expensive option.
If you insist on traveling by private vehicle (sans public transportation), the cheapest option is to rent a car and drive it up yourself. It's super easy to rent a car in Hanoi. An added benefit of this option is that you'll have freedom to drive to different areas to explore throughout Sapa, which you'll see in a minute is a HUGE benefit!
By Tour Company
If you want everything taken care of for you, and you don't wanna have to worry about the hassle of getting from Hanoi to Sapa yourself, book yourself with a tour company.
These tours include everything from transportation to Sapa, overnight stays, trekking, traditional meals, Sapa attractions, visiting the local people, and more. It's basically an all-in-one adventure, and at a super reasonable price at that.
A few options below:
2 Day Sapa Tour with Fansipan Peak from Hanoi: Travel by express bus from Hanoi to Sapa on a 2-day tour. Explore Cat Cat village and take a cable car up to Fansipan Peak – the Roof of Indochina. You'll also meet a Black H'Mong family, and be able to explore the town of Sapa during your free time. BOOK TOUR HERE.
3 Day Medium Trek with Bus Transfer: Highlights include visiting the famous parts of Sapa, observing the daily activities of the ethnic minority people of the area, enjoying the breathtaking mountain scenery and rice terraces, and staying overnight at a homestay. BOOK TOUR HERE
2 Day Sapa Homestay with Bus Transfer: Highlights include exploring the Sapa Valley, admiring the traditional costumes of the ethnic peoples, trekking through the lush green rice paddies and terraces (9km), and experiencing life in the mountains by spending the night at a homestay. BOOK TOUR HERE.
Where to Stay in Sapa
Sapa is a beautiful place full of beautiful food, culture, and people. What also makes this place oh so wonderful is the chance to experience it through your accommodation! There are many unique and varied options for places to stay in Sapa, and in addition there are a WIDE range of prices that you can pay for a place to stay. I'll highlight each below.
Sapa is not a particularly wealthy place, and therefore your currency will go a long way here. Being from America, the US Dollar is very strong in Vietnam, and you will see this as you book and pay for lodging.
Homestays
The cheapest hotels, hostels, and homestays are typically under $10 per night. Yes, you read that right, and there's even a few for around $5 per night. In those very inexpensive accommodations, you'll typically be getting a room in a house, or in some cases just a bunk, similar to a European hostel.
But hmm, what is a homestay exactly? Essentially, it's when you stay in the home of a local family for a small fee. If you want an authentic experience and to learn about the culture of the place you're visiting, I'd highly suggest checking out a homestay. There are so many homestay options available in Sapa, so you won't have trouble finding one that suits your needs.
A few recommended homestays (all with exceptional reviews) include:
Mid-Level Hotels
Stepping up price-wise from those accommodations are the next level of lodges, typically $20-$50 per night. For that price, which is what we paid for our stay at Eco Palms House, you'll get your own private place.
In our case, that was our own private hut, however in most cases it means something similar to a hotel room. This is the sweet spot for accommodations in Sapa, as you'll get a beautiful and comfortable stay while keeping your spending to a minimum.
Other recommended inexpensive hotels/accommodation options include:
Luxury Hotels in Downtown Sapa
Finally, the most expensive hotels in Sapa are in the downtown area. These hotels cost between $70-$110 per night, and when you spend that much you are treated to everything you would get at a fancy hotel elsewhere in the world.
Swimming pools, spas, fitness centers, conference rooms – you'll have it all at your fingertips, and at a price you would not be able to get elsewhere in the world. If you want to get a taste of an expensive hotel, then Sapa is the place to do it.
Recommended luxury hotels/accommodation options in Sapa include:
While in Sapa, one thing we wish we would have done is to stay in one of the expensive hotels for one night, our last night.
After enjoying the Sapa Market and having dinner in one of the fine restaurants, it would have been a great experience to enjoy a luxurious room for just $75 or so for the night. Then the next morning, as we left Sapa, we would have been doing so after a great sleep in a big bed, a hot shower, and breakfast at the hotel.
Best Time to Visit Sapa
Since you wanna make sure you cross off all of these things to do in Sapa, you'll wanna make sure you visit at the right time of year. Sapa is a dream come true year-round; however, many people find this place absolutely brilliant when the rice paddies turn a brilliant green color.
This kinda unfortunately happens during the wet season, from May to September each year. It tends to only rain for a few hours each day, so if you plan your treks for after the rain is completed you should be able to stay relatively dry.
Therefore, the wet season is not a bad time to spend 3 days in Sapa at all, just note that July and August tend to be the rainiest (so maybe steer clear of those months).
Coming a close second is the months of September and October. At this time of year, the rice harvest happens. You'll be able to get a unique experience as the harvest takes place all around you, in addition to the rice fields turning a beautiful golden color.
Visiting in September or October may not get you the bright green rice fields that make Sapa pictures so stunning, but it will get you an incredible experience and some beautiful golden photos that are pretty darn special themselves.
What to Eat in Sapa
While exploring all the things to do in Sapa, and actually all of Vietnam, you would be crazy to miss out on some of the fantastic local cuisine.
For starters, the pho in Vietnam is a must-try. Coming from the USA, we don't have much that compares to pho. It is part-noodle dish, part-soup, and it is FULLY delicious. While in Sapa, try every kind of pho you can get your hands on as all the different flavors will blow your mind. Vietnamese locals eat pho at all times of day.
To be honest, we found it a bit strange to be enjoying a bowl of pho right away in the morning. Pho felt more like a lunch or dinner menu item, however it was absolutely delicious and fueled our adventure each day!
Coming in second is something that we started each meal with: spring rolls. These are the perfect appetizer, whether served fresh or fried. We personally loved the vegetarian spring rolls, as they were made with locally grown fresh vegetables and went PERFECTLY with some yummy peanut sauce on the side.
The third thing you have to try in Sapa is a Banh Mi, which is essentially a Vietnamese sandwich. We say it is a sandwich, however that somehow diminishes how awesome these actually are. A Banh Mi consists of a baguette (traditionally baked with both rice and wheat flour), and is filled with a variety of ingredients – from meat, pickled vegetables, and chili peppers.
The Vietnamese cooking style balances sweet with spicy, and often adds many different colors to make a dish visually attractive as well as tasty. The Banh Mi is no exception, as this is a beautiful meal that makes for an excellent lunch whenever you get the chance.
Finally, we personally insist that you ask each and every waiter/waitress you have what they would recommend on the menu.
In many cases, we did this and our server brought up a dish that we had never heard of and sure as heck would not have ordered on our own. However, these were some of the best dishes we enjoyed in Vietnam, especially in Sapa.
Whenever you are in doubt about what to do or eat, ask a local! They know best, and will almost always point you in the best possible direction.
A few additional foods to try in Sapa include:
Cap Nach pork: a specialty of the mountainous region
Thang Co horse meat stew: traditional food of Hmoong people
Pau play day cake: made of glutinous rice and green peas
Salmon Sour Hot Pot: and yes, Sapa's cool enough for it!
Tao Meo wine
Khang Gai Dried Meat
black forest mushrooms
Now let's get to it – all the things to do in Sapa during your 3 days here!
Quick Note: You could technically switch around the days in this quick guide to Sapa, but the following is a great starting point for your 3 days in Sapa!
An Ideal 3-Day Sapa Itinerary
Sapa Itinerary Day 1: Explore the Rice Fields
First up on this Sapa itinerary – exploring the rice fields that the area is so well known for. You can't spend 3 days in Sapa without spending ample time meandering throughout the lush, gorgeous landscapes of the rice fields on foot (I mean, that's probably the main reason you're visiting the area afterall!).
Therefore, that's what we're up to first on this Sapa itinerary! These iconic layered hills are what makes Sapa such a unique and special area, and they are worth at least a full day of exploration (aka don't make other plans for this day). Since the roads aren't great, visitors tend to trek on the well-maintained footpaths.
Once your belly is full and you have everything packed that you want to bring along (I highly recommend a camera, as well as a rain jacket just in case) then head out for the rice fields. Depending on the location of your hotel, you may have to drive or walk a bit to the rice terraces, or they may be right outside your door (lucky you!).
From our hotel, the Eco Palms House, we were able to walk outside our door and made our way through the many tracks and trails around the area. We stumbled upon a beautiful river, a bamboo forest, and of course got tons of amazing views of the rice fields and surrounding scenery in Sapa.
The best way to explore the rice fields is with a guide. For us, we were connected to a local guide service through our hotel. We recommend that you do the same – finding a local guide to the rice fields near where you are staying. Doing so will be both convenient for you and will promise a unique trip filled with interesting stories and local commentary.
You can choose to book a guide ahead of time, or book once you arrive in Sapa. You'll basically be bombarded by Hmong women offering trekking tours to their village, so there's no shortage of options here.
Editor's Note: I tend to do a lot of research on tours and activities ahead of time, since I'm typically pretty rushed while traveling. If you're the same, find some inexpensive trekking tours of Sapa here:
Sapa Valley Trek with Local Village Visit: Trek through the Sa Pa valley and get stunning views of the terraced rice fields. Learn about the traditional customs of the different ethnic minority groups that live in the villages along the way.
However, if you'd rather not get a guide, you can trek the rice fields all on your own. The best trek to do on your own is in the Muong Hoa Valley, which can be easily reached from downtown Sapa.
Walk down Muong Hoa Street until you see a ticket counter, where you'll be required to pay about $3 to enter the trek. From there, you'll have the ability to choose any direction your heart desires, and you'll be able to make the trip as short or as long as you wish. The Muong Hoa trek is basically one long and incredible viewpoint, with a constantly changing landscape.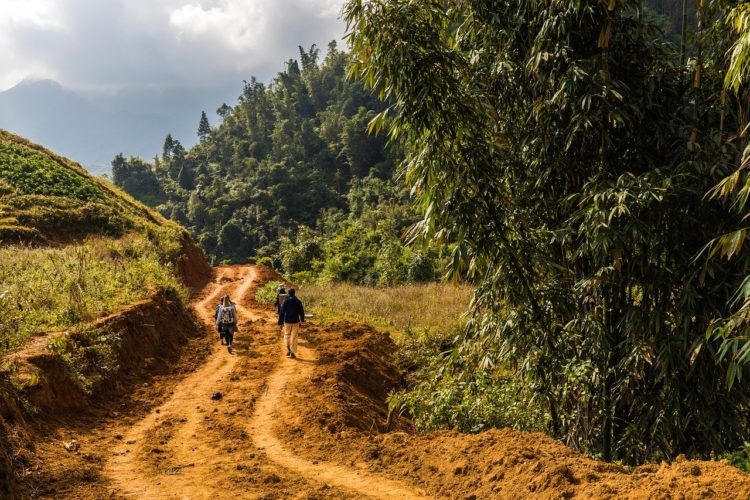 One note on hiking: In addition to customizing the length of your trek should you be going at it sans tour guide, the difficulty of the hikes can be as easy/hard as you'd like as well. Hiking vertically up and down the rice fields can be challenging,  meaning you'll undoubtedly come across a lot of ascents and descents.
However, many trails go along the rice fields, without much elevation change, making the hiking much more tolerable if difficult isn't in your vocabulary (no shame!). Of course, changing elevation will be harder, but it also leads to more unique views and landscapes!
After a full day of trekking through the rice fields, congratulate yourself with some rice wine or a local beer (or some tea if you need to wind down).
Sapa Itinerary Day 2: Mount Fansipan and Love Waterfall
Wake up early on Day 2 of this 3-day Sapa itinerary, as we're headed off to Vietnam's highest mountain – Mount Fansipan! It's often dubbed 'the Roof of Indochina', since it's not only the highest peak in Vietnam at 10k+ feet, but in the Indochinese Peninsula (including Laos and Cambodia as well).
And you betcha we'll be heading to the top for views of swirling clouds and rice terraces below (this wouldn't be a complete Sapa itinerary without urging you to visit Fansipan)! And out of all the things to do in Sapa, promise me you won't miss the top of this mountain!
How to get to Fansipan: Fansipan is located about 30 minutes outside of Sapa, so if you don't have a car, you'll need to get a taxi. It's typically very easy to order one through your hotel, and we were able to book for around $20 roundtrip from our hotel to Fansipan.
You can either choose to hike to the summit of Fansipan, or simply take the cable car.
Cable Car: What used to take visitors days and days of difficult trekking, now takes just about 20 minutes. It's an easy 20 minute ride to the top from the gondola lift terminal (in Muong Hoa Valley). Cable cars hold up to 35 passengers, and run from 7:30am – 5:30pm every day. Try and get a window seat as the views are remarkable the entire way up!
It's wise to wear comfy shoes as you'll still need to walk up about 600 steps once you get outta the cable car in order to reach the actual top. You can opt to take the funicular rail if you don't feel like getting a leg work out in.
Hiking: If you're looking for a full-day adventure and wanna burn off all that pho you've been shoveling down, hike up to Fansipan! However, do note it'll take about 10 hours of hiking to make it to the peak, and it is quite strenuous (and should only be attempted by those who are physically fit and up for the challenge).
You'll want to start the hike early in the day, so it's best to have your own car instead of relying on a taxi to get you there. Book a guided hike here – includes lunch, water, and a patient guide who knows the area and trekking spots well.
→ Book your 1 day Fansipan trekking tour here
No matter how you reach the summit, you'll want to bring along some warm clothing, as the temperature decreases the higher you go. Consider carrying a jacket, scart, and hat. In addition,
At the summit, there are religious statues and temples where you can explore and learn local culture and customs, while also sampling some delicious food. On top of Fansipan, you'll be on top of the world, and you'll literally be above the clouds (kinda like in Haleakala in Maui). It's wild – the cloud formations change every few seconds.
When we visited Fansipan, the clouds were at a lower altitude than us, and the sky seemed to invert as we passed above the clouds. Suddenly, the clouds became the ground, and the sky was an open and beautiful blue. Therefore, don't think that because a day is cloudy, it will be a bad day for Fansipan, it may just be the PERFECT day! Be sure to walk around the entire platform for the 360-degree views.
After exploring Fansipan, head to Love Waterfall, which is located between Sapa and Fansipan. Be prepared for a short hike through the mountains, however, you'll be able to get up close and personal to the waterfall after about 25 minutes. The entrance fee is 70VND, and is most definitely worth it.
If you've got extra time, be sure to check out Silver Waterfall, as they're easily combinable.
Sapa Itinerary Day 3: Taking in the Culture + Sapa Market
Lastly on this Sapa itinerary, we'll be immersing ourselves in the local Vietnamese culture, and of course enjoying the sites along the way. We explored a local village called Lao Chai (note, not Lao Cai, as in the place the train drops you off) and had the time of our lives.
We walked through town, learned about locals and their culture, and ate little snacks as we passed by cafes and restaurants.
Lao Chai was located in the heart of the rice fields, so of course we were also treated to stunning views of the rice fields, which will no doubt be one of the Sapa attractions you remember most fondly.
In addition, we found that there were TONS of animals as part of the local culture. Many of the families each had their own buffalo, multiple dogs, chickens and pigs! These animals roamed the town without fences or leashes, and everything felt completely normal and safe!
We literally spent time walking with the local buffaloes, who were very comfortable around people, and enjoyed every minute of it. Just make sure to watch out for 'buffalo chocolate', as the locals called it, dotting the side of the road every now and then…(yes, we're talking about poop).
After you spend the better part of a morning and afternoon exploring a local village and enjoying the views of rice fields, then take the rest of the day to head into the actual town of Sapa. While in Sapa, you must make time to enjoy the Sapa Market.
The vendors are selling everything from yummy snacks to awesome souvenirs, and everything in between! Feel free to barter, as this is an expected and welcome form of doing business throughout much of the country!
Once you've explored all of the market, head for a fantastic dinner at one of Sapa's fine restaurants. NHà Hàng Phố Núi Sapa, and Kingfisher Sapa are both absolutely wonderful, if you are looking for our opinion.
However, one of our favorite methods of deciding where to eat is to browse the city center and look at menus, searching for what food and ambience we would find most appealing that night. Once we've found something that looks great, we dive on in and typically have a lovely evening, and we are confident that you will too!
Which of these things to do in Sapa are you planning to add to your Sapa itinerary?
This guest post was written in collaboration with Zach and Julie of Ruhls of the Road. Special thanks to Zach and Julie for sharing all their exceptionally knowledge with us!