Headed to Vietnam and looking for the best things to do in Hoi An? Only got about 3 days in Hoi An and want to make sure you check out all the good stuff? Make sure you keep reading this Hoi An itinerary to help prepare for your trip!
Hoi An is one of the prettiest cities in Vietnam (no really, it is).  As a UNESCO World Heritage Site (since 1999!), the Old Town is the perfect place to visit to see a juxtaposition of new and old, as well as French, Chinese and Japanese influences. 
You'll find plenty to do here, from exploring old, historic buildings, to dining at hipster cafes and restaurants, and even spending a day at the beach (betcha didn't think there was a beach over here!). Make sure you add Hoi An to your Vietnam itinerary, as it's a great stop between Hanoi and Ho Chi Minh City (yes, other spots in the country you should visit as well!).
With that being said, 3 days in Hoi An is the perfect amount of time to get a true feeling for the historic town, as well as enough time for a beach day!
Hoi An Pre-Travel Guide
How to get around
Finding your way around Hoi An is super easy and affordable. Once inside the Ancient Town, in the centre of the city, our preferred means of transport is on foot or by bike. You will want to take your time exploring the town so this is a great way to make sure you don't miss any of the things to do in Hoi An (get around by car within the Ancient Town and you'll just miss so much stuff).
However, outside of the Ancient Town, you'll most likely want to use a ride share service, with the most common one in Vietnam being Grab.  Grab is very dependable (it works just like Uber here in the States!), and short trips usually only cost pocket change.
Taxis are also common – look out for the bright green Mai Linh taxis and ensure you use the meter to avoid getting ripped off (a common tourist scam, unfortunately).
When to go to Hoi An
Hoi An is a great all year round destination. In terms of weather, it's consistently hot every month of the year, although watch out for rain some months. The wet season ranges from September to January, whilst the dry season is from February to August.
But don't let the possible wet weather deter you; the rain tends to come in short bursts making it the perfect excuse to head indoors (time for a banh mi, anyone?).
With regards to timing within your extended Vietnam trip, Hoi An is a great stop along the way from either Hanoi to Ho Chi Minh City, or vice versa.
Do note that there are no flights to Hoi An itself, and you'll need to travel to the Da Nang International Airport (from either Hanoi or Ho Chi Minh City) and then take a 30-60 minute journey via shuttle bus for a few bucks or private taxi. However, if you don't mind sleeping on an overnight bus, this'll be your only possible way for a direct transfer. Proooobably not the most comfortable, but by far the cheapest!
Important things to pack for Hoi An
You can get away with packing very little when visiting most Southeast Asian countries, and Hoi An in Vietnam is no exception. Make sure you pack light and airy clothing as the weather is hot, hot, hot. A brightly colored dress looks amazing backdropped by the yellow, French architecture.
You'll also want to make sure to pack the basics, including your passport, printed out Vietnam visa (yes, even those in the states need to apply for a VISA), a first aid kit, and insect repellant.  
A quick tip – Hoi An is renowned for its affordable and high-quality tailoring. It's a great idea to bring along anything you want to get altered, or if you have something you love they'll be able to replicate it for you.
Where to stay during your 3 days in Hoi An
Unfortunately, finding affordable accommodation that is well-located in Hoi An is kinda tricky. You'll most likely want to stay as close to the Old Town as possible, as it's the most beautiful part of the city and where you'll find most of the things to do in Hoi An. It'll just be more expensive than other neighboring cities, but you can easily get a modest, clean room for under $100!
These are our top picks for accommodation:
Tribee Bana: Located right next to the Thu Bon River puts this affordable hostel in the perfect location.  Private rooms start from $21 USD.
Vinh Hung Heritage Hotel: Centrally located, just a one minute walk to the Japanese Covered Bridge.  It is an elegant hotel which complements the architecture of Hoi An's Old Town.  A deluxe room is around $82 USD per night.
Hotel Royal Hoi An: This is an extravagant, luxurious hotel located just 10 minutes from the Town Bridge.  Perfect if you want to escape the city for some relaxation, but still close enough to reach all the tourist activities easily.  A room here starts at $176 USD per night.
The Local Language
There are three important phrases to know in Vietnamese. If you combine these with theatrical body language, you'll be able to get by easily. Most locals you need to communicate with will speak English surprisingly well.
Xin Chao – Hello
Cam On – Thank You
Mot Hai Ba Yo! – 1, 2, 3, Cheers!  Used as an alternative to 'cheers' when drinking.
Things To Do In Hoi An in 3 Days
Things to add to your 3 day Hoi An itinerary include:
1. Visit the Japanese Covered Bridge
The Japanese Covered Bridge is an iconic landmark in the centre of Old Town, and should be included on any Hoi An itinerary, that's for sure! The Japanese architecture contrasts the French buildings on either side, which makes it a great location to see the architecture from both eras side by side.
2. Eat a banh mi
When the French colonised Vietnam they brought baguettes with them. The Vietnamese created some of the best sandwiches in the world by adding meat, vegetables and pate. Make sure you grab one from Banh Mi Phuong in the Old Town. The cream cheese and chicken one isn't too authentic, but it tastes amazing.
If you want to get a taste for other foodie spots in Hoi An, make sure you check out this Hoi An food adventure, guaranteed to keep you full for at least a few hours!
3. Explore the Rice Paddy Fields (Tra Que Vegetable Village)
Hoi An is surrounded by rice paddy fields which are fully functioning and run by locals to earn a living.
If you have the time, you should get out of the busy city centre and explore the countryside. You can visit Tra Que Vegetable Village, which is a locally-run organic farm. They offer tours where you can get hands-on experience as you explore the farm.
Alternatively, a budget-friendly option is to grab a bike and ride around the 40-hectare farm – there's so much to see here that you won't be missing out on much this way.
4. Go shopping at the markets
Vietnamese markets are mental and can be found basically anywhere you go in the country. In Hoi An, the markets line the streets of the Old Town with vendors hassling you to purchase their products.
This is the perfect opportunity to hone your bartering skills and pick up some souvenirs or new clothing. Just remember to negotiate down significantly and be prepared to walk away – you will find the same thing a few stores down, and you can always come back. Check out this guide for things to buy in Vietnam for more ideas.
5. Visit the Old House of Tan Ky
Tan Ky House is a beautiful old house that combines Chinese and Japanese influences into the decorations and architecture. This house is over 150 years old, so if you're into history then you should definitely pay it a visit.
Located in the middle of the Old Town, you can make a short stop off here at any point in your trip, or better yet, take a Hoi An Ancient Town Walking Tour, to learn tons about it!
6. Get something tailored
As mentioned above, Hoi An is renowned around the world for its expert tailors and incredibly affordable prices. Depending on your budget, you can head to any of the countless tailors along the streets.
If you're looking for higher quality garments, Yaly Couture is a great place to visit. They will take all your measurements, allow you to choose the fabric and can tailor practically anything from a photo.
These tailors aren't only affordable, but they're quick too. You may need to forego the final adjustments and alterations, but if you're short on time they can get your garments made overnight (wow!).
7. Boat ride down the river
The Thu Bon River is the body of water running through the middle of the city. It's beautiful to watch all the boats float along the river and all the lanterns hanging off them.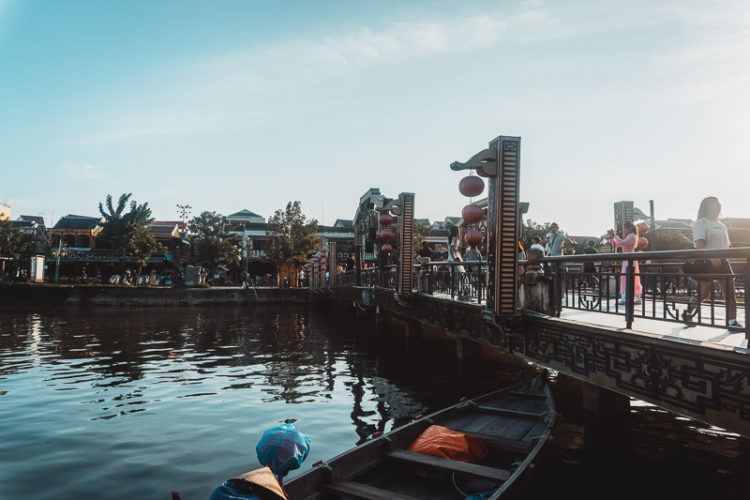 Taking an evening boat ride (sunset dinner cruise, anyone?!) down the river to see the town from a new angle is one of our favourite things to do in Hoi An. This is especially spectacular around sunset as the lanterns in Hoi An begin to glow. If you're wondering what to do in Hoi An, definitely don't miss out on this (hint – it's spectacular)!
8. Ride a bike around the Old Town
Perhaps the cutest way to get around the Old Town in Hoi An is by renting a bike. They can be picked up for just a few dollars for the day and give you easy transportation all around the town.
Be prepared to dodge tourists and locals as you weave your way through the streets. Check out this 5-hour countryside sightseeing bike tour if you'd love to get outta the Old Town as well (highly recommended).
9. Go to the beach
Wondering what to do in Hoi An when you've had enough of the actual city? Head to the beach, of course! An Nang Beach is a long white sand beach that is popular with tourists and reminiscent of a tropical island. Don't leave the country without adding this to your Hoi An itinerary!
Although Vietnam isn't your typical beach destination, it's nice to be able to break up your trip with a relaxing half-day at the beach. And plus, if you have a whole day, consider a boat trip out to the Cham Islands (and go underwater walking, too!).
10. Buy a lantern
Hoi An truly is the city of lanterns, so if you have space in your luggage you should make sure to purchase one whilst you're visiting.
Although they can be found almost anywhere, it pays to look a bit harder if you want to find one you'll keep for a long time. The markets are home to thousands of mass-produced, brightly coloured lanterns.
If you explore the back streets you'll find hidden shops where locals hand-paint far more beautiful lanterns. They are more expensive, but the prices reflect the time and skill that went into them.
11. Visit the Terracotta Park
This is a cool park where iconic buildings from around the world have been expertly crafted out of terracotta. It's also a great opportunity to try your own hand at pottery.
12. Drink ca phe sua dua
Vietnam's coffee culture is incredible. The most popular coffee is ca phe sua dua, which combines locally grown robusta coffee beans with condensed milk and ice. The Robusta beans are typically considered bitter and lower-quality to their arabica counterparts, so the addition of sugar (in the condensed milk) makes it delicious.
You can order it without ice, but you'd be crazy to do so as it's a refreshing way to cool down in the hot heat of Hoi An.
Also, consider trying egg coffee where they literally add an egg to the coffee. It tastes far better than you'd expect, the egg flavour is overpowered by the coffee beans but the texture makes for the creamiest coffee. By far one of the most exotic things to do in Hoi An, that's for sure! Not something you can get everywhere in the world!
13. Take a cooking class
Vietnamese food is delicious and offers unique flavours that are hard to find in typical western cuisine. Take a cooking class when you're in Hoi An in order to learn how to replicate some of your favourite dishes when you get home.
Vy's Market Restaurant and Cooking School in the Old Town is one we'd highly recommend. You'll get to learn how to make Banh Xeo(pancake) and Goi Cuon (fresh spring rolls). Vy's Goi Cuon is unique in that it includes a deep-fried spring roll inside the fresh one.
If you wanna take a cooking class at sunset, consider signing up for this class, and check out this one which includes a boat ride!
14. Experience the nightlife
Being a small town, the nightlife in Hoi An isn't anything like the bigger cities. However, there are a number of riverside bars that offer a nice spot to relax, as well as rowdier bars that tend to be packed with tourists. There's something to suit most kinds of travellers.
15. Visit the My Son Ruins
If you have a spare day, consider taking a day trip out to the My Son Ruins. This is another UNESCO World Heritage Site that has been restored and is well worth a visit when you're in the area. And at over 140 hectares, you'll want to set aside a full day for exploration.
Which of these things will you be adding to your 3 days in Hoi An?! If you plan correctly, you may very well have time for all 15 things to do in Hoi An (depending how relaxing of a few days you want of course)!