Headed to Maui in the near future and hoping to get in some Molokini Crater snorkeling? Keep reading, because I've got loads to share on my Molokini and Turtle Town snorkel adventure, along with tips on how to find the best Molokini tours!
I should have titled this post "The Day I Fell in Love with the Sea Turtles", because that is exactly what happened. I love them so much that I'm in the process of writing a post about what we can do to help save them (but more on that later).
I have always been keen on snorkeling, and can remember submerging myself beneath the surface ever since I was a little kid. Fortunate enough to travel to numerous Caribbean Islands, Cozumel, and parts of California known for it's fabulous underwater life, I had already witnessed some of the greatest snorkel spots at such a young age.
Since then, I've snorkeled in more spots than I can remember, some of my favorites being Greece (Santorini, Mykonos, and Crete) and Hawaii. I taught my husband how to correctly use his mask and fins in the Dominican Republic, and held my friends' hand during her first time underwater in Belize. Holding a puffer fish in Cabo was a pretty neat experience I must say.
I even gave scuba diving a shot in Santorini, which I found rather difficult, but would love to try again someday. What can I say, I'll come back as a fish in my next life perhaps 🙂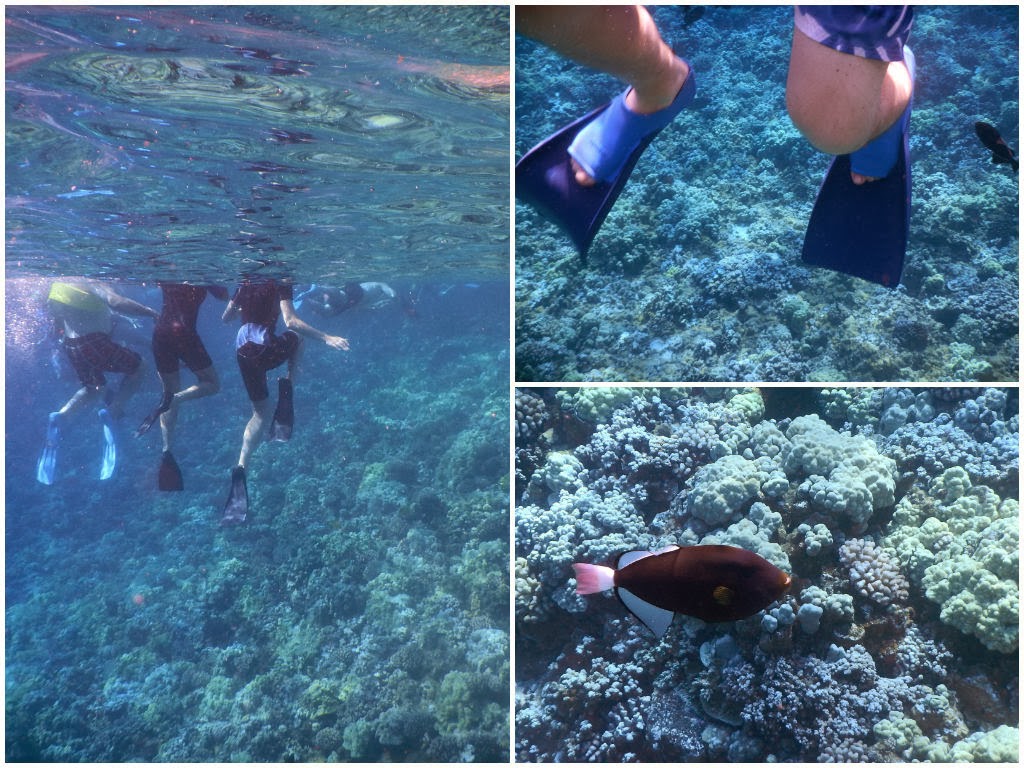 So it was quite obvious that we would be spending a great amount of time in Hawaii in the water with the fish!
The day came- I lathered on the sunscreen and tied my bathing suit tight. Took a few shadow photos (my new thing), and was officially ready for snorkeling in Hawaii.
Hot Tip: When booking a Molokini Crater snorkel tour, it's important to look at the approximate hotel pick up time. The water is at its calmest in the early morning, so book a tour that aims to get you into the water as soon as possible (with pick-ups between 6-7am). Come too late and the waters will be a bit choppy and you'll be snorkeling with hundreds of other tour-goers.
We were off in the middle of the ocean cruising gently to our first stop:
Molokini
A crescent-shaped partially submerged volcanic crater (from 230,000 years ago!!!) appeared in the distance, which I later learned offers spectacular visibility of up to 150 feet. No wonder all the guidebooks urge visitors to check it out!
As we were getting closer to the crater, I was getting giddy beyond belief. In just a few short minutes we would be in the water, my favorite of all places 🙂
With the possibility of seeing around 250 species of endemic fish and marine life, I had a super hard time focusing underwater; there was just SO much to see.
On this particular day, we saw:
pinktail durgons,
black triggerfish (tons of them!),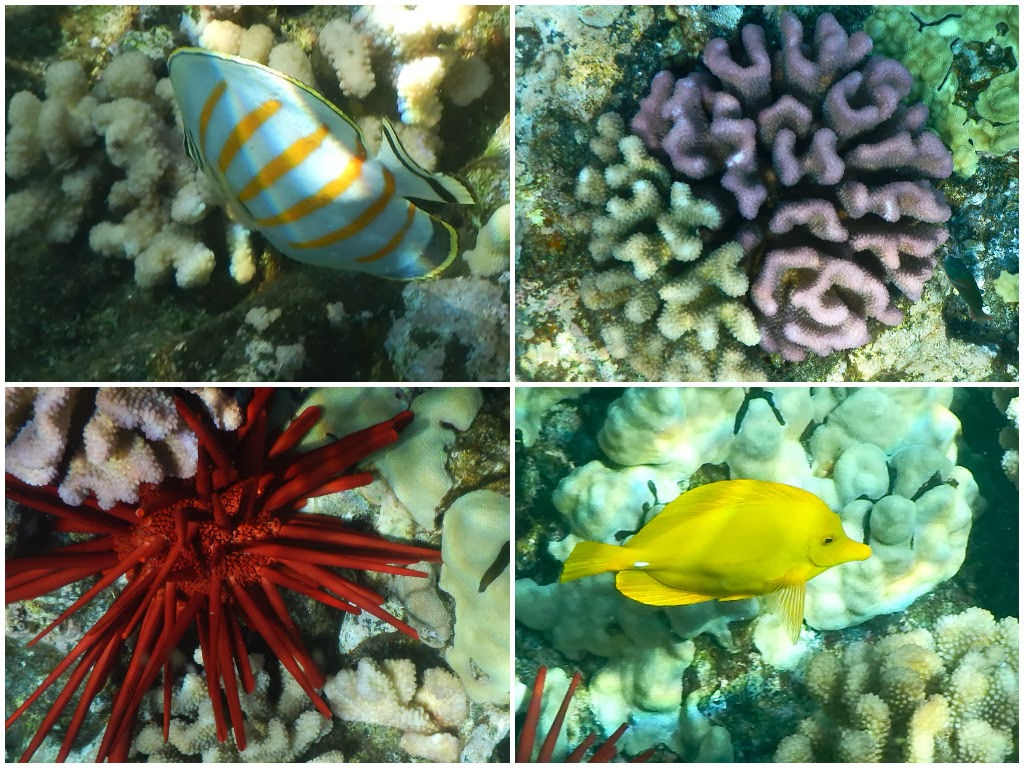 ornate butterfly fish, red pencil urchins, and yellow tangs,
trumpetfish,
4-spot butterfly fish and coronetfish,
…and a kaleidoscope of coral along the ocean's bottom.
Other common fish in this area include moorish idol, parrot fish, bluefin trevally, racoon butterfly fish, achilles tang, the picasso triggerfish (also known as the humuhumunukunukuāpuaʻa in Hawaiian – try saying that name correctly!), the reef triggerfish, and white spotted puffer. Morrey eels are rather common here as well, although difficult to spot since they spend their time hiding out in the reef and blend in quite nicely.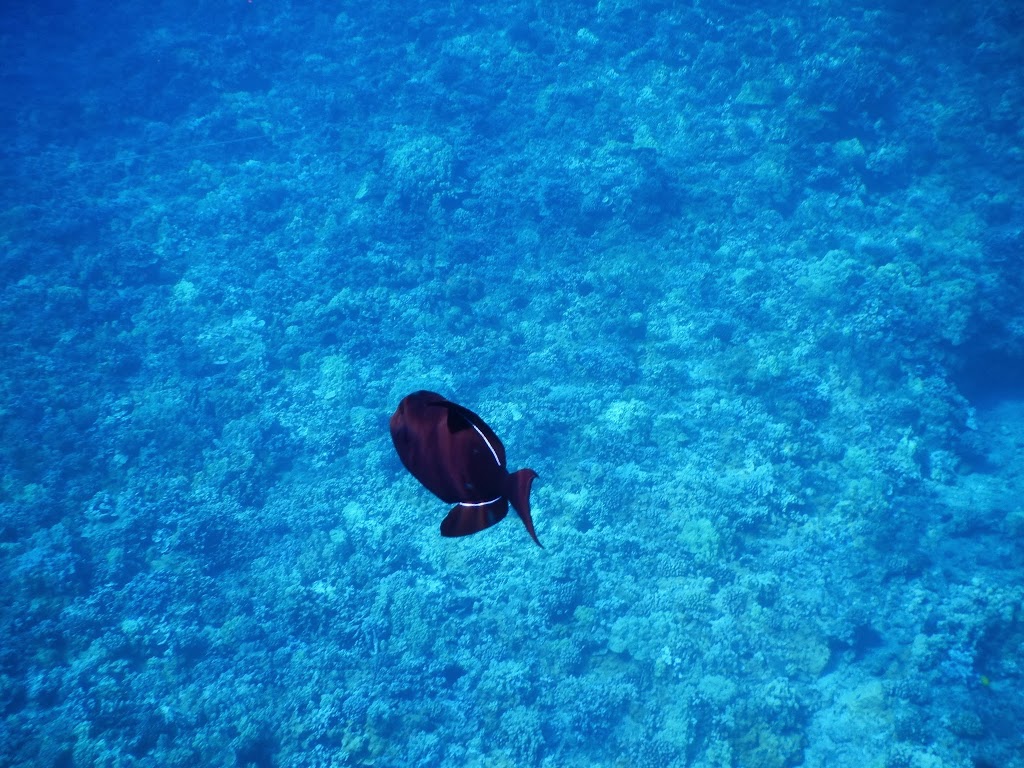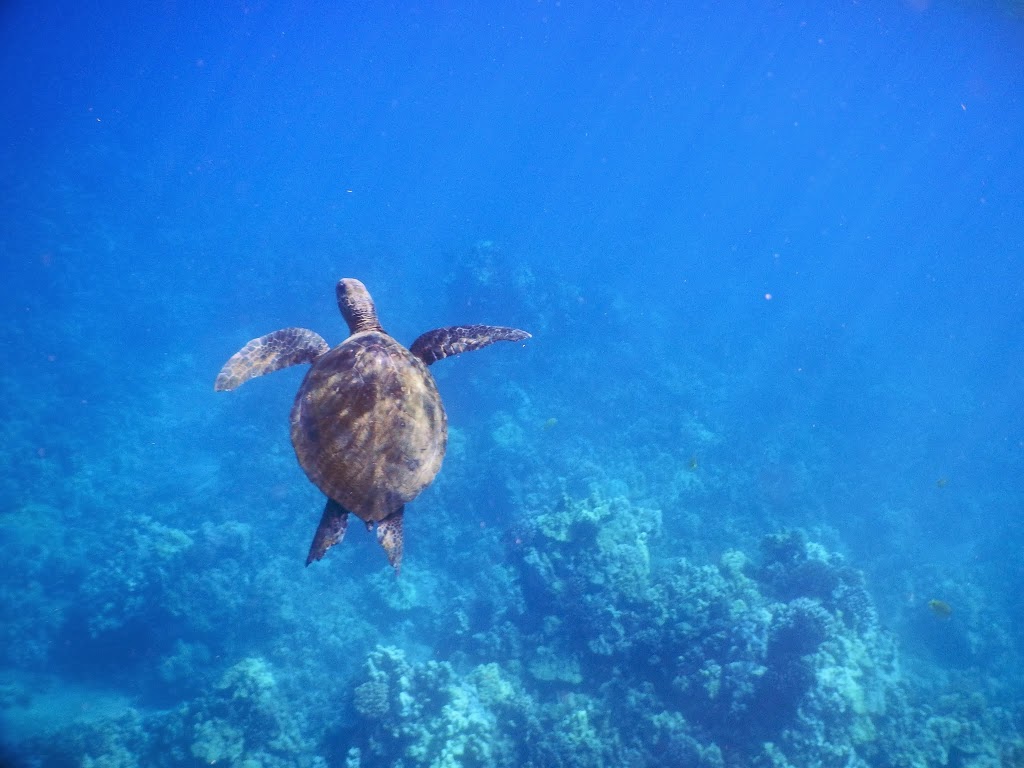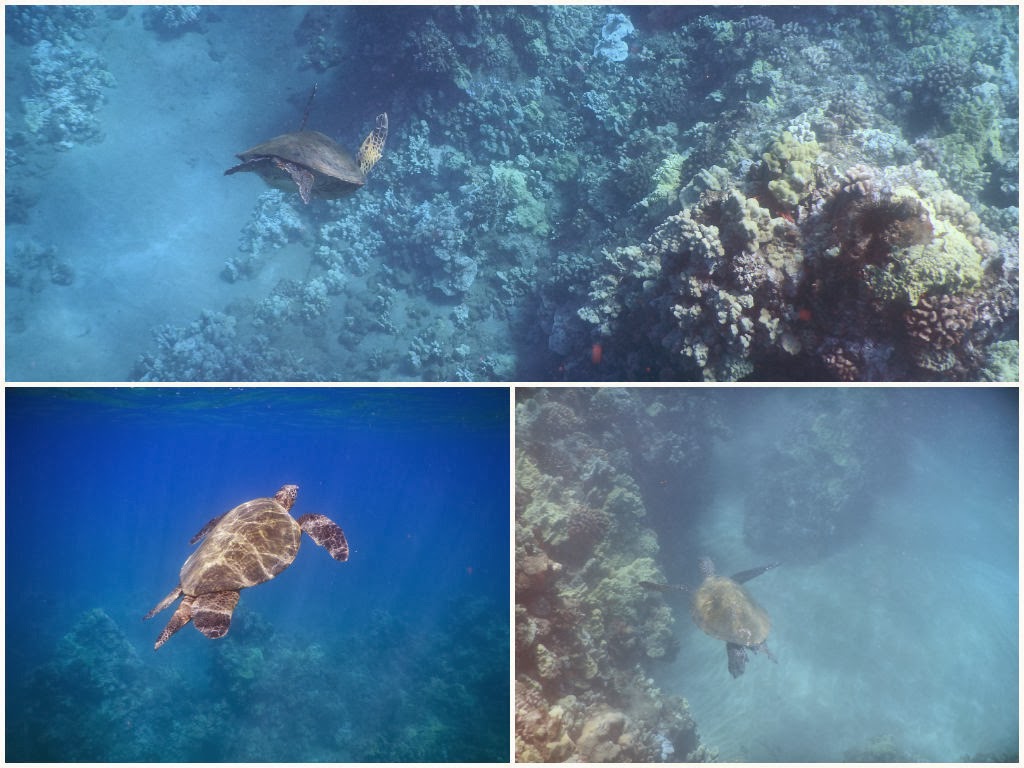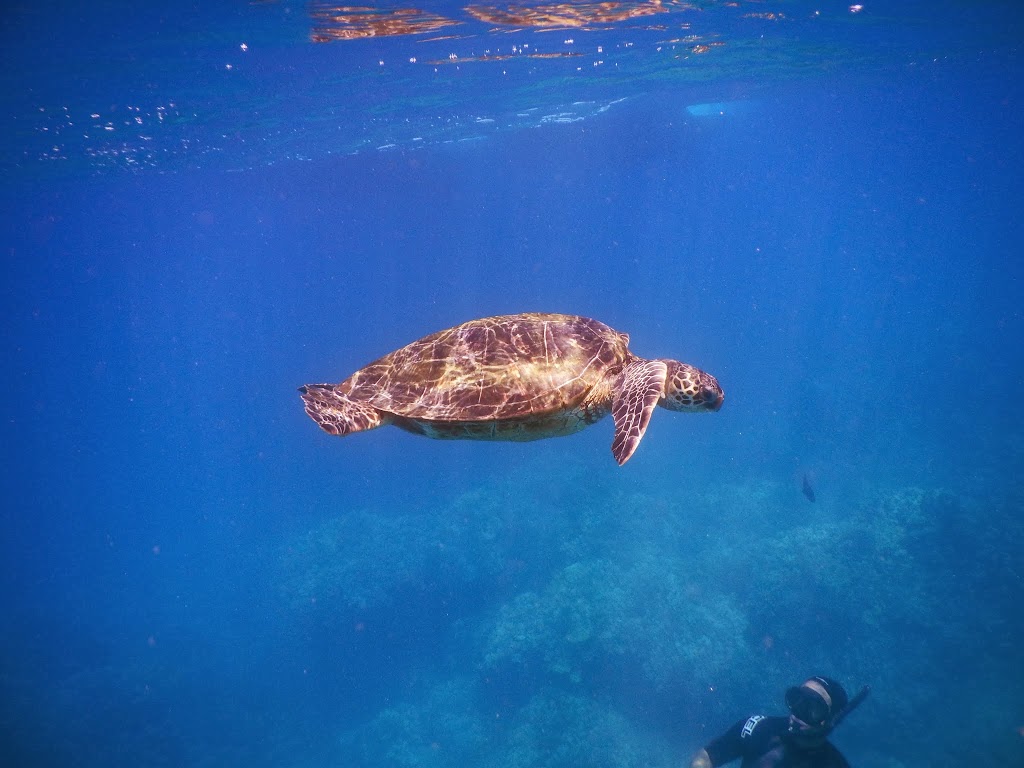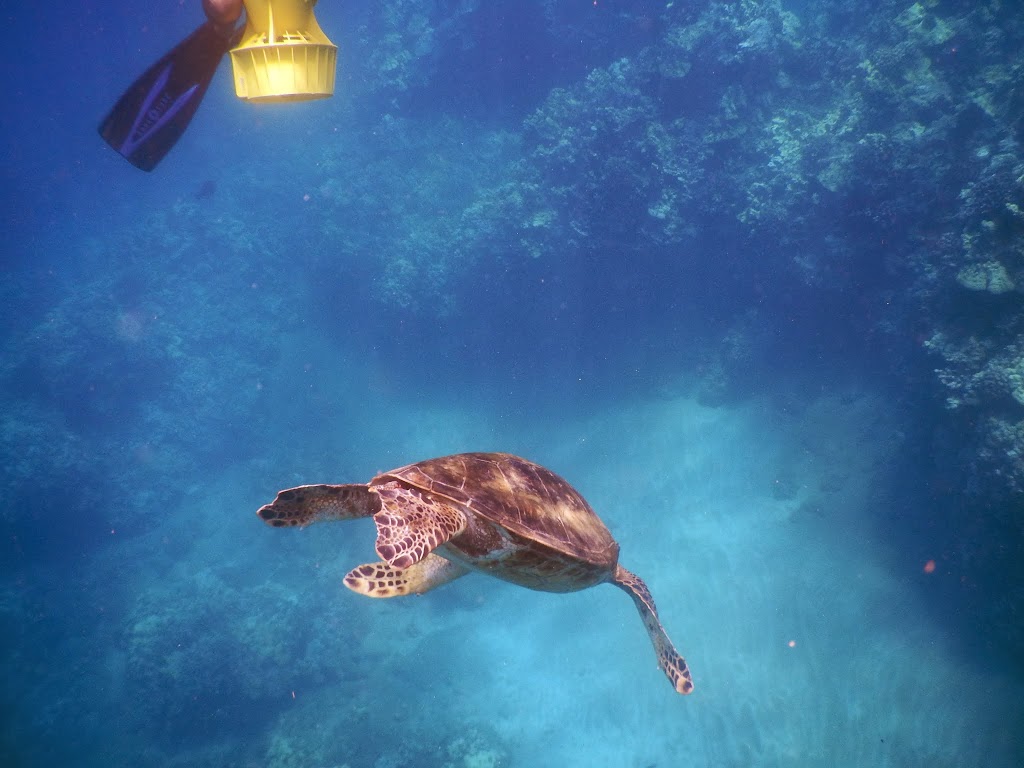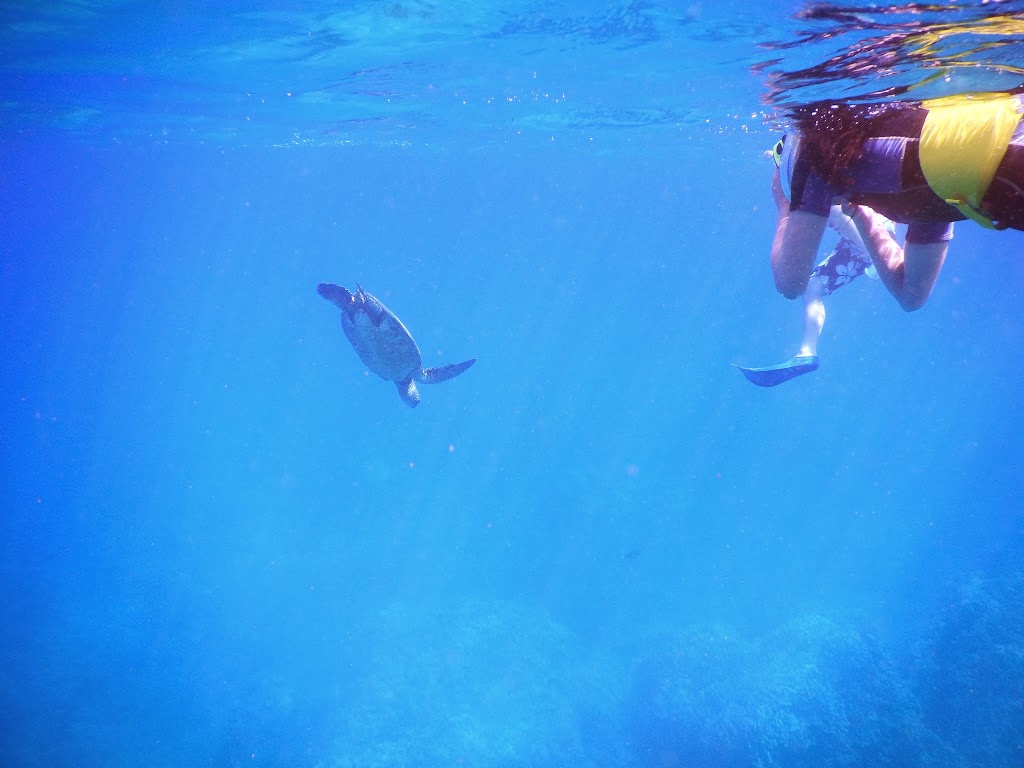 Unfortunately, we didn't see any manta rays or whitetip reef sharks, but since I plan on retiring on Maui (yes, I am only 26, but this will happen), I'm sure I'll be back in these waters in years to come.  Although I'm more than sure that I freaked out a bit when I encountered a shark at our next stop, Turtle Town.
Since tour boats visit the area pretty frequently, marine life has become comfortable with humans and are less skittish.  However, snapping photos of the underwater creatures still remain difficult for me since they are so fast!  It's definitely been a learning process!  (*Feel free to share any tips on underwater photography!)
Turtle Town
I had come to Hawaii hoping to spot some sea turtles, and this obviously sounded like the best place for it.  We had seen two turtles, (known as honu's in hawaii), off the shores of Maui earlier in the week.  However, the extremely shallow water made it difficult to actually swim with them – it was more like a "be close but make sure I don't step on them" interaction.  Thankfully turtle town exceeded my expectations, by far.  I was right- "Turtle Town" is the place for sightings of these graceful creatures.
However, I wasn't entirely shocked when I found out that Turtle Town is just a nickname for all the spots along the Makena or Wailea coast, due to common turtle sightings.  A real place with the original name of Turtle Town? It had to be too good to be true.  And it was.  But I did see turtles (quite a few)- so I guess the fake name shouldn't really matter 😉
It's literally crazy how incredibly close the sea turtles came near me.  In more instances than one, I had to swim away in fear that I would accidentally touch it's fin or shell (a huge no-no in Hawaii).  These "fly-by"'s left me breathless, instantly hoping to see more Honu's in my near future.  And I did.
Every time I was about to get out, another turtle swam right by me. I was literally the last one in the water, and the husband had to persuade me to come join everyone back on the boat. I could have stayed out there for hours watching the honu's, anxiously awaiting the arrival of another.
Some are disappointed and unsuccessful when on the lookout for turtles.  It's important to know that the turtles hide in caves or under big rocks, and sometimes just sit in the sand on the bottom.  Basically, they are not always visible at first, and you must wait patiently for them to come up for air (which they need to do since they don't breathe underwater).  Look all around you: below, in front, behind, etc… you never know when they will come up and surprise you.  Feast your eyes on the sea floor too much, and you may see a shark (which may be a good or bad thing depending on your anxiety levels…)
The graceful movements of these underwater giants still amaze me.

Our ride back to Maui was an enjoyable one, as we watched the ocean blues change color with the wind in our hair.  The snacks were plentiful with the beers and drinks overflowing.  We discovered Longboard Lager, which was deliciously on target.
Have you ever snorkeled before?! See anything out of the ordinary?
Share it in the comments below!