Looking for the best places to spend Christmas in California? I've scouted out 10 Christmas vacations in California with more holiday spirit than you could ever ask for!
Think life-size gingerbread houses, 83-foot tall Christmas trees, dancing sugar plums, and allllll the roasted chestnuts (and mulled wine) you could ever wish for. Oh, and a whole bunch of glimmering light displays with the most ornate decorations. Christmas in California sure is something else!
Growing up in NYC, a fresh powder of snow was almost guaranteed every December 25th. And after living in California for the past 7+ years, the holidays just aren't the same. Hence why I've scoped out the best places to celebrate Christmas in California!
AND GET THIS: I'm Jewish! But who doesn't love all the holiday cheer? I mean, everyone watches the Christmas Story on repeat for 3 weeks, right?!
I'm so lucky to have Candy Cane Lane (on the SF Bay Peninsula) in the next town over from me. We love sipping Christmas bevy's (peppermint hot cocoa, anyone?!), strolling hand in hand gawking at all the lights and Christmas decorations. It's one of our favorite dates of the year and we look forward to it every December!
Before we get into all the things to do in California for Christmas, lemme answer a few questions first!
Can I get a white Christmas in California?
Well, my friends, that's never guaranteed, but you can certainly do your best to plan for one!
If you're looking for snow in NorCal during your Christmas in California celebrations, I strongly urge you to head to Lake Tahoe, Mammoth Mountain, or Yosemite National Park. And if you're in SoCal, your only bet will be in Big Bear!
What's the weather like during Christmas in California?
Since California is a HUGE state (for real, it's larger than so many countries — including Japan and Italy), the weather drastically changes depending where you are.
Like, they'll be palm trees decked out in lights in some parts of the state while you'll wake up to a fresh blanket of snow in others for Christmas morning. The weather you'll find on your Christmas vacations in California is ridiculously varied and then some.
If you're looking for a Christmas filled with palm trees and mild weather, head on down to Southern California! Do note the coast is usually gloomy, but that'll probably just make it feel more like Christmas!
Northern California will undoubtedly be much chillier, and there's a MUCH greater chance of snow. Meaning, more possibilities for a white Christmas in California!
Pour a glass of mulled wine (or spiced cider) and start planning your next Christmas in California getaway! Get ready for the ultimate Holly, jolly Christmas in California! The outdoor skating rinks, Nutcracker dances, and roaring fires await!
I've compiled 10 California Christmas hotspots to ensure you play out all your candy cane-lickin', eggnog-sippin' dreams.
Now let's get to it! Don't be a scrooge!
Christmas in Northern California
1. Lake Tahoe
One of the best places to celebrate Christmas in California is in Lake Tahoe. Easily! The resorts come alive with more holiday spirit than you thought possible, and you may even see Santa hitting up the slopes!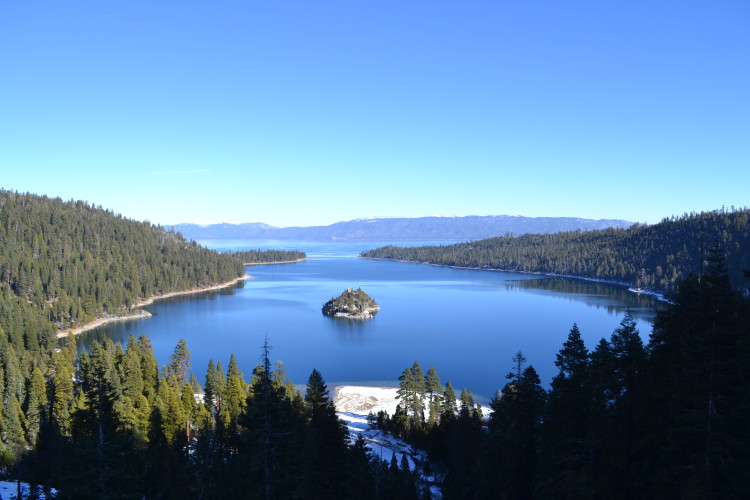 Whether you are spending your time driving around the lake or at one of the world-class Lake Tahoe ski resorts, you'll experience the Christmas magic with fairy lights, carols, and if you're lucky, a fresh sprinkling of snow. Winter wonderland snow globe, anyone?!
Make sure to check out each of the resort pages to see what specific holiday events they have running but you can expect the following:
Santa on the Slopes: The kids will love looking out for Santa on the slopes. Santa loves skiing and can be found on the mountain from the 19th to 25th in Squaw, Homewood, and Diamond Peak. If the kids are taking a day off, holiday face painting is in the village of Heavenly. Or be rewarded by dressing up as Santa yourself with discounted lift tickets and drinks in South Lake Tahoe.
Giant Christmas Trees: Check out the sparkling lights and holiday-themed decorations. If you're after a unique photo opportunity then both Squaw Valley and Heavenly Village are home to two of the largest wooden chairs for Santa to sit on. At 11 ½ feet high you'll feel just like an elf sitting up in front of the equally giant Christmas tree.
Ice Skating: Northstar has it's very own ice skating rink — a great day-date activity (for both couples and families with kids). Carols play over the speakers during December and when you've had enough you can head off the ice to watch the skaters with a warm glass of mulled wine. Afterwards, head back toward the lake to the Ritz Carlton for gingerbread house making.
Adult-Only Fun: Finally, for the adults, the Reno Jazz Orchestra plays some holiday favorites, join a Santa themed bar crawl (super fun to dress up), and enjoy holiday banquets and buffets at most of the big hotels.
Contributed by Erin from Curiously Erin
2. San Francisco
The Christmas season is a magical time in San Francisco, with the city becoming dressed up with festive lights and decorations. It's hard not to get into the Christmas spirit, with all sorts of holiday happenings all around town.
There are so many ways to celebrate the Christmas season in San Francisco, from tree lightings, outdoor ice skating rinks, holiday festivals, performances, and more! If you have 3 days in San Francisco, you can definitely make it to a whole bunch of fun Christmas-y spots!
Here are some of the best places to visit during Christmas in San Francisco:
Union Square: Union Square is sort of like the Holiday HQ of San Francisco, with tons of festive things to do and see. The festivities kick off here when the ice rink opens in early November, followed by the lighting of the 83-foot tall Christmas tree on Thanksgiving weekend.
In addition, Union Square is home to a giant Menorah, with a lighting ceremony taking place each night of Hanukkah. Also check out the Christmas wreaths in the windows of the Macy's location across the street (and go inside to check out the super adorable and adoptable dogs and cats in each window), and the beautiful Christmas tree inside Neiman Marcus!
Embarcadero Center: The Embarcadero Center also plays host to a number of holiday events. There is a second ice outdoor ice rink here; this one is larger, and boasts stunning views of the Bay Bridge and waterfront.
The four towering buildings of the Embarcadero Center are also dressed up in over 17,000 LED lights, one of the most iconic sights during a Christmas in California.
Fisherman's Wharf and Pier 39: Sure, locals scoff at both Fisherman's Wharf and Pier 39 for being way too touristy – but they are some of the best places to get into the holiday spirit!
Both Pier 39 and Ghirardelli Square are home to beautifully decorated Christmas trees. The one at Pier 39 is illuminated by a dazzling light show, which takes place every 30 minutes in the evenings.
In addition, an annual lighted boat parade takes place at Fisherman's Wharf. This is the oldest and largest lighted boat parade in the San Francisco Bay. Watch as boats adorned with festive lights parade from Pier 39, past Fisherman's Wharf, to Fort Mason, the St. Francis Yacht Club, and Crissy Field.
More Festive Happenings in San Francisco: Be sure to check out the life-sized, two-story gingerbread house at the Fairmont Hotel and have afternoon tea in front of the stunning Christmas trees at the luxurious Palace Hotel. Don't miss San Francisco Ballet's performance of the Nutcracker – the holiday classic was first performed in America in San Francisco!
Contributed by Caroline Ikeji of Pictures & Words
3. Nevada City
Looking for a traditional Victorian Christmas? Nevada City's your answer. It's old-fashioned. It's quaint. It's beautiful. And there's a whole lotta Christmas spirit over here. The aroma of roasted chestnuts fills the air. Lovers (and families!) trot down the street in horse-drawn carriages. It's the epitome of a Hallmark movie.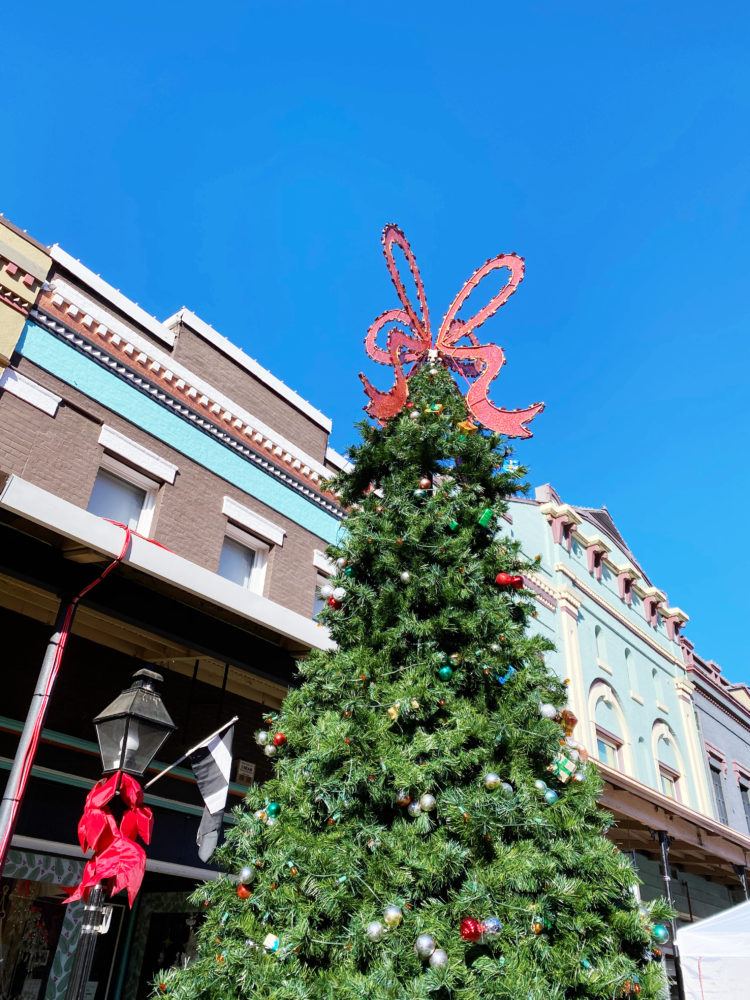 And that it was! You know there's lots of Christmas spirit when the Hallmark Channel selects Nevada City to film one of their holiday movies (2006's "The Christmas Card" – go add it to your Christmas movie list).
Nevada City is a picturesque town that is rich in gold rush history. Most of the buildings were built in the 1800s and the town is surrounded by tall, lush pine trees (which make the area smell absolutely amazing).
And plus, it's located about an hour from Sacramento, making it an easy day trip from the Capitol City.
The entire town turns into a Christmas miracle. Go and experience it for yourself!
Each Christmas, the main streets, Broad Street and Commercial, are transformed to a Victorian Christmas. There's a walking Christmas tree (yes, really), carolers in full costume, and great food to sample.
Promise me you won't miss the roasted chestnuts, giant turkey legs, Louisiana meat pies, and hot mulled wine. AND dress in costume – it's highly encouraged!
Looking for something unique or a handmade treasure? Find the retail stores open, along with many vendors with popup booths up and down the beautifully decorated streets.
The Cornish Christmas Festival in Grass Valley is just five miles away from Nevada City, so plan to head over there as well!
Some logistics to help plan your trip: The roads are closed to traffic. Parking can be a bit difficult, so a great option is to park at the Nevada County Government Center. Put this address into your GPS: 950 Maidu Avenue, Nevada City CA 95959. There are shuttles available for a small fee to get to the event, but the return trip is free. The shuttles are wheelchair accessible.
Contributed by Cynthia Graham of Blue Bag Nomads
4. Sacramento
What's the first thing you think of when you hear Sac? Probably not Christmas, but I'm here to change your mind!
Sacramento is a place surrounded by various recreational spots and tourist attractions (like the distant Santa Catalina Island and the nearby Eldorado Forest). The diversity of the city has earned it some interesting nicknames, includign Sactown, The Almond Capital of the World, and America's Most Diverse City.
Although you won't find yourself a white Christmas in Sacramento (the unique climate allows little snowfall), the season is still magical. AND there's a 58-foot tall Christmas tree.
If you are looking to spend this Christmas in Sacramento, be sure to check out these attractions in and around the city:
Christmas Lights Drive-Thru By The Bayside Church: Jump in the car, drive 25 minutes northwest of Sac, and turn up those favorite Christmas tunes. This annual Christmas light tour takes you down a mile of spectacular lights at the Bayside Church in Roseville, CA. I suggest taking along a fuzzy blanket to keep yourself nice and cozy! And better yet- it's absolutely FREE!
Holiday in the Hills By Sutter Street Theatre: Why not see a holiday performance and tuck a little history into the show as well?! Holiday in the Hills depicts the wintery season life of residents in the Gold Rush era during the 1880s, including miners and outlaws and more. There's lots of holiday songs, so feel free to sing along!
The Annual ChristKindlMarkt: This annual market is fashioned after the German Christmas markets! There's a Nurnberg sausage dinner, Gluhwein, and traditional German baked Christmas treats (like Lebkuchen and Magenbrot). If you're lucky, you might even catch the daily appearance of Santa Claus and the German Christkind. And better yet – the market benefits local charities!
Theatre of Lights in Old Sacramento: Imagine 100,000 lights twinkling on the rooftops, complete with falling snowflakes and performers acting out 'Twas the Night Before Christmas'. Yes, it's just as remarkable as it sounds. Jack Frost and Father Christmas may even make an appearance!
There are tons of other events to enjoy like The Christmas Carol novella, The Santa Parade, and the Sacramento Zoo Holiday. Christmas in Sacramento is as diverse and colorful as the city, making it the perfect place to spend the holidays.
Contributed By Chisom Evare of Awesome Traveler
Christmas in Southern California
5. Los Angeles
Known for its sunny weather, Los Angeles is a unique destination for celebrating Christmas. You definitely won't find a white Christmas over here, but that doesn't mean the holiday spirit isn't alive and kicking!
Whether you're trying to escape the snow, or want to experience all the incredible things to do in Los Angeles, be sure to check out the special holiday events happening throughout the city.
Whatever you do, don't leave the area without catching at least one of the spectacular light displays — they really are on a whole other level. Catch the Christmas light displays at various gardens and even special neighborhoods!
Los Angeles Zoo Lights is a beautiful, nighttime light display where the highlight is a 90-foot long light tunnel that's the perfect photoshoot spot! The music and ambiance will raise your holiday spirits. Reservations are recommended and admission costs $11-22, depending on the crowd level.
Los Angeles Arboretum in Arcadia has a Moonlight Forest Magical Lantern Festival, filled with wildlife creature lights and even more light tunnels! Tickets cost $28 per person on weekends or $25 on weekdays.
The Descanso Gardens in La Cañada has another beautiful light display focused on the plantlife, rather than animals. The existing plants and trees in the garden are lit up with magical lights and some are "planted" like a tulip field. Timed-entry tickets are required.
Upper Hastings Ranch in Pasadena is a residential neighborhood, where families display extravagant Christmas lights on their homes. Each street has a theme, so it makes for a fun, free Christmas activity. Drive around to enjoy the displays.
Another nighttime holiday drive brings you to Christmas Tree Lane in Altadena located on Santa Rosa Avenue. Large deodar trees line the street and are lit up to look like giant Christmas trees during the holidays. Sometimes you'll even find local food trucks serving hot chocolate! My favorite!
Contributed by Alanna Koritzke from Periodic Adventures
6. Newport Beach
Christmas in California without the snow?! While you won't find any of that in Newport Beach, you'll still get a white (SANDY) Christmas! ?
Perfect for those looking to escape the snow, Newport Beach is practically exploding with festive things to do, see, and experience come December!
Here are four Christmas activities in Newport Beach that simply can't be missed:
Check Out a Tree Lighting Ceremony: There are several tree lighting ceremonies each year in Newport Beach during the weeks immediately following Thanksgiving. Fashion Island, Newport Dunes, Balboa Bay Club, and Balboa Island are some of the best displays around!
Stroll Through Balboa Island on Foot: Balboa Island homes light up with some of the most elaborately festive decor every year in December. Stroll around the neighborhood, sip some hot cocoa or spiced cider, and take in the magical scenery as the area lights up around you.
Experience the Nights of 1000 Lights: Throughout the month of December, Sherman Library & Gardens goes all out with glimmering lights and ornate decorations. People are invited to come and enjoy the decor, free photos, hot cocoa, s'mores, and more.
Go See the Newport Beach Boat Parade: It'd be wrong to mention Newport Beach here without talking about the Boat Parade. I mean, it has been a part of Newport's culture for over a century! But you won't be alone: thousands flock to Newport Harbor to watch lavish yachts and quirky boats get all decked out in one of the most unique holiday processions you'll ever see.
You can walk along the harbor or Balboa Island and view the parade for free. You can also make a reservation at Rusty Pelican or Newport Landing Restaurant for front-row seats. But, the best way to experience the parade is by being part of it, and you can do that by booking a short harbor cruise.
Contributed by Rachel-Jean Firchau from RachelOffDuty.com
7. Solvang
The perfect place to head for a Christmas-time getaway is the replica Danish town of Solvang, located conveniently off Highway 101 midway between Los Angeles and San Francisco.
During the rest of the year, this town's charming authentic Danish architecture, complete with thatched roofs and windmills, makes it an equally attractive getaway. But these special seasonal enticements make it an especially fun December destination.
The shopping is stellar. Gift items and goodies galore are displayed in hundreds of festively decorated specialty shops–think old-time wall clocks and hand-made chocolates. Yum!
The annual December Julefest is oodles of fun. A Tree-Lighting Ceremony occurs in the town park with live entertainment, caroling, and the arrival of Santa Claus. For the Julefest Parade hundreds of participants march, trot, and stroll along streets decorated for the season. Additionally, an elaborate family-friendly Solvang Nativity Pageant is presented on stage with music and live animals.
Mischievous elf-like Danish figures known as Jule Nisse await being found and turned in for a prize. Children especially enjoy searching for them while exploring the town.
Seasonal food treats abound in the town's many bakeries. Don't miss Morton's popular pretzel-shaped Danish Kringle coffee cake filled with custard, marzipan (sweet almond paste), and raisins.
Sampling Danish specialties in Solvang's restaurants is enjoyable at any time of year– aebleskivers anyone?–as is having a cuppa and some cookies and pastries at one of those thriving bakeries. Don't miss a ride on the Honen–a replica 1800s Danish streetcar pulled by two blond Belgian draft horses.
Contributed by Carole Terwilliger Meyers from Travels with Carole
8. Disneyland
Disneyland is one of the most popular attractions in SoCal, and by far one of the best places to celebrate Christmas in California!
The park gets a full makeover, bringing even more magic to its visitors (if that's even possible)! There's festive wreaths hanging from light poles and holiday music ringing throughout the lands. And oh so much holiday food!
One of my favorite aspects of Disneyland during the holidays is the fact that they're all inclusive. Not only Christmas is celebrated during their holiday celebration, they also have activities and entertainment celebrating Hanukkah and Kwanzaa! Editor's Note: Makes my Jewish heart happy!
If you're planning a trip to Disneyland at Christmas, be sure you don't miss these special holiday activities:
Take a ride on the special holiday-themed attractions of 'It's A Small World', 'Haunted Mansion Holiday', and the three rides in Cars Land. So much Christmas spirit!
Delight in all the special holiday-themed foods that are found throughout the park. Each restaurant has unique dishes that are only available during the holiday season. Don't miss:

Candy Cane Beignets and Thanks-Mas Sandwich

special holiday churros available at specific churro carts around the two theme parks
At California Adventure, visit the Festival of the Holiday booths to sample holiday festival food and drinks, including some amazing cocktails and craft beers.
Disneyland entertainment is always superb and during the holidays it doesn't disappoint. Watch your favorite Disney characters parade down Main Street in their holiday attire during the Christmas Fantasy Parade and end your night with snow at the Believe…in Holiday Magic Fireworks show. You'll also find other holiday entertainment concerts and dance performances throughout the parks.
And plus, if you're planning to stay at one of the three Disneyland hotels, you'll also find holiday décor throughout the lobbies. The Grand Californian is especially popular because of its massive Christmas tree and giant gingerbread house.
There are plenty of great places to celebrate Christmas in California, and Disneyland at Christmastime is definitely a highlight!
Contributed by Kim Tate of StuffedSuitcase.com
9. San Diego
San Diego is probably not the most typical California Christmas destination, yet there are a lot of things to do in San Diego for Christmas. It is the perfect winter destination, especially if you are looking to escape the cold and maybe even spend some time on the beach.
December temperatures in San Diego are usually in the mid 50s to low 60s and sunny, but they are also known to reach the mid 70s – the perfect temperature to go out and explore.
Surfin Santa: This is a great San Diego Christmas tradition. Each December, Santa comes to San Diego, not in a sleigh, but on a surf board. It doesn't get more SoCal than that.
San Diego Bay Parade of Lights: On two Sundays in December, proud boat-owners decorate their boats and participate in a floating Christmas parade along the San Diego Bay all the way to Coronado.
December Nights in Balboa Park: This is San Diego's Christmas Market, with booths selling food, Glühwein and other treats. And of course all the buildings and gardens in Balboa Park are decorated beautifully for the festive season.
Ice Skating on the Beach: The Hotel Del Coronado sets up an ice skating rink right on the beach in Coronado. If you ever wanted to go ice skating under palm trees overlooking the ocean, this is the spot to be.
Dr Seuss: Fun Fact: Theodore Seuss Geisel aka Dr. Seuss lived most of his life in San Diego (!!!). The Old Globe in Balboa Park – a replica of the Globe Theatre in London – puts Dr. Seuss' How the Grinch Stole Christmas!' on its schedule every year.
Contributed by Maria from SanDiegoExplorer
10. Big Bear Lake
Dreaming of a white Christmas?! Get your fleece-covered butt over to Big Bear! This resort town in the heart of the San Bernardino Mountains almost guarantees snow, but even if it's not fresh, you can still fulfill all your snowflake dreams at the sno-parks.
Besides all the typical winter sports (think skiing and snowboarding and sledding and snowshoeing and such), the whole town comes alive with Christmas spirit. Think log cabins, Santa on the mountain summit (for all you skiing enthusiasts), and an entire Christmas-themed village!
And plus, those snow-covered mountains will surely take anyone's breath away.
Since Big Bear is only 100 miles from LA, you can double the fun and spend Christmas in California in two destinations! One warm and sunny, the other frozen and snowy!
Here's some ways to join in on the Christmas spirit at Big Bear:
Christmas in the Village: Take a long stroll through The Village and enjoy all the twinkling lights! Santa will make his grand entrance (on the traditional Big Bear sleigh – a fire engine!) and the tree will be lit! There's fire pits, candy, and holiday classics, too!
Santas Hayride to the North Pole: Bear Valley Farms undergoes a complete transformation come December. This sparkling winter wonderland showcases tons of Christmas lights, elves, angels, hot cocoa, and more.
Wake up in a Cozy Cabin: Nothing says winter wonderland more than getting all curled up by a crackling fireplace with a mug of spiced cider or hot chocolate. Just don't forget to overload on the marshmallows! And if you're lucky, you'll find a cabin complete with an outdoor hot tub – extra magical if it's snowing!
So there ya have it, 10 spots to celebrate Christmas in California! Where are you headed this year for the holidays?! Any favorite Christmas movies?
Looking for more California content? Explore my other California guides here!
Did you know that …
When you purchase something through our links, we earn a small fee (but you still pay the same)! Win-win! If you found this article useful, consider using the links within the article or below. Thanks for your support!