Headed to Taiwan and looking to spend a few days outta the busy city?! Well keep on reading my adventurous friend, because I've rounded up the best day trips from Taipei. After reading this article, you'll wanna add a few extra days to your Taipei itinerary, I can promise you that!
You might think Taipei has everything you could possibly want – there's food (think pineapple cake and xiao long bao, yum), culture, and plenty of scenic views (don't miss a hike up Elephant Mountain), but there's actually a lot more outside the capital city of Taiwan. Although Taipei is a great starting point and makes a fantastic base for your trip when visiting Taiwan, you'd be missing out on a whole lot of the country if you spend your entire time here!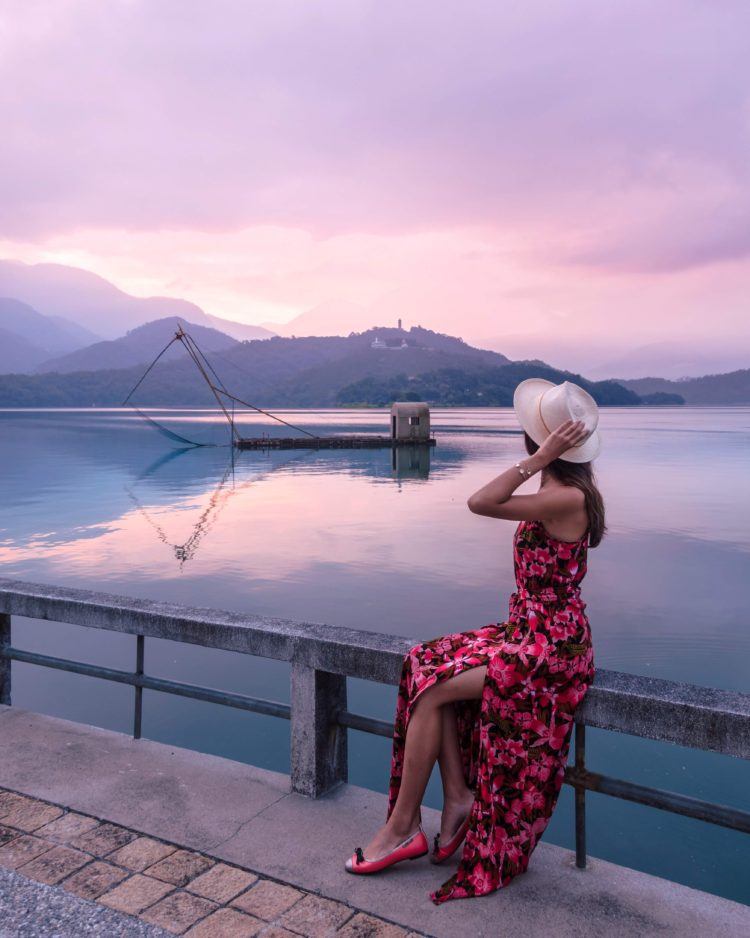 Fortunately, there are a number of amazing day trips from Taipei, and being only a couple hours outside of the city, you'd be silly not to check them out. From eating your way through the best Taiwanese street food in Keelung to surfing on a black sand beach in Yilan (you heard me right!), to discovering some of the best hikes in Yangmingshan and exploring the history and culture of Taiwan's oldest city, Tainan, there's a lot to offer and something for everyone on these Taipei day trips.
You might even feel like you've been transported to another country entirely after putting some of these trips on your itinerary. The hardest part will be deciding which ones to take if you're short on time! The good news is, you really can't go wrong with any of these, and I can personally vouch that all of them are worth a visit.
Psst: this is a guest post by Melissa over at Wit and Folly! She's actually lived in Taiwan (and took plenty of day trips from Taipei over the course of her stay), so is waaaay more qualified to write this post than I am! And lucky us – she's just as wordy as I always seem to be, so there's tons of valuable info in here for us (I'll surely be using her tips next time I visit the country!).
And now, without further ado – the very best day trips from Taipei, best explored on your own or on a guided tour if you prefer to let someone else cover logistics and transportation (more details below).
Before we get into the specific Taipei day trips, it's important to note that many of these day trips from Taipei can be arranged via private driver! This takes away the hassle of figuring out the possible stresses of the day, and lets you fully enjoy the experience instead. On this private charter, you can decide on 5 scenic spots near Taipei to visit – transportation and logistics taken care of! 
Best Day Trips from Taipei (as suggested by a local):
1. BEITOU HOT SPRINGS
Distance from Taipei Main Station: 8 miles / 13km
Travel Time Using Taipei MRT: 40 minutes
How to get there: Take the Red MRT Line from any station in Taipei and ride to Beitou Station. Transfer at Beitou Station for the Pink MRT Line one stop and get off at Xinbeitou Station. Follow signs for Beitou Hot Springs. Or just sign up for this tour and get whisked away to the hot springs in no time.
Activities you can't miss: Soaking in one of the many hot springs available here, checking out Thermal Valley, and learning more about the Taiwanese hot spring culture with a visit to Beitou Hot Springs Museum
Did you know that one of the quintessential pastimes of Taiwanese locals is spending the afternoon soaking in hot springs? I always make it a point to head straight to Beitou after landing in Taipei to relax and unwind after the long plane journey, and I highly recommend it to you as well!
Beitou Hot Springs can be conveniently visited by taking the red line on the MRT to Beitou Station, and then transferring one stop to XinBeitou Station on the pink line. Although only less than an hour from Taipei Main Station, the Beitou Hot Springs area will feel as if you've stumbled upon a quaint, mountainous resort town that's entirely secluded from the rest of the city. Besides spending a day soaking in the hot springs, there's actually a lot of other great attractions here too.
One of the most famous attractions and landmark sights in Beitou Hot Springs is the Thermal Valley (also known as Hell Valley). As its name suggests, this volcanic crater is filled with boiling hot, sulfuric hot spring water that smells a bit like rotten eggs. And fun fact – back in the day, locals would actually come here to boil eggs to eat for breakfast! Although that's no longer allowed due to safety reasons, it's still a cool place to see and learn more about the hot spring culture in the area.
Another great stop to learn more about the history of the hot springs is at the Beitou Hot Springs Museum. The museum, which is free to visit, was actually the first original public hot spring bath in Beitou. It's quite fascinating to walk through the museum and imagine what it might have been like to bathe in the hot springs here back in the day!
When you visit Beitou Hot Springs, you might be overwhelmed by the number of hot spring bath choices available, which range from the super cheap public baths that all the locals love, to the luxurious 5 star resorts when you really want to treat yo'self. For more details on the different types of hot springs available and in depth information on visiting Beitou Hot Springs in general, then check out the article here for more information on things to do in Beitou and the best hot springs to visit!
2. TAMSUI
Distance from Taipei Main Station: 13 miles / 21 km
Travel time using Taipei MRT: About 40 minutes
How to get there: Take the Red MRT Line from any station in Taipei and ride it all the way to the end – depart at Tamsui stop
Activities You Can't Miss: Head to Fort San Domingo, take a ferry ride across the Tamsui River, & watch the sunset while snacking on seafood at Tamsui Fisherman's Wharf by Lovers Bridge. Later, stuff your belly and try to win yourself a stuffed Pikachu at the Tamsui Night Market.
Special Foods to Try: To experience Tamsui like a true local, try Ah Gei (fried tofu stuffed with green bean noodles), fish balls, and iron eggs.
What's better than a night market full of delicious food, fun carnival games, and the chance to eat a bowl of fishball soup while watching a beautiful sunset? There's really nothing that tops it (and trust me when I say fish ball soup is way better than it sounds)!
Tamsui is one of the most popular and easiest day trips you can make from the center of Taipei. All you have to do to get to this relaxing riverside city is to hop on the Red MRT Line from any location in the city and ride it until the end. It's about a 40 minute ride from Taipei Main Station and just under an hour if you start your trip from Taipei 101.
Begin your trip with a little bit of history at Fort San Domingo. The original fort was built by the Spanish in 1628 when they occupied Northern Taiwan, but the red stone fort that you see now was actually built by the Dutch in 1744 after they won a war against the Spanish.
Next up, take a short ferry ride (round trip ferry ride is only TWD 45 or about $1.50 USD) across Tamsui River to Bali Old Street, where you can explore the local shops and have some appetizers before the real feasting begins at night! You can also rent a bike and take a leisurely ride along the many bike paths on this side of the river.
Right before dusk, head back to Tamsui Fisherman's Wharf to watch one of the most beautiful sunsets you can find around Taipei before ending your day at the epic Tamsui Night Market! Try your hand at some of the carnival games while snacking on some local cuisine. Even if it doesn't look the most appetizing, you really have to try the fish ball soup and Ah Gei (fried tofu stuffed with green bean noodles) at the night market. My boyfriend's family in Taiwan swears by this stuff, and it's what Tamsui is known for!
3. JIUFEN (JIOUFEN)
Distance from Taipei Main Station: 24 miles / 38km
Travel Time Using Taipei MRT: 1.5 hours
How to get there: Take the MRT Blue line to Zhongxiao Fuxing Station Exit 1, then take bus 1062 to Jiufen Old Street Station. This guided tour of Jiufen and the northeastern coast is the pefect day.
Activities You Can't Miss: Seeing all the lanterns light up Jiufen Old Street and getting tea at the famous A-Mei Teahouse.
Special Foods to Try: EVERYTHING. But seriously, Jiufen is known for its distinct Taiwanese snacks, so try as much as your stomach can handle! My favorites are the Coffee Nougat Cookies, A-zhu Peanut Ice Cream Rolls, and Taro Ball Soup!
One of the most popular day trips from Taipei will take you back into a nostalgic past of narrow little alleyways lined with stalls and old traditional teahouses. If you're a fan of Miyazaki films like me, or you just love trying new and delicious foods (NOM), then you'll understand what makes Jiufen such a popular destination to visit.
Jiufen used to be a prosperous gold mining town set in the Northeast mountains of Taiwan, and its maze of tiny alleyways packed with teahouses and glowing red lanterns literally transports you into Miyazaki's world of Spirited Away. (Although Mr.Miyazaki himself has denied that his movie was inspired by the town of Jiufen… the red lantern-lined streets and old multi-story teahouse, especially at night, look eerily similar to the ghost village of Spirited Away! You'll have to see for yourself when you get to Jiufen, of course, but I think the similarities are way more than coincidence).
It can get quite crowded during the day (like, imagine standing elbow to elbow with many strangers on the narrow streets), but come back out at night, and you'll really feel like you're caught between the line of realism and fantasy. Most of the stores and food stalls close at 7pm, so that's when the tour buses and tourists head back. While strolling through the narrow lanes after dusk, I could almost imagine No Name peeking behind one of the corners.
Although Jiufen is quite a small town, it's one of those places where you could end up spending hours just wandering around and exploring every little alleway. The number of food stalls is astounding, and as Jiufen is known for some of the best and most unique Taiwanese snacks, come with an empty stomach and an open mind!
I'd also recommend getting afternoon tea at one of the many teahouses. A-Mei Teahouse, a picturesque multi-story building that looks like it came straight out of Spirited Away, is undeniably the most popular spot. With a prime location just off the main Jiufen Old Street and perched atop a hill, it offers beautiful sweeping views of the mountains and ocean along the horizon. If you'd rather drink your tea in peace without the crowds though, there are many other options around. But if you just have to live out your Spirited Away dream (no judgment here, I totally did), then I'd recommend booking in advance via A-Mei Teahouse Fast Track.
Other good options on your Jiufen day trip include learning more about Jiufen's history as an old mining town with a visit to the Jiufen Gold Ore Museum, or if you're more into nature, then take a hike up Keelung Mountain for stunning panoramic views of the city below.
4. KEELUNG NIGHT MARKET
Distance from Taipei Main Station: 16 miles / 26km 
Travel time by bus: about 50 minutes 
How to get there: the easiest way is by the Kuo-Kuang Coach bus from Taipei Main Station and is TWD 55 ($1.80 USD) one way. Once you're at Taipei Main Station, take exit 3 and follow the signs for Taipei Bus Station.
Activities You Can't Miss: the Keelung Night Market
Special Foods to Try: My favorites here are the stewed pork knuckle with shrimp chowder and the pao-pao ice!
Not far from Jiufen is the port city of Keelung, known for the Keelung Miaokou Night market. This night market is considered by many Taiwanese to be the best one on the entire island, and for a society that is obsessed with night markets, that definitely means something!
The Keelung Night Market is so famous and highly regarded because of the care that each vendor takes with preparing their food. Most of them have worked at the same stall for many generations which allows them to perfect their recipes over and over again. Just think about it like eating a home cooked meal from Grandma!
The best part is that like any night market in Taiwan, the food here is incredibly cheap, so you can try as many dishes as you want! Some of the most popular dishes include:
Stall #5: Crab thick soup with a side of sticky rice
Stall #6: Rice noodle soup with seafood side dishes
Stall #8: Stir fried swordfish rice
Stall #22: Stewed pork knuckle with shrimp chowder
Stall #41: Chenji pao-pao ice
(Here is the full list in case you want to look at the other places too)
Even though the night market is the main attraction, there are still a lot of things to do in the area. If you make an entire day out of your visit, it's also worth checking out Keelung Zhenbin Fishing Port for its colorful buildings and the scenic oceanside Chaojing Park.
Many people like to visit Keelung Night Market for dinner after exploring Jiufen. Since transportation is a little trickier, especially with how busy Jiufen can get, I recommend joining a tour.
5. SHIFEN and PINGXI
Distance from Taipei Main Station: 22 miles / 35km
Travel time by bus: 1.5 hours
How to get there by train: Take the 4154 towards Su Ao and transfer at Badu Station for the 4710 towards Jingtong. Get off at Shifen Station. From Shifen Station to Pingxi Station, take the same 4710 towards Jingtong and alight at Pingxi Station.
Activities You Can't Miss: Shifen Waterfall – one of the most scenic waterfalls in Taiwan, and lighting up paper lanterns in Pingxi to release into the sky
Special Foods to Try: LiouGe BBQ Stuffed Wings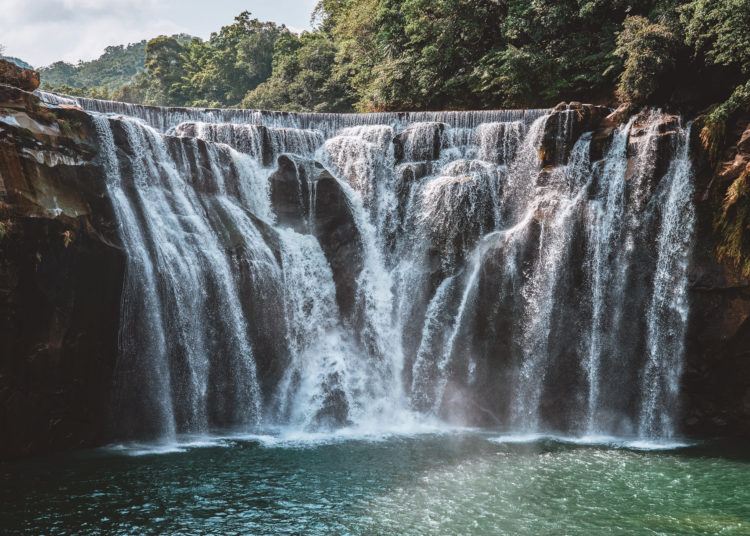 Like Jiufen, Shifen is another small mining town and a great day trip from Taipei with old world charm and the added bonus of a beautiful waterfall only 20 minutes away by foot. The railway line from the train you take actually runs right through Shifen Old Street with little shops on both sides of the tracks, giving the town an even more enclosed and intimate feel.
It's quite an interesting feeling being able to run across the tracks right in the middle of town. You'll find numerous stalls selling souvenirs, crafts, and of course, food. If you're feeling hungry, definitely try LiouGe's BBQ Stuffed Wings, which are tender, deboned chicken wings stuffed with rice, and slathered with a delicious homemade bbq sauce. (I'm salivating right now just thinking of them!)
Once you've explored enough of Shifen Old Street, head over to Shifen Waterfall, which is a 20 minute walk from the train station. With the lush foliage all around, the cascading falls are truly a picturesque sight to behold. There are also several viewing platforms all around the falls for you to capture plenty of stunning photos.
You'll also notice that there are many shops selling sky lanterns in Shifen with people writing personal messages on the lanterns' sides and taking them to the tracks to release them into the sky. Although you can light and release lanterns here in Shifen, I recommend getting back on the train and stopping at Pingxi just 10 minutes away, where it's often less crowded to set your sky lantern into the air.
If you're lucky enough to be here around Chinese New Year, then you'll be in for a real treat when massive crowds of people gather together in Pingxi to release their lanterns simultaneously in celebration of the new year. This Sky Lantern Festival is truly a magical sight to behold, with thousands of lanterns lighting up the night sky, all inscribed with personal messages and prayers in hopes that their wishes will reach the heavens. What better way to end your evening?
6. SANDIAOLING WATERFALL TRAIL
Distance from Taipei Main Station: 25 miles / 40 km
Travel time by train: about 1 hour
How to get there: the easiest way is to take the local train from Taipei Main Station to Suao (Yilan County) and get off at Sandiaoling Station. Once you are at Taipei Main Station, follow the signs to TRA ticketing to buy local train tickets. The staff are all very friendly so you can just tell them where you want to go. Keep in mind there is 1 train that leaves every hour.
Activities You Can't Miss: bird watching for the Formosan Blue Magpie and the views of Motian and Pipa-Dong Falls from up close.
This is my favorite day trip hike to go on, and I try to do it every time I'm in Taipei. Just a short train ride from Taipei, you will be transported to a sleepy town with a lush tree canopy, little to no tourists, and a chance to see the beautiful Formosan Blue Magpie (the bird of Taiwan) flying gracefully. You'll also see three beautiful waterfalls on the hike, making it well worth the effort!
The hike itself is a combination of stairs, hiking trails, and a couple of steep climbing sections (don't worry, there are ropes on the side to hold onto!). Most people should be able to complete it without any difficulty, and if you are afraid of heights or don't want to keep climbing up, you can always turn around. It can get pretty muddy, though, so make sure to wear a good quality pair of hiking shoes or at least shoes you don't care about.
The three waterfalls you will see on the hike are Hegu Falls, Motian Falls, and Pipa-Dong Falls. If it's hot out and you want to cool off, you can actually get very close to Motian and Pipa-Dong Falls. Just be careful, though! The first time that I went here with my friends, one of them accidently slipped on a rock and fell into the water! It was November, so he was pretty cold the rest of the trip.
Shifen and Pingxi are just a few train stops away, so you can stop by before heading back to Taipei if you have time.
7. HOUTONG CAT VILLAGE
Distance from Taipei Main Station: 24 miles / 39km
Travel Time Using Taipei MRT: about 50 minutes
How to get there: Take the Yilan line all the way down to Houtong. A one way ticket is 50 TWD ($1.70 USD), and there's usually a train every half hour during the day, with the last train back to Taipei at 9pm.
Activities you can't miss: Seeing how many cats you can spot throughout the village!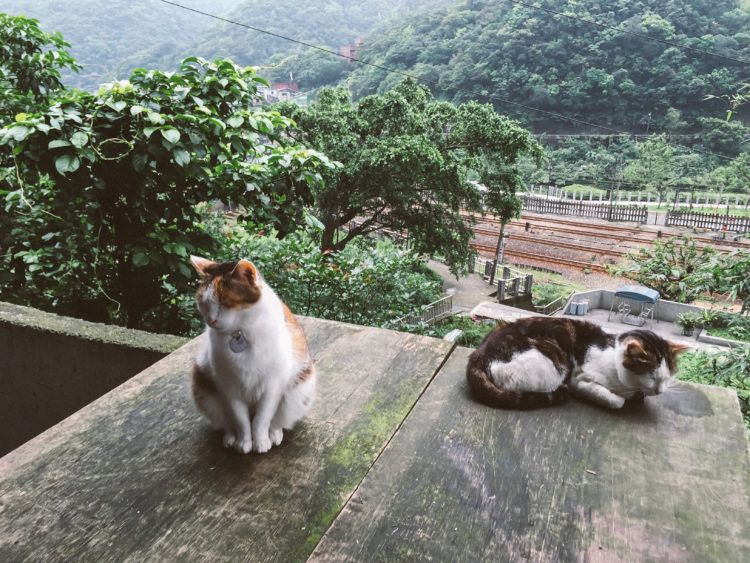 Full Disclosure: I love cats. If it wasn't for meeting Tom, I'd probably have grown up to be one of those crazy cat lady types. If you also have an affinity for cats and are happy just being surrounded by them, then a day trip to Houtong Cat Village would be purrfect for you.
This former coal mining village is located in the hills of northern Taiwan alongside the Keelung River. The village was all but abandoned back in the 90's when the mining pit closed, but one lady in 2008 helped revive it when she started posting photos of the villagers looking after stray cats. Her photos caught the attention of visitors, volunteers who came to help, and the addition of more cats; two years later, the former mining town was able to completely transform itself into a total cat village.
Once you step off the train at Houtong, you'll immediately know you've made it to the right place. Walk across the black covered "cat bridge", and you'll be welcomed by cats of all colors, shapes and sizes, some spread out lazily on the sidewalks, others napping on rooftops or loafing atop cottage balconies. It'd be good to mention that these cats are strays and therefore still wild animals, but they've become so used to all the human attention and food by the villagers that most don't even bat an eye when you approach them.
After you've had your fair share of selfies with your new feline friends, you can head over to one of the many cat-themed cafes for a bite to eat. Make sure to stop by one of the souvenir shops to take home some cat-inspired gifts back as well. They have everything under the sun, ranging from cat mugs to cat socks, and even cat-shaped pineapple cakes!
8. TAINAN
Distance from Taipei Main Station: 191 miles / 308km
Travel Time using HSR (high speed rail) Train: 1 hr 45 mins
How to get there: The easiest and quickest way is via HSR train from Taipei Main Station. It's 1350 TWD (or $45 USD) for a one way ticket.
Activities you can't miss: The hauntingly beautiful Angping Treehouse, the historical significance of Angping Fort (Fort Zeelandia), food on Angping Old Street (Yangping Street), and explore one of the creative parks (Blueprint Cultural & Creative Park and Ten Drum Rende Creative Park)
Special Foods to Try: As the unofficial food capital of Taiwan and "the city of Snacks", there are so many authentic dishes to try, from Danzai Mian (minced meat noodles), Milkfish Soup, Guancai Bun (Coffin Bread), Rouzao Fan (minced pork over rice), Mua Gui (glutinous rice cake with pork), and of course, an original bubble tea.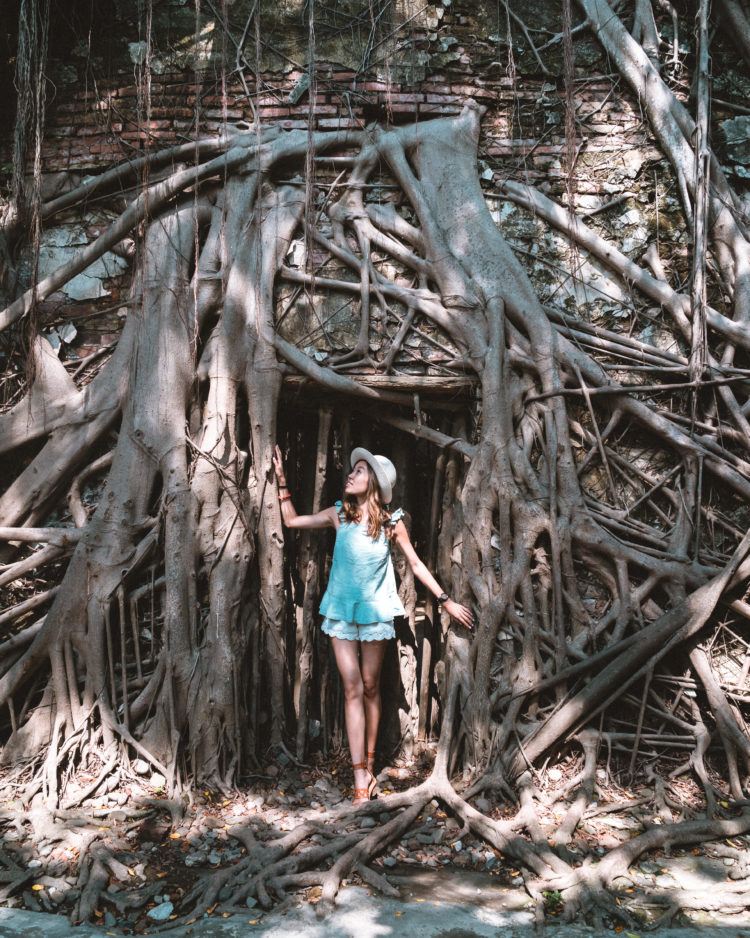 As the oldest and 5th largest city in Taiwan, Tainan might just be one of Taiwan's best hidden gems. Taking the high speed rail from Taipei makes the journey to Tainan just under two hours, and the city's attractions are all relatively close to each other, making it an easy and fantastic day trip from Taipei.
The first thing you'll notice about Tainan is that it has a slower-paced and more laid back vibe compared to Taipei, and its charming old-school streets offer a glimpse into a city steeped with rich history. Tainan holds a lot of historical significance too, having been Taiwan's capital for 200 years under the Koxinga and Qing Dynasty rule.
Start your day with a visit to Angping Treehouse, one of the most popular attractions in Tainan, and for good reason. You'll feel as if you've been transported into a fairytale world totally separate from the rest of the city. What once was an old abandoned warehouse has now been completely overtaken by a huge Banyan Tree, with its roots criss crossing and completely covering the floors, walls and roof of the building. It's pretty amazing to wander through this literal treehouse, and I was completely awe-struck by the sheer size and power that nature can command.
Near Angping Treehouse is Angping Fort, formerly known as Fort Zeelandia. If you're interested in the past history of the Dutch colonisation of Taiwan, then definitely check out the remnants of the fortress and museum to learn more about the important historical events and Dutch influence during their occupation in the 1600s. After that, head over to Angping Old Street to grab an original bubble tea in the city that started the worldwide craze, as well as try other authentic Taiwanese snacks that originated from here.
If you're overwhelmed by the number of food options, I suggest starting with Guancai Ban (Coffin Bread- sorta like an Asian version of chicken pot pie), Oyster Pancake, and Rouzao Fan (an addictive yet simple dish of minced pork over rice). Then if you're feeling a little more bold, go for the Fish Head Soup and Mua Gui (a gelatinized rice cake with pickled veggies and and pork, drizzled with sweet chili sauce and thick soy sauce on top)!
Other notable activities in Tainan include the Ten Drum Rende Creative Park where a traditional Taiko Drumming Show is the star of the show, and the Tainan Flower Market – not actually a market that sells flowers, but one of Taiwan's biggest and most famous night markets. It's only open three days a week (Thursday, Saturday, and Sunday), but if you're able to plan your day trip when it's open, it's definitely something you don't want to miss!
9. YILAN
Distance from Taipei Bus Station: 88 miles / 55 km
Travel time by bus: About 1.5 hours
How to get there: The easiest way is by coach bus from Taipei Bus Station to Yilan Station. From Taipei Main Station, take exit 1 for Taipei Bus Station. Round trip ticket costs 280 TWD or a little under $10 USD.
Activities You Can't Miss: Surfing or sunbathing at Wai'ao black sand beach and taking a tour of the world-famous Kavalan Whiskey distillery.
Special Foods to Try: Since it's an oceanside town, the seafood here is delicious. It's also known for its scallion bao which is a bun filled scallion and pork bits. Yum!
Sometimes, all you want to do is chill on a beach and eat some amazing seafood away from annoying tourists and the hustle and bustle of the city. For that, Yilan is the perfect oasis and retreat for a little day trip getaway.
Yilan City is an oceanside town on the eastern coast of Taiwan, known for its relaxed surf vibe, delicious seafood, and world-famous Kavalan Whiskey that comes from this area. Since Yilan is a little harder to get to and navigate once in the city (at least compared to other day trip options around Taipei), it's more off the beaten path and means you'll see less tourists around.
Yilan has a variety of activities you can choose from. If you want a more relaxing day trip, head to Wai'ao black sand beach to get your tan on or do some surfing. By the beach, you will also find a huge selection of low-key, hipster coffee shops to relax in after your beach session,and cozy restaurants serving up amazing sashimi and seafood.
If you want a more cultural experience, head over to the modern architecture of the Lanyang Museum where you can learn about the history of the Yilan area and what makes the topography of the area so special. Afterwards, make a stop at the National Center for Performing Arts before tapping into your inner whiskey aficionado at Kavalan distillery where they produce the award-winning Kavalan Whiskey.
Since it's harder to get around Yilan, the best way to see everything that Yilan has to offer is to hire a driver from Taipei like this one.
10. YANGMINGSHAN NATIONAL PARK
Distance from Taipei Main Station to Yangmingshan Bus Station: 7.45 miles / 12 km
Travel time by bus: About 1 hour 15 minutes because of the mountain roads
How to get there: the easiest way is to take bus #260 from Taipei Main Station to Yangmingshan Bus Station or bus #S8 from Shipai Train Station to Yangmingshan Visitor Center
Activities You Can't Miss: Hike to the top of Mount Qixing and walk right next to a dormant volcano at Xiaoyoukeng
Yangmingshan National Park is one of the most popular destinations in all of Taiwan for tourists and local residents alike, and it's easy to see why. There is a huge selection of lush hiking paths to explore, unique sites to see, (like dormant volcano Xiaoyoukeng where you can see smoking sulphur vents), and it's not that far away from the city.
There are also seasonal festivals you can go to like the cherry blossom festival in spring and calla lily festival in early summer, so make sure to check the event calendar before you go!
The National Park is a lower elevation mountain range with the tallest point just over 3,500 feet. In the park, aside from the dormant volcano, you can also see mountain lakes, open grasslands, waterfalls, and so much more! After an adventure-filled day, you can also find a good selection of delicious local restaurants who use ingredients grown directly from the mountain, too.
There is a saying in Taiwan that the cabbage grown in the mountains tastes sweeter than cabbage grown anywhere else. This may or may not be true, but what it shows is the respect Taiwanese have for the mountains. So if you have a chance, definitely give the cabbage here a try!
The one downside of the park is public transportation. Since there is so much to do and each destination is located pretty far from each other, the easiest way to see as much as possible is to hire a private car like this one.
You may also want to think about joining a group tour to ensure you don't miss out on any of your desired spots. A few recommended tours:
If you want to save some money, you can definitely explore the mountain using public transportation as well. Just take the bus from Taipei Main Station, Beitou Train Station, or Jiantan Station to Yangmingshan Bus Station and start your journey from there. Here is my favorite itinerary if it's your first time visiting:
Yangmingshan Visitors Center and Mount Qixing – a good place to get familiar with the park and you can hike up Mount Qixing, the highest point in the park.
Xiaoyoukeng – where you can see sulfur vents and hike around a dormant volcano.
Qingtiangang – an open grassland where you can see cows grazing.
Lengshuikeng – end the trip with a cold water hot spring bath for your feet.
Bonus #11. SUN MOON LAKE
Distance from Taipei Main Station: 157 miles / 253km
Travel time using HSR and bus: 50 minutes on HSR, then 1.5 – 2 hours on bus
How to get there via public transportation: Take the HSR train from Taipei Station to Taichung Station. From there, transfer to Nantou Bus for Sun Moon Lake (or look for the sign to Sun Moon Lake bus station)
Activities You Can't Miss: Taking a bike ride along Xiangshan Bikeway for stunning views of the lake, hopping on a cruise around Sun Moon Lake, and visiting the food and shopping stalls at Ita Thao village. If you're able to stay overnight, then wake up for a beautiful sunrise over the lake, visit the Wenwu Temple, hike up to Ci'en Pagoda, and experience the Sun Moon Lake Ropeway.
Special Foods to Try: Tea eggs at Xuanguang Pier and "President Fish" at Ita Thao Wharf
If crystal blue waters and an escape into nature is something you dream about, then a visit to Taiwan's largest lake, Sun Moon Lake, is a must! Although I'd recommend staying at least one night in Sun Moon Lake, (the sunrises here on a clear day are magical and totally worth the early morning wake-up call), I know that an overnight stay is not always possible. In that case, if you're short on time, it's still definitely worth a day trip from Taipei, and tops my list as one of my favorite places to visit in Taiwan!
The easiest way to do a day trip to Sun Moon Lake is probably by joining a tour, like this one. That way, you won't have to worry about transportation and can maximize your time at Sun Moon Lake. If you want more freedom over your activities though, then the most convenient way to get to Sun Moon Lake is by taking the HSR train from Taipei Station to Taichung Station, and then transferring to the Nantou Bus. As this is a popular trip, there will definitely be signs at Taichung for the correct bus to take to Sun Moon Lake.
Since Nantou Bus will drop you off at Shuishe Visitor Center, I'd recommend starting your day trip by renting a bike from one of the nearby shops and embarking on a cycling adventure around one of the world's most scenic bike paths! The views are truly so stunning that I guarantee you won't be able to help yourself but to stop and take numerous photos. You can continue along the bike path to Xiangshan Visitor Center, or even further if you'd like. If you only have a day though, I'd suggest turning back once you make it to the other visitor center so you can explore the other attractions on the lake!
You'll notice that boats ferry between three piers – Shuishe, Xuanguang, and Ita Thao. Back at Shuishe Pier, you can start your lovely lake cruise and make a quick stop at Xuanguang Pier to try out Jin Men Ah Ma Cha Ye Dan (Famous Grandma's Tea Braised Eggs). The legendary tea eggs are braised for hours, and the cute little grandma has been running her tea egg store for half a century!
Your last stop on the Sun Moon Lake day trip will be at Ita Thao Pier, where the aboriginal Thao people used to live. You can learn more about the history and culture of the tribe here, while also trying out some of the delicious local delicacies at the food stalls! I loved the Assam Milk Tea, but I've heard the famous aruzay fish (renamed to "President Fish " due to it being a favorite dish of the late President Chiang Kai-Shek), is also a must try!
Which of these Taipei day trips will you be adding to your Taiwan itinerary?!
About the Author
Melissa Teng is a Seattle-based travel blogger and creative who is passionate about seeing as much of the world as possible while helping others do the same on her blog, Wit and Folly. Through her travel experiences, she's realized the importance of authentic storytelling and believes that everyone has their own story to share. Through this lens, she hopes to inspire others to integrate exploring and adventure into their daily lives, to travel mindfully, and to pursue a life of bold creativity. And when she isn't busy scheming her next trip, you can find her taking epic naps with her boyfriend's Shih Tzu, Sushi.