Headed to Denmark and looking to explore the best of the best neighborhoods in Copenhagen? Not sure which Copenhagen neighborhoods to spend the majority of your time? Keep on reading, my Scandi-chic loving friend, all your questions answered, right here in this guide to Denmark's capital city!
Home of all things hipster, crafty and artsy, Copenhagen radiates a unique vibe, mixing neat hangouts with culture, history, and a street-savvy elegance that I'm yet to see anywhere else in the world. In this guide, you'll find the top things to do in Copenhagen by neighborhood, where to stay, what to consider before going, super easy day trips, and a few Danish phrases to help you get around!
Shall we? or may I say…Skal vi?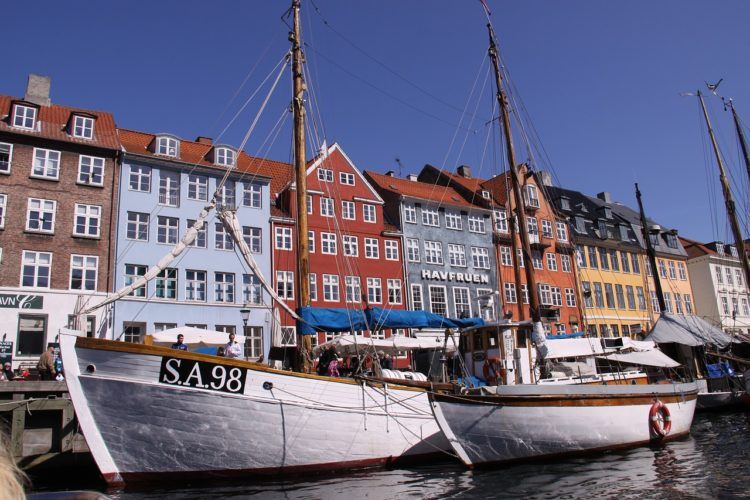 I've visited Copenhagen during a much longer grand European adventure one summer, and have been longing to revisit ever since. We only had 2 days in the city (that's what happens when you try and cram in 37 cities in 2 weeks – just kidding), but suffice it to say, we never really got around to all the neighborhoods of Copenhagen (surprise, surprise).
Thankfully, I've enlisted destination expert Martina from The Global Curious, who actually spent ample time in Denmark – she's lived there for quite some time! Take it away, Martina!
Where is Copenhagen?
Welcome to Scandinavia, land of Vikings and freezing winters (yes, it really does that get cold)! Copenhagen – København if you may – is located on the eastern coast of the island of Zealand in Denmark. The Danish capital (yup, that's Copenhagen) lies at the feet of the Øresund strait connecting Denmark and Sweden – and links the Baltic Sea with the North Sea.
If you're looking at a map right now, you'd see Denmark in Northwestern Europe, belonging to what's known as the Nordic or Scandinavian countries (same as Finland and Norway!). Being the southernmost country of the gang, Denmark is a great rite passage for those keen to explore the far north (I ain't talking about GOT, so fear not)!
Best time to visit Copenhagen
Let's start with the months to avoid. From the perspective of someone that lived in Copenhagen for nearly a year, I must say that January, February, March, September, and October are the most 'boring' months.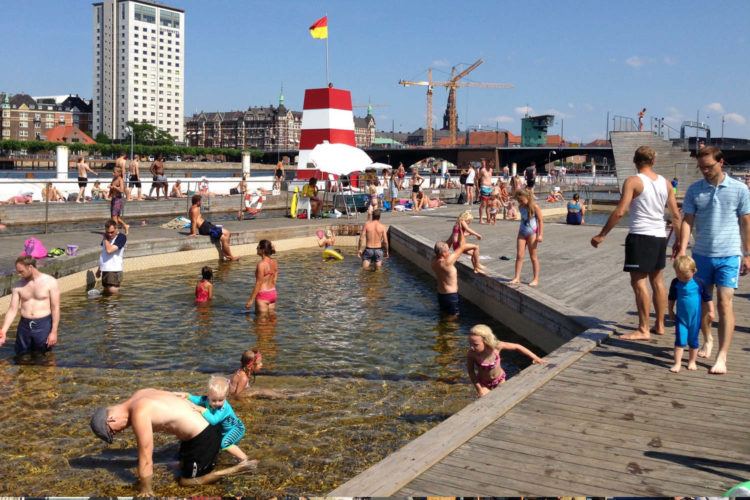 Here's the thing, as Denmark is in the Northern Hemisphere, summer starts in June and winter starts in December.
Winter in Copenhagen:
During the months leading up to Christmas, the whole city becomes a holiday wonderland. Some of the top things to do in Copenhagen over winter are visiting markets, trying your balance at an ice rink, and wandering through lavish Christmas decorations – which give the city its festive charm. Of course, you should avoid this time of the year if you are a bit of a Grinch or can't stand the cold weather.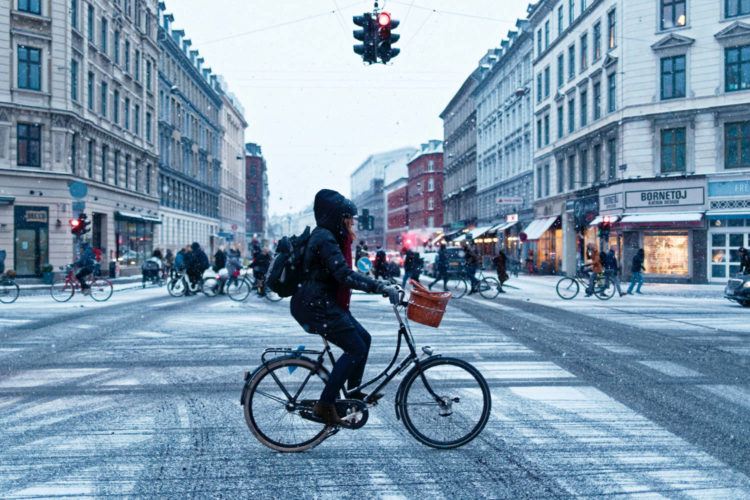 Psst: If you're really looking to get into the Christmas spirit, check out this Christmas Spirit Tour! Looks super festive to me! 
During January and February, many people are still on holiday, but the city feels a bit empty, and one is left with the sad feeling of Christmas decorations no more – that is, apart from a frozen bum.
With that being said, if you want to experience the true Christmas spirit, head on over to Copenhagen in November and December. The festivities will be over by January. Also, do note that winters in Denmark are super cold, with temperatures averaging below zero, and very short days. Keep this in mind when planning your trip!
Spring + Summer in Copenhagen:
By March things start picking up, but it's not until well into Spring that you'd be able to rejoice in a bit of warm sunshine.
Then from April until pretty much September, you get to enjoy spring and summer. Keep in mind that July and August are peak season months (with the warmest weather), so it's the busiest (and therefore, most expensive) time of year. September and October are shoulder season, and by early November all the winter action gets going again!
Getting around Copenhagen
Walking + Biking
The most popular neighborhoods of Copenhagen (and therefore all the main sites) are within walking distance from one another, so thankfully, the city is very easy to navigate. Known as the cycling capital of the world, you'll see that most people get around by bike, which is great if the weather allows (aka probably won't be your first choice in the dead of winter).
I love talking walking tours when I first arrive in a city, as it's a great way to quickly find your bearings and learn a thing or two about the area. Lots of insider info on this walking tour of Copenhagen here! And you'll make sure you don't miss out on a bunch of the main sites! Double win!
Bike tours are plentiful as well; recommendations here and here. You'll get a bit of cardio under your belt so you can indulge all you want later!
Public Transit
You can also take the bus, the metro, or the S-train if you need to reach the Greater Copenhagen areas. The ticketing system is divided into 7 zones, with most visitors exploring the city center and its surroundings (covering zones 1 and 2).
If you know you'll be moving around a lot, it's convenient to get a City Pass – a digital travel ticket you can order online- or the Copenhagen City Card that combines travel and free admission to selected attractions (as well as travel to and from the airport). The Hop-On Hop-Off bus (buy your tickets in advance here) is also an option, which stops at all the must-see sights as well as grants admission to the CPH Ice bar, Copenhagen's coolest bar, made entirely out of ice.
After flying into Kastrup Airport (the main international airport serving the area), you can easily head into town in just 15 minutes. With the airport being located only 8km from Central Copenhagen, it's quite convenient. Just head to Terminal 3, get a 3-zones ticket and hop on the metro, train, or bus!
Where to stay in Copenhagen
In this neighborhood guide to Copenhagen, you'll find the top places to stay in each area (much more info below throughout the different Copenhagen neighborhoods). However, if you're a budget-minded traveler, you'll find that most hostels and budget hotels are located either in the city center, Nørrebro, or Vesterbro.
Learning Danish words
Before hitting the city, learn a few danish words! Considering that most people in the city speak English, learning to say a few things in Danish is more of a courtesy. Keep in mind that many Copenhageners love practicing their English, so don't feel frustrated if you are trying your best to communicate and they just reply in English -or ask you to please stick to English! Yup. Danish cultural etiquette it's a topic for another article!
Hello – Goddag / Hej (Go-day / Hi)
Goodbye – Farvel (Fah-vel)
Thank you – Tak (Tack)
Excuse me – Undskyld (Un-school)
I don't speak Danish – Jeg taler ikke dansk (Yai tai-ler igge dansk)
My name is… – Mit navn er… (Meet now-n air…)
Yes – Ja (Ya)
No – Naj (Nai)
What to pack for a trip to Copenhagen
As we established previously, winters in Copenhagen are very cold and summers are somewhat warm. So don't you ever dare head to the city without a few extra layers of clothing – and even a rain jacket as summers can get quite wet! As most indoor spaces have central heating, you'll be ok inside, but gotta protect yourselves from the frigid air outside come winter!
It usually snows a bit over winter, so a pair of hiking boots will help your grip on slippery surfaces, and will also keep you warm (best options right here). Sneakers during summer are a good idea, but if I have to choose, I wouldn't pick sandals or open shoes. I'm always cold though, so in the end, it's entirely up to you.
Things to know before going to Copenhagen
If you are putting together an itinerary of the top things to do in all these Copenhagen neighborhoods, keep in mind that admission fees for attractions can be a bit expensive. With that being said, with so many things you can do for free in the city, you may not need to dig into your pockets at all! Some museums are totally free, and others offer discounted tickets over certain days of the week.
3 days in Copenhagen would be enough to get a grip of all the cool things and main sights around town. 
Electricity in Denmark operates with a standard voltage of 230V. If you come from the US you'll need a voltage converter. The plug used in Denmark is the two-pin continental plug. 
Even though Denmark belongs to the European Union, the country has its own currency, the Danish Kroner. As a quick reference, $100 Danish Kroners are about $14 (USD).
When it comes to staying connected in these Copenhagen neighborhoods, there are plenty of spots with free wifi! 
The official language in the country is Danish, but most people in the city speak English.
You'll be able to use your debit and credit cards pretty much anywhere. Some places apply a surcharge to foreign credit cards. It may be convenient to extract money from an ATM or head to a currency exchange house.
Tipping is not required, but you can leave some extra money to reward great service.
If you are looking for 'proper' Danish bites, then check out this awesome guide to What to Eat in Copenhagen and munch your way across town! And if you really want to get your eating on, book yourself on a Copenhagen Food Tour (one of my favorite things to do in any city!). 
A Little Bit About Hygge
Knowing the concept of 'Hygge' is very important if you are going to visit Denmark! This Danish word is used to describe things and moments that are cozy, homey, and charming. Danish are known for taking care of each other. The idea of hygge is a big part of that.
For example, if you go back to your hostel in the middle of winter and your hosts welcome you with mulled wine and a warm and friendly atmosphere, that's hygge. Danish take this feeling at heart, and it's ingrained in their culture, so enjoy it! 
Want to experience the concept of Hygge yourself? Check out this Hygge and Happiness tour; it shows you all the best places to find it in the city (as well as other famous landmarks)!
Now that you know when to go, what to pack, how to get around, and all the ins and outs of a great visit to Copenhagen, it's time to hit the hoods, y'all! In this guide, I'll take you for a stroll around the most central, trendy and even royal areas in the city. Shall we? Ja, tak – Yes, thank you. The best neighborhoods of Copenhagen, coming right up!
COPENHAGEN NEIGHBORHOODS
Vesterbro
Street-savvy folks will appreciate this! Bordering with Copenhagen Central Station, this area was, for years, neglected for being sketchy and home of the red-light district.
Nowadays, Vesterbro concentrates a big chunk of Copenhagen's nightlife, and has become THE place to go for craft beer, healthy eats, organic grocery stores, and even sex shops! Definitely one of the more risque neighborhoods of Copenhagen, although it still has a charming vibe to it, and is not at all vulgar or unnecessarily raunchy.
If nightlife's your thing, consider signing up for a pub crawl! You'll hit up the city's trendiest pubs, bars, and nightclubs, and dance/drink/party the night away!
Top things to do in Vesterbro
Take a stroll and go shopping for everything from antiques to sex toys on Istedgade, Vesterbro's main "quirky" shopping area. Once you're at it, head to Vesterbrogade and keep the fun going!
Go to an art exhibition or a flea market at Øksnehallen. This convention center is located near the Meatpacking district and hosts all kinds of events.
Join the folks at Absalon and sit down for a communal dining experience.
Get groovy at the Meatpacking District -Kødbyen in Danish. This used to be where butcheries and slaughterhouses lived back in the day. With an industrial look, this area is now a hip nightlife hub, packed with eateries and cozy cafes.
Where to stay in Vesterbro
Check out accommodation options for a range of budgets. Bear in mind that Copenhagen is quite expensive, so different neighborhoods would have different price ranges!
Save: Urban House Copenhagen by MEININGER
Affordable: Hotel Ottilia
Splurge: Andersen Boutique Hotel
Nørrebro
I had the privilege of living in both the Vesterbro and Nørrebro neighborhoods and can say that at least for me, both areas are similar. The main difference I find is that the Nørrebro neighborhood of Copenhagen is truly where you'll see peeps from all over the globe, which gives it quite a local and super-funky vibe. This neighborhood is huge, and it's actually Copenhagen's most populated area.
If you want to ensure you don't miss anything, sign up for a colorful tour of the trendiest and hippest neighbourhood, Nørrebro! Read reviews and book here.
Top things to do in Nørrebro
Go street-art hunting! Just like Vesterbro, Nørrebro has some of the best murals in the city.
Chill by the Copenhagen Inner Lakes. One of the most recognizable sights of the city, these artificial lakes are over 500 years old and are nowadays one of the local's favorite jogging spots. Over winter months, if the ice on the surface allows, the lakes become an outdoor ice-rink.
Walk around Nørrebro's top streets. Nørrebrogade is the hood's main street and a true cultural hub. You should also head to Jægersborggade, Blågårdsgade, and Ravnsborggade for vintage shopping, narrow pebble streets, and trendy cafes.
If you know The Little Mermaid, then you'd be pleased to know that its author was the celebrated Hans Christian Andersen. The Danish author's resting place is the Assistens Cemetery, alongside other big names in Danish history.
For a final stop, check out the Superkilen Park. Created to bring the community together, the park is divided into 3 distinct areas -red, black, and green. It's also packed with skateboard ramps, gym rings, and features that represent different parts of the world.
Where to stay in Nørrebro
If you are looking to feel a bit like a local on a budget, then this is the place for you!
Save: a&o Copenhagen Nørrebro
Affordable: Hotel Nora Copenhagen
Luxury: Kapelvej Apartments
Frederiksberg
Lively, green, and lush, Frederiksberg is the neighborhood located between Vesterbro and Nørrebro and concentrates a good part of Danish 'hygge' with wide tree-lined avenues, cute cafes, and stylish streets.
Although most folks refer to Frederiksberg as a neighborhood, it's officially an independent municipality, but it's still part of the city. This upscale area of town is where all-things-fancy live, so head there for a high happening or an elegant night out.
Top things to do in Frederiksberg
Have a picnic in front of Frederiksberg Palace. Located facing this 17th-century palace are the Frederiksberg Gardens, a local's favorite for picnics, festivals, and summer events.
Over wintertime, the entrance to Frederiksberg Gardens, on Frederiksberg Runddel, becomes a free ice rink! 
Walk the length of the beautiful Frederiksberg Allé. This avenue was designed as the king's private road when moving to his summer residence.
Go for a coffee at Værnedamsvej. This French-styled street is well-known for its vibes, cafes, and restaurants.
Where to stay in Frederiksberg
This family-friendly, upmarket neighborhood is a good choice if you are staying for a couple of days, and wish to enjoy an elegant ambiance without the city center's crowds.
Save: Cabinn Scandinavia
Affordable: Scandic Falkoner
Luxury: Avenue Hotel Copenhagen
Indre By
Most of the 'top things to do in Copenhagen' roundups you'd find when planning your visit will be mostly focused in this area. Indre By literally means "Inner City" and refers to the city center. As this is the main historic neighborhood, it's a stimulating hub packed with culture and attractions.
If you've been trying to figure out where the most famous pics of Copenhagen are actually taken, well, this is it! Don't miss this Copenhagen neighborhood, as it's where most of the tourist attractions can be found.
Top things to do in Indre By
Take the Copenhagen Free Walking Tour! This is a great option if you are staying for a week or just passing by for a short stay. The guides will take you to all the main spots and you'll get to learn about this powerful city that started as a Viking fishing village a thousand years ago.
Tour the Nyhavn – New Harbor. The famous canal showcases colored narrow buildings built over 200 years ago and it's one of the city's main amusement areas. Check out its many cafes, restaurants, historical wooden ships and heaps of picturesque little spots. And if you're up for it, take a 1-Hour Canal Cruise (sign up here) – with lovely houses, ancient castles, and beautiful churches along the way.
For panoramic views, head to the Christiansborg Palace, where you can go up Copenhagen's highest tower for free!
Visit the Tivoli Gardens. If you are traveling on a budget and you can only pick 1 attraction to hit, I'd strongly recommend heading to the Tivoli Gardens! I was lucky enough to get a wee job there when I was living in Denmark, so I must have visited this amusement park about 30 times. 'The Tivoli' is the second oldest entertainment park in the world. It opened in 1843 and has been operating since then! As you'd guess, the Tivoli has an 'ol' times' charm, combined with fun rides, stunning seasonal decorations, and top-rated restaurants. Book your unlimited rides ticket here!
Walk the length of Strøget Street. This pedestrian street is one of the main shopping areas in town. Its 1.1 km length also connects Kongens Nytorv -the cobbled square right next to the Nyhavn- with Rådhuspladsen, Copenhagen's City Hall.
The Amalienborg Royal Palace is where Queen Margrethe and her family live. Head there to get a quick hint of Danish society. There are 4 palaces in the area, one in front of another. And, interestingly enough, there are NO fences. So you can walk or bike right in front of the Queen's residence. Queen Margrethe is famous for being 'the coolest monarch' on Earth due to her closeness to people, simple manners, and creativity (she even illustrated The Lord of The Rings under an alias name).
She also chain-smokes in public, which is not a good habit, but many Danes take it as an act of rebellion against royalty's stiff manners. If you want to see the changing of the guard, it starts every day at 11:30am at Rosenborg Castle where the guards then head to Amalienborg and arrive at 12:00pm for the ceremony.
Finally, once you've made it to the northernmost point of Indre By, you'll cross paths with Copenhagen's most famous character, the Little Mermaid. The bronze sculpture is already over a hundred years old and has become one of the city's main symbols. Right next to the Little Mermaid you'll find Kastellet, the city's old citadel which was used as a military bastion and a prison centuries ago.
Where to stay in Indre By
Central Copenhagen boasts most of the budget accommodations around town, so if this is you, then it's a great idea to book a dorm at any of the many hostels in the district. Of course, it's an ideal spot if your priority is to be centrally located, or if you are just taking a short trip -you'd be walking distance from most sights!
Save: Generator Copenhagen
Mid: Saga Hotel
Splurge: CitizenM Copenhagen Rådhuspladsen
Østerbro
Østerbro is the place to go if you want to experience the up-scale side of town! This family-friendly residential area hosts the city's largest park, some gorgeous streets, heaps of art galleries, and the easternmost section of the Copenhagen Lakes.
Many travel guides would include the Little Mermaid and Kastellet in this neighborhood as both sights are pretty much right between Indre By and Østerbro.
Top things to do in Østerbro
Spend a few hours exploring Fælledparken, the city's largest public park.
Go for a splash at Øbro-Hallen and pamper at Øbro Kurbad, Denmark's oldest public swimming pool and spa, opened in 1929.
Walk the length of the Sortedam Sø Lake or head east, where the city meets the sea and enjoy a day at the beach in Svanemølle. Alternatively, head to Nordhavn for more harbor views and impressive architecture. I'd personally suggest skipping these if you are on a tight schedule. However, both Svanemølle and Nordhavn are cool areas to check out over summertime.
In general lines, this area is very residential and tranquil but also boasts some really cute streets like Olufsvej, which are just a quick stroll from the Sortedam Sø Lake and the Fælledparken.
Where to stay in Østerbro
Østerbro is located north of Central Copenhagen, but it's still a handy location for visiting the Little Mermaid, Kastellet, and Amalienborg. It's definitely on the up-scale side of things, so be mindful of that if you are traveling on a budget. It's a great area for families keen to rent a small apartment and make themselves at home.
Save: Rye115 Hotel
Mid: Adina Apartment Hotel Copenhagen
Splurge: Charlottehaven
Christianshavn
Another perfect sample of Danish hipster vibes, Christianshavn truly stands on its own with some quite novel spots around the block! This colorful and diverse neighborhood is packed to the brim with canals, bridges, swimming areas, and a very unique hub that actually doesn't belong to the European Union -fly along and you'll see!
Some of my personal favorite things to do in the city are within this Copenhagen neighborhood, as this area blends history and culture under a very distinctive light.
Sounds interesting? You bet it is – get the insider scoop on all things free spirited on this quick (and inexpensive) walking tour of Christianshavn. I kinda wish we had done this on our trip to Copenhagen, as while we did walk around the neighborhood, we missed out on a lot of alternative scenes and lifestyles of the different communities.
Top things to do in Christianshavn
Spend an evening at Freetown Christiania. What used to be a military base became, in 1971, a hippie bastion with a community that now reaches nearly a thousand people. Although the trade and consumption of cannabis are illegal in Denmark, in Christiania rules are bent and marijuana is "unofficially legal." Beyond personal preferences, and even though there's always been turmoil around the community, this is a place to learn about diversity and freedom. Within Freetown, you can also enjoy art, culture, music festivals, funky cafes, and a very special vibe. Don't miss it – it's truly something else.
If you are tired of all the walking, then get on a boat and cruise Christianshavn canals!
Cross the Inner Harbor Bridge. The celebrated pedestrian and biking bridge connects Indre By with Christianshavn, and it's a cool dash of modernity amongst historic districts. It's 180-meters long and it's also known as "the Kissing Bridge" because of the way its platforms connect horizontally after letting ships pass.
Keep enjoying Copenhagen's unique architecture; check out the Church of our Saviour, one the district's main sights!
Where to stay in Christianshavn
This is not the most usual location for holidaymakers, but I was still able to find some reasonably priced accommodation. As Freetown Christiania takes a good chunk of the neighborhood (I know of plenty of people staying within the walls of the Freetown through Couchsurfing), there are not that many options. It'd still be a cool location if you are planning to explore Copenhagen's historic areas or head to Amager.
Save: Esben Juhls Guest Room
Mid: Cosy Copenhagen
Splurge: Cozy apartment in Christianshavn
Amager
Even though Amager is quite close to the central districts, some Copenhageners consider it to be a completely different world. Many Danish actually own summer houses in this area! But in all honesty, there's a whole lot to explore on this island south of the bridges.
Amager is a big zone that encompasses many different sub-districts; it's ideal for those who love open spaces, nature, wide avenues, summer vibes, and modern architecture. I lived there for a short while, so this is also one of my favorite neighborhoods in Copenhagen!
Top things to do in Amager
Summer days in Copenhagen are super long, so if you are keen to bask under the sun even after 10pm, then Amager Beach Park is the place to be! Located on the East coast, the Amager Strandpark hosts a family-friendly 2-km artificial beach that locals love!
Islands Brygge is a bit of an off-the-beaten-path harborfront, but visiting this area in Amager is actually one of my favorite things to do in Copenhagen. In this residential district -a mix of sound contemporary architecture and old school buildings- summer buns can bathe in the Harbor Baths, stop for ice cream or nibbles, or just enjoy a leisurely stroll along the waterfront.
Finally, for a dose of futuristic architecture, head to Ørestad. Nordic architecture is renowned worldwide, and Ørestad is a great spot to admire the ingenuity of Danish design.
Where to stay in Amager
As this huge area is a bit south of most of the mainstream attractions, I'd recommend staying here either if you are planning to visit for a week or so, or if you are coming over the summer.
Save: Danhostel Copenhagen Amager
Mid: Go Hotel City Apartments
Splurge: Guesthouse Copenhagen Beach
Day trips from Copenhagen
Now that you know all the ins and outs, and where to find the cool spots around town, let's take it a step further and look into a few top day trips from Copenhagen! Although there really is enough to do in all the neighborhoods of Copenhagen to keep you busy and then some for days!
Frederiksborg Palace: History buffs, this one's for you! Visiting one of Denmark's most famous castles is a great plan for a day trip from Copenhagen. Built in the 17th century, this is the largest Scandinavian Renaissance landmark and it's also home to stunning gardens! Located just 1 hour by train from Copenhagen, this is an easy half-day or full-day trip from the city.
Kronborg Castle: Kronborg Castle in Helsingør -just 1 hour north of Copenhagen- has fame in its own right as it was portrayed as Elsinore in William Shakespeare's masterpiece, Hamlet. Also a Unesco World Heritage Site, the Kronborg Castle will make quite a notorious day trip from Copenhagen! Built in the 1420s, what started as a fortress became a fabulous Renaissance castle.
Only got one day for a day trip and can't choose between Frederiksborg Palace and Kronborg Castle? You're in luck – you can easily visit both on this guided tour! I 100% want to add this to my Copenhagen itinerary next time I'm visiting!
Viking Ship Museum in Roskilde: Only a 30-minute train ride separates Copenhagen from Roskilde. Here, folks interested in ancient times and Vikings can learn about the history, culture, and craftsmanship that used to go into building and sailing, Viking-style. The Viking Ship Museum in Roskilde hosts 5 famous Viking ships [editor's note: I visited a similar museum in Oslo, and it was really interesting!].
Legoland Billund Resort: Visit the land where the Legos were born! This may be especially interesting for parents with little ones in tow, but beware, adults go just as nuts as well! The theme park is located 265km West of Copenhagen and can be reached by train, bus or car. Know that if you rent a car, you'll have to pay a pricey toll. Even though it's recommended as an overnight adventure, a -long- day trip from Copenhagen is certainly feasible.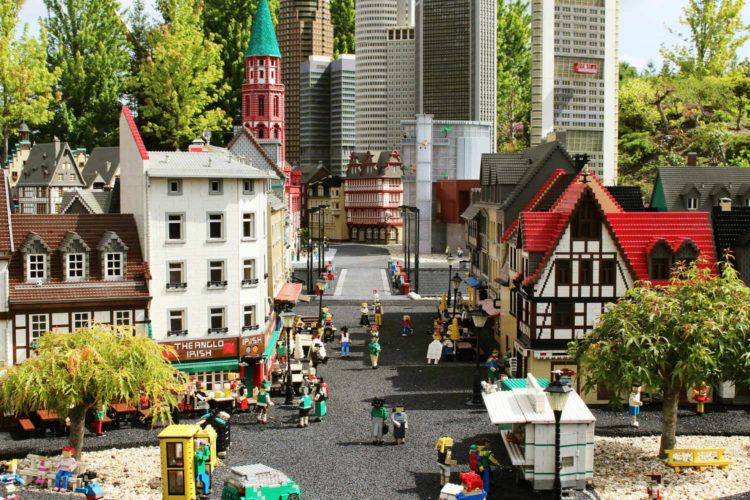 So there ya have it, the best neighborhoods in Copenhagen to visit on your trip to Denmark! Which of these Copenhagen neighborhoods will you be adding to your itinerary?