I arrived in London at roughly 8 the next morning (I took a red-eye out of NY). Utterly exhausted and drained from the overnight flight, I fought through it and spent the day exploring as much as possible.  We were headed to Nice the following morning, so there was no time to spare!  Cindy did her best as tour guide (we were very short on time).  Our first stop was Big Ben and the London Eye.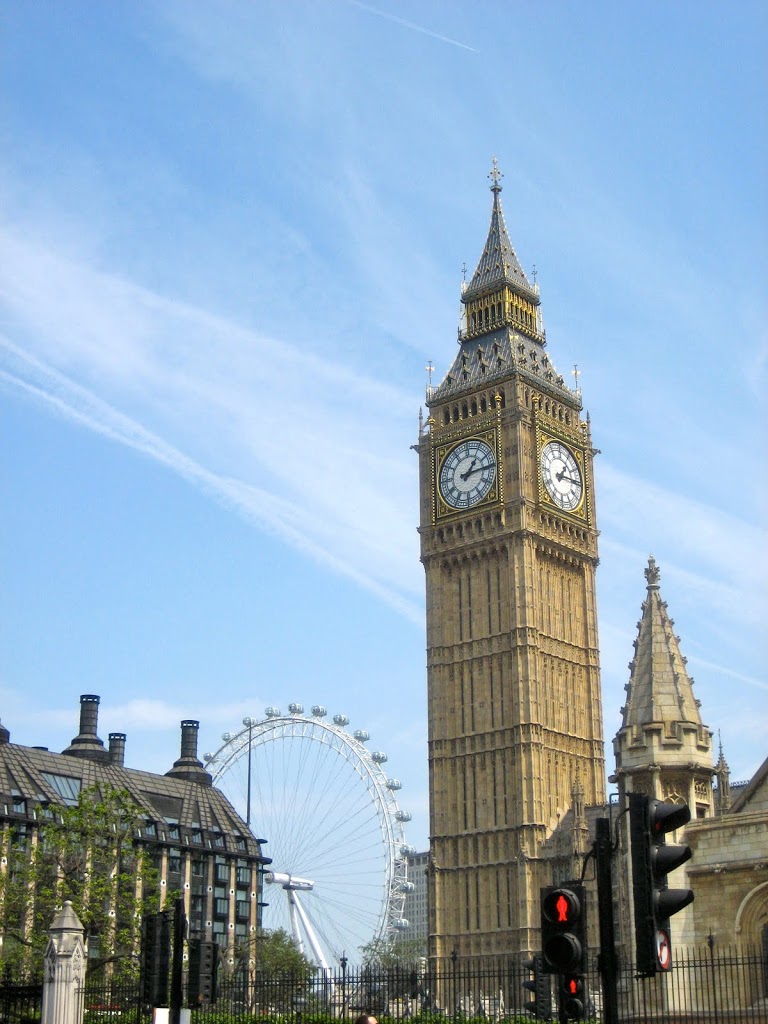 Now that I look back, I really regret not taking the chance to go on the London Eye.  I've heard that it is a spectacular way to see London.  Although it looks oh so small in this picture next to Big Ben, it is actually really, really large.  Besides being a rather time-consuming activity, Cindy informed me that it was pretty expensive.  At the time (well, and still now..) we were trying to keep our costs low.  There's always next time!  Just another excuse to go back!  Look at the London Eye from this angle:
Pretty big, right?  It takes about 30 minutes for one rotation, and the 32 capsules can each hold 25 people, meaning 800 people can be on the London Eye all at once!
[Yea, I looked that up…]
Next we walked through some beautiful parks with lots of greenery to get to Buckingham Palace.  I wish I could remember the names of them (this was over 2 years ago, remember!)  Unfortunately we did not see the changing of the guards, but Buckingham Palace itself is still pretty spectacular.
We saw St. Paul's Cathedral somewhere in the mix:
Of course Cindy took me to Harrods, the most luxurious department store I will most likely ever be in.  With such luxurious items comes large price tags.  Hence the reason why the only thing I purchased was a few souvenirs for those back at home.  Even though we walked around for about 2 hours (if I remember correctly), there was no possible way to see all 300 departments on it's 7 floors!!!  Boy do I wish I could go back- I could destroy that store, well, if I had the funds.
We meandered throughout the city on foot, and somehow  arrived at a spot with a nice view of Tower Bridge (I'm pretty sure Cindy knew where she was going, I was just following along).  It had gotten pretty gloomy out this time during the time.  This is the best shot I have:
And how could I forget to take a picture in a red telephone box?
And one more thing- I tried Cider!  Bulmer's was amazing, I wish they sold it back here in the States.  However, I was lucky enough to try Bulmer's sister brand, Magners, on my trip to San Francisco!  Just as yummy!
We were lucky enough to stay with one of Cindy's friends for the night (friends make the trip less pricey!)  We were off to Nice, France the next morning to travel to the Cannes Film Festival! Waking up at 4AM and figuring out transportation to the airport was no easy feat- I told you this trip was exhausting!
[some photos courtesy of Cindy- she's a great photographer!]