Headed to Portugal and looking for the best day trips from Porto?! You're in luck; keep on reading for some fantastic additions to any Porto itinerary!
Porto is Portugal's second-largest city and it's absolutely gorgeous. It's every bit as trendy and culturally rich as the country's capital, Lisbon, which has garnered itself a reputation as one of Europe's coolest cities in recent years.
It's got everything a traveler could want: special food, excellent wine, views for days, uber-cool nightlife, and tons of interesting history.
That being said, failing to explore the surrounding region while you're in Porto would be absolutely criminal. Northern Portugal has so much to offer, from majestic basilicas and pilgrimage sites to mountain scenery and national parks.
Plus, many of these day trips from Porto will be much quieter and less touristy than the city itself, giving you a chance to escape the crowds and observe a more authentic version of local Portuguese life. Set out on one of the following Porto day trips and I promise you, you won't regret it.
Best Day Trips from Porto, Portugal:
1. Douro Wine Valley
Distance from Porto: 62 miles/100 km
Activities You Can't Miss: Winery Tours, Parque Natural do Douro Internacional, Shrine of Our Lady of Remedies
Special Foods to Try: Port Wine (technically a beverage, but couldn't be kept off this list)
Douro Wine Valley is the birthplace of port, so this Porto day trip is any wine lover's idea of heaven! Plan your visit during September or October and you'll get to experience the Harvest season, as well as enjoy the glorious autumnal colors.
You can rent a car and drive the relatively short distance from Porto or, better yet, sit back and relax on a scenic train ride through the Portuguese countryside.
Once you're there, get yourself straight to a quinta (winery). I mean, it's what the region is famous for, after all. Quinto do Panascal is one of the best known production centers in the area and you can take an awesome audio tour of the premises. Naturally, there's also the option to sample some of Douro's incredible port, which is known for its sweet, rich taste.
Once you're all wined out (but is that even possible, hmmm…), soak up the natural beauty of the valley at Parque Natural do Douro Internacional and check out the huge variety of flora and fauna within! You can drive through the park but it's even better on foot.
Make sure you get time to visit the Shrine of Our Lady of Remedies in the town of Lamego. You'll have to conquer 686 steps first but hey, no pain, no gain, am I right? The ornate church alone would be worth the climb but better yet is the view of Lamego from the top.
Recommended Day Tours here:
2. Aveiro
Distance from Porto: 47 miles/76 km
Activities You Can't Miss: Costa Nova Beach, Moliciero Boat Tour, Salinico Salt Spa Therapy
Special Foods to Try: Fresh eels
Often referred to as 'the Venice of Portugal', Aveiro is a charming city made up of interwebbing canals, fabulous beaches and postcard-pretty art nouveau architecture. Plus, it's one of the closest day trips from Porto, so it's super convenient.
The best time to go is during the warmer months of March-September, but Aveiro is a very windy city, so take a windbreaker regardless of the season!
Aveiro is known for its Moliciero boats, which are brightly painted with scenes from local legends. These boats are so cool that you won't be able to resist a ride along the canals – plus, it's a really fun way to see the city.
Costa Nova beach is just a 15-minute drive from the city centre and with its clear water and immaculate white sand, it's the perfect place to relax and catch some rays. Plus, the area's candy-striped beach houses are so bright and pretty that you can't help but smile at them!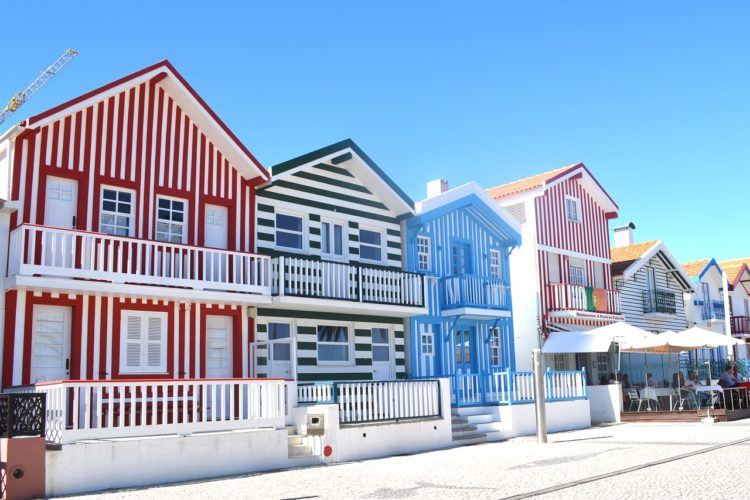 If you're hoping to de-stress and detox in Portugal then look no further than Spa Salinico. Aveiro is a salt-producing region and this former pan has been turned into an outdoor spa where you can enjoy salt baths and scrubs that are crazy good for you skin! Remember that it's seasonal, though – summertime only!
It's not just your skin you should nourish while you're here – head to Aveiro Fish Market to get some delicious, freshly-caught fish and seafood. Eels are a local specialty, so be sure to pick some of those up or head to a restaurant if you don't fancy cooking them yourself.
For fine dining, Salpoente is one of the best restaurants in the area, but O Batel also serves up some incredible eel if you're looking for something a little kinder on your wallet.
Recommended Day Tours here:
3. Santiago de Compostela
Distance from Porto: 147 miles/237 km
Activities You Can't Miss: Camino de Santiago, Santiago de Compostela cathedral, Monastery of San Martino Pinario
Special Foods to Try: Tarta de Santiago
Santiago de Compostela isn't actually in Portugal at all! It's a Spanish town that lies close to the border between the two countries. Both nations are part of the Schengen space so there's no border control but it never hurts to take your passport along – just in case!
Renting a car is the fastest and most convenient way of traveling between the two towns and it'll only take around two-and-a-quarter hours – train and bus journeys will be twice as long.
Once you're there, though, you'll realize that some people have actually walked all the way here from far and wide! The Camino de Santiago (aka the Way of Saint James) is a network of pilgrimage trails that spreads all over Europe and it converges at the Santiago de Compostela cathedral.
Some Catholics walk for over 800 km to see the saint's final resting place, so you've got no excuse not to go check it out! The cathedral is the final resting place of Santiago (known in English as St. James), the patron saint of Spain, and therefore one of the country's most iconic buildings.
Another architectural wonder – the Monastery of San Martino Pinario – lies close by. It's a pretty formidable example of Baroque architecture and an important part of the town's history, having been founded in the 9th century by a group of Benedictine monks.
Whilst you're in Santiago de Compostela you've got to try some Tarta de Santiago, a yummy lemon and almond cake dedicated to the town's saintly namesake.
Recommended Day Tours here:
4. Braga and Guimarães
Distance from Porto: 34 miles/55 km
Activities You Can't Miss: Dom Jesus do Monte Basilica, Praca de Republica Square, Rua de Santa Maria, the Palace of the Dukes of Braganaza
Special Foods to Try: Vinho Verde (green wine)
You get two for the price of one with this Porto day trip – Braga and Guimarães are two small, separate cities located just 25 km apart. The best times to visit are during spring and summer (April-October), although November is the cheapest month for budget-conscious travelers.
Renting a car is definitely the easiest way to get there, since you can move between the cities at your own pace, but there are bus trips if driving ain't your thing.
In Braga, you should head to the Dom Jesus do Monte basilica, which lies on the outskirts of the city. However, do note that before you can get close to this beautiful building, there are 630 steps to conquer, but thankfully there's plenty to see on the way up.
The basilica boasts lovely gardens and the steps are lined with baroque fountains inspired by the five senses.
Reward yourself post-climb with some vinho verde (green wine) in the Praca de Republica square. It might sound slightly odd, but vinho verde isn't actually green – it's name comes from the fact it's made from very young grapes. It usually comes in white and is a light, refreshing wine that's just perfect for a summer day.
Recommended Day Tours here:
Guimarães, meanwhile, is the birthplace of Portugal's first ever king. Wandering around its gorgeous historic centre is the perfect way to pass an afternoon. Make sure to stop by the picturesque Rua de Santa Maria, Guimarães' oldest street.
This sloping street is dotted with historic buildings, such as the Convent of Santa Clara and the Casa do Arco. Finally, don't miss the Palace of the Dukes of Braganaza, an arresting work of Romanesque architecture that was occupied by the eponymous dukes for over 200 years.
5. Paiva
Distance from Porto: 39 miles/62 km
Activities You Can't Miss: Paiva walkways
Paiva is one of the best day trips from Porto for nature-loving travelers. The cheapest way to get there is on the Line 9 bus, which will take just over an hour and cost around $17. In 2015, the 8 km-long Paiva walkways opened along the left bank of the Paiva river.
The walkways blend seamlessly with the stunning mountainous landscape, allowing visitors to safely explore the valleys and waterfalls without causing damage to the ecosystem. Entry costs just €1 ($1.15) and the best time to visit is during the summer when the walkways are open from 7.30 am to 8 pm. Open hours are reduced in the winter from 9 am – 5 pm.
This is a full day excursion, so make sure to get there early! It takes a person of average fitness roughly 7.5 hours to walk the full length and back, so the earlier you get there, the better!
Some organised tours will provide lunch but if you're making your own way then prepare a picnic since there are only a few places to buy food along the way. And of course, bring plenty of water too, especially if you're going in the middle of summer!
Recommended Day Tours here:
6. Peneda-Gerês National Park
Distance from Porto: 66 miles/107 km
Activities You Can't Miss: Lindosa Village, Peneda Village, Nossa Senhora de Peneda Shrine, Pedra Bela Viewpoint, Poco Azul Waterfall
Located close to the Spanish border, this stunning natural park is definitely one of the most beautiful day trips from Porto! The fastest and easiest way to get there from Porto is to hire a car and drive yourself – the journey should only take around an hour and a quarter.
Often referred to simply as 'Gerês', this national park preserves many aspects of medieval Portugal, including over 100 granite villages which remain largely cut off from the modern world.
Watching oxen being steered by traditional shepherds and shepherdesses will really take you back in time! The Lindosa Village is one of the best places to see this and there's a castle that dates all the way back to 1278, too!
You should definitely pay a visit to the Peneda Village as well. It's nestled into the side of a mountain and offers scenic views of the nearby ravine, as well as the chance to visit the 18th century Nossa Senhora de Peneda shrine.
For more picturesque views, hike or drive up the winding roads to the Miradouro da Pedra Bela. It's over 800 metres high and the journey to the top is every bit as stunning as the destination.
Don't miss out on the clear, bright blue Poco Azul waterfall either – it's one of the best in northern Portugal!
Recommended Day Tours here:
7. Fatima and Coimbra
Distance from Porto: 80 miles/129 km (Coimbra) 121 miles/195 km (Fatima)
Activities You Can't Miss: Coin Caves, Santa Cruz Monastery, University of Coimbra, Our Lady of the Rosary
Set 70 km apart from each other, these charming historical cities are rich in culture and delicious food. It's cheap and easy to travel by train – it's just over an hour from Porto to Coimbra, then another hour and a half to Fatima. There's also the option of taking a full day organized tour for extra ease.
Recommended Day Tours here:
Once you get to Coimbra, a visit to the University should be at the top of your list of activities in Portugal's long-ago capital. The university is one of the oldest in the world and is a UNESCO World Heritage Site. Soak up the smarts at Joanina Library – it's so beautiful that you'll be wishing you had an essay to write!
After that, head to the imposing Santa Cruz Monastery where Portugal's first two kings are buried. The kings chose the Monastery as their final resting place because they loved it so much and when you see it, you'll probably understand why.
In Fatima, the Coin Caves are a real must-visit. These incredible limestone caves are almost supernatural – I challenge you not to go 'woah!' at some point during your visit. Tours of the cave last half an hour and the guides really know their stuff, so you get to learn some fascinating facts on your way round.
For a man-made marvel, head to the shrine of Our Lady of the Rosary. This enormous white is where the first of the Virgin Mary's six apparitions in the region is said to have been seen. The story behind this pilgrimage site is truly fascinating so make sure not to miss it if you choose Fatima as one of your Porto day trips!
8. Barcelos
Distance from Porto: 37 miles/60 km
Activities You Can't Miss: Archaeological Museum, Rua Antonio Barroso, Thursday Market, River Beach
It's difficult not to be charmed by Barcelos. With its ancient stone buildings, brightly colored patterns, and abundance of sculptures, this small city is a wonderful place to spend a day exploring.
It takes just 45 minutes to drive there, or you can take a direct train from Porto's Campanha station and be there in the same amount of time.
Barcelos is the home of Portugal's most famous legend, the Cock of Barcelos, in which a dead rooster crows to prove the innocence of an accused man. In the city's open-air Archaeological Museum you can find a stone crucifix dedicated to the legend among the ruins of the Count of Barcelos palace.
This city is big on tradition, just FYI – it's filled with shops that seem to belong to a different era, particularly on the main shopping street, Rua Antonio Barroso. You can even wander around and observe craftsmen hard at work making ceramics (particularly roosters – no surprises there!)
If you're in Barcelos on a Thursday, head to the weekly market where sellers flock from far and wide to peddle their handiwork. There are some sweet bargains to be had and even if you're not in the mood to buy, you can't fail to enjoy the colorful, chaotic atmosphere.
Recommended Day Tours here:
Once you've had your fill of arts and crafts, head to Barcelos' river beach next to the medieval bridge and soak up the sun.
The beach tends to be busy during the summer months when tons of festivals and live music events take place, but during the still-warm shoulder seasons of April-May and September-October it's much quieter and more enjoyable, depending on what you're in the mood for.
9. Vinho Verde
Distance from Porto: 147 miles/236 km
Activities You Can't Miss: Quinta de Santa Cristina, Quinta de Avelada
Special Foods to Try: Vinho Verde (duh!)
I know it's difficult to choose between all of these awesome Porto day trips, but wine aficionados, this is the one for you. I've already talked a little about vinho verde, the beverage, but if you thought that that sounded good, wait until you hear about this!
Located a 2.5 hour drive away from Porto, the 'Vinho Verde' region of Portugal is a lush, green area where this crisp, lightly fizzy wine is produced.
Vinho verde is becoming increasingly popular all over the world, but where better to drink it than the region of its origin? Plus, you can find red and rose varieties of vinho verde here, which are rarely spotted abroad.
The region is populated with almost 20,000 small, independent growers. As you travel through it, you'll see many vines are trained around trees and telephone poles so that the ground below can be used for vegetable production.
It's best to either go on an organized tour of the region or rent a car and wend your own way between the wineries, but be careful if you've had too much wine! Miiight be best to join a tour juuuuust in case (and that way, you can drink all you want).
Quinta de Santa Cristina is definitely one of the most fun-filled wineries in the region – as well as tasting aplenty, you can take a segway tour of the vineyards! Quinta de Aveleda is an unmissable stop on your tour of the region.
It's the largest exporter of Vinho Verde and one of the oldest wineries in the area. The estate is absolutely beautiful, with gardens filled with rare plants and trees. Better yet, most of the guided tours of this winery involve cheese and chocolate tasting – win!
Recommended Day Tours here:
So there you have it, a whole slew of unmissable day trips from Porto. Which ones will you be adding to your time in Portugal?
Photos via | Geres 2