It's hard to imagine a place more grand than Versailles.  Marble pillars.  Heavily decorated rooms.  The Hall of Mirrors.  Ornately painted ceilings.
Complete with a chapel, Opera, and Grand Apartments.  A Ballroom, a concert and music hall, and the Royal Bedchambers of the Queen and the King.
It doesn't get much better than this.  Sheer opulence if you ask me.
We spent an afternoon at the Château de Versailles, only about a 30-40 minute train ride from Paris, when we were busy backpacking around Europe.
With our audio tour turned to "on", and a map in hand (I think), we slowly moved ourselves throughout the largest palace in all of Pari.  At each and every corner, I was utterly dumbfounded as to just how gorgeous this place really was.  Chandeliers hung from the beautifully painted ceilings all throughout the buildings, detailed classical French artwork by some of the most famous artists of the time, and priceless items in the royal bedchambers.
I stood there reassuring myself that this was indeed reality and not a dream!
Originally built by King Louis XIV as a royal hunting lodge, it is now best known for it's grand palace and spectacular gardens.
No wonder Versailles is one of the wealthiest cities in Paris.
And then there were the gardens, which took the experience to a whole other level.  Just look at them.  Over 2 miles full of carefully sculpted fountains, gorgeous flowers in full bloom, hedges and trees cut to absolute precision, and sculptures depicting famous mythological figures and scenes.  The Grand Canal cannot be missed either.
The whole experience just took my breath away.  Every where I looked, was something more magnificent and lavish than the last.  The place just screams richness.  In a good way.

So much history here and everything is so beautifully kept! I honestly felt as if I had gone back in time. What a grand experience.  An absolute MUST-DO in Paris.
Some interesting facts:
It was here, in the Hall of Mirrors, where the Peace Treaty was signed which officially ended the first World War.
357 mirrors line the famous Hall of Mirrors, while decorating the 17 arches opposite the windows.
It's hard to believe this ostentatious place was once used as a hunting lodge. Now, named a UNESCO Heritage Site for over 30 years, is widely popular with tourists.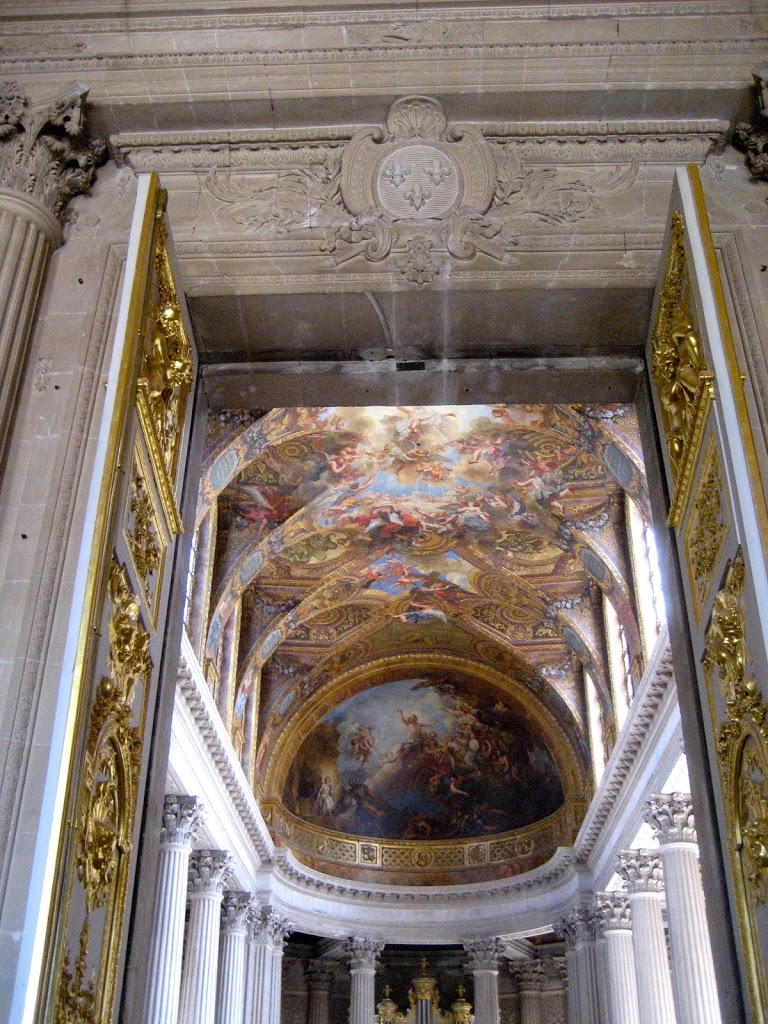 The laying out of the gardens required enormous work. Vast amounts of earth had to be shifted to lay out the flower beds, the Orangerie, the fountains and the Canal, where previously only woods, grasslands and marshes were. The earth was transported in wheelbarrows, the trees were conveyed by cart from all the provinces of France and thousands of men, sometimes whole regiments, took part in this vast enterprise.
[source]
And a few more pictures from the Hall of Mirrors, just because I had a hard time narrowing them down…
Have you ever been to the Palace of Versailles?
Do you ever wish you could have lived in this era?
In the Palace of Versailles of course.
Did you enjoy this post? If so, please consider sharing on Facebook, Twitter, or via Email. Also, I'd love to keep sending you updates about my adventures around the world, so please subscribe to A Passion and A Passport via RSS or by email!