After a long night (of sippin' some drinks in the club with my sister), we woke up early the next morning and headed off the ship to the mountainous St. Thomas.  We had scheduled a tour of the island before leaving NY- but the company forgot to send enough safari-type vehicles (with open tops and sides) to the port where the ship docked.  However, due to their mistake, we were able to get our own private tour of the island by taxi van.  The air-conditioned van was a dream come true since the humidity was beyond bearable (it poured for a short while as well).  And our own tour guide was a nice touch too.  No screaming kids to hear over and no obnoxious tourists asking tons and tons of questions.  (And no sitting next to smelly wet people after the beach.)  It wasn't as glamourous as traveling helicopter-style, but we couldn't complain about our situation.  We were able to make our own itinerary, along with choosing how long at each stop we wished to stay.  We were on our own time, and didn't have to wait for others.  The tour companies mistake turned out to be to our advantage!
Our tour guide first drove us around some mountainous parts of the island, stopping at the most picturesque views I have ever seen.  It was exceptionally difficult to decide on only a few pictures, so enjoy the eye candy:
Our ship looks SO grand compared to the small sail boats and yachts sharing the waters!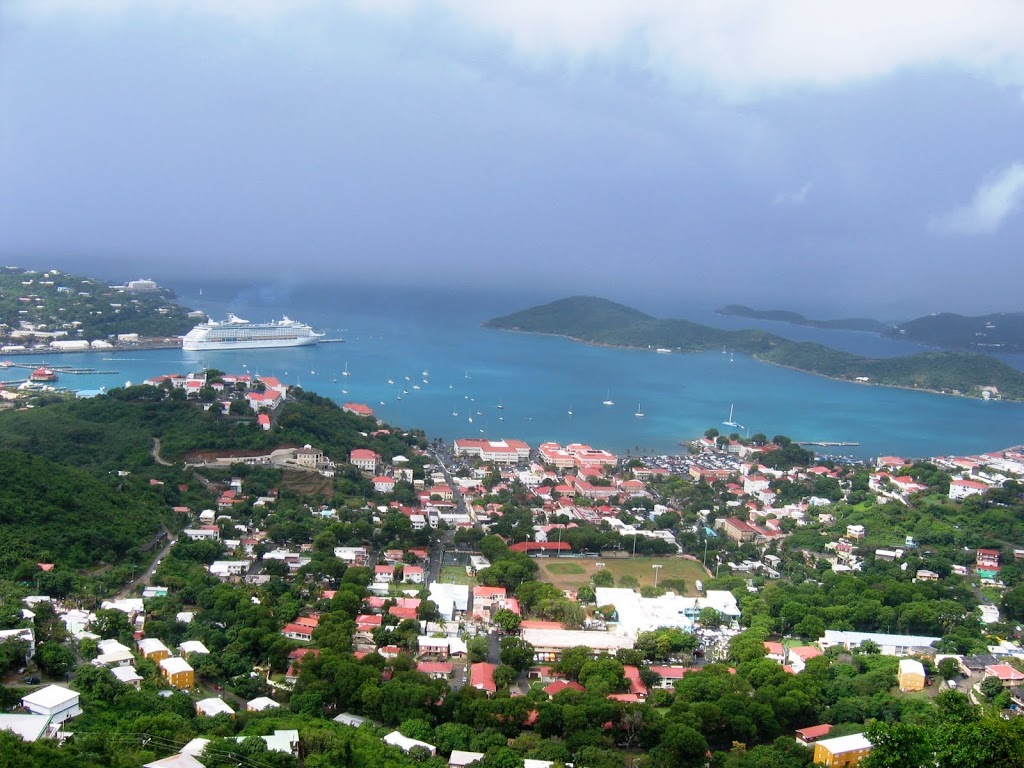 Cute donkey that a local man dressed up in order to make some $$.. felt kind of bad for the little guy, but thankfully the owner wasn't treating him badly.
After the tour around the island, our guide brought us to Magen's Bay Beach, where the mountains meet the sea.  This world-known bay is absolutely stunning.  The ambiance and beautiful scenery make this a perfect beach to relax when only having a few hours to enjoy.  I cannot stress enough how smooth the sand was, both on the shore and under the water.  There are no big waves, so you can relax peacefully while admiring the beautiful setting all around you.  The water was calm and refreshing, and we were able to see some fish swimming around and held some star fish as well which was pretty remarkable.
Gotta have at least one photo with my parents! Love that they love exploring! Probably where I get my sense of excitement over small things!
Holding some starfish we found! LOVE traveling with this girl! <3
And those views of Magen's Bay from mountain top (taken on our island tour), swoon!

Mother nature unfortunately wasn't on our side the whole afternoon, down-pouring for some time.  We huddled under a large canopy type thing with everyone else on the beach.  After spending hours relaxing in this tropical paradise (minus the rain), we got picked up by our tour guide and continued the day in town shopping a bit.  The town had a lot of character- with narrow brick alleyways between the stores.  We didn't buy much- I think only a few bottles of alcohol (since it was super cheap!)  We then continued back to the cruise ship since it was time to set sail again.
We saw some iguanas on the way back to our the ship.
And the views of the harbor were significant!
After visiting St. Thomas, I wish we had more time to explore the rest of the island.  It would be nice to partake in some water sports here, such as snorkeling, considering how clear the water is.  Sailing out in either a sailboat or yacht would be so much fun as well.  Too bad we didn't have enough time for all that.  Maybe next time.