If you read this blog, you're obviously a big fan of traveling. You most likely have a full-time job (like me!), and aren't able to run off to other countries every other week. But here's the thing: sometimes I'm a-okay with it. I don't mind my job (granted, I do get summers off) and I fill in the travel gaps with weekend and day trips from San Francisco. Full post on that very soon – watch this space!
With that being said, day trips are my jam, yo! (Yo!?  Where'd that come from?! I never say yo!) I truly believe you can see/eat/do so much in one day, without taking off any days from work.
And one definite positive: no need to pack a suitcase full of stuff when you're only off exploring for one day (my least favorite part of any trip)!!! 
A few of my favorite day trips to date from my home in the SF Bay Area: Napa, Big Sur, Carmel/Monterey, San Francisco city exploring and hiking Land's End in SF.
While everyday bags are a dime a dozen, practical, functional, and stylish ones are pretty impossible to find. I've struggled with this in the past – either they're too big for my small petite frame, too small to hold necessary items, too bulky, the straps are too long/short, the material wears fast, etc.
Enter the Pearl, by Lo & Sons.
Hallelujah!
While dedicating an entire post to a single product isn't the norm around here, this bag is more than deserving of the e-space.  I honestly have not found a more functional day bag that actually looks good and doesn't cost a thousand dollars (because, plane tickets or $$$ designer bags my friends?)  
The Pearl is at a very affordable price point, and considering I can see using this bag for years to come, I'll say it's priced pretty competitively as well.  I really appreciate the fact that Lo & Sons has sales rather frequently – so watch out for the next one!
A few of my favorite features:
The material. The Pearl is made of durable Saffiano leather, which is both scratch and water resistant (perfect for on-the-go).
Minimalistic design. Very sleek look to it and not extra showy. Perfect when traveling so you don't attract unwanted attention. Would have been awesome to take on my recent trip to Los Cabos, Mexico!
Super versatile! The Pearl comes with two straps. A longer strap to use as a cross-body, as well as a short strap that hooks itself onto one side if you want to use it as a clutch (or if the longer strap is too short for you!) I like to wear it without the extra strap over my shoulder.
Everything is safe and secure. All items in the bag can be properly enclosed, without a worry of an unwanted hand finding it's way in on tight places like the NYC subway. The two outside compartments can be fully zipped, while the middle can be closed/opened easily with snaps. Heading to NYC for the first time? Check this out.
Different compartments! Makes organization so much easier! The Pearl is split into 3 main compartments: 1 larger middle compartment with 2 slimmer zip compartments surrounding it. Now I can always find what I'm looking for. The middle compartment has two padded pockets as well, perfect for a cell phone and other items.
Packing the Pearl: What Fits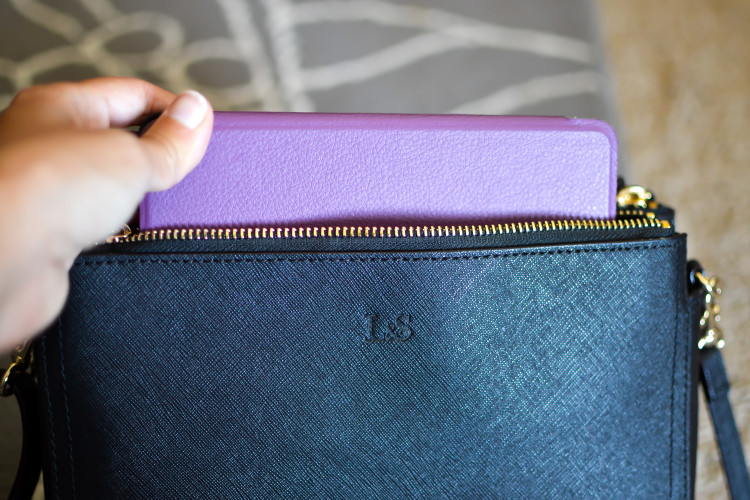 Cell phone with case
Passport (not necessary for everyday, but good to know for when I take the bag overseas).
Pens/Eyeliner
Chapsticks/Lip Gloss
Keys (I have so many!)
Kindle Paperwhite with case
Wallet
Headphones (ear buds)
Sunglasses (case does not fit)
Important papers
Mini Notebook
Hair ties
Tissues
Small snack (granola bar, almonds, etc)
Love that I can fit a bunch of my summer essentials in this compact and fashionable piece!
Minor Details:
Key chain ribbon. The ribbon can actually reach my door without any awkward movements or unhooking my keys from the chain (yes!).
Sturdy gold hardware. I love me some gold hardware, just makes the bag feel that much more luxurious and hip.
Even and secure stitching. I can tell this bag will last for multiple seasons.
Fun printed lining. Hummingbird logo! While still fun, it's understated enough to not take over the minimalist design of the bag.
I have honestly not found a more functional and comfortable bag yet! Check out all the colors on Lo & Son's website, and let me know if you have any questions! Happy shopping! 🙂