During our time in Greece (posts to come, sorry!), we went to a good handful of beaches. We went to a red sand beach, a black sand beach, and even a beach called Super Paradise. We hiked to some beaches, we ATV'd it to others, I played in the sand (of course), and the husband read some books. [Anyone ever read "Eat, Drink, F@*k?" (and no, I don't mean Eat, Pray, Love).  Go read it now- you'll see why. Most perfect beach read.  Ever.]
The sun was shining and the weather was perfect on all of the beaches (I mean, it's Greece, c'mon).
So why was Falassarna our absolute favorite? A beach in Greece is a beach in Greece. Right?
WRONG.
Falassarna was simply stunning; The views were to die for and the sand was so super soft beneath my toes.  Upload a few good books on my kindle, and I could live here. Forever.
And while the other beaches were just as almost as gorgeous, we had to hike to the red beach, we burned our feet on the black sand beach, and drinks were $$$ on Super Paradise.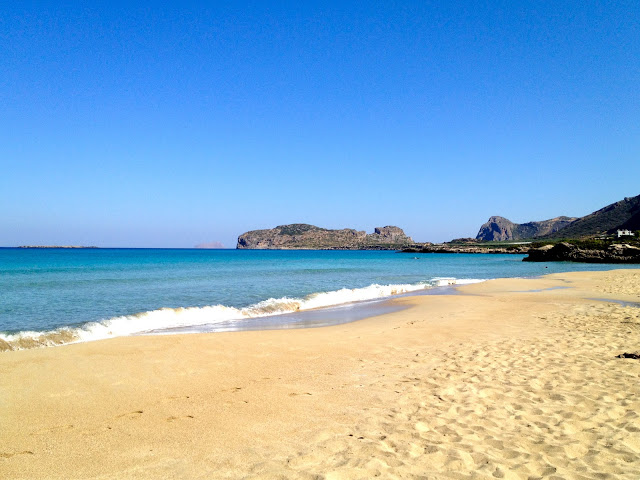 We literally drove up to Falassarna, walked a few feet, and planted our sun-kissed bodies onto free (FREE!!!) lounge chairs.  FREE is literally unheard of in any tourist areas in any of the Greek Islands.  (Although I think they were starting to charge when we were leaving…)
Wonderful, fine white sand, and warm, crystal-clear water.


I found some pink sand!
We were basically the only ones there! (We got there super early due to a last-minute decision to venture over here before a snorkeling tour).  Although we did find someone to take our picture 🙂
Great selection of local beers only steps away! Although we left at around 11, and were more in the mood for some coffee than beers.
According to 
Explore Crete
, Falassarna is one of the best known beaches in the Chania Prefecture. Falassarna has even won prizes for being the most beautiful beach in all of Crete, and 
is always one of the top ten beaches in Europe!  
Can't you see why?

The beach of Pachia Ammos (one of the beaches of Falassarna) is so big that it rarely feels overcrowded even in high summer. But we were there in the early morning, and were among the only ones there at first.
Nearly deserted and very serene.
And of course, a few more pictures, because, to be honest, I just couldn't narrow them down.
Did you enjoy this post? If so, please consider sharing on Facebook, Twitter, or via Email. Also, I'd love to keep sending you updates about my adventures around the world, so please subscribe to A Passion and A Passport via RSS or by email!