Heading to Australia soon and looking to take a few day trips from Melbourne? You've come to the right place! Read on to find out six of the best trips to take to escape big Australian city life!
I've been itching to go to Australia. For years. It's been on my travel bucket list for longer than I can imagine, and almost studied abroad over there during college. Key word – almost. Since I've never made it to Australia, and therefore have no sound advice on the best day trips from Melbourne, I've enlisted Markus from The Roaming Fork to share his favorite day trips from Melbourne with us all!
Enjoy!
[divider style="thin" title="" text_align=""]
Pre-Travel Guide
How to Get Around
Melbourne is very easy to get around with its comprehensive train, tram, and bus networks. To travel on these integrated networks, you will need to buy a Myki card. These can be purchased online, at a premium train station, or at a retail outlet displaying the Myki sign, such as a 7-Eleven store. Note: Travel is free within the inner-city tram zone.
'V-Line' is Victoria's regional train and bus provider, operating services across the State, with trains leaving from Southern Cross train station.
Melbourne's taxis can be found in designated taxi ranks, hailed from the street, or booked online. Uber is also available and has become a popular alternative to taxis. If you're looking to take a few day trips from Melbourne, you can either rent a car or choose from the abundance of guided tours to the different locations nearby.
[divider style="thin" title="" text_align=""]
Important Things to Pack
You may have heard the saying that Melbourne can experience, "… four seasons in one day." Well, it true! The best way to dress in Melbourne is in layers. In Summer, temperatures can reach the high 30's, and it's likely to be a dry heat. This means that, along with normal summer clothing, a broad brimmed hat is essential. In Winter, day time temperatures average a cooler 14 degrees, so warm clothing and a light rain coat and umbrella are necessary. In Spring and Autumn, as mentioned above, layered clothing will serve you well.
[divider style="thin" title="" text_align=""]
Where to Stay in Auckland: Recommended Hotels
Although hotels are located throughout the broader city area, there are two popular accommodation centres. Melbourne's city centre, with hotels covering all price points, is, as you would expect, centrally located, with the majority of the city's many restaurants, cafes, and attractions, within walking distance. Since you've come to this site with hopes to find a bunch of suggested day trips from Melbourne, I highly advise you to stay near the city centre so guided tours can pick you up easily.
The other location is the trendy bay-side suburb of St Kilda, which is only 15-minutes from the city centre. Here you will find plenty of great restaurants, café's, weekend markets, and a popular beach front promenade where you can enjoy a relaxing stroll.
Suggested hotels:
Adelphi Hotel, 187 Flinders Lane, Melbourne, 3000
Novotel on Collins, 270 Collins Street, Melbourne, 3000
Adina Apartment Hotel, 157 Fitzroy Street, St Kilda. 3182
Rydges St Kilda, 35-37 Fitzroy Street, St Kilda, 3182
[divider style="thin" title="" text_align=""]
When to Go to Melbourne
Melbourne's four seasons are distinct but without extremes. Year-round travel is possible, allowing you to plan your trip (including day trips from Melbourne) without having to be too concerned with extreme temperatures or excessive rainfall. Spring and Autumn are generally mild with plenty of sunny days, and therefore likely to be the most pleasant times to visit.
[divider style="thin" title="" text_align=""]
Important Phrases and Local Lingo
Although English is the language spoken in Melbourne, Australians have developed a slang, known as Strine, which is iconic to the country.
Listen out for a few of the following:
G'day – from "good day" but said very quickly, and a very common greeting
Barbie – short for barbecue
Bogan – uncool person
No worries – no problem, reassurance
Thongs – cheap rubber sandals
[divider style="bold" title="" text_align=""]
6 Best Day Trips from Melbourne
1 | Daylesford
Daylesford, an easy 90-minute drive from Melbourne, is a day trip that will provide you with a chance to indulge in luxury and relaxation. Although known for being spa territory, Daylesford also offers the opportunity to visit interesting shops, markets, and unique galleries, including my personal favourite, the stylish space of Bromley and Co.
If you arrive in the morning, enjoy a late breakfast in the spectacular surrounds of Wombat Hill House, before taking a walk through the main streets to visit the aforementioned shops, markets, and galleries.
There are many quality options for lunch in Daylesford, with the award-winning Lake House offering the opportunity to dine on top quality seasonal produce that has been sourced from regional suppliers. The restaurant is located in beautiful gardens and boasts a terrific view of the lake, which is obviously a lovely place for a walk after lunch.
Before heading home, make sure you leave plenty of time to visit the famous Hepburn Bathhouse and Spa. Here you can spoil yourself by taking a private mineral bath, by having a body scrub or a relaxing massage.
Where to Eat: Lake House, 4 King St, Dayelsford, Victoria, 3460.
[divider style="thin" title="" text_align=""]
2 | Great Ocean Road
Although the entire Great Ocean Road is best explored over two or three days, it is still possible to take in a number of great highlights in one day. Beware, this will be one of the longer day trips from Melbourne you can take, although very worth it! Plan to take an organized Great Ocean Road tour for max enjoyment (since you'll have someone very well known with the area taking you around).
From Melbourne, make your first stop in Torquay, a 90-minute drive down the major freeway, the M1. Naturally, the surf town of Torquay is home to awesome beaches, but if the weather isn't on your side, head to the Surfworld Australia Surfing Museum, or one of the iconic surf wear label shops, Rip Curl and Quicksilver, before having brunch at one of the local cafes. Moby Café is my favourite.
From Torquay, make your way down the Great Ocean Road with a pleasant 45-minute drive bringing you to the very popular seaside town of Lorne. If you like waterfalls, take a quick ten-kilometer drive into the rainforest where you will find Erskine Falls. There are two separate viewing points, with the upper viewing deck a five-minute walk from the car park, while the lower lookout point is located at the base of the falls, reached by walking down 245 steps. (Yes, I counted them!)
Head back into Lorne to have lunch at the Grand Pacific Hotel, where you can enjoy a delicious meal as you take in the superb views out over the ocean.
After lunch, and a leisurely walk along the one-kilometer long beach, head out along the Great Ocean Road again until you hit the Twelve Apostles, a collection of limestone rock stacks that rise up out of the Southern Ocean. There are a number of lookout points from where you can take in the magnificent scenery. And there is also the chance to experience a unique viewpoint by taking one of the short helicopter rides which are available for the more adventurous.
Where to Eat:
Moby Café, 41 The Esplanade, Torquay, Victoria, 3228
Grand Pacific Hotel Lorne, 268 Mountjoy Parade, Lorne, Victoria, 3232
[divider style="thin" title="" text_align=""]
3 | Yarra Valley Wines and Wildlife
The Yarra Valley, about a 60-minute trip from Melbourne, is famous for its wineries and artisan produce. It is also home to indigenous wildlife. Here you can enjoy walking or cycling adventures, or even take balloon flights, while you take in the views of market gardens and historic homesteads set amongst beautiful rolling hills.
Head out east from Melbourne along the Eastern Freeway, follow the signs onto the Maroondah Highway until you arrive at Domaine Chandon, one of Australia's premier sparkling wine producers. After sampling the 'bubbles,' drive on into Healesville and stop at the Beechworth Bakery for brunch, before heading to Healesville Sanctuary, one of the best places to see Australian wildlife in their natural habitat. Here you can experience close-up encounters with many examples of Australia's unique wildlife, including kangaroos, koalas, platypus, wombats, and emus.
From the Sanctuary, head back into Healesville to have lunch at the award winning Healesville Hotel, which has a wine list that showcases some of the regional specialties.
After lunch, you can visit some of the many wineries the area is famous for. I'd recommend a tasting of the 864 range of wines at Oakridge Wines, as well as trying the dessert and fortified wines at the De Bortoli cellar door.
Before returning to Melbourne, don't miss a visit to Yarra Valley Dairy to taste the local cheeses and charcuterie, and, if you have time, stop in at the TarraWarra Museum of Art, which boasts a fabulous collection of acclaimed Australian artists like Brett Whiteley.
Where to Eat: Healesville Hotel, 256 Maroondah Highway, Healesville, Victoria, 3777.
[divider style="thin" title="" text_align=""]
4 | Dandenongs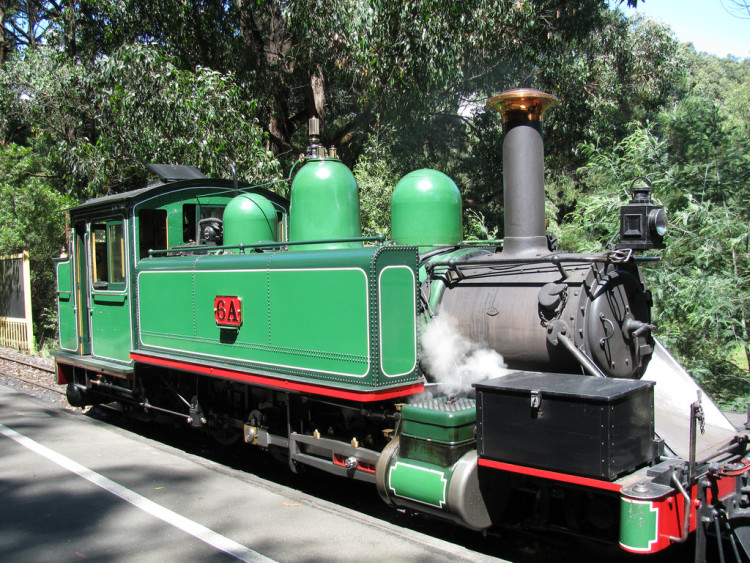 A trip to the Dandenong Ranges is one of the easiest day trips from Melbourne. Tall forests, fern trees, trail walks, iconic birdlife, and picnics in the glorious gardens can all be enjoyed, with these being some of the reasons the area is also a popular wedding destination.
After heading east from Melbourne for an hour, make your way to the National Rhododendron Gardens where, depending on the season, you can walk among the azaleas, camellias, cherries, daffodils, and, of course, rhododendrons.
The Dandenong's are awash with small cafés and restaurants catering for all tastes, and if it's a weekend and you are looking for a superb lunch spot, book a table at Copperfields Restaurant, where they offer a range of dishes made with free-range produce.
After lunch, move on to the village of Belgrave, where you can take a trip on one of the world's best-preserved steam trains known as 'Puffing Billy.' The 100-year-old steam train runs on its original 25-kilometer track through the forests and fern gullies of the Dandenong Ranges. The carriages are open-sided and you can even dangle your legs over the sides of the carriages for a unique experience.
Before returning to Melbourne, stop by the William Ricketts Sanctuary, where you will discover mystical sculptures in amongst the natural settings of the fern filled pathways. A place of beauty, it is a tranquil way to end your visit to the Dandenong Ranges.
Where to Eat: Copperfields Restaurant, 543 Mount Dandenong Tourist Road, Olinda, Victoria, 3788
[divider style="thin" title="" text_align=""]
5 | Mornington Peninsula
It's not just the outstanding wineries and restaurants that make the Mornington Peninsula a wonderful destination for one of the best day trips from Melbourne. The peninsula is also home to hot springs, day spas and retreats, and also houses a number of art galleries, museums, and picturesque and raw ocean beaches.
It takes just over an hour from Melbourne, along the inland route, to reach the picturesque town of Red Hill, which is home to a number of excellent wineries such as Montalto, Paringa Estate and, my favourite, Ten Minutes by Tractor, where you can not only taste some of Victoria's best cold climate pinot noirs and chardonnays, but also enjoy an indulgent lunch in the award-winning restaurant.
For a relaxing afternoon, head to the Peninsula Hot Springs facility to enjoy one of the many different bathing experiences, or if you'd prefer, be pampered by one of the numerous luxurious spa treatments.
Further down the peninsular lie the seaside towns of Portsea and Sorrento, which both feature well-preserved heritage buildings and many cafes and bars where you can enjoy a drink and partake in a spell of 'people watching.' From Sorrento, it is possible to take the car on the ferry across the heads to the Bellarine Peninsula town of Queenscliff, before heading back to Melbourne along the M1 freeway.
Where to Eat: Ten Minutes by Tractor, 1333 Mornington-Flinders Rd, Main Ridge, Victoria, 3928
[divider style="thin" title="" text_align=""]
6 | Phillip Island
Phillip Island, a two-hour drive from Melbourne, is a great place to discover some of Australia's iconic wildlife. Here, you will also find stunning coastal landscapes and fishing villages, with plenty of places to enjoy a relaxing meal and sample regional wines.
When planning a day trip from Melbourne, aim to reach San Remo by midday to watch the daily feeding of the pelicans and stingrays. From here, it's a short drive across the bridge to head into the main town of Cowes where you can enjoy lunch at one of the many restaurants, including delicious seafood at the ever-popular Harry's on the Esplanade.
Once you have lunched, there are plenty of places to visit and sights to take in, including a walk along one of the four coastal walks around the scenic Cape Woolamai, spotting rock seals at The Nobbies Nature Park, seeing koalas in their natural habitat at the Koala Conservation Centre, or having a fun-filled afternoon at A Maze'n'Things, where you can try to find your way out of the large maze.
For motor cycle fans, there is the Grand Prix Motor Cycle track, home to the yearly Australian Motor Cycle Grand Prix.
It is when night falls, though, that Phillip Island hosts one of Australia's most popular and iconic attractions. Each night at sunset, penguins return ashore after a long day of swimming and feeding. They waddle their way up the beach and into their sand dune burrows. The best place to see the main penguin parade is the 180-degree elevated viewing area at Summerland Beach. You can also see the penguins in their burrows from elevated timber boardwalks. Note – regardless of the time of year, it gets very cold so bring some warm clothing.
Where to Eat: Harry's on the Esplanade, 5/17 The Esplanade, Cowes, Victoria, 3922
[divider style="thin" title="" text_align=""]
Have you booked your day trips from Melbourne yet? Better get on that sooner than later!
Thanks again to Markus from The Roaming Fork for sharing his favorite day trips from Melbourne with us all!