Heading to New Zealand soon and looking to take a few day trips from Auckland?! Hooray – you've made it to the right place!
My friend Juliette from Snorkels to Snow, a New Zealand expert in my book, is here to share her favorite day trips from Auckland with us all! If you're looking for a few ways to excite your Auckland itinerary, or just want to get out of the city for a few days, Juliette is here to the rescue! I'll let her take it away, since you aren't here to listen to me ramble 😛
[divider style="thin" title="" text_align=""]
Heading to the City of Sails? Auckland is New Zealand's biggest city – and although not the capital, it's a hub full of activity! But what about when you want to escape big city life and enjoy New Zealand's finest nature backdrops? Hire a car or jump on a ferry and discover the best day trips from Auckland and journey into the soul of New Zealand!
Pre-Travel Guide to Auckland
HOW TO GET AROUND
If you're flying in from overseas, there's a good chance you'll be landing in Auckland first. It's the biggest airport in the country with the highest volume of international flights each day.
If you plan on staying within the city only, you can get by using public transport, taxis, or Uber. There are trains and buses which run from the city station Britomart to various suburbs around the city. The new Waterview Tunnel which opened July 2017 provides a direct route for motorists to the CBD from the airport.
However, if you want to explore the region and do some day trips from Auckland, the best option is to hire a vehicle. It's important to remember that in New Zealand, motorists drive on the left side of the road, so the steering wheel is on the right hand side of the vehicle.
The national speed limit is 100kmh on most highways, and 50kmh for suburban areas. Motorways are often a mix of 80-100kmh speed limits. These limits are enforced by police, especially around public holidays and weekends, so stick to the limit.
Driving around the Auckland region may mean taking some winding, rural roads. Many of the country's state highways are just two lanes. Reduce your speed in wet conditions and don't take any corners too quickly, to avoid crossing the centre line. Yes, we know, New Zealand is beautiful! But don't get distracted while driving.
Editors Note: If you aren't comfortable driving and/or have limited experience "driving on the other side of the road", I recommend taking a few tours to your desired day trip spots. They'll get you where you need to go without the hassle of navigating yourself. Safety first, guys.
[divider style="thin" title="" text_align=""]
WHEN TO GO
If you're traveling from the states, Europe, or anywhere in the Northern Hemisphere, remember that New Zealand's seasons are opposite than yours.
The best time of year to discover the Auckland region is during the summer months, around January and March. The summer holidays run from just before Christmas to the start of February. Surprisingly, January is often quiet as locals head to their summer holiday homes around the country and students are still away.
Autumn is another great time to explore the region, as it's less busy, but still warm and sunny most of the time. July has the highest rainfall. Winters are mild compared to the South Island, but can still be cold and very wet.
[divider style="thin" title="" text_align=""]
IMPORTANT THINGS TO PACK
One of the most important things to pack when traveling to New Zealand is sunscreen. The UV rays are strongest in New Zealand and Australia. Even during winter, you can still get UV damage, so be sure to wear a high SPF sunscreen each day, even if it's cloudy! New Zealand tends to be quite bright, so pack those sunnies too.
Auckland gets a reasonably high rainfall compared to the rest of the country, so bring a rain jacket. In summer, spring and autumn, a lightweight rain shell will be fine, but in winter you may want a jacket with a bit more warmth as well as being waterproof.
There are some stunning trails around the Auckland region, so pack some decent hiking boots in order to explore the region thoroughly. In summertime, you can bring your snorkel, mask and swimsuit to enjoy the area's awesome beaches.
[divider style="thin" title="" text_align=""]
WHERE TO STAY
Staying in the central city is the best option if you plan on taking public transport (around the city and for those day trips from Auckland), such as the Heritage Hotel (high end) or the Ibis for a more affordable option. There are also plenty of Airbnb listings throughout the city.
If you'd prefer to stay in the suburbs, choose somewhere close to a train station, such as Kingsland or Mt Eden. These are vibrant hubs with great food and cafe scenes and reasonably close to the city. If you'd prefer to stay closer to the beaches, Mission Bay is a popular option in east Auckland, or Takapuna on the North Shore.
[divider style="thin" title="" text_align=""]
IMPORTANT PHRASES
English and Maori are the official languages of New Zealand, but everyone speaks English. You'll come across Maori place names throughout the country as well as Maori greetings, such as "Kia ora" which means hello, or "Tēnā koutou", which is hello to a group (three or more people).
Kiwis speak a lot of slang and use colloquial language, so when someone buys you a beer, don't forget to respond with, "Cheers bro!"
Throw in the odd "sweet as" and "choice" and you'll slot right in. Don't get confused with "Gidday mate" – you'll hear that across the ditch in Australia.
We don't say flip-flops or thongs here – those things on your feet are called jandals.  And if you're off to get some kai, that means you're going to get some food.
[divider style="bold" title="" text_align=""]
Best Day Trips from Auckland
01 | Waiheke Island
Waiheke Island | © Goeug / Flickr
Waiheke Island is easily one of the most popular day trips from Auckland and is famous for it's vineyards. You'll need to catch a ferry from the city's ferry terminal or from Devonport. It takes about 40 minutes from the city on the ferry. You can explore the island's wineries such as Mudbrick Restaurant and Vineyard, which is a popular spot for weddings. For those looking for a bit more adventure, jump on some jet skis and cruise around the oceanfront. Or, pack your hiking boots and soak up the beautiful native trees and bush.
[divider style="thin" title="" text_align=""]
02 | Goat Island Marine Reserve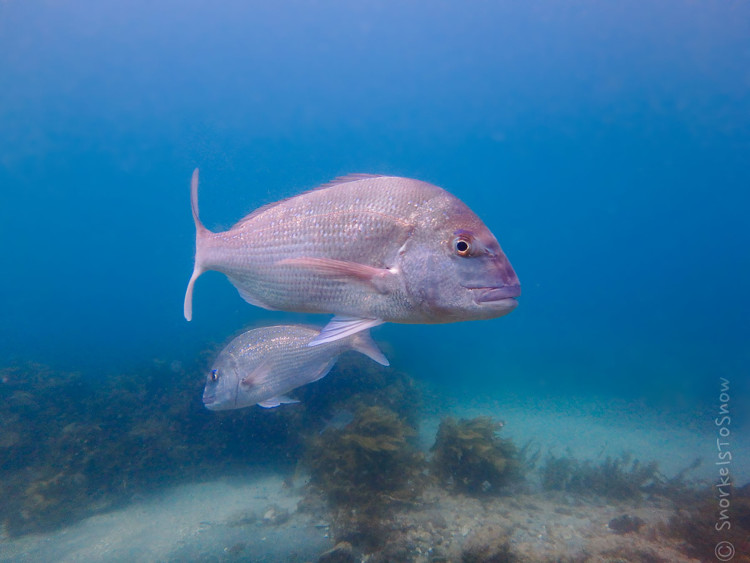 Snapper at Goat Island Marine Reserve | © Snorkels to Snow
Just over an hour's drive from Auckland is Goat Island, near the little township of Leigh. Pack your swimsuit, mask and snorkel or even your scuba diving gear – this is the best place to snorkel and dive so close to Auckland. This beach is one the most popular day trips from Auckland in the summertime, thanks to its clear and calm waters, making it ideal for families. The ocean around Goat Island is all a protected marine reserve, which means you can't fish there. That's why it's such a great place to snorkel and dive – the fish are left alone to grow into impressive sizes.
If you're heading up on a Saturday morning, be sure to stop at the famous Matakana markets for brunch and coffee. On your way back to Auckland, grab a pizza and a beer at the Leigh Sawmill Cafe.
[divider style="thin" title="" text_align=""]
03 | Rangitoto
Rangitoto | © Steve / Flickr
If you're looking out to sea on the eastern side of Auckland, you might wonder what this island is that comes up from the ocean out of nowhere. That's Rangitoto, one of Auckland's 53 dormant volcanoes. It's the youngest of all the volcanoes which shape the Auckland region. Catch a ferry to Rangitoto and hike up to the top of this 600-year-old pest-free volcano. It takes about an hour to reach the summit. There are plenty of other tracks around the island through native flora and fauna, to suit varying fitness levels. Or, if you'd prefer an ocean adventure, you can kayak around the island.
[divider style="thin" title="" text_align=""]
04 | Piha Beach
Piha Beach | © Wasabi Kiwi / Flickr
West Auckland's beaches are famous for their black sand and rugged coastline, in particular Piha Beach. In fact, it was here that the reality surf lifesaving television show Piha Rescue was filmed over many years. It's one of the most rugged and spectacular West Coast beaches, which means sea conditions can at times be treacherous with a strong undertow and heavy swell. Of course, that makes it perfect for surfers. During the summertime, surf lifesavers patrol the beach and set up a swimmable area between the flags, so if you're going to take a dip in the ocean, swim between those flags. The current can be unpredictable so be sure to swim within the patrolled areas and times, as the ocean can be deceiving here.
Piha is home to an iconic rock formation, known as Lion Rock, dividing the north and south Piha beaches. When you look at it from the side, it looks like a male lion lying down.
There are a number of walks and tramps around Piha, as well as a climb to the top of the cliffs at the beach itself, offering uninterrupted views of the coastline. It's the perfect spot to watch the sun go down and see the beach flooded in a pink and golden glow.
[divider style="thin" title="" text_align=""]
05 | Waitomo
Waitomo Caves | © Donnie Ray Jones / Flickr
Waitomo is about a two and a half hour drive from Auckland, most famous for its glow worm caves and black water rafting. Waitomo has an extensive underground cave system where thousands of glow worms light up the depths of the caves.
As well as the magical glow worms, the Waitomo Caves provide some of the best heart-thumping adventures for travellers and locals alike – black water rafting. Head deep into the Ruakuri Cave and abseil, climb, jump and cave tube.
06 | Hobbiton
Hobbiton | © Florian Bugiel / Flickr
Ah yes, we couldn't forget about the hometown of Lord of the Rings – well, at least the movie version, anyway. Visiting Hobbiton is one of the most famous day trips from Auckland and a popular tourist destination.
You can see the real sets from the LOTR and The Hobbit movies and walk through the lush pastures of the Shire, set on a 1250 acre sheep farm in central Waikato. Wander through past the gorgeous doors of the Hobbit houses made famous in the movies and slip into the fantasy that is J.R.R Tolkien's Middle Earth. Today, 44 hobbit holes remain for Tolkien-lovers to explore.
Are you visiting New Zealand soon? Be sure to plan a few day trips from Auckland!