Headed to Australia and looking for things to do in Perth? You're in the right place! Read below for 25+ things to do in Perth, Australia!
When you think of Australia, what place comes to mind? The Great Barrier Reef? Sydney? Melbourne? Brisbane?… Most people tend to focus on the eastern side of the country.
With wonderful weather, pristine beaches and a friendly laid-back style Perth + Western Australia is a hidden gem worth exploring. Perth is the perfect combination of big-city and natural attractions.
Best Things to Do in Perth Western Australia
Let Alyssa from Adjust Your Focus prove to you just how remarkable this Western Australian city can be. After reading these 25 things to do in Perth Western Australia, you'll be planning your trip in no time!
1. Walk along the Swan River
Perth is set along the Swan River linking suburbs, the hills and the ocean. It has cultural, recreational and environmental significance, awarding it Western Australia's first heritage icon. With trails all along the river, it's a peaceful place to go for a walk, run or bike ride any time of day and year.
2. Say hi to kangaroo at Heirisson Island
Heirisson Island is located right at the main part of the city and in the middle of the Swan River, making it an unexpected treasure and escape from city life. Not only is it a quiet spot but you can find an array of birds and the island has its own population of kangaroos!
To get to the roos you have to go through a gate on the western side of the island, where there's a fence to stop them wandering onto the nearby busy road. During the day, especially when it's hot out, they're usually sleeping in the shade and can be tricky to find.
When it's cooler you can see them grazing and hopping around. This was one of the first places I visited and it was here that I saw my first kangaroo. It's hard to believe you are a short walk away from the city. Like Perth, it is a hidden gem.
3. Evening out in Northbridge
Northbridge is a short walk from central Perth with a vibrant environment, eclectic mix of shops, plenty of cafes and restaurants to try and some of the best bars and nightlife in Western Australia. It is a great place to spend a night out dining, drinking or simply wandering around.
There is a wide variety of food, catering to everyone's tastes, but if you're a seafood lover you will be able to find fresh options everywhere you go.
4. Shop Downtown
Perth offers many shopping options, from eclectic markets to stylish malls. The two main shopping malls are the Murray and Hay street malls. Both of these are pedestrian malls, closed to traffic, and offer a wide range of specialty stores.
Myer and David Jones are two main department stores you'll see downtown and in the suburbs. Whether you are looking to buy something particular or just want to wander around the clean city, there are plenty of options for everyone and paths to walk along.
5. See the Bell Tower (Swan Bells)
The Bell Tower overlooks the Swan River and is one of Perth's most unique tourist attractions. I wasn't able to go in the tower when I was there due to nearby construction but they do host many events and tours.
It's worth noting the bells are not rung by machine but instead volunteer members of the St. Martin's Society of Change Ringers Inc.
Filled with fascinating history and a distinctive design, which resulted from a major architectural competition, it has become an icon for Perth and Western Australia.
6. Walk across the Claisebrook Cove Bridge in East Perth at night
East Perth is an inner suburb of Perth. With colorful buildings along the water, it's a picturesque spot to explore. You can walk across the Claisebrook Cove Bridge which is lit up at night. At each end of the bridge people are invited to hang their love locks on the fence.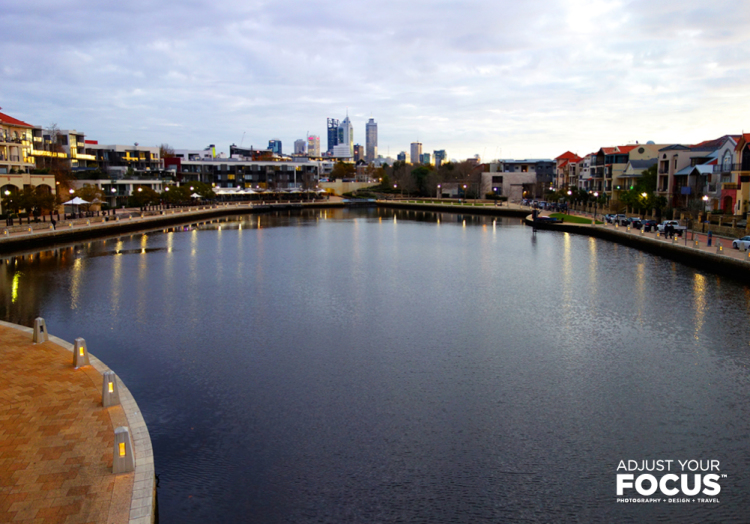 7. Eat at Greenhouse
Tasty. Honest. Innovative. Located a couple minutes from where I was staying on St. Georges Terrace, Greenhouse is an eco-friendly space with international dishes. All the materials used, from the light fixtures to the floor surface to the furniture is raw and recycled.
While the inside is full of charm and little details, I have to say the vertical gardens covering the walls in greenery was my favorite. How neat is that? There is also a roof-top garden that produces fresh ingredients for the kitchen and bar. I highly recommend dining here and experiencing this unique space for yourself.
Take note, this is one the most unique things to do in Perth Western Australia.
8. Wander around Fremantle
Fremantle is a dynamic port city right outside of Perth. Renowned for it's eclectic mix of artsy and alternative types, the streets are filled with music and art. From a variety of dining options on the water and down charming streets to great shopping and bustling markets, it is a fun place to spend the day.
Make sure you walk along the harbor and go underground on the Fremantle Prison Tunnel tour too. It is easy to wander around and get caught up in the charm of this colorful port city.
9. Explore Kings Park
Perth: nature meets city, city meets nature.
Kings Park provides unique opportunities to connect with nature in the heart of the city, on Mt Eliza overlooking Perth City and the Swan River. From botanical gardens and walking trails to playgrounds and picnic areas there is something for everyone.
If you're looking for spectacular views, climb the 101 steps of the spiraling DNA Tower. At the top you'll be able see around Kings Park and Botanic Garden, the Swan River and over to Rottnest Island. You can find great views of the city skyline if you walk among the treetops on the Lotterywest Federation Walkway.
This arched bridge is suspended among eucalyptus and extends through the Western Australian Botanic Garden. At the end you can walk through the Botanic Garden, which has diverse plant life of Western Australia and is part of the worldwide network committed to plant conservation.
When I was there in June (winter in Australia) I didn't see too much in the gardens, next time I will have to come back in the spring/summer!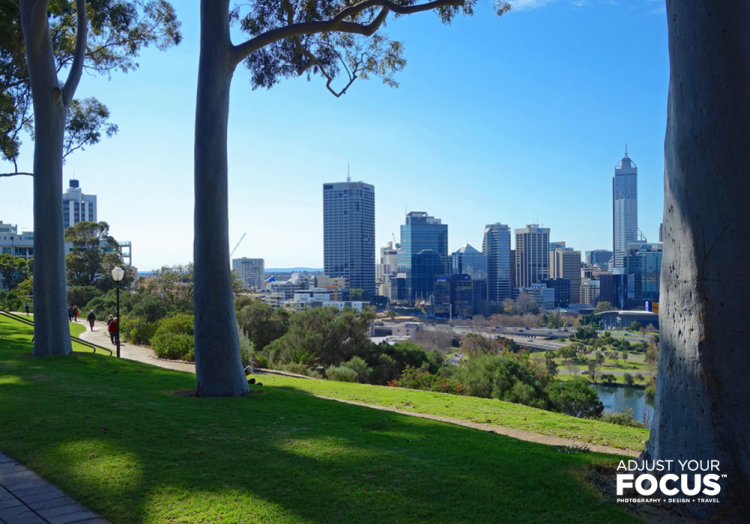 10. Wander around Leederville
Leederville, north of Perth, has a thriving cafe and nightlife scene around Vincent and Oxford Streets and is known for being retro yet modern. Like Fremantle, it is another great area to wander around.
The main reason I was in Leederville was to meet the owner of a design firm. While I didn't get to explore as much of Leederville as I would've liked we did meet at a cute coffee cafe, Greens & Co right off of Oxford Street, I recommend checking out.
The walls are full of art and posters, the seating consists of couches, tables and chairs and the space includes pool tables, 80s video arcade games and retro-board-games available to play with. Along with the incredible decor and ambiance, my favorite was the lighting!
With big glass doors at the entrance, the lights are one of the first things you see and can't miss from the street. We sipped on a specialty drink and talked for over an hour about the design market in Perth. This place is an overall great space to hang out, grab a bite and enjoy the moment.
11. Make friends at Caversham Wildlife Park (CWP)
Caversham Wildlife Park, which is family owned, showcases the largest private collection of native wildlife in Western Australia. You can learn about and see a variety of unique plants, birds, reptiles and mammals (red fox, dingo, llamas, echidna) but the most exciting for me was the marsupials (bats, wallaby, kangaroo, wombat and koala).
The park allows for an interactive experience, feeding kangaroo, joeys and wallaby. During certain hours you can also get up close to koala (can't touch them) for a picture. CWP pride themselves on their unique interactive experiences with Australia's most interesting animals, without being commercialized and maintains the laid-back Aussie touch.
In this photo I was watching another koala and heard rustling next to me. This was the result when I turned around, and he was right there, so in my case I got very close up. An absolute must-do of all the things to do in Perth!
12. Walk across the wall at Mundaring Weir
The Mundaring Weir and Interpretation Precinct is a popular visitor destination where you can enjoy great views from the north side of the dam wall and walk across the wall. This photo was taken when I was standing in the middle of the wall. With lots of picnic areas, wild kangaroo, walking trails and history it makes for a great afternoon.
13. Soak up Cottesloe Beach
Perth has plenty of beautiful beaches. One of the best known is Cottesloe, which is located in Perth's western suburbs. It is a stretch of golden sand extending north from Mudurup Rocks to the southern rocks of Swanbourne Beach, making it one of the city's favorite beaches for swimming, snorkeling and surfing.
Along with the beach, surrounding grass areas make it the perfect place to enjoy a picnic or lay down and watch the sunset over the Indian ocean.
14. See Marmion Marine Park and eat at Bay 33 Cafe
If you continue up from Cottesloe Beach you'll get to Marmion Marine Park, which stretches from Trigg Island to Burns Beach. Marmion Marine Park is an aquatic sanctuary and was the first marine park in Western Australia.
There is a wonderful combination of white sandy beaches and rugged rocky cliffs here, all with pathways popular for walking, running and biking. In this area be sure to stop by Bay 33 Cafe, which overlooks Waterman's Bay's picturesque shoreline.
With a large menu (delicious gluten free options), friendly staff and a modern space overlooking the water, it is the perfect venue for a one of a kind cafe on the coast.
15. Visit one of the many dog beaches
There is no shortage of pet friendly parks and beaches in Perth, allowing for you and your furry friend to get outside and run around. When it comes to dog beaches, be sure to do your research first. Some have more open sandy space while others are rocky.
Some have calmer waters while others offer bigger waves. No matter what the case, there are plenty of areas to explore.
16. Enjoy water activities
While this might seem obvious when visiting Australia, really take advantage of all the water activities. From swimming and surfing to snorkeling and diving with a variety of wildlife, Western Australia (WA) is the perfect place to soak up the sun and enjoy being in the water.
It is less populated than other parts of Australia and offers pristine beaches and untouched reefs.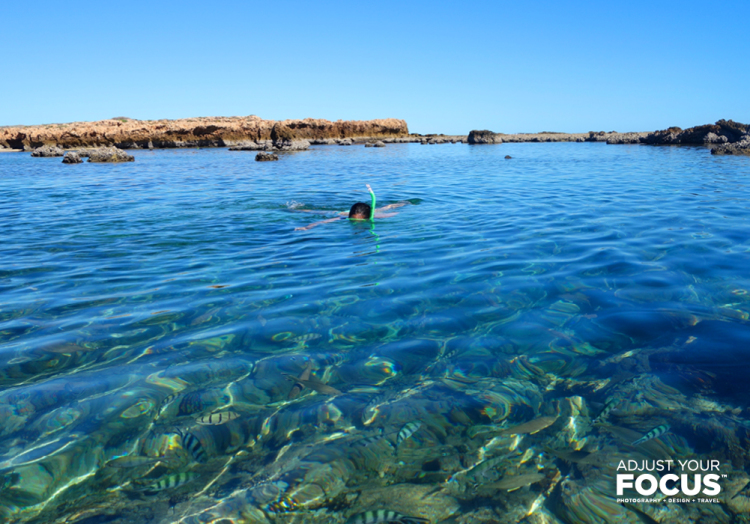 17. See a sunset over the Indian Ocean
I saw some of the best sunsets in Western Australia over the water. One thing to notice during and after the sunset is the sky lights up with vibrant warm colors on one side and in all other directions there is an amazing blue/purple/pink (cooler colors) sky. It lasts around 30 minutes after the sun goes down.
I remember standing there many times just turning in circles, taking it all in. Make sure to make time to see this for yourself, it is captivating.
Another place to note is Rottnest Island, which is well known for the beaches and quokka, the happiest animal on Earth. In under an hour you can take a ferry ride over from Perth. I didn't make it here when I visited in 2014, but it is high on my list when I visit Perth again!
Things to do along the Western Australian coast (near Perth)
18. Go wine tasting and explore the Margaret River region
Three hours south of Perth you'll find Margaret River. As well as wonderful wildlife spotting opportunities, this region of WA is also world famous for its abundance of locally produced food and wine.
A favorite winery I stopped at was Leeuwin Estate Winery, one of the founding wineries of the now famous Margaret River district. After a lovely wine tasting, I headed down the long driveway (no, I wasn't driving), where I spotted some roos in the vineyard!
I was able to snap a few shots before they hopped off. Who knows, you may encounter an experience like this too… always have a camera handy.
Along with wineries, you'll notice the landscape down south doesn't look the same as up north.
One of the biggest differences is instead of flat terrain up north, you'll find the Karri tree down south, which is the third tallest tree in the world. Under these impressive trees there are also hundreds of caves.
There so many choices when it came to caves in this region, but I decided to explore the Jewel Cave Augusta when I was there, the biggest show cave in WA.
Another must-do thing when you're in this region is visit the historic Cape Leeuwin Lighthouse, which is situated at the most south westerly tip of Australia, standing at the point where the Indian and Southern Oceans meet. Climb the spiral stairs to the top for a stunning 360 degree view.
19. Swim at Jurien Bay
As you drive north of Perth along the coast you'll find many towns to stop at and explore. Jurien Bay, about 2.5 hours from Perth on the Indian Ocean Drive, was the first stop I made along a long road trip.
It's a family holiday favorite that offers fantastic fishing, beautiful beaches and a good range of accommodation options. You could easily make this a day or weekend trip from the city.
20. Explore Kalbarri
Kalbarri is located on the mouth of the Murchison River and is surrounded by the National Park. Kalbarri National Park offers many different lookouts, some with trails and hiking options, both along the coast and inland.
The park is known for its spectacular scenery and red rock gorges. Kalbarri is one of the most popular tourist towns in the Coral Coast region and was a favorite of mine. Although it is popular, it didn't seem touristy which was nice. From the impressive gorges and the Murchison River to the quaint town, friendly locals and laid-back feel it offers both land and on the water attractions everyone can enjoy.
I stayed at the Kalbarri Murchison View Apartments when I visited, which I highly recommend. The property has gorgeous panoramic views, is a short walk to Chinaman's Beach on the Murchison river and had very welcoming staff at affordable rates.
21. Stay at Monkey Mia and see wild dolphin
If you continue up north from Kalbarri another worthwhile destination to spend a few nights at is Monkey Mia, located in the heart of Western Australia's Shark Bay. Monkey Mia is a popular escape for visitors with its crystal clear waters, white shell beaches and daily visitation of wild dolphin.
Every morning you can meet a guide at the resort (info below) and wait to see wild dolphin up close (you can't touch them). Some days there are more than others, and sometimes you have to wait a while, but it is known to be one of the most reliable meeting places for dolphins in the world.
It is the only place in Australia where dolphins visit daily, not seasonally. Researchers from across the world come to Monkey Mia to study them.
The Monkey Mia Dolphin Resort has accommodation options with a beachfront location. The beach isn't separated from the resort, so literally steps from your door you'll be on the beach.
The resorts location within Shark Bay faces north which allows the area to be protected from sea breezes year round making it a safe and peaceful destination.
22. See the Carnarvon blowholes + snorkel at Point Quobba
Carnarvon is a cute town with a laid-back and friendly way of life (which was really all of WA), with attractions both in and outside of town. And if you're looking for a spot to relax amongst all the things to do in Perth, Carnavon may be your answer.
The Blowholes is a unique spot to see, where powerful ocean swells force water through sea caves and up out of narrow holes in the rocks.
A short distance from the Blowholes will take you to Point Quobba, a calm coral filled lagoon favored by locals for its sandy white beaches. This area is ideal for snorkeling and swimming or a great place for a picnic.
23. Explore Coral Bay
Coral Bay is protected from the Indian ocean by the Ningaloo Reef. Many dream of going to the Great Barrier Reef (myself included) but Ningaloo Reef is a virtually untouched barrier reef and hidden gem.
Coral Bay is one of the rare places on earth where you are able to walk from the beach straight onto a coral reef. With beautiful coral gardens close to pristine white beaches, Coral Bay is a special seaside town and nature lover's dream.
You definitely want to take advantage of the reef with snorkeling and diving.
From March to June you can also swim with whale sharks or you can swim with the majestic manta rays all year. From October to March, just a 20 minute walk from Main Beach, you can see as many as 200 reef sharks in the shallow waters. Make sure to bring an underwater camera!
I stayed at the Bayview Coral Bay, which was steps away from the beach. From campsites to a variety of villa and cabin there are accommodation options for everyone.
24. Explore Exmouth
Exmouth was the last destination on my road trip up north. Like Coral Bay, it is part of Australia's Ningaloo Reef region. Exmouth is known for the Cape Range National Park which offers rugged gorges, deep canyons, pristine beaches and vibrant coral reefs.
From hiking, beaches, snorkeling, a glass bottom boat tour and more spectacular sunsets it was easy to fall in love with this beautiful place. Make sure to visit the Vlaming Head Lighthouse when you're in Exmouth as well.
The lighthouse is significant for its aid in the development of marine navigation along the western coastline of Australia and offers spectacular views.
I stayed at the Ningaloo Caravan and Holiday Resort in the lookout chalets. It you want to splurge a little I highly recommend the lookout chalets located at the top of the resort with feature a huge balcony, allowing for incredible views of the resort below, ocean in front and lighthouse to the left.
There are a lot of accommodations options they offer though, from campsites to park homes and chalets.
25. Swim with whale sharks
Every year, between mid March and mid July, whale shark can be found in the Ningaloo Marine Park following the mass spawning of coral. Harmless to humans, these gentle giants are the world's largest species of fish and can grow up to 18 meters in length.
Ningaloo Reef is one of the only places in the world where you can actually swim with them. I did in Coral Bay and it certainly is an experience of a lifetime! Definitely one of the most exciting things to do in Perth, let alone all of Australia!
To find out more about Alyssa's Western Australian adventures (and beyond), make sure to follow her blog, Adjust Your Focus, and connect with her on Facebook and Instagram. 🙂
Isn't it evident there's just so many things to do in Perth Western Australia?! I (Alyssa) loved this city and Western Australia in general and can't wait to return. Have you been to Australia?! What were your favorite things to do in Perth?
TRAVELING INTERNATIONALLY SOON? Don't forget travel insurance! I'm a big fan of SafetyWing when traveling abroad. Recently, I've been using SafetyWing since they cover pandemic-related claims (most travel insurance companies do not). Be sure to protect yourself from possible injury, lost baggage, travel delays, and theft before it happens. Learn more and Sign up here.