I spent a weekend in Amsterdam this past summer as part of my two months hopping around Europe, and boy can I tell you, I wish I had more time in the city. Lots more time. Months, actually. Most people automatically associate Amsterdam with pot brownies and prostitutes, but if you dive a little deeper, you'll see that the city is also full of tulips, lovely canals, and the most adorable hip bicycles.
Since I kind of wandered aimlessly admiring everything in sight and shoving my face with cheese samples during my weekend in Amsterdam (whoops…), I asked my friend Karina from Spot The Red Head to compile a list of things to do in Amsterdam if you've only got a weekend or so.
Have less time?! This one day in Amsterdam itinerary will be perfect for you!
Enjoy!
Things to do during a weekend in Amsterdam
1. Bike Through Downtown- If you're brave!
The first thing that you'll notice when you march down the streets of Amsterdam is how many bicycles there are! The best way to see the city is to join them! If your hotel or hostel doesn't rent bicycles, join a bike tour of the city. See the city in a more authentic way and meet other travelers like you!
2. Munch On The Prettiest Breakfast There Is
After a long bike ride, you're going to want breakfast. Amsterdam boasts some of the best pastries and desserts in the world. I loved all of the DIY waffle shops that let you add your own fruit, chocolate sauce, sprinkles, and whatever else your heart desires. You can find numerous waffle shops along the main canal but 'Pancakes and Waffles' is a great hole-in-the wall.
3. Voted One Of The Best Museums In The World
Rijksmuseum is a museum dedicated to Dutch art and history. When you first see it, it'll take your breath away because it looks so beautiful from the outside.You could spend a whole day looking at the 1 million objects on display! Bonus: There usually is lovely classical music wafting through the museum from outside street performers. An absolute must-do during any weekend in Amsterdam!
4. Do It For The 'Gram At The I AMsterdam Sign
For all you instagrammers out there, make sure you take your photo climbing on top of the I Amsterdam sign. Located right behind the Rijksmuseum, all you have to do is cross underneath the museum to get to the other side.
My advice: Get there early! This place is a mecca for artists and photographers, so be the first to get a coveted spot on top of the letters. In front of the sign is a lovely plaza and water fountain that you can enjoy after your photo shoot.
5. Walk Through The Red Light District
Don't let reputation fool you, the Red Light District is actually very safe! I would definitely recommend solo female or solo travelers to venture out at night by yourselves. Pass by the lit up windows and wave to the women and men inside. Walk through pleasure shops and enjoy all that Amsterdam has to offer. Buy tickets to a live sex show, if that's what you are into, and just enjoy the craziness that is Amsterdam. You only live once, right!?
6. Sex Shows & 'Coffee Shops'
If you are looking to see a live sex show, which is usually a #bucketlist item for most travelers, I'd recommend Casa Rosso for its history and raunchy-yet-hilarious shows. You can't miss it on the strip, just look for bright pink lights and the elephant mascot! Buy your tickets ahead of time and head to the nearby 'coffee shop', the famous 'Bulldog Coffeeshop.' Now is your chance to try a hash brownie, if you're into that! Once you're feeling good, go back and cheer with the crowd at the live sex show! Don't take any photos!
7. Take A Day Trip To The Windmills of Holland
Have a bit longer than a weekend in Amsterdam? Wake up early and hop on a train to the city of Zaandijk to see the beautiful windmills of Holland. Walk through charming cottages until you get to the windmill path. Stroll along the designated path and you will get up-close-and-personal with the windmills.
Secret Tip: I enjoyed crossing the river to sit along the riverbank, toes in the water, enjoying a picnic. Spend a little quality time in Holland, where time seems to move slower.
8. Try BitterBallen!
Since you are already in Zaandijk, stop by the cafes in the area to try this Dutch treat! BitterBallen are fried, minced meat balls that are just delicious. Dip them in the homemade spicy mustard and savor the bite. You can't get BitterBallen just anywhere!
9. Cruise Down The Canal By Boat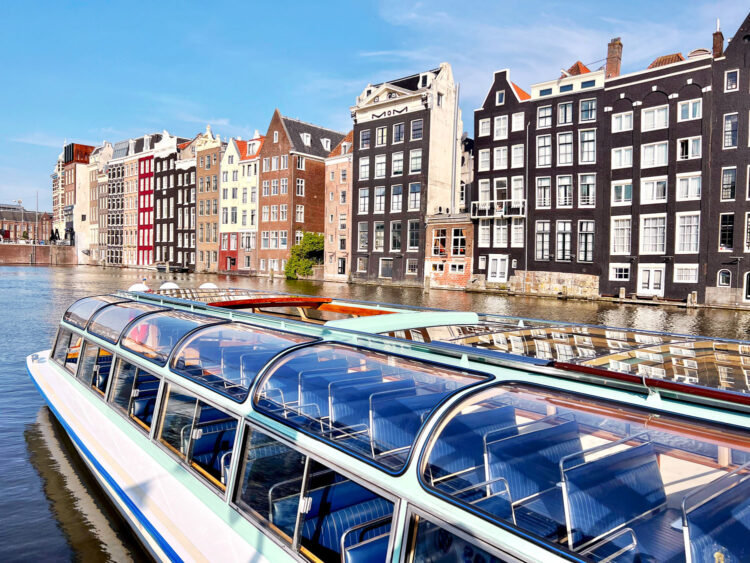 The first thing that you might think of when you hear "Amsterdam" might be the canals. Famous for its' beautiful bridges and canals, another great way to see the city is by boat! Buy tickets ahead of time and hop in this low-lying boat. The views are spectacular and the ride is very relaxing. It's a once-in-a-lifetime day when you float down the Amsterdam Canals!
10. Get Lost in the Alleyways
Amsterdam Central is the best place to get lost. If you're a solo traveler, know that the locals are extremely friendly and the streets are pretty hard to get 'actually lost'. Walk through the alleys, pop into the quirky shops, capture the street art with your camera, and enjoy your time in the city. A weekend in Amsterdam isn't long enough!
11. Eat at Kapitein Zeppos
Kapitein Zeppos is a cute, quirky cafe located in central Amsterdam, tucked into a little alleyway. The ambiance is very charming, the waitress is super friendly, and the food is to die for! You will leave feeling fat and happy! They have a great bar many of the locals frequent later at night as well.
12. Try Netherlands Cheese
You can't leave your weekend in Amsterdam without trying some of the famous Holland cheese! Gouda comes from Netherlands- did you know that?! Make sure that you take the time to sample the best cheeses from the Netherlands, such as Beemster, Edam, Leyden, Limburger, Gouda, Maasdam, and many more.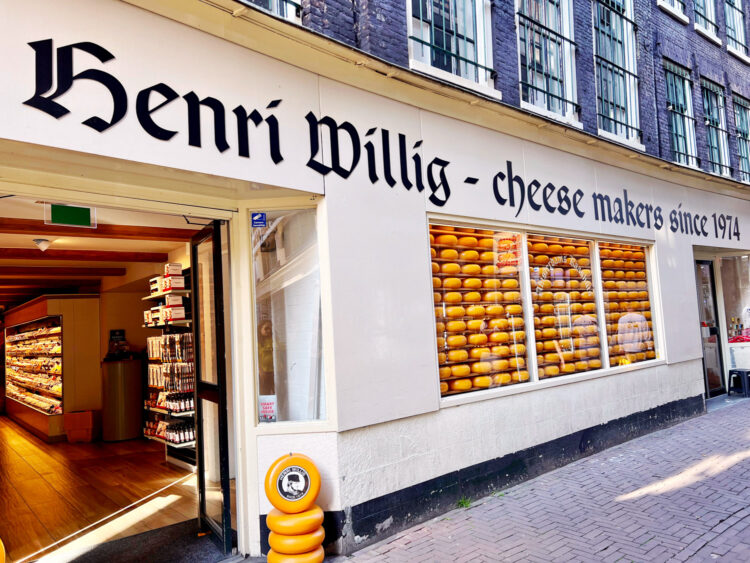 Located in Central Amsterdam, The Golden Age Cheese Store and Tromp Kaashuis are two great local cheese stores to pop into. Oh my heavens, you probably will want to take them all home with you!
Psst: visiting during the chillier months?! Check out this guide to Amsterdam in winter for tons of tips and activity recommendations!
Have you been? What would you add to this list for a first-timer spending a weekend in Amsterdam?!